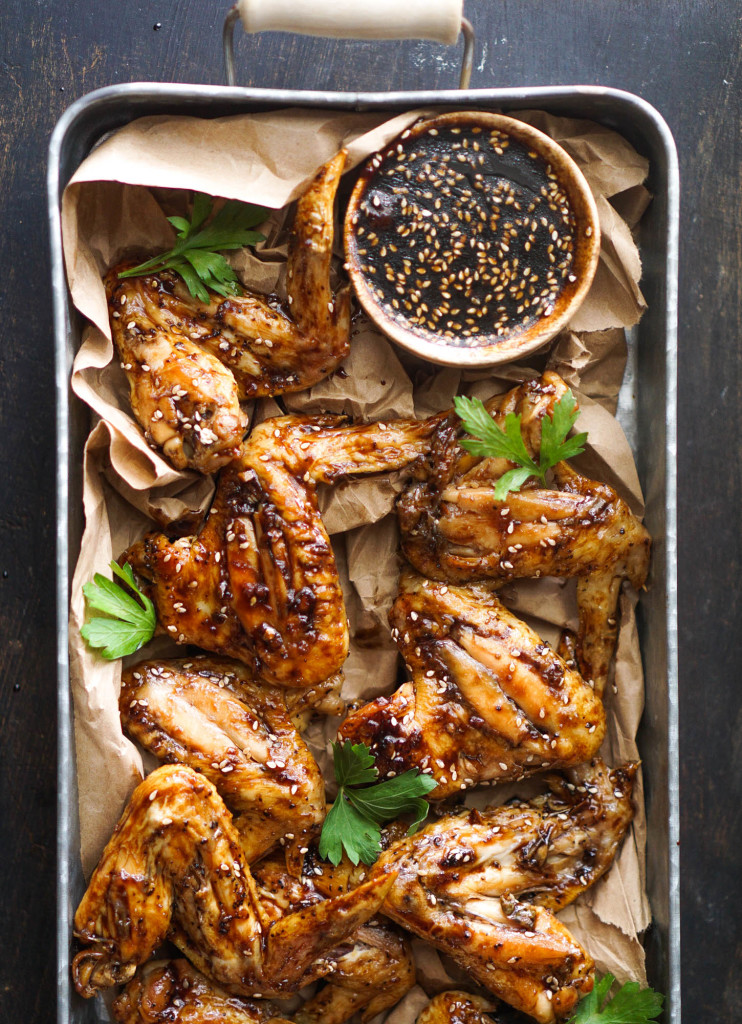 Helllloooo football tailgate season!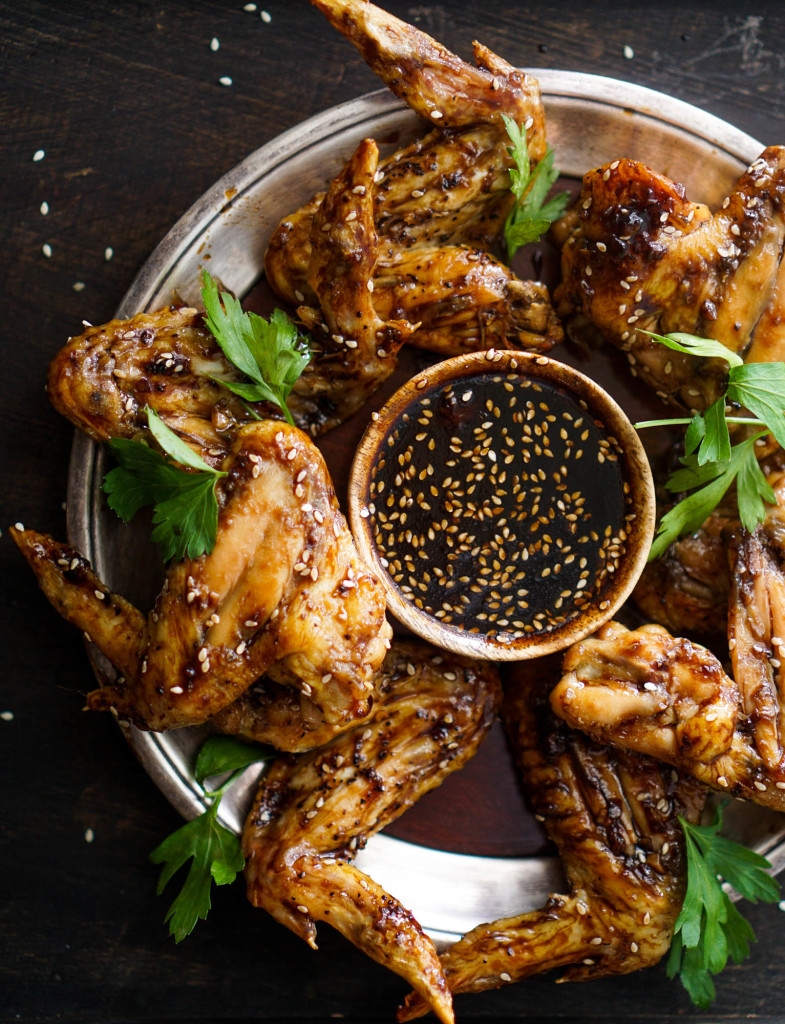 Football season is intense around here, especially with the Thompson family (Scott's family). Intense as in you better be there at 7:30 sharp game day morning or you'll miss the decked out Ravens purple bus. Yes, you heard correctly, a purple school bus.
The week before a football game I'm wrapping my head around what to make. If we're not tailgating, we're probably hosting "the boys," or we're going somewhere where we end up bringing something to eat.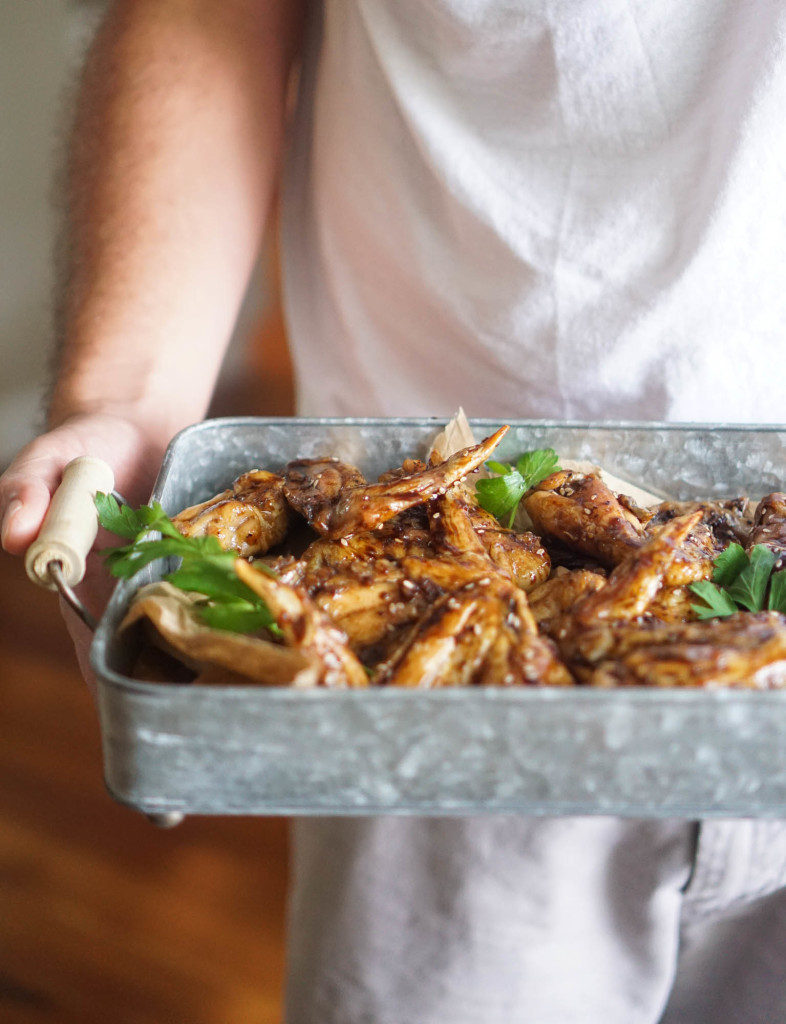 Let's be real, the LAST thing I feel like doing Sunday before football is standing above the stove, frying up individual appetizers that I already spent an hour assembling. NOPE, not happening. I like dips, pastas, and things you can make in batch at an ease, which is exactly why I like these tailgate & entertaining-friendly chicken wings. Let's start cooking because I know you're excited.
Teriyaki Sauce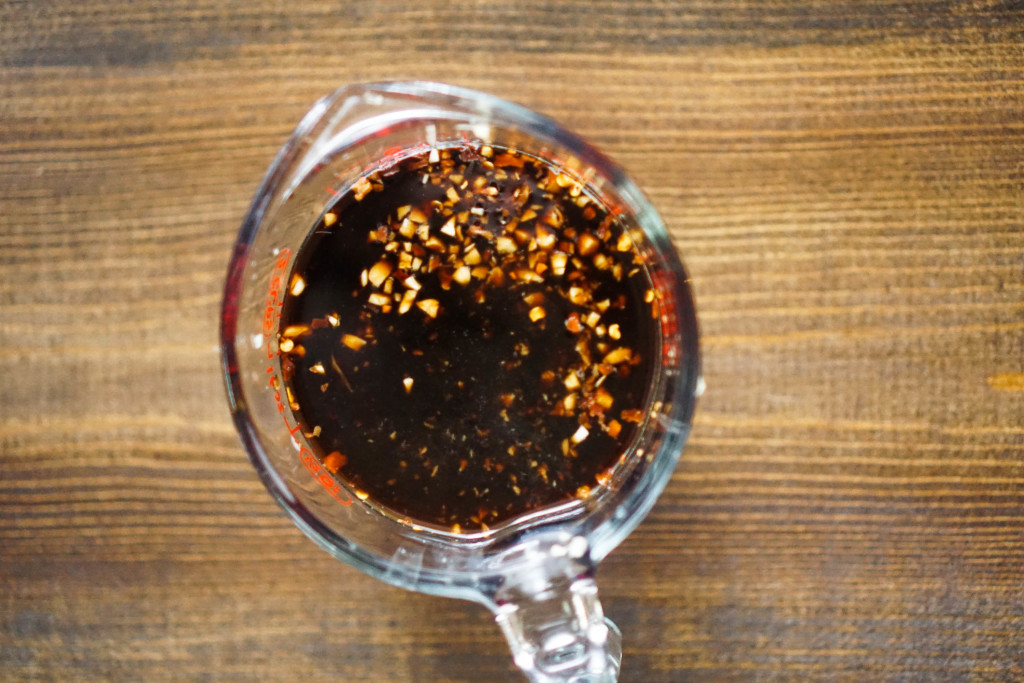 This recipe is my first attempt at making homemade teriyaki sauce and I've made it three times since. It's nothing more than soy sauce, mirin, rice wine vinegar, ginger, garlic, brown sugar, cornstarch, and a pinch of red pepper flakes. It all gets combined over the stove and simmers away!
Mirin is Japanese sweet rice wine and can be found at any international cooking isle. You can also add a few teaspoons of Sriracha for more heat.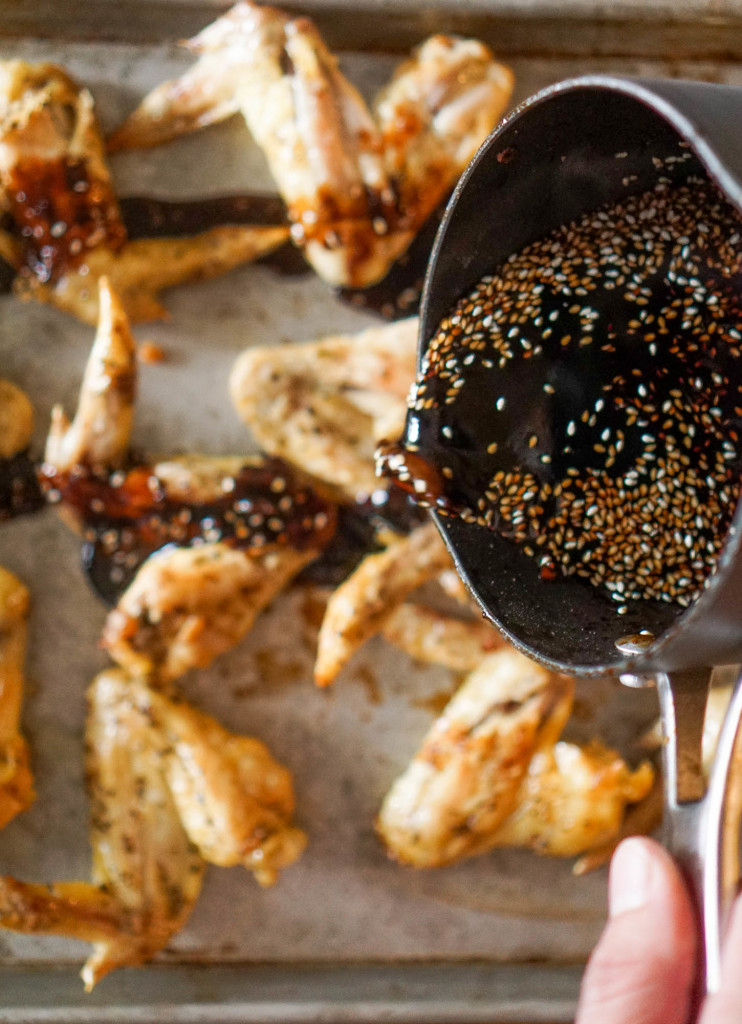 Just before the sauce is ready I stir in sesame seeds for taste, texture, and appearance. The sauce in the recipe makes just enough for a dozen chicken wings, but feel free to bump it up to have some on hand for the week. This stuff in stir-fry is delicious or you can use it as a glaze for salmon, shrimp, or grilled chicken. I'm thinking a grilled chicken teriyaki salad bowl. Yes please!
Chicken Wings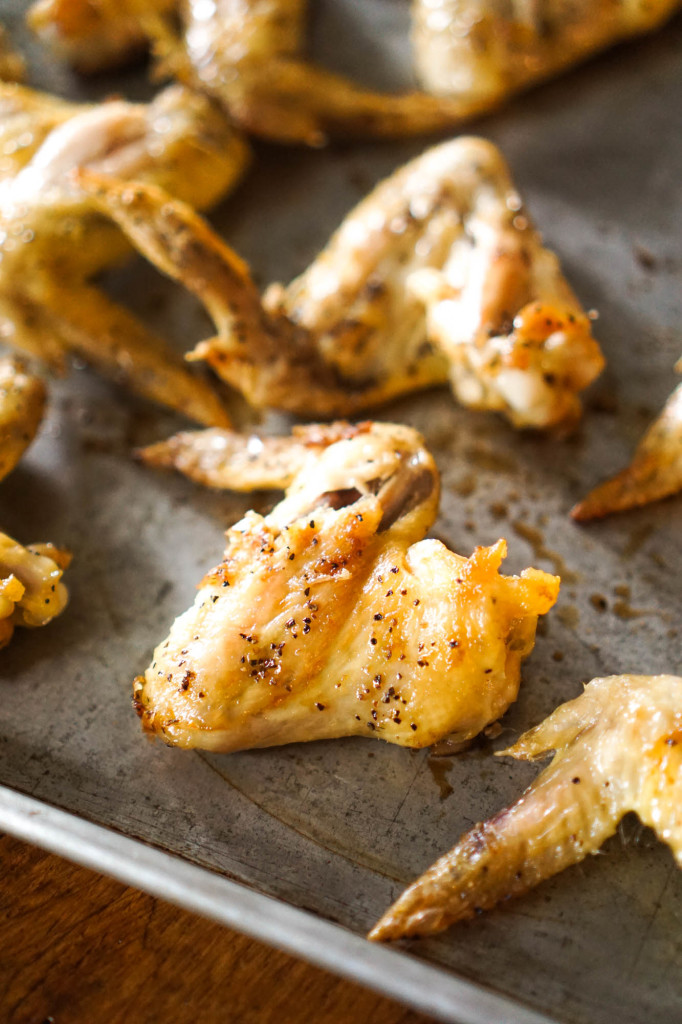 This is the real reason why we're here because honestly you can use whatever sauce you want. Just keep in mind, a dozen chicken wings needs about 1 cup of sauce. Chicken wings baked to a tender yet crispy perfection THEN tossed with teriyaki (or whatever) sauce.
I like doing it this way for a couple of reasons. The chicken wings get baked for about 40-45 minutes at a high temperature which can risk the sauce from burning especially since it's made with sugar. Almost always if you bake the wings pre-sauced, the sauce that's leftover on the pan will burn and therefore you can't dip your wings in it. I know I'm a sauce dipper.
Also, having a tray of naked baked wings let's me get creative with it. You probably saw on Instagram I made this last weekend and did half teriyaki/half garlic butter.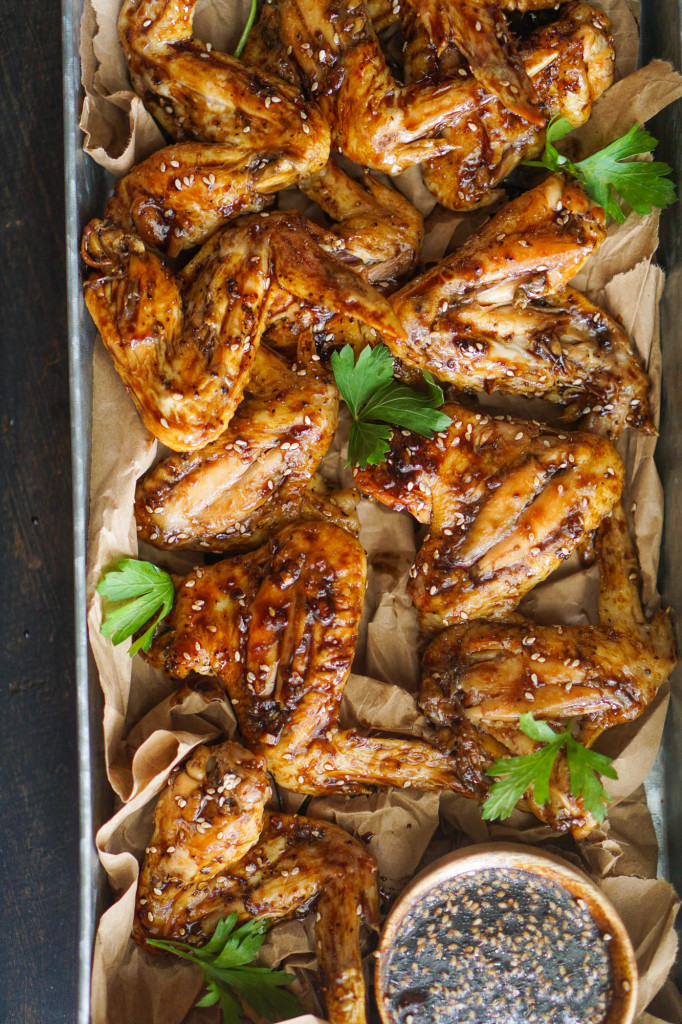 The number one reason though is for serving purposes. Regardless if I'm home, tailgating, or bringing this over to someone's house I'll bring the baked & naked wings over in a crock pot. Once I get settled where ever it is I'm going, I'll pour over the sauce and keep the wings at low. The sauce doesn't get too over cooked and the wings stay nice and warm. This keeps things so much easier and less-messy which is everything I'm looking for.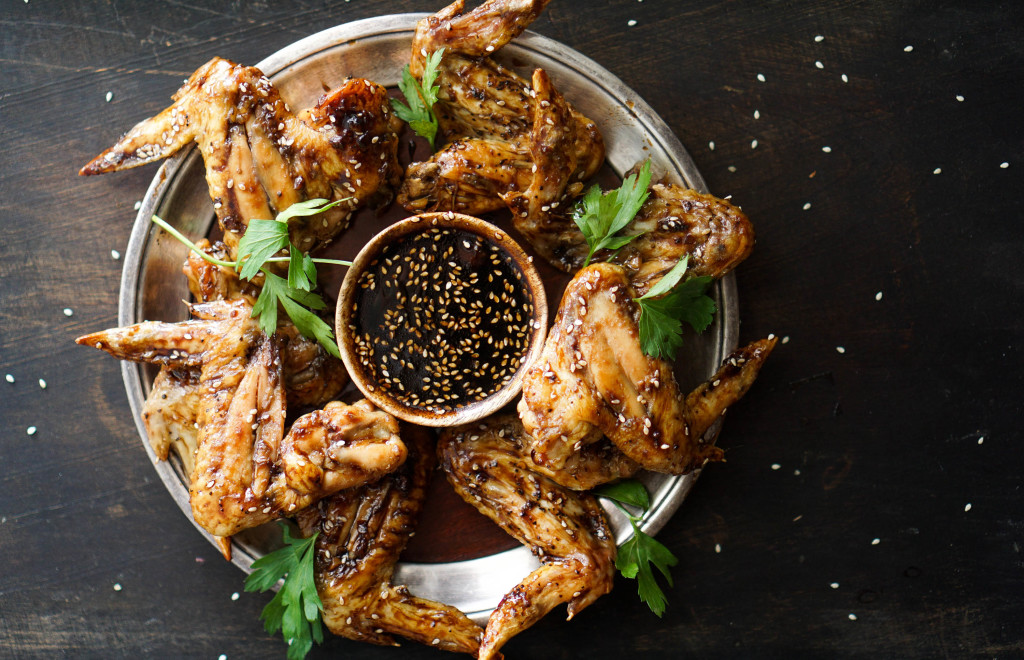 So, go grab some wings your next game day, crank up the oven, whip up some sauce, and get ready for the easiest and tastiest baked chicken wings ever. Enjoy!
Note: recipe revised 9/22 since original post (9/19)!
Baked Teriyaki Chicken Wings (Tailgate Friendly!)
2016-09-17 07:33:33
Serves 8
Sweet & salty teriyaki sauce made with fresh ginger and garlic tossed in crispy baked chicken wings.
Ingredients
4 lbs. chicken wings (about 2 dozen)
2-3 tablespoons canola oil, plus more as needed
salt and pepper as needed
2/3 cup mirin (sweet Japanese rice wine)
1 cup low sodium soy sauce
1/3 cup brown sugar
1 tablespoon rice wine vinegar
1 tablespoon grated ginger
4-5 garlic cloves, minced
pinch red pepper flakes
2 teaspoons cornstarch
1 tablespoon water
1 tablespoon sesame seeds
Instructions
Preheat oven to 425 degrees.
Cover a 9x13 baking sheet with non-stick foil or parchment paper. Add the oil and spread to coat baking sheet. Add the wings, tossing to coat in the oil. If needed add 1-2 more tablespoons. Once both sides of the wings are oiled, season both sides with salt and pepper. I recommend going heavier on the pepper than salt, as the sauce itself will be salty. Arrange the wings snug on the sheet, then bake for 40-45 minutes flipping half way through.
In the meantime, prepare the teriyaki sauce. Add the mirin to a small sauce pan. Bring to a boil, then reduce to a simmer for ten minutes. Add the soy sauce, vinegar, sugar, garlic, ginger, and red pepper flakes. Simmer for 10 minutes. In a small bowl combine the water and cornstarch to create a slurry, add to the sauce and simmer for 3-5 minutes until thick enough to coat the back of a spoon. Once ready, stir in the sesame seeds.
Transfer the wings to a crock pot set at low. Add the teriyaki sauce and toss to fully coat the wings. You want to make sure the wings are kept at at least 140 degrees to keep them safe for eating.
Garnish with thinly sliced scallions.
Notes
*You can add Sriracha instead of the red pepper flakes for more heat.
Adapted from All Recipes (sauce)
Adapted from All Recipes (sauce)
http://www.vodkaandbiscuits.com/