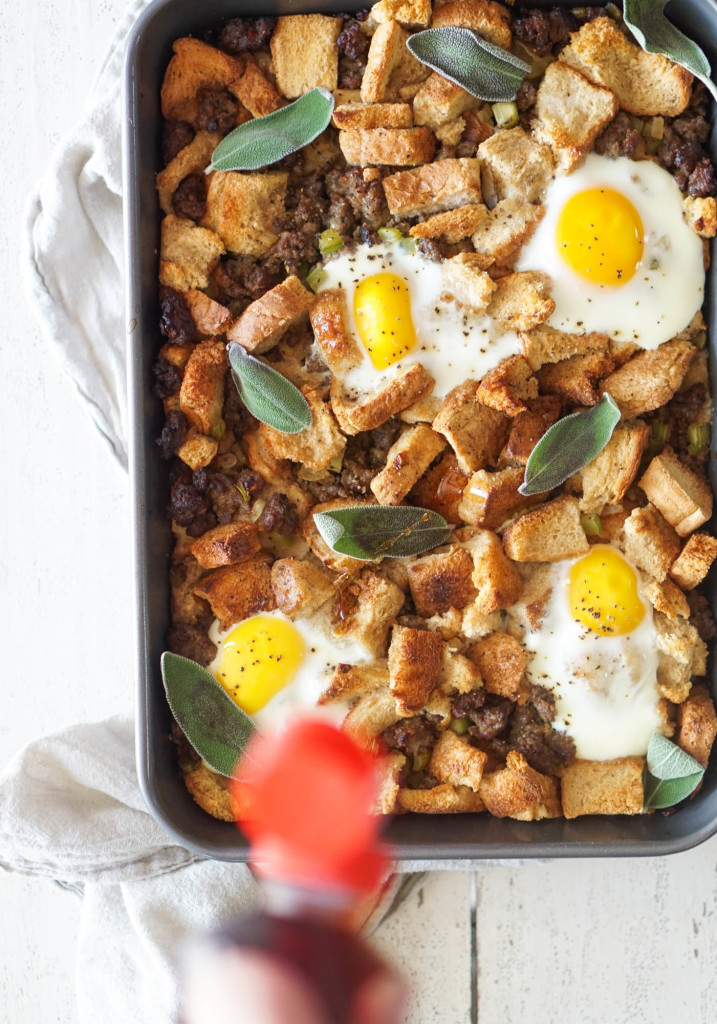 Breakfast stuffing – because we all need to find ways to enjoy Thanksgiving dinner at any time of the day.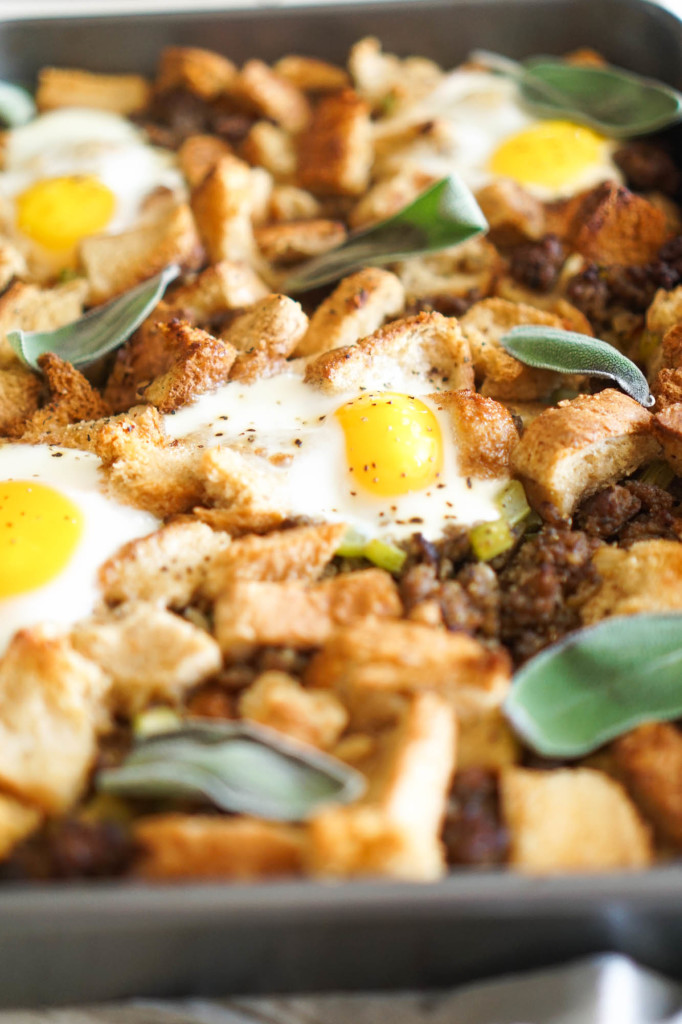 Last week Scott and I were invited to his moms for dinner. Little did we know we were about to walk into a full blown turkey dinner with alllll the things you can imagine. You guys, the key to happiness is random and unexpected Thanksgiving dinner, just saying.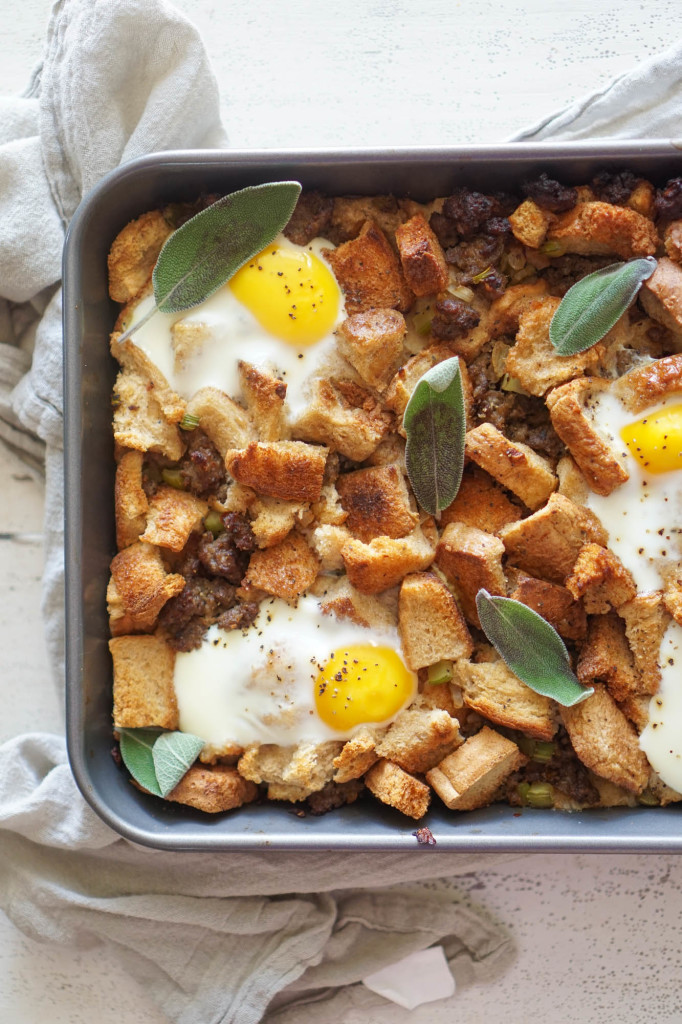 I make my plate, sit across from his brother Alex, and watch as he picks up the maple syrup and drizzles it alllll over his stuffing.
Me: Maple Syrup?
Alex: Oh yeah you're missing out.
Mom: I swear him and Uncle Joe are the only ones that do that. I make the best stuffing and they ruin it with maple syrup (shrugs).
I give it a try, take a couple bites, and sit back shaking my head in agreement (with Alex, sorry Teresa) thinking of allllll the fun things this stuffing can do to my morning. That's how this breakfast stuffing happened. Thank you Teresa for the most amazing stuffing, and thank you Alex for showing the world your tricks. Now if only they can see your magic trick. Let's cook!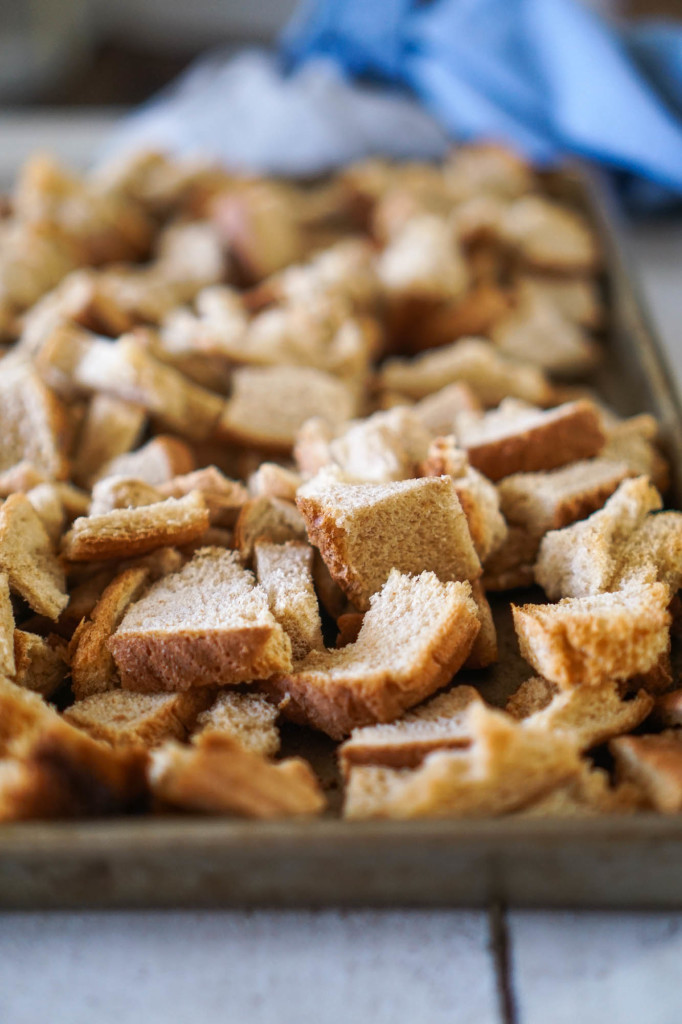 This recipe is almost identical to his mom's except the addition of the maple syrup and eggs at the end. It starts off with wheat sandwich bread that's been cubed and sat out to stale.
If you're in a rush and do not have time to let the bread stale, toast in the oven until no longer soft.
You really don't have to get fancy with the type of bread. Sandwich works perfect but you can also totally switch it up with corn bread.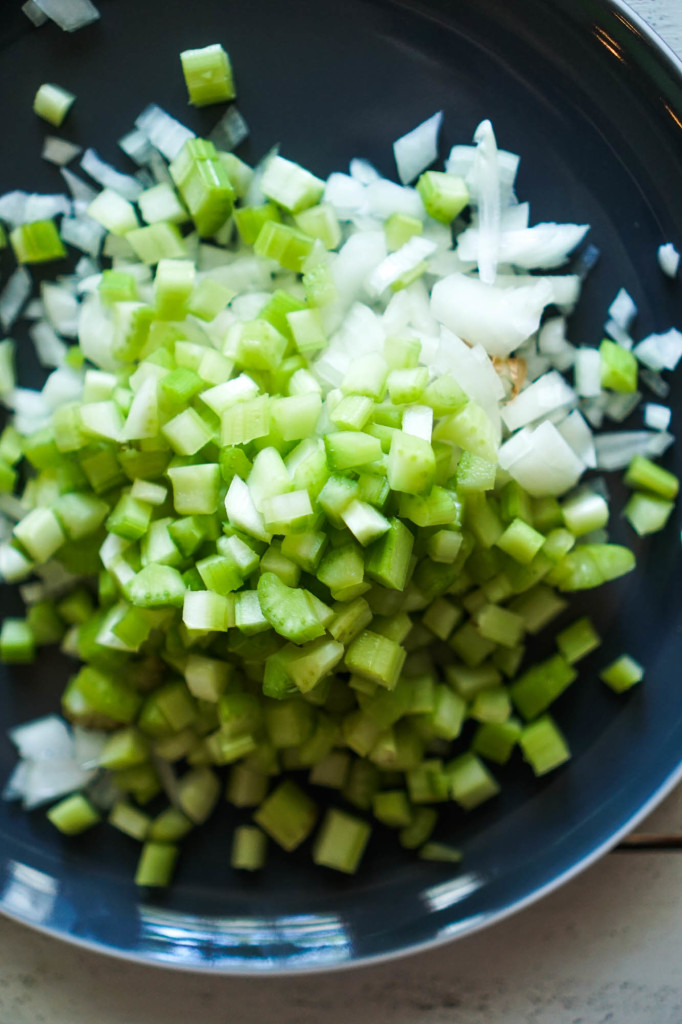 Once the bread is ready the next step is cooking up the sausage with celery and onion. For the sausage I used Jimmy Dean's breakfast sage flavored sausage which is what I recommend the most. Just as the sausage is finished cooking, add in diced celery and onion. There's no wonder why celery and onion are often the base to recipes. It's a combination that just smells so nostalgic.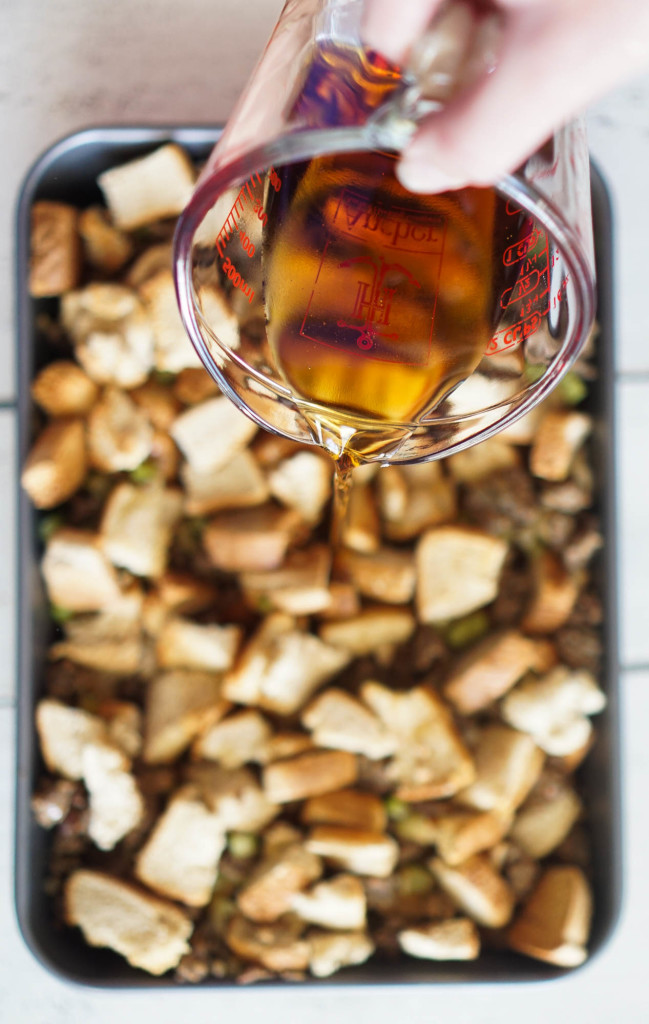 The sausage mix gets flavored with salt and pepper then tossed with the bread and transferred to a baking dish. I give it all a taste to see if I need to adjust the salt and pepper. Sure you can add more seasonings, like dried sage or poultry seasoning, but in dishes like stuffing I truly believe less is more.
The maple syrup gets drizzled and tossed in, then the stock gets poured over. I know there's a ton of recipes that call for warm stock but I don't even bother.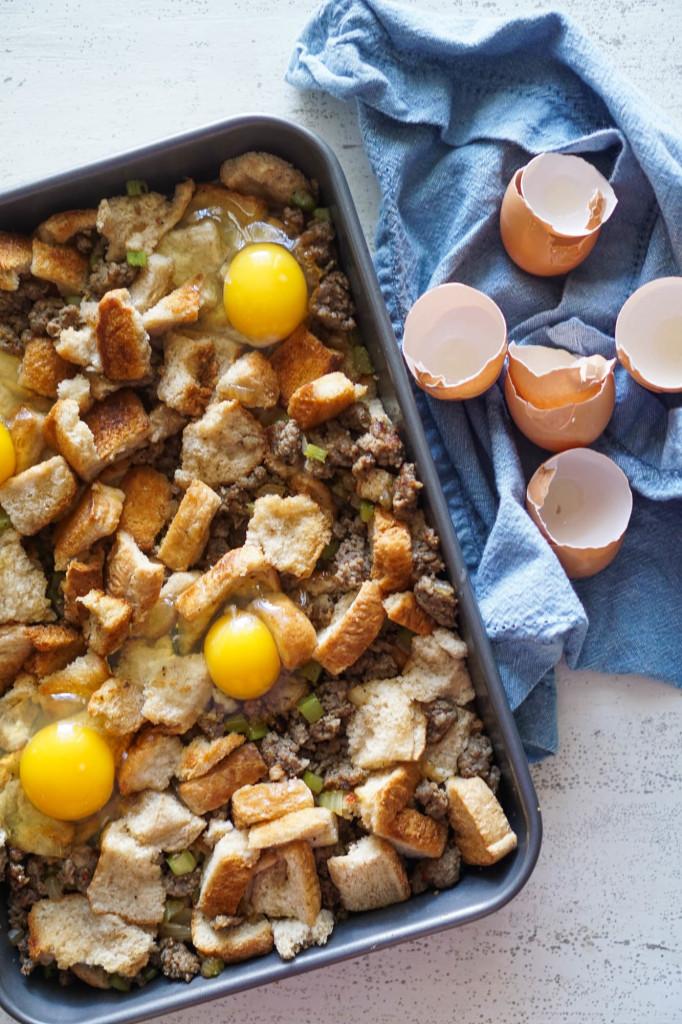 There's no breakfast stuffing without some baked eggs so when your stuffing has 10-15 minutes left to bake, crack over a few eggs! You won't regret it.
I don't think I need to sell you on the comfort of stuffing, it's the maple syrup that I urge you to try. Think of this as a savory breakfast casserole with bites of spicy sausage, sweet maple, and perfectly soft & crunchy pieces of bread. I would make this on a Saturday morning that you have guests over, or for your family of 4+. Add some bacon or jazz it up with your own twists, you know how to please your family.
This is something that needs to happen in everyone's kitchen. Thank you to the Thompsons for introducing me to this breakfast miracle. Enjoy!
Maple Breakfast Stuffing with Sausage
2016-10-24 05:52:17
Serves 8
Ingredients
1 loaf wheat bread, cubed & stale*
1 lb. breakfast sage sausage (Preferably Jimmy Dean's)
1 white onion, diced
5 stalks celery, diced
1/2 cup pure maple syrup, plus more for finishing
3 cups low-sodium chicken stock
salt and pepper as needed
4-5 eggs, or more if desired (optional)
Fresh sage leaves for garnish (optional)
Instructions
Preheat oven to 350 degrees.
Have the stale bread cubes ready and set aside in a large bowl.
Heat a large skillet over medium-high heat. Add the sausage and cook for 8-10 minutes, breaking apart with your spoon while cooking, until no longer pink. A few minutes before the sausage is done cooking, add the onion and celery and cook 3-4 minutes until soft. Sprinkle with salt and pepper for flavor. Taste and adjust as needed. Transfer to the bowl with the bread and toss.
Transfer the bread mix to a baking dish (a lasagna dish works perfect). Pour over the maple syrup, then gently toss. Gently pat down on the bread so it is all laid even in the pan, then evenly pour over the stock. The bread should be soft and moist.
Bake for 20 minutes.
Remove from the oven and crack over the eggs (if using). Sprinkle salt and pepper to flavor the eggs. Bake for another 10-15 minutes until the egg whites are firm and the bread is toasted.
Before serving, drizzle over one more with maple syrup and garnish with fresh sage leaves.
Notes
*Preferably leave the bread out overnight to stale, however to quickly "stale" your bread, just pop it in the oven until it has hardened.
*As a breakfast side dish this serves 6-8 people.
Adapted from The Thompsons
Adapted from The Thompsons
http://www.vodkaandbiscuits.com/