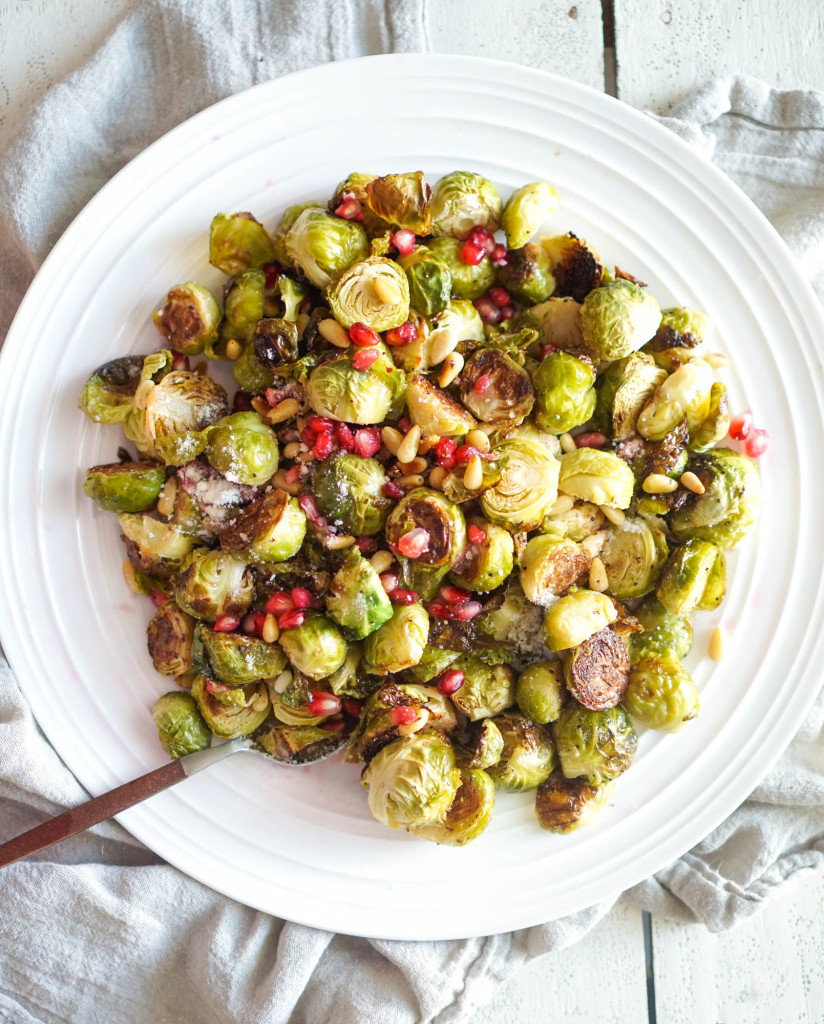 Now that it's November I can finally take one long deep breath. Wedding season is over.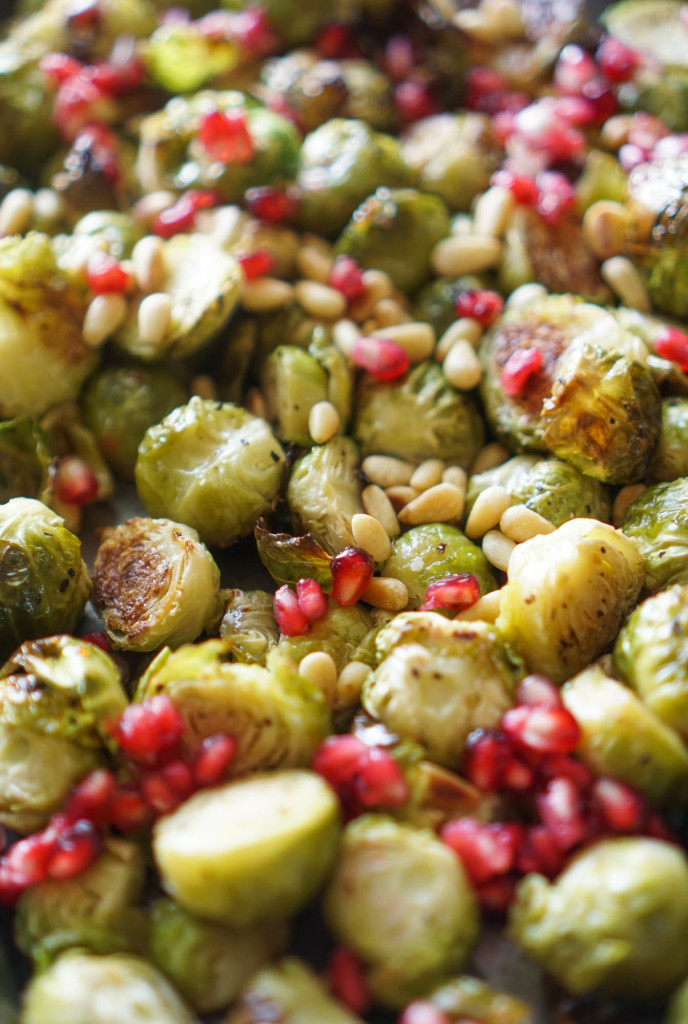 Okay not really, I still have a few left this year but nothing like those 4-per-weekend on top of several other events. We're still getting ready for a busy holiday season, but they're not weddings which means I have more time to pay attention to you all. Hellloooo hungry friends, I've missed you.
I can't think of any recipe that I want to share that is not related to the upcoming holiday-entertaining season. I've been waiting ALL summer to share with you this seasonally appropriate brussels sprouts combination I discovered a few months back at Cafe Nola in Frederick, Maryland.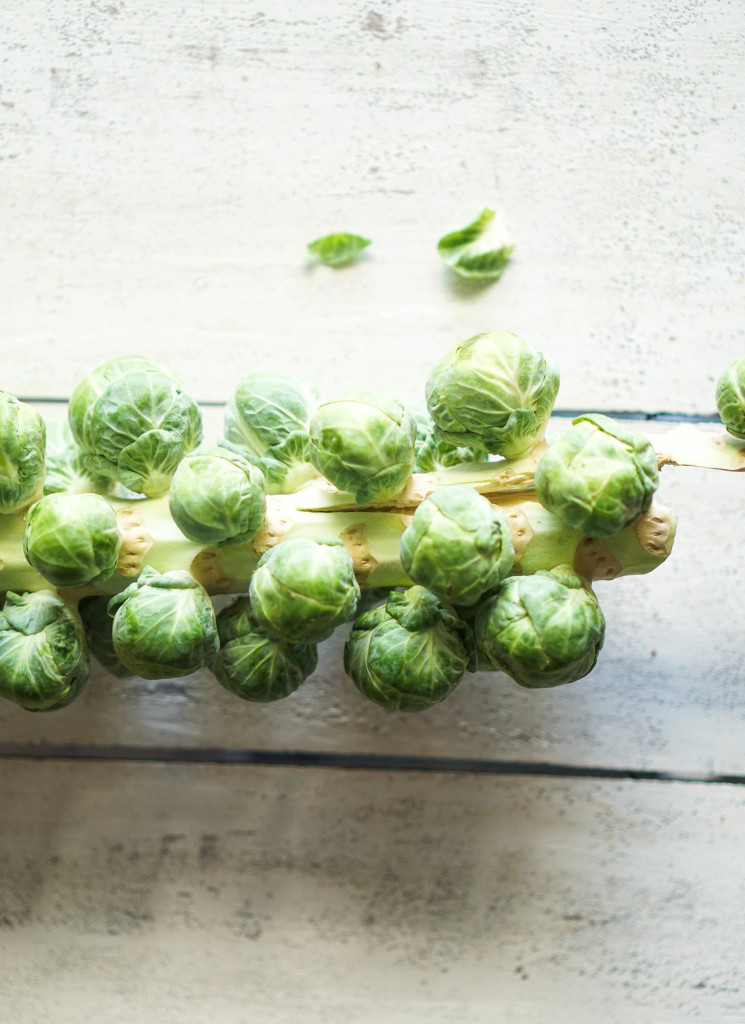 Scott and I stumbled upon the cute cafe while waiting to pick up our dining room table. Check out this beauty.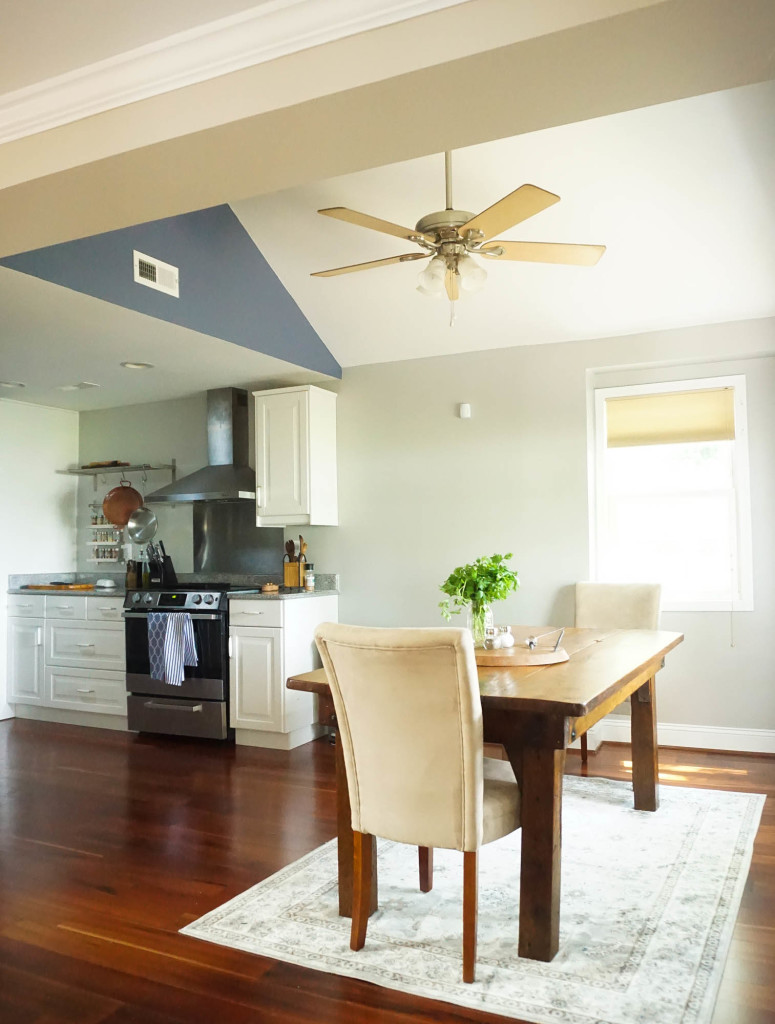 One day I'll get around to showing you pictures of the house, but for now we really need to talk about the second best thing that happened that day: these brussels sprouts.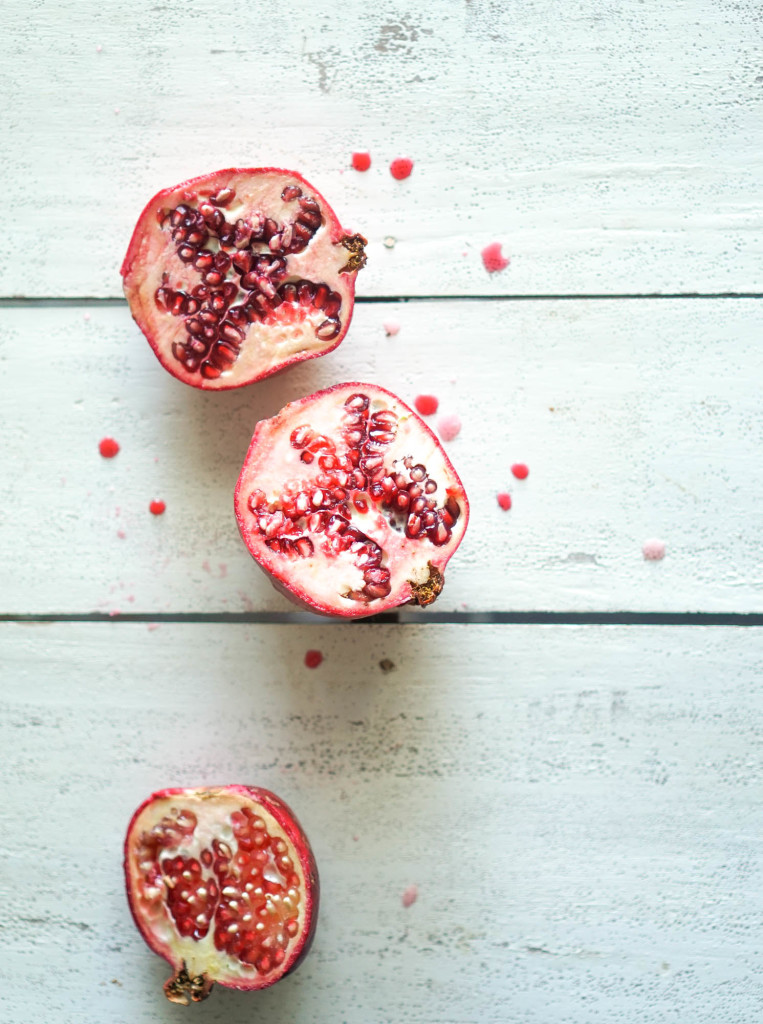 Crispy fried brussels sprouts tossed with plump pomegranate seeds, toasted pine nuts, ribbons of shaved Parmesan, and a mustard seed vinaigrette. They marked it as an appetizer but had I known it was that good I would have doubled the order for my meal. I figured I could either drive an hour to fulfill my craving or just make them myself. You know exactly what I did.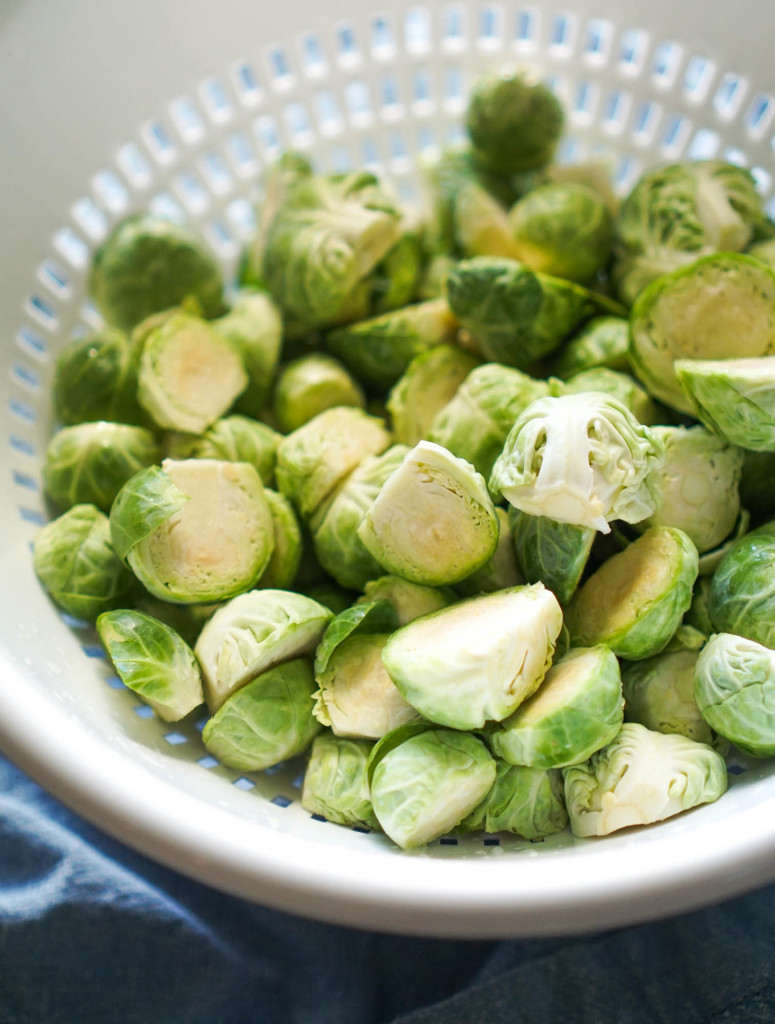 For the past two years when Mom & I host for the holiday I've made my Lemon Roasted Brussels Sprouts. Needless to say the family now expects them. This year I'm switching it up and hoping you do too. There's so much more to these than roasted brussels sprouts tossed with yums. There's a little technique that can be done at home for restaurant quality sprouts.
The Trick is in the Leaves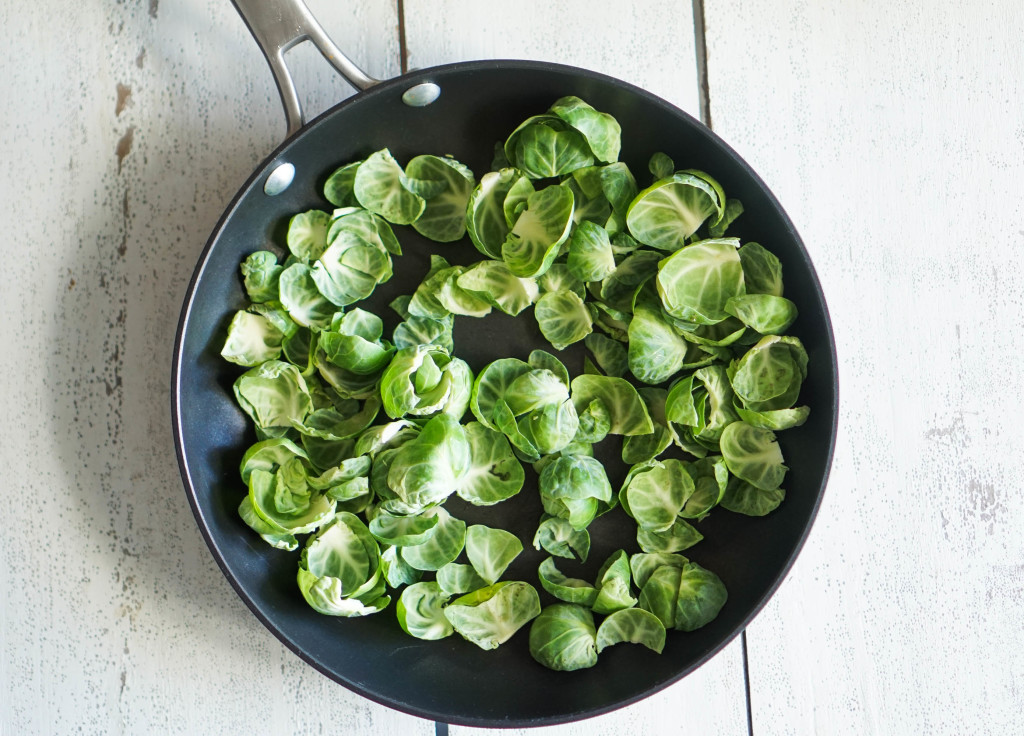 If you've prepped these before you know exactly what happens: leaves. fall. everywhere. Sometimes these leaves are damaged and bruised which gets thrown away, but sometimes they're in great condition. Let's face it, as delicious as deep fried brussels sprouts are, I'm never going to do it at home especially if I'm entertaining.
If you add these leaves to the sprouts while roasting, they'll burn to a crisp in minutes. It's nearly effortless to whip out your frying pan, drizzle a little oil, and pan-fry the leaves until perfectly crisp. Psh, get outta' here deep fryer.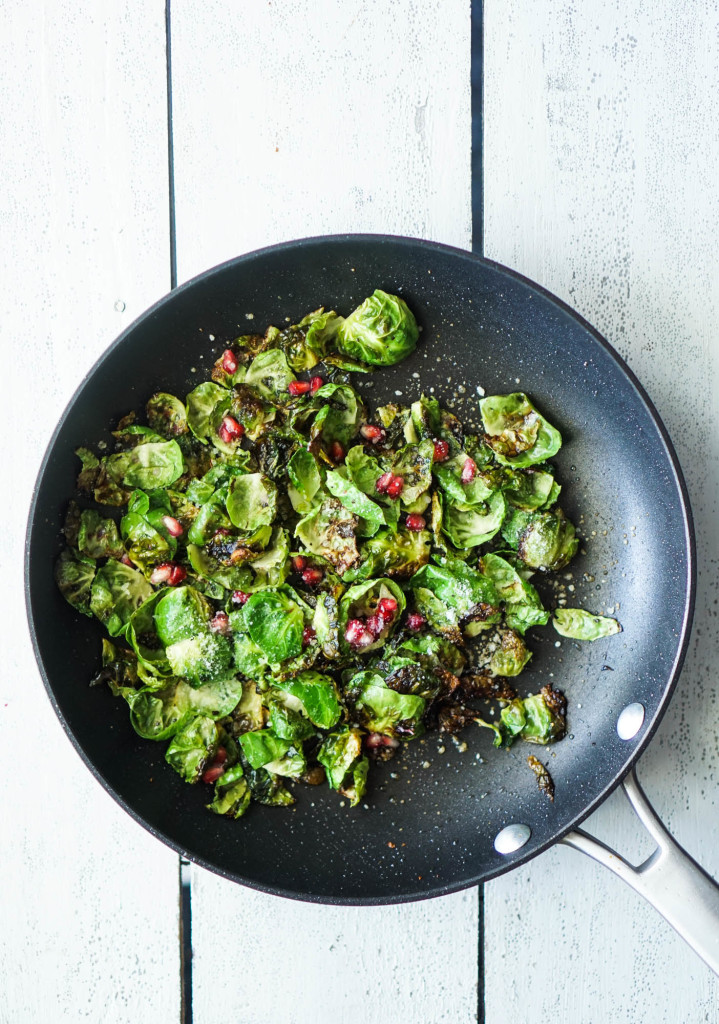 You can eat totally eat these as a little snack, but I like to mix them in with my pan of roasted sprouts to give my guests texture G'LORE.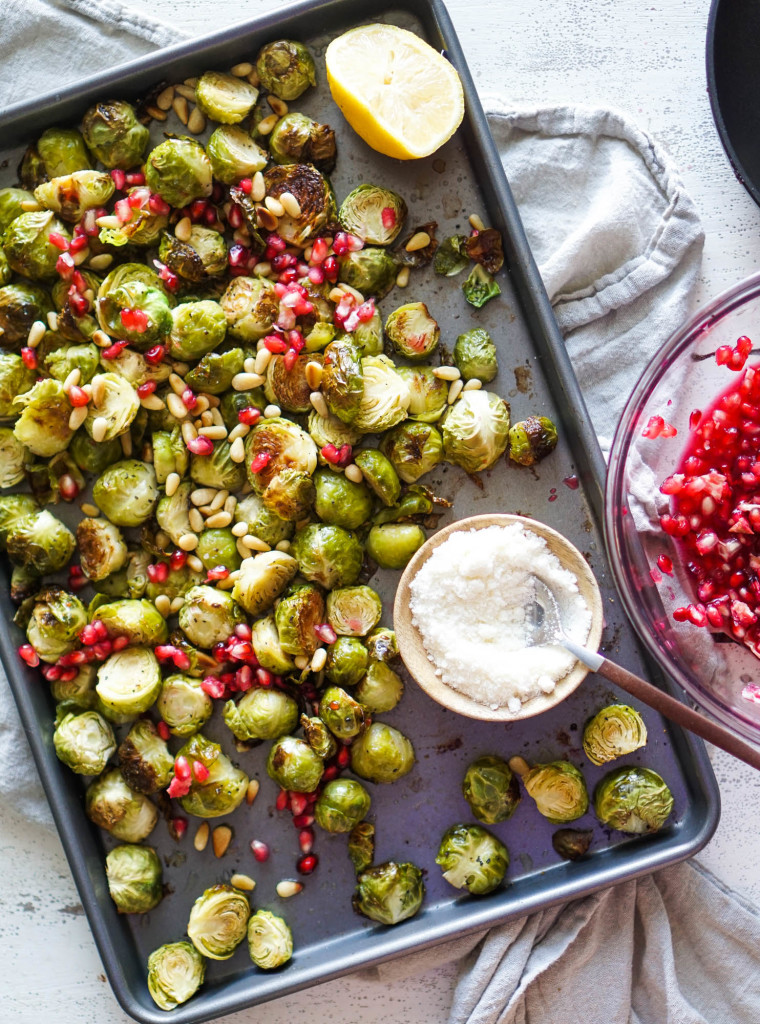 After my sprouts came out of the oven and were tossed with the pan-fried leaves, I tossed them with toasted pine nuts, pomegranate seeds, finely grated Parmesan, and the juice of a fresh squeezed lemon. These were so good I didn't feel the need to make up a vinaigrette.
If you do want to make a vinaigrette, I recommend one with whole-seed mustard, vinegar, oil, and a little brown sugar.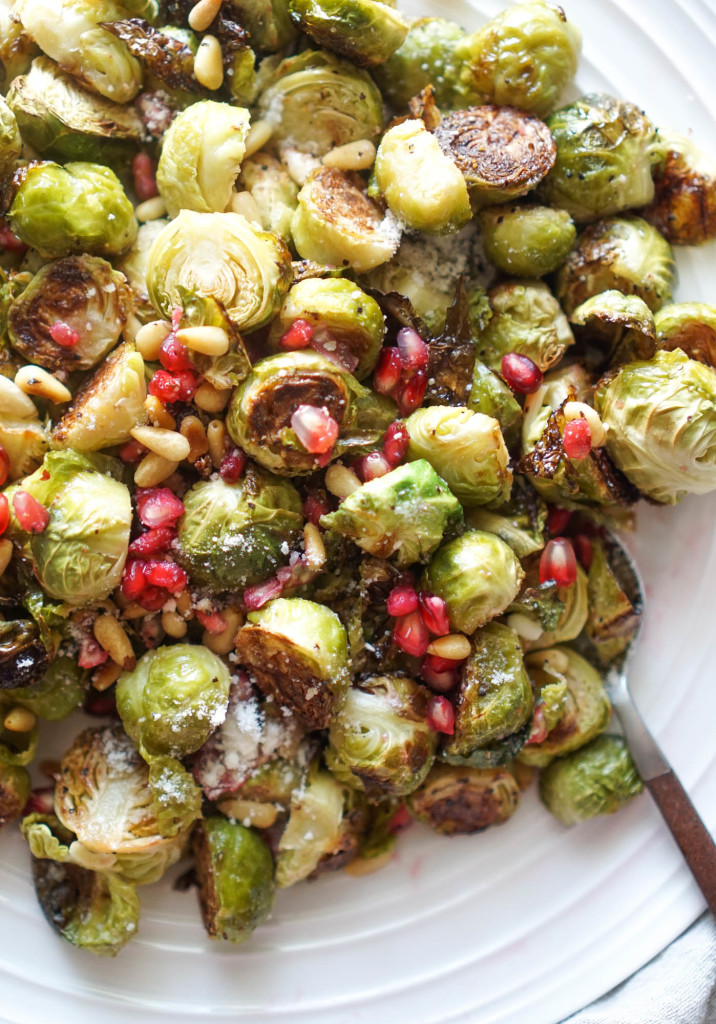 Whether you make this as a side dish for your next holiday dinner or serve this for dinner along side grilled chicken (yummy), I know you won't be disappointed. It's combinations like this that we all need to know. Enjoy!
Entertaining tip: for my family of 12ish I make 3-4 pounds of sprouts. Make life easier and prep them the night before. I serve them warm out of the oven or room temperature if I don't have oven space a few minutes before dinner is served. I don't like re-heating in a chafing dish or warmer as they lose their integriety.
Roasted Brussels Sprouts with Pomegranate
2016-11-07 15:03:07
Serves 4
A trick to roasted brussels sprouts lies in the fallen leaves. Toss that with pomegranate seeds, toasted pine nuts, Parmesan, and fresh lemon juice and you're in for a treat.
Ingredients
1 lb. whole Brussels Sprouts
olive oil as needed
salt and pepper as needed
1 whole pomegranate
1/4 cup toasted pine nuts (or more if desired)
1/4 cup finely grated Parmesan (or more if desired)
1 lemon
Instructions
Preheat oven to 400 degrees.
Clean the sprouts by gently rinsing with water then pat dry with a paper towel. Remove any damaged or bruised outer layer leaves and discard. Cut off the stem, then cut in half lengthwise. Reserve any fallen leaves that are not bruised or damaged and set aside until needed.
Transfer the halved-sprouts to a roasting pan. Drizzle with 2-3 tablespoons of olive oil and season with salt and pepper. Roast 15-20 minutes, until the centers are tender and the outside layers are crispy and dark. Taste and adjust salt and pepper as needed.
While roasting, heat 2 tablespoons olive oil in a saute pan over medium-high heat. Add the reserved leaves and pan fry 3-5 minutes until crispy. Season with salt and pepper to taste, then toss with the roasted sprouts.
Remove the seeds from the Pomegranate (see notes below) and toss with the sprouts. Add in the pine nuts and toss.
Drizzle over the juice of a lemon, then sprinkle with Parmesan. Taste and adjust ingredients as necessary. Serve warm or room temperature.
Notes
To remove the seeds from a pomegranate, cut in half then either squeeze the pom over a bowl to catch the seeds, or beat the "shell" with a wooden spoon until the seeds fall out.
http://www.vodkaandbiscuits.com/