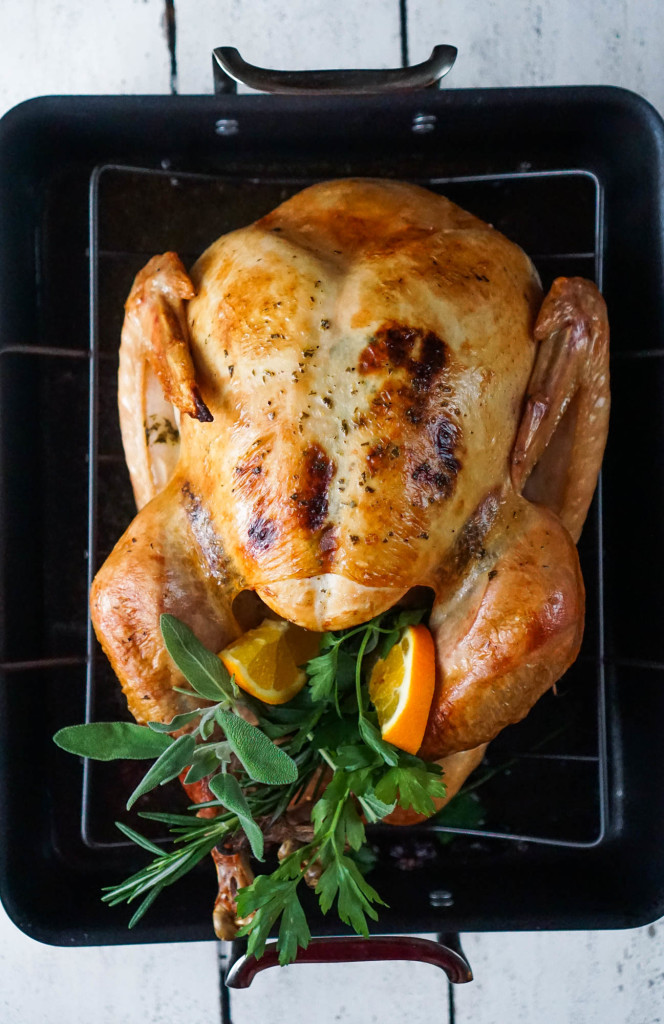 If I were to one day write a holiday-inspired cook book, this is the Thanksgiving turkey recipe I'd share.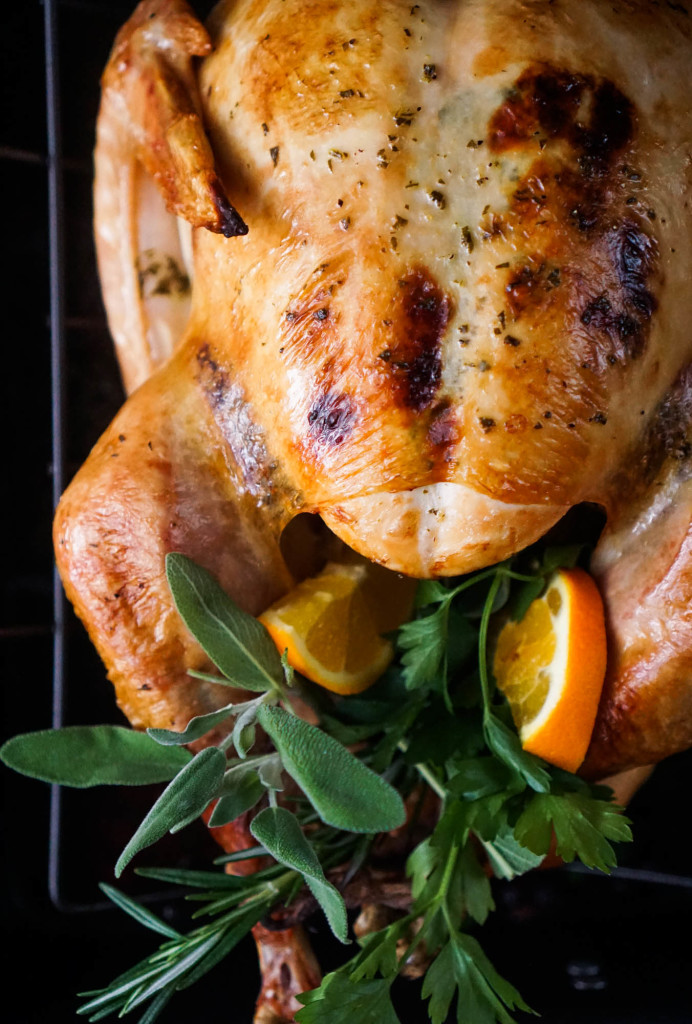 I'm writing this on the Monday before Thanksgiving, assuming you know if/what you're making for dinner Thursday. If you're making the turkey, you probably already have it by now and depending on the size – it's most likely already thawing. If you have your recipe on hand, don't switch a thing! I'm here to share with you a recipe containing methods pulled from a few different chefs, that I hope inspire a few of those who are undecided on what to do for their turkey.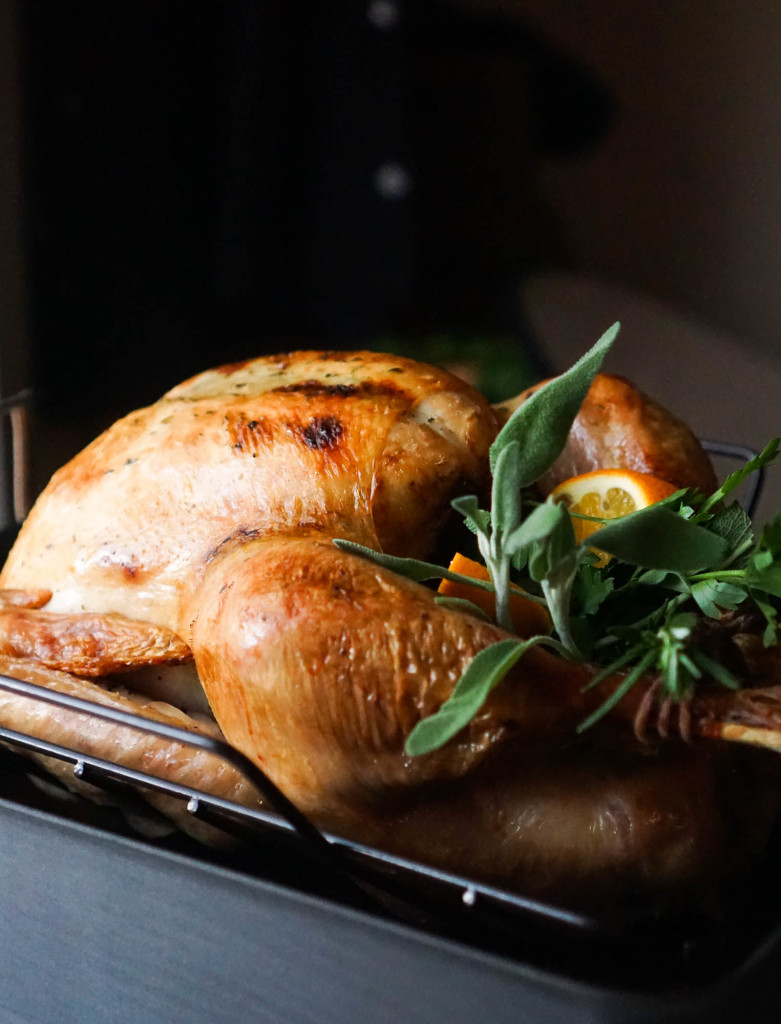 Leading up to this past weekend's Friendsgiving I was one of those undecided turkey makers. There are SO many incredible recipes, how was I going to pick just one? That's why I decided to pull from a few of my favorites like Alton Brown, my girl Ina, and a little tricks I use with all my roast meats. The recipe does include a brine which I totally recommend, and therefore may need a little planning so let's get to it!
The Brine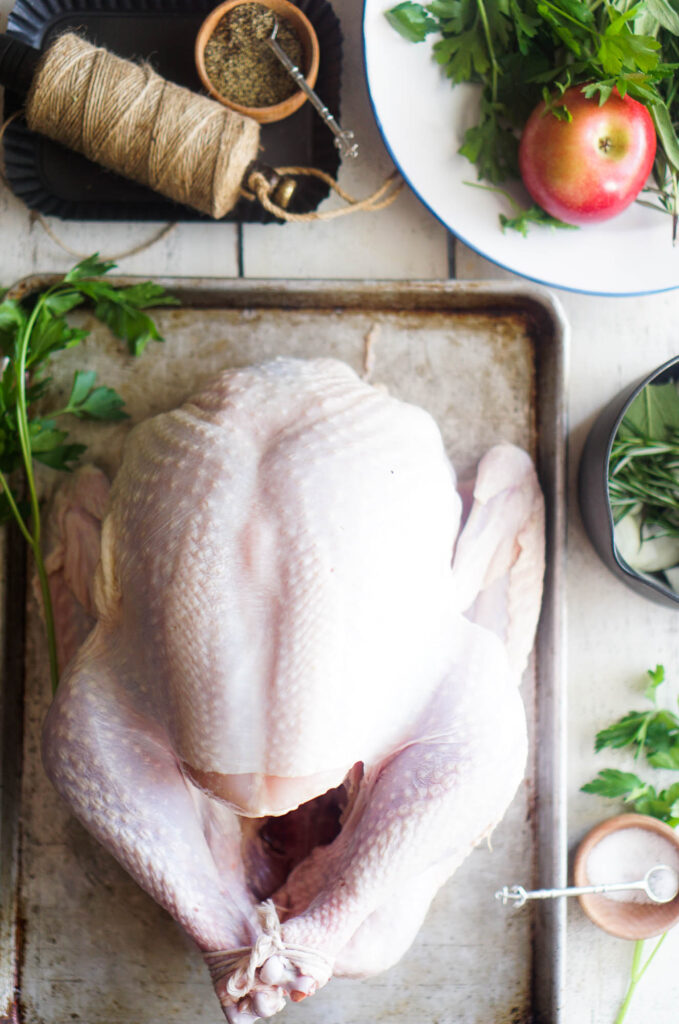 My thoughts are, why spend the money on a turkey that we only make once (maybe twice) a year and NOT do one extra step to make it extra special. Sure brining can be a hassle (trying to find a container, trying to fit the container in the fridge, etc.), but I think it would be more of a hassle if I had to do it frequently. Once or twice a year, sure I'll deal with it.
I've written about the benefits of brining here!
It starts off by heating a gallon of chicken stock with salt, brown sugar, whole peppercorns, and ground allspice.
A gallon equals 4 cartons of stock or you can dilute concentrate in a gallon of water.
That gets cooled & mixed with a gallon of iced water before the turkey is added and left to brine for 8-16 hours. I kept mine in a bucket found at Home Depot (
here
), and started to brine at 4pm the day before I began prep.
Speaking of.
The Prep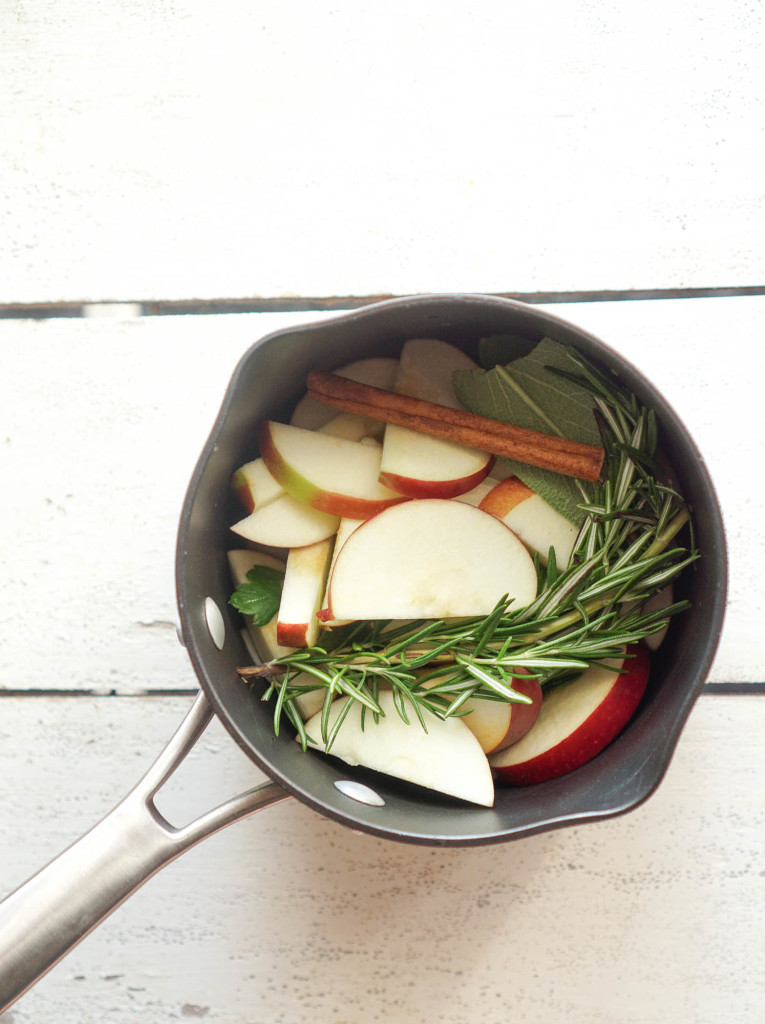 My turkey needed to be ready by 5:30pm, so at noon I took it out of the fridge, rinsed off the brine, then allowed it to sit room temperature for 2 hours. Once it was getting close to show time I got together this AMAZING blend of aromatics of sliced apples, onion, and cinnamon stick. It gets microwaved with water, drained, and stuffed in the cavity with rosemary & sage. Oh the smells give me alllll the feels. This is Alton's tip and I'm never going to not do this.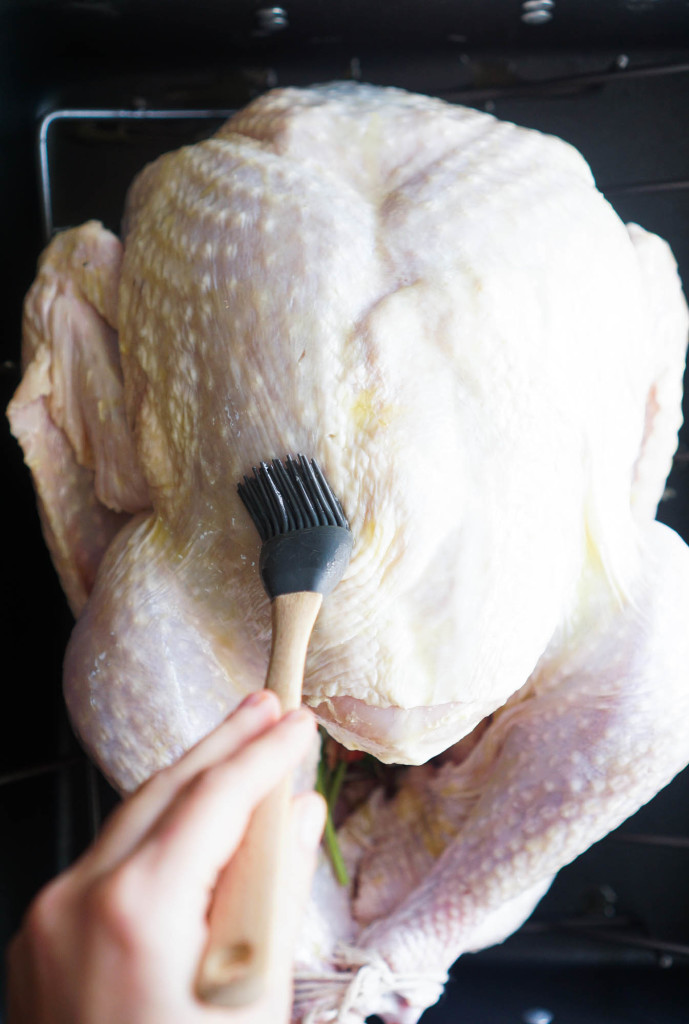 After the turkey is ready, it gets brushed with olive oil and the skin gets stuffed with a dollop of compound butter.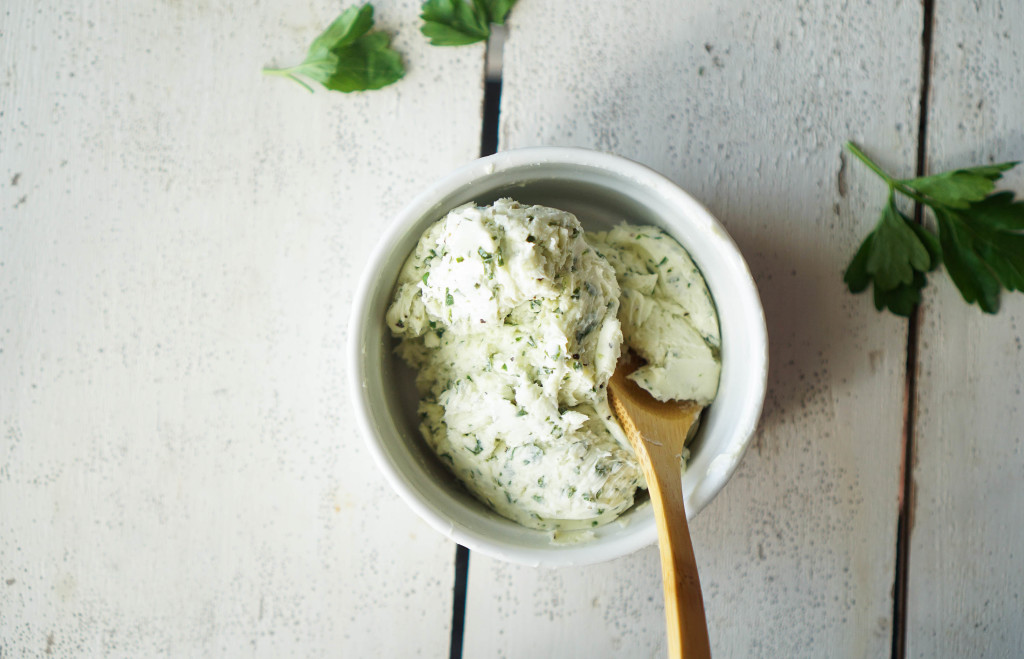 I try to have this in my freezer always, so you can totally bang this out days before. It's butter mixed with herbs, pepper, and lemon. If you're making this day of make sure you pull the butter out in enough time for it to soften!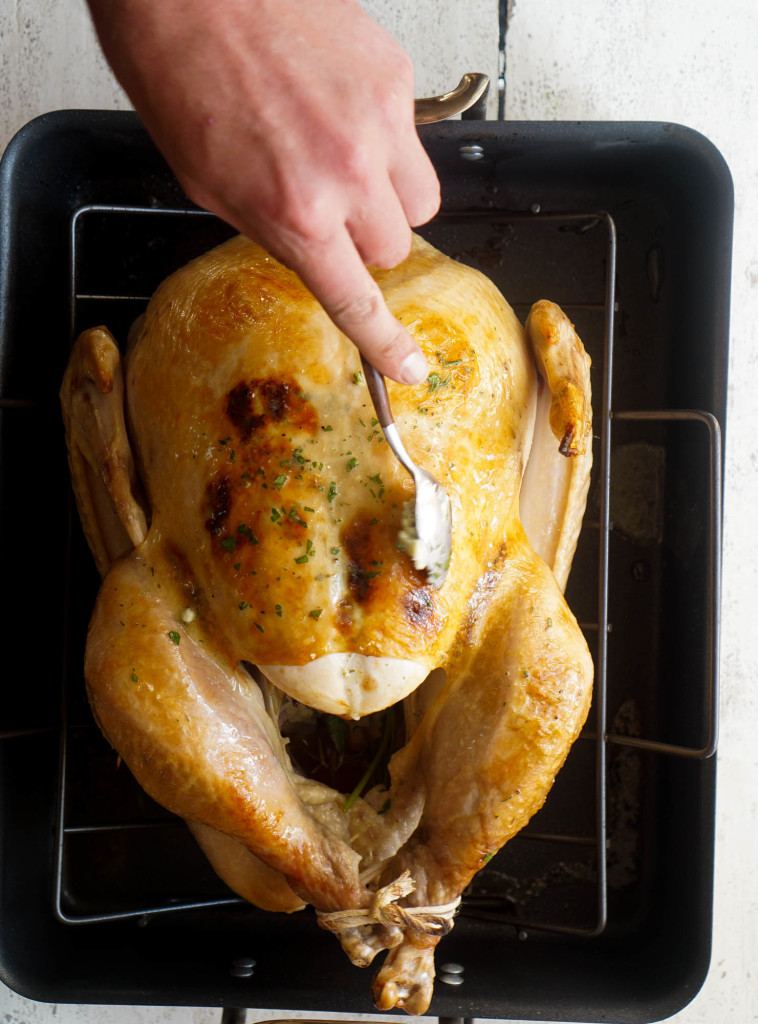 This is the fun part. The turkey roasts for 30 minutes at 500 degrees, which at that point I take it out and give it a few dollops of compound butter directly over the skin. I also have a foil triangle ready to cover the turkey for the second batch of cooking! The oven reduces in temperature and the turkey goes back in for another 2ish hours.
A 14-16 lb. turkey will take 2 1/2 hours. Always be sure to check with your meat thermometer. With thirty minutes left, check in either the thickest part of the breast or the innermost part of the thigh away from the bone. The temperature should register 161-165 degrees.
Once your turkey comes to proper temperature it must rest for 15 minutes to lock in those juices we've worked SO hard to get. It will continue to cook while resting, so taking it out of the oven a few degrees early is totes okay.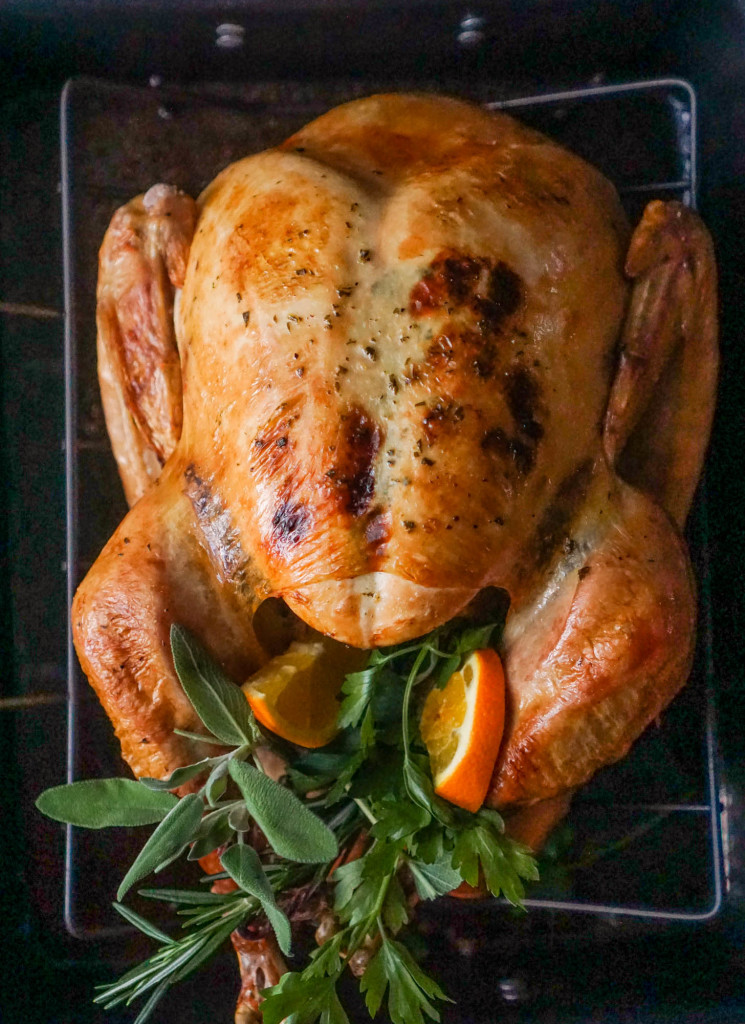 I had to save carving for when I arrived to the party so I couldn't get any post-pictures (AKA it was dark out and I don't have a clue of how to use artificial lighting). I'm hoping you can trust that this was such a hit giving me every reason to make this turkey going forward. The skin is crispy, the meat is juicy, and the subtle smells and flavor of the aromatics are just down right comforting.
I am so excited to spend Thanksgiving this year with my little family of Scott and Barley, and I'm thankful for all of you readers giving me the motivation to keep on cooking and sharing, despite my hectic job. Tis' the season of food being our comfort, our joy, what brings our family together, and what brings us to conversation at the dinner table. Enjoy and have a happy happy thanksgiving!
TURKEY TIMELINE:
2-3 days before roasting – thaw in refrigerator
2 days before roasting – prepare the brine
8-16 hours before roasting – brine turkey
2 hours before roasting – set turkey out room temperature, set butter out room temperature
1 hour before roasting – prepare butter and aromatics
roast turkey 2 1/2 hours – depending on the size
IF YOUR TURKEY IS LARGER:
If your turkey is 20+ lbs., add 1 more gallon of each stock and water. If it is still not submerged in the brine, add more water.
You do not need to increase amount of aromatics.
You will need to roast an additional 15-30 minutes, depending on your oven and thermometer.
My Favorite Roast Turkey
2016-11-21 06:21:40
Serves 12
Ingredients
1 (14 to 16 pound) turkey, thawed
For the Brine
1 cup kosher salt
1/2 cup light brown sugar
1 gallon chicken stock
1 tablespoon black peppercorns
1/2 teaspoon ground allspice*
1 gallon heavily iced water
For the Aromatics
1 red apple, sliced
1/2 onion, sliced
1 cinnamon stick
1 cup water
2 sprigs rosemary
6 leaves sage
Olive oil as needed
For the Compound Butter
6 tablespoons butter, softened
2 tablespoons chopped parsley
1 lemon, juiced
1/4 teaspoon black pepper
Before Roasting
Begin thawing the turkey 2-3 days prior in the refrigerator or in a cooler kept at 38 degrees F.
For the Brine
Combine the stock, salt, brown sugar, peppercorns, and allspice in a large stock pot. Bring to a boil, stirring often to dissolve the solids. Remove from the heat, cool to room temperature, and refrigerate. This should take one hour to cool.
Combine the brine and iced water in a 5-gallon bucket. Place the thawed turkey (innards removed) breast side down. If the turkey is not submerged you can weigh it down. I actually added a few more cups of water. Refrigerate for 8-16 hours, turning the bird halfway once.
After Brining
Remove the turkey, discard the brine, and rinse inside & out with cold water. Pat dry with a paper towel and sit room temperature for 2-hours before roasting.
When ready to roast preheat oven to 500 degrees.
Prepare the aromatics. Combine the apple, onion, cinnamon, and water and microwave for 5-minutes. Remove the solids (discard the water) and combine with the rosemary and sage. Stuff inside the turkey cavity.
Prepare the butter. Mix together the butter, herbs, lemon juice, and pepper until the herbs are evenly distributed. This can be done in a processor or stand mixer. A tablespoon at a time, rub the butter under the skin of the breast and thigh for 3-tablespoons. Reserve remaining butter for basting.
Tuck the wings under the bird, tie the legs with kitchen twine, and coat the skin liberally with olive oil.
Roast on lowest level of the oven for 30-minutes. Reduce the oven to 350 degrees, remove the turkey (or slide out the oven grate) to dollop the remaining butter over the skin. Cover loosely with a foil triangle if the skin is getting dark. Continue to roast for 2 more hours, until a thermometer registers to 165 degrees in the innerward thigh or thickest part of the breast.
Allow to rest 15 minutes before carving. Stuff the cavity with fresh herbs and orange slices for presentation.
Notes
*Can use 1 1/2 teaspoon allspice berries.
*Can make butter in advance and store in the freezer. Easiest way is to form a log on plastic wrap, cover, and freeze.
Adapted from Alton Brown, Ina Garten
Adapted from Alton Brown, Ina Garten
http://www.vodkaandbiscuits.com/