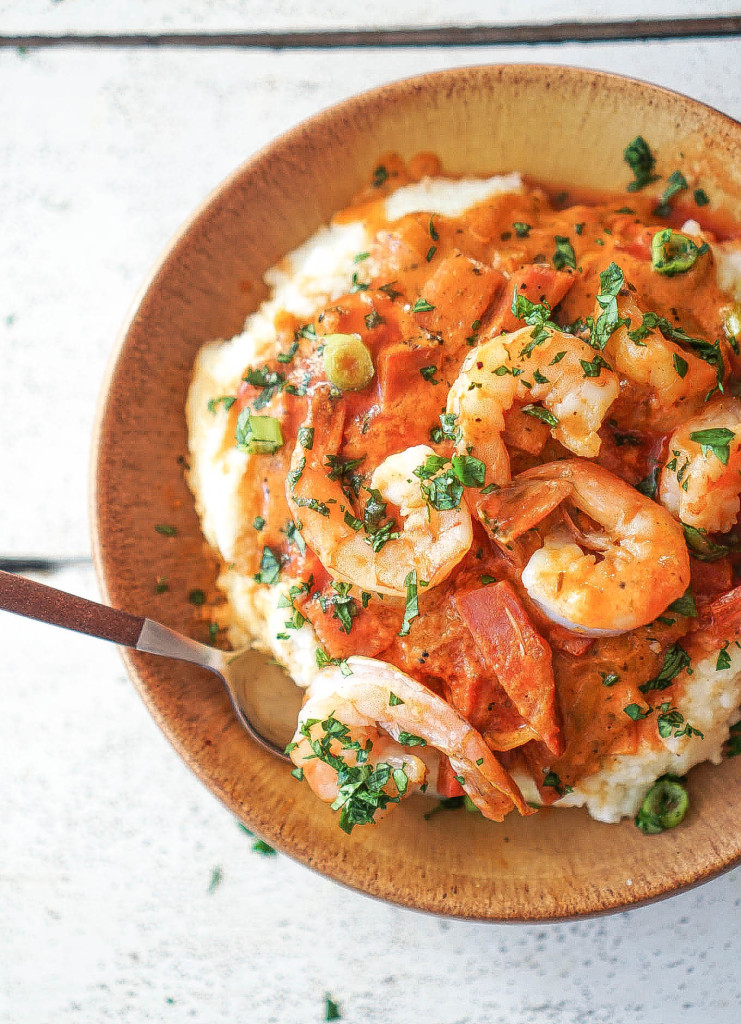 Okay shrimp and grits may not be the prettiest thing in the whole wide world but yes you bet it's the most delicious especially when it's topped with a gravy made with a blend of seasonings, tomato juice, clam juice, leeks, and hot capicola ham. You guys, this recipe is everything to me.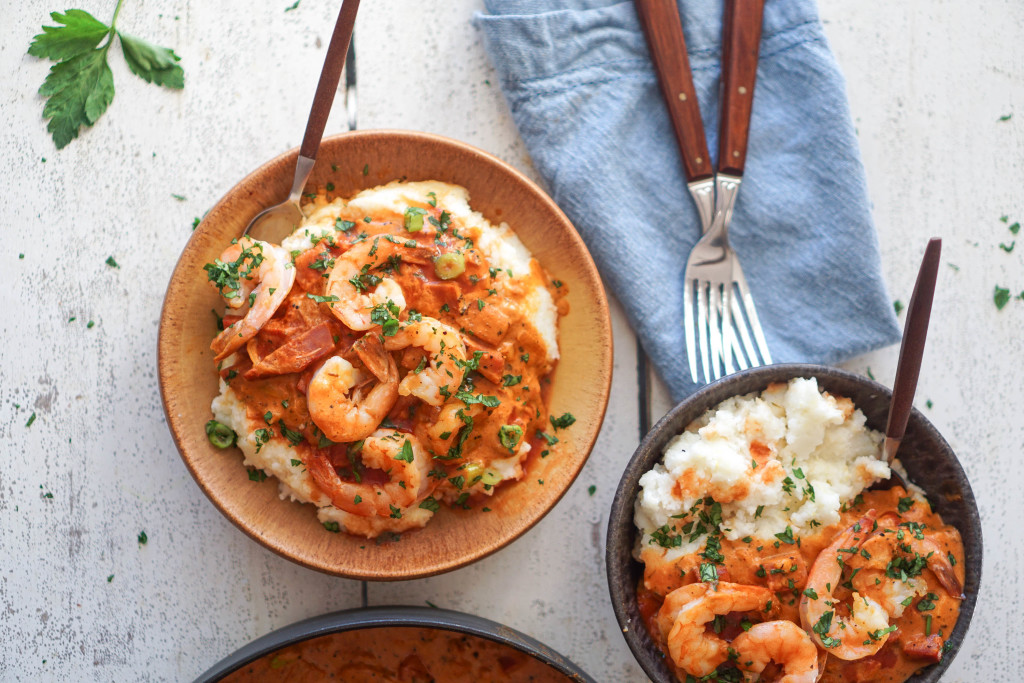 My mom made these shrimp & grits for Christmas dinner last year. She discovered the recipe buried in Food Network's archives a few months prior after eating shrimp and grits for the first time and determined to make her own. She had us over for the trial run and needless to say they tasted as if she's been making shrimp and grits her whole life. It wasn't long after until she told us she's bending tradition and making it a part of the Christmas dinner menu.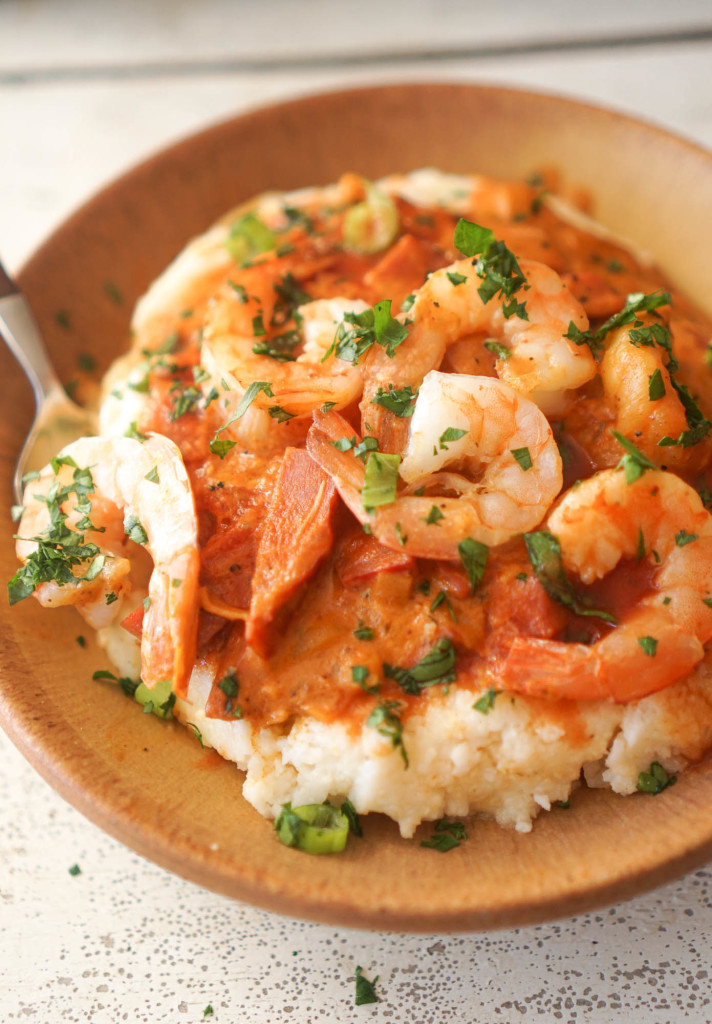 You know the feeling of eating or making something SO good you immediately want all of your friends and family to try it – whether you feature it on the menu your next family gathering, throw a spontaneous dinner party, or bring all the leftovers to work the next day. That's how my mom felt this time last year and that's how I am feeling right now. Moments like this is why I love running a food blog. I've waited a whole year to share this recipe with you and now I'm more excited than ever to get cookin'. Let's start with the grits!
The Grits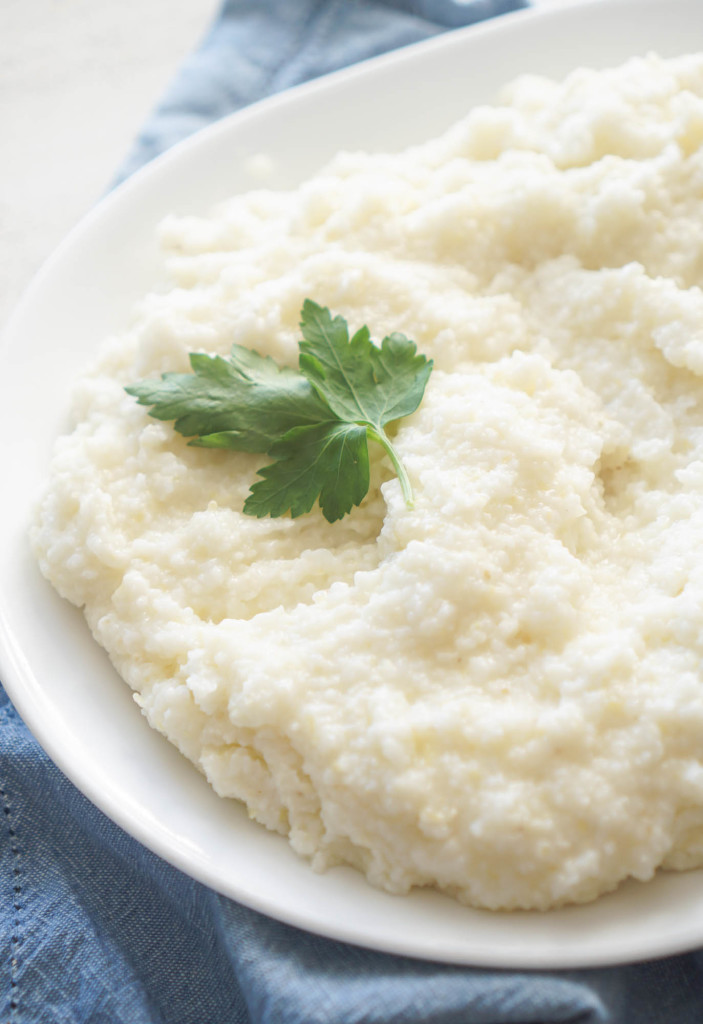 These are classic grits made in butter and milk. Nope, nothing nutritional about this recipe but let's face it, comfort is nutrition this time of year. Some milk, salt, butter, and lots of water get brought to a boil then 2 cups of grits get slowly stirred in. It takes some patience before the grits cook, just give it some time!
I used Quaker Old Fashioned Grits. Quick 5-minutes grits is not recommended.
You want to make sure you're constantly stirring as the grits can easily burn. I started my grits at the same time as prepping for the gravy so I could chop my vegetables and keep a close eye on the stove all at once. The most challenging part of the grits? Not eating it all by the spoonful.
The Gravy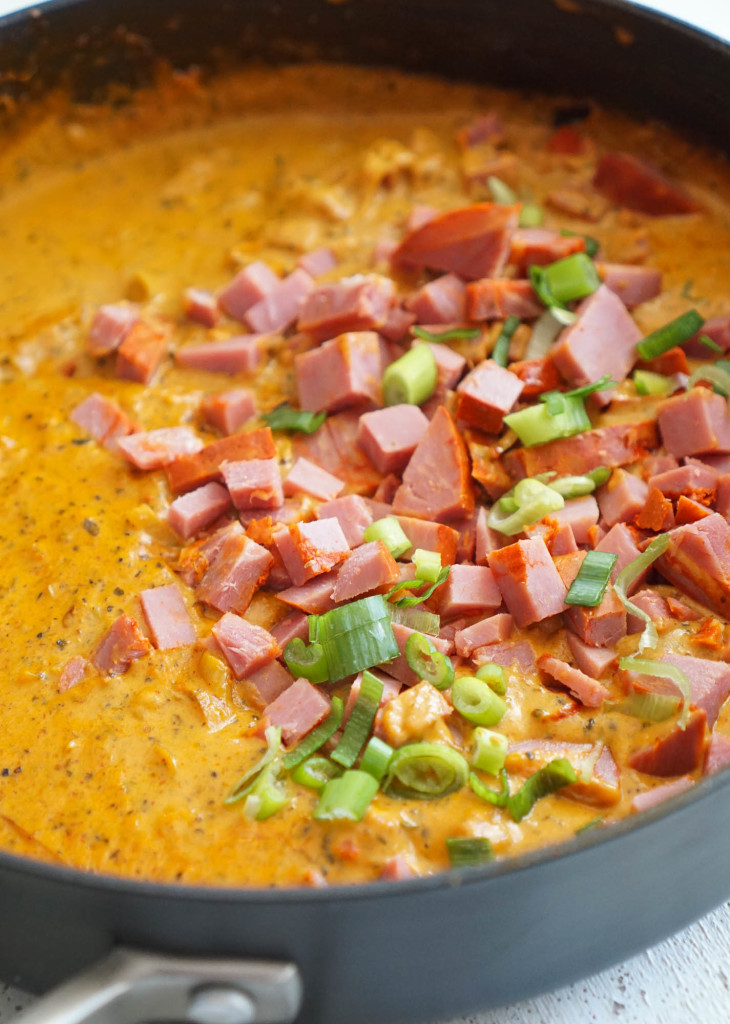 The gravy goes a little something like this: leeks get sauted in butter before a blend of seasonings (think chili, paprika, Old Bay, dried basil, oregano, thyme, garlic), are added along with tomato juice, clam juice, half-and-half, then eventually thickened by a roux before diced spicy capicola ham & scallions are added. I can't even express the flavors happening here.
The original recipe calls for Tasso Ham, which is nearly impossible to find outside of Mari Gras season. My mom actually has an abundance in her freezer which she specially ordered through Wegman's. Spicy capicola ham is a great substitute and can be found at the deli. Ask the meat man to slice 1/2″ slices. More details in recipe!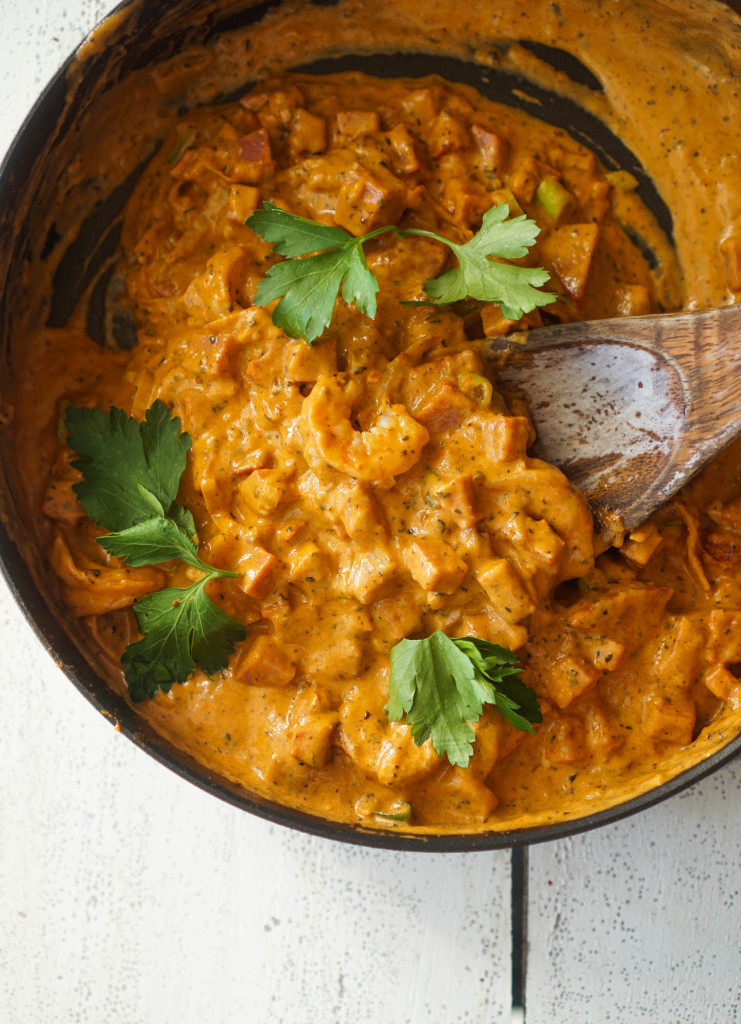 The gravy needs a few minutes to thicken after the roux it added, which is the perfect time to saute your shrimp. The gravy is PACKED with spice and flavor, therefore the shrimp need nothing more than a quick season of salt and pepper and a saute in butter & olive oil.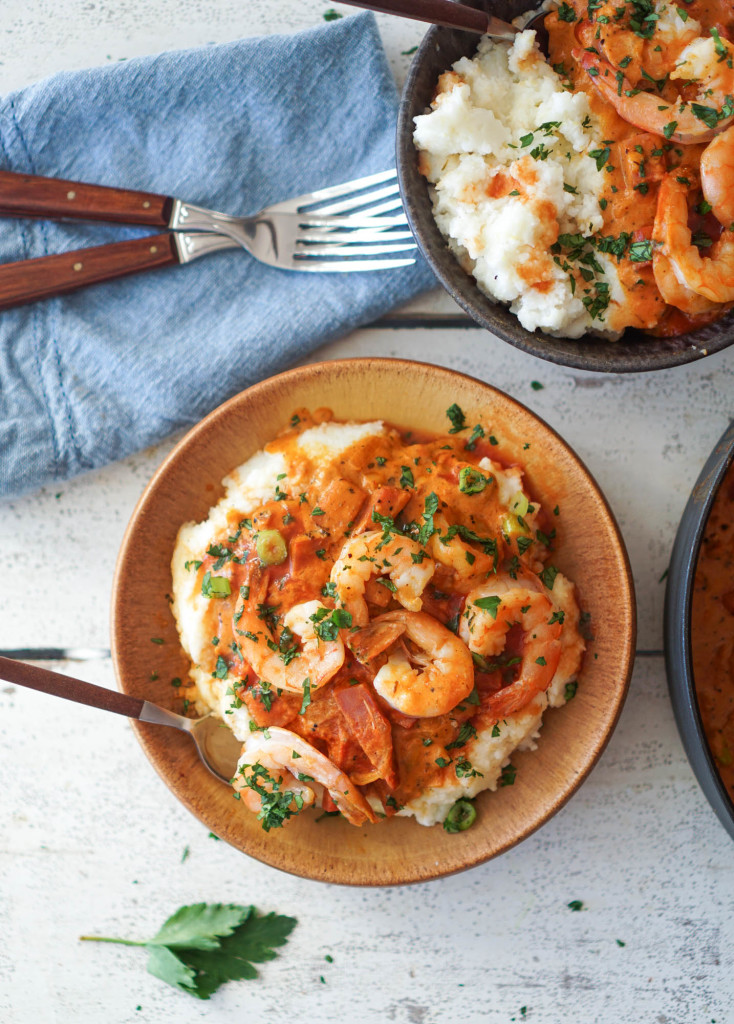 If You Are Entertaining:
Shrimp and grits are perfect for entertaining, in fact you might remember on my Instagram story I brought this recipe to our Ravens tailgate. Here's a few things you need to know:
If you make the grits the night before or early in the day, you will need to loosen them up with a little cream.
Same for the gravy, except loosen them with tomato juice.
You can mark the shrimp then finish cooking them in the gravy before serving. If serving immediately, saute until fully cooked then mix into the gravy.
The gravy and grits hold well in a chafing dish, as long as you have the liquids on hand.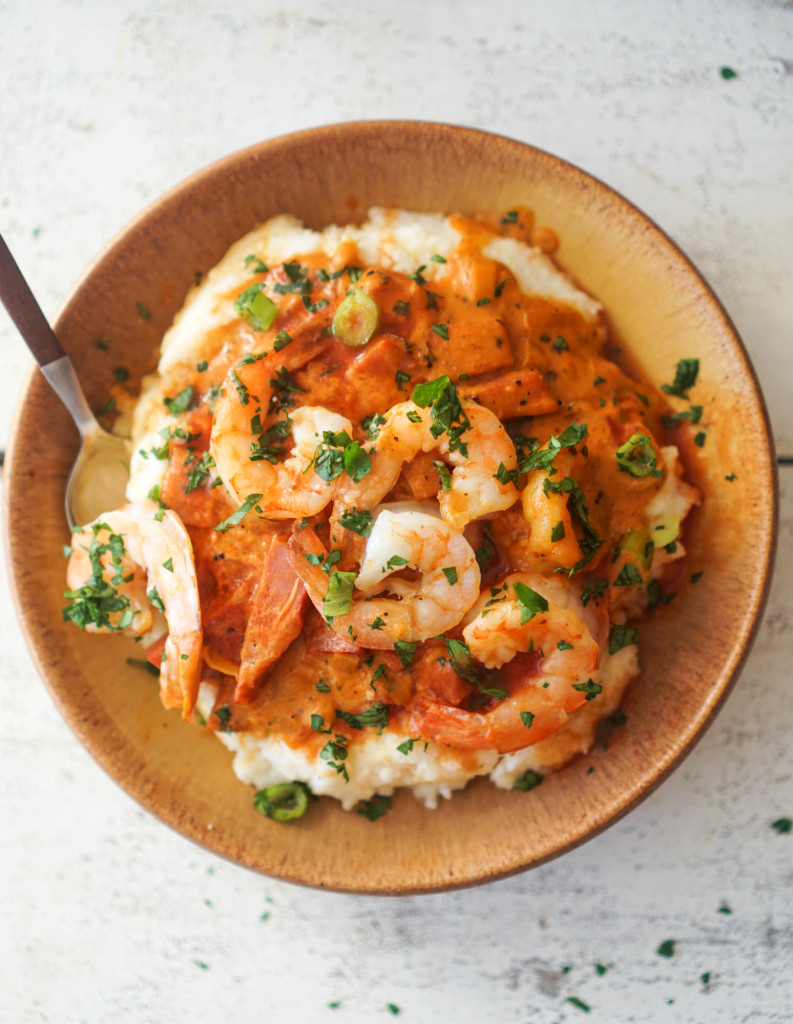 We've deemed this recipe special in my family and of course mom is making it again for Christmas dinner this year. It's the perfect special occasion meal, so start planning your next dinner party or switch things up this year for the holidays. Whether it's the creamy buttery grits, or the spicy gravy made with an array of season, I promise this will be one of your favorite recipes.
Enjoy!
Shrimp & Grits with Spicy Capicola Gravy
2016-12-07 07:37:50
Serves 6
Creamy buttery grits topped with a spicy flavorful gravy and shrimp that screams special occasion.
For the Grits
2 cups whole milk
2 teaspoons salt
1/4 cup butter
6 cups water
2 cups old fashioned grits (ie. Quaker)
For the Gravy
4 leeks
1 tablespoon butter, plus 3 tablespoons butter
1 tablespoon chili powder
1 tablespoon paprika
1 1/2 teaspoons dried basil
2 1/4 teaspoons dried oregano
1 1/2 teaspoons freshly ground black pepper
1 1/2 teaspoons seasoning salt
1 1/2 teaspoons dried thyme
1/2 teaspoon Old Bay
1/4 teaspoon granulated garlic
1 1/2 cups clam juice
1 1/2 cups tomato juice, plus more if needed
1 cup half-and-half, plus more if needed
1/4 cup all-purpose flour
4 ounces capicola ham sliced 1/2" thick, diced
2 scallions, sliced
For the Shrimp
2 pounds shrimp, peeled
2 tablespoons butter
2 tablespoons olive oil
salt and pepper as needed
For the Grits
Combine the milk, salt, butter, and water in a large pot and bring to a boil. Slowly pour in the grits while stirring constantly. Reduce the heat to medium, stirring occasionally to prevent burning. After 15-20 minutes the grits should thicken. Keep warm, still stirring occasionally.
For the Gravy
Chop and discard the thick green leaves of the leeks until you only have the white end. Cut and discard the stem-end of the white part, then slice into small rounds/slices. Transfer the chopped leeks to a bowl of water to remove any dirt, then pat dry.
Heat a tablespoon of butter over medium high heat in a large saute pan. Add the leeks and cook 3-4 minutes until tender. Add a splash of olive oil if needed.
Combine all of the seasonings (chili powder to garlic) and add to the leeks. Stir to release the flavors. Add the clam juice and tomato juice and simmer for 10-minutes. Add the half-and-half and simmer 10 minutes.
In a separate small saute pan, melt the 3 tablespoons of butter over medium heat. Add the 1/4 cup of flour and mix until roux forms. Add to the simmering gravy while stirring vigorously until the gravy thickens. Remove from heat and stir in the ham and scallions.
For the Shrimp
Season shrimp with salt and pepper. Melt butter in saute pan, then saute shrimp until pink and fully cooked, about 3 minutes. Transfer to the gravy.
To serve, spoon gravy over grits. Garnish with more chopped scallions and parsley if desired.
Notes
This recipe serves 6-8 people.
Substitute the capicola ham for tasso ham if you find it accessible.
Adapted from The Food Network
http://www.vodkaandbiscuits.com/