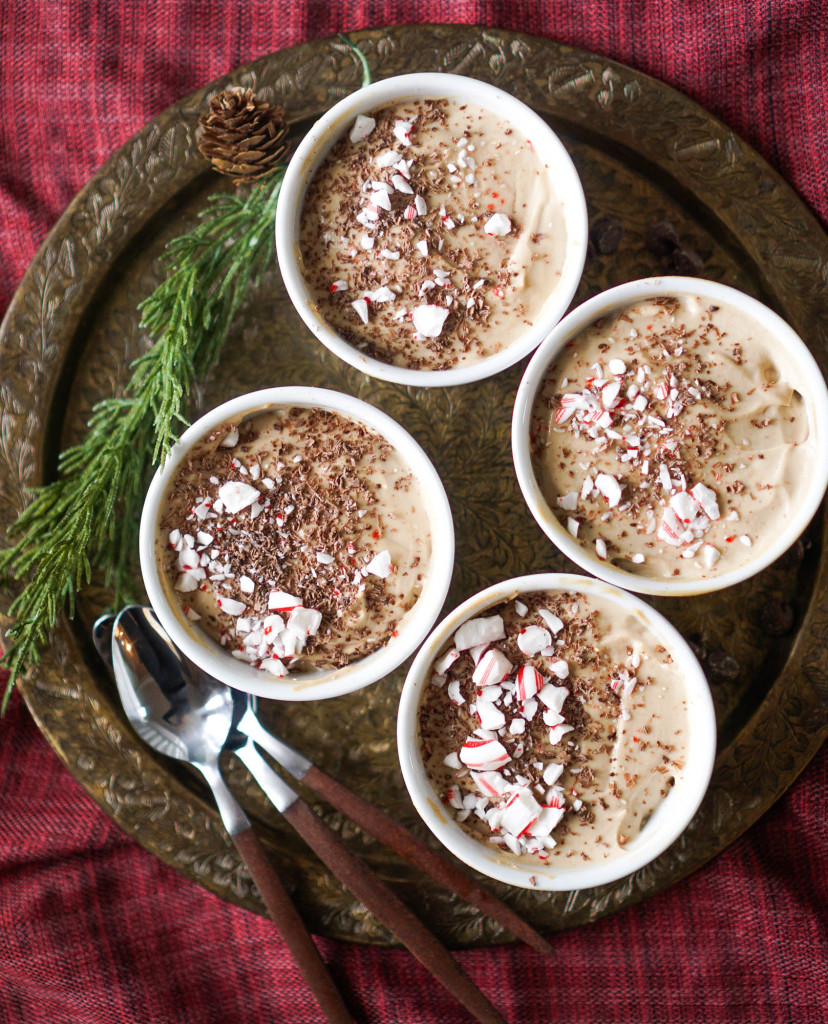 Think of the lightest dessert you've ever had, yet the most richest and creamiest. A dessert that you can only handle a few full spoonfuls of, but those spoonfuls are decadence with hints of a cappuccino, shaved chocolate, and peppermint. That is exactly what's about to happen here.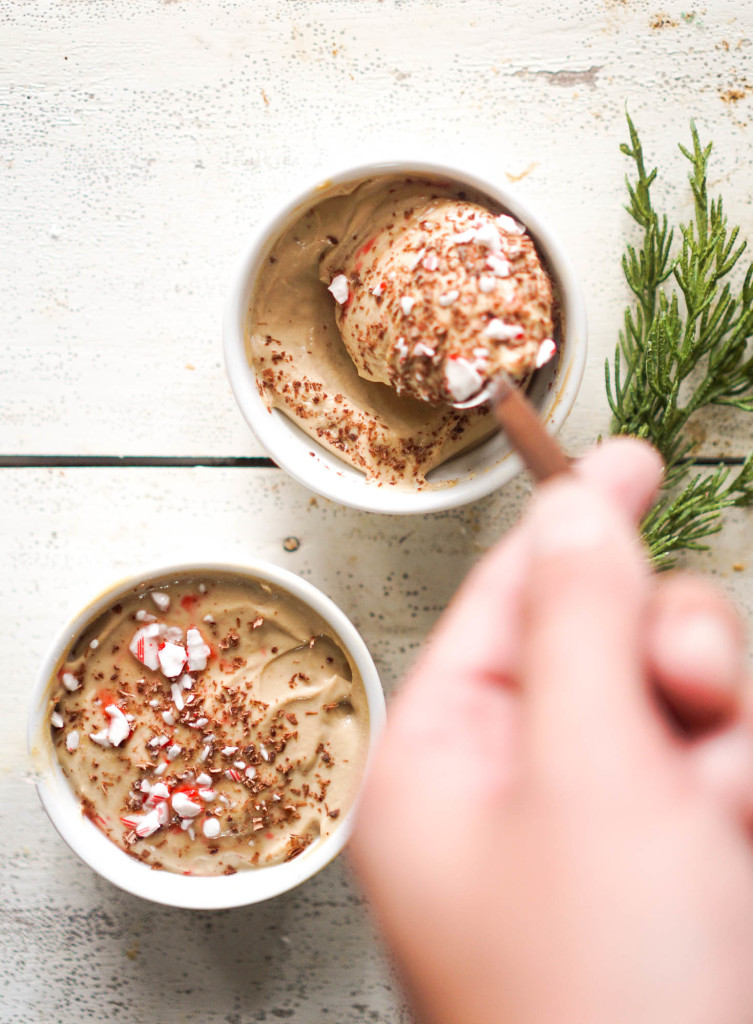 This recipe is meant for those looking for a last minute dessert, or those who want to make something for the family member who has to end their meal with something sweet (me), but can't imagine indulging on a rich chocolate cake or slice of pie after the incredible holiday meal.
I first came across a ricotta cappuccino in a vintage Italian cookbook, then saw a similar version while watching Giada some Saturday morning. I then realized this is an authentic Italian dessert and I need it.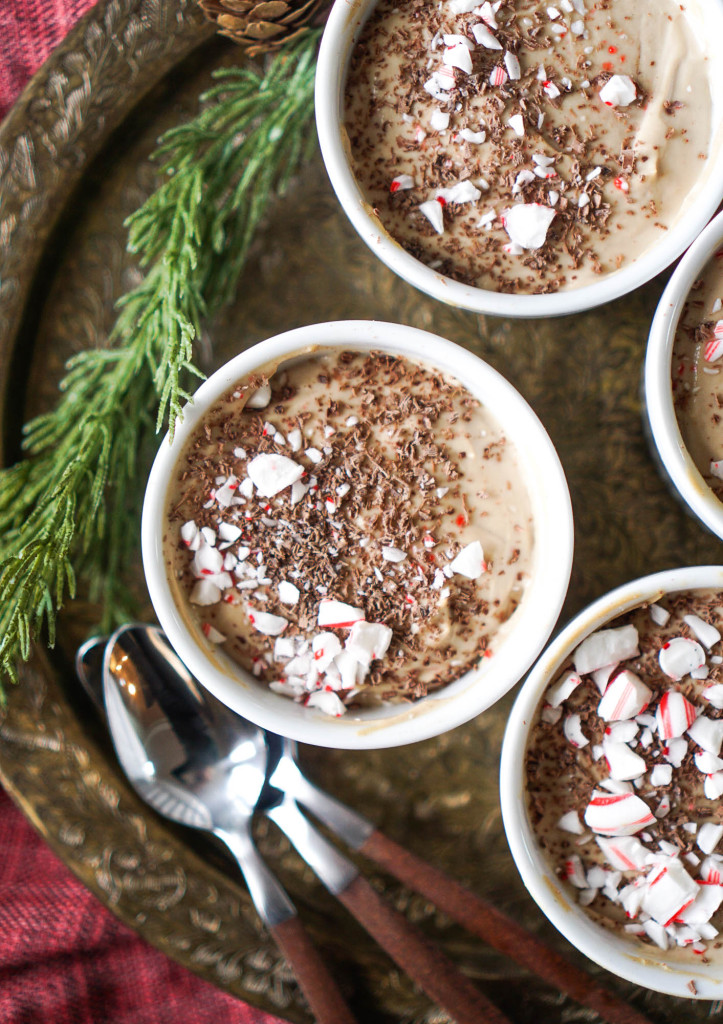 After writing and tweaking the recipe I thought of a memorable encounter I had a few years back at work. I was meeting my client, Simone, for a walk through at her house as she was planning to host her daughter's graduation party. I walk in to Simone and her mother (who just got off the plane from Italy and barely spoke a lick of English). I was greeted with hugs and kisses as if they've known me for years, then they start gifting me with imported cheeses, sausages, and meats from her mother's trip. At this point I don't even think I said 2 words, other than thinking to myself what is happening, and why can't this happen more often?
I literally had just met these people.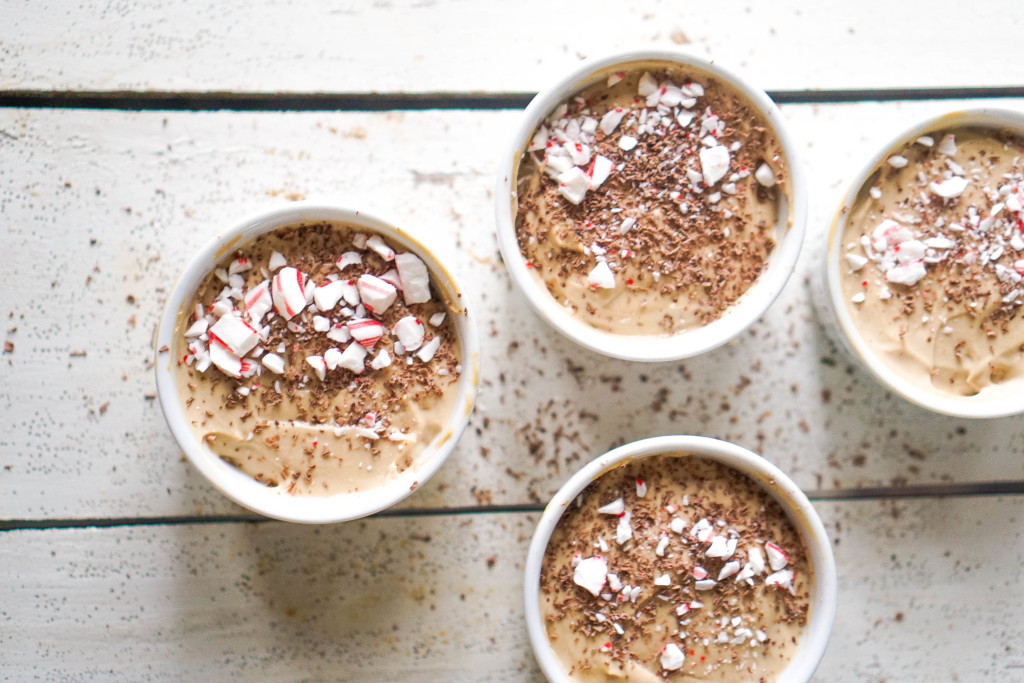 Simone then hands me a cup of espresso, trust me I couldn't turn it down if I wanted to (I was already 2 cups of coffee deep), and tops it off with a dollop of ricotta. Simone insists I try, then sips her cup and laughs around the kitchen with her mother. Probably joking to each other that they scared me, but really it was quite the moment I'll never forget.
With memories, rave reviews, and a ricotta-espresso combination that apparently dates back, I decided to give this a try. It goes a little something like this: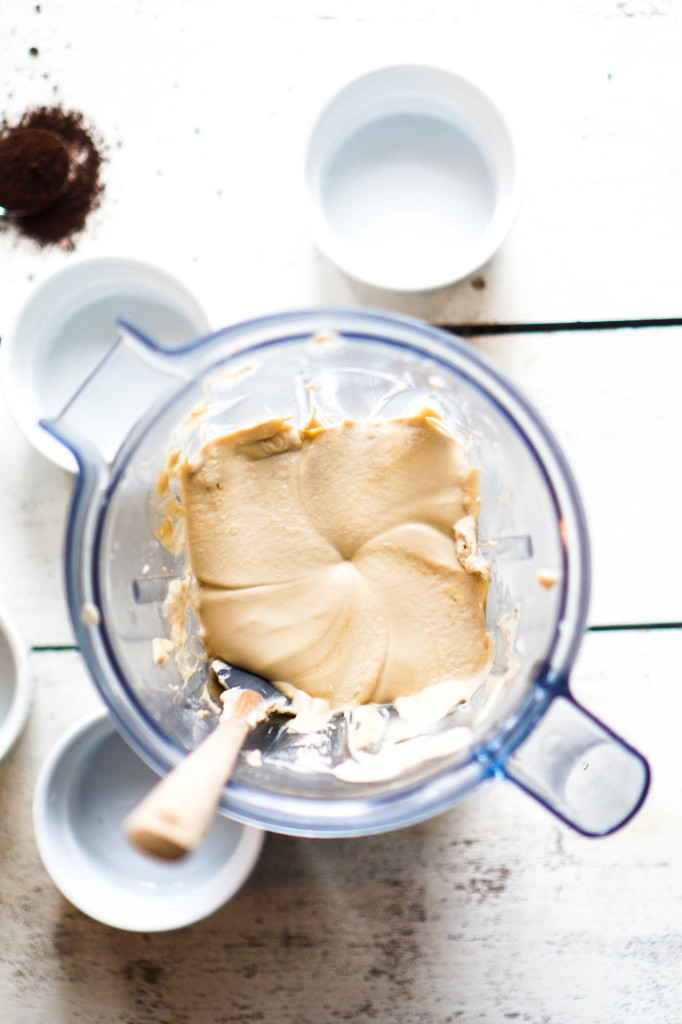 Powdered sugar, whole milk ricotta, and instant espresso powder are blended together in a blender (or food processor!) for exactly one minute. A splash of vanilla is added, then it gets blended for one more minute. I literally had my phone timer out and ready each time.
It's important to run the blender/processor for the time given in order to achieve a creamy consistency.
The ricotta turns into a creamy mousse like consistency that looks like whipped cream. I never experienced ricotta in this form so I was simply amazed!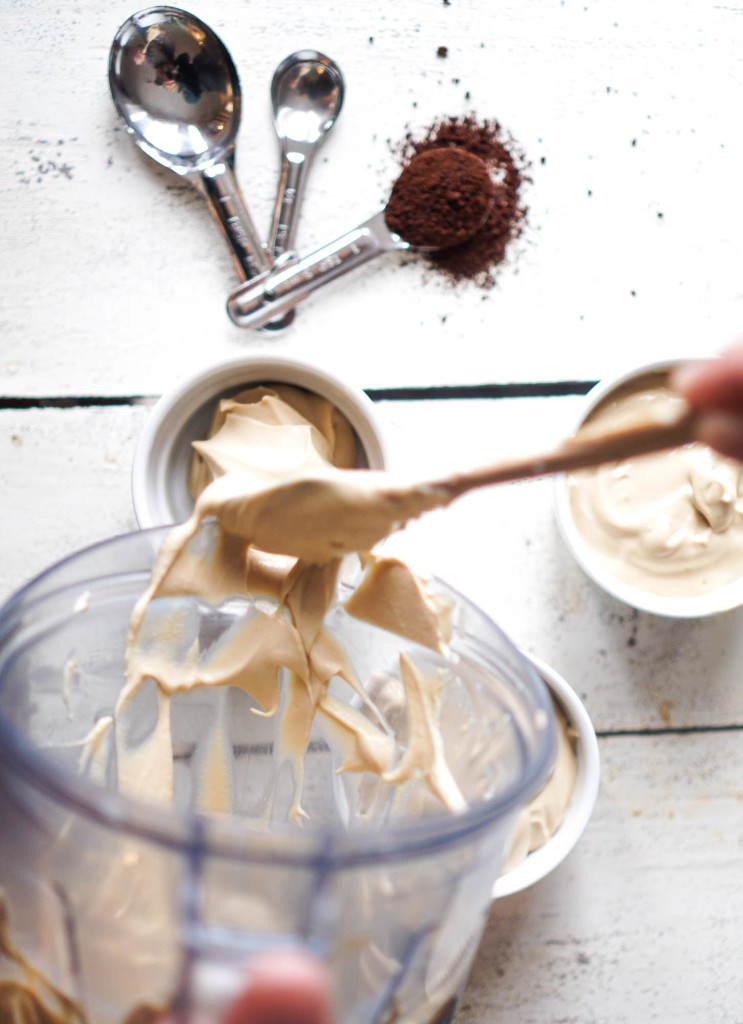 It gets scooped into the vessels then chilled in the fridge for at least one hour to overnight. Yep, a dessert you can make a day ahead. When ready to eat it gets topped off with shaved chocolate, crushed peppermint, biscotti crumbles, or whatever you can think of.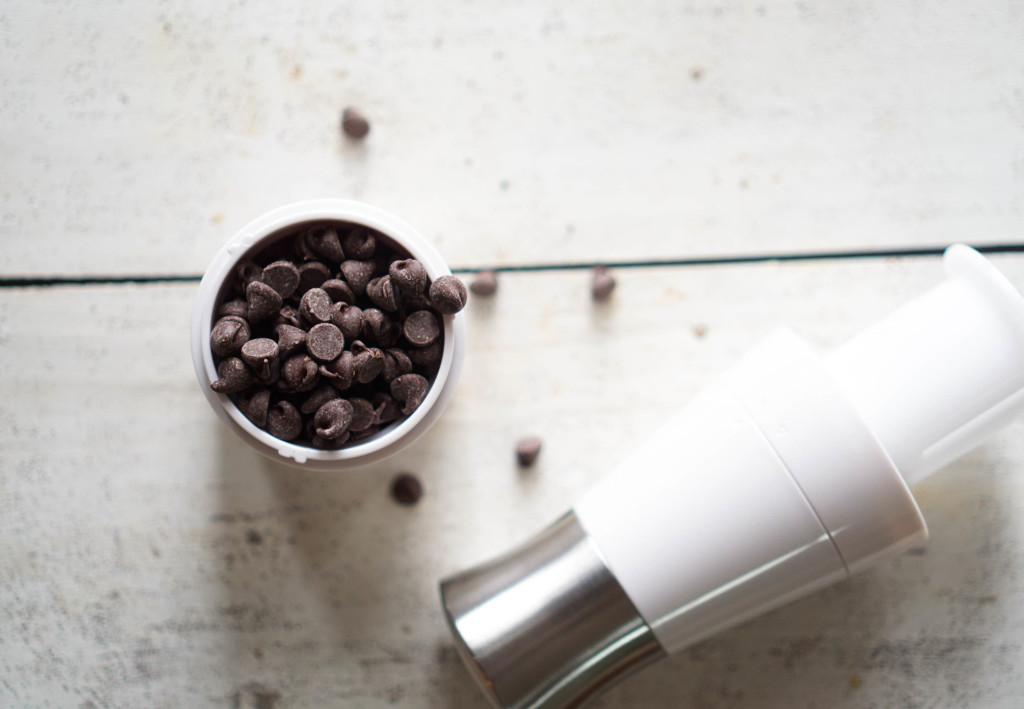 I was recently introduced to Cole & Mason's Electric Cheese Mill that I've yet to use on cheese because I've been so obsessed with the chocolate.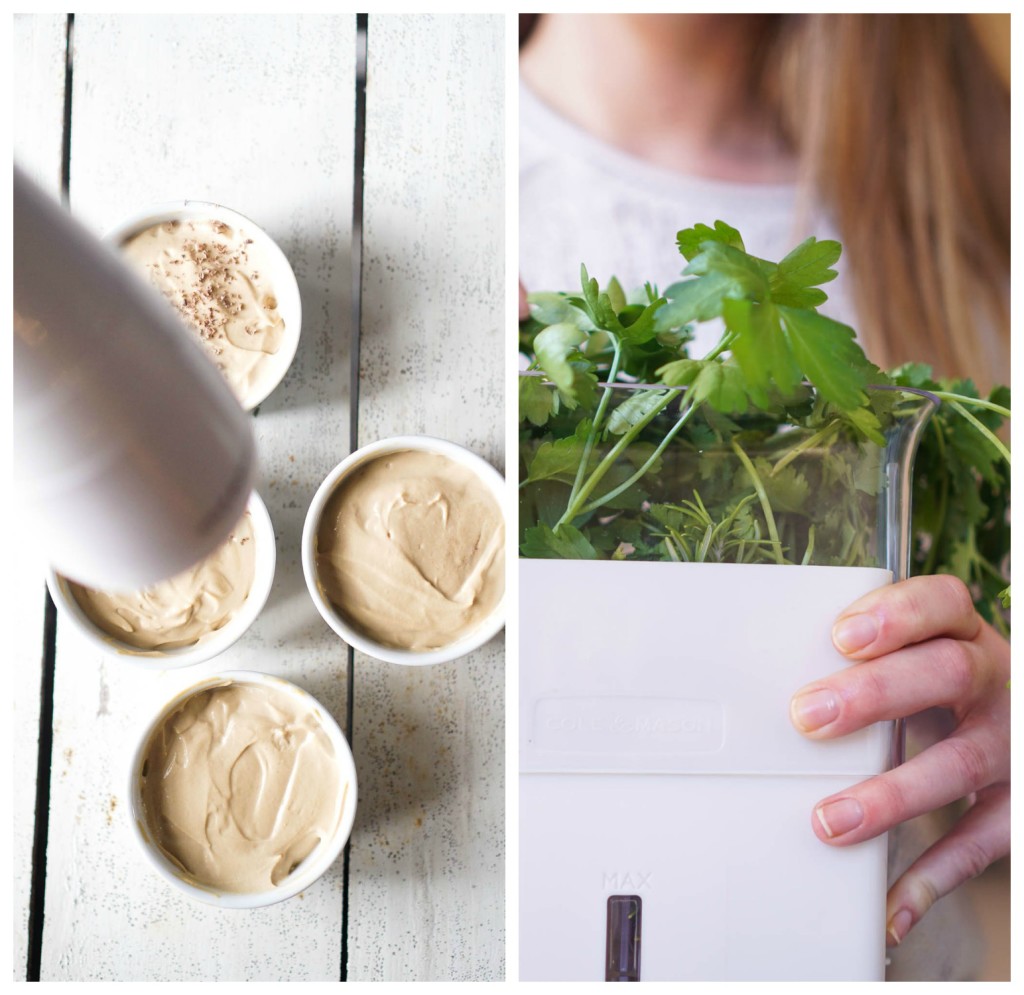 I'm in LOVE with their products, you might even remember this Fresh Herb Keeper a few months back. I still use it weekly and I have a few arriving for Christmas gifts. I'm such a sucker for kitchen gadgets that make my life easier, like grating cheese or chocolate with a click of a button or keeping herbs fresh as ever for over a week's time. Mmm, girl. Check out more of their products and enter their holiday give-away HERE!
(not sponsored, just obsessed)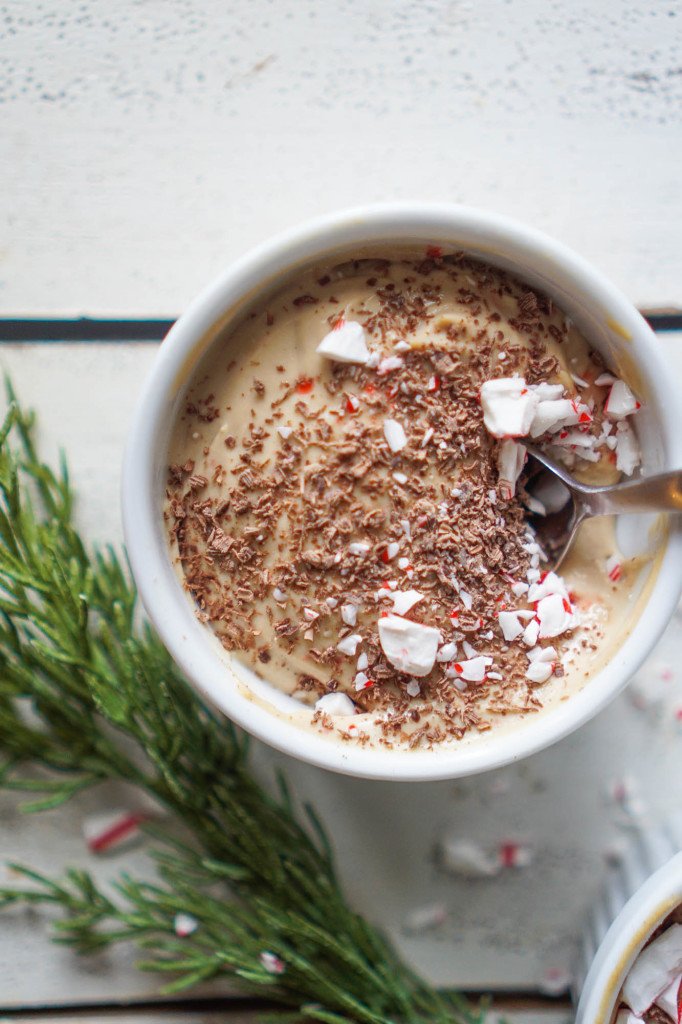 So If You're Going to Make This….
In the recipe I am going to encourage you to make this in small portions. The ricotta truly forms a mousse and with the help of the instant espresso, it mimics a cappuccino. It's rich – so rich I could only handle a small amount. I vision these in disposable shooters or shot glasses (found at the party store), then topped off with whipped cream or the toppings of your choice.
If you don't like ricotta you're probably not going to like this. However if you do, and you like the taste of coffee, and are a sucker for quick-and-easy desserts, this one's for you.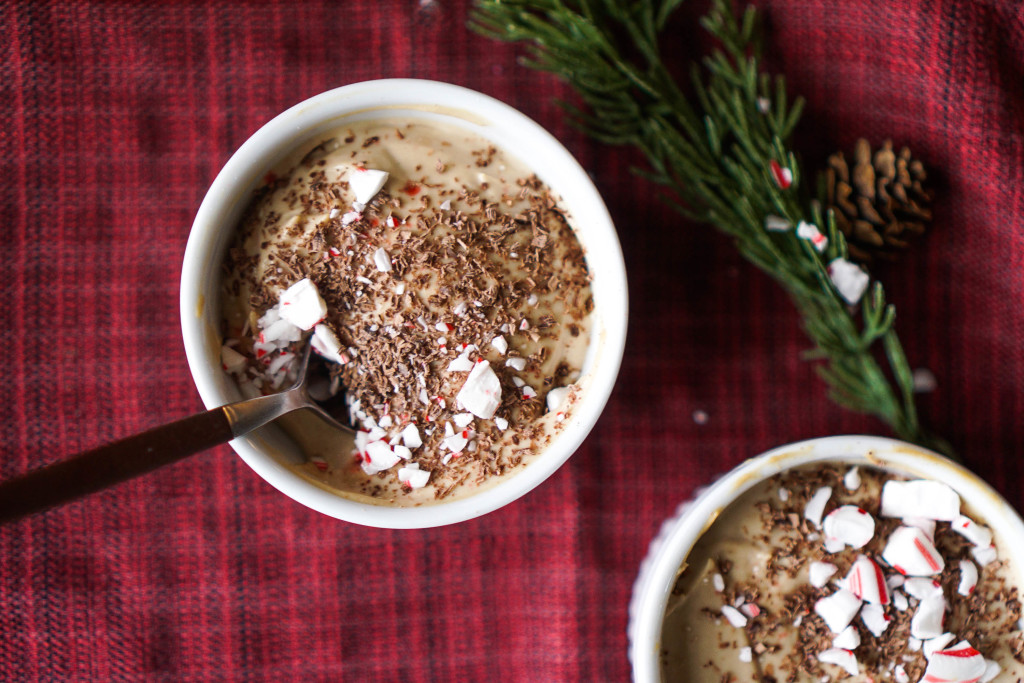 Enjoy!
Ricotta Cappuccino Whip with Peppermint + Chocolate
2016-12-12 06:35:23
Serves 8
A quick and easy dessert made with whipped ricotta, espresso, and hints of vanilla topped off with shaved chocolate and peppermint. The perfect post-dinner treat!
Ingredients
1/2 cup powdered sugar
15 oz. container whole-milk ricotta
2 teaspoons instant espresso powder
1 teaspoon vanilla extract
Optional Garnish: shaved chocolate, crushed candy cane, crushed Italian cookie, whipped cream
Needed: (8) 2 oz. disposable shot glasses
Instructions
Place the sugar, ricotta, and espresso powder in a food processor or blender. Blend for 1 minute. Scrape down the sides, add the vanilla, and blend one more minute. The consistency will be thick and creamy, like a mousse.
Fill 8 disposable shot glasses with the ricotta mixture to the top OR fill 16 shot glasses half way. Cover and refrigerate 1-hour or overnight.
For the shot glasses filled to the rim, garnish with shaved chocolate, crushed candy cane, or cookie crumbles. Serve chilled.
For the shot glasses filled half way, top with whipped cream, then garnish as desired.
Notes
Before filling the glasses, taste the mix and adjust ingredients as necessary.
Top with a splash of rum or Kahlua for an adult version.
http://www.vodkaandbiscuits.com/