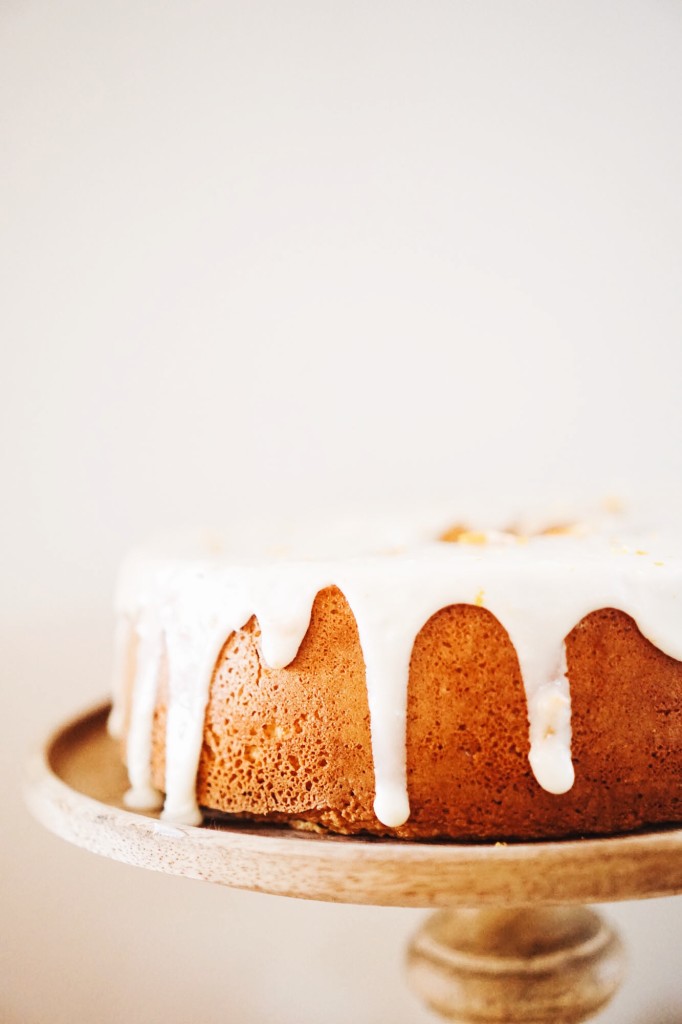 There are two cakes I swear by and this Orange Chiffon is one of them. The other is my Toffee Crunch Banana Bread but I'll save that for another day.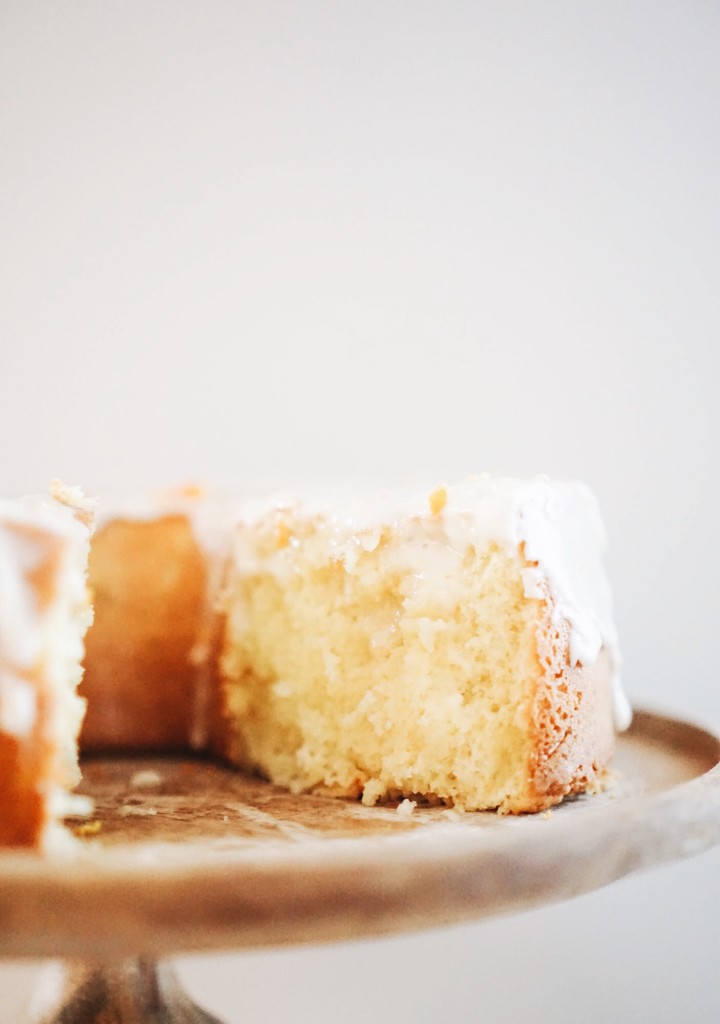 You're probably thinking what the heck is a chiffon cake and wondering why you should need to make this. Chiffon cake is similar to an Angel Food Cake, as it's made with meringue and therefore light, airy, and nutritionally on the lighter side. I wouldn't deem it healthy, after all it is a cake and covered in icing, but let's just say you could get away with seconds maybe thirds.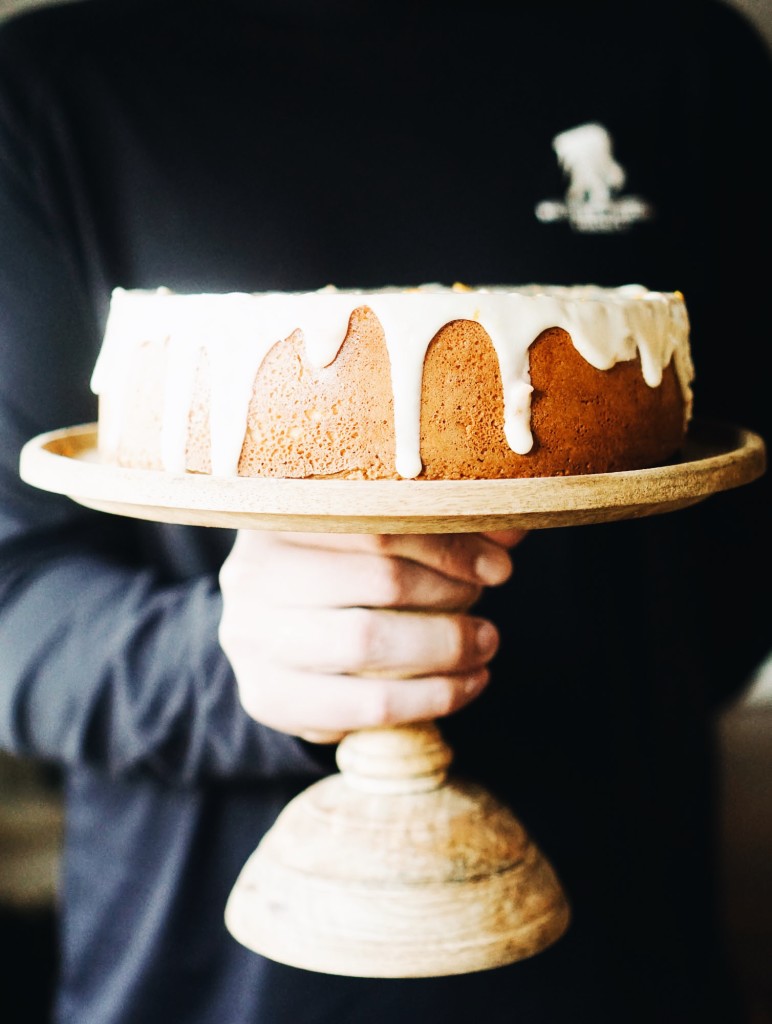 I flavored mine with orange because not only does it bring a little sunshine to my (almost) winter blues, but also tastes incredible because it's about to be citrus season! Who would have thought these summery little fruits are best when it's a miserable twenty degrees. Here in Maryland it's only been cold for a week (and I mean COLD), and I'm already getting seasonally depressed. Anyways.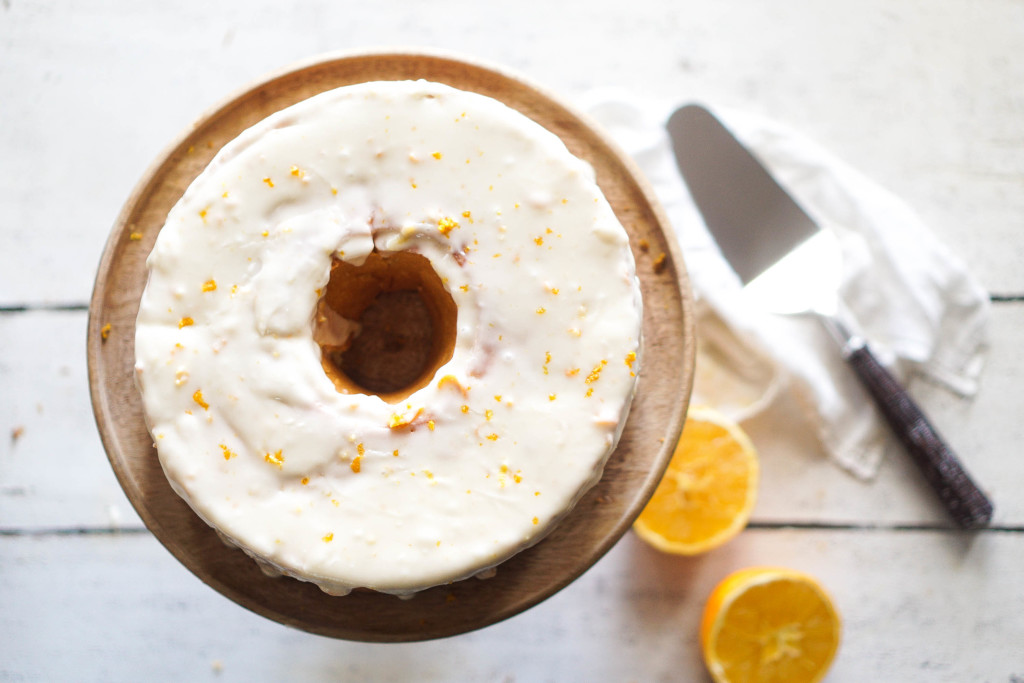 I was first introduced to foam cakes in culinary school (where this recipe originates from). Although I focused in cooking I did have to take a baking course. Foam Cakes was probably the only class where I felt confident in what I was doing (me and baking did not mix). Let's just say if I can make a cake, so can you. So, let's start with the most important:
The Meringue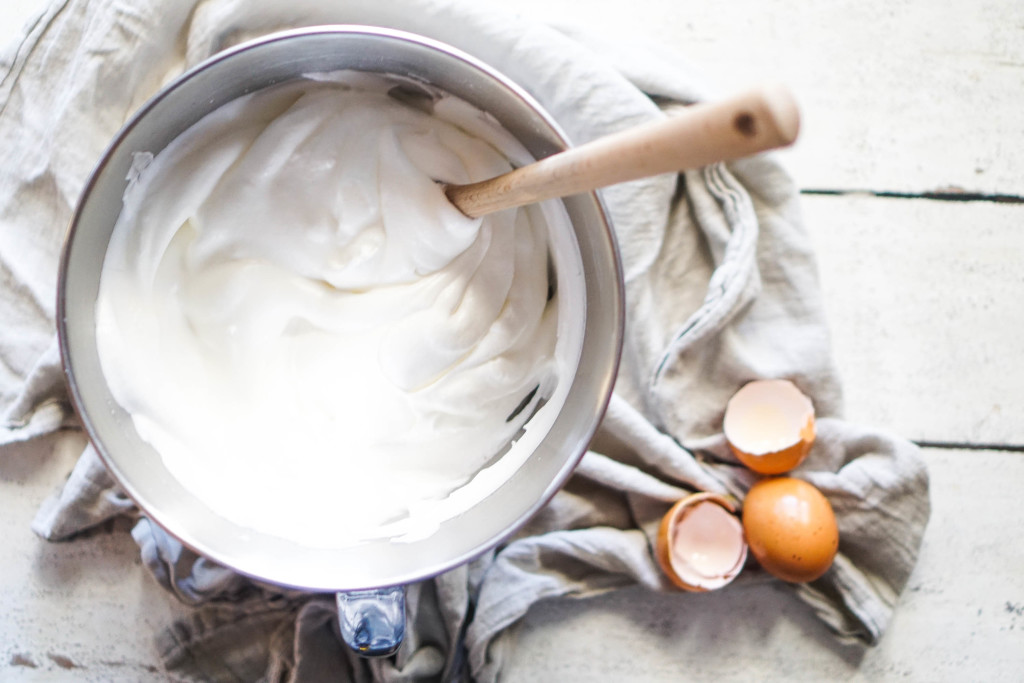 The first part is whipping up a meringue which is nothing more than egg whites and sugar. This recipe requires 8 egg whites, which goes right into your standing mixer with the whip attachment. Beat em' up for a minute or two on medium-high speed, which at this point they will appear foamy. A minute later soft peaks will start to form and the eggs will turn less yellowish and more white. This is when you'll gradually start to add the sugar. After another minute or two, defined peaks will form and the meringue should be stiff and shiny.
When the meringue is finished, most not all of the sugar should be dissolved. You can test this by rubbing a little meringue in between your fingers – you should be able to feel some sugar, but nothing too grainy.
Meringue can be high matinence, be sure to read my "do's and don'ts" if you've never made a meringue before!
The Batter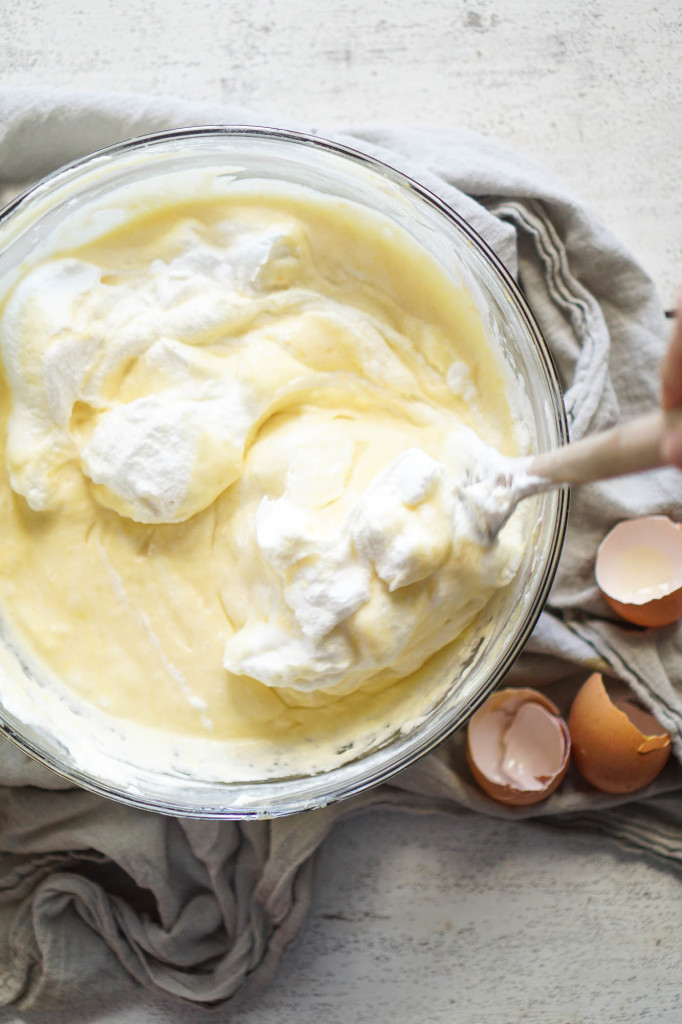 Once the meringue is ready it's time to make the batter, made up of all your common baking ingredients like cake flour, sugar, baking powder, egg yolks, vanilla, and some fresh squeezed orange juice & zest.
The batter gets sift'ed (is that even a word) and mixed, then mixed with the meringue.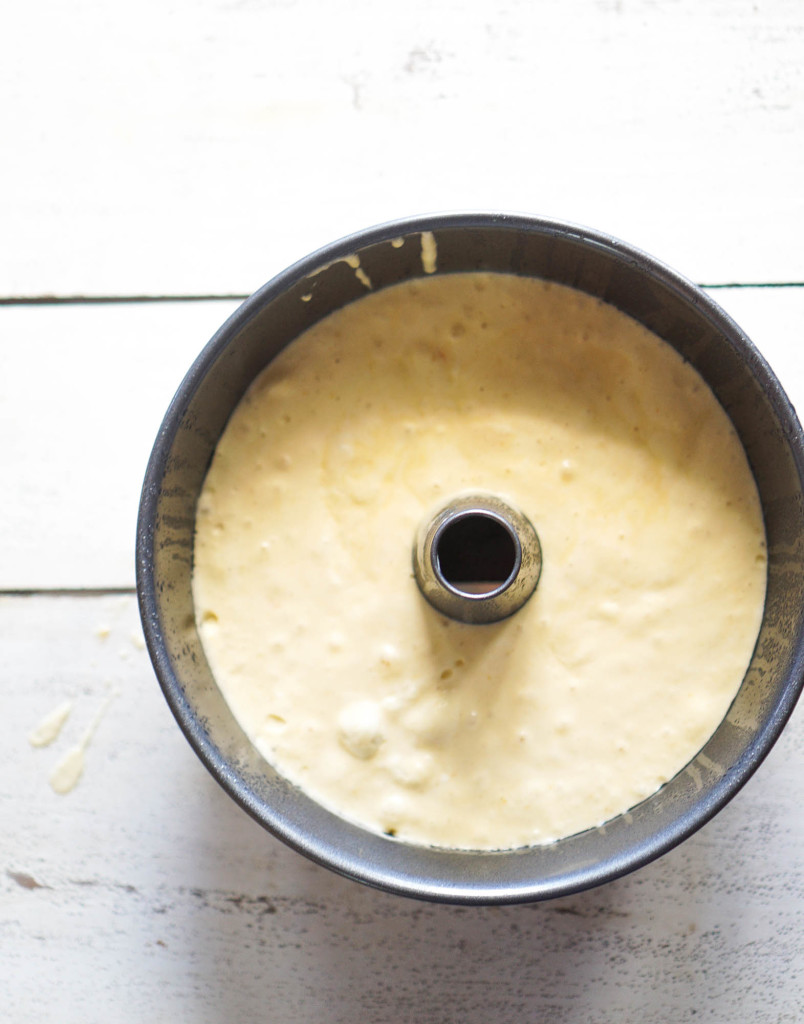 Chiffon cakes are most comminly made in a bundt pan (ten times prettier if you ask me), but I only have a tube pan. Use whatever you have, but I would recommend bundt!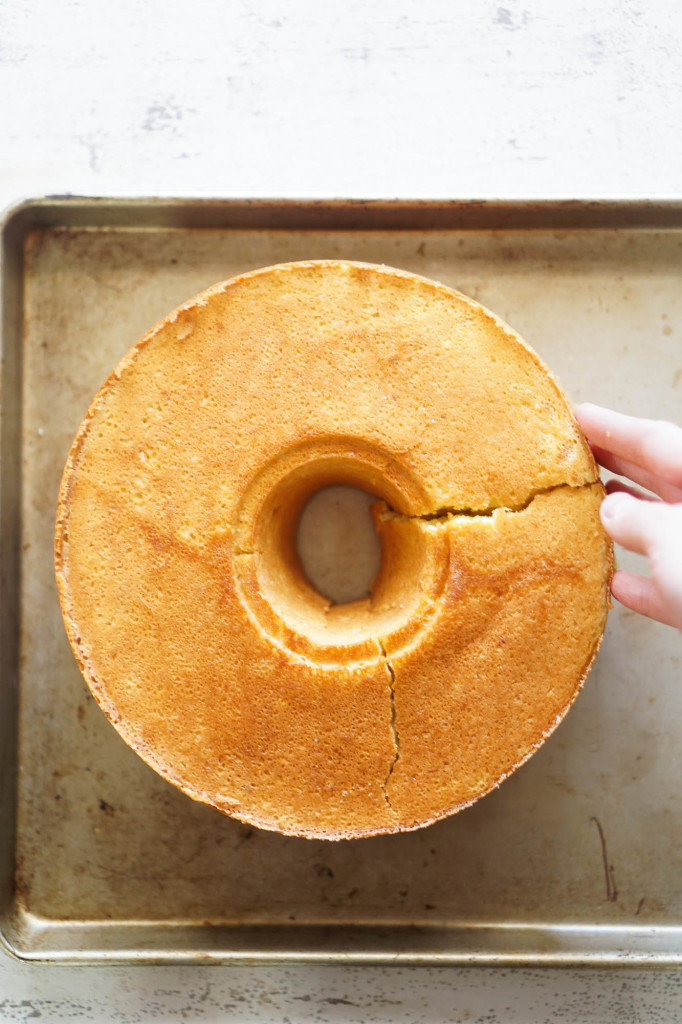 The cake bakes for an hour – which is the exact time I need to clean my kitchen – and by the time it's done your house will be filled with a warm orange aroma. To die for.
Wait for your cake to cool before flipping it out of the pan or else your cake will break (see lack of patience above).
Orange Zest Icing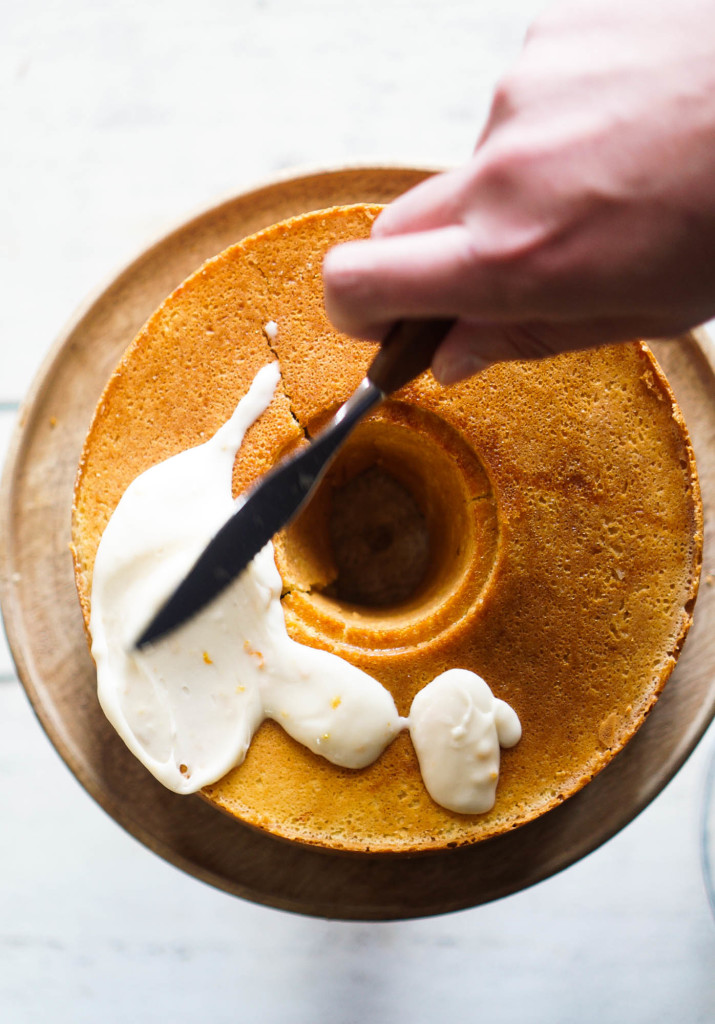 This is your classic powdered sugar icing with melted butter, a splash of heavy cream, and a good amount of orange zest. I recommend this icing, but you can switch it up to a cream cheese frosting for something heavier!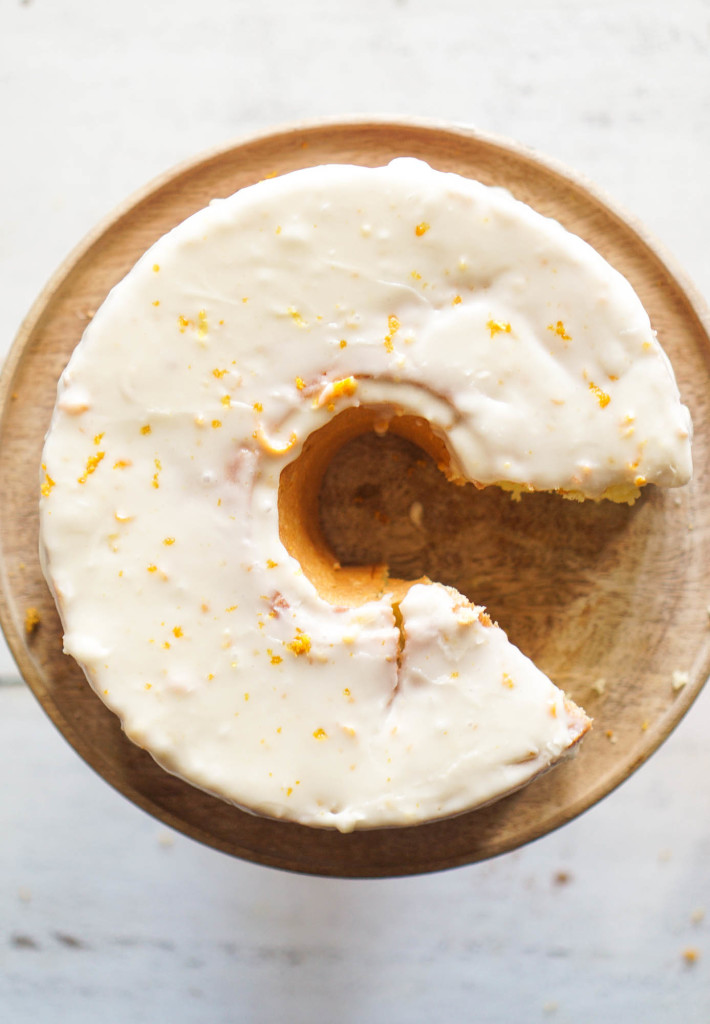 This cake is such a crowd pleaser and I totally recommend making it for your holiday dinner this year. It's light, perfectly sweet, and the orange will have you going back for more. This recipe printed along with a bundt cake also makes the perfect gift. Enjoy and happy holidays!
Orange Chiffon Cake with Orange Zest Icing
2014-12-15 06:20:37
Serves 12
Easy and light chiffon cake flavored with orange for a refreshing twist. The perfect post-holiday dinner treat.
For the Meringue
8 egg whites
3/4 cup sugar
For the Cake
2 1/4 cup cake flour
3/4 cup sugar
1 tablespoon baking powder
1 teaspoon salt
1/2 cup vegetable oil (sub for coconut oil)
6 egg yolks
1/4 cup plus 2 tablespoons cool water
1/2 cup fresh squeezed orange juice (2 oranges)
1 tablespoon orange zest
1 tablespoon vanilla
Needed: bundt or tube pan
For the Icing
2 1/4 cup powdered sugar
2 teaspoons vanilla
2 tablespoons butter - melted
1/4 cup light cream or milk
1 tablespoon orange zest
Instructions
Preheat oven to 325
For the Meringue
In a clean bowl, whip the egg whites until foamy (about 2-3 minutes). Slowly beat in the sugar and continue beating until stiff peaks have formed and the meringue looks silky (about 7-8 minutes). A standing electric mixer with the whip attachment works best! Set aside until needed. See the post on how to make a successful meringue!
For the Cake
Sift the cake flour. Combine with the baking powder, salt, and sugar and sift once more. Make a well in the center for the wet ingredients.
In a separate bowl mix the orange juice, water, zest, oil, vanilla, and yolks. Pour into the "well" and whisk until no longer lumpy and smooth. If needed, at a splash more of cool water.
Fold in 1/3 of the meringue with a rubber spatula. Fold in the remaining meringue, one third at a time. Fold until the batter has completely combined, making sure there is no visible meringue.
Lightly grease and flour a bundt or tube pan. Add the batter to the pan and bake for 1 hour, or until a toothpick comes out clean.
Invert pan over a sheet pan lined with parchment paper. Cool upside down until the pan is cool to the touch.
Remove from pan and top with icing (below).
For the glaze
Combine all ingredients together and mix until smooth. If needed, add two more tablespoons of heavy cream. Pour over the cake allowing to drip all over the sides. Garnish with extra orange zest if desired.
Dig in!
Notes
For a lemon chiffon cake, combine 1/4 c. of lemon juice and 1/4 c. water. Replace lemon water for orange juice. Substitute grated lemon zest for orange zest.
Adapted from On Cooking: Culinary Fundamentals
Adapted from On Cooking: Culinary Fundamentals
http://www.vodkaandbiscuits.com/