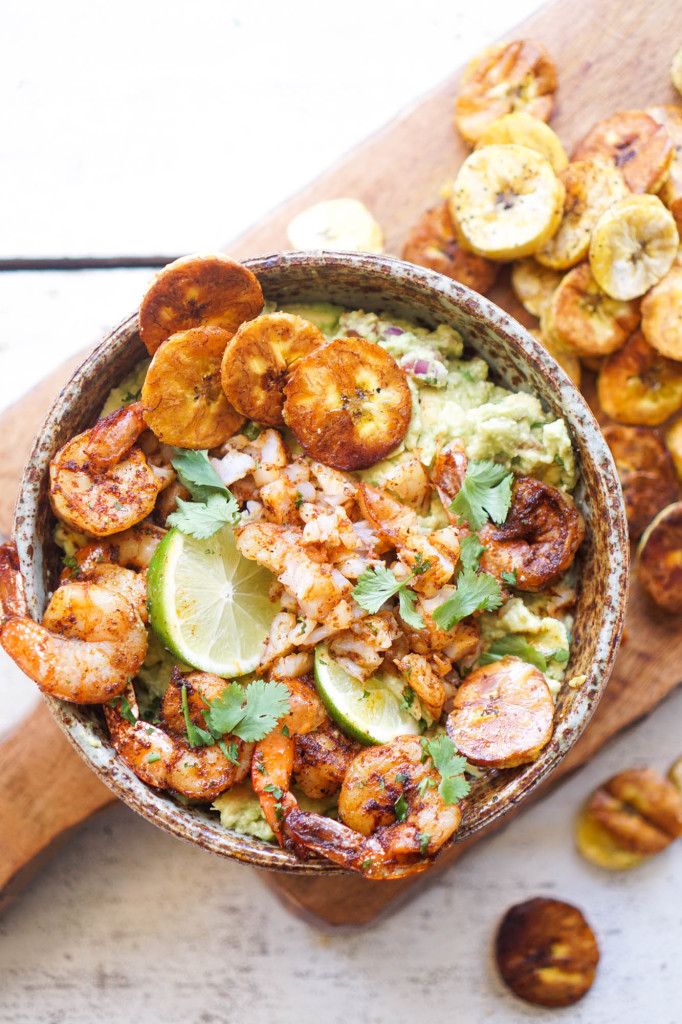 Guacamole is amazing. Guacamole loaded with chopped chili shrimp makes me want to dance.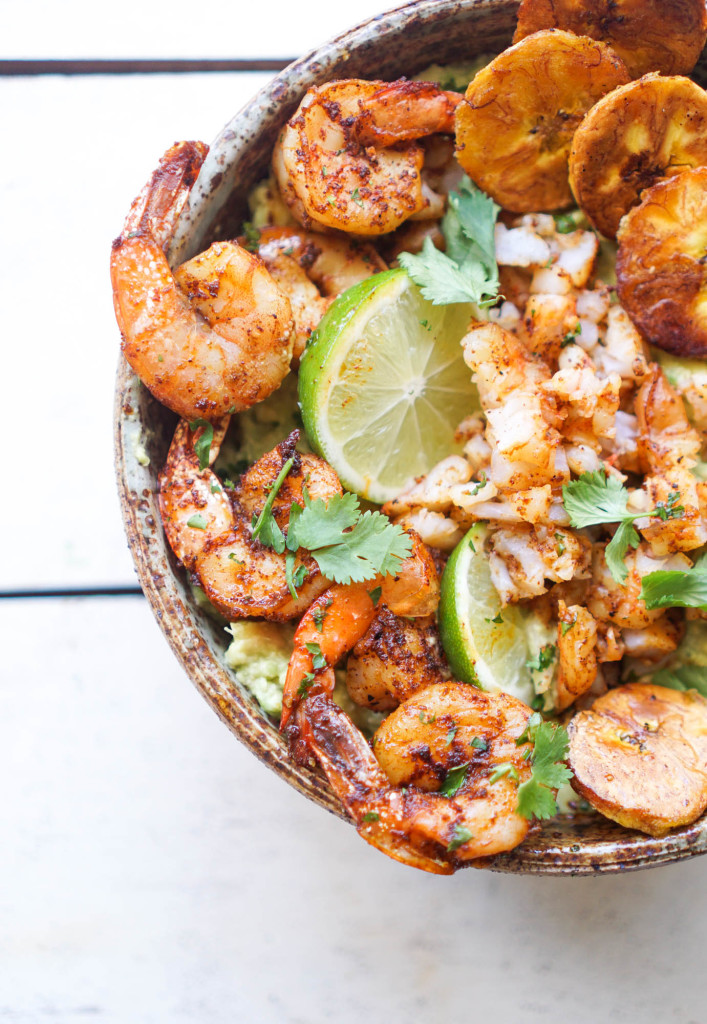 I'd say these last two weeks on my Whole30 adventure I've been craving guacamole the most. Not just avocado, but creamy, fatty, tangy, garlicky, salty, spicy, guac with a big squeeze of fresh lime. Salivating.
Last weekend one of my girlfriends invited our college best friends over and we all were told to bring an appetizer. One weekend in and I was already hit with the challenge. What could I make that would actually sound appetizing to my girls?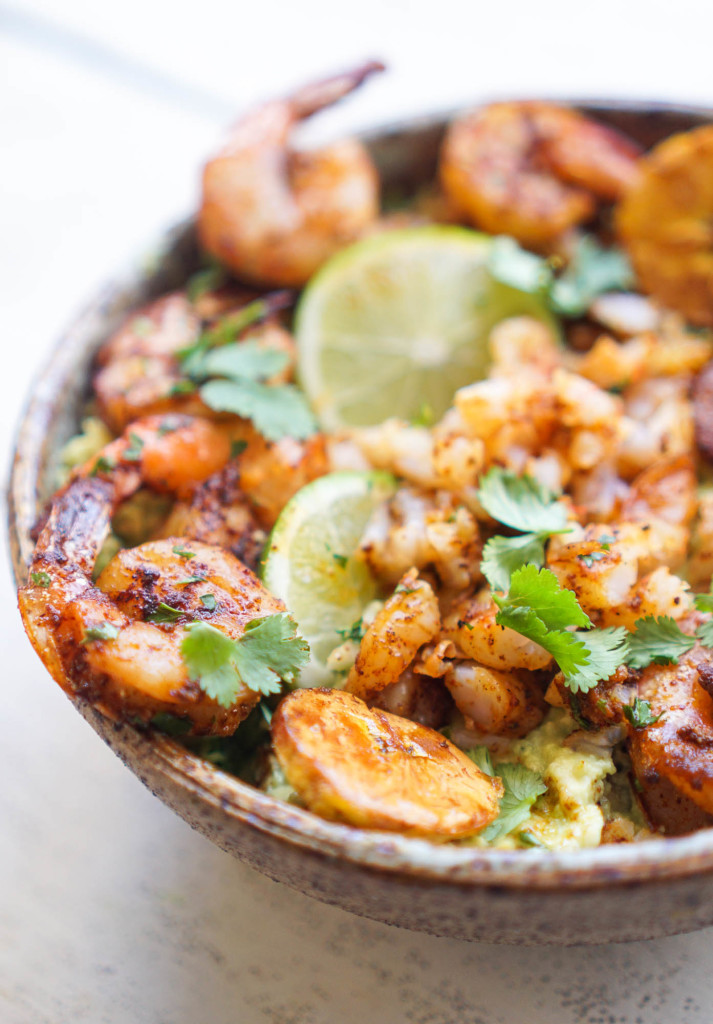 I went back and forth between a few ideas, but couldn't wrap my head around a Whole30 jalapeno popper and I certainly didn't want to bore them with a bunch of vegetables. I started thinking of shrimp. Then guacamole. Then plantains. SOLD.
Seafood and guacamole is a match made in heaven (like this to-die-for crab version) and I couldn't wait to dive in.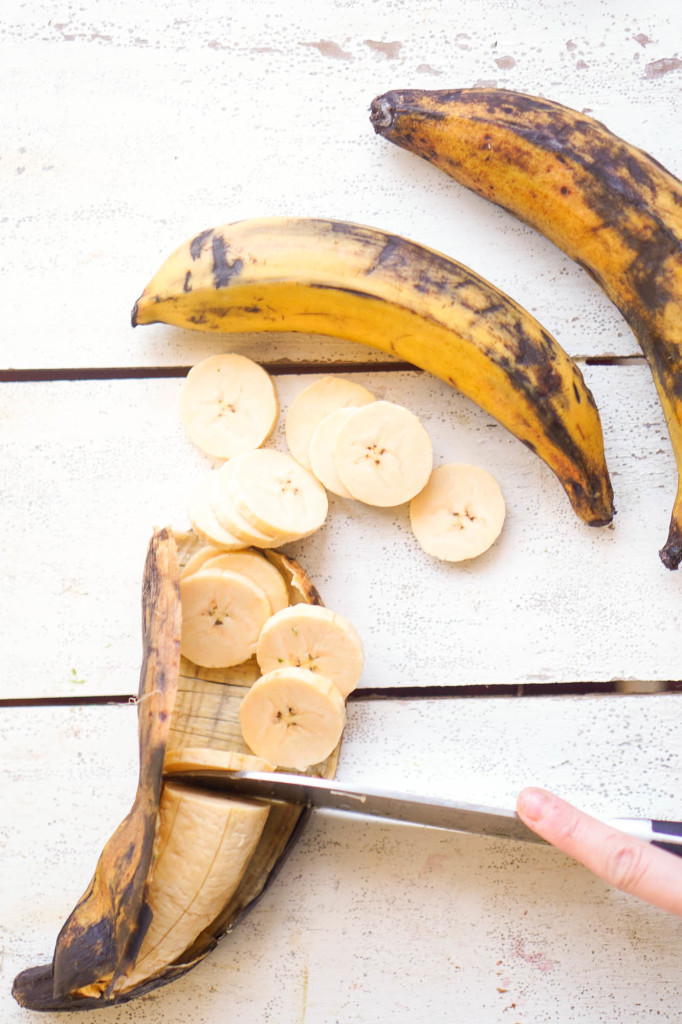 I started first with the plantains which was nothing more than slicing and roasting. Within 25 minutes they were in and out of the oven and into my mouth. Goodness I love these things.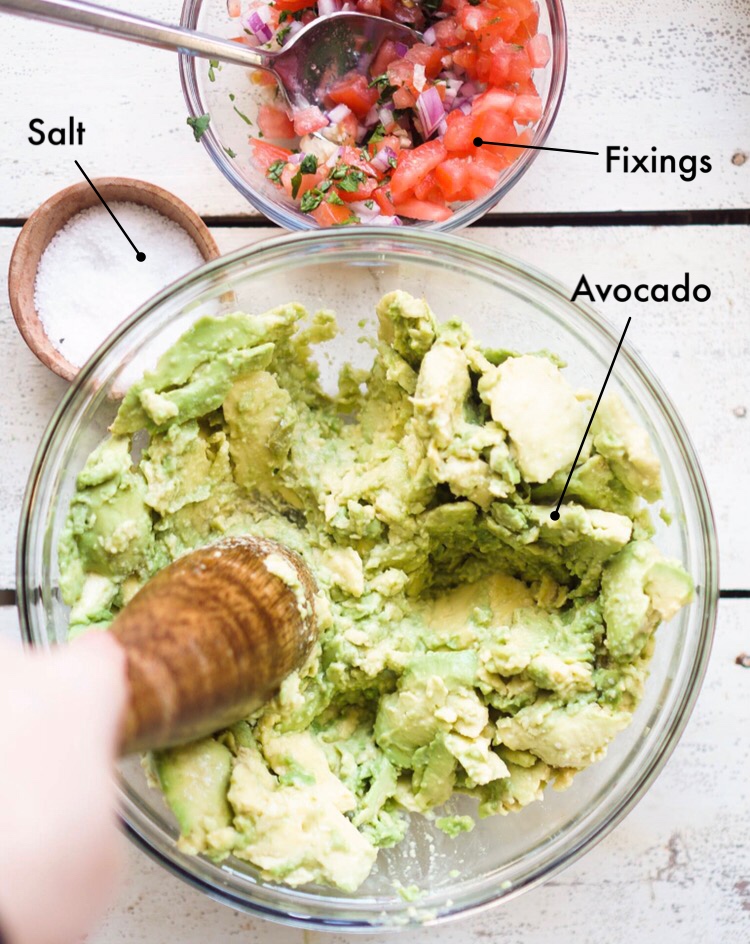 I like to mash up my avocados in one bowl and mix the fixings in another. My fixings typically are garlic, tomato, cilantro, red onion, jalapeno, and lime. If you're not on Whole30, add in some cheddar cheese!
Add in as much or as little of the fixings to the avocado, depending how you like your guacamole.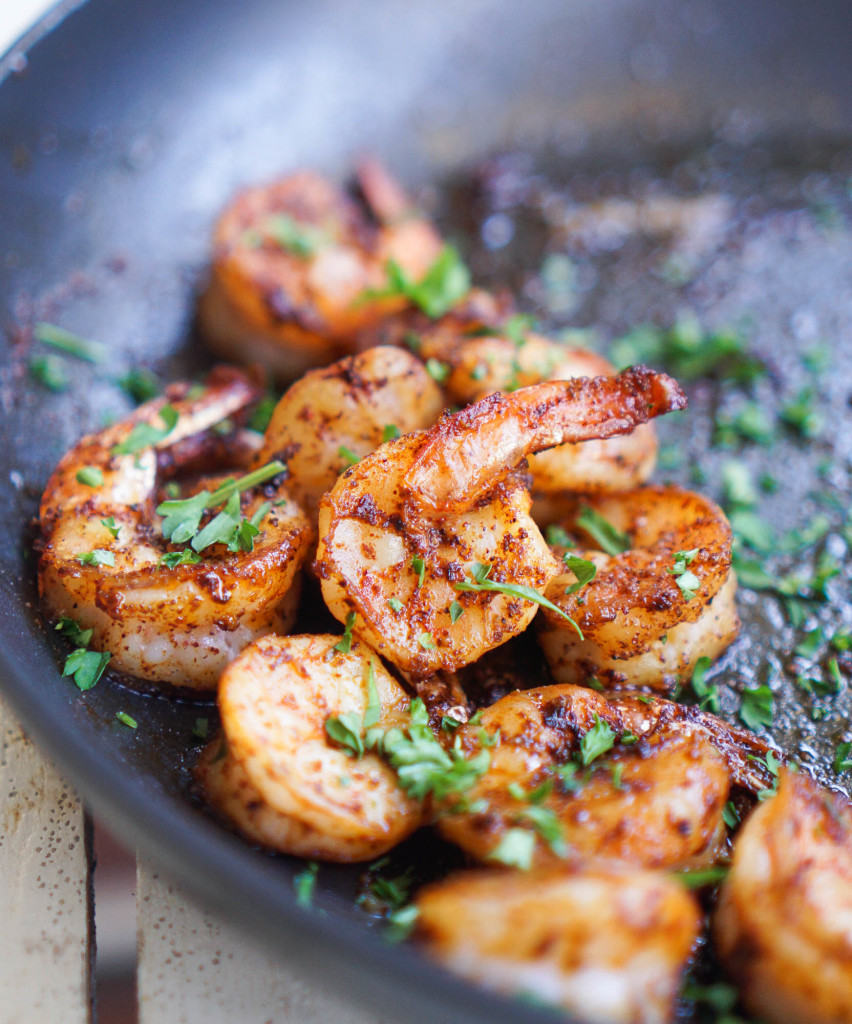 The last step is the best step: the shrimps. I seasoned mine with chili powder, salt, and pepper, and gave it a quick saute. Chop it all up and the fun begins!
You can also use crab or lobster!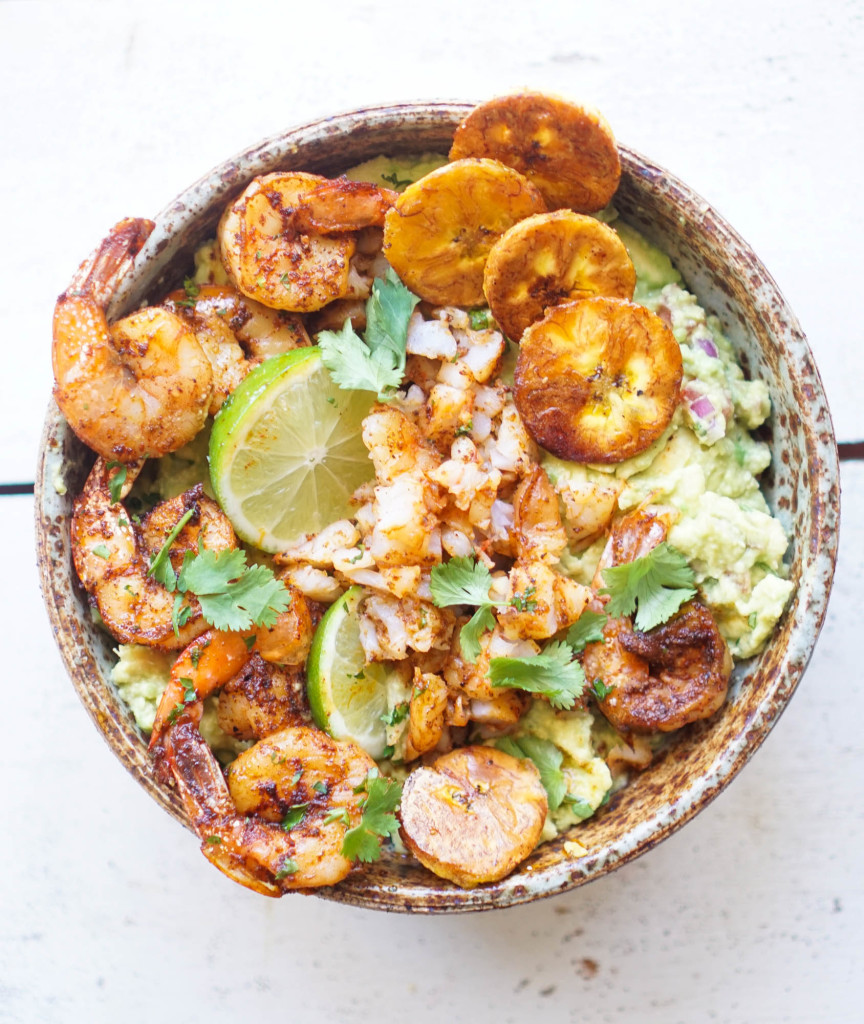 This was a crowed pleaser to say the least! My one friend loved how different it was and others tried plantains for their first time. I love pushing people out of their food comfort zones. This was easy, delicious, and made cooking for friends on Whole30 a breeze.
Whether you're throwing a party or need a snack, this one's for you. Enjoy!
Loaded Guacamole with Chili Shrimp + Roasted Plantains
2017-01-13 06:28:08
Serves 6
Flavorful guacamole loaded with chopped chili shrimp and served with roasted plantains. An easy, crowd pleasing, Whole30 compliant appetizer.
Ingredients
5 ripe avocados, peeled
2 Roma tomatoes, seeded and diced
1/2 tablespoon finely diced red onion
1-2 cloves garlic, minced or grated
1 tablespoon chopped cilantro
1 lime (or more if needed)
salt as needed
1 1/2 lbs. shrimp, peeled
1 teaspoon chili powder
1/2 teaspoon garlic powder
1/4 teaspoon black pepper
pinch of cayenne pepper (optional)
pinch of sea salt for taste
olive oil as needed
For the Plantains
3 plantains
1/2 teaspoon chili powder
salt and pepper for taste
olive oil as needed
Instructions
Preheat oven to 400 degrees.
Drizzle olive oil (or coconut oil) evenly over a baking sheet. Peel and slice the plantains into rounds, add to the baking sheet and toss to coat in the oil. Sprinkle with the 1/2 teaspoon chili powder, salt, and pepper. Bake for 20-25 minutes, flipping half way through. The outside will be crunchy while the inside slightly soft. Allow to cool.
Add the avocados to a bowl and mash. Sprinkle with a pinch of salt to taste.
Add the tomatoes, red onion, garlic, cilantro, and the juice of a lime to another bowl. Mix, taste, and adjust ingredients as necessary. Optional: add diced jalapeno for heat!
Fold the tomato mixture into the avocado and mix to combine. Season with salt and pepper, tasting and adjusting as needed.
Begin to cook the shrimp. Heat 2 tablespoons olive (or coconut oil) in a saute pan over medium high heat. Add the shrimp and seasonings and saute 4-5 minutes or until the shrimp is pink and fully cooked.
Remove the shrimp from the heat and chop into bite size pieces. Leave a few shrimp whole for presentation if desired. Fold into the guacamole. Taste and squeeze more lime if needed. Serve with plantains.
Notes
The amount per ingredient is based off my preference, always taste your guacamole in the cooking process and adjust ingredients to your liking.
http://www.vodkaandbiscuits.com/