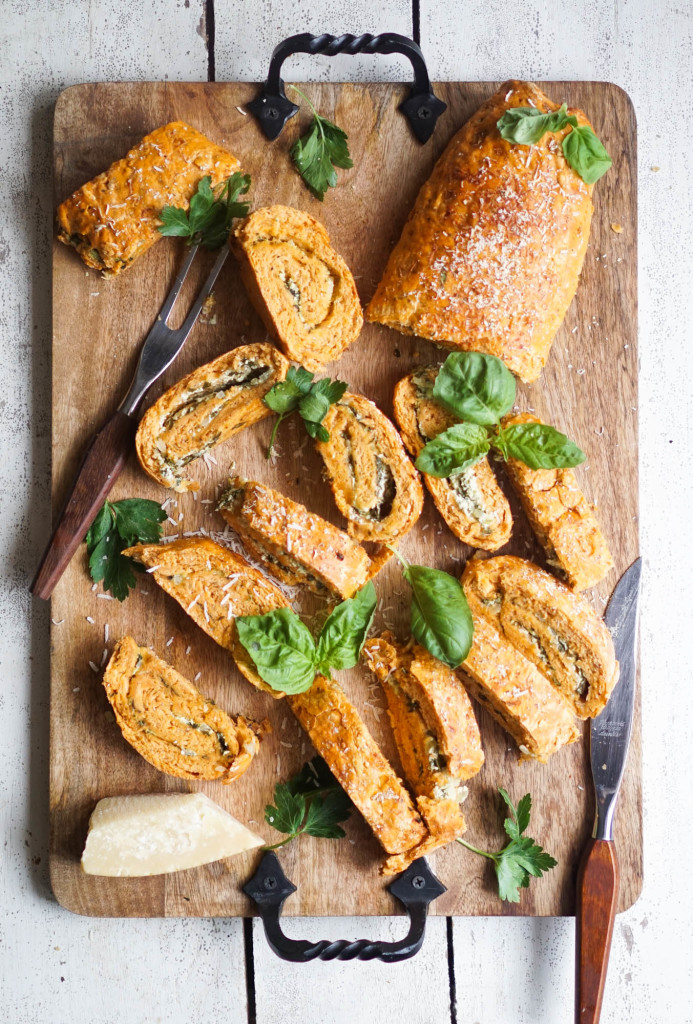 It's like tomato soup married its grilled cheese crouton and made this crusty tomato & ricotta roulade. If that doesn't make you hungry than I GIVE UP.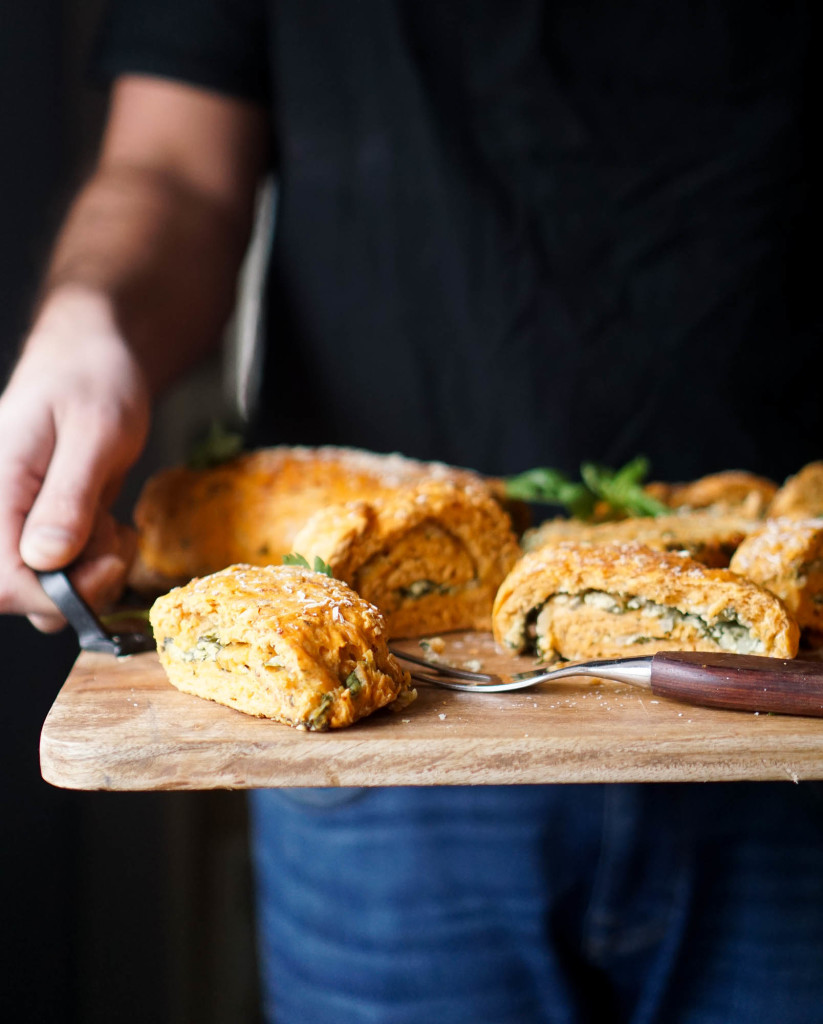 Last weekend was cold and gloomy and I had an urge to bake. I've been cooking a lot from The Silver Palate Cookbook
, an oldie but a goodie (I'll share more about the book in my next post!) and have been eyeing up this roulade for weeks. I started the day off with chocolate chip cookies (complete fail might I add) and came to the realization that me and cookies are not meant to be. Maybe it's for the better. Scott took a bite of the cookie and said "even though you can't bake cookies for s**t, I still love you."
That's love.
Even though the cookies were laughable and I was lacking any confidence, I went on to my second recipe, the Silver Palate Tomato & Spinach Roulade. I can't even make a cookie, how am I going to make a bread?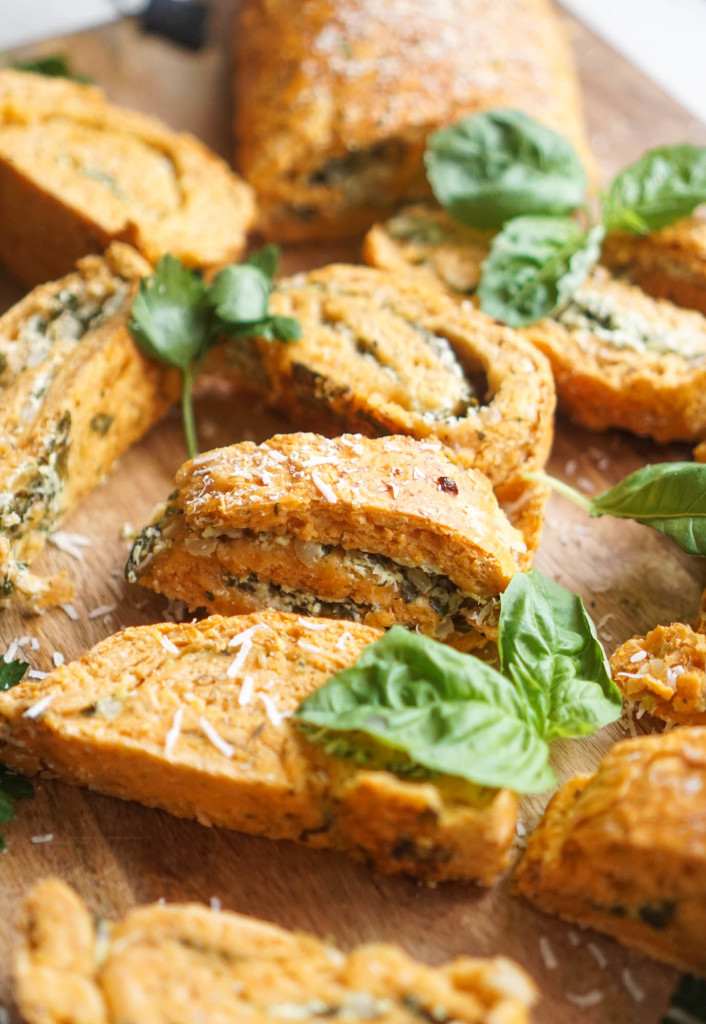 I had all the ingredients out and ready so I wasn't going to give up. A few hours later, the bread came out of the oven so beautifully crusty and colored and the house smelled of divine tomato soup. I was so happy I couldn't stop dancing, and for a second I thought about remaking the cookies. You know what they say, make a bread once and all of a sudden you're the best baker ever. HA, okay let's jump into this.
THE DOUGH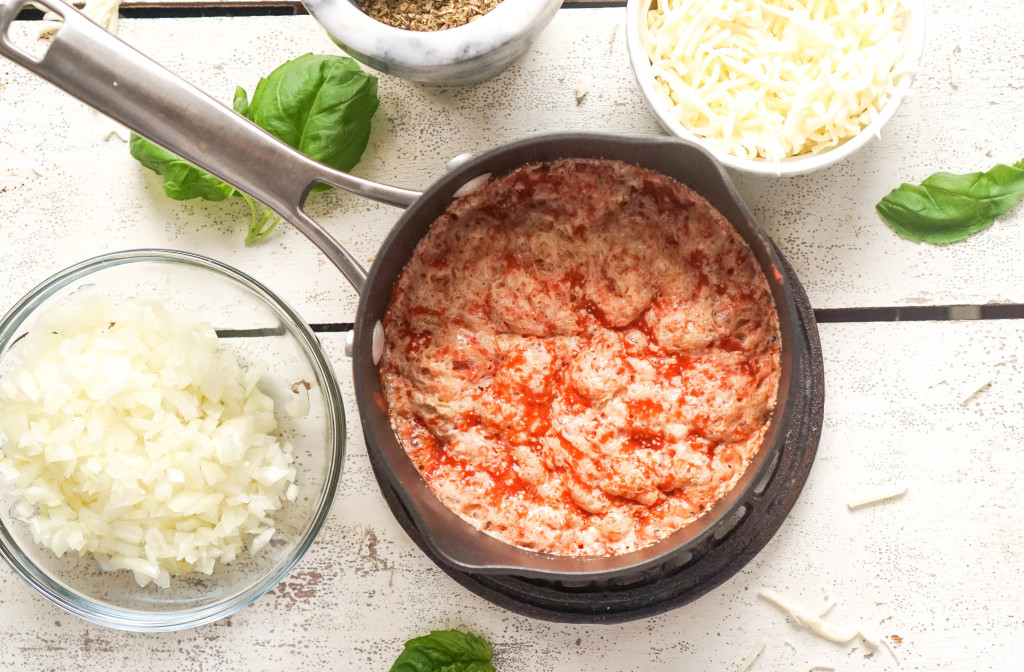 This recipe is savory beyond belief. It all starts with yeast that's activated with canned tomatoes and a pinch of sugar. Once that's a foam party (seriously, see above) it gets transferred to the food processor with onions, garlic, and seasonings like oregano, basil, and celery salt. I threw in some fennel just because. Do your thang.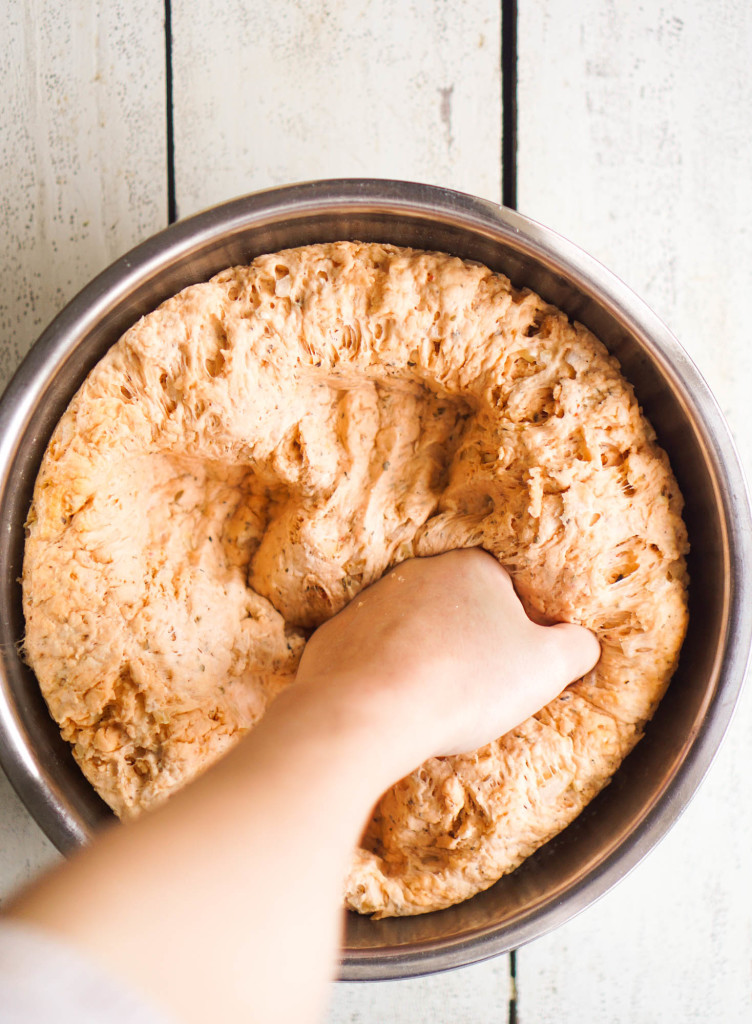 Flour slowly gets added until a thick firm dough forms, which then transfers to a floured surface for a quick knead. The original recipe does not mention adding any liquid to the dough before kneading, however my dough was so crumbly that I added 2-3 tablespoons of water for it to be workable. This could have been something I've done? I dunno? Let me know how yours turns out because as I learned, even if it's crumbly it'll still work! The dough then proofs which is all a matter of a patience.
THE FILLING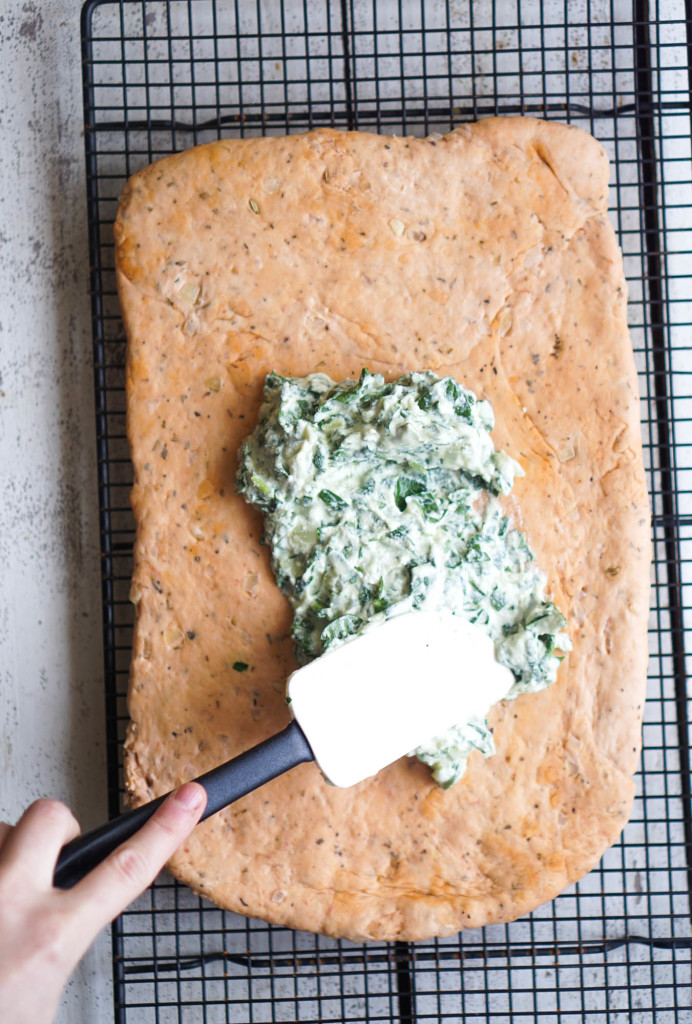 This gets whipped up while the dough is proofing. It's nothing more than ricotta, chopped spinach, herbs, cooked onions, and a splash of Marsala wine.
If you have to buy a bottle of Marsala wine for this recipe, use the leftover wine for this Chicken Marsala!
When the dough is ready it gets cut in half, rolled out, filling added, and shaped. NOW LET ME JUST SAY. The dough is made of tomato and before it bakes it looks pink. You will have two long logs of jelly-roll style pink dough that also looks laughable. Trust me, AKA the girl who can't bake, when I say it's going to be alright and KEEP GOING!
THE BREAD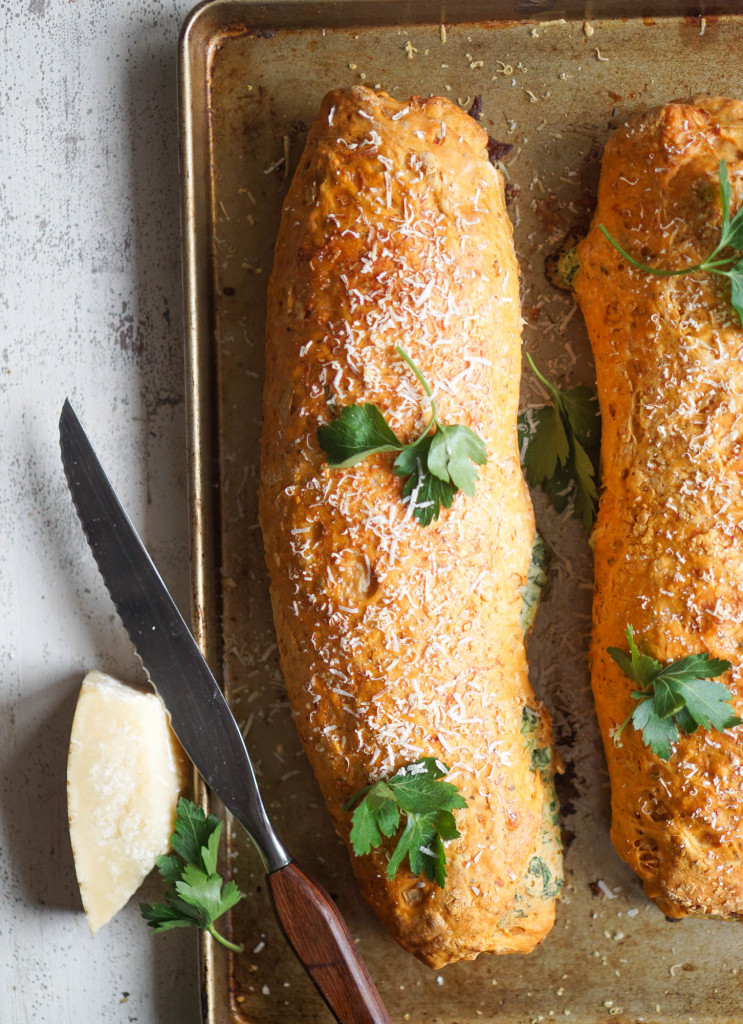 The loaves bake into a beautiful golden red color (phew) with a crusty finish. They get cut into slices, revealing their swirl of ricotta (hence 'roulade'). The slices have a crunchy exterior with a soft and creamy interior, everything we want in bread. Its unique given the tomato and garlic flavors, and therefore addicting.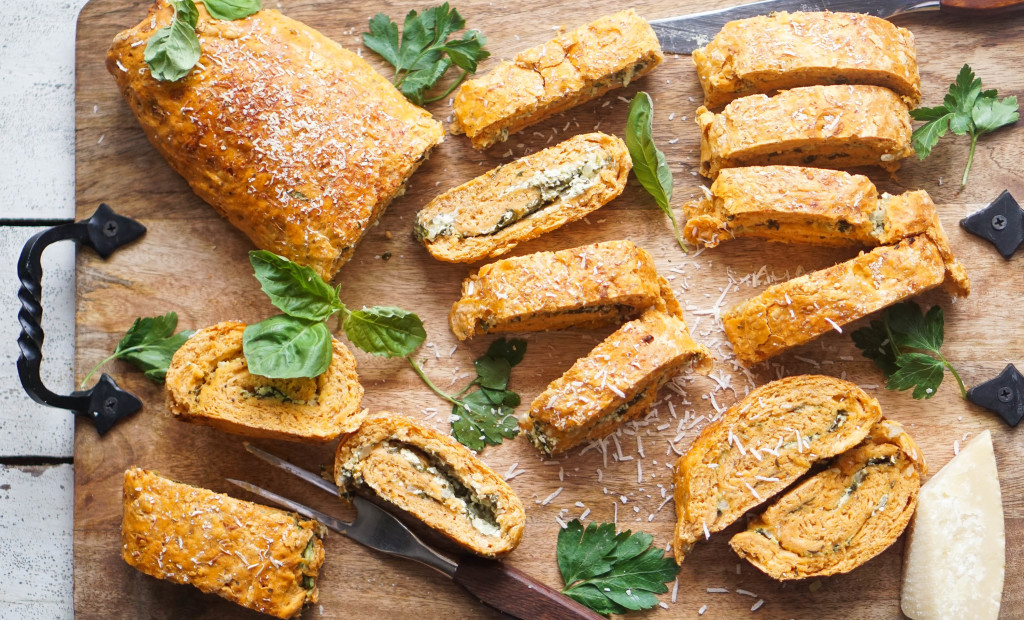 I imagine someone making this on a snowy day, or for a dinner party of 4+ people (send them home with leftover bread). It's perfect with a spread of butter and shaving of Parmesan cheese and even more perfect dipped in a brothy soup (hellooo Italian wedding soup!). The best part is the slices can be thrown in the freezer to enjoy little by little. I've been snacking on these for a week now! This recipe is an impressive one and defiantly a keeper.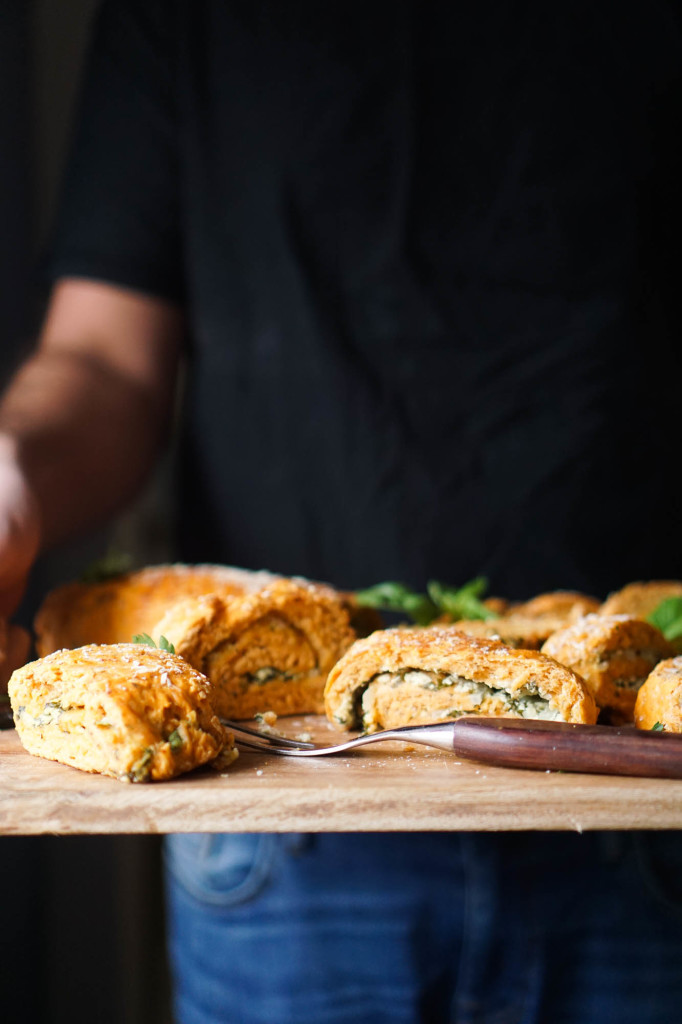 Enjoy!
Tomato & Spinach Bread Roulade
2017-02-06 17:16:30
Serves 10
Crusty tomato bread rolled with spinach and ricotta, making a beautiful presentation and a mouthful of flavor.
For the Dough
14 oz. Italian plum tomatoes
2 packages active dry yeast
1 tablespoon sugar
1/4 cup finely diced onion*
2 cloves garlic, minced
1 tablespoon dried basil
1 tablespoon dried oregano
1/2 teaspoon celery seeds (I used celery salt)
2 teaspoons salt
1 cup grated mozzarella (or Swiss or Fontina)
5 to 5 1/2 cups all purpose flour
Grated Parmesan cheese (optional)
For the Filling
olive oil as needed
1 small onion, diced
2 cups spinach, chopped
1/2 cup ricotta
1 tablespoon Marsala wine
2 teaspoons fresh lemon juice
salt and pepper as needed
1 egg
Instructions
Puree the plum tomatoes with an immersion blender, food processor, or blender. Pour in a small saucepan and heat to 115 degrees (lukewarm). Remove from the heat, and stir in the yeast and sugar. Allow to sit until foamy (activated), about ten minutes.
Transfer the tomato mix to a standing mixer with the paddle attachment. Add the onions*, garlic*, seasonings, and cheese. Mix on low speed, while gradually adding in the flour a cup at a time. Continue to mix until a firm dough forms. I used closer to 5 1/4 cups of flour.
Transfer the dough to a floured surface and knead until smooth and elastic. (I had to add 2-3 tablespoons of water as my dough was crumbly. After kneading, my dough was smooth but firm).
Transfer to a large buttered bowl and turn to coat with butter. Cover with a damp towel and let rise in a warm place and doubled in size, 1 to 1 1/2 hours.
While the dough is rising, create the filling. Heat 2 counts of olive oil in a small saute pan over medium high heat. Saute the onions until translucent, about 4-5 minutes. Add the garlic and saute until fragrant, about 45 seconds. Remove from the heat.
Mix together the ricotta, onion/garlic mix, spinach, Marsala, and lemon juice. Season with salt and pepper, tasting and adjusting as needed. Refrigerate until needed.
Punch the dough down and divide in half. Roll each half into a rectangle about 3/4" thick. Spread each with the spinach filling. Roll up each rectangle into a jelly-roll like shape and place on greased baking sheets. Cover loosely with plastic wrap and rise 1-hour. I let mine rise on top of my stove, so in a warmer place.
When ready to bake, preheat oven to 375 degrees.
Beat the egg with a splash of water and brush over the tops of the loaves. Sprinkle with Parmesan if desired. Bake until lightly browned and sound hollow when lightly thumped, 45-55 minutes. Cool on baking sheets for 10 minutes, then transfer to wire racks to cool completely. Slice and serve with butter, grated Parmesan, marinara, or a brothy soup for dipping.
Notes
The original recipe calls for raw onion, which does taste stronger than cooked (obvi). If desired, saute the onions and garlic for the dough. I probably will do this my second time around!
Adapted from The Silver Palate
Adapted from The Silver Palate
http://www.vodkaandbiscuits.com/