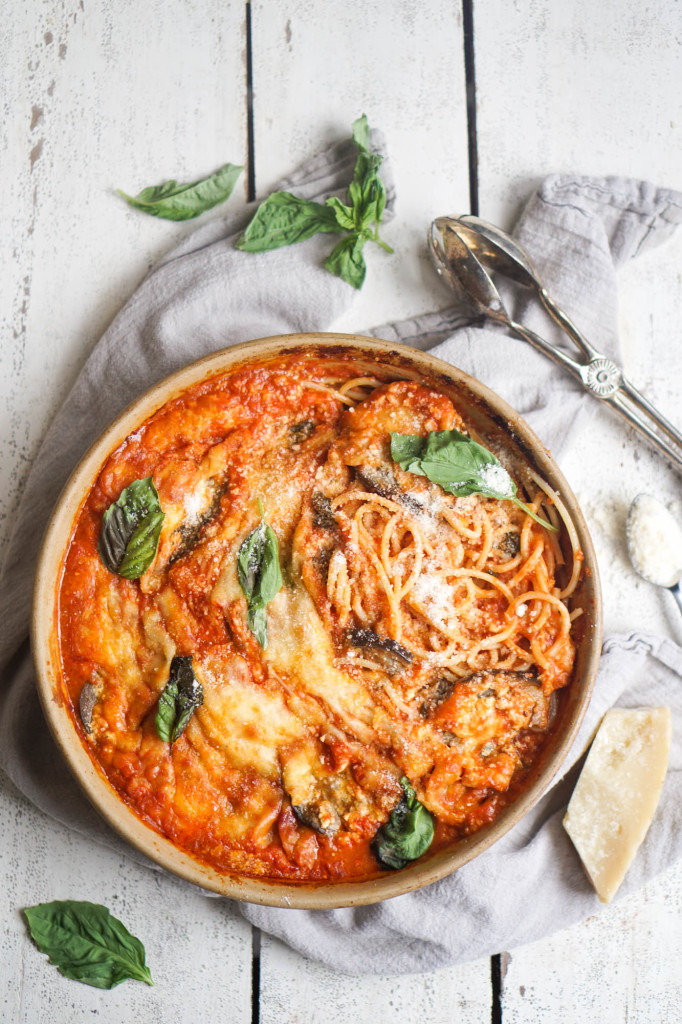 You haven't seen a hot mess until you've seen me and my kitchen after I've successfully dredged, floured, breadcrumb-ed, and fried endless pieces of eggplant, then whip up a tomato sauce, and boil water for pasta all at the same time. Cheese, flour, oil, and tomato sauce errywhere'.
Welcome to my love/hate relationship with eggplant parm.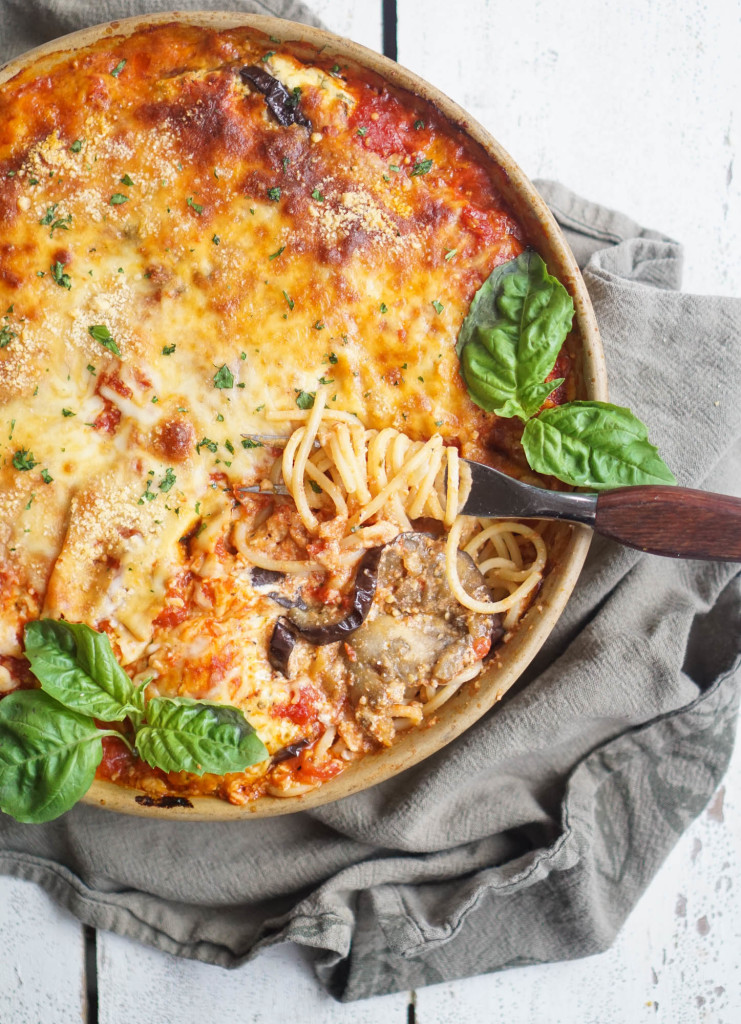 Although it is one of my top five favorite meals to eat, it's also a top five least favorite to make. While the end results are worth it sometimes the mess is not. That's why I am SO excited to share with you my new favorite way to prepare this decadence of a meal, thanks to the ladies of The Silver Palate Cookbook
.
I introduced the classic Silver Palate cookbook in my last recipe and I'm sharing another favorite find in the book. The book and authors are special to me for reasons that I hope to share with you soon. I can connect to not only the ladies behind the brilliance, but also the entertaining friendly recipes. Needless to say the book is a MUST have for any passionate cook. Let's talk about this eggplant though.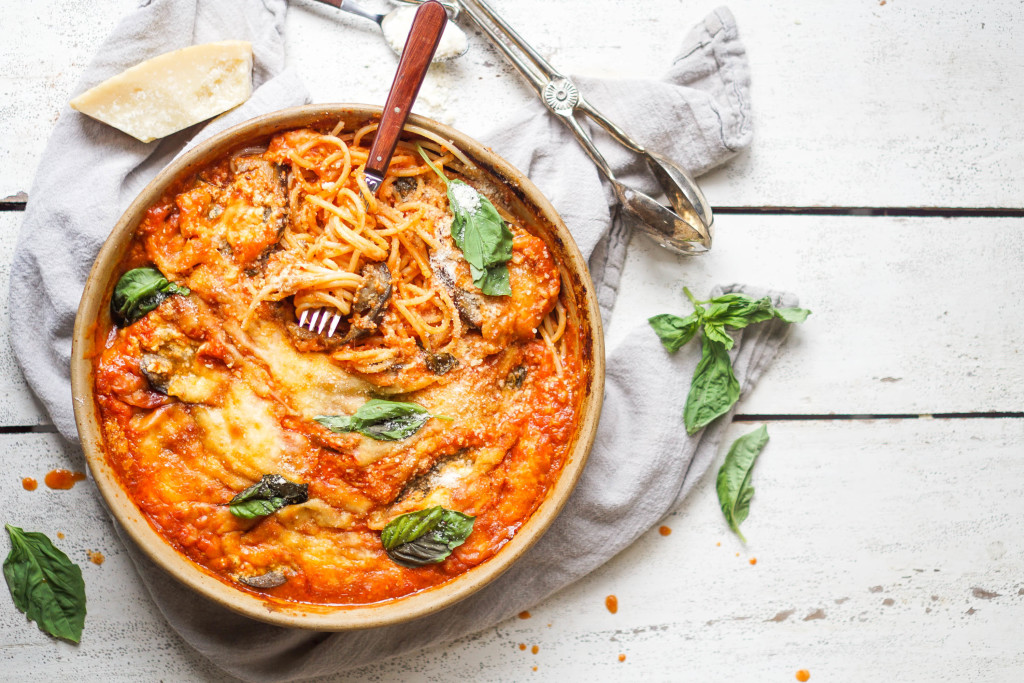 This dish is layers of tomato sauce, sautéed eggplant, ricotta, and shredded cheese. It's like eggplant Parmagiana meets lasagna meets ziti. Before making this recipe I was afraid I'd miss out on the crunch of a fried bite of eggplant, but in hindsight I've really been missing the flavor of eggplant all along.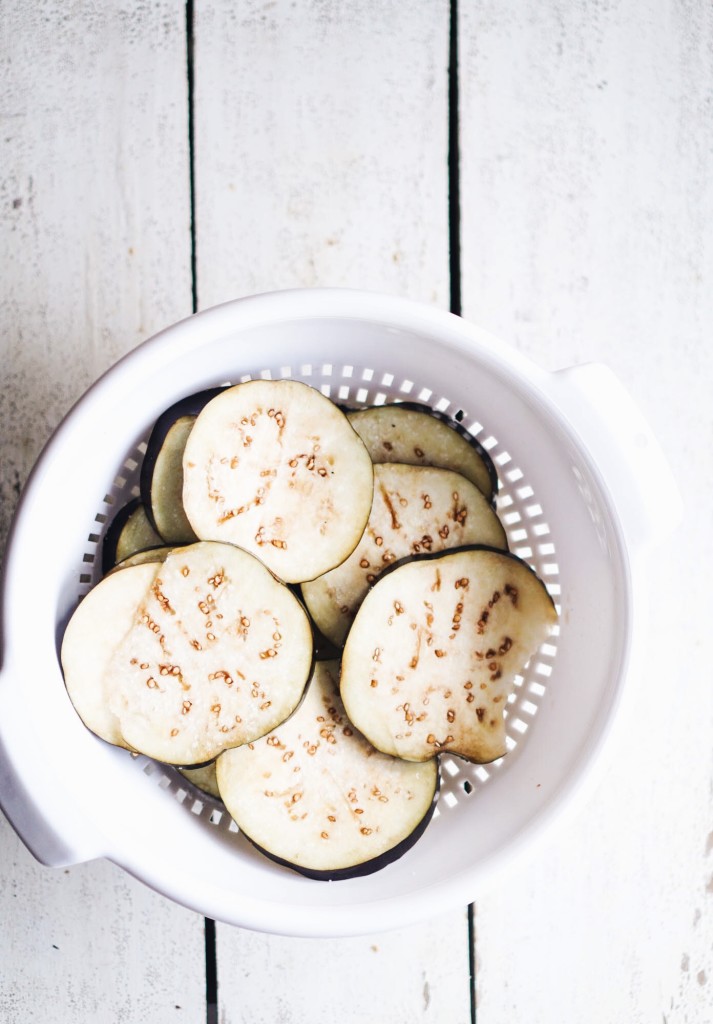 The recipe starts off with salting the eggplant slices to rid of excess moisture. I simply cut the eggplant slices and layer them in a colander, salting as I layer. That sits for a half hour which is plenty of time to whip up the ricotta or tomato sauce, and to preheat the oven.
Once the slices are nice and sweaty they get risnsed and sautéed in a touch of oil for a quick 2-3 minutes. The eggplant does get cooked, but it's much less of a hassle than frying.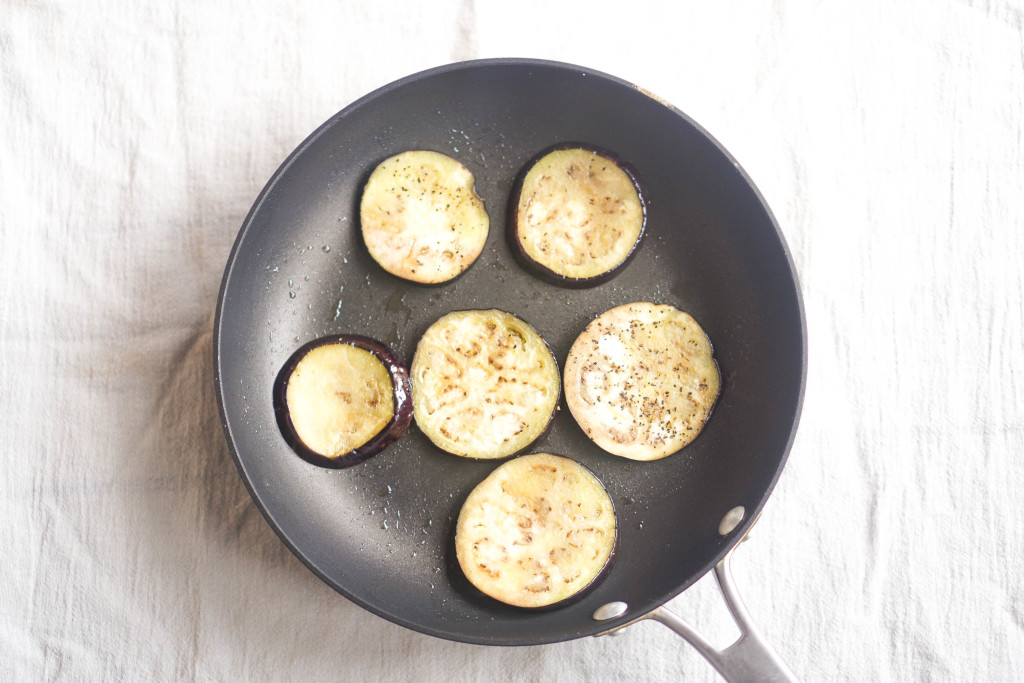 You can tell when your slices are done when they start to turn color and become translucent. They actually turn yellowish as seen above!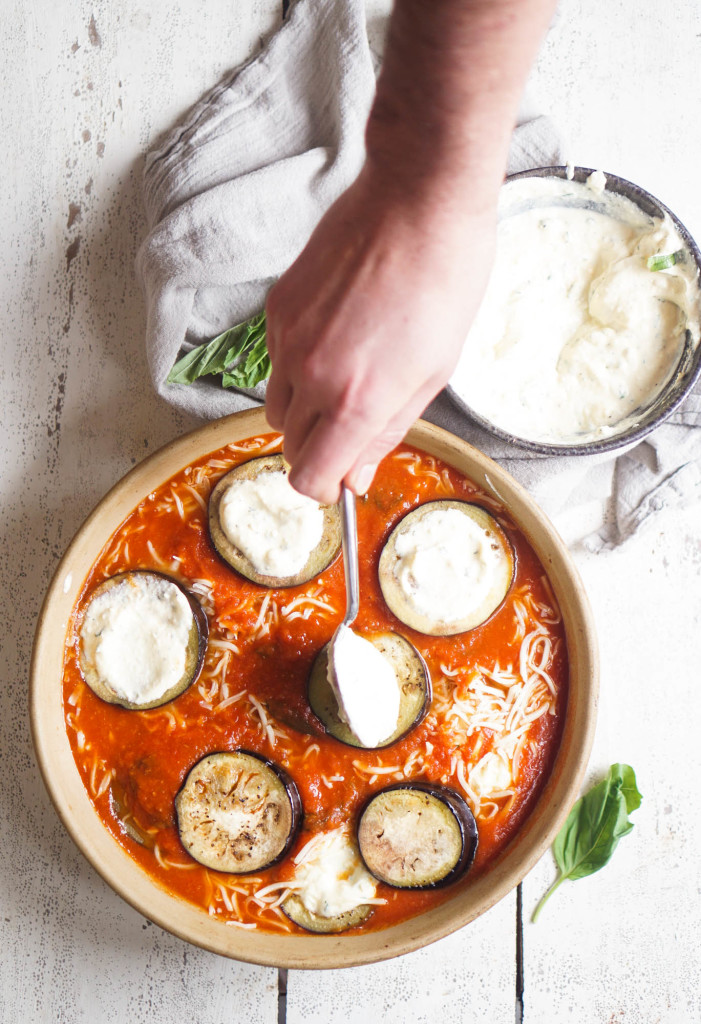 As mentioned the dish is layered with tomato sauce and ricotta. I used my favorite tomato sauce from Baltimore's Italian market, so you can use your favorite sauce or a quick homemade one. I will leave my favorite homemade sauce in the note of the recipe!
The ricotta is nothing more than ricotta, Parmesan, salt, pepper, an egg, and chopped herbs. Make this even more of an ease and bang out the ricotta & tomato sauce the day before or morning of cooking!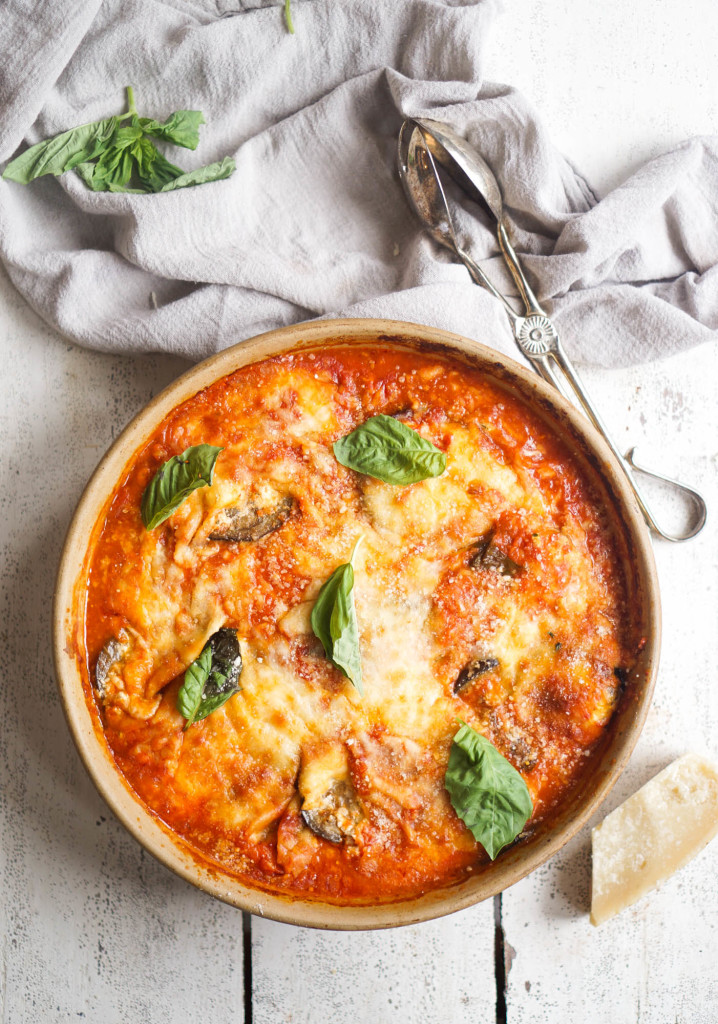 This comes out of the oven so cheesy, bubbly, and melty that immediately you'll want a crusty piece of bread for dipping. I think this dish can be served with pasta or bread (or both for my carb lovers) and it's perfect for a dinner party with a bottle of red wine.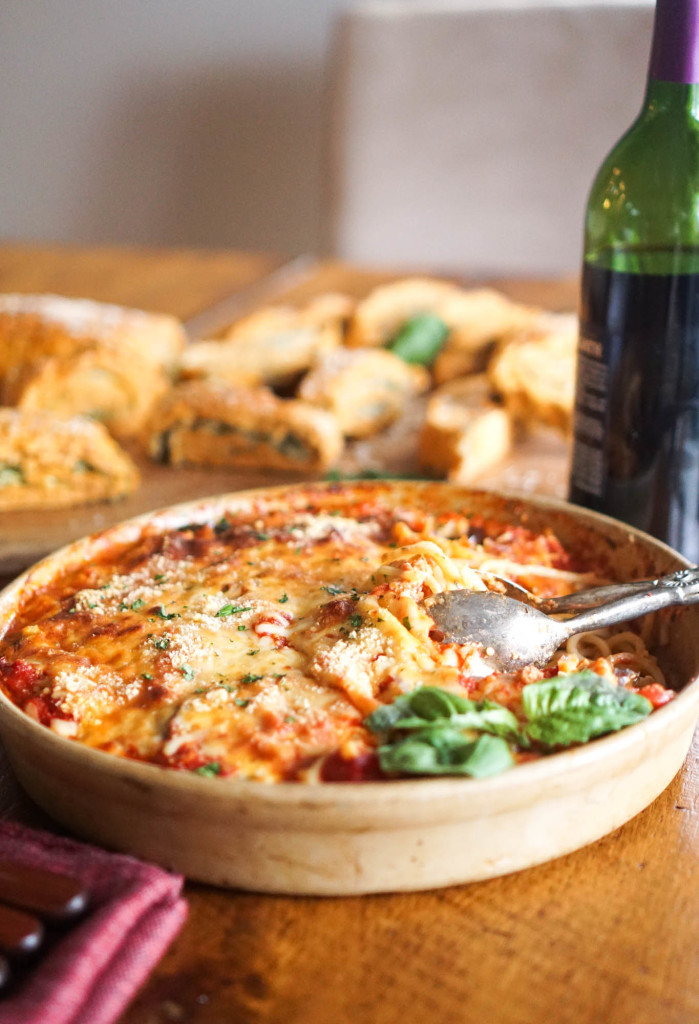 The ricotta melts into the sauce which is why this reminds me of either a lasagna or ziti, and the eggplant is so tender and left only to let its true flavors shine. It's after my first bite that I realize I've been tasting less of the eggplant and more of the fried breading in my years of making this. As Silver Palate says, this is much lighter and fresher than the original version.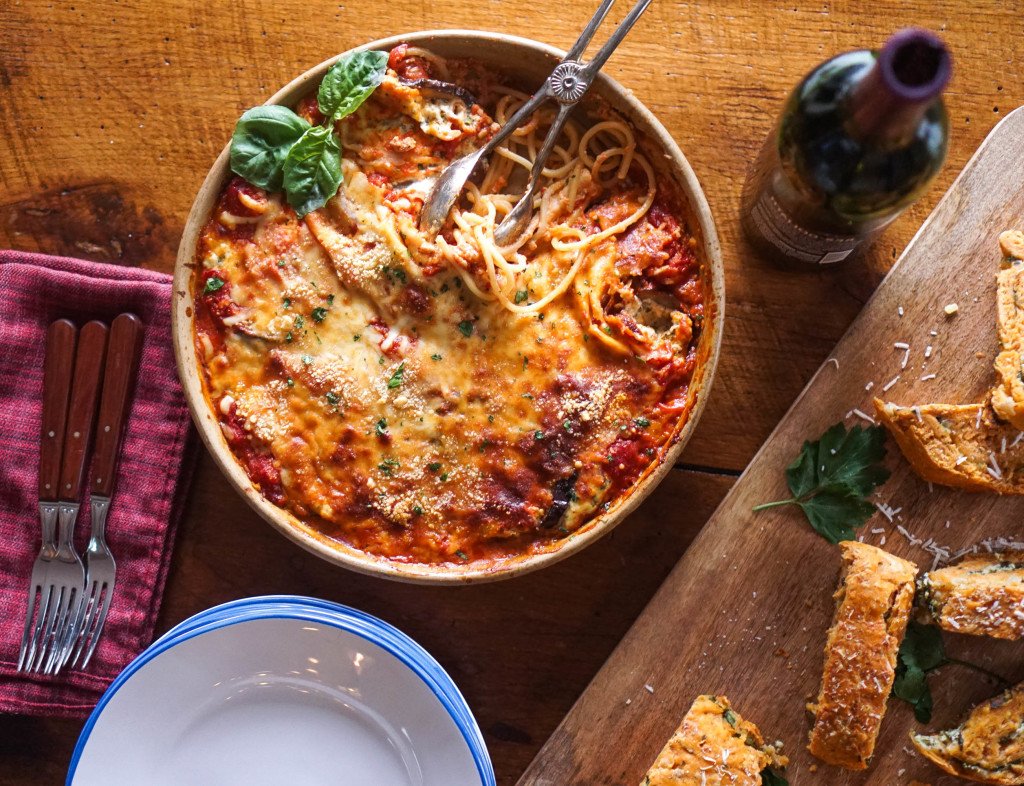 Eggplant, you're delicious. And sorry for frying the heck out of you in the past. Kitchen and sanity, you're welcome. Friends and readers, please make this your next dinner party or Sunday supper.
ENJOY!
Eggplant Parmigiana
2017-02-14 07:01:34
Serves 6
Sauteed eggplant layered with tomato sauce, ricotta, and cheese. "Much lighter and fresher than the original version."
Ingredients
1 large eggplant
1 cup ricotta cheese
1 egg
1/4 cup grated Parmigiano-Reggiano cheese
1 heaping tablespoon chopped parsley*
24 oz. favorite tomato sauce*
8 oz. shredded Mozzarella
salt and pepper as needed
olive oil as needed
Optional: fresh basil for garnish, crusty bread for serving, 8 oz. spaghetti pasta.
Instructions
Preheat oven to 400 degrees.
Slice the eggplant into 1/2" slices. One large eggplant should yield 14-16 slices. Layer the slices in a colander, salting heavily as you go. Set side for 30 minutes, preferably over a towel or sink.
In the meantime, combine the ricotta, Parmesan cheese, and herbs. Season with salt and pepper to taste. You can also grate in some fresh garlic. When desired taste achieved, mix in the egg and set aside until needed.
Rinse the eggplant slices well and pat dry. Sprinkle the slices lightly with pepper. Heat 2-counts of olive oil in a large saute pan over medium high heat. Add the eggplant slices in a single layer and cook 2 minutes on each side. The slices are cooked when they start to turn color and become translucent. The slices will absorb all of the oil, do not add more oil until you are ready for your next batch. Continue until all slices are par cooked.
Spread 1/2 cup of tomato sauce to the bottom of a 9x12 oval dish or 12" round dish. Arrange a layer of eggplant slices on top of the sauce, then top each slice with a heaping spoonful of ricotta. Use the back of the spoon to spread the ricotta by pressing lightly.
Sprinkle one third of the first layer with mozzarella cheese. Repeat, making sure your final layer is covered with the tomato sauce then sprinkled with the remaining mozzarella.
Set dish on the center rack of the oven and bake until well browned and bubbly, about 35 minutes.
Let stand for 10 minutes before serving and serve with crusty bread or spaghetti pasta, and a side of grated Parmesan.
Notes
You can use a combination of whatever fresh herbs you have on hand. I recommend a combination of parsley, basil, and fresh oregano.
For a quick tomato sauce infuse 1/4 cup olive oil, 1 clove smashed garlic, 2 fresh basil leaves, and a pinch of red pepper flakes in a small sauce pan over medium heat. Once the garlic browns, remove from the heat and infuse for 25 minutes. In a separate large pan, add 2 counts of olive oil and heat to medium heat. Add a 32 oz. can of San Marzano whole tomatoes, crushing with your spoon to break apart the tomatoes. Simmer for 20 minutes. Strain the oil and stir in the the tomatoes, simmering for another 10 minutes.
Adapted from The Silver Palate
Adapted from The Silver Palate
http://www.vodkaandbiscuits.com/