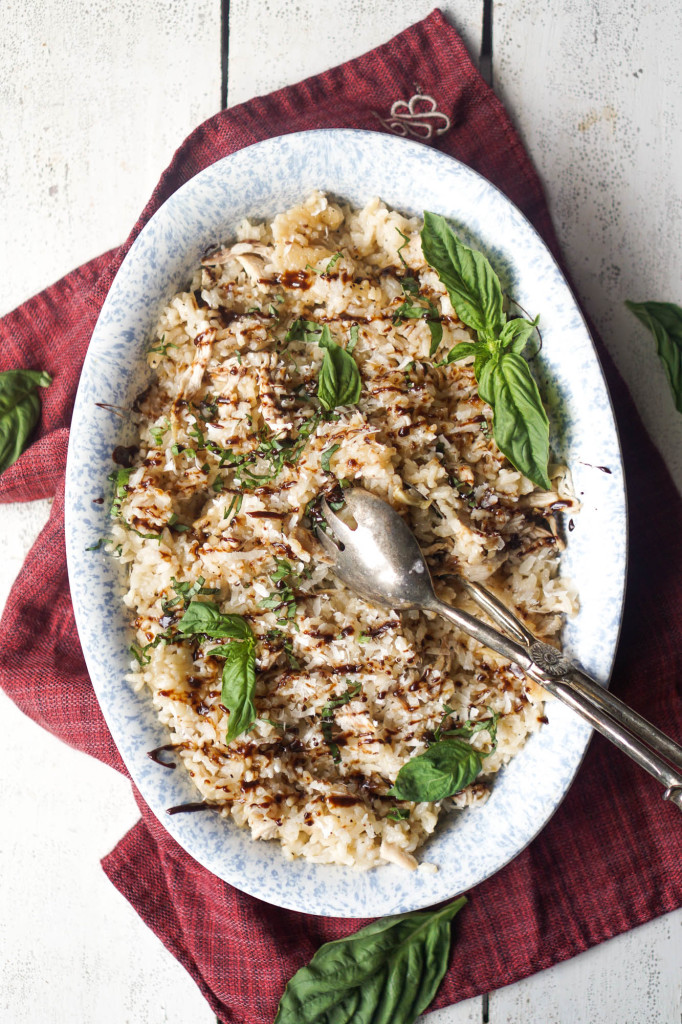 Roasted Chicken & Basil Balsamic Risotto does no justice.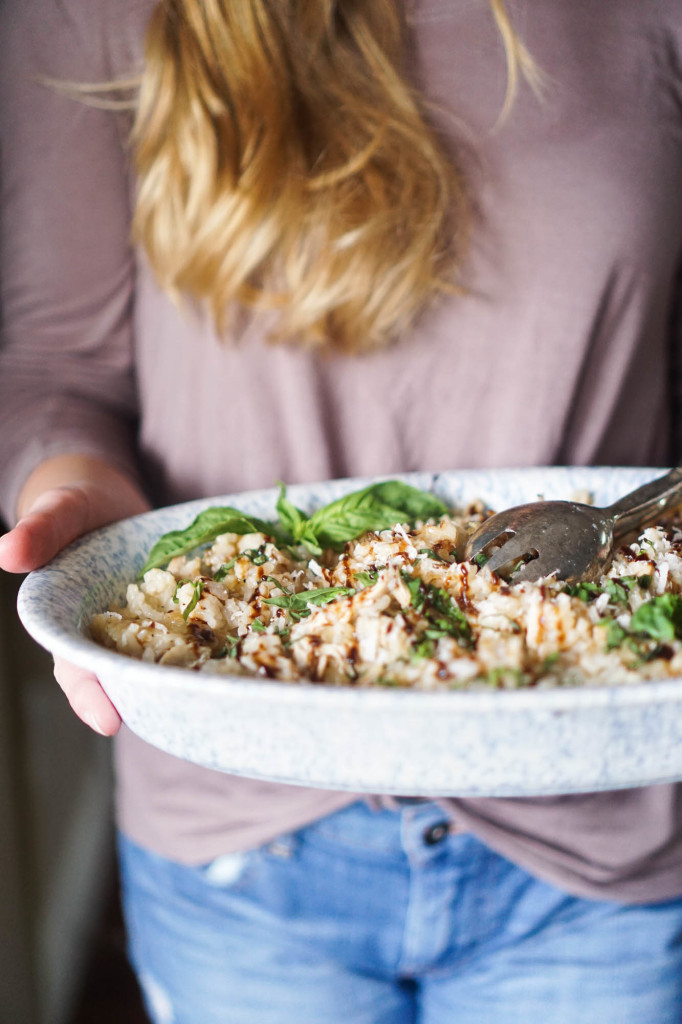 How about this: chicken roasted with garlic until juicy and tender, pulled then tossed with rich creamy garlic risotto scented with Parmesan & basil topped with a sweet balsamic reduction.
*DROOLS EVERYWHERE*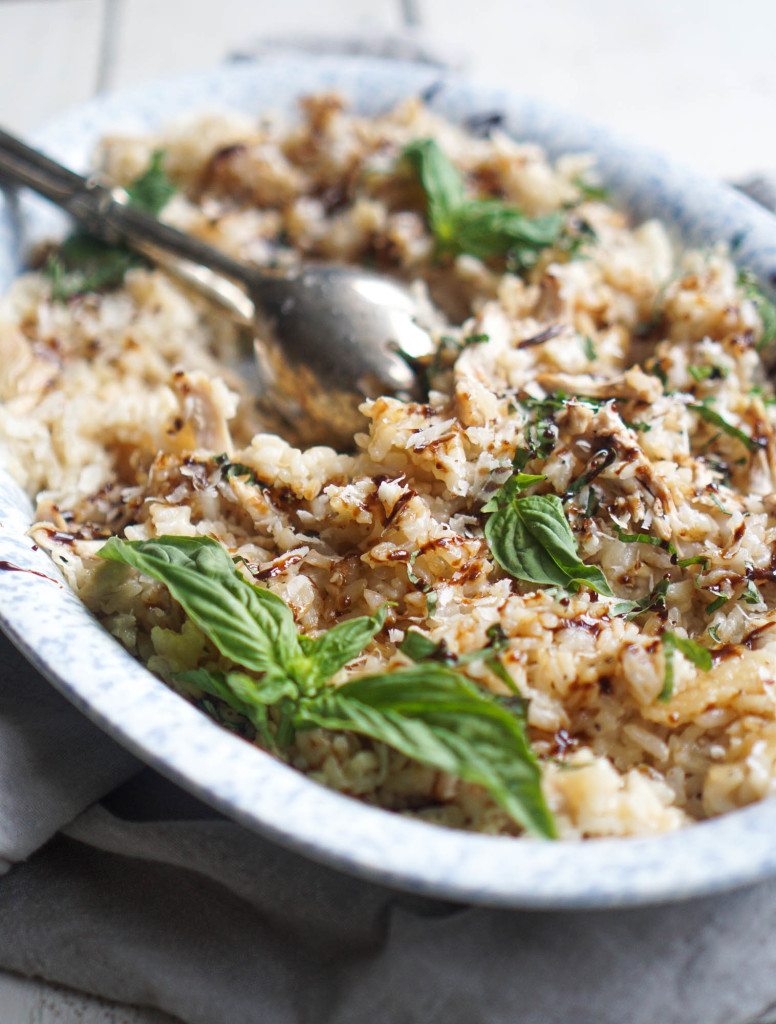 This recipe has been on the blog for about two years, but with poor photos it got lost. And I got sad. This is one of my absolute favorite recipes re-created after being inspired by a balsamic chicken risotto from Baltimore's Joe Squared. I took notes after every bite and hit the kitchen to attempt a recipe that can be half as satisfying as Joe's.
This is what I created and now is a frequent weekday dinner. If I've had you over for a dinner party, you probably had this before. I love serving this with asparagus bundles wrapped in bacon or a fresh field salad. Let's get to cooking because you NEED this recipe.
The Chicken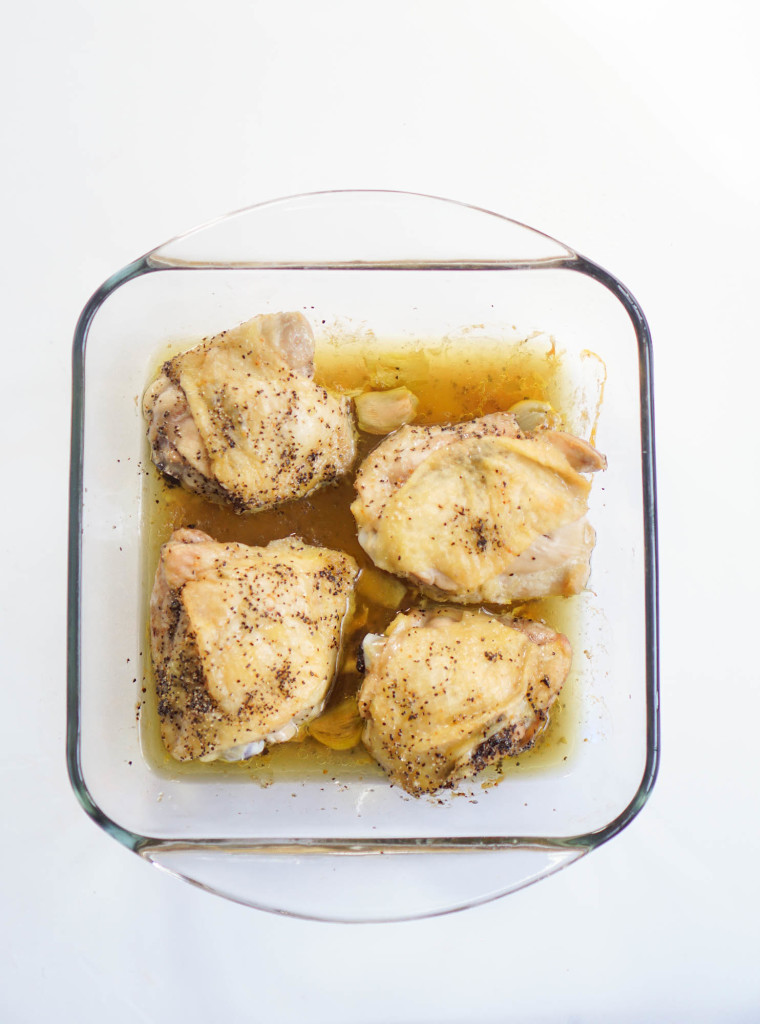 The first step is roasting some skin-on/bone-in chicken thighs with lots of garlic. I love me some thighs, but you can use breasts if that's what you prefer. I recommend bone-in and skin-on because it helps to keep the chicken juicy and flavorful in the oven. If you're using boneless/skinless, just add a 1/4 cup of stock in the roasting pan! After a half hour or so, the chicken is fully cooked and the garlic is tender as ever. Reserve the garlic, give the chicken a shred, and set it aside until your risotto is nearly done.
The Risotto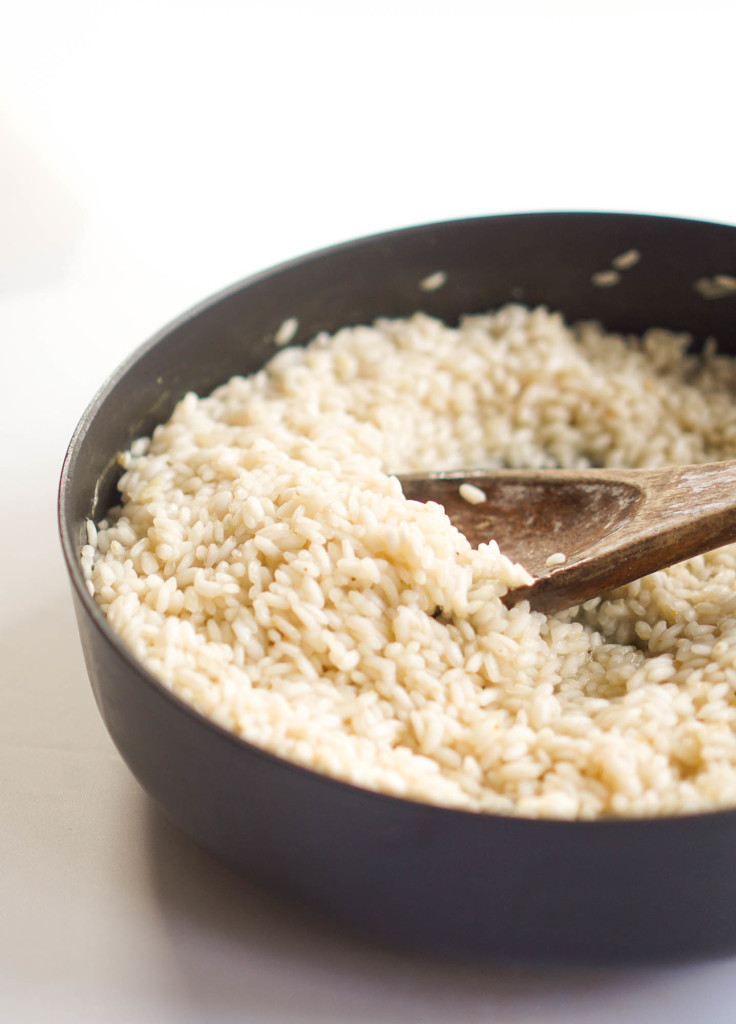 Risotto takes a little patience (and a lot of stock), but the end results are so worth it. Risotto is made with arborrio rice which you can find in any grocery store. Arborrio rice are short chubby cute little things that are ESSENTIAL in making risotto. Basically as they cook they release a starch which helps to thicken up the risotto. Your dairy-free friends won't believe that you can make something so creamy and rich without dairy. I however can't pass up the Parmesan.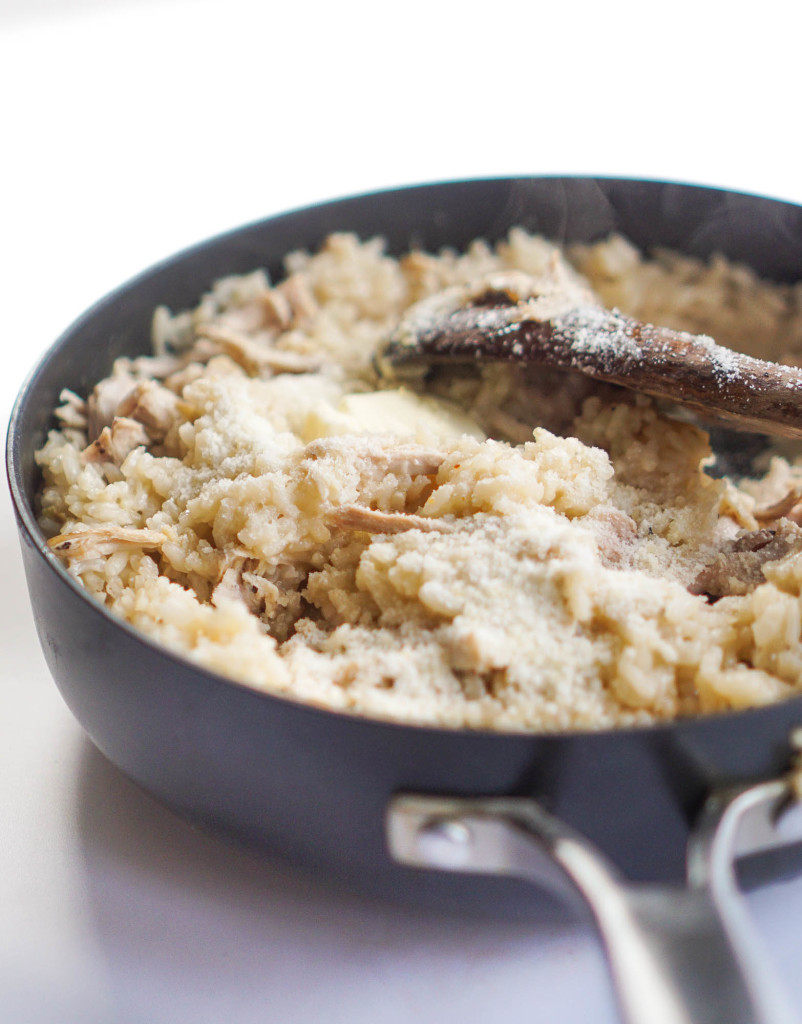 It goes a little something like this: saute garlic in butter/oil, toast the rice in that garlicky goodness, add wine and stock a cup at a time until it's all fully absorbed. It takes a little patience and stirring, about 20 minutes worth. I walk you through the entire thing in the recipe. See below a chart that I refer to any time I am making risotto. Triple or quadruple as needed!
1 cup of arborrio rice means 1/2 cup of dry white wine and 3 cups of stock = serves 1-3 people
2 cups of arboirrio rice means 1 cup of dry white wine and 6 cups of stock = serves 3-6 people.
The Balsamic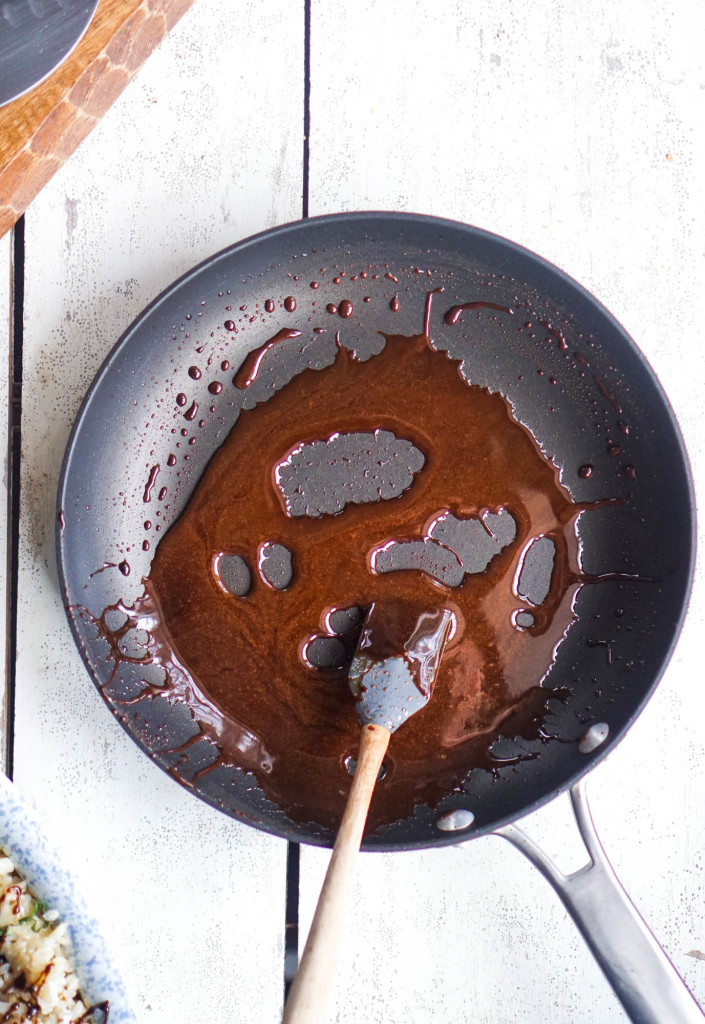 I'm including a homemade balsamic reduction in the recipe, but if you want to use store bought reduction I DON'T BLAME YOU. If you're making this from scratch (nothing more than balsamic vinegar and sugar), beware for your nose holes as your kitchen and house will reek of vinegar. Don't say I didn't warn you.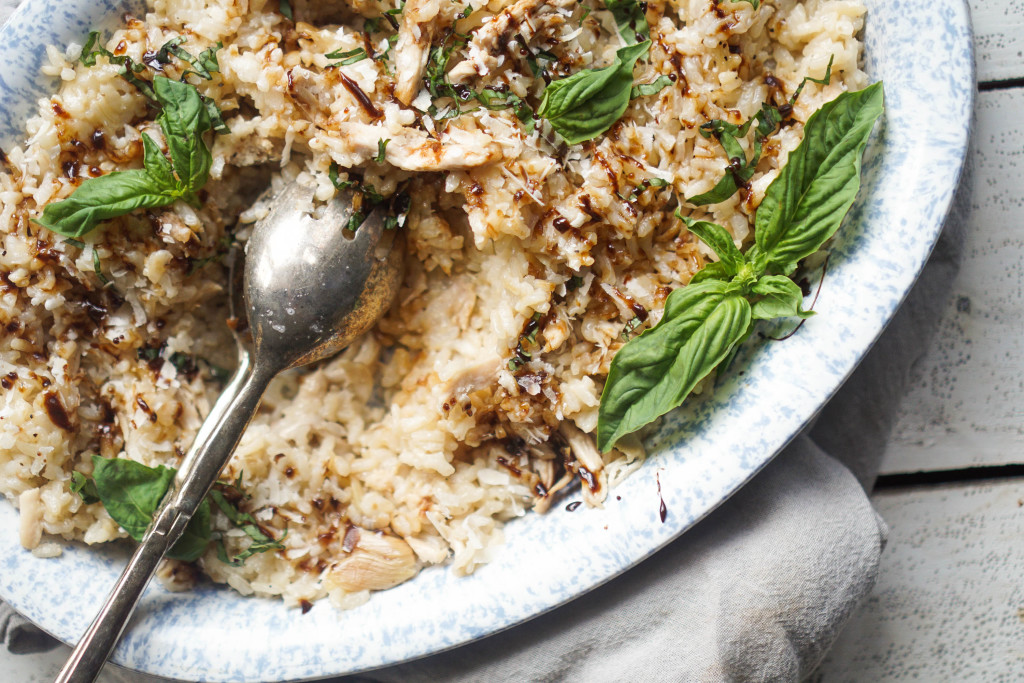 When all of the components are done they come together in a combination that will soon be your new favorite combination of food. Creamy risotto seasoned perfectly with garlic, salt, pepper, and Parmesan tossed with the juicy flavorful shredded chicken and roasted garlic, topped with more Parmesan for garnish, a drizzle of sweet reduced balsamic, and the fresh aroma of basil.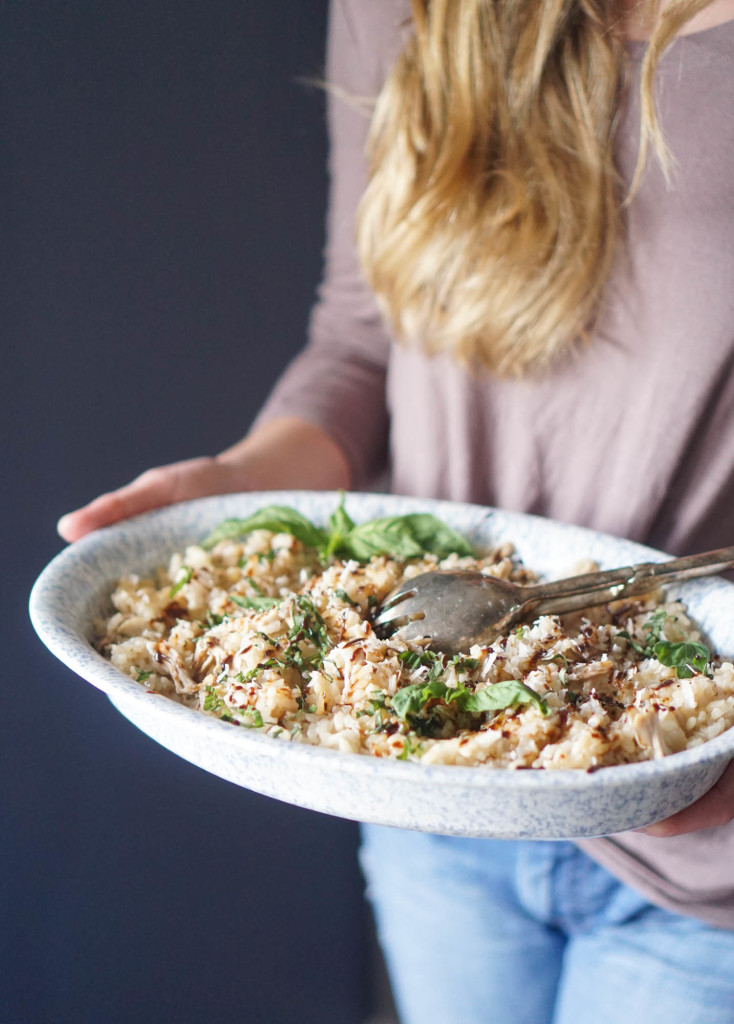 Roasted Chicken & Basil Balsamic Risotto
2014-10-22 10:29:48
Serves 6
Creamy garlicky risotto tossed with tender chicken thighs, sweet balsamic, and fresh basil.
For the Chicken
4 bone-in, skin-on chicken thighs
3 tablespoons olive oil
Salt and pepper as needed
3 garlic cloves
For the Risotto
2 tablespoons butter
2 tablespoons olive oil
2 cloves garlic, minced
2 cups arborrio rice
1 cup dry white wine (like a Chardonnay)
6 cups low sodium chicken stock
salt and pepper as needed
4 fresh basil leaves, chiffonade
Parmesan Reggiano - grated
For the Balsamic Reduction
1/2 cup balsamic vinegar
1/2 cup white sugar
For the Chicken
Preheat the oven to 350
Rinse and dry the chicken thighs. Add the oil to a small bowl and season the oil with salt, pepper, and seasonings of choice, for instance fresh parsley or dried oregano. Brush all over the chicken, under and on top of the skin.
Place in a roasting pan or cast iron skillet with the garlic cloves and bake for 30 minutes, or until juices run clear. If you want to eat the skin, crank the broiler for the last few minutes.
Allow to cool and shred the chicken from the bone. Reserve the garlic.
While the chicken is roasting, prepare the risotto.
For the Risotto
Add the stock to a pot and bring to a gentle simmer. Keep hot over the stove.
Heat the butter and oil in a nonstick skillet over medium heat. Using a skillet or saute pan will help risotto cook evenly opposed to a pot.
Add the garlic and cook until fragrant, a little less than a minute. Add the rice and toss to coat in the fat. Cook for a minute to toast.
Add the dry wine and stir with a wooden spoon until absorbed, about 2 minutes. Add a ladle of the stock to the risotto (my ladle holds 1 cup of stock) and stir until absorbed, 3-5 minutes. Repeat until all of the stock is used/absorbed and the rice is nice and tender. I like to gradually taste. It's done once the rice doesn't have a bite to it. While cooking, constantly taste and adjust for salt and pepper.
Once the risotto is done, toss in the shredded chicken, squeeze out the roasted garlic, and top with Parmesan, basil, and balsamic reduction (see below).
For the Balsamic Reduction
In a small saute pan, combine the sugar and vinegar and stir. Bring to a boil, then reduce the heat to a simmer. Allow to reduce for 5-7 minutes until a thick syrup develops. Be patient! Remove from the heat and allow to cool. Open the windows when making, your house will reek of vinegar!
Notes
It is super important the stock is hot before making the risotto at it will help to thicken up the rice!
http://www.vodkaandbiscuits.com/