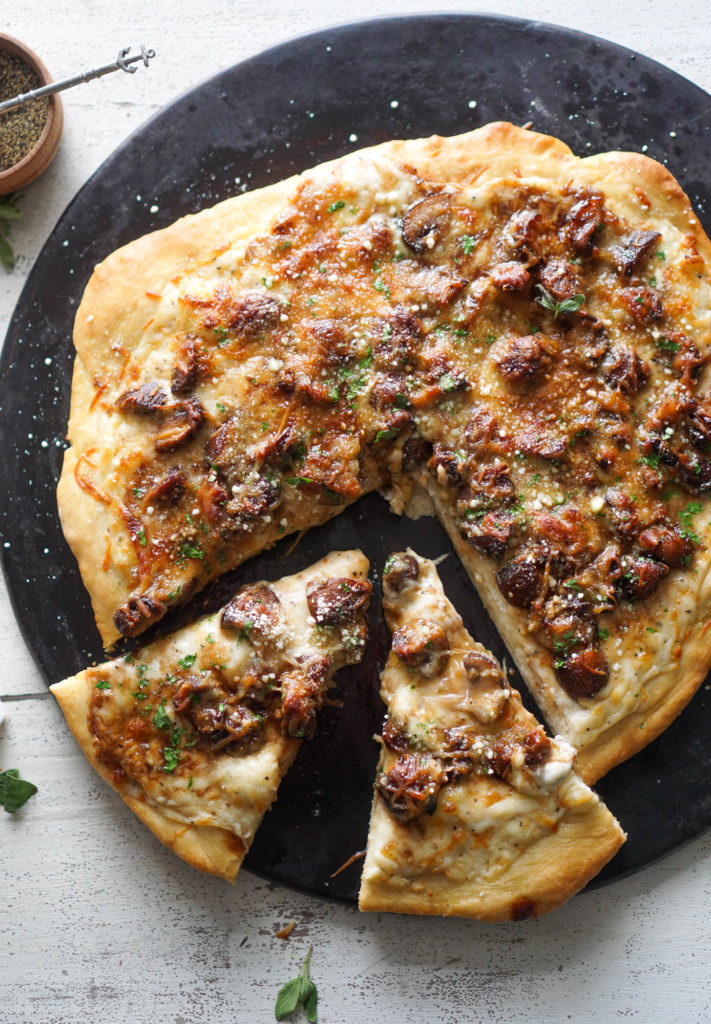 I combined two of my favorite meals and now I'm obsessed.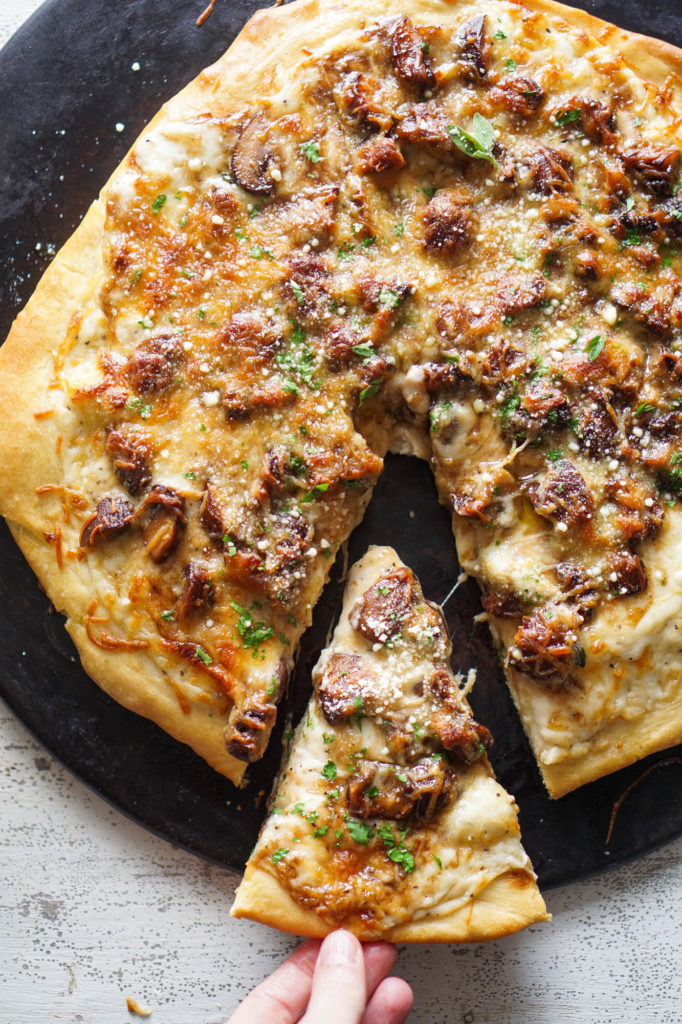 I'm horrible with planning out meals for the week and sticking to it. I used to not mind swinging by the grocery store every day to pick up ingredients for dinner, meaning the only things I had at home were stuff for breakfast, fresh fruit, and snacks.
Let's just say I need a little more structure because those daily trips got very annoying.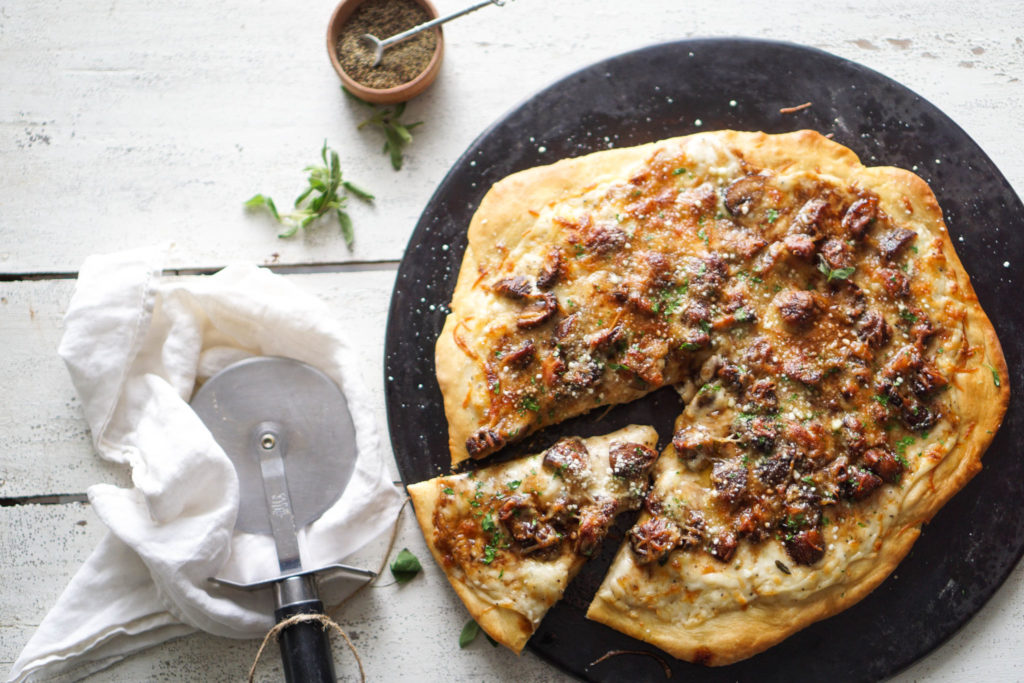 I recently bought meat/fish in bulk, prepped out portions, and froze it accordingly. Every Sunday I've been seeking out the produce sales and developing my meals and defrosting the meats around that. I've only seen the grocery store twice a week and I'm LOVING it.
My last trip I did not have mushrooms or pizza on the menu, but I couldn't resist the $1 sale. I already bought ingredients for the dinners that week and was going back and forth with what to do with these darn mushrooms and pizza. That's when it hit me. Mushroom marsala pizza. I enjoyed this for lunch and brought leftovers to family for them to enjoy, and I'm hoping I can catch you before you make your next weekly meal plan and wiggle this pizza in it. Let's start with the sauce.
The Sauce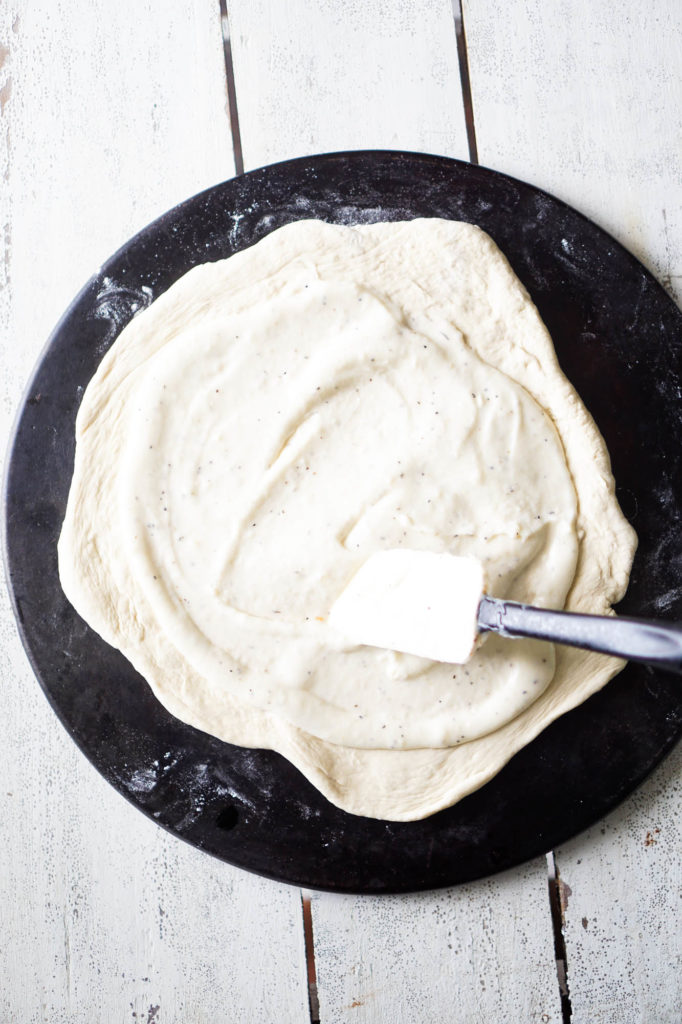 I didn't think twice about what kind of sauce this pizza needed – creamy, cheesy, white sauce made with bechamel. It's nothing more than milk thickened with flour and butter, then seasoned with some pepper and made extra creamy with cheese. I walk you through the entire process in the recipe!
The Mushrooms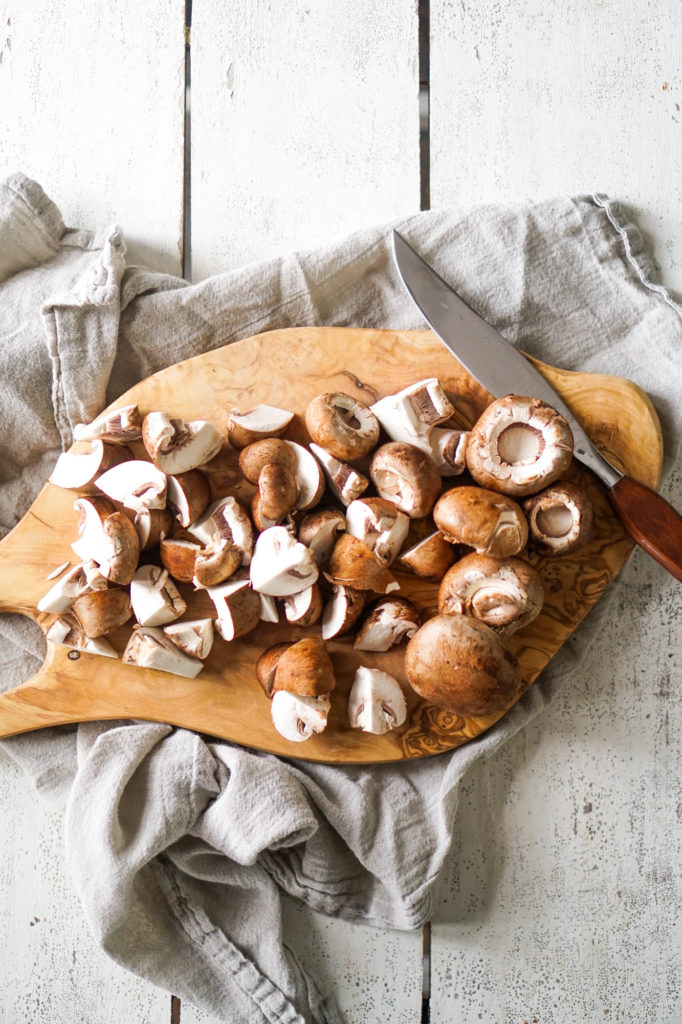 I used a pound of baby bella mushrooms that I quartered into bite size pieces. You can use whatever combination of mushrooms you'd like, not to mention exotic mushrooms would make this extra beautiful.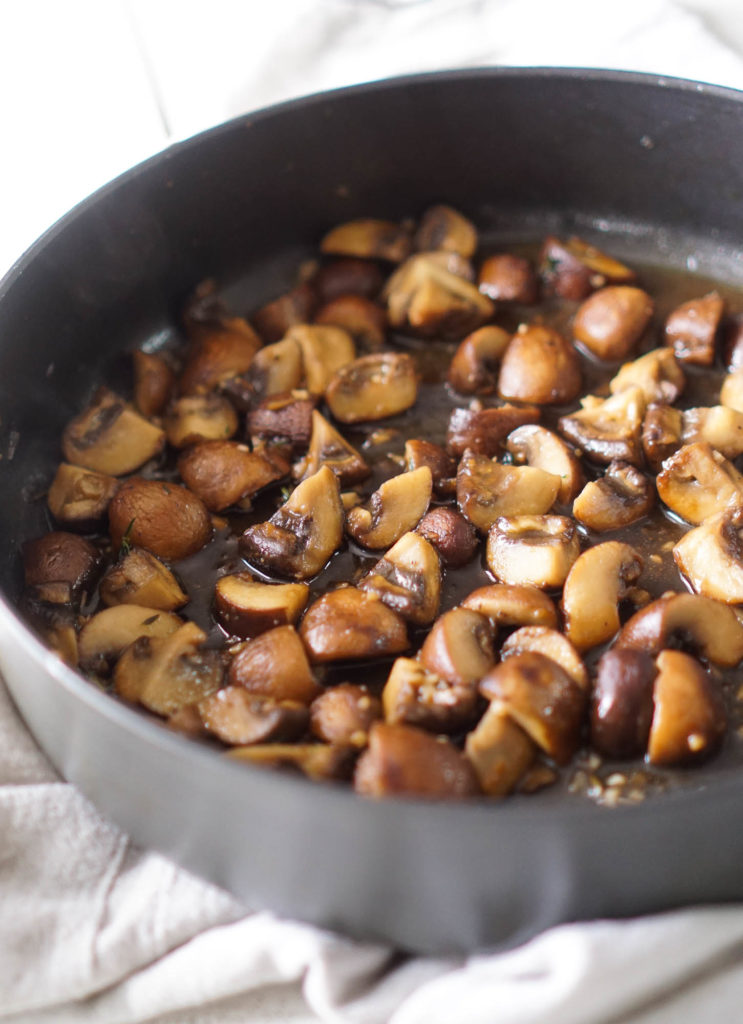 The mushrooms are sauteed in butter and oil and seasoned with salt, pepper, garlic, and thyme before stock and Marsala wine is added and reduced. Marsala wine is so great to have on hand especially if you're a chicken Marsala fanatic (me).
Check this recipe if you're looking for leftover wine inspiration!
The Pizza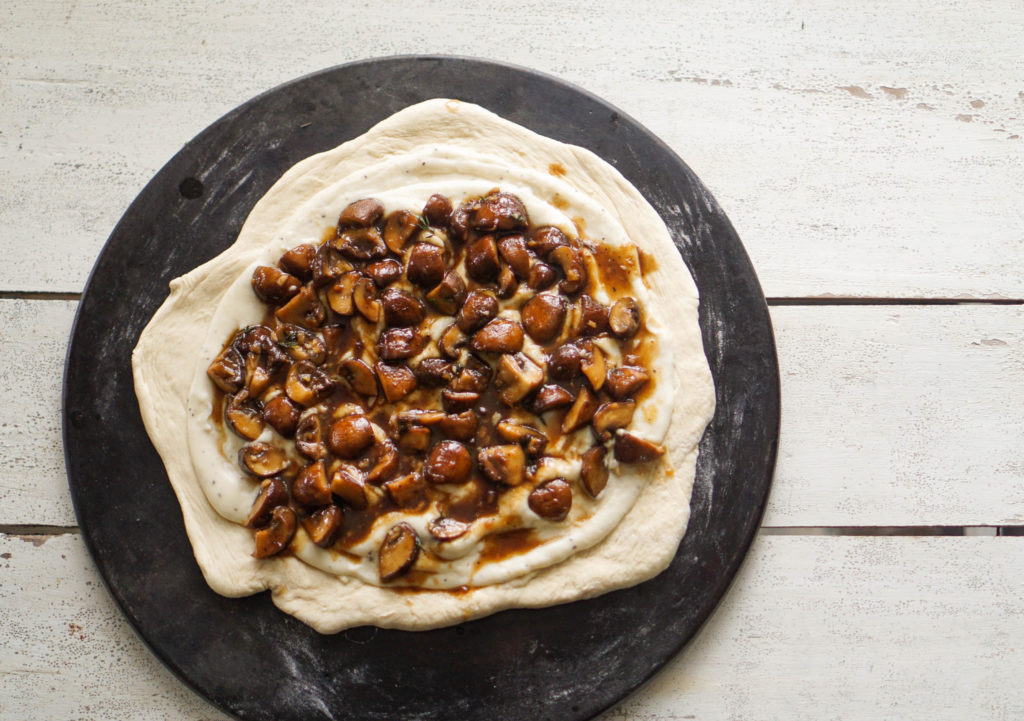 I used store bought dough, but you can use your favorite homemade pizza dough. Then share it with me because I need a new pizza dough recipe. Everything gets layered together, topped with more cheese, and baked til golden.
Scott doesn't even like mushrooms and agreed this pizza is a winner. Sweet Marsala wine with meaty mushrooms and a creamy cheese sauce, what more can you ask for?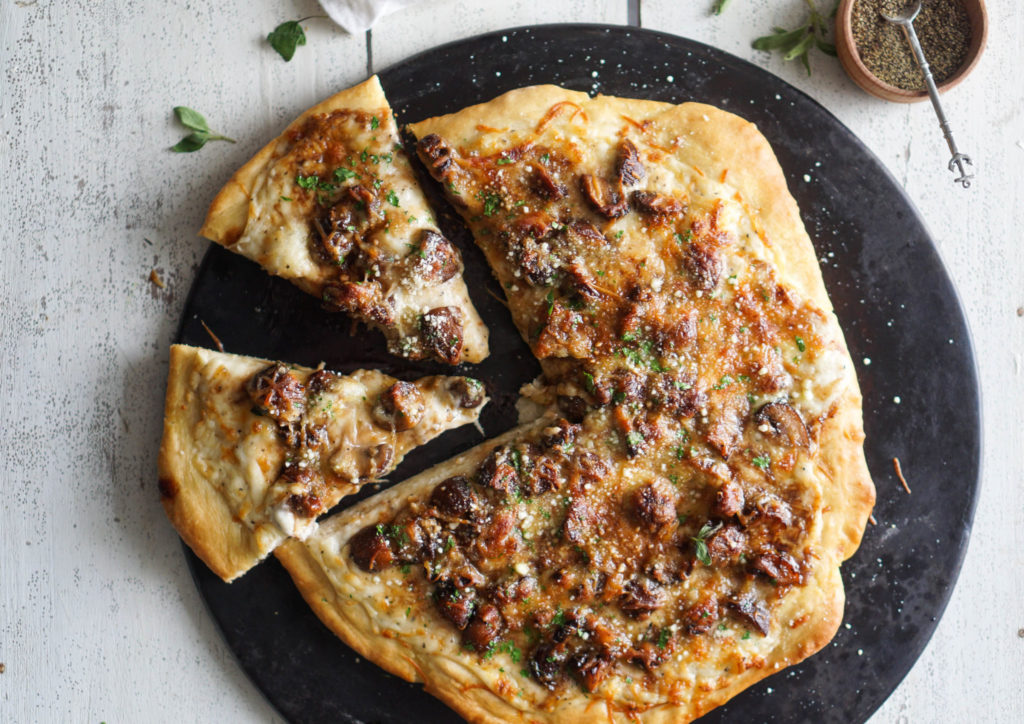 I imagine this served for a weekday dinner with a fresh salad OR served as an appetizer. If that's the case, just roll our your dough into a rectangle and cut this into square bites. Um, can you just imagine some roasted asparagus mixed in with those mushrooms?! The possibilities are endless. It's almost the weekend, go have some pizza and a cold one.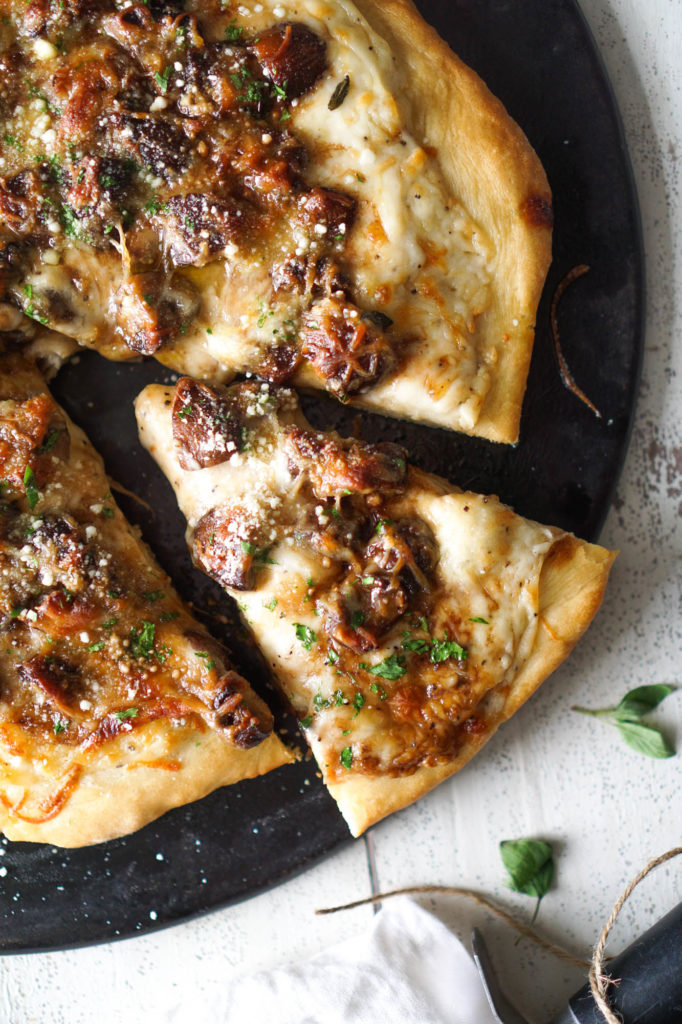 Enjoy!
Mushroom Marsala Pizza
2017-03-09 13:40:42
Serves 4
For the Cheese Sauce
1 tablespoon butter
1 heaping tablespoon all-purpose flour
1 cup low-fat milk
1/4 teaspoon pepper
1/2 teaspoon salt
1 cup Italian blend cheese*
For the Mushrooms/Pizza
1 tablespoon butter
olive oil as needed
1 pound baby bella mushrooms, quartered*
1 sprig thyme, leaves removed
1 clove garlic, minced (or more if desired)
3/4 cup vegetable stock
3/4 cup Marsala wine
1 ball pizza dough
1 cup Italian blended cheese for topping*
pinch red pepper flakes
Optional (but totally recommended): balsamic vinegar, fresh basil
Instructions
Preheat the oven to 425 degrees (or whatever temperature your pizza dough recipe recommends).
First, prepare the cheese sauce. Create a roux by melting the butter in a small sauce pan. Add the flour and mix until incorporated. Allow to cook for 1-2 minutes until the flour cooks out and you only smell butter. Whisk in the milk and bring to a simmer. Allow to simmer until thickened, continuously whisking. Once thick, season with the salt and pepper, then stir in the cheese. Taste and adjust as needed. Keep on low heat and prepare the mushrooms (mushrooms can be done at the same time).
Heat the butter and 2 counts of olive oil in a medium saute pan. Add the mushrooms and cook 5-6 minutes until soft and brown. Add the garlic and thyme and cook until fragrant, about one minute. Add the stock and wine. Cook until the sauce has reduced enough to coat the mushrooms, however still a bit loose. Taste for salt and pepper.
Prepare the pizza dough by rolling into your desired shape and placing on a pizza pan. Top with the cheese sauce, leaving a 1" gap from the crust, then evenly spoon over the mushrooms and pan sauce. Top with more cheese and bake until golden brown, about 25 minutes.
Before serving, sprinkle with red pepper flakes for heat and if desired, a splash of balsamic vinegar and fresh basil.
Notes
*I recommend a blend of mozzarella, Parmesan, asiago cheeses. You can use whatever you find on hand, however keep in mind mozzarella is bland.
*You can use whatever assortment of mushrooms you prefer. Exotic mushrooms would be beautiful.
http://www.vodkaandbiscuits.com/