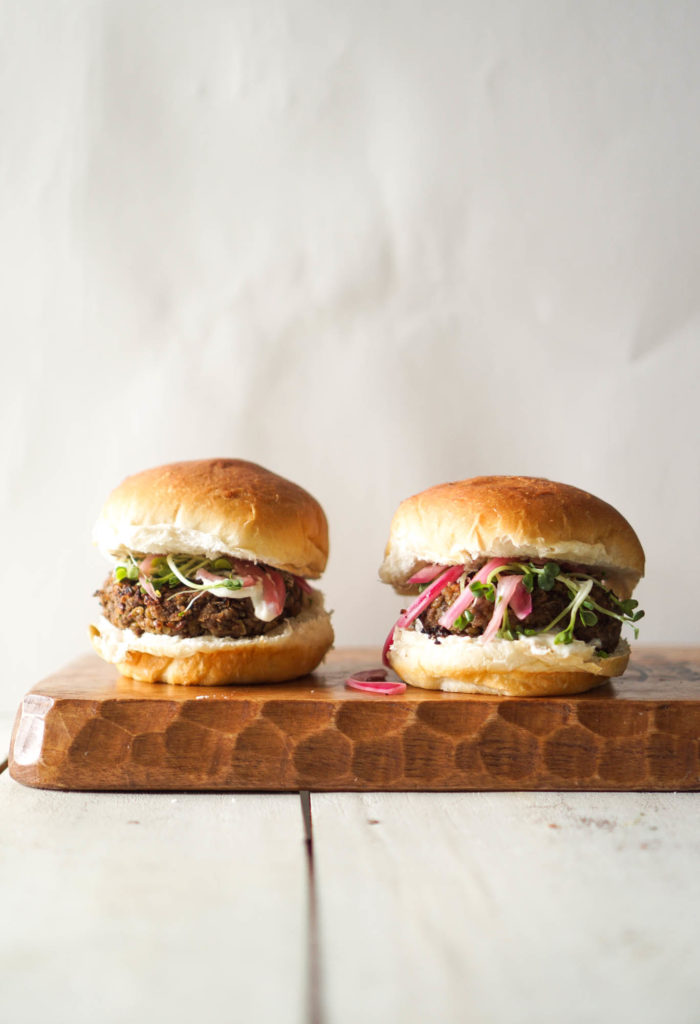 Lentil walnut burgers here to steal your vegan (or not) heart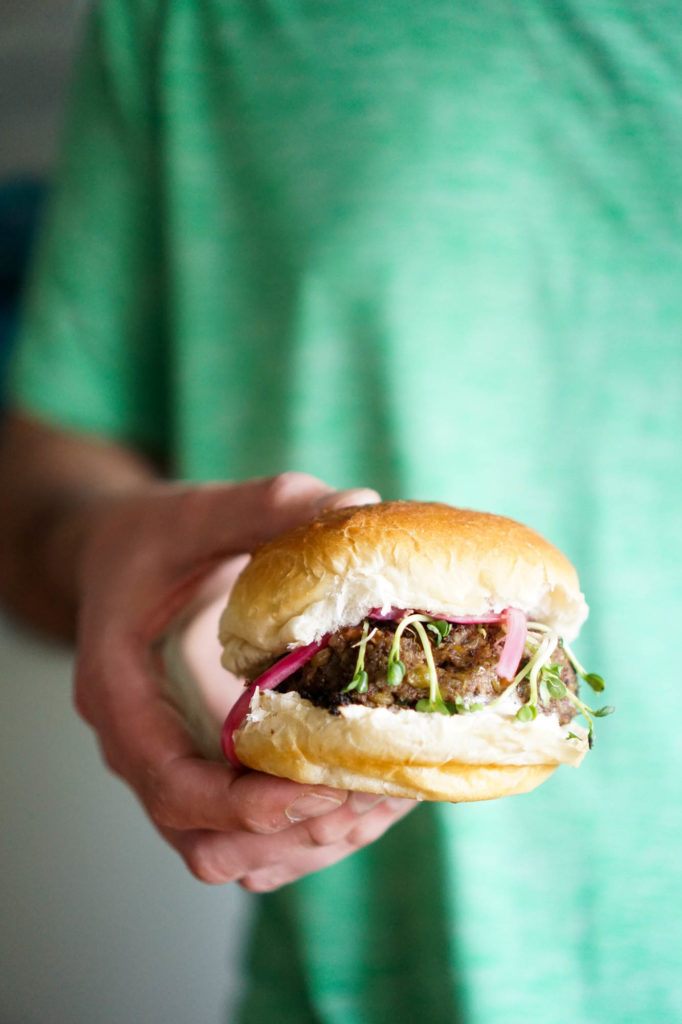 In my last recipe I mentioned the The Moosewood Cookbook: 40th Anniversary Edition
by Mollie Katzen. The book is a classic, in fact the book I've been cooking out of is the 40th anniversary edition, woah!
Funny (and slightly cute) story how I stumbled upon this book.
The last few weeks I've shared some favorite recipes by another classic, The Silver Palate. I invited my mom over for the excess amount of lemon chicken I made. Mom was not only thrilled about the chicken, but that I was cooking out of one of her all time favorite books that her mother used to cook out of. As she's flipping through the book, she mentions she had one of the Silver Palate cookbook editions, but she remembers a moose on the cover. Hmm.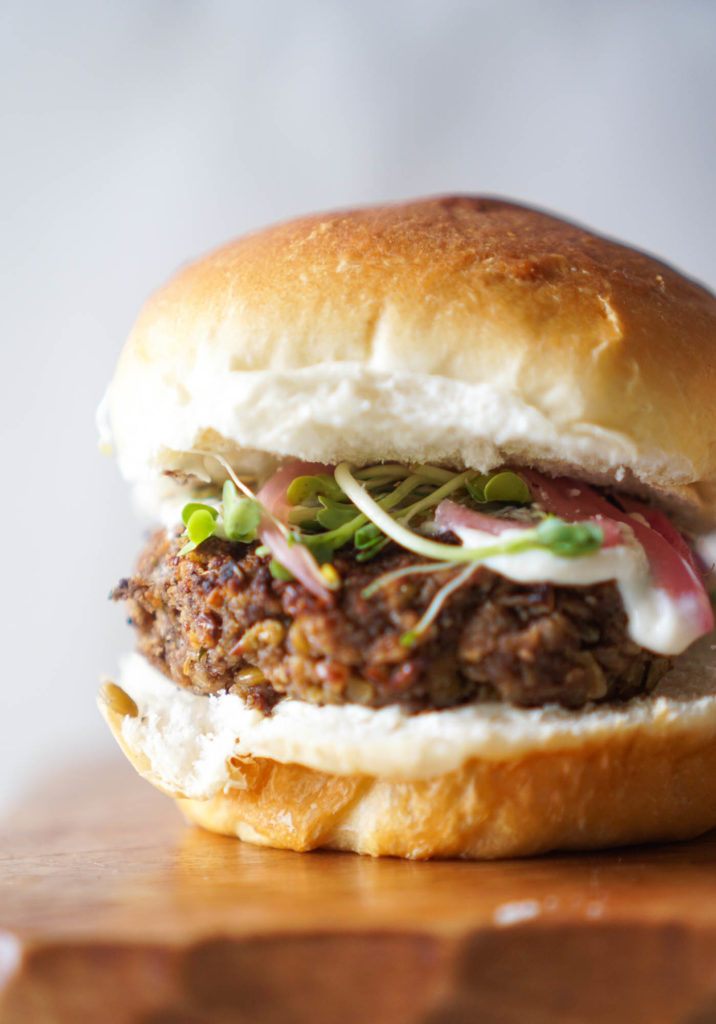 Later that night I hit Amazon to find the moose covered Silver Palate book, but realized it didn't exist. I was over it, mom was over it, and life went on.
A few days after I am reading an older recipe of mine (see recipe here) and found an old comment of a reader who said I remind them of Mollie Katzen. I thought, Mollie who? I (naturally) hit Amazon and stumbled upon the mustard yellow, beautifully simple illustrated Moosewood Cookbook by the author Mollie Katzen. I bought it immediately. They say don't judge a book by its cover, but I totally did. I knew this would be a winner.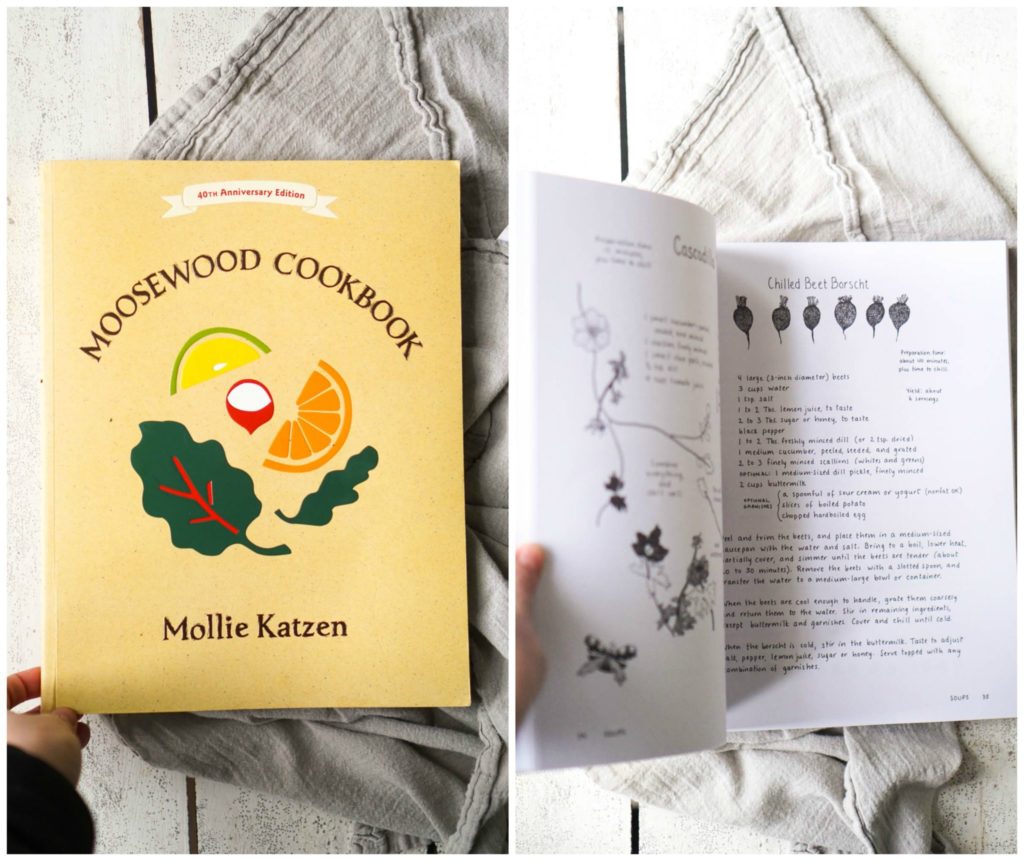 I didn't think twice about the title Moosewood, and since my mom was so certain her book was from the Silver Palate collection, I didn't put two and two together. Instead, the morning after the book arrived, I flipped and skimmed through every page with a cup of coffee, falling into fascination with Mollie, her adorable (see above) illustrations, and recipes. Her lingo, her style, her everything.
Mollie was clearly ahead of times with her vegetarian and vegan recipes and I knew the first recipe I wanted to share with you all would be these walnut lentil burgers with the faux aioli. I marked the page, kept skimming through, then closed the book.
THEN. THERE IT WAS.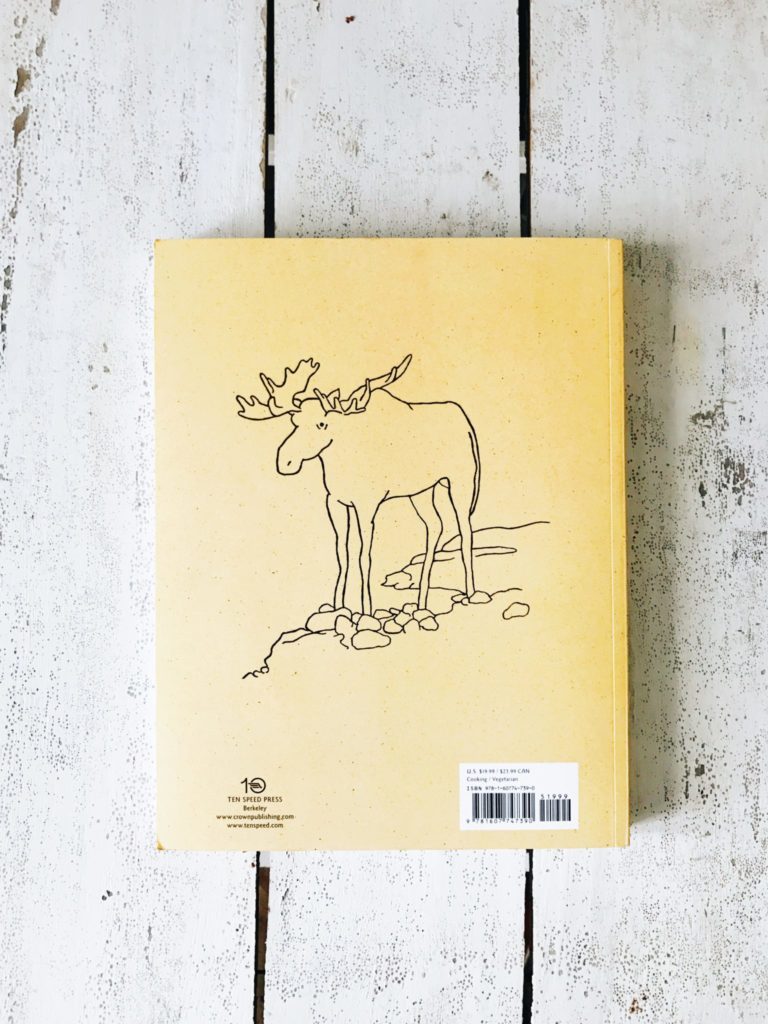 THE MOOSE. It wasn't on the cover, it was on the back of the book. It wasn't Silver Palate, it's Mollie Katzen's book. I called mom in such excitement, "you're never going to believe this!". A book that I had no idea I was trying to find, ended up in my hands after a totally unrelated incident. Guys, me and this book were meant to be.
*clears throat*
Thanks for listening. Now to the burgers.
The recipe is pretty basic, it just requires a bit of prep. You first want to cook the lentils, then mince up the other ingredients like onion, garlic, walnuts, and mushrooms. It can easily be done in the food processor, but since they're not sauteed at once you'll want to process them separately.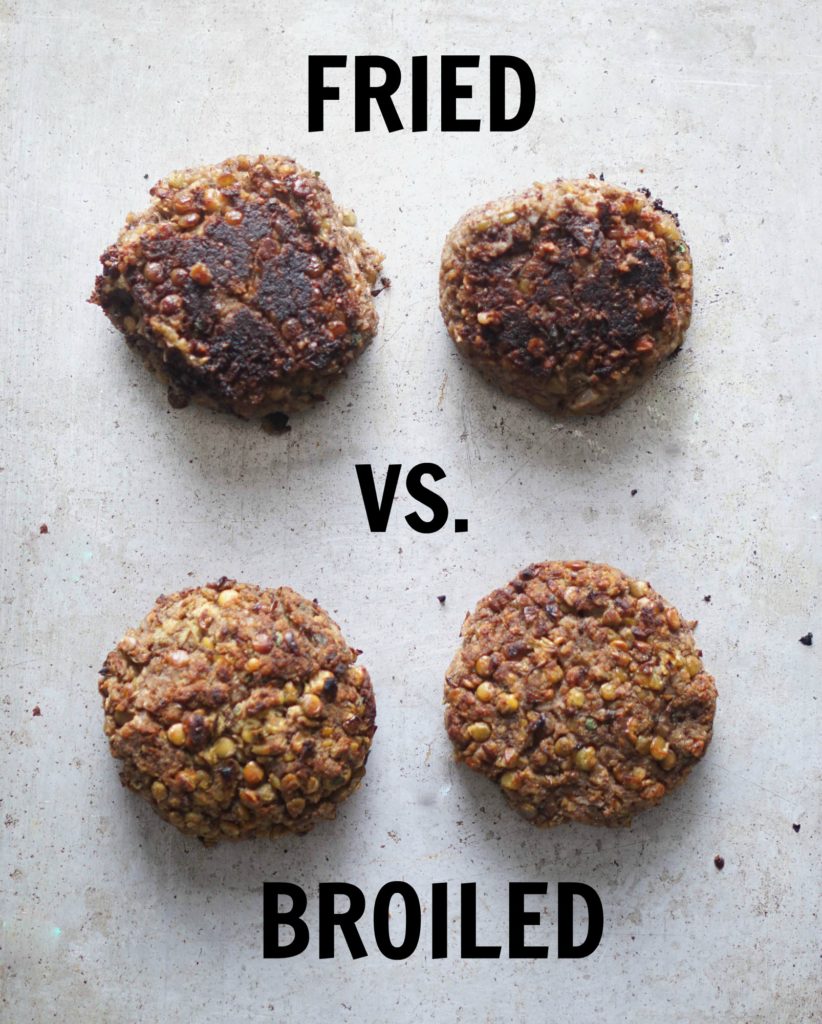 It goes a little something like this: cook lentils then mash with a little vinegar. Saute minced onions, mushrooms, garlic, walnuts, and flavor it up with some herbs, spices, and lemon. Mix it with breadcrumbs and the lentils, chill the mix, form into patties. Easy does it.
Use whatever lentils you have on hand, just make sure to refer to the package for cooking directions.
What's even easier is the cooking method. I tried out frying and broiling and as you'll see above, broiling was the best method. As I'm sure you know, any type of veggie burger is fragile so you want to be gentle with cooking. Broiling for a few minutes not only heated them through and gave them a crispy crust, but it also kept the burgers together.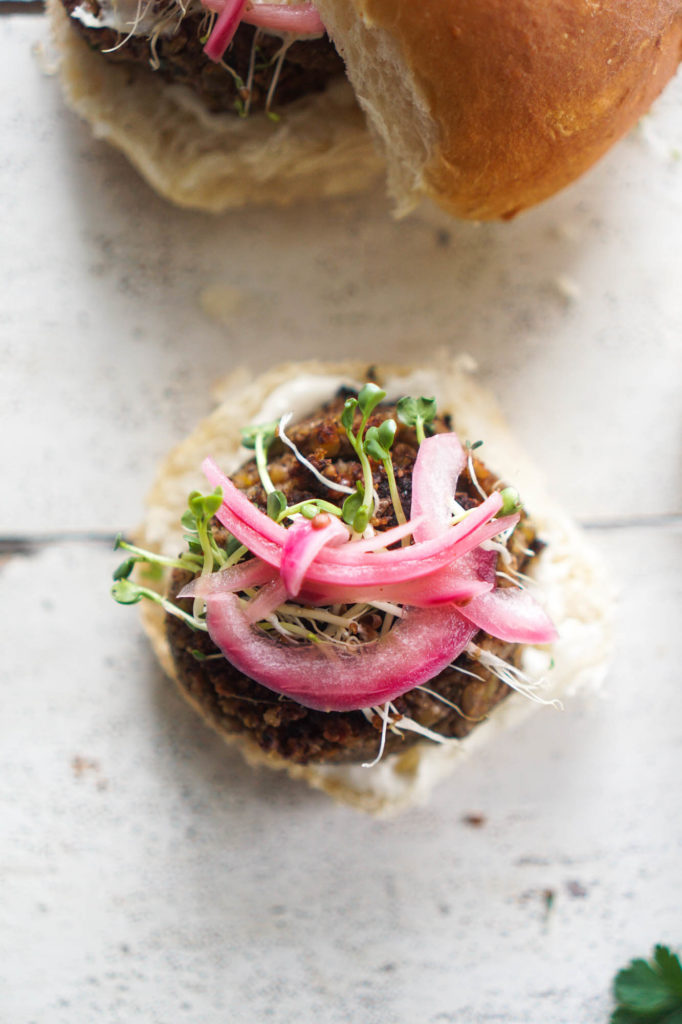 While the mix is chilling, gather up all your toppings. I whipped up this FABULOUS vegan faux aioli (also by Mollie Katzen), and used some pickled red onions, sprouts, and fresh parsley. Tomato and lettuce would also work perfectly.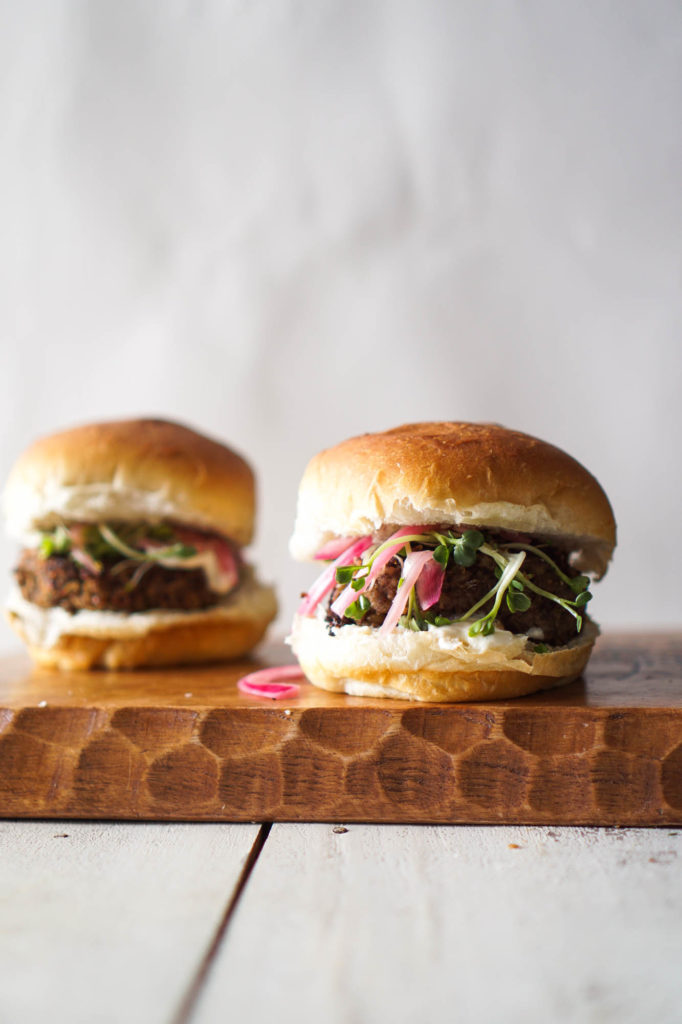 My favorite part is they freeze beautifully, so you can prepare more and enjoy them more than once. Meal preppers, where you at?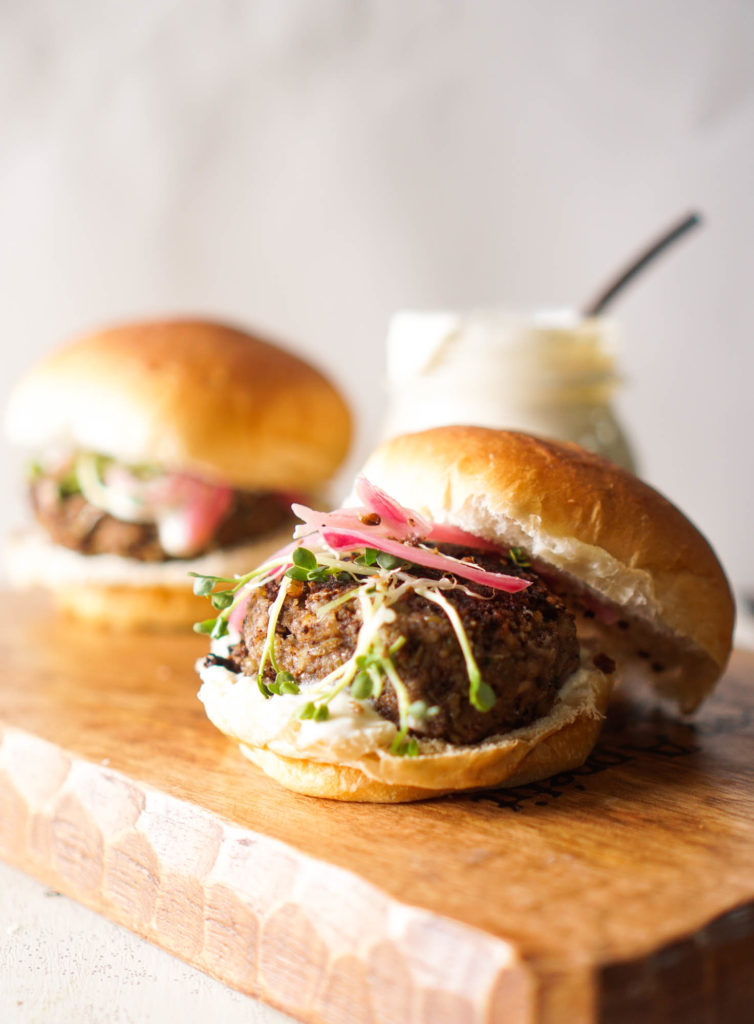 Whether you throw these babies in a bun or eat it over a bed of greens with some roasted vegetables, these are a flavorful and vegan vegetable burger that anyone can enjoy. If you do decide to make these, make sure you check out the faux aioli I recently posted. Enjoy!
Lentil Walnut Burgers
2017-03-14 10:52:35
Serves 4
Vegan burgers made with lentils, walnuts, mushrooms, and more. Delicious broiled or fried, and can be frozen to enjoy later!
Ingredients
3/4 cup dry lentils
1 1/2 cups water
2 teaspoons apple cider vinegar
olive oil as needed
1 yellow onion, finely diced*
2-3 garlic cloves, minced
10 large button or baby bella mushrooms, minced*
1/2 cup walnuts, minced*
2 heaping tablespoons parsley, finely chopped
squeeze fresh lemon juice
salt and pepper to taste
1 tsp. dry mustard
1/2 cup fine bread crumbs
4-6 hamburger rolls (optional)
optional toppings: faux aioli, tomato, sprouts, pickled red onions, lettuce
Instructions
Place the lentils and water in a small saucepan and bring to a boil. Lower the heat and simmer, partially covered, for about 20-25 minutes or until the lentils are soft and the water is absorbed (I used brown lentils, however you can use whatever you have on hand. Refer to the package for cooking directions). Transfer to a medium sized bowl with the cider vinegar, and mash using the back of a large spoon.
While the lentils are cooking, heat 2 counts of olive oil over medium high heat in a large saute pan. Cook the onions until translucent, about 3 minutes. Add the mushrooms and continue to cook until soft, another 3 minutes. Add the garlic and cook until fragrant, about 45 seconds. Add the walnuts and parsley and mix until combined. Season with the dry mustard, salt, pepper, and squeeze of fresh lemon juice. Start with 1/2 teaspoon of salt and 1/4 teaspoon of pepper, then add more and adjust seasonings until desired taste achieved.
Add the cooked vegetables and breadcrumbs to the lentils and mix well. Chill for 1 hour before forming patties.
Form 4" diameter burgers. The mix will yield 4-6 burgers, depending on how thick you make your burgers.
When ready to cook, preheat the broil to high. Transfer to a sheet pan and broil 5-8 minutes until heated through and crispy. Keep an eye out, every oven is different.
Serve on buns with sliced tomato, faux aioli (see post), pickled onions, sprouts, or any desired toppings. These also go great on a bed of lettuce with a side of black beans, roasted vegetables, and faux aioli.
Notes
The onions, walnuts, and mushrooms can be minced separately in a food processor.
The recipe is modified slightly from the original, as I added parsley and lemon.
Adapted from Moosewood Cookbook
Adapted from Moosewood Cookbook
http://www.vodkaandbiscuits.com/