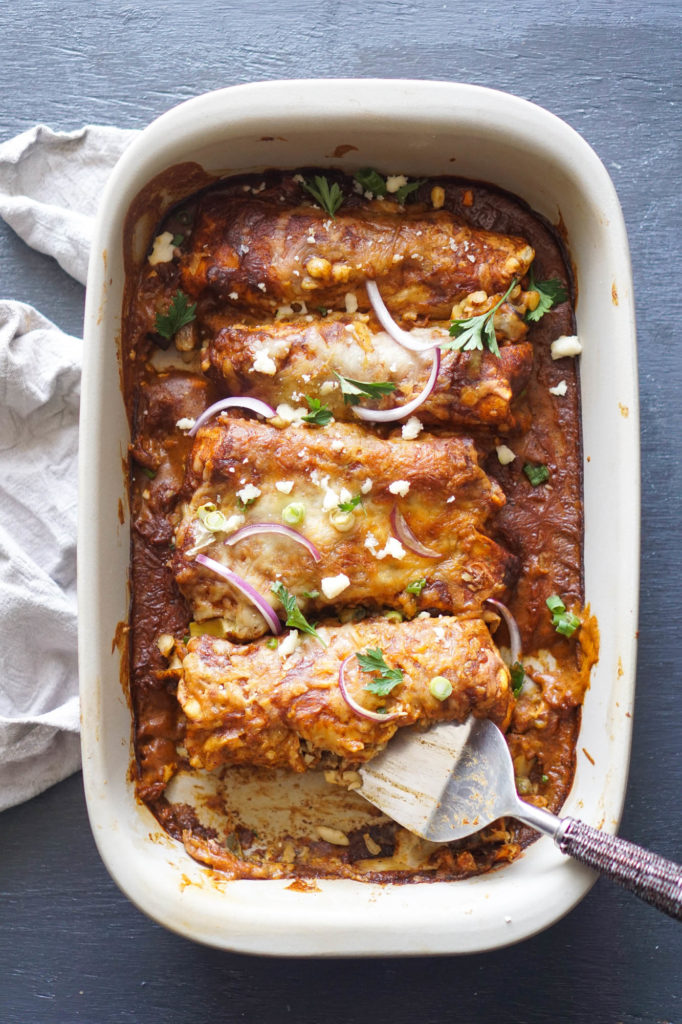 You're either feeling a little confused, a little intrigued, or a bit of both. That's exactly how I was when I stumbled upon this recipe in Mollie Katzen's The Moosewood Cookbook: 40th Anniversary Edition
.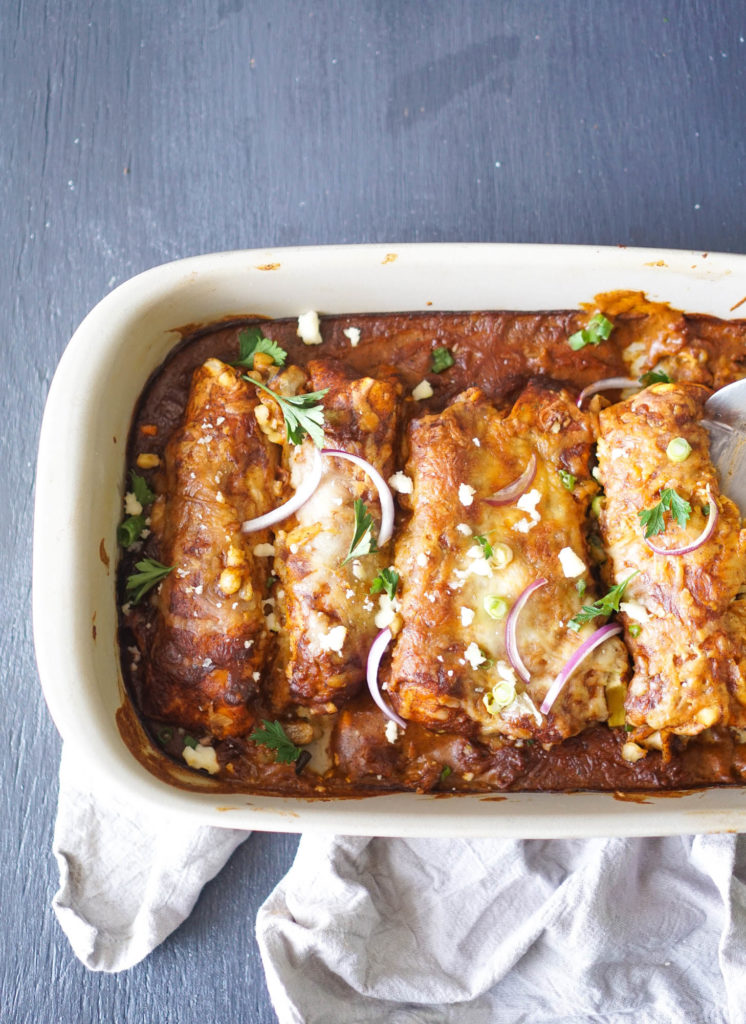 I introduced the book in last week's recipe and gave a heads up in this week's Homemade Enchilada Sauce.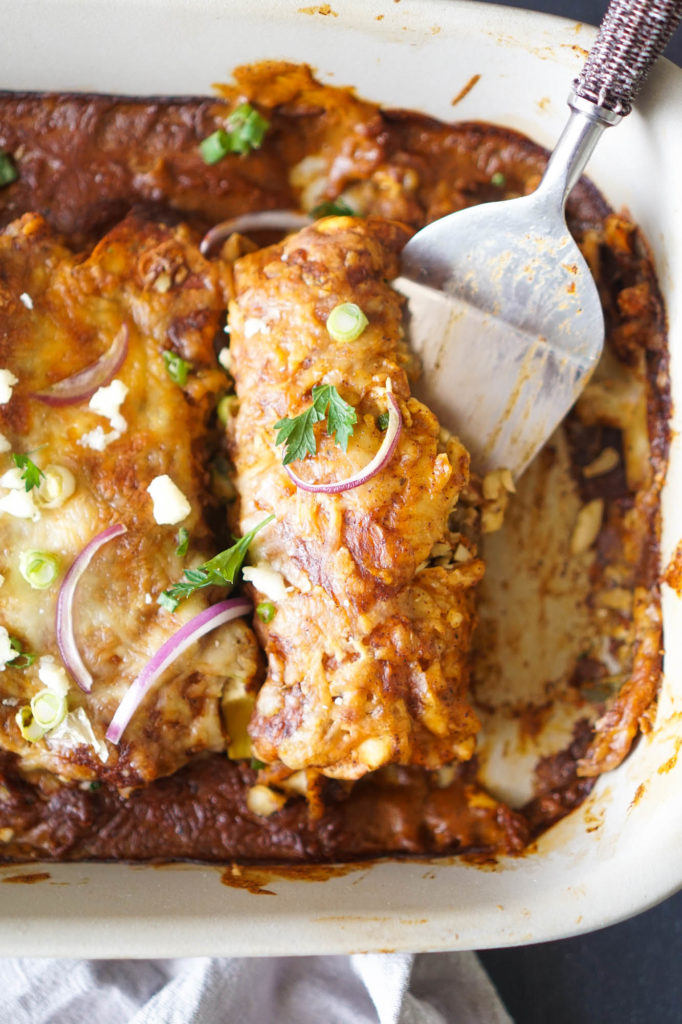 You'll see I am currently obsessed with her book and I am thrilled to be sharing another recipe deemed total success. I couldn't stop thinking about these enchiladas or the eggplant and almond combination. The more I thought, the more hungry I became, and the sooner I hit the kitchen. The recipe starts off with the filling. Let's start cooking.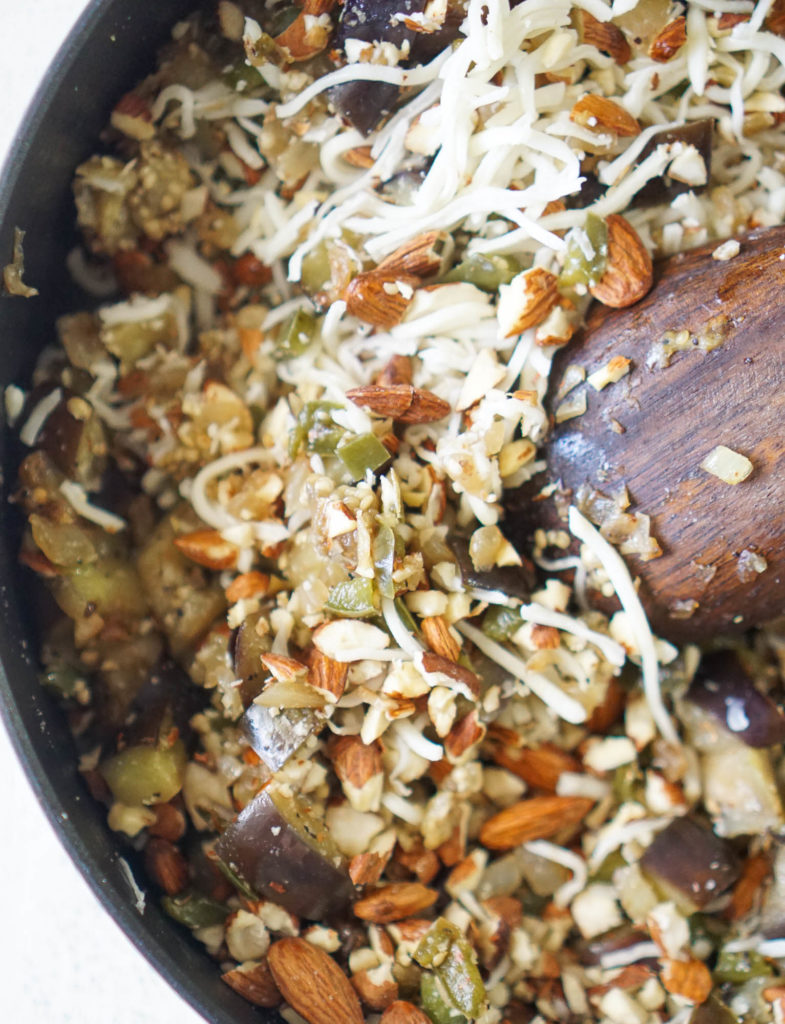 The filling is nothing more than onion, green pepper, garlic, and eggplant all cooked together until nearly tender and seasoned with salt and pepper. Toasted crushed almonds are folded in with a bit of cheese creating an addictive combination. There's something magical about the buttery-ness (not a word, very aware) of tender eggplant combined with the nutty crunch of an almond that will leave you wanting more. In fact, I ate an entire enchiladas worth of filling by the spoonful. In fact, I do that often. Too often.
The filling is kept simple with salt and pepper. Keep in mind it will be combined with a rich enchilada sauce!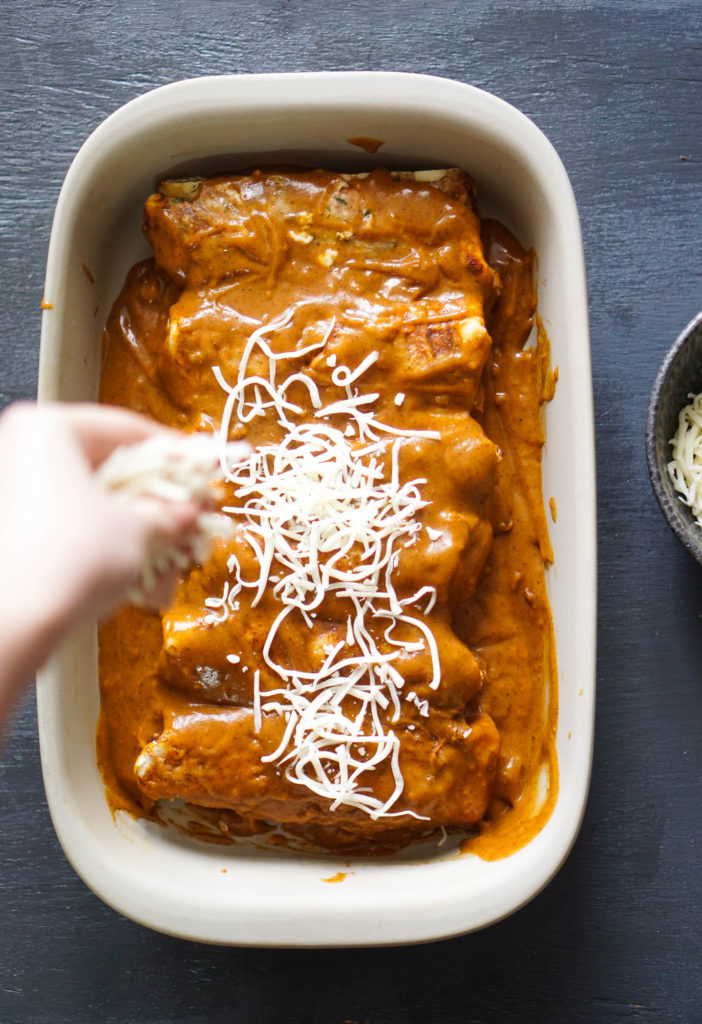 Speaking of. I highly recommend my Homemade Enchilada Sauce. It is so simple to prepare, and I promise you probably already have the ingredients at home. It's made with deep flavors like chili and cumin, heated with a touch of cayenne, yet comforted with cinnamon. The enchilada sauce can be made a day in advanced or while the filling is cooking. If you make it ahead of time, it may need to be reheated before pouring into the pan!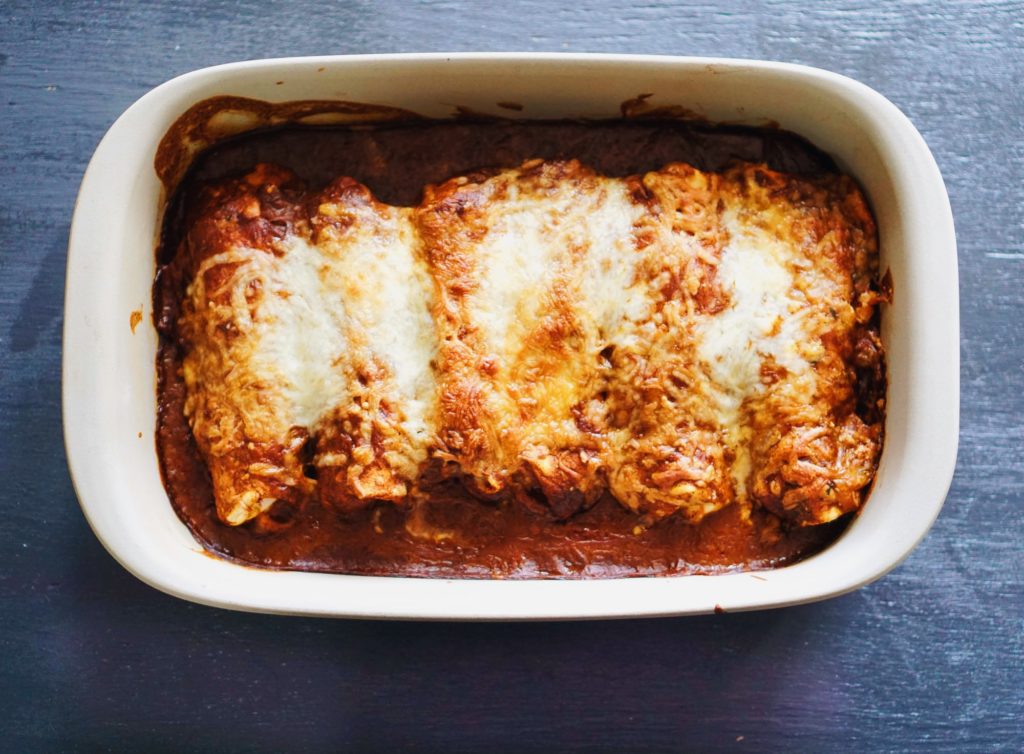 The enchiladas are made and rolled, then everything comes together in the pan, sprinkled with cheese, then heated in the oven. You will already know how delicious the filling is, and you're probably going to taste how deep and rich the enchilada sauce is, so once that all comes together with the doughy bite of a baked tortilla and melted cheese you experience a total mouth gasm. Everything from the flavors to the textures are just YUM.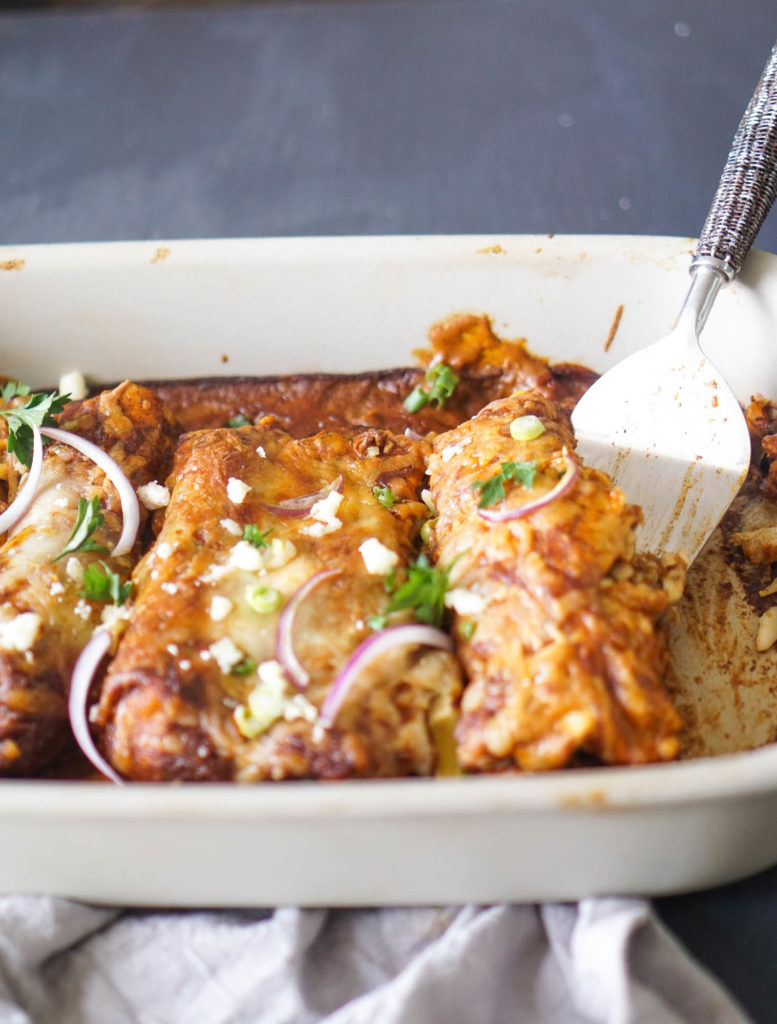 Better yet, this is entirely vegetarian and easily can be made gluten-free or vegan. I recommend serving this for dinner (while freezing any leftovers) with a side of avocado and corn salsa and warmed rice. Just might have to redo next week's meal plan.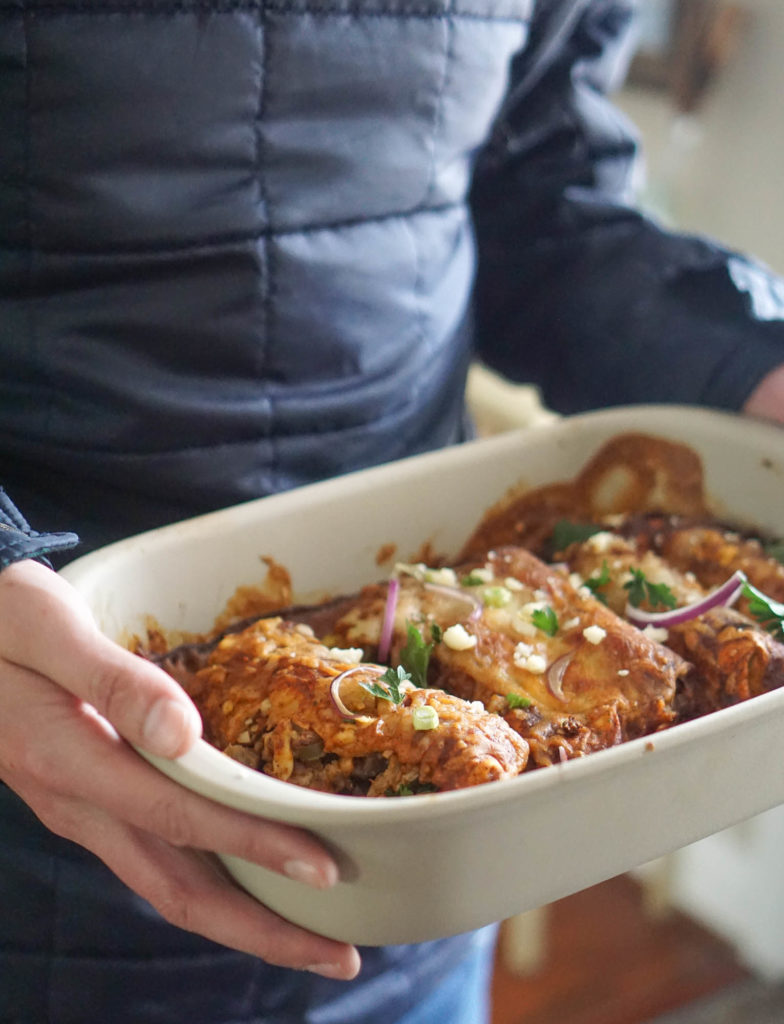 Enjoy 🙂
Eggplant Almond Enchiladas
2017-03-24 10:42:47
Serves 6
Enchiladas made with tender eggplant and crunchy almonds, creating a deep flavor and textural contrast. - a different vegetarian twist on your classic enchilada.
Ingredients
1 white onion, diced (about 1 cup)
1 green bell pepper, diced
1 large eggplant, diced*
3 large cloves garlic, minced
1 cup whole almonds, toasted then finely chopped*
olive oil as needed
salt and pepper as needed
2 cups grated jack cheese (or a mild white cheese), divided
6-8 medium flour tortilla (or corn)
2 cups homemade enchilada sauce*
optional toppings: cilantro, scallions, avocado, red onion, sour cream
Instructions
Preheat oven to 350 degrees.
Heat 2 counts of olive oil over medium high heat in a large saute pan. Cook the onions and peppers until the onions are starting to turn translucent, about 3-4 minutes. Season with a touch of salt and pepper.
Add the eggplant, mixing with the onion and pepper, and continue to cook until the eggplant is soft, another 5-7 minutes. Add the garlic and cook until fragrant, about 45 seconds. Season once more with salt and pepper to taste. Remove from the heat and stir in the almonds and 1 cup of the cheese. Taste and adjust salt and pepper until desired taste achieved (the mixture should taste good enough to eat on its own!). It is okay if the vegetables are not all the way tender, as they will bake further in the oven.
Place 1/4 cup (or a heaping wooden spoonful) of mixture on one side of each tortilla. Fold in the ends, then roll up. Transfer to a 9x13 baking pan, seal side down.
Pour enchilada sauce over and around the enchiladas. Garnish with remaining cheese. Bake uncovered until cheese has melted and slightly browned, about 25-30 minutes.
Serve with desired toppings. Sour cream, avocado, and fresh cilantro is fabulous.
Notes
*1 large eggplant should yield about 6 cups. I find one large works perfect, however 2 small eggplants will also work. I like to leave the skin on, however if preferred you can of course remove it.
*You can either mince the almonds in a processor or roughly chop them with your knife. I prefer a rough chop to keep a crunchy texture. Before adding them to the eggplant mixture, you can add a spoonful of almonds to a bite and see how you prefer the texture. Adjust as desired.
*I highly recommend my homemade enchilada (see post), however if you prefer store bought I recommend El Paso.
*You can certainly use corn tortillas, it will make around 12 enchiladas.
Adapted from Moosewood Cookbook
Adapted from Moosewood Cookbook
http://www.vodkaandbiscuits.com/