Quick Note: this recipe has been on the blog for a few years now, I've just updated the recipe a bit and the pictures – yay!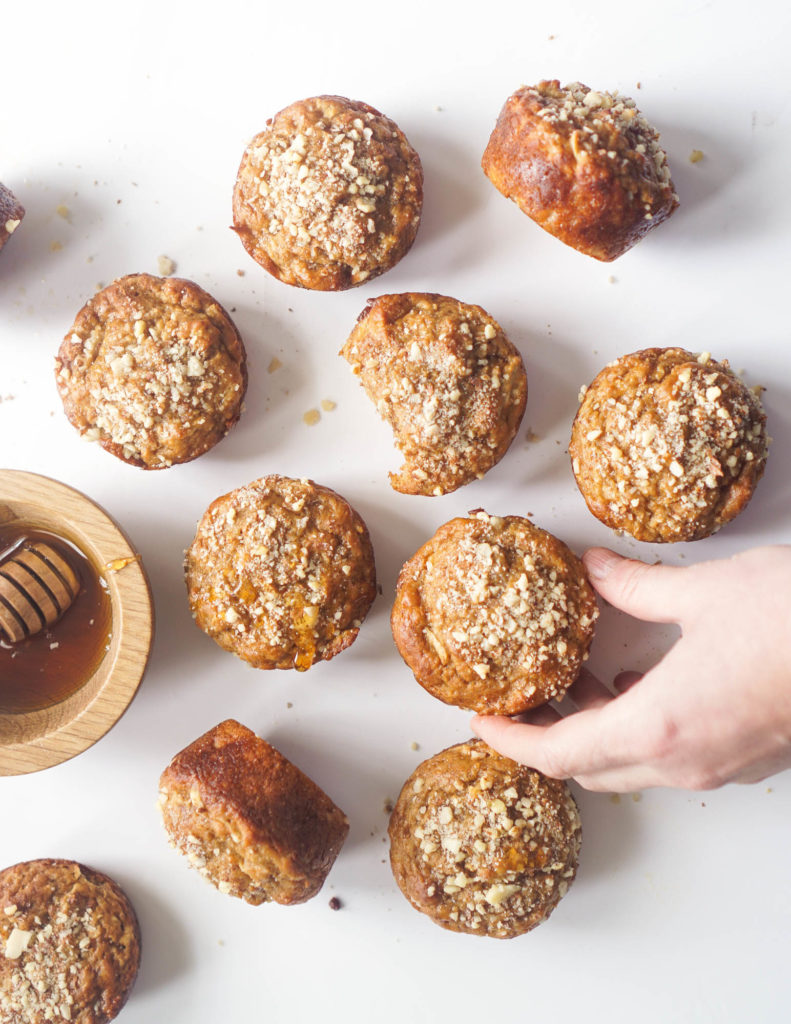 March is PRIME parsnip time and if you haven't cooked with these yet this season, you best get-to-buying.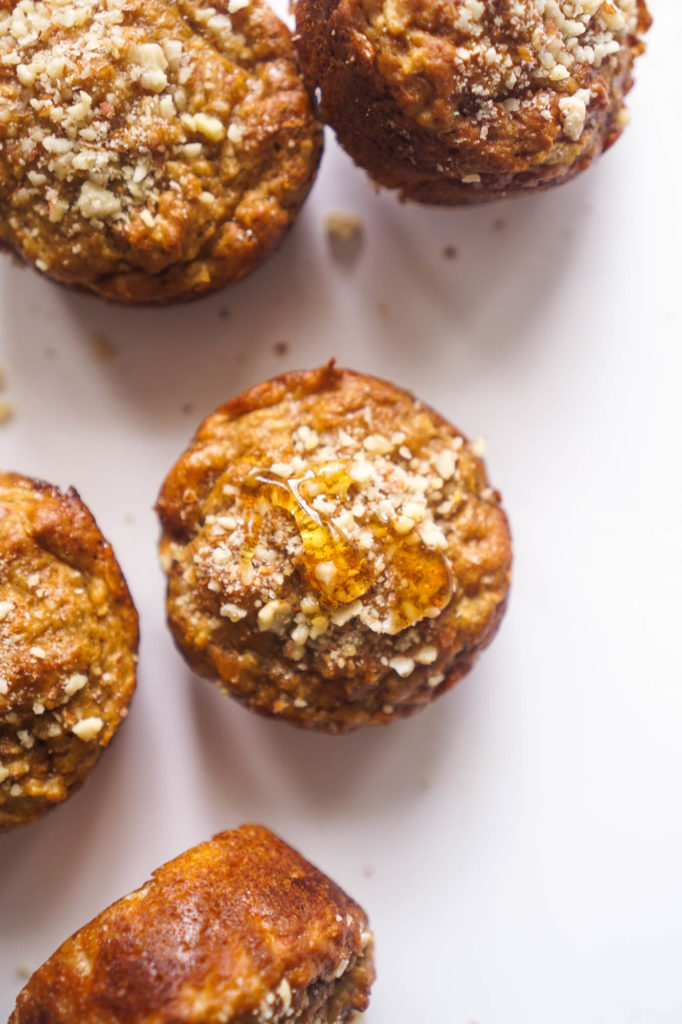 Parsnips are a root vegetable that looks like a white carrot, except it has a much more distinct taste. I think they're a bit sweeter and they also have that earthy nuttiness about them which makes them perfect for baking.
When it comes to buying, storing, and prepping parsnips you can treat it the same way you would fresh carrots!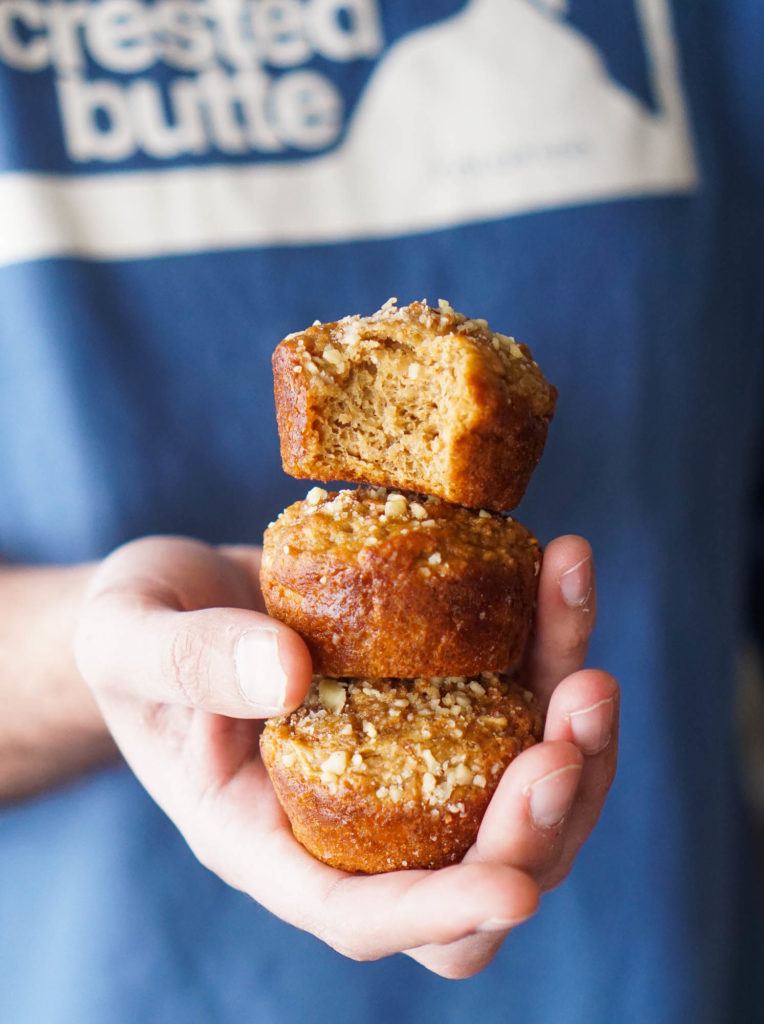 These muffins are made with grated parsnips, your typical baking ingredients, and some lighter ingredients like greek yogurt and homemade applesauce because we're trying to be all healthy ( i see you coming bathing suit season). OF COURSE you can buy unsweetened applesauce, but making it only requires an apple and a splash of water…just saying.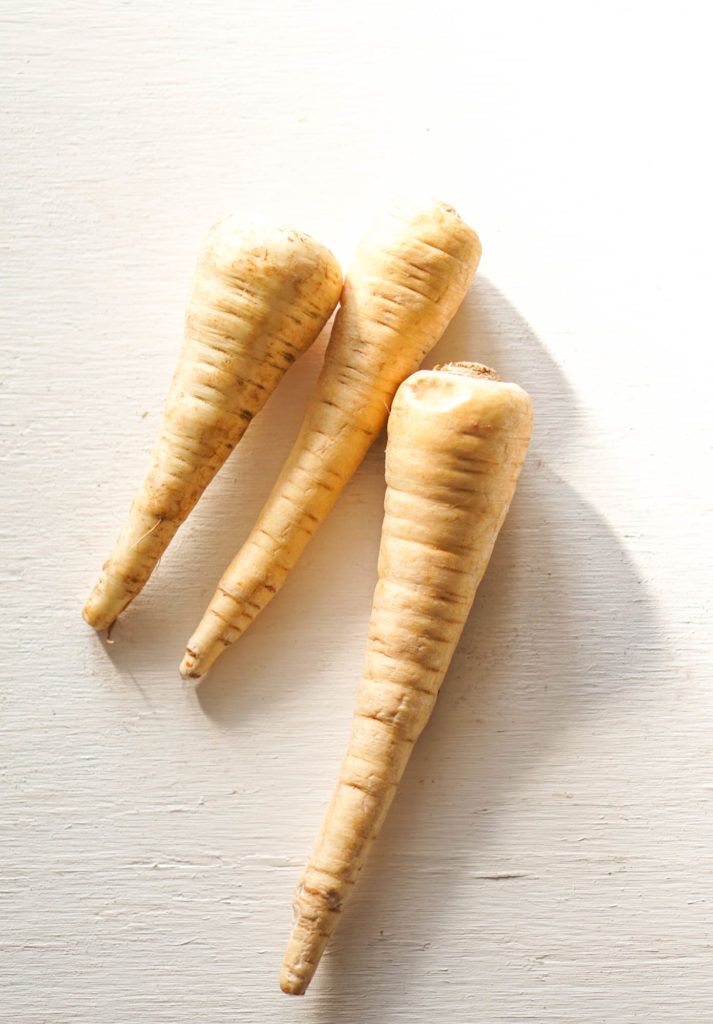 I topped mine off with minced almonds, which can be done easily in the food processor. I LOVE minced almonds, in fact I keep a baggy of them and use it for my yogurt, oatmeal, and sometimes on top of my savory dishes.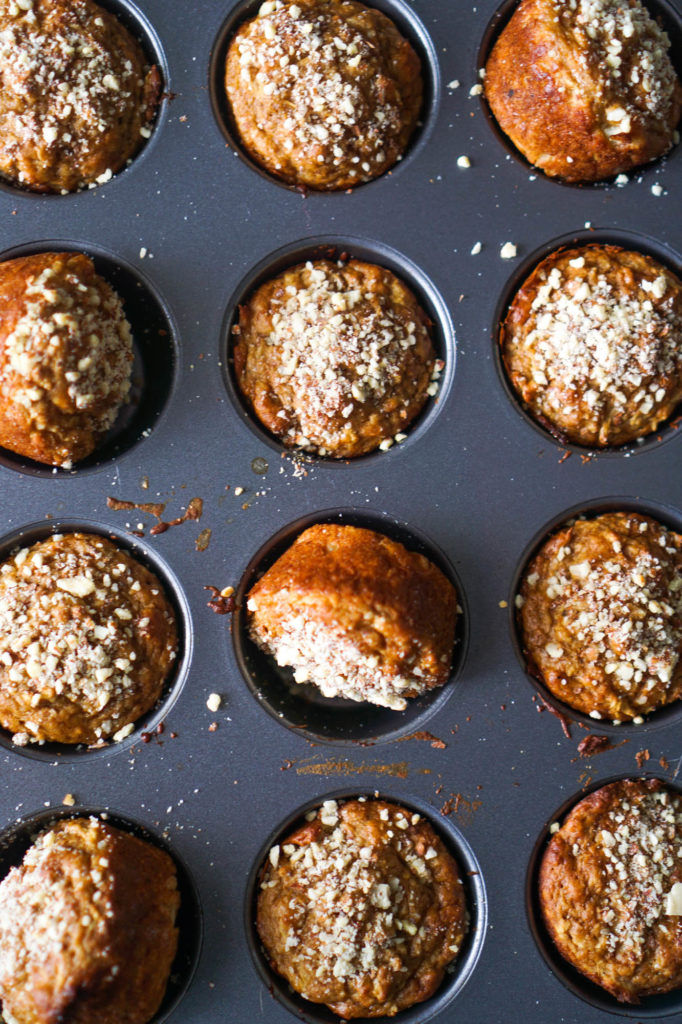 I adapted Sally's Baking Addiction method with baking the muffins – the first few minutes at a high heat, then finishing with reduced heat. The muffins turned out so consistent and perfect that I may forever use this method!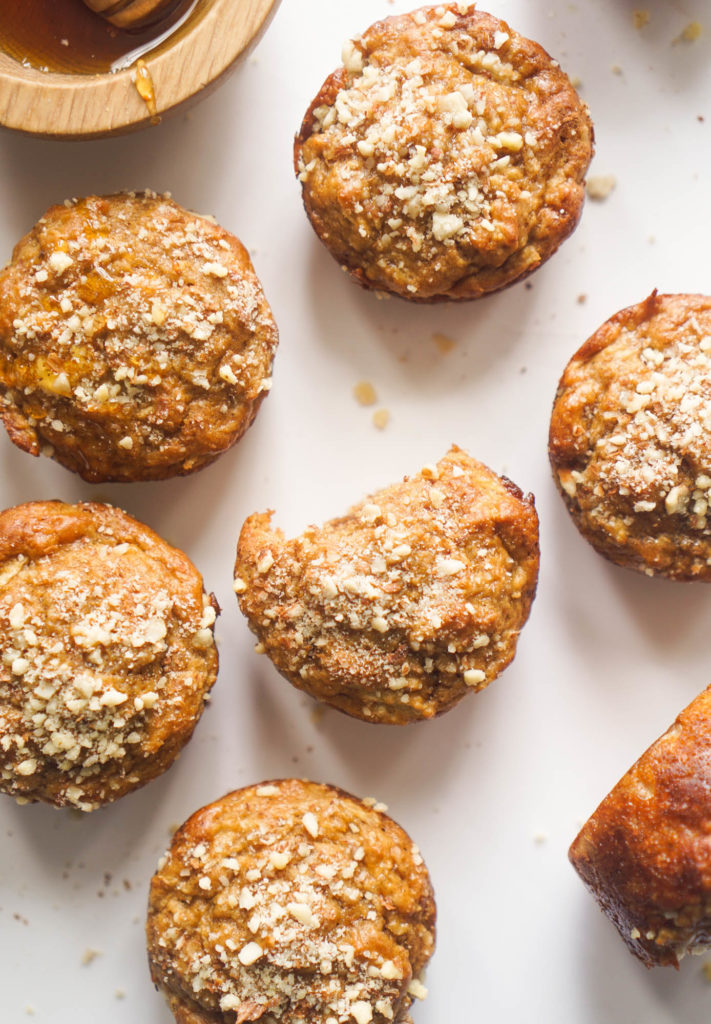 I recommend eating these with a drizzle of honey or agave, and enjoy along side your breakfast, for a midday snack, or warmed in the oven for a night treat. These have the perfect bite of a parsnip that is complemented with the spices in the muffin (think ground ginger and cinnamon), and they're so soft and chewy that they will last up to four days after baking. Hellooo guilt-free treat for the week.
PS: I've been making a batch of guilt-free treats at the start of every week and I'm running low on ideas. Please share if you have any recipes!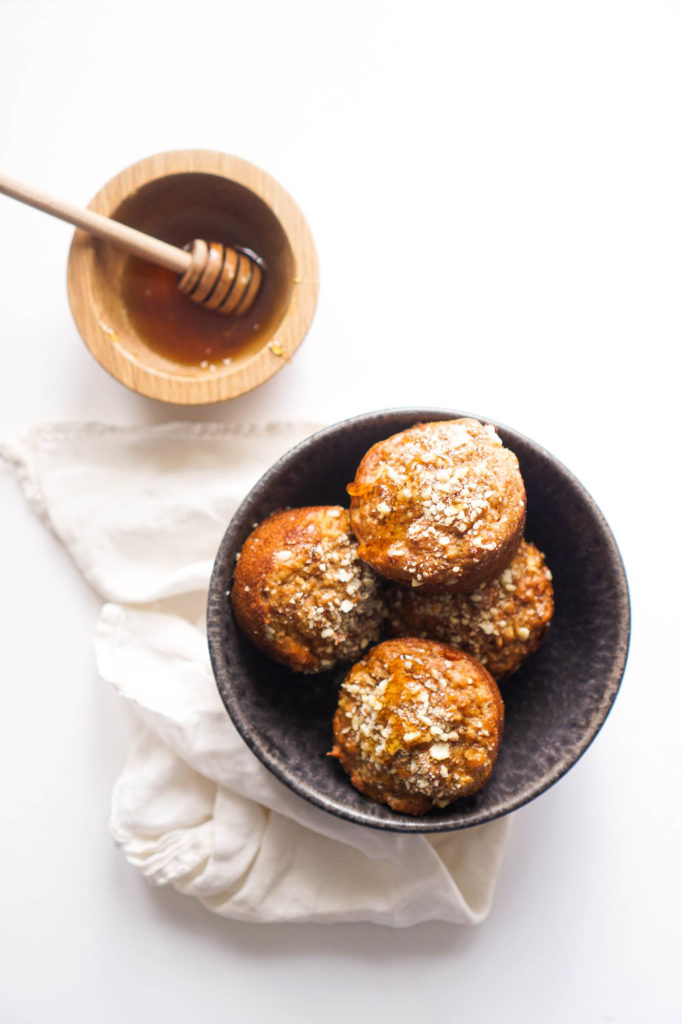 So, I hope you're someone intrigued and a little curious about this delicious combination. Next time you're grocery shopping grab some parsnips and whip up some muffins.
Enjoy!
Spiced Parsnip Muffins
2017-03-15 08:48:51
Serves 6
Spiced muffins with a bite of parsnips. These are perfect topped with minced almonds and a drizzle of honey. Enjoy for breakfast or with your afternoon tea (or coffee!).
Ingredients
1 cup all-purpose flour
1 teaspoon baking powder
3/4 teaspoon baking soda
1/2 teaspoon salt
1 teaspoon cinnamon*, plus more for garnish
1/2 teaspoon ground ginger
1/2 cup coconut sugar (or light brown sugar)
1/4 cup unsweetened applesauce*
2 eggs
1 teaspoon vanilla extract
3/4 cup plain greek yogurt (6 oz.)*
2 large parsnips, grated (about 1 cup)
2-3 tablespoons minced almonds*
Optional: honey or agave
Instructions
Preheat oven to 425.
Combine and mix all dry ingredients (the first seven listed ingredients).
In a separate bowl, mix the applesauce, eggs, vanilla, and yogurt until well combined.
Make a well in the center of the dry ingredients, then add the wet. Mix until combined. Fold in the parsnips. Batter will be thick and lumpy.
Add the minced almonds to a small bowl. Season with a few pinches of cinnamon.
Grease a 12-tin muffin pan with coconut oil spray or line with muffin liners. Fill each tin 3/4 way full of batter. Evenly sprinkle the almonds on top the muffins.
Bake for 5 minutes at 425, then reduce the oven to 350 and bake 14-16 minutes until a cake tester comes out clean. My muffins took exactly 19 minutes to bake.
Drizzle over honey and enjoy. Best eaten while warm!
Notes
You can substitute the cinnamon and ginger for a heaping teaspoon of pumpkin pie spice. You can also add a fresh grating of nutmeg if desired.
To make homemade applesauce, simply peel and dice one red apple. Add to a small saucepan with 1/2 cup of water and bring to a boil. Reduce to a simmer, then cook for 10 minutes until the apples are tender. Puree. This makes 1/2 cup of applesauce. I recommend jazzing up the leftovers for an afternoon snack!
You can use plain, vanilla, or any flavored yogurt. I prefer Greek, but regular is fine.
Almonds can be easily minced in a blender or processer.
http://www.vodkaandbiscuits.com/
Note: the nutrition facts are for 1 muffin.