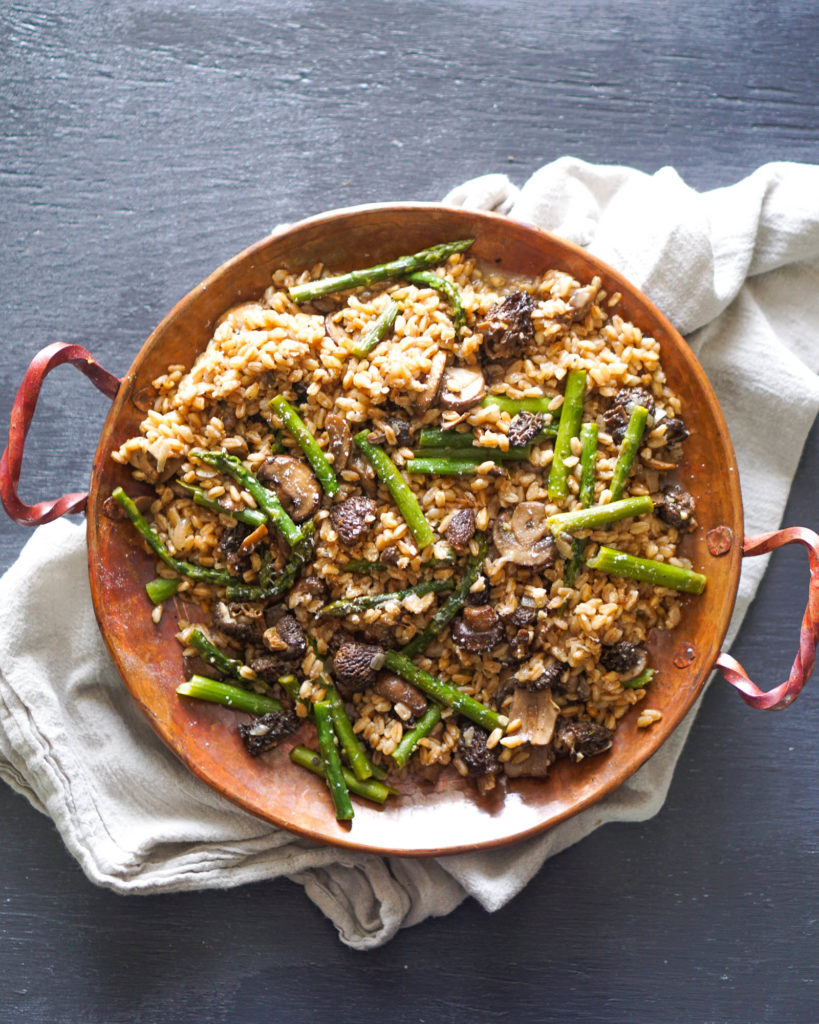 Sometimes I love being the only one in my house who likes mushrooms because that means MORE FOR ME 😉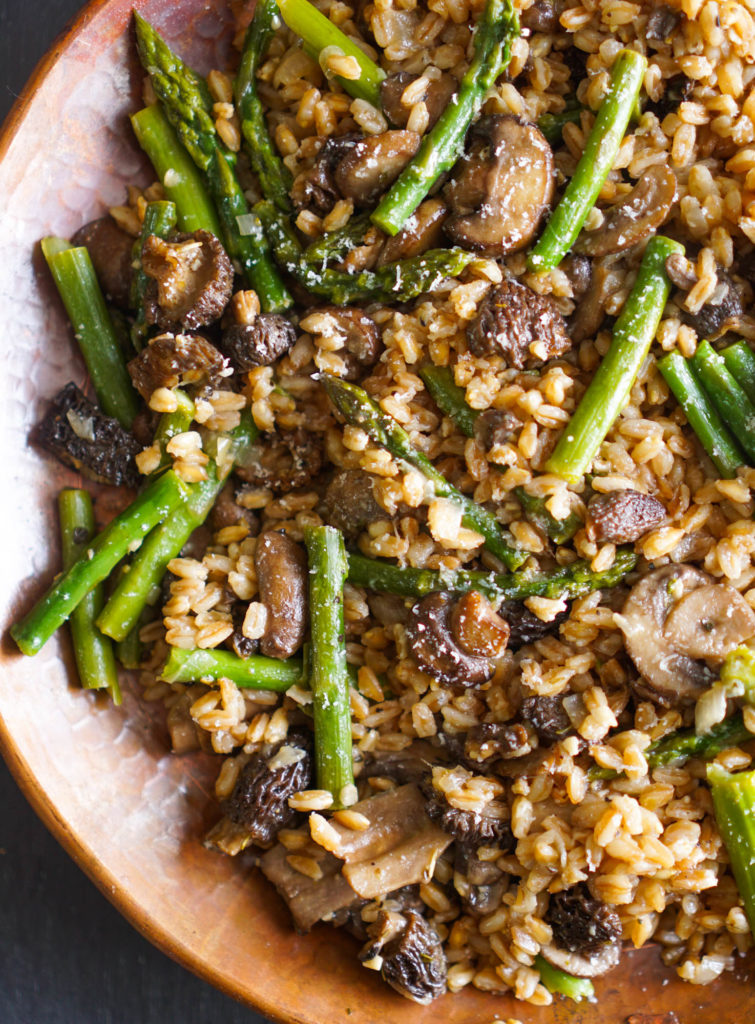 Scott doesn't care for mushrooms which sucks because lately I've been craving them like crazy. I whipped this up for my lunch and enjoyed the leftovers alone for days. I could not wait to share with you guys this rich, flavorful, texture bomb of a meal.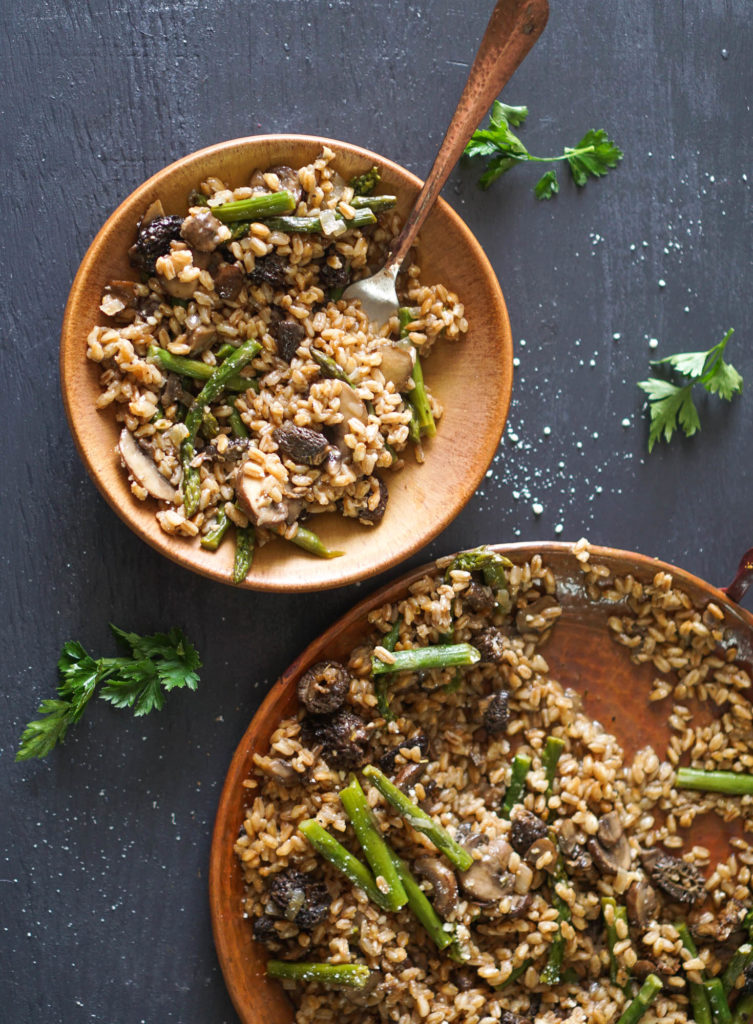 You may be wondering why I've been publishing a lot of vegetarian/vegan recipes lately. No, I haven't switched up my lifestyle, but I have been so inspired by all of these plant-based movements I see by bloggers on Instagram. I've been eating, exploring, and enjoying the heck out of my plant based meals so much that I have to share all of them with you. Plus it helps to get back in the health swing of things because my butt is headed to Vegas in T-minus FOUR DAYS. Pool parties, here we come.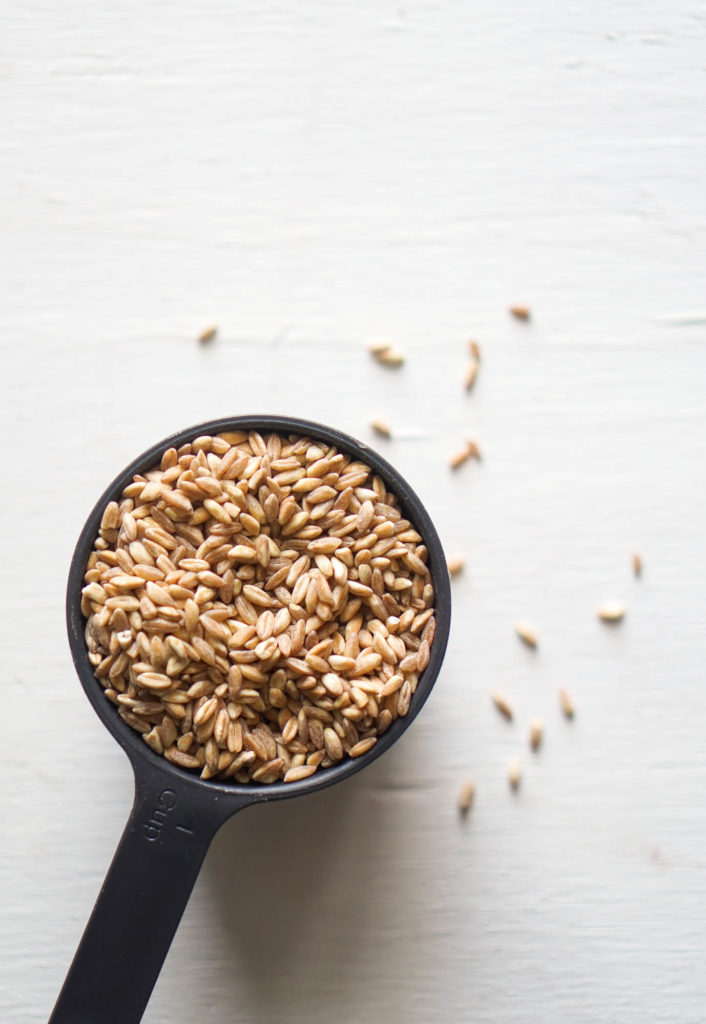 This risotto is made with farro, a puffy grain that I've been trying to incorporate more of. In this dish it's cooked slow (just like risotto) with an assortment of crimini and morel mushrooms, garlic, thyme, asparagus, and finished with Parmesan cheese.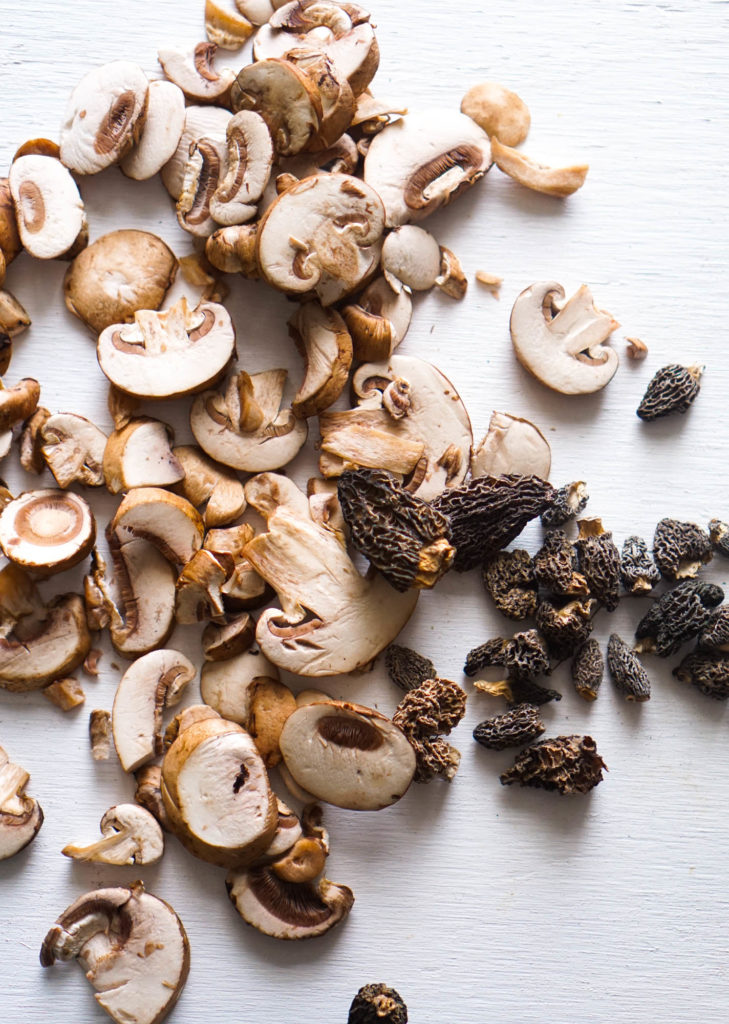 Morel mushrooms are most commonly found dried and will require a little rehydration. It's simple, takes thirty minutes, and instructions will be included on your package! They're a little pricey so it's totally okay to switch these for something less expensive (like oyster mushrooms!). I used morel because they scream spring, they're full of flavor and texture, and in my opinion they're so meaty they add great substance.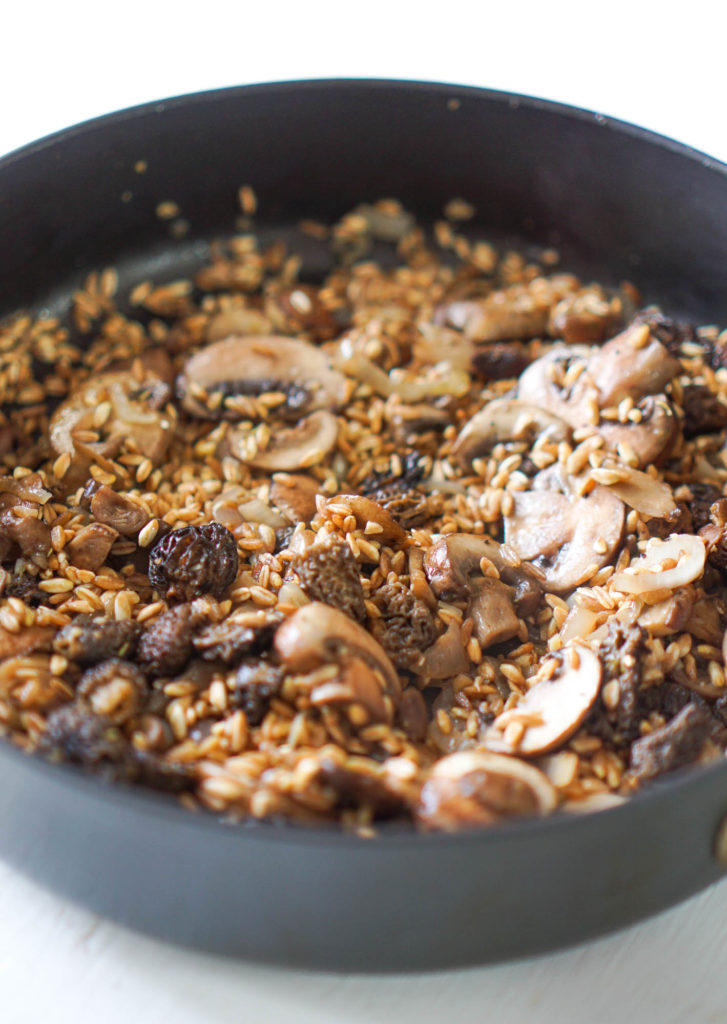 The mushrooms are first cooked until browned, then the rice is added before hot stock is ladled in and simmered away. This does require a bit of patience just as a risotto would – figure 30 minutes for the cooking time. While that is cooking asparagus is blanched and added in for a pop of color, flavor, and texture.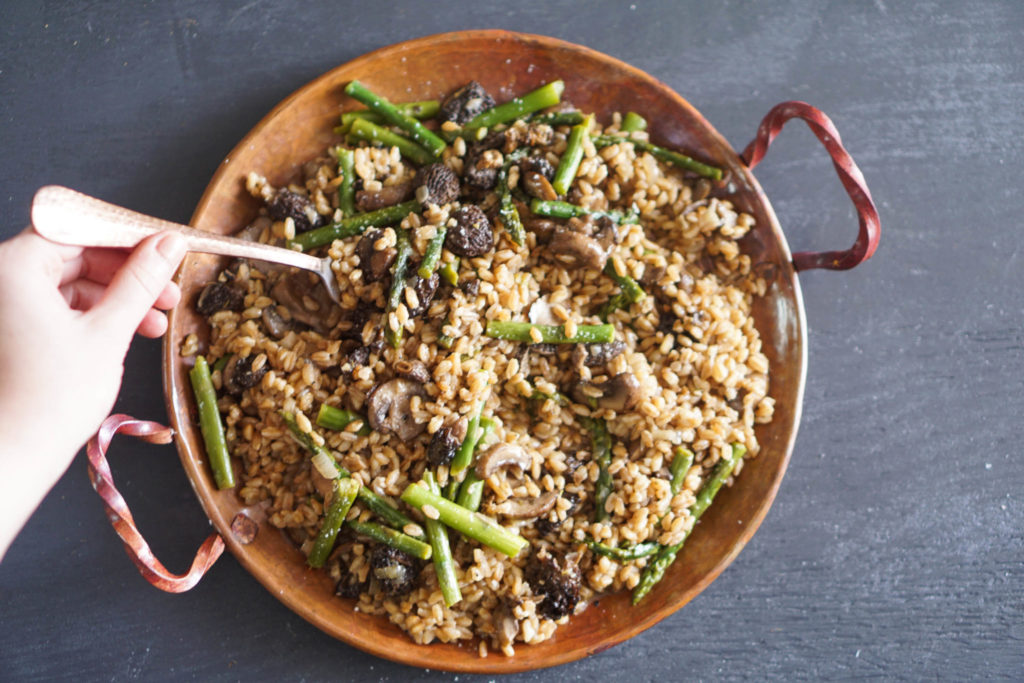 There's nothing better than mushrooms cooked with a touch of butter, shallot, garlic, and thyme. So once you add that with tender farro, asparagus, Parmesan cheese, and a drizzle of truffle oil you will be blown away. I can see this served as a side dish for Easter or as a weeknight meal with a side of protein (hmmm maybe steak?), or eaten on its own for lunch. This is a call for all of my mushroom lovers, please make this!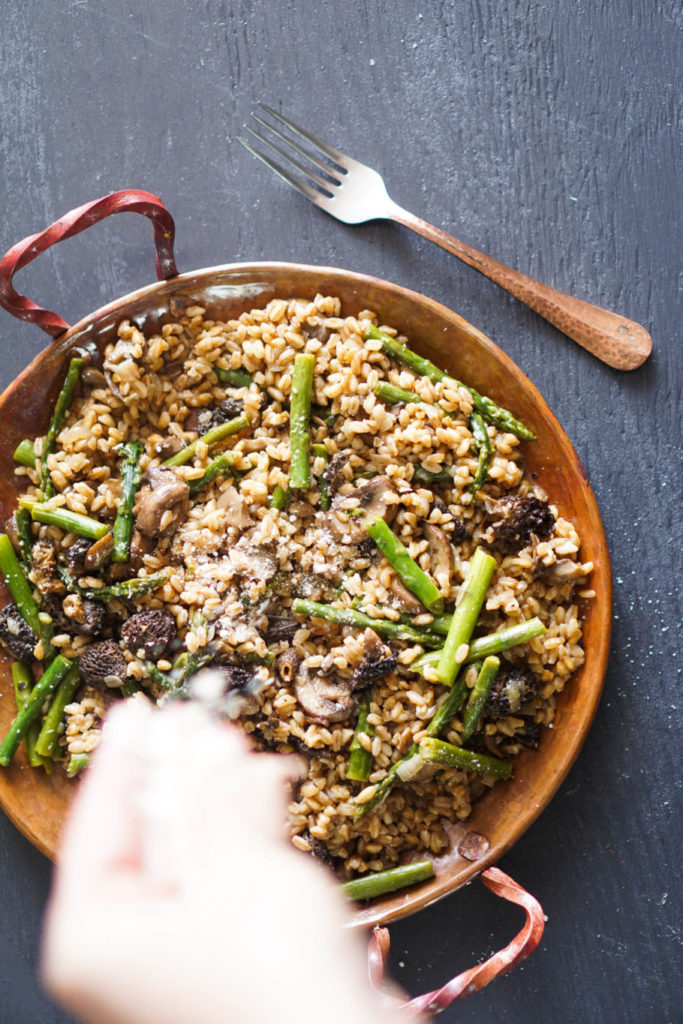 Enjoy 🙂
Farro Risotto with Morel Mushrooms & Asparagus
2017-04-03 07:05:50
Serves 4
Cremini and Morel mushrooms cooked with garlic and thyme, then slowly cooked with farro and crisp asparagus. This is a stunning meal, side dish, or lunch.
Ingredients
1/2 cup dried morel mushrooms*
1/2 pound asparagus (about 1 bundle)
olive oil as needed
2 tablespoons butter
8 oz. cremini mushrooms (about 1 cup), sliced
1 large shallot, thinly sliced
3-4 garlic cloves, minced
2 springs fresh thyme, leaves removed
1 cup farro
1/2 cup wine
3 1/2 cups vegetable stock
salt and pepper as needed
Grated Parmesan cheese for garnish
1 tsp. white truffle oil (optional)
Instructions
If needed, rehydrate the morel mushrooms according to package directions. When the morels have reconstituted, drain and pat dry. Set aside until needed (this will take about 30 minutes, which is the perfect amount of time to prep the asparagus).
Bring a medium pot of water to a boil. Have a large bowl of ice water next to the stove. Snap off the tough ends of the asparagus, then cut each stalk into thirds or 2" pieces. Add to the boiling water and cook just until tender, 1-2 minutes. Once tender, immediately transfer to the ice water to shock them. Once cooled, drain and set aside until needed.
When ready to cook, add the stock to a pot (I used the same pot I cooked the asparagus in), and bring to a simmer.
Heat a large saute pan over medium-high heat. Add the butter and 2-counts of olive oil. Add the shallots and cook until wilted and translucent, about 2-3 minutes. Add the mushrooms and cook until softened and starting to brown, about 3 minutes. Add the garlic and thyme and cook until fragrant, 45 seconds. Season with salt and pepper to taste throughout cooking (I used garlic sea salt).
Stir the farro into the mushroom mixture and allow it to toast for 2 minutes.
Add the wine and cook until absorbed, stirring frequently.
Add a ladle of the hot stock to the risotto (my ladle holds 1 cup of stock) and stir until absorbed, 3-5 minutes. Repeat until all of the stock is used/absorbed and the farro is nice and tender. I like to gradually taste. It's done once the farro is soft and tender. While cooking, constantly taste and adjust for salt and pepper.
Fold in the blanched asparagus and sprinkle over Parmesan cheese. If desired, drizzle over a teaspoon of white truffle oil before serving.
Notes
*morel mushrooms are typically found dried in the produce section. One package is about 1/2 cup of mushrooms once they've been rehydrated and is plenty. They are pricey, so a good substitute is oyster mushrooms.
*Serves 4 as a side dish, or 2 as a main course with leftovers.
Adapted from Clean Cooking
Adapted from Clean Cooking
http://www.vodkaandbiscuits.com/