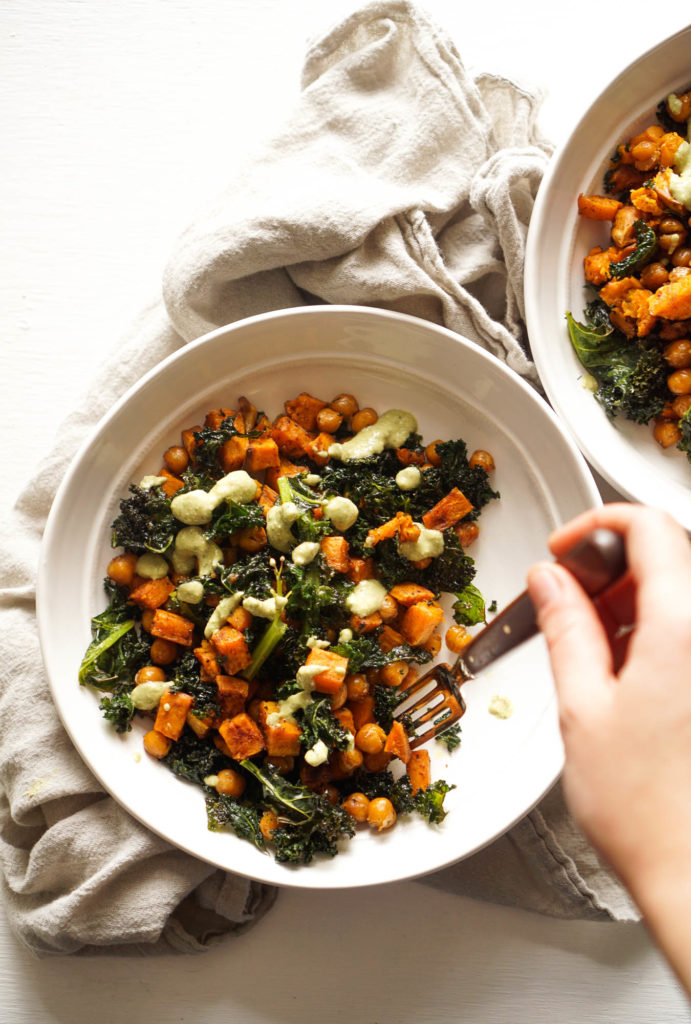 Let's talk current obsessions because mine is this spiced chickpea, kale, and sweet potato crunch party that happens all in one-pan.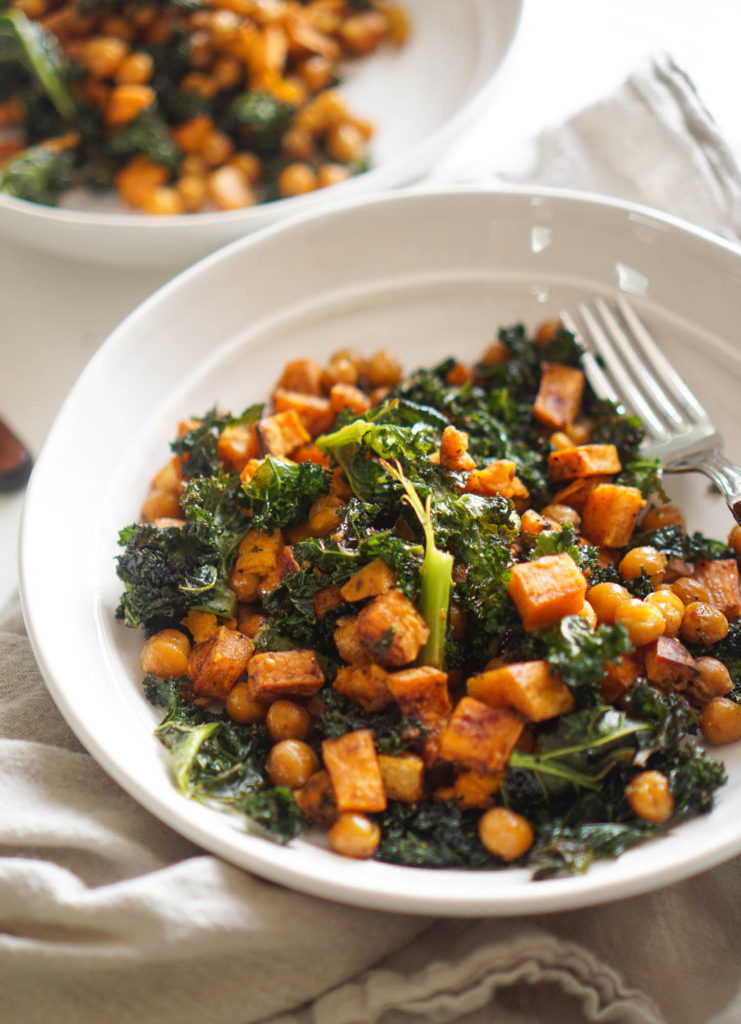 This was a result of me trying to purge the fridge and being creative at the same time. I served this for dinner one night along side some grilled chicken and I've seriously made it, tweaked, and perfected this multiple times since.
Snack, lunch, dinner – whatever. This is a healthy and fulfilling winner that I can't wait for you to make. Let's get started.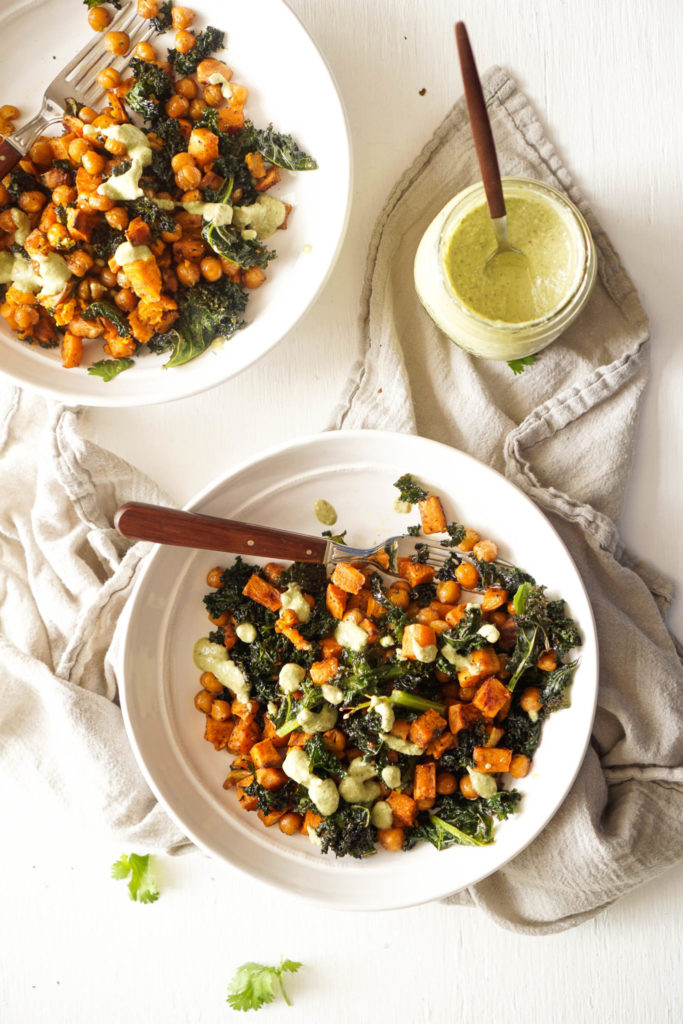 This recipe turned from a fridge-purger to a frequent dinner. Not only do all of the textures work well together, but so do the different spices on each vegetable. Here's the thing.
These Spices are EVERYTHING!
You'll notice that the potatoes, chickpeas, and kale are all seasoned just a tad differently. I added a touch of cinnamon to the sweet potatoes because cinnamon gives the potatoes such warmth, the chickpeas are mainly seasoned with za'atar for nuttiness, and the kale has my FAVORITE kale seasoning ever. If you haven't made kale chips with curry & sugar WHEW you're missing out. Basically just as each vegetable/grain will have their own unique texture, they'll also have their own flavor and the combination is divine.
Sweet potatoes = za'atar, garlic salt, pepper, cinnamon
Chickpeas = za'atar, garlic salt, pepper
Kale = garlic salt, pepper, curry powder, sugar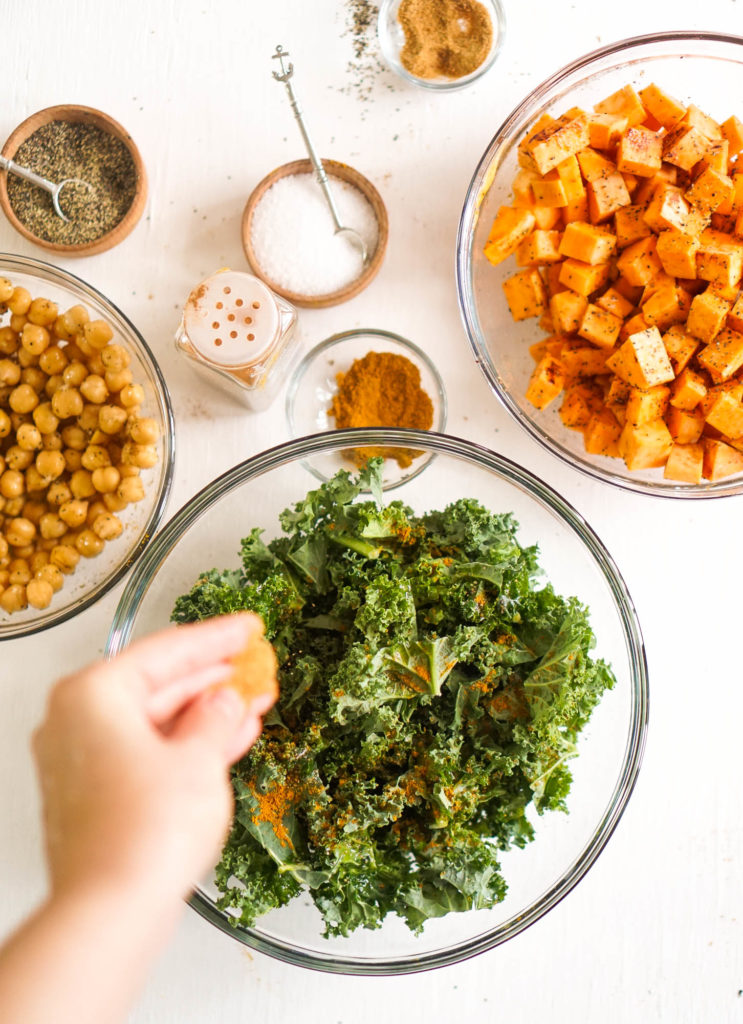 Here's the other thing…
I don't give exact measurements for the spices. Worst food blogger ever??? I truly believe everyone likes their food seasoned their own way, therefore I'm just giving you the combination of spices and you can do your thing with it.
If you're totally clueless, start with a 1/4 teaspoon and increase as you go. The main reason I'm comfortable sharing the recipe this way is because you're going to have to take the pan out of the oven at least twice to add in the other vegetables, so you can use that as your chance to taste and adjust as needed.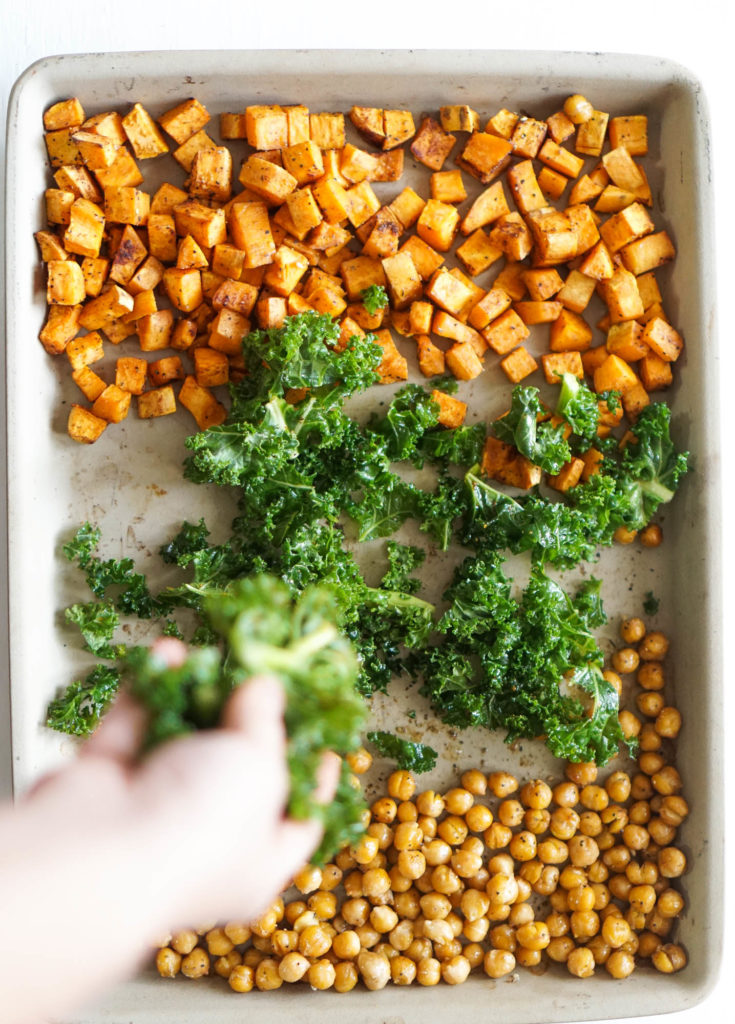 As I'm sure you know you can't bake sweet potatoes and kale chips at the same time without the kale burning to a crisp. Everything's done in the same pan, at the same temperature, just at different times. It's about every 15-20 minutes that you add your next ingredient, so just don't go too far from your kitchen. I'll break it all down in the recipe!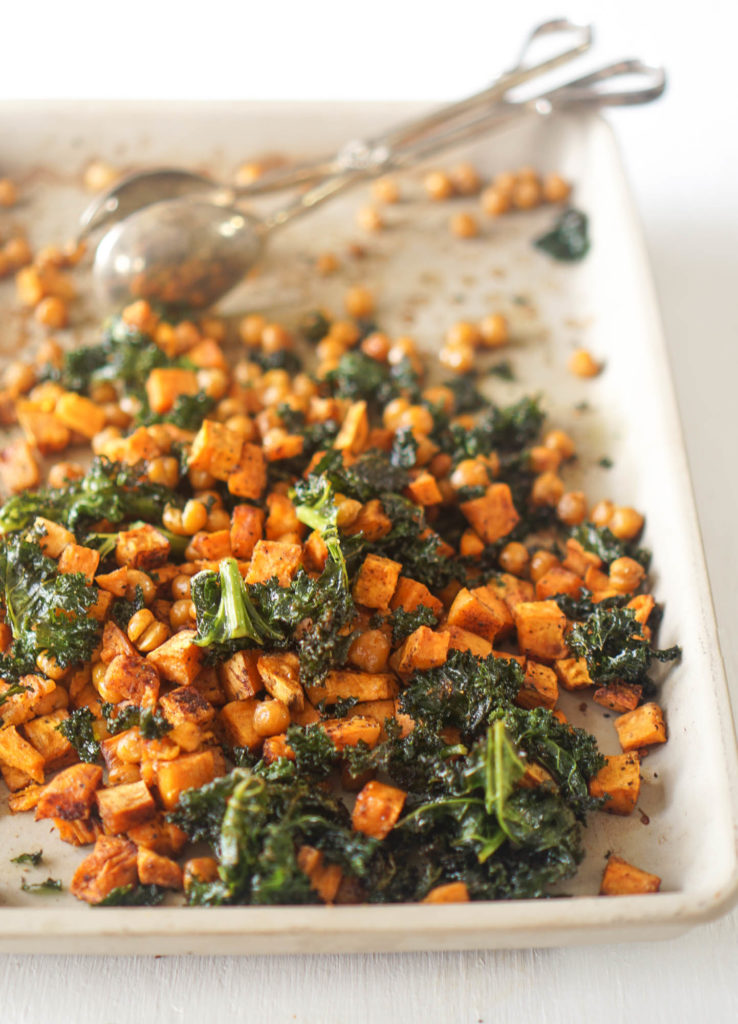 Once everything is done roasting, mix it all up and prepare yourself for an incredible combination. Not only are the spices unique and stand out to each ingredient, but the textures are KILLER. Scott and I fight over the leftovers every time, and each time I made this he's asked when am I going to share it with you all.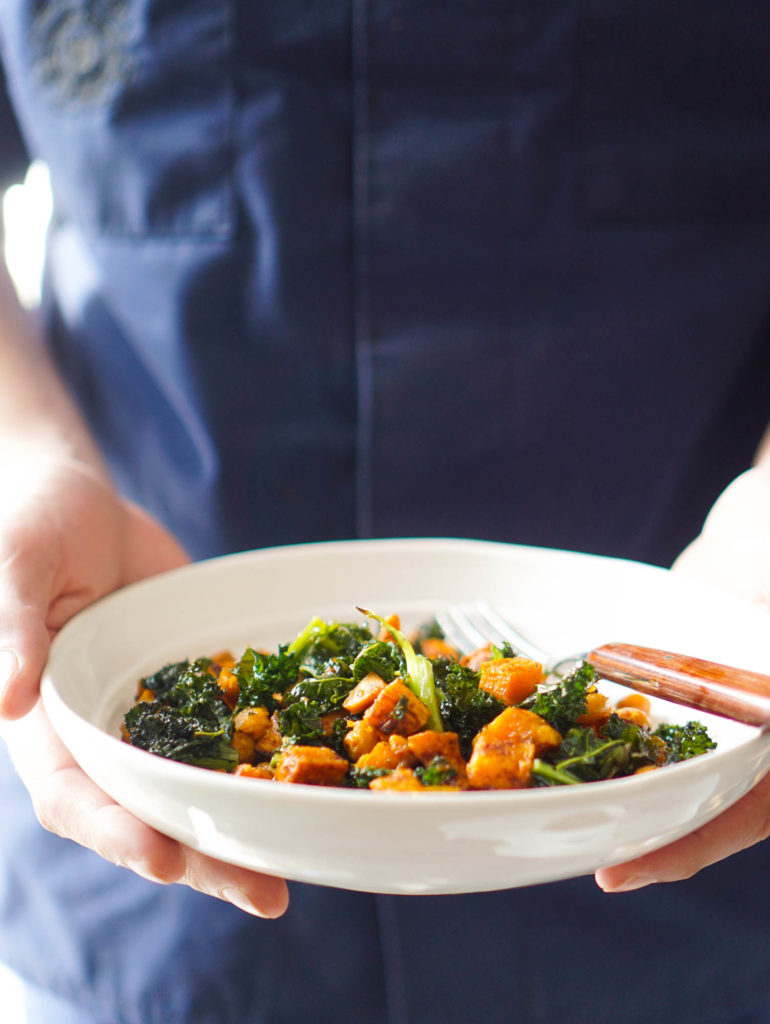 I highly recommend serving this with Pinch of Yum's Magic Green Sauce (a staple at our house!), or with a drizzle of lemon, and served along side grilled chicken or shrimp…that is if it even makes it to the dinner plate. Enjoy!
Za'atar can be found at most grocery stores or easily on Amazon (HERE)! It can be substituted for a sumac and sesame seed combination! Also, my favorite brand of garlic sea salt is Olde Thompson.
Sheet-Pan Za'atar Chickpeas & Kale with Sweet Potatoes
2017-03-29 16:26:45
Serves 2
Simple and flavorful chickpea, kale, and sweet potato medley that can be the perfect side dish to any grilled chicken, shrimp, or fish.
For the Vegetables
1 large sweet potato, peeled, small dice (1 lb.)
15 oz. can chickpeas, drained and rinsed
2 cups chopped kale
olive oil as needed
For the Spices
Garlic salt as needed
Black pepper as needed
Za'atar as needed
Cinnamon as needed
Curry powder as needed
Coconut sugar as needed (or white sugar)
Instructions
Preheat oven to 425. Line a 9x13 sheet pan with foil or parchment paper (optional but recommended).
Add the diced sweet potatoes to a large mixing bowl. Drizzle with 2-counts of olive oil and toss until potatoes are coated. Season with garlic salt, pepper, za'atar, and a dash of cinnamon. If you are uncertain how much of each spice you like, start small. You will have plenty of time throughout cooking to adjust the seasonings. Add to the sheet pan and bake for 15 minutes.
While the potatoes are roasting, add the chickpeas to the same bowl. No need to clean the bowl. Add 2-counts of olive oil to coat, then season with garlic salt, pepper, and za'atar to taste.
After the first 15 minutes, remove the pan from the oven. Scoot the potatoes to one half of the pan and add the chickpeas to the other. This is a good time to taste the potatoes and adjust the seasonings to taste. Bake for another 20 minutes or until the chick peas are turning crispy.
In the same mixing bowl, add the kale. Drizzle (or spray) with olive oil until glistened. Season with garlic salt, pepper, curry, and a dash of coconut sugar to taste.
Remove the pan from the oven. Make enough room in the center of the pan and add the kale. Taste and adjust the peas if needed. Bake for another 8-10 minutes until the kale is crunchy.
Serve as a side dish along side grilled chicken, shrimp, fish, or even falafel. I recommend topping with Pinch of Yum's Magic Green Sauce, or a lemon tahini sauce.
Notes
I do not give guidelines as to how much seasonings you should use. It never hurts to start small, then taste and adjust throughout the cooking process. This way the dish will truly be adapted to your desired taste, as we all have different preferences. This also helps a beginner cook to learn to find their taste. I highly recommend the combination of these spices which go perfectly with the chosen vegetables.
Za'atar can be found at any specialty store, Amazon, or you can simply make your own. Epicurious has a fantastic recipe!
http://www.vodkaandbiscuits.com/