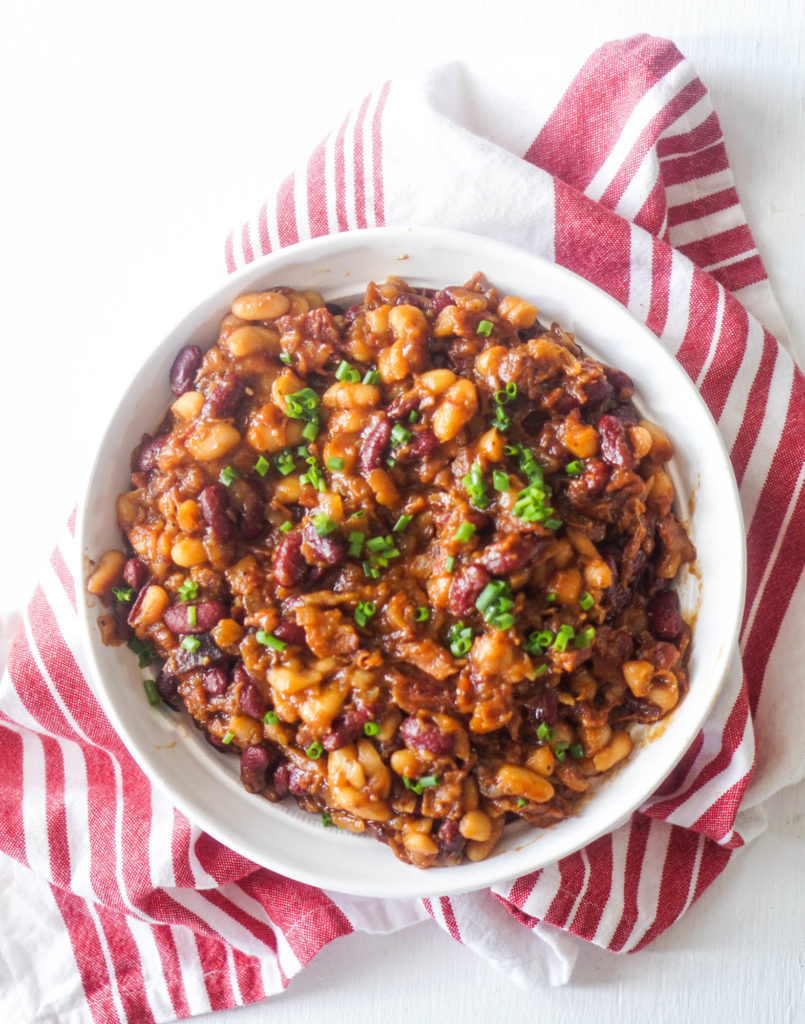 What if I told you that you can make delicious, rich, smoky baked beans without dedicating hours upon hours?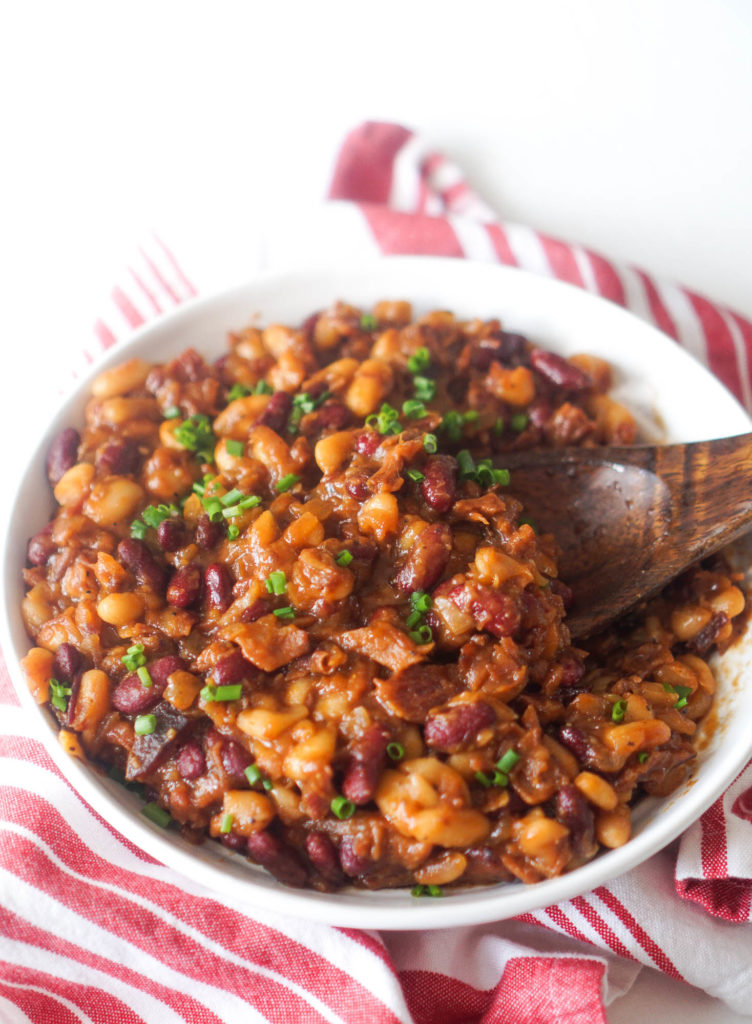 This friends is SUPER exciting because cookout season is near approaching and then not too long after that is the best of all: tailgate season.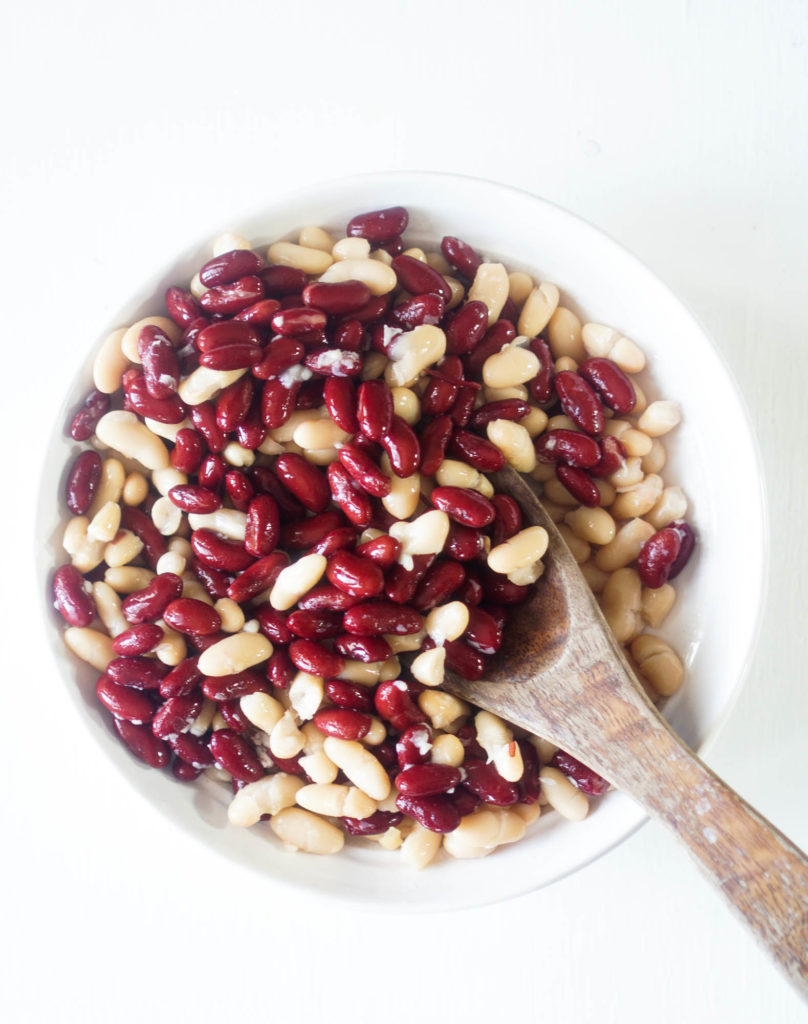 This recipe comes from one of my favorite barbecue cookbooks, The Barbecue! Bible
, that I break out of the shelves just as the weather starts to warm up. Almost all of the recipes are made on the grill and the book is broken into sections from beef, chicken, vegetables, sides, and even desserts (and lots more). I'm obsessed with the recipes and not to mention the endless dry-rub, sauces, and marinades featured.
If you're passionate about grilling or looking to learn, I TOTALLY recommend this book as well as Adam Perry Lang's BBQ 25
.
So, to the beans. What makes this so special? The fact that there's barely any cooking done other than crisping up some bacon and sauteing onions, garlic, and ginger with it.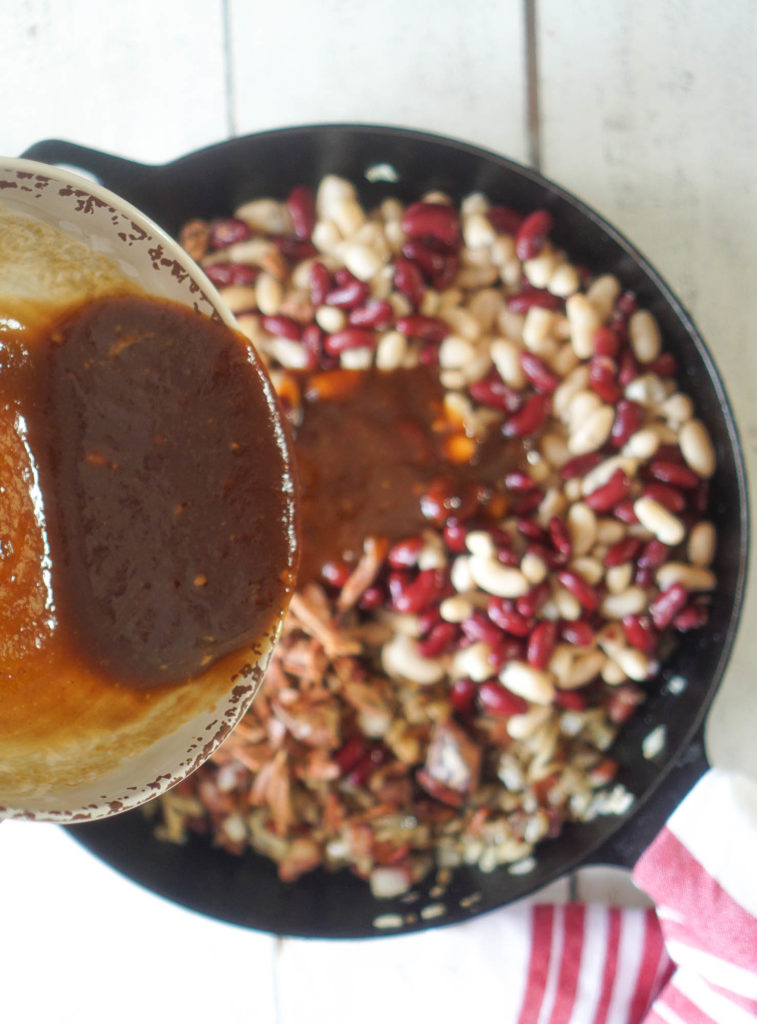 Once the bacon and aromatics cook, they get tossed with barbecue sauce, refrigerated staples (think mustard, ketchup, Worcestershire, etc.), canned beans, and the best part: leftover barbecue or smoked meat. For this recipe I used leftover Easter ham (this year we warmed an already-cooked shank for nearly 12 hours and served it pulled rather than sliced), but you can use barbecue pulled pork, brisket, smoked ham, anything! You can even buy it pre-cooked or swing by Mission Barbecue for a carry-out order.
Everything gets stirred together then transferred to a grill-safe dish (disposable aluminum pans work best, but this can also be made start to finish in a cast-iron skillet), then it gets heated through for about 30 minutes on the grill.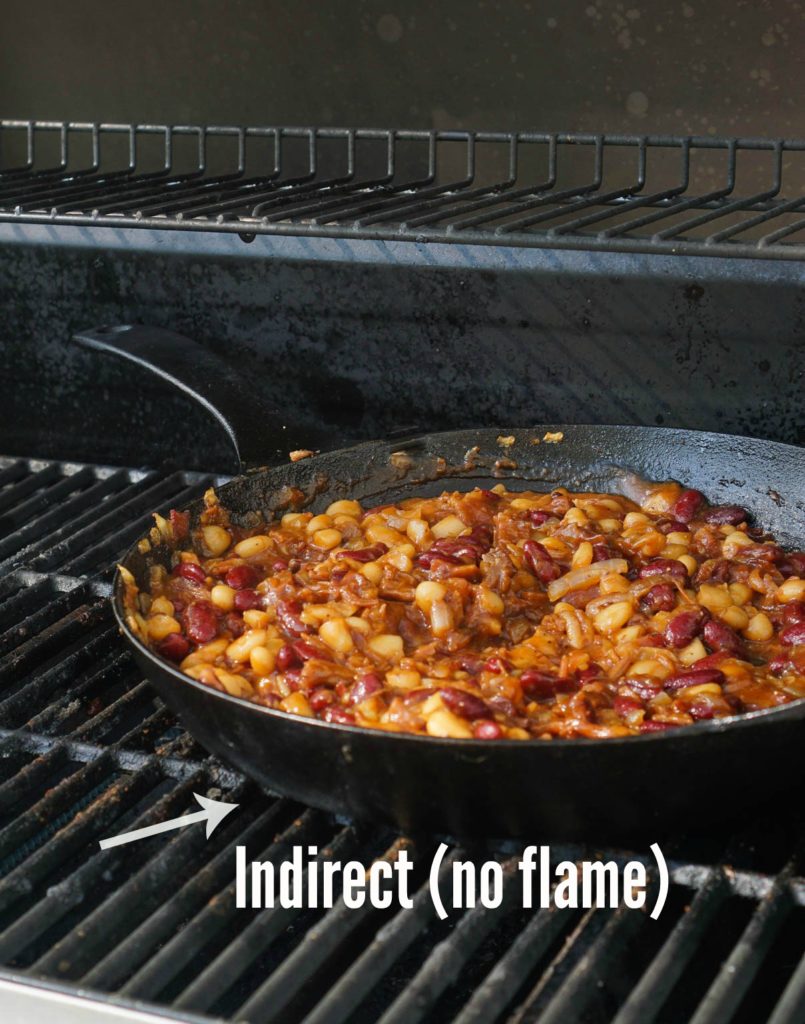 To produce the smoky flavor you'll want to toss wood chips on the coals of your charcoal grill or you can place wood chips in a smoker box for a gas grill. Regardless, you want to cook the beans over indirect heat, which basically means away from the fire (light one side to high/or push the coals to one side of the grill, then place the beans on the opposite side). This is totally optional. If you don't care for a smoky flavor, just warm them up on the grill without chips or heck, bake them in the oven. I'll share more in the recipe.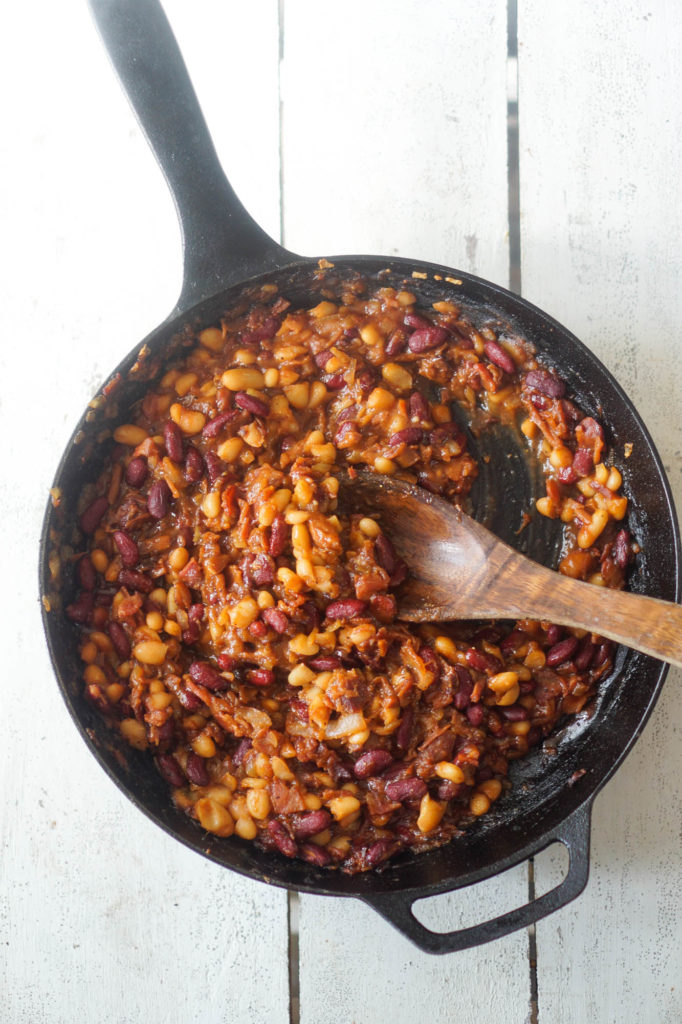 These beans are ideal for any side dish at your next outdoor gathering. They're perfect for entertaining as they require minimal prep and are finished cooking right on the grill, which also makes them perfect for tailgating. Next time you have any leftover barbecue or smoked meats, keep these beans in mind. They're rich, meaty, and full of barbecue flavor.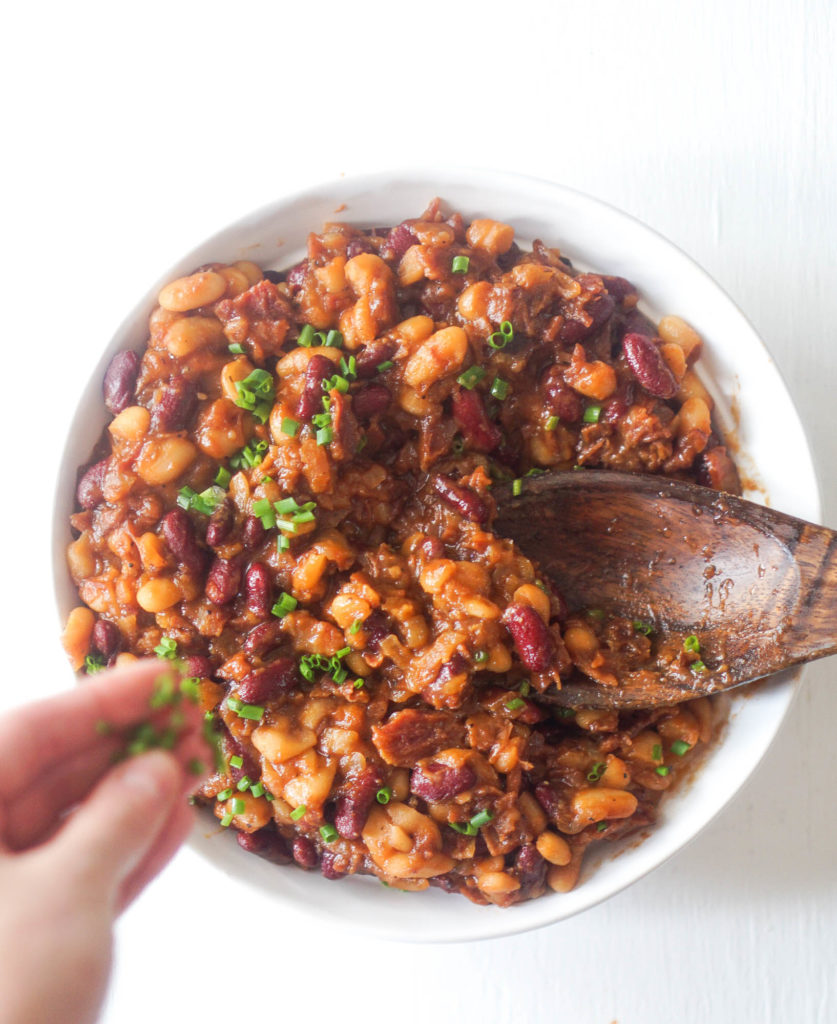 Optional, but highly recommend, is serving this along side a crisp cold beer.
Enjoy!
Quick & Smoky Baked Beans
2017-04-21 08:28:31
Baked beans made in under an hour and finishied cooking on the grill, giving them a smoky and rich flavor that your guests will rave over. This is perfect for cookouts, summer entertaining, or tailgates. You can customize the recipe with your favorite barbecue sauce and your preference of barbecued meat.
Ingredients
4 thick-cut slices of bacon, diced
1 yellow onion, diced
3 cloves garlic, minced
1" ginger knob, peeled and minced (or grated for ease)
2 15 oz. cans red kidney beans (or a mix of red and Great Northern white)
1/4 cup dark brown sugar
2 tablespoons maple syrup
1/2 cup favorite barbecue sauce
1/4 cup ketchup
2 tablespoons Worcestershire sauce
1 tablespoon dry mustard
1 tablespoon yellow mustard (or dijon)
1 tablespoon cider vinegar
1-2 cups diced smoked or barbecue pork, ham, or brisket
1-2 tablespoons meat drippings (optional)
salt and pepper to taste
2 cups wood chips, soaked for one hour (optional)
Instructions
Heat a large skillet or cast-iron skillet over medium high heat. Add the bacon and cook until crisped and fat has rendered, about 6-7 minutes. Drain all but 2 tablespoons of bacon fat.
Add the onion and cook until soft and translucent, about 5 minutes. Add the garlic and ginger and cook until fragrant, about 1 minute.
Remove from the heat and stir in the remaining ingredients, except the salt and pepper and wood chips (note: this step can be done a day in advanced). Transfer to a disposable aluminum pan or cast-iron skillet.
Set up the grill for indirect grilling (one side is lit high while the other is not). If using a charcoal grill, move the hot coals to one side of the grill.
If using a gas grill, place wood chips in a smoker box and preheat one side of the grill to high. When smoke appears, reduce heat to medium. Place the beans away from the fire and cook for 30-35 minutes with the lid down until thick and rich. Season with salt and pepper to taste.
If using a charcoal grill, toss the wood chips over the coals. Place the beans away from the fire and smoke 30-35 minutes with the lid down until thick and rich. Season with salt and pepper to taste.
Alternately, if the smoky flavor is not desired, follow the instructions as is just skip the wood chunk part. You can also bake this for the same amount of time in a 350 degree oven.
Adapted from The Barbecue! Bible
Adapted from The Barbecue! Bible
http://www.vodkaandbiscuits.com/