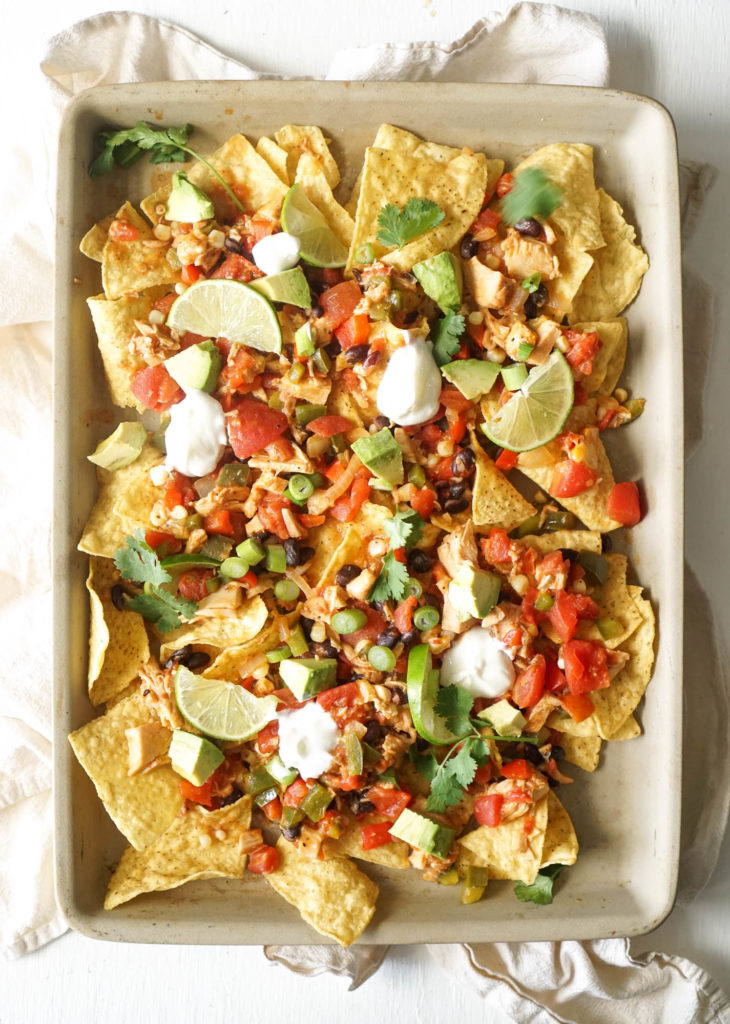 It's Cinco de Mayo, it's Friday, and I'm ready for a drink (and a plate of nachos). WHO'S WITH ME? 🙋🏼🙋🏽🙋🏾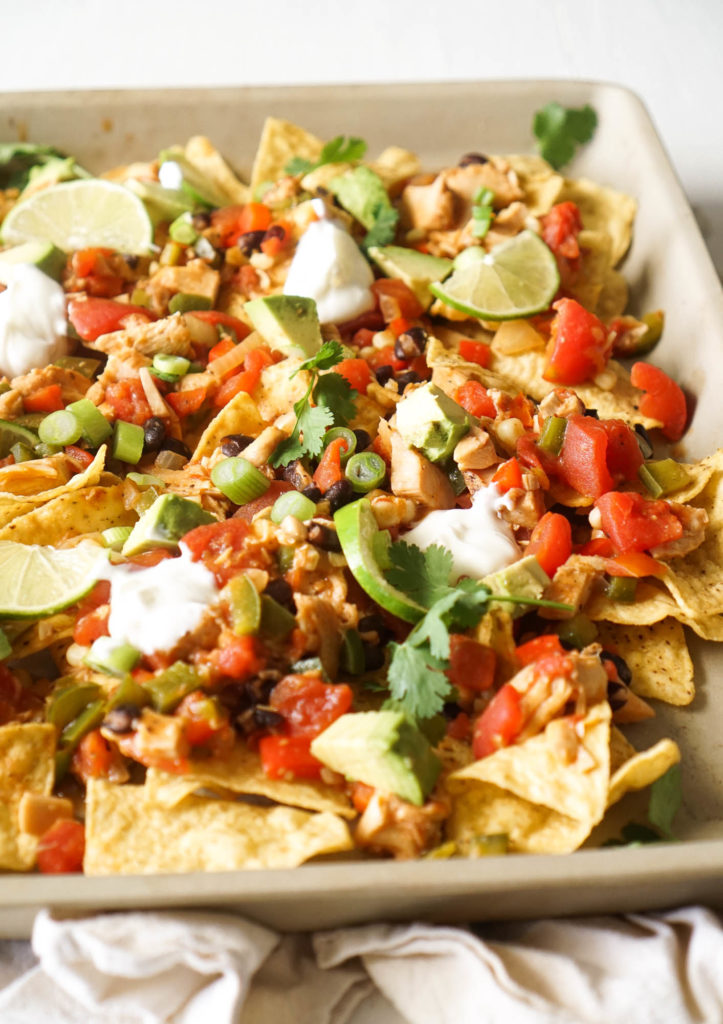 You may be familiar with this recipe (especially if you're my friend or family) as it's been on my blog for a while now and a reoccurring dish of mine. This recipe is SIMPLE. So simple that I first started making it in college when simple was all I can handle. I then started making it post college for the family, and now it's my go-to quick and easy appetizer.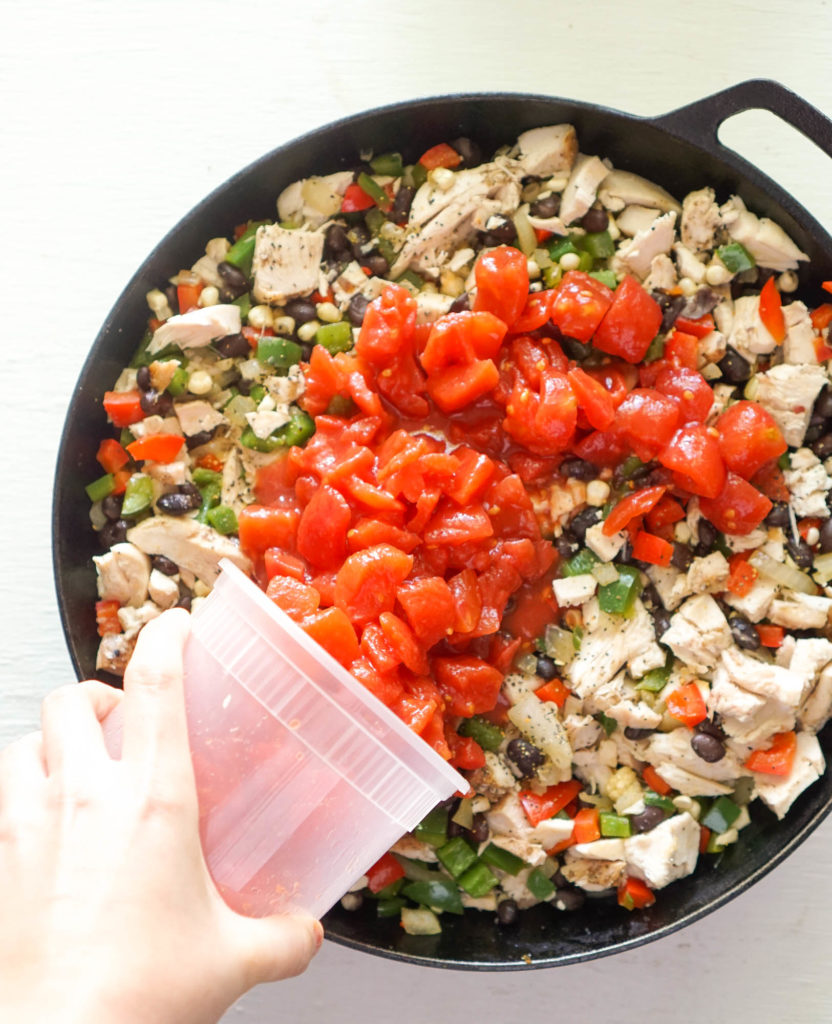 The recipe goes a little like this: sauté onion, bell pepper, and jalapeño until tender, add some black beans and corn, add shredded chicken, a can of crushed tomatoes, cheese, and BOOM!
A rotisserie chicken works wonderfully for this – all ingredients are easy to transfer and easy to prepare, making this ideal for a family vacation or even camping as it only needs a stove top or fire!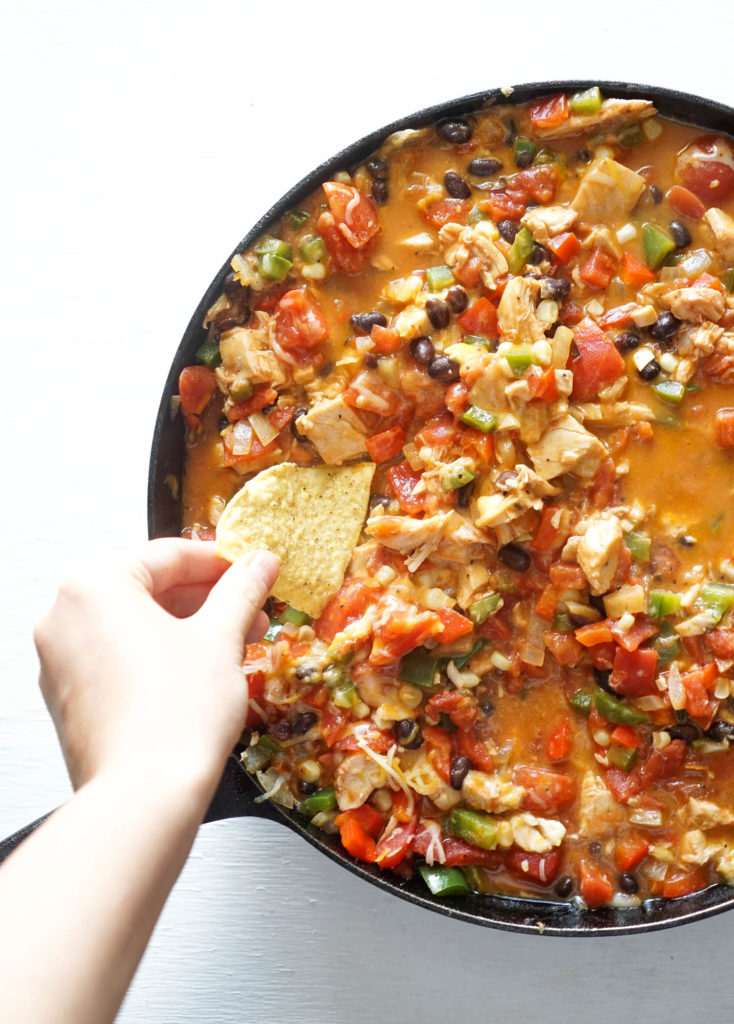 The juices from the tomatoes gets all juicy then cheese is stirred in which helps to bring it all together. I let the vegetables be the star of the dish and therefore only season with garlic sea salt, pepper, and maybe a little chili powder. You can totally add taco seasoning and better yet, use ground beef or shrimp instead of chicken. I recommend serving with a side of lime, avocado, sour cream, and cilantro because let's face it – nachos aren't complete without them.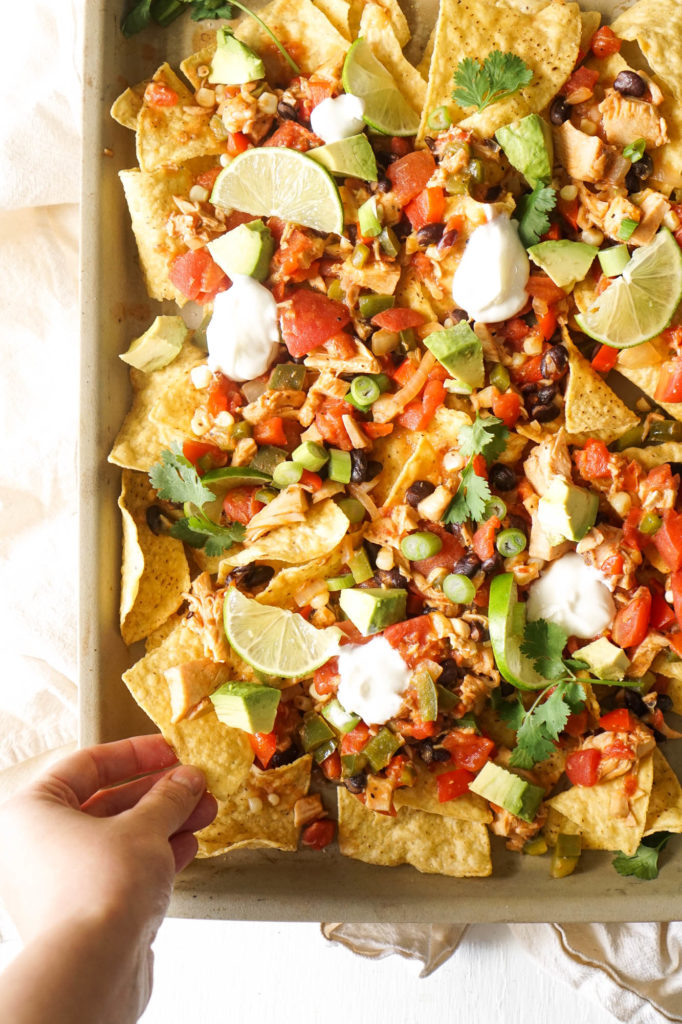 You can take this recipe and serve it along side chips as a dip, serve it on a pile of chips as nachos, serve it as a main dish on top of quinoa, rice, or omit the peppers and stuff it inside a pepper. The options are endless. When you are in a pinch for a quick and easy (and can be healthy) meal or appetizer, this is for you.
Enjoy!
My Favorite Chicken Nachos
2017-05-03 09:47:46
Serves 6
An easy and healthy chicken nacho dip that comes together in only minutes!
Ingredients
1 small white onion, diced
1 red bell pepper, diced
1 green bell pepper, diced
1 jalapeno, seeds removed & diced
15 oz. can black beans, drained
2 ears corn, kernels removed (or 15 oz. can, drained)
2 cups cooked chicken, shredded*
32 oz. can diced tomatoes
10 oz. can Ro-Tel with green chilies
2 cups low-fat Mexican blend cheese
garlic sea salt and black pepper as needed
chili powder as needed (or taco seasoning)
olive oil as needed
Optional garnishes: corn tortilla chips, avocado, sour cream, cilantro, lime
Instructions
Heat 2-counts of olive oil in a large saute pan or skillet over medium high heat. Add the onions, bell peppers, and jalapeno and saute until soft and tender, about 6-7 minutes. You do not want them to brown, so reduce the heat if needed. Season with salt and pepper to taste.
Add the corn, black beans, and chicken and cook until heated through. Season once more to taste, adding chili powder or taco seasoning if desired.
Add the can of diced tomatoes and Ro-Tel, mix, and bring to a simmer. Once the tomato juices are simmering, stir in the cheese. Once the cheese melts into the dip, it's done! Taste and adjust seasonings as needed.
Serve along side tortilla chips, avocado, sour cream, lime wedges, and cilantro if desired.
Notes
A rotisserie chicken works wonderfully for this recipe. You can also roast 2-3 large chicken breasts in taco seasoning in the oven, then shred.
http://www.vodkaandbiscuits.com/