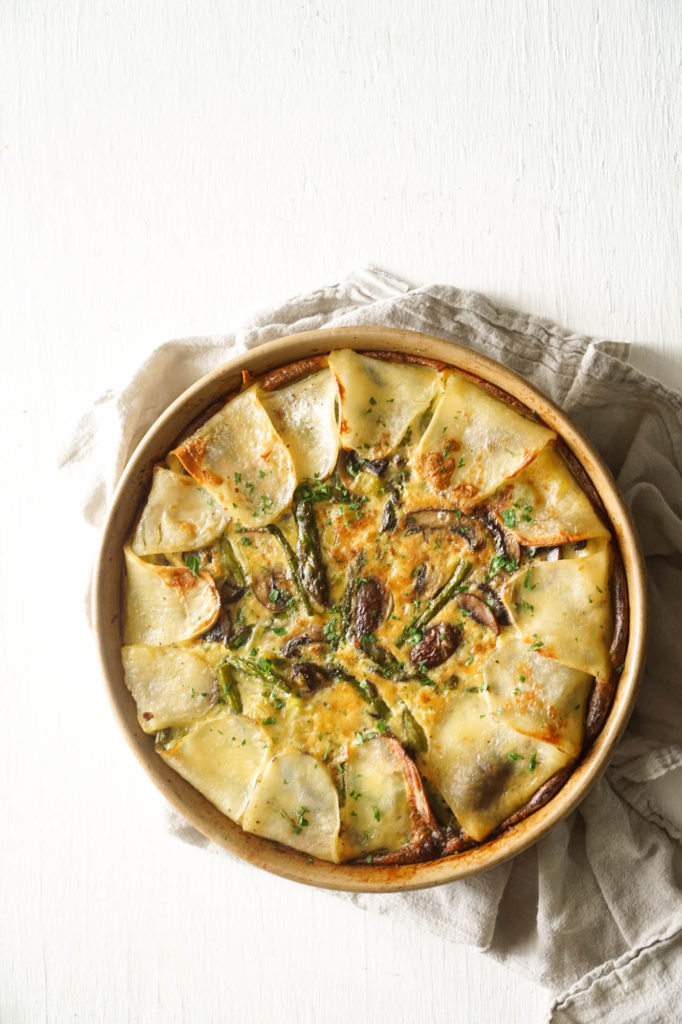 I don't love quiche. But I love mom and she loves quiche, so I'm going to learn to love it (at least on Mother's Day).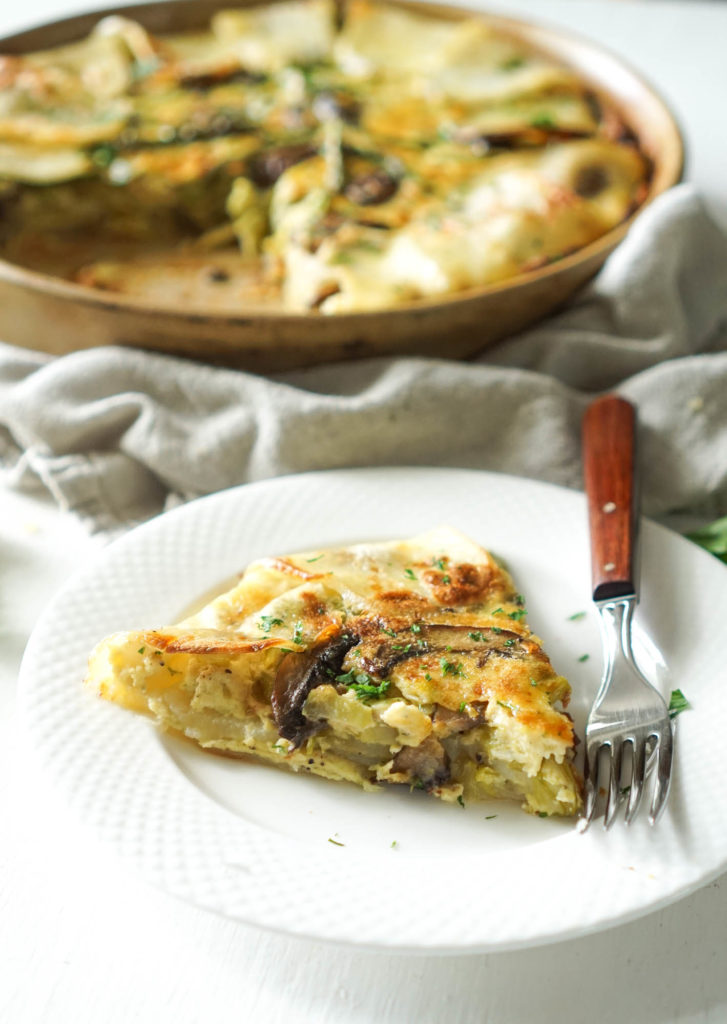 Quiche is one of those things that I'm okay with or without eating it. Here's the thing, I've yet to come across a healthy (and delicious) quiche, so if I'm going to start my day with that many calories I'd rather eat a cinnamon roll. Someone's gotta be with me.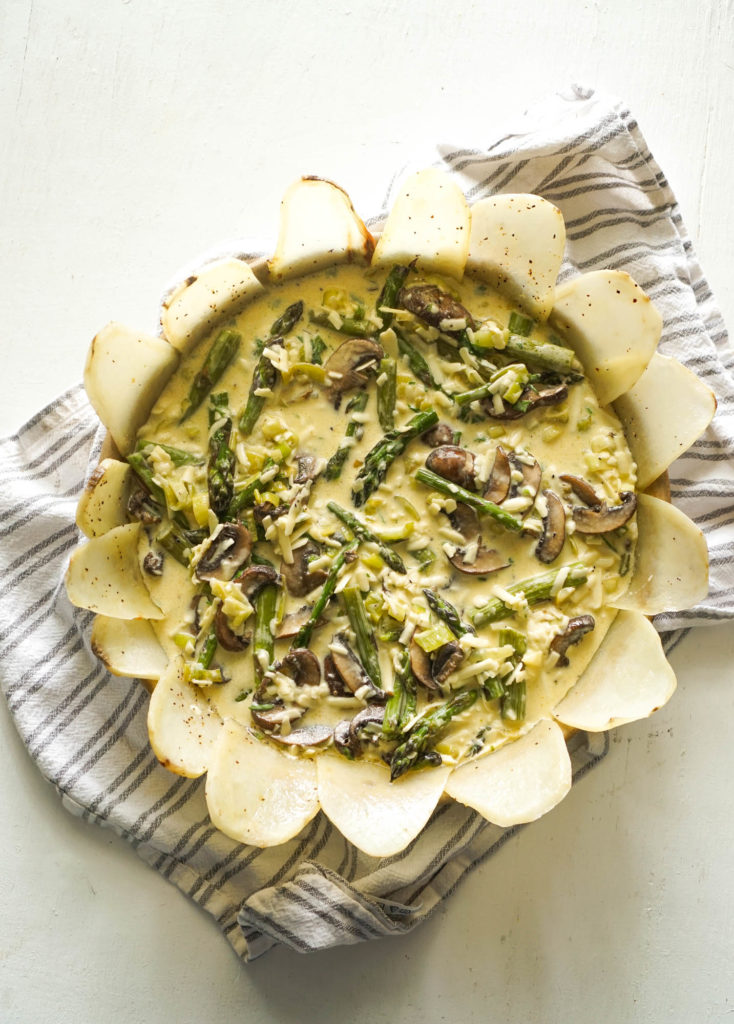 I first posted this potato crusted quiche back in 2015. I decided to remake it in honor of Mother's Day and also to update the pictures. I actually made this post private a year ago as a result of my insecurity with how AWFUL my old photography was (still working on it), and kid you not I received an email from an upset reader asking where her favorite quiche recipe went! I'm still tickled.
What really makes this recipe special is the potato crust. This is my PSA to encourage you to make your next quiche with potatoes. See ya later, pie dough and messy kitchen.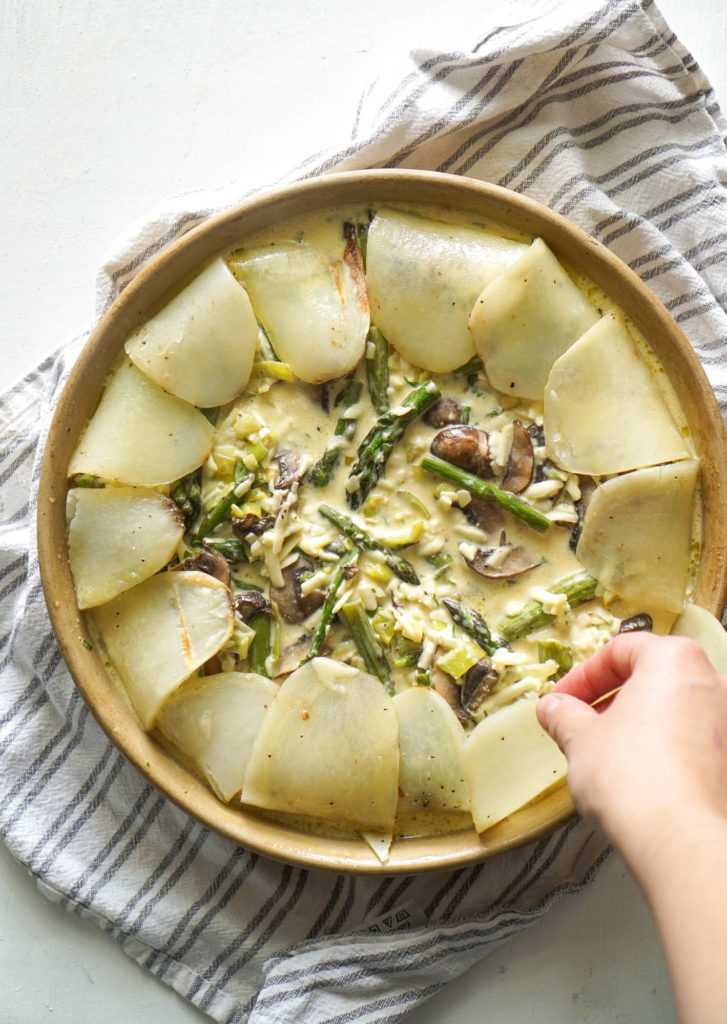 I use 3-4 russet baking potatoes that I peel and slice thin using a meat slicer or mandolin. I HIGHLY recommend using one of these tools especially since you want thin slices. The potato slices get par baked for a few minutes, then lined around the baking dish.
The trick is leaving an inch of the potato hang over the edge of the dish, that way once the quiche is poured in you can flip over the potato to complete the crust.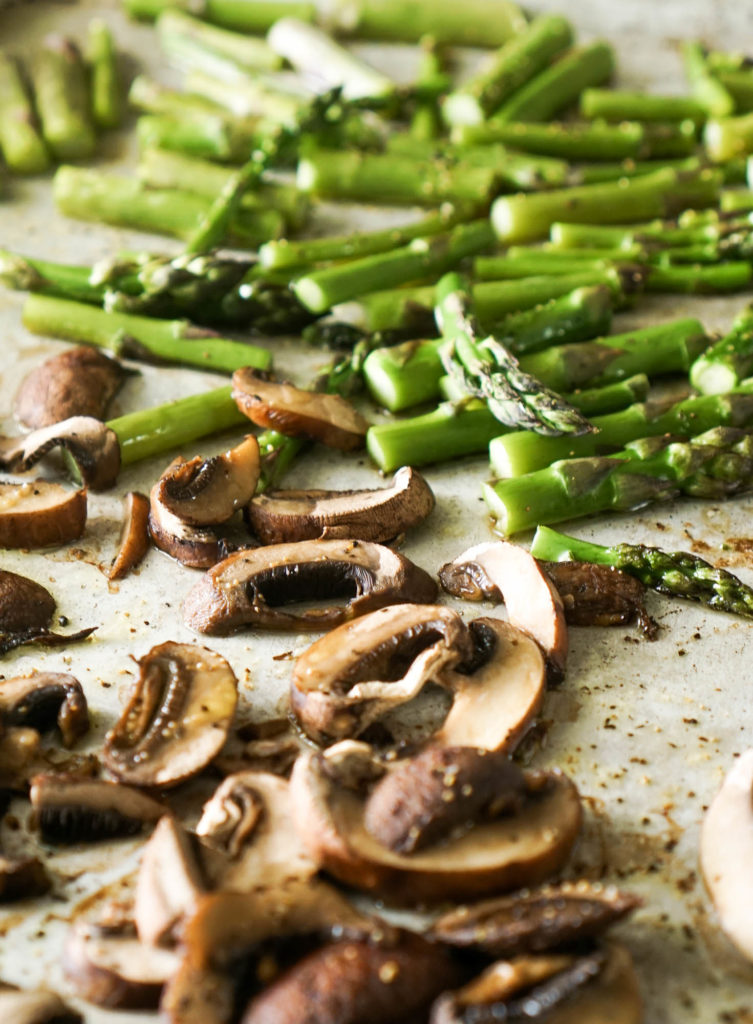 In this recipe I par-cook asparagus and mushrooms in the oven for flavor, saute leeks in butter, and combine it with eggs, cream, and Gruyere cheese (mom's favorite) as the base.
You can use my potato crust with your favorite quiche recipe – or use mine as a guideline and fill with whatever vegetables or cheese you'd like. I bet crab meat and cheddar cheese with Old Bay would be KILLER.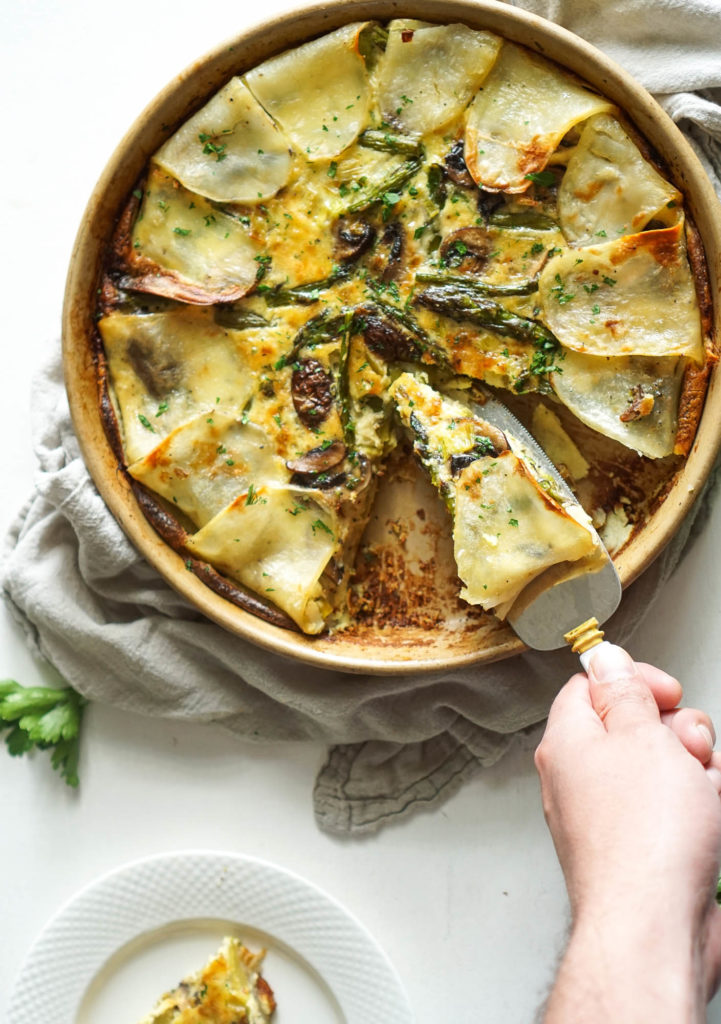 The potatoes are what makes this special. They give a crunchy but tender bite and flavor that pairs perfect with the cheesy-egg filling. I mean really, what goes better than potatoes and eggs?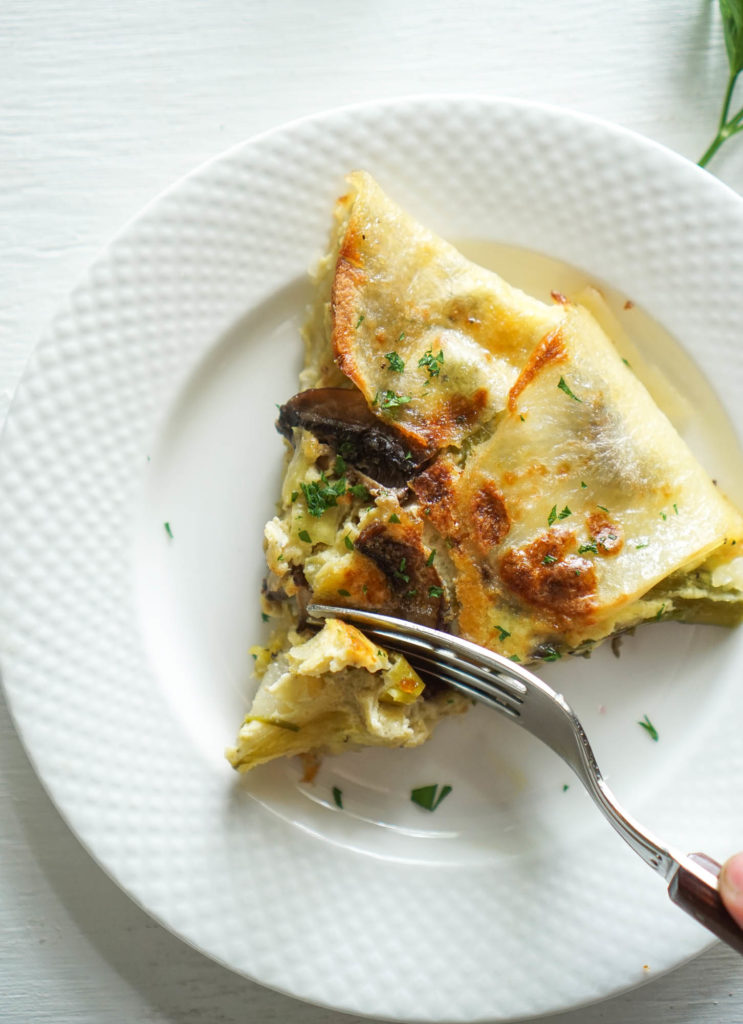 Whether you use this recipe or substiute with your favorite quiche recipe, I SO recommend adding the potato crust. The prep is worth it, and mom is beyond worth it. Happy Mother's Day everyone – enjoy!
Potato Crusted Quiche with Asparagus & Mushrooms
2015-02-01 10:26:06
Serves 8
Quiche made with tender leeks and roasted asparagus and mushrooms, lined with a potato crust. This is a dish that calls for a special occasion!
Ingredients
3-4 russet or baking potatoes
1 bunch asparagus, ends trimmed, cut into 2" pieces
8 ounces button mushrooms, sliced
1 leek
2 tablespoons butter
6 eggs
1 cup heavy cream
4 ounces grated Gruyere cheese
2 tablespoons chopped fresh parsley
Olive oil as needed
Pinch of nutmeg
Salt and pepper as needed
To Prep
Preheat oven to 400 degrees and begin to prepare vegetables and potatoes.
POTATOES: Peel the potatoes and cut into long slices 1/8" thick (lengthwise) using a meat slicer or mandolin. Add the slices to a bowl of water to avoid browning. When finished, drain from the water and lay on a baking sheet greased with olive oil, avoiding overlapping. If needed, use two baking sheets or do this in two batches. Drizzle 1-2 tablespoons of olive oil to glisten the potatoes, then sprinkle one side with salt and pepper to season. Bake until just tender, about 15 minutes. Set aside until needed.
VEGETABLES: Add the asparagus pieces and mushrooms to a baking sheet and drizzle with 1-2 tablespoons of olive oil. Season with salt and pepper to taste, then bake for 10 minutes. This par-cooks the vegetables before baking with the quiche and can be done a day in advanced. Set aside until needed.
LEEKS: Prep the leeks by trimming off the white stem-end and the tough green leaves. Remove the outer loose/bruised layer if needed. Cut the leek in half length wise, then cut into small slices. Transfer to a bowl of water to remove any grit and dirt. Rinse and dry.
Heat the butter in a small saute pan over medium-high heat. Saute the leeks until tender, about 10-12 minutes. Season with salt and pepper to taste and add to a bowl with the roasted vegetables. This can also be done a day in advanced.
For the Quiche
Reduce the oven to 350 degrees.
Grease a 12" round baking pan (or cast-iron skillet) with olive oil or cooking spray. Start by covering the rim of the pan or skillet with potato slices, leaving 1" of potato hanging over the edge. Use the remaining slices to cover the bottom, filling any holes.
In a large bowl, mix the cream and eggs. This will be super thick! Add the grated cheese, parsley, cooked vegetables, and leeks. Combine. Season with salt, pepper, and dash of nutmeg.
Pour into the potato-lined pan, folding over the extra 1" of potato to create the crust. Bake covered for 40 minutes. Uncover and continue to bake for 15-20 minutes, until a knife inserted comes out clean. If desired, broil for a few minutes to brown the potatoes.
Notes
3 large russet potatoes usually does the trick, but I like to cook 4 just in case some potato slices overcook. Plus, you won't be disappointed with leftover potato slices - trust me 😉
The potatoes and vegetables can be prepared a day in advanced.
Try a potato crusted quiche with your favorite quiche recipe! You can use any vegetables or cheese you'd like. I can't wait to try this with a crab meat, old bay, and cheddar cheese quiche.
http://www.vodkaandbiscuits.com/