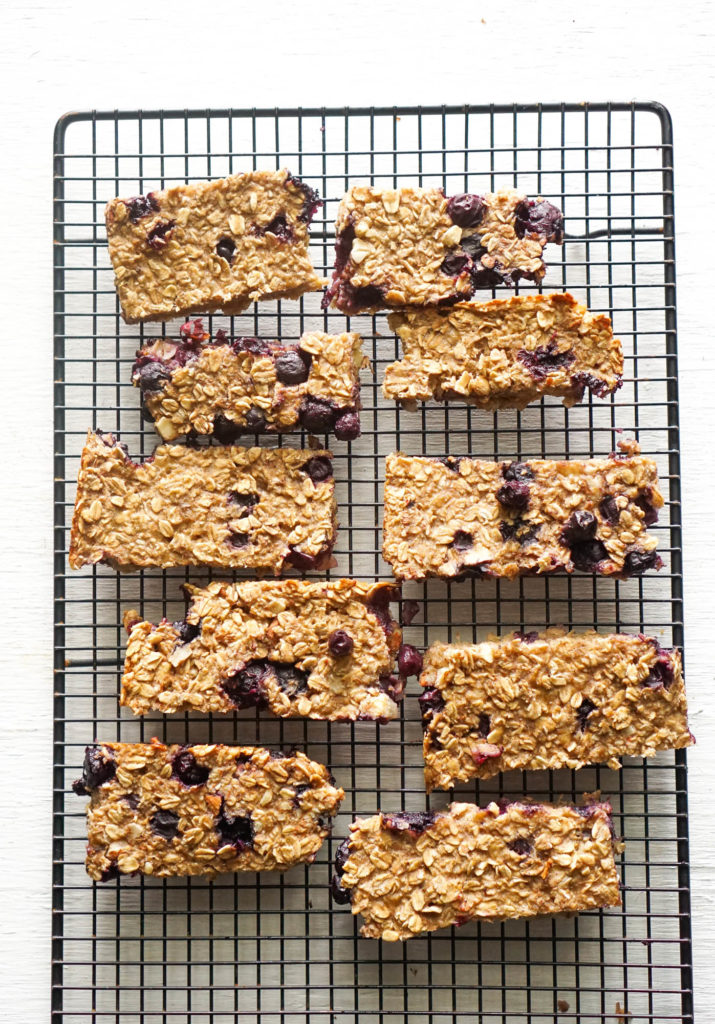 What if I told you in 45 minutes you can have breakfast and snacks ready to last you the WHOLE WEEK. And better yet, 30 of those minutes are waiting around the oven. You guys, this is it. Look no further.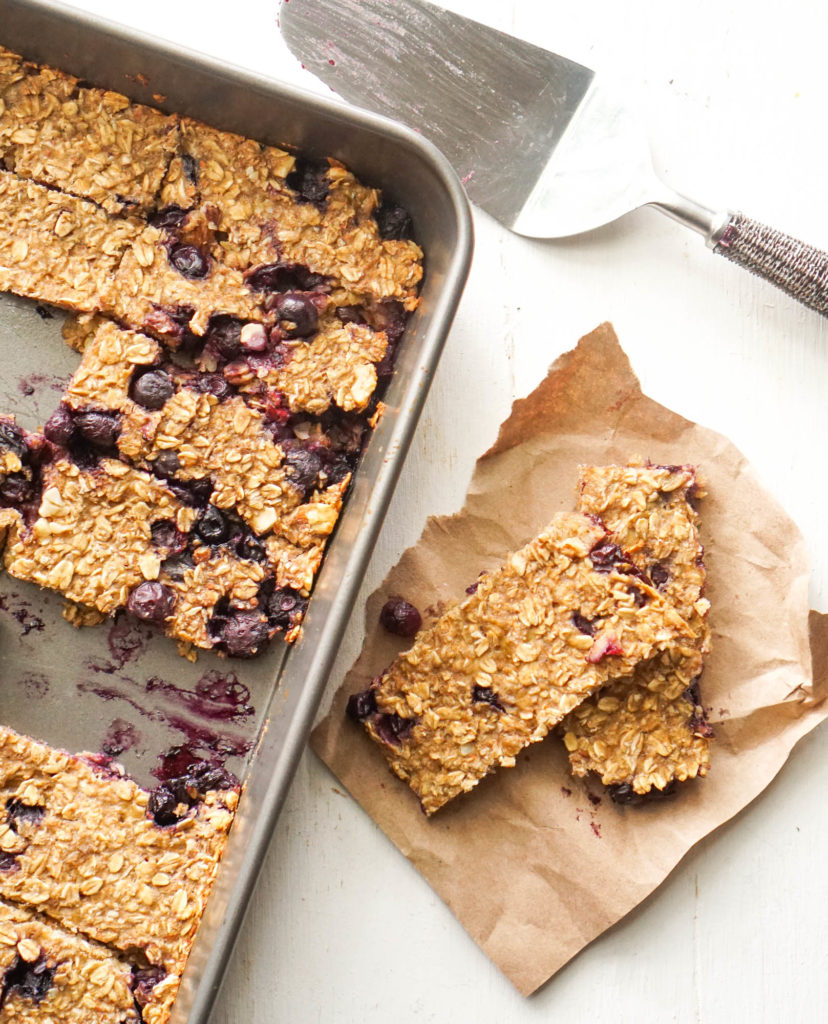 I'm going through this phase where I hate all of my old pictures of older recipes and currently giving them all a face lift. Literally the last four recipes I posted have been on my blog for a few years, I've just updated their pictures. If you're not picking up what I'm putting down, these breakfast bars are old news. I first published them in 2015, and now two years later I'm excited to give them the attention they deserve.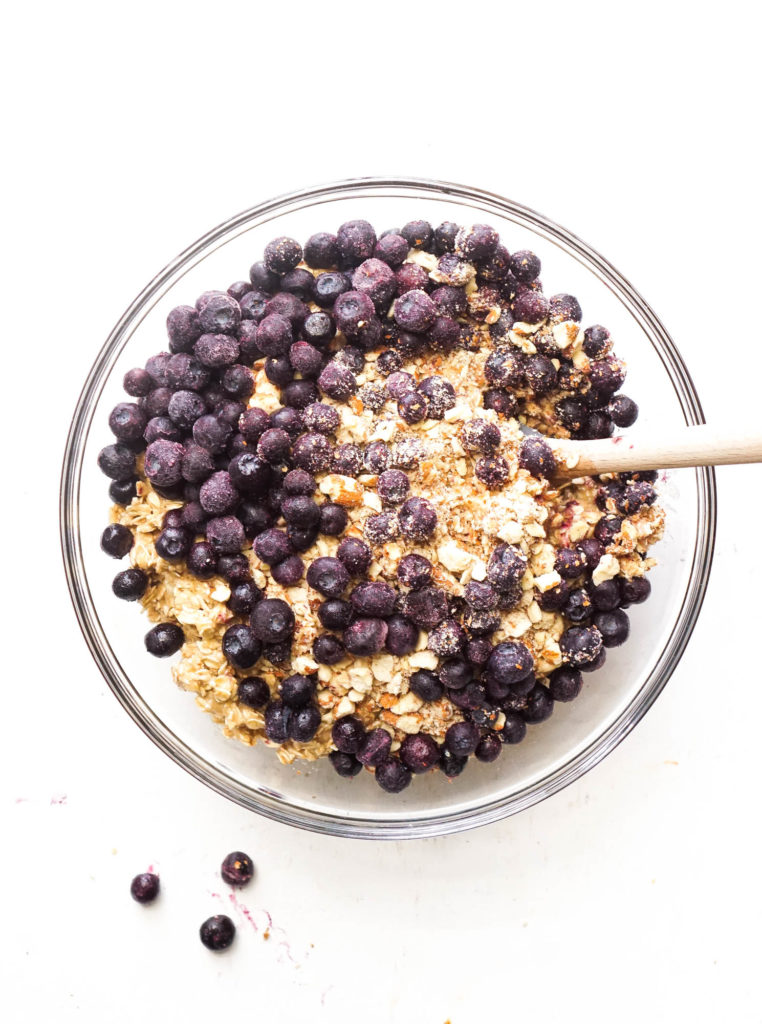 The base to these bars are bananas, applesauce, oats, and a little flavoring like almond extract (or vanilla), cinnamon, maple syrup (or honey), and a touch of salt. From there, I add blueberries and almonds but you can add WHATEVER you want to these. Strawberries, blackberries, chocolate, coconut, nuts, seeds, jam, you can't go wrong here.
I start the base in a standing mixer then fold in my add-ins, then bake for a quick half hour. You can cut them into mini squares or bars. This batch makes about 14-16 big bars, which is PLENTY of breakfast and snacks to last you a week (if not longer). You wondering another reason why I love these so much? They freeze b-e-a-u-tifllllly.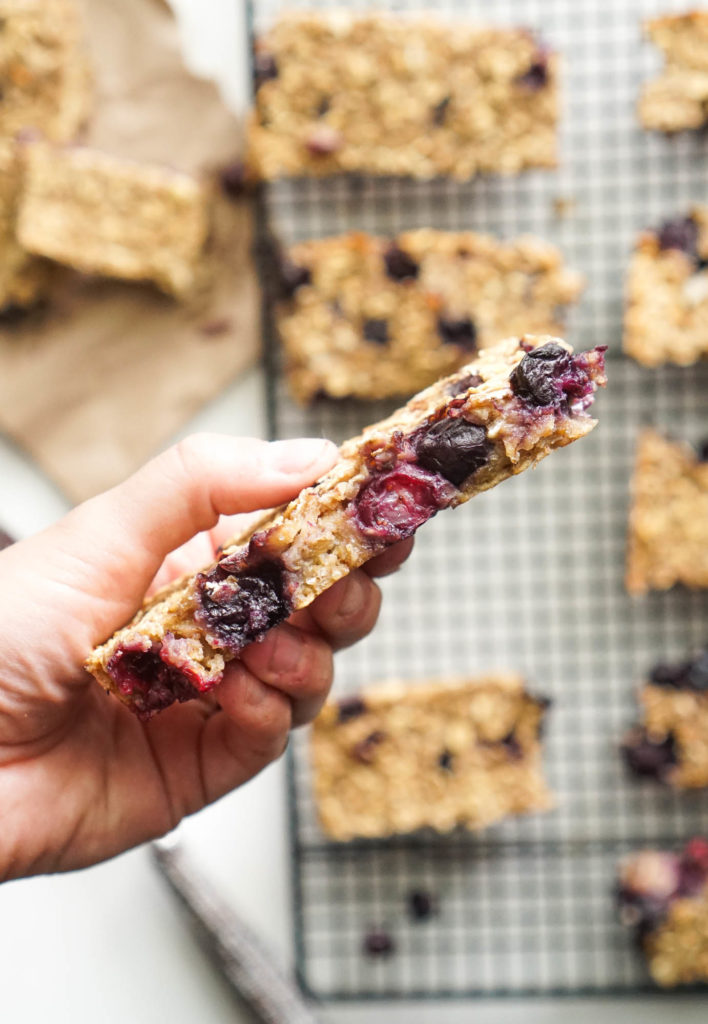 Take em' out of the freezer the night before and let them thaw in the fridge or zap it in the microwave. Eat it as is or serve in a bowl of yogurt. ANOTHER reason I love these (there's a lot), is that they're chewy meaning I can eat them in the car without creating a mountain of crumbs.
Imagine a soft granola bar with a burst of fresh blueberry and nutty almonds that for once is not too sweet. Enjoy this as breakfast, snack, or even a little bite to eat before bed. I make and freeze these regularly, and have even them as gifts. I hope you love these as much as I do, because if you can't tell I could talk about them for daysssss.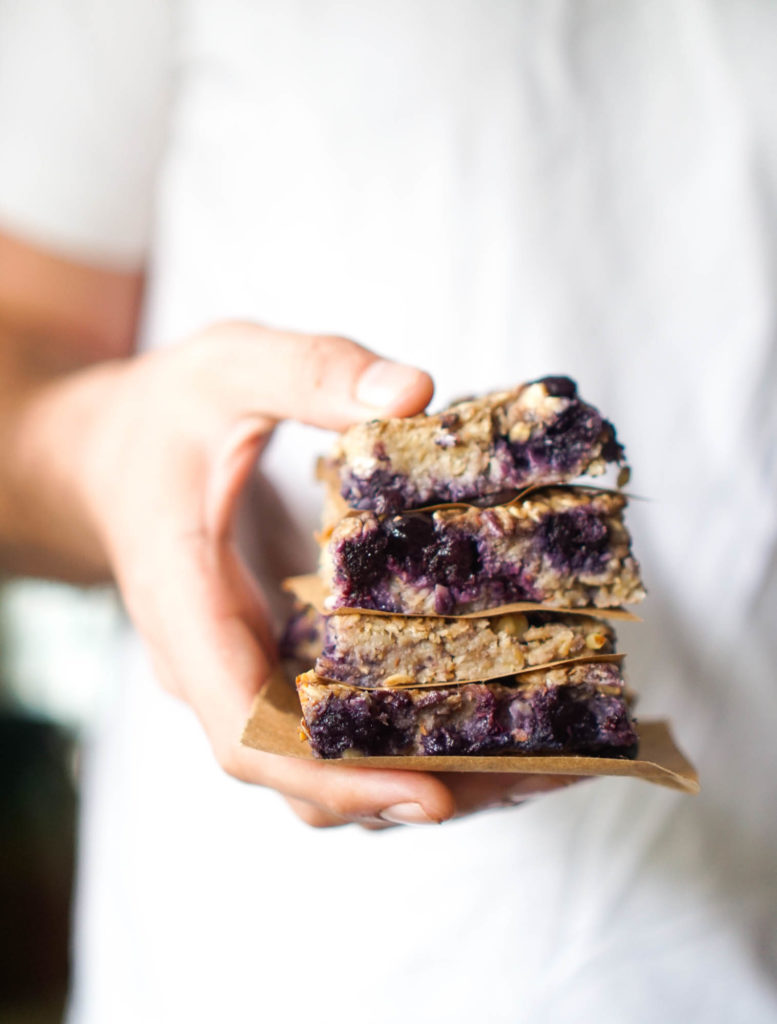 Enjoy!
Blueberry Almond Breakfast Bars
2015-08-26 09:30:36
Serves 16
Blueberry almond bars made with oats and natural sweeteners. There are great for breakfast or a snack and perfect for on the go. They also freeze beautifully!
Ingredients
3 ripe bananas
3 cups rolled oats
1/2 cup unsweetened apple sauce
1/2 teaspoon cinnamon
1/2 teaspoon almond extract
1/4 teaspoon kosher salt
1/4 cup honey (or maple syrup)
1 cup fresh or frozen blueberries
1/2 cup almond slivers, preferably toasted
2 tablespoons coconut oil, melted
Optional add ins: coconut, dried cranberries, pumpkin seeds, etc.
Instructions
Preheat oven to 350
In a standing electric mixer with the paddle attachment, mash the bananas. Add the apple sauce, honey, extract, cinnamon, and salt. Mix to combine. This can also be done by hand.
Add the oats and mix until well combined.
Using a rubber spatula, fold in the blueberries and almonds.
Taste for sweetness/salt and adjust as necessary.
Coat a 9x13 baking pan with the oil. Press mix into pan. Bake for 35 minutes or until edges are brown.
Cut into squares and/or bars and enjoy with yogurt!
Notes
Add whatever fruit, nut, dried fruit you'd like!
You may individually wrap and freeze the bars for later use. Either thaw in the fridge overnight or zap in the microwave before eating. These are delicious with yogurt!
http://www.vodkaandbiscuits.com/