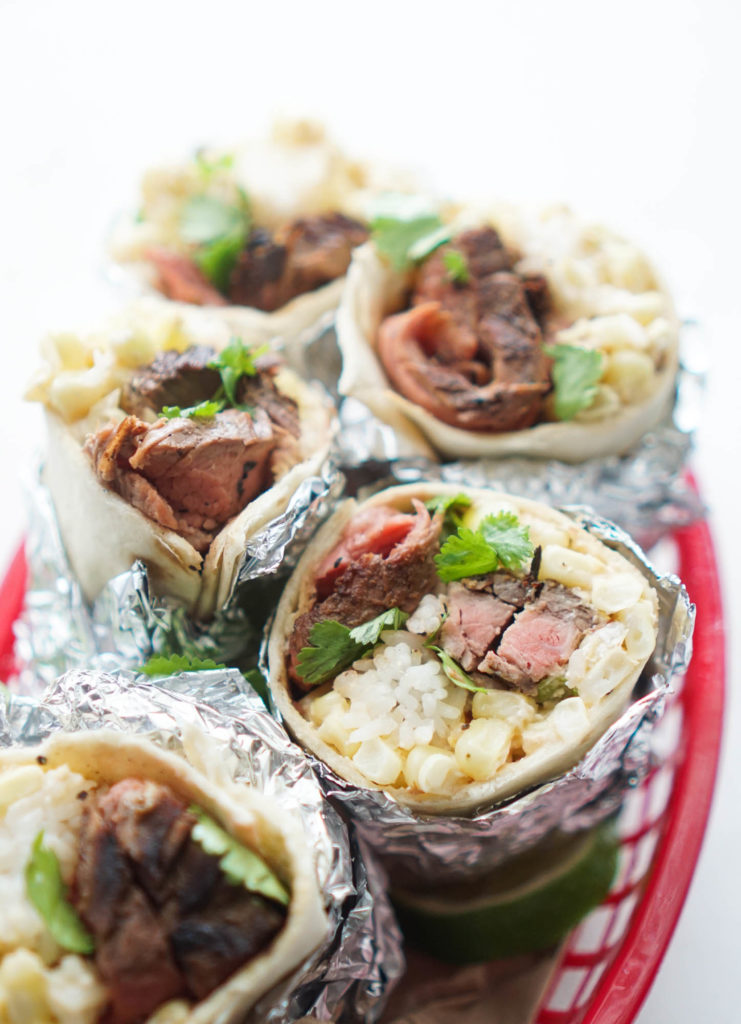 FACT: I have an obsession with corn.
Sure, it does nothing for me nutritionally, but lemme' tell you it makes me DAMN happy. Believe me when I say I am taking full advantage of the seasonal crop right now (seriously, ten ears costs me $2 at the market), by eating everything from corn pudding, corn chowder, corn salads, corn on the cobb, and even putting corn in my pancakes. Scott caught me eating it raw off the cobb. Am I crazy? Probably.
Mexican street corn (Elote) is my top five favorite ways to enjoy corn. It's typically corn served on the cobb and rubbed with a chipotle mayonnaise with cotija cheese, scallions, and cilantro. For parties or cookouts, I take the corn off the cobb, mix it with all the traditional fixings and add avocado and quinoa for a perfect side dish. SO GOOD. Well, a few weeks ago I caught a 2.5 second glimpse of Travel Channel with Andrew Zimmerman eating an elote & steak burrito and from that moment on I was a changed woman.
Whoever thought of this, I love you. Let's cook.
CARNE ASADA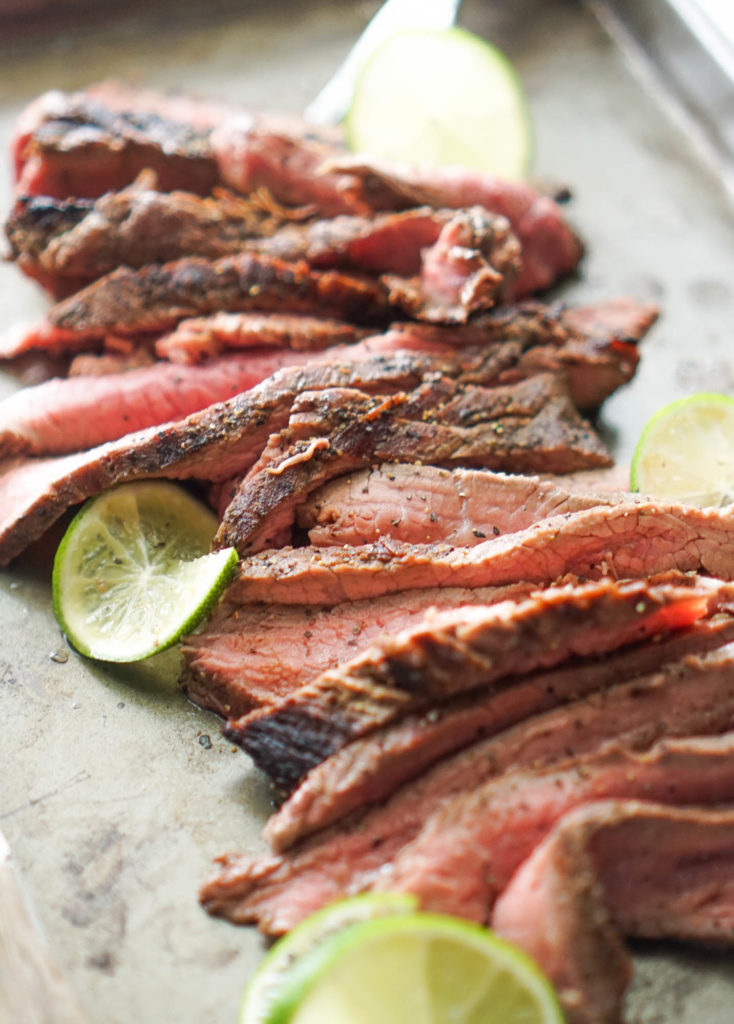 The most time consuming part of this recipe is the carne asada, which is marinated flank steak, grilled, and sliced. It's a tough cut of meat so you want to marinate it in a citrus-based marinade for at least 6 hours or overnight. You can also use skirt steak if desired! The steak grills in minutes so I recommend grilling the steak just before you're ready to build your burrito and all the fixings are ready. Speaking of.
ELOTE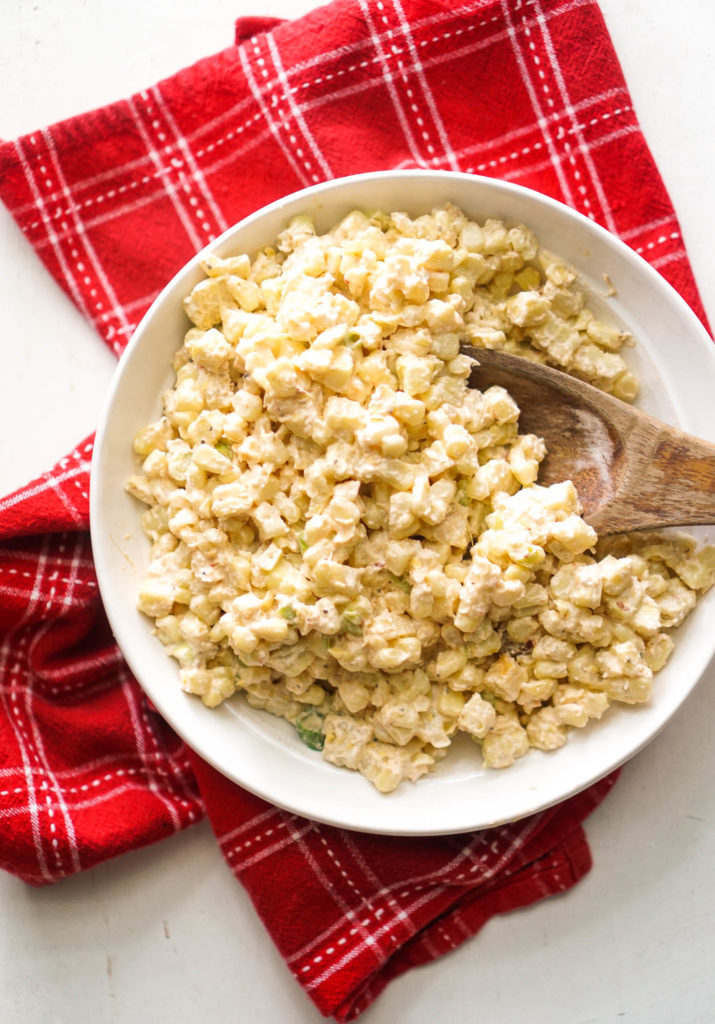 You guys already know I can talk about this stuff for days. The only thing I am going to say is I made this a little more saucy then I would if I was making this for a side dish. I wanted to kill two birds with one stone, having this not only an element of flavor and crunch for the burrito, but also serve as the sauce.
I would follow the exact recipe for a side dish, but also add 1/2 cup of cooked quinoa and avocado!
You'll also see I use feta cheese crumbles which are more easy to find. I will say, Aldi's has a delicious cotija cheese if you're looking to keep this traditional!
THE BUILD
The other yums added in the burrito are lime rice (simply cooked rice with salt, pepper, and lime juice), and fresh cilantro. Don't be afraid to add in some cilantro stems for all those cilantro lovers out there. Everything gets piled in a tortilla then wrapped into a little (or big) burrito of love.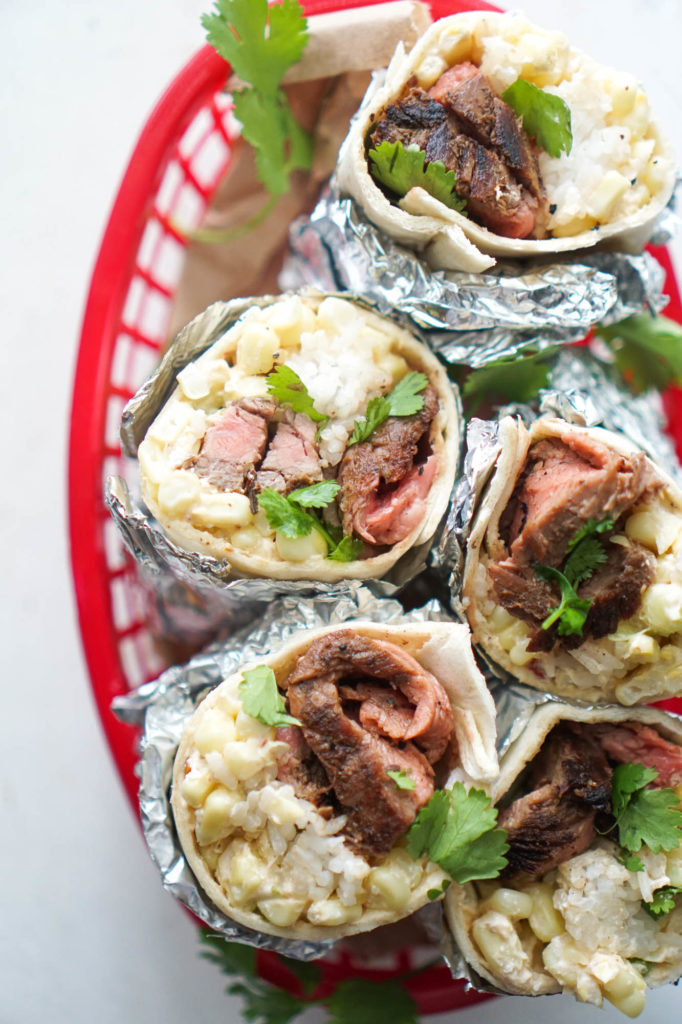 This is one of those fun weekday dinners that you want to plan to have mid-week, you know, to help you get through Monday and Tuesday (life hack). You can also make these into smaller burritos with medium tortillas, cut in half, and serve as an appetizer for a dinner party. You can even double the recipe and add shrimp or chicken to have a build-your-own-burrito party. Now THAT'S my kind of party.
Enjoy 🙂
Ps: the corn doesn't show too well in the pictures because I used sweet white corn!
Carne Asada + Elote Burrito
2017-06-15 07:01:33
Serves 6
A burrito filled with tender carne asada, deconstructed Mexican street corn, lime rice, and cilantro. This is great for a fun weeknight dinner or even a dinner party!
For the Carne Asada
1.5 lb. flank steak
2 limes, juiced
1 orange, juiced
2 cloves garlic, smashed
handful of cilantro, chopped
2 tablespoons white vinegar
1 teaspoon cumin
1/2 teaspoon salt
1/4 teaspoon pepper
optional: minced jalapeno
For the Elote
4 large ears of corn (or 4 cups of frozen corn, defrosted)
1/4 cup mayonnaise
2 tablespoons adobo sauce*
1/2 lime, juiced
2 oz. feta cheese crumbles (or cotija cheese)
2 scallions, sliced (both white and green parts)
garlic salt and pepper as needed
For the Remaining Burrito
6 large flour tortillas (burrito size)
1 cup pre-cooked white rice
1 lime
small handful of cilantro leaves
garlic salt and pepper to taste
For the Carne Asada Mariade
Mix the lime juice, orange juice, garlic, cilantro, vinegar, cumin, salt, pepper, and olive oil. Taste and adjust if necessary. Transfer the marinade to a large ziplock bag and add the steak. Marinate for 6 hours or overnight (preferred).
For the Elote
If needed, cook the corn (see notes below for easy methods). Remove the corn from the cobb and add to a large bowl. Season with garlic salt and pepper.
In another small bowl, mix together the mayonnaise, adobo sauce, and lime juice. Season with salt and pepper if needed. Fold in the feta cheese crumbles and scallions. Taste and adjust if needed (see note below).
When Ready to Ensemble
Heat a grill to medium-high heat and lightly coat the grate with oil. Remove the steak from the marinade and grill 6-7 minutes on each side for medium-rare. The steak should be nice and charred. Remove from the grill and allow to rest for 10 minutes before slicing. Slice the meat in thin strips against the grain.
While the steak is grilling, season the pre-cooked rice with salt, pepper, and a squeeze of lime. Set aside.
To ensemble the burrito, place the tortilla flat and add a heaping spoonful of the elote. Top with a spoonful of the lime rice, then a layer of cilantro, then a few pieces of carne asada.
Wrap, cut in half, and enjoy!
Notes
*Adobo sauce can be found with other Mexican foods in the grocery store. It's usually canned with chipotle peppers. I did not use the peppers for the recipe, but you certainly can add them for more spice. If you have to open a can specifically for the recipe, freeze what is leftover!
*If the corn is NOT shucked, peel back 1-2 layers of the leaves and snip off the frizzled end. Rub with olive oil and place on the grill for 30 minutes, turning often, until tender. If the corn IS shucked, rub the cobb with olive oil, wrap in foil, and grill for 30 minutes or until tender.
*As described in the post, the elote is made more "saucy" then I would if I was making elote for a side dish. This is specifically for the burrito. If I were to serve elote on its own, I would add more corn or even fold in some cooked quinoa!
*If your steak slices are large, I recommend cutting it into bite size pieces.
http://www.vodkaandbiscuits.com/