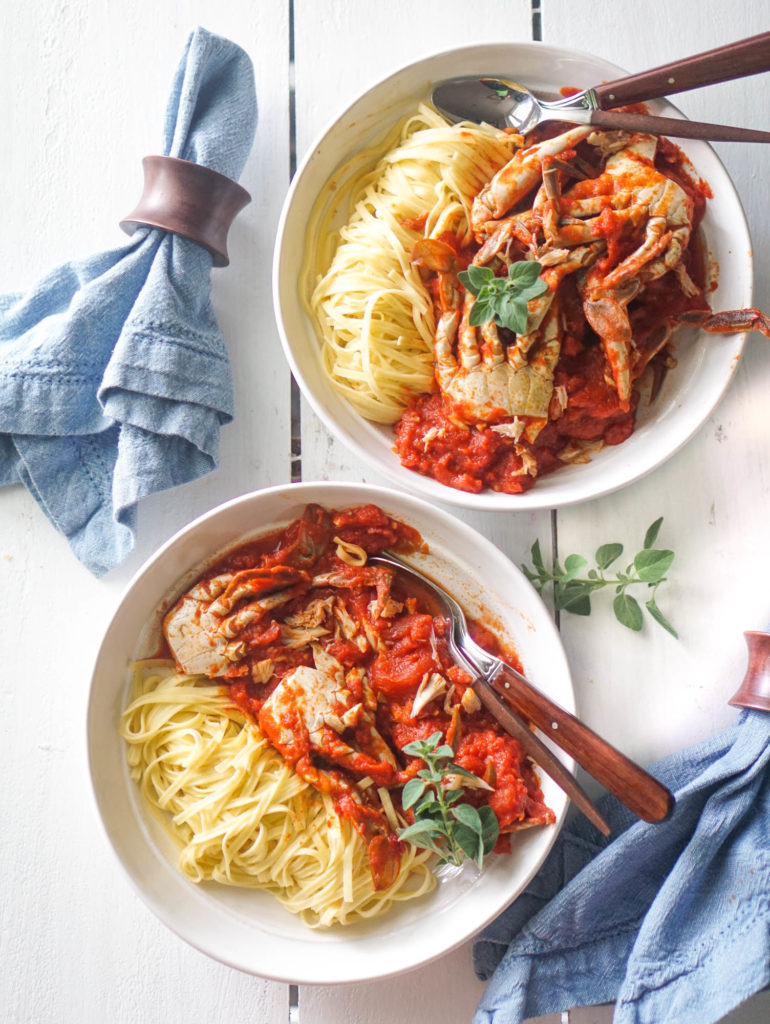 The first thing probably running through your mind is who is Jane? TRUST ME you're going to find out soon. I can almost (like three freakin' weeks) let you in on this little (big) secret, and soon you'll meet Jane. Until then, you're also probably wondering – why the heck are there crabs in your spaghetti crazy lady?
When Scott saw this he asked if I was crazy.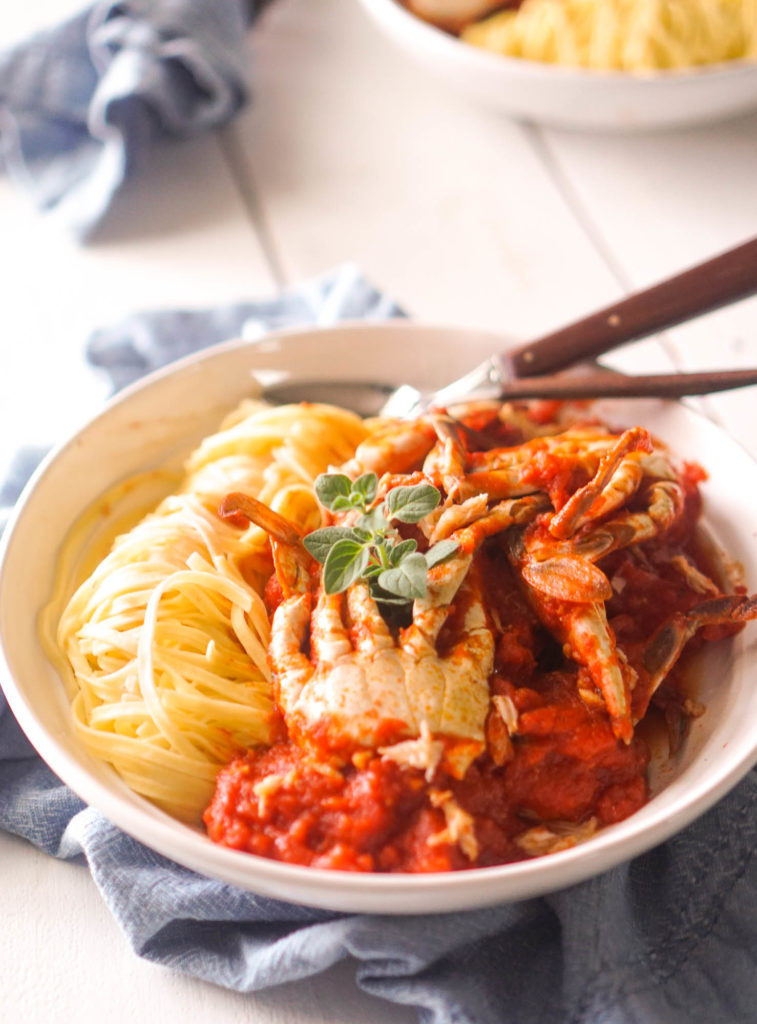 FRIENDS. I used to wonder the same thing every dang time Jane would tell me about this. She swears by it. So with some leftover steamed crabs I gave it a try, now I'm here to convince you to ditch the meatballs, save a few crabs at your next cookout, and make CRAB SPAGHETTI.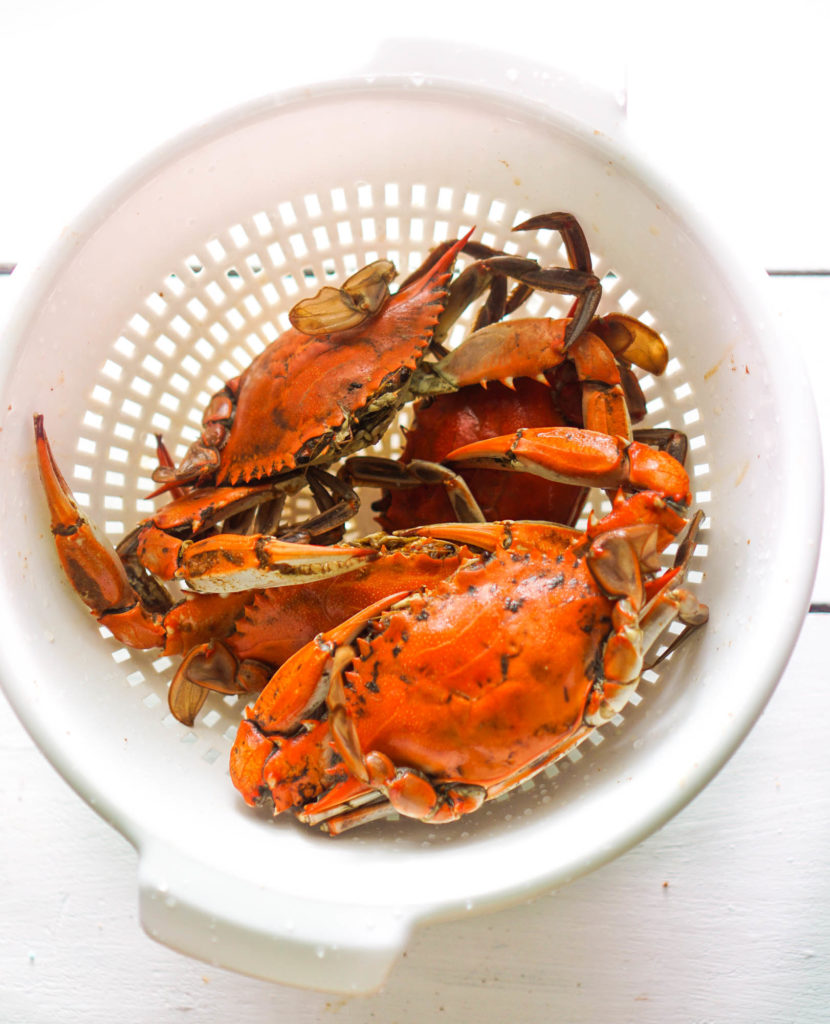 It's really nothing more than steamed crabs, all rinsed and cleaned, sautéed in olive oil and garlic, simmered in your favorite tomato sauce, then served with your favorite pasta.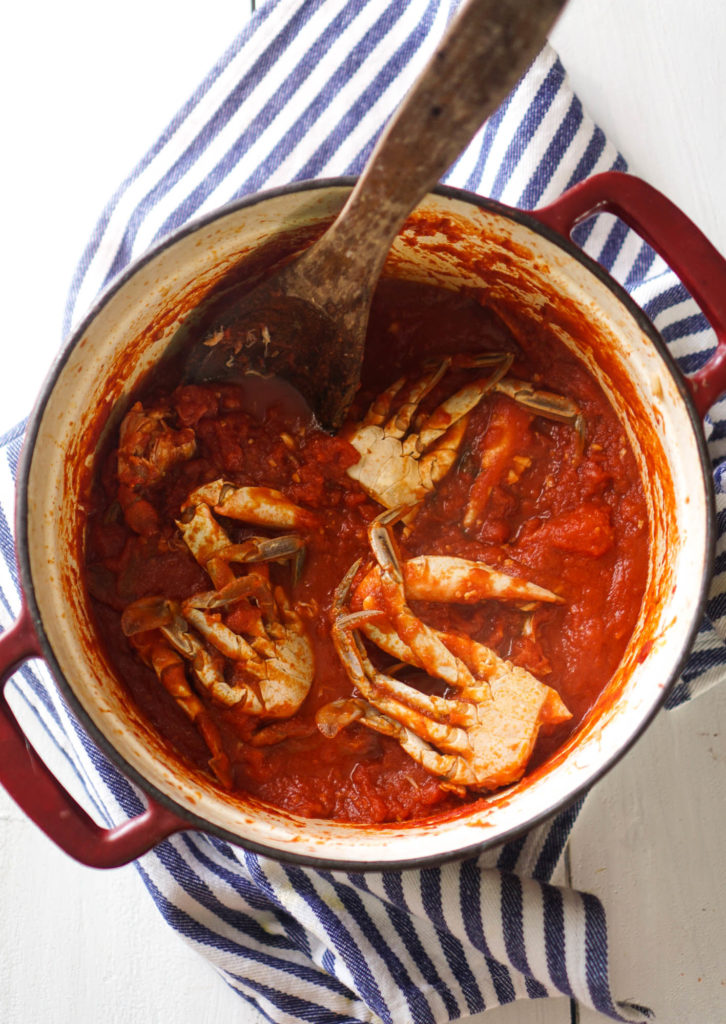 When there's such few ingredients in a dish you want to make sure you're making it with the creme-de la-creme of ingredients. Make sure you're using fresh or day old steamed crabs, a good quality olive oil, your favorite store bought or homemade sauce, and of course your favorite pasta.
For my local friends, I get my sauce and pasta from Baltimore's Trinacria!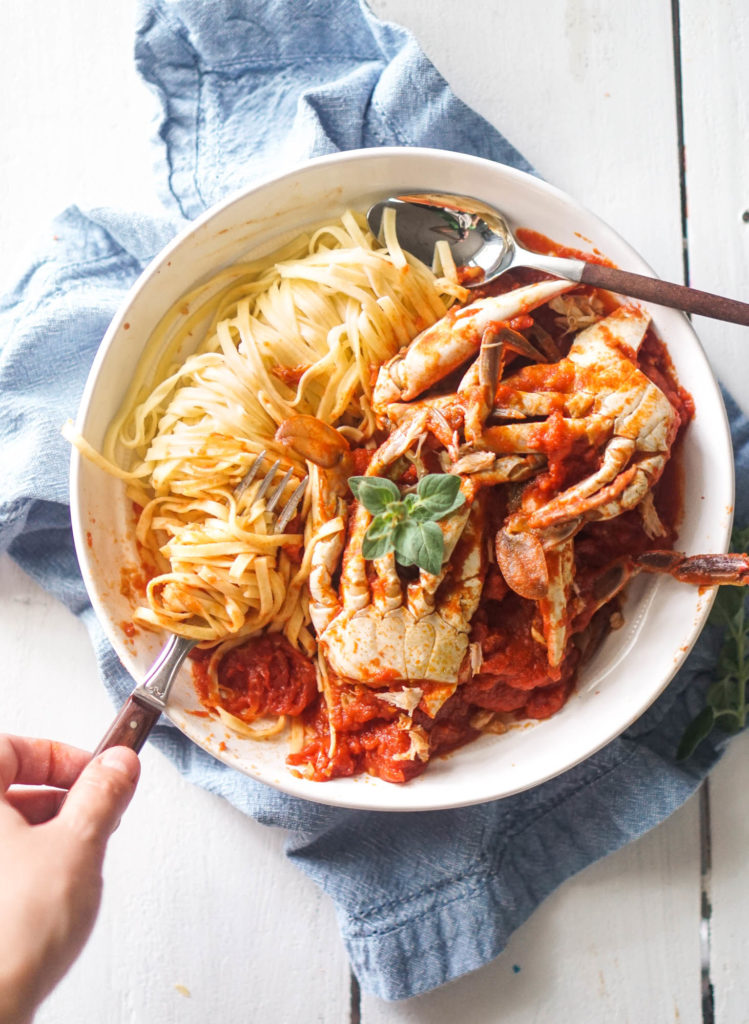 This dish is one of those where you want to break out your bib and plan to get messy. You're gonna pick some saucy crabs, suck the garlic tomato flavor out of the claws, twirl some crab meat into your pasta and sauce, and enjoy the heck out of every swirl, suck, and slurp. Next time you're enjoying crabs snag a few and plan to have pasta in the near future. This dish is fun, makes great conversation, and has some of the best flavors all combined in one.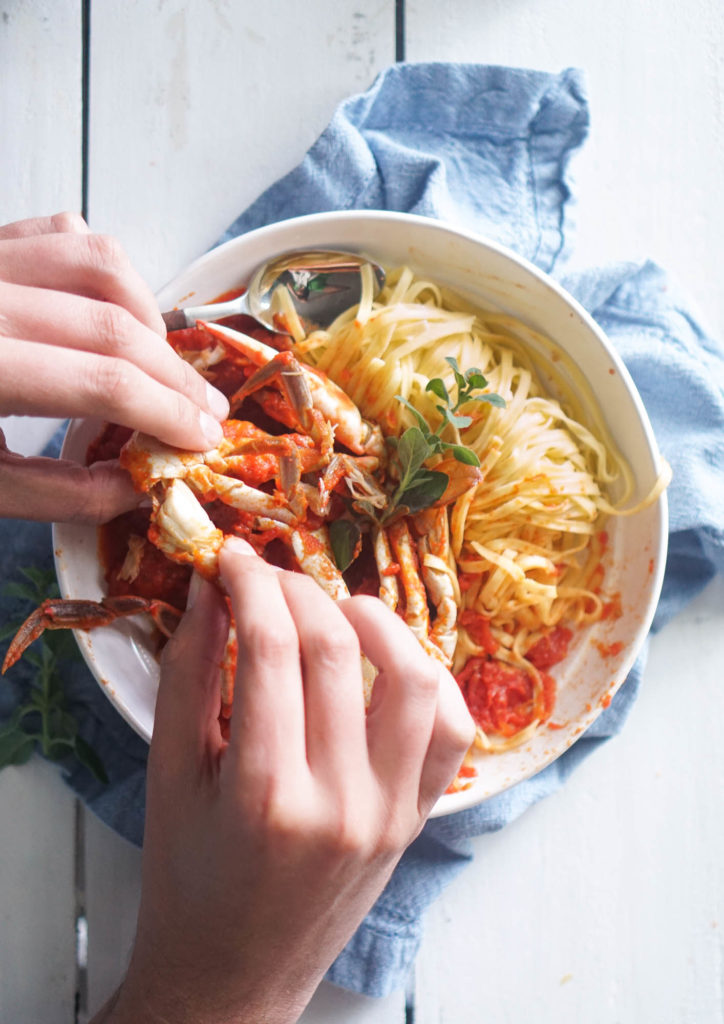 Cheers to all, especially Jane who shared with me this tradition she enjoys with her family, that I now can share with you. Enjoy!
NOTE: if this freaks you out (this recipe is my dad's worst nightmare), you can ditch the whole crab idea and mix in fresh crab meat, or add crab meat with crab legs (which are less intimidating).
Jane's Spaghetti & Crabs
2017-07-13 06:38:27
Serves 4
Leftover steamed crabs simmered in tomato and garlic sauce and served with spaghetti. A simple, classic, and fun dinner!
Ingredients
4 steamed crabs, rinsed and cleaned (preferably no more than one day old)*
olive oil as needed (preferably good quality olive oil)
3-4 cloves garlic, minced
2 32 oz. jars favorite pasta sauce*
8 oz. spaghetti or linguine pasta
Instructions
First, rinse and clean the crabs (see notes below). Cut the crabs in half or quarters, depending on the size, with the legs still attached.
In a heavy bottom pot (like a Dutch oven), add 3-counts of olive oil and heat to medium heat. Add the garlic and cook until fragrant, about 45 seconds. Add the crabs, toss in the oil and garlic, and saute for 4-5 minutes.
Add the tomato sauce. Bring to a boil, then reduce to a simmer, and allow to simmer for 45 minutes. Stir occasionally and maintain heat to prevent burning. If desired, you can toss in some already-picked crab meat.
Just as the sauce has thickened and all of the flavors have incorporated, bring a pot of salted water to a boil. Boil the pasta according to package directions.
Serve the sauce over a bowl of pasta. If needed, season with black pepper. Be sure to supply plenty of napkins, knives to crack open the crab legs, and a bowl to discard shells. This is messy, but sure is worth it.
Notes
To prep the crabs, rinse off any Old Bay or seafood seasoning. To clean, remove and discard the apron, guts, and lungs. There are several helpful tutorials online if unsure.
I used two big jars of my favorite local tomato sauce. You can also use two large cans of San Marzano tomatoes, crushing them as you add them to the crabs. If this is the case, I would saute some onions with the garlic and add a pinch of red pepper flakes. You might need to simmer 15 minutes longer to allow the tomatoes to fully break down.
http://www.vodkaandbiscuits.com/