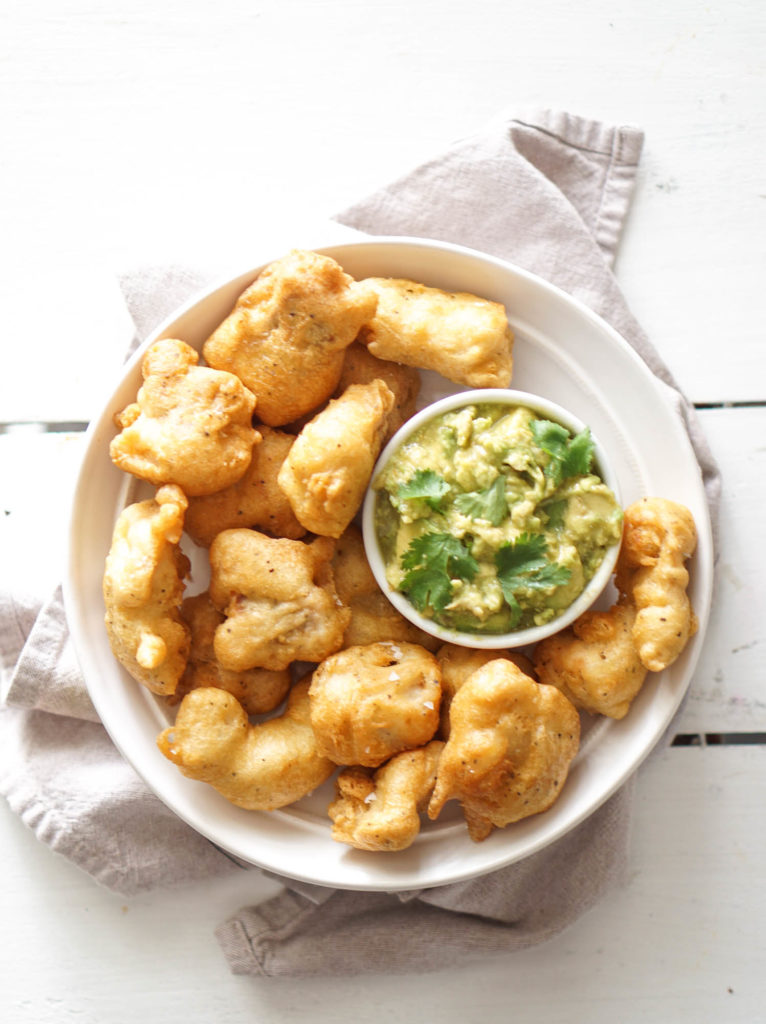 Are you here for the beer batter or fish bites? Because either way you're going to love both.
Local Maryland Rockfish fried in the simplest, easiest, fluffiest, beer batter EVER. Better yet, you can use whatever fish you'd like, shrimp, chicken, tofu, or vegetables.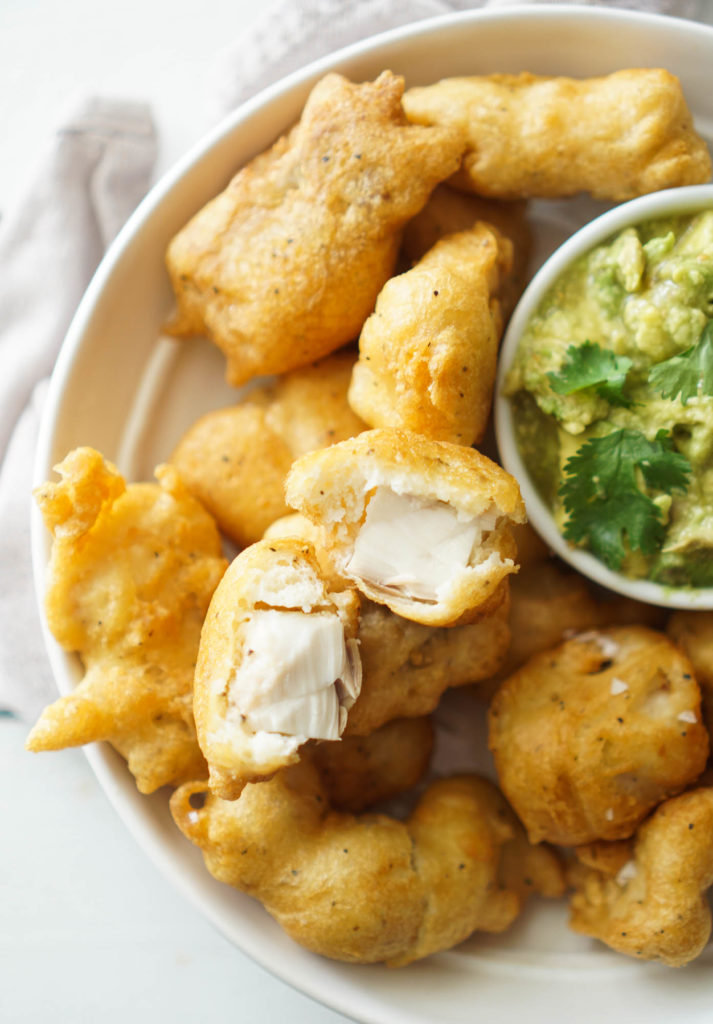 I was inspired by this dish after our recent Outer Banks vacation. I saw fried fish bites on the menu and nearly squealed. Here's what's wrong with my mentality. I won't order a plate of fish and chips, because let's face it, it's an obnoxiously large filet deep fried over a bed of french fries. Delicious? Absolutely. Do my arteries agree? Never.
That's why when I saw fried fish bites served as an appetizer I got SO excited. I can finally cure my fried fish fix with bite size pieces shared with the whole table. Now here's the problem. I won't order an entire fried filet, but sure I'll eat enough bites to make up a filet.
It's all about perception, right? Someone save me.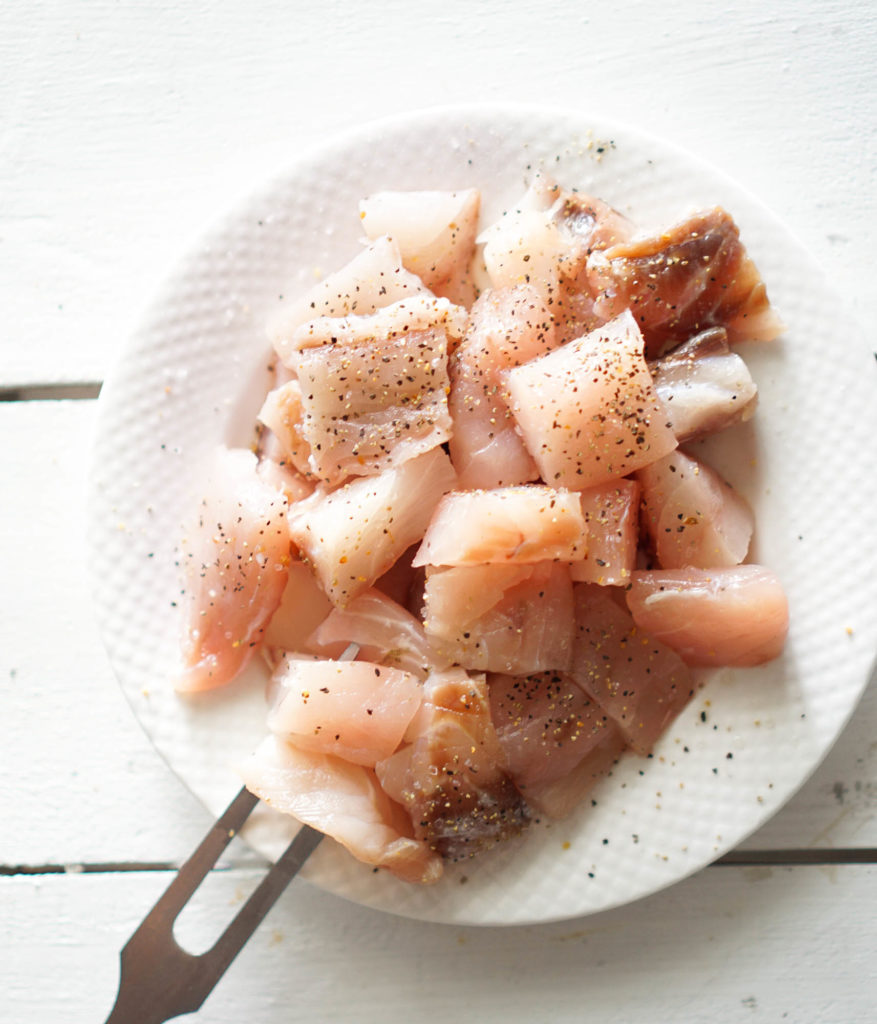 Anyways. This batter is actually a recipe from culinary school and it's been on the list to share with you this summer. Perfect timing. It's flour, baking powder, salt, pepper, an egg, and beer. Couldn't get any simpler. I stick to salt and pepper, but you can certainly add a touch of Old Bay or cayenne pepper.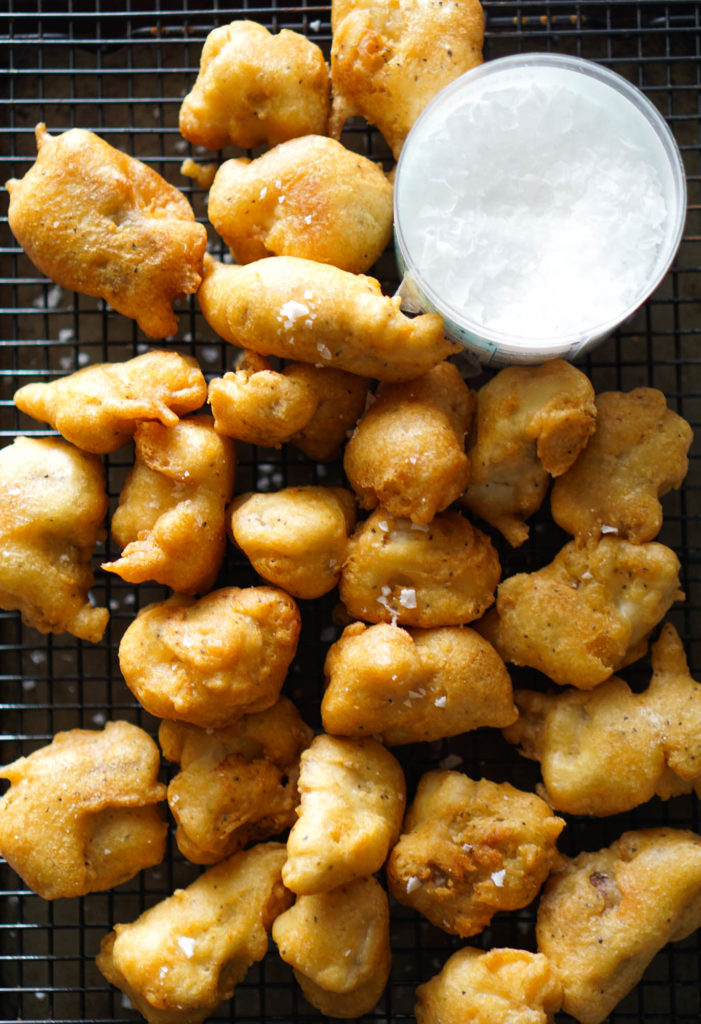 I'll share this in the recipe as well, but the beer batter is going to be thick. I recommend keeping one hand for dredging and the other clean for frying. You're going to need to get your hand dirty to fully coat the pieces of fish so don't think you messed up the recipe because it will be a little more work than your typical dredging recipe.
You do not need a deep fryer, in fact I just use my Dutch Oven with a good glug of frying oil. I use a canola/olive oil blend! The oil is hot (about 375 degrees) so it cooks up fast. Definitely plan to stand by the stove for a few minutes until the fish is completely done.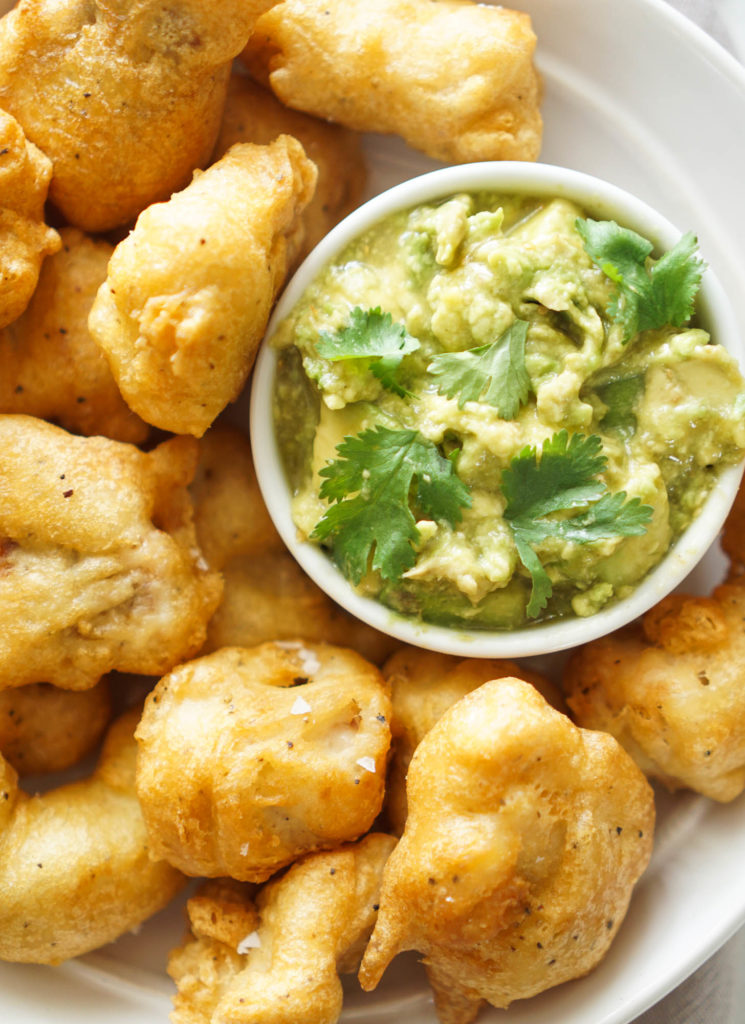 You can serve this with some tartar sauce, a mustard aioli, or some chunky salsa verde like I did. It's nothing more than an avocado mixed up with a splash of store bought salsa verde.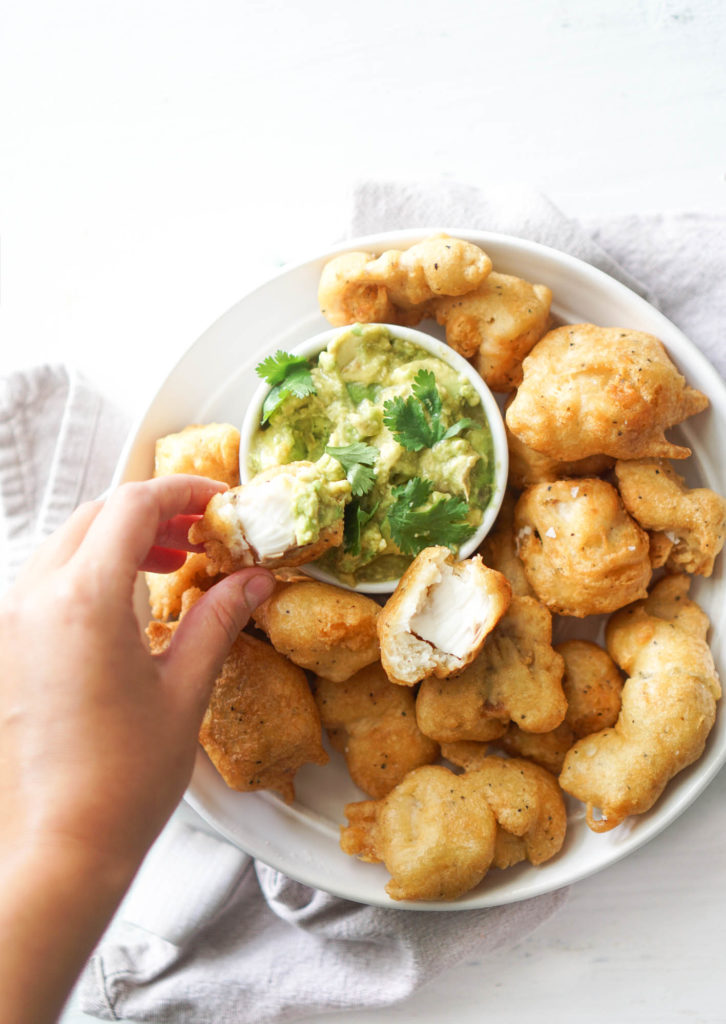 Whether you use the batter for fish or something else, this recipe will not disappoint. This is a great appetizer for 6-8 people with dipping sauce, or even served along side warm tortillas with crunchy slaw for a DIY taco. I think these would also be adorable skewered and displayed around a bowl of dipping sauce. Or simply cut the recipe in half and serve for dinner with some pineapple "fried" rice, because too much fried might be a health problem.
Get creative with this an enjoy!
Beer Battered Fried Fish Bites
2017-07-25 12:04:19
Serves 6
A simple beer batter recipe that is versatile for any type of fish, seafood, chicken, or vegetable!
Ingredients
4 white fish fillets (rockfish, cod, haddock, or halibut work great)(about 1 pound)
1 cup all-purpose flour, divided
1 teaspoon baking powder
Salt as needed
Black pepper as needed
1 egg
1 cup beer (preferably something light)
Canola oil for frying*
Dipping sauce of choice*
Instructions
Cut fish fillets into bite size pieces then sprinkle with salt and pepper to season.
Add 1/4 cup of flour to a plate and set aside.
Sift together the remaining 3/4 cup of flour, baking powder, 1 teaspoon of salt, and 1/2 heaping teaspoon of pepper. Add to a medium bowl. Feel free to add seasoning of choice.
Beat the egg in a small bowl, then stir in the beer. Add to the sifted flour mix. Stir until thick and smooth. There may be a few lumps visible which is OK. Try not to over-mix the batter.
Heat oil in deep fryer or a Dutch oven to 375 degrees. See notes below for suggestions. When ready to fry, dredge the fish pieces in flour first, then the batter. The batter is thick, so I recommend keeping one hand for dredging and the other clean for frying. You will have to toss the fish in the batter with your hand to fully coat. Fry for 2-4 minutes or until both sides are golden brown. I fried my fish pieces in two batches.
Drain over a paper towel lined plate. Taste and if needed sprinkle with a touch of salt to taste. Serve on a platter surrounded by a bowl of dipping sauce of choice. A squeeze of lemon or lime on the fish bites wouldn't hurt either.
Notes
You do not need a deep fryer for this recipe, although you can certainly use one. I add 2 inches of oil to a Dutch oven and heat to 375 degrees. If you do not have a thermometer, test a splash of batter. If it sizzles, it's ready. Just be sure to maintain the heat.
I served mine with a slightly mashed avocado mixed with a few spoonfuls of store bought salsa verde and cilantro. Tartar sauce would also be delicious (and safe if serving for a crowd).
Trader Joe's has my favorite Salsa Verde, by the way 😉
http://www.vodkaandbiscuits.com/