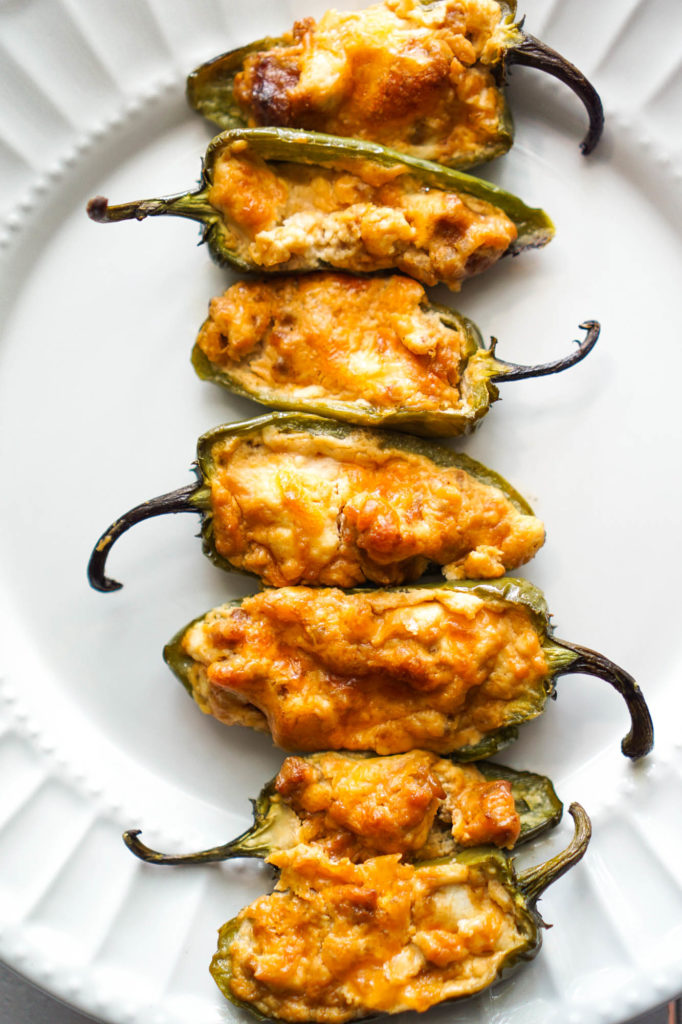 Word on the street is the jalapeno peppers are doing veryyyy well this year. My friend invited me over to pick a bag full of her jalapenos, the produce stand down the street has been getting jalapeno donations, and they're nearly overflowing at the grocery store.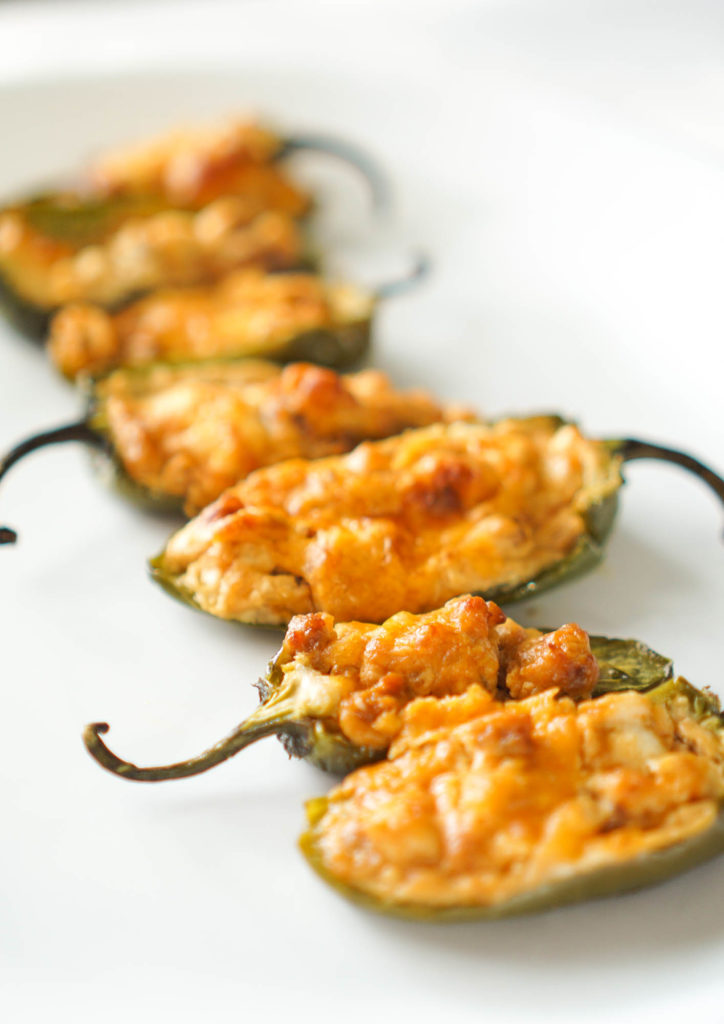 Needless to say, call your friend with a blooming garden of vegetables or hit up your local grocery store because these stuffed jalapenos need to be in your life.
Ps: you can get a whole lot of peppers for very little moneys at Aldi's!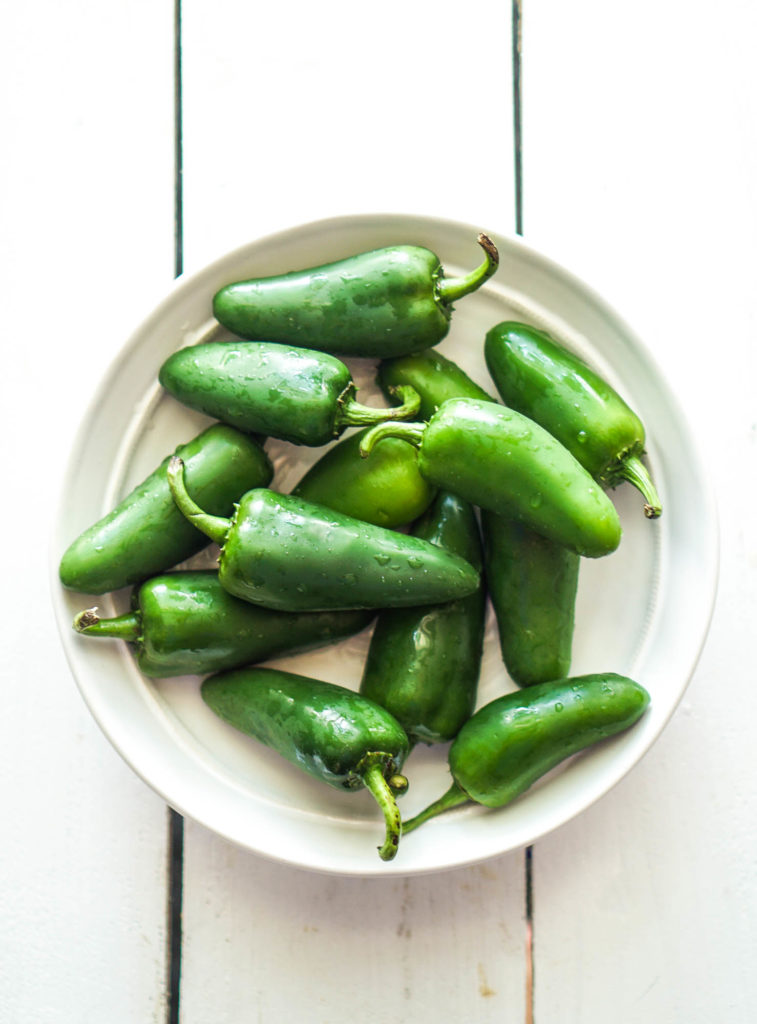 It was the bag of peppers from my friend Katie that inspired this recipe. I picked up chorizo and crossed my fingers that I had cream cheese at home (which I did) and threw together some ingredients that I imagined would taste good. Helloooo cheddar cheese, soy sauce, Worcestershire, garlic, and mustard.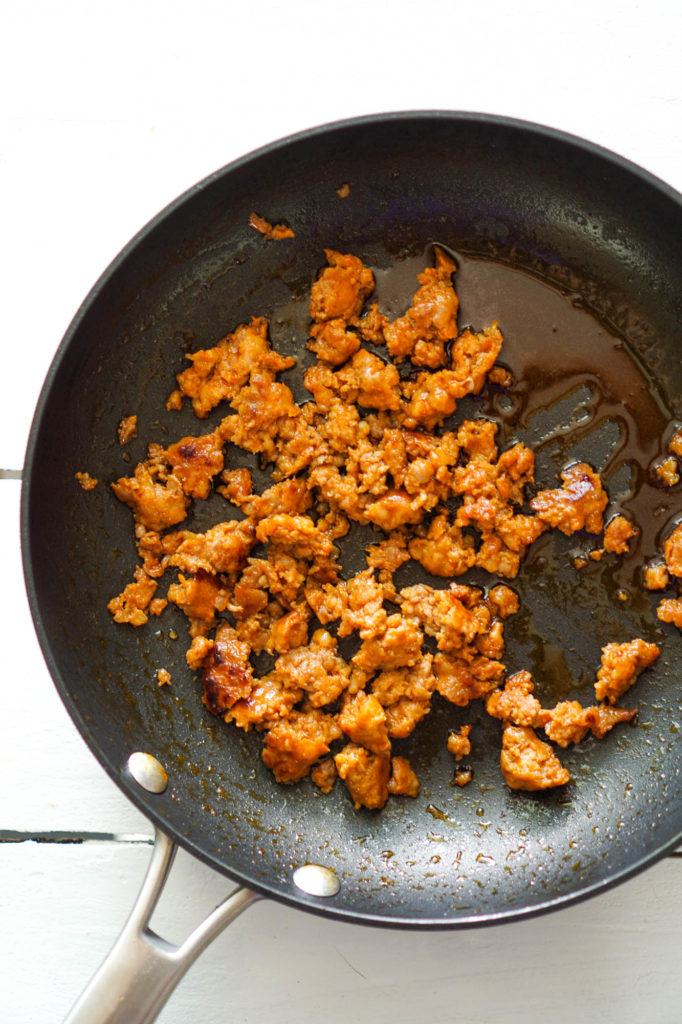 Chorizo and jalapeno (or any pepper) are no strangers in the culinary world. However, when you add a surplus of cream cheese and cheddar cheese something magical happens. Especially when it's stuffed inside a roasted jalapeno pepper. Forget fried jalapenos are a thing, because roasted is SO much better (and easier)(and less messy)(and healthier if we're playing that game) than fried.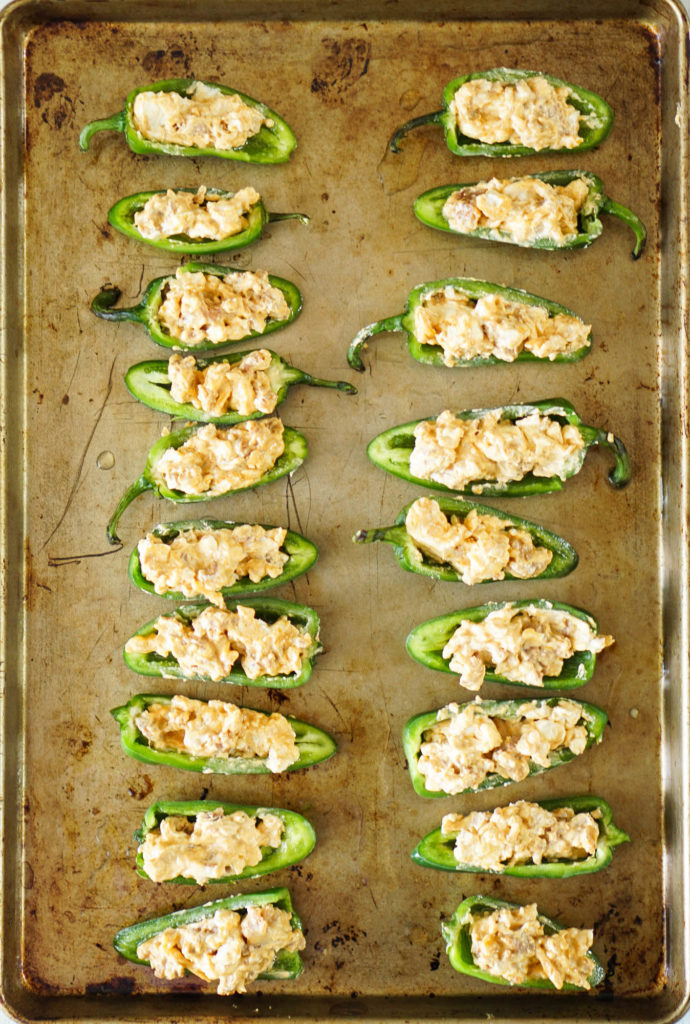 The only pain in this recipe (literally) is prepping the peppers. PLEASE get some gloves before you cut open, scoop out, and put your fingers all in and around a pound of peppers, promise? And with that, don't put your fingers around any body parts that you wouldn't want to burn. Picking up what I'm putting down?
Once that's done, it's a matter of cooking up the sausage and mixing it with the cream cheese fixings, stuffing, then baking. This can come together in less than an hour from start to finish, but to make life easier, you can of course prep these a day or two in advanced.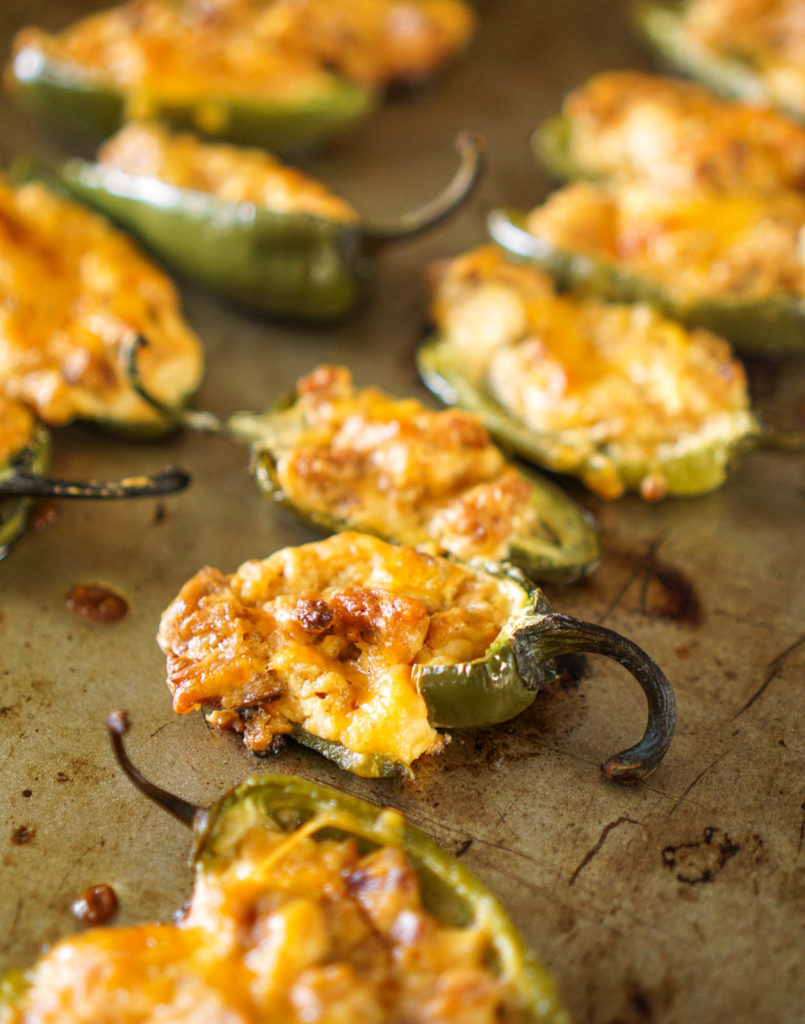 These have the perfect flavor combinations of salty, cheesy, and spice, with the creamy texture of the filling and tenderness of the pepper.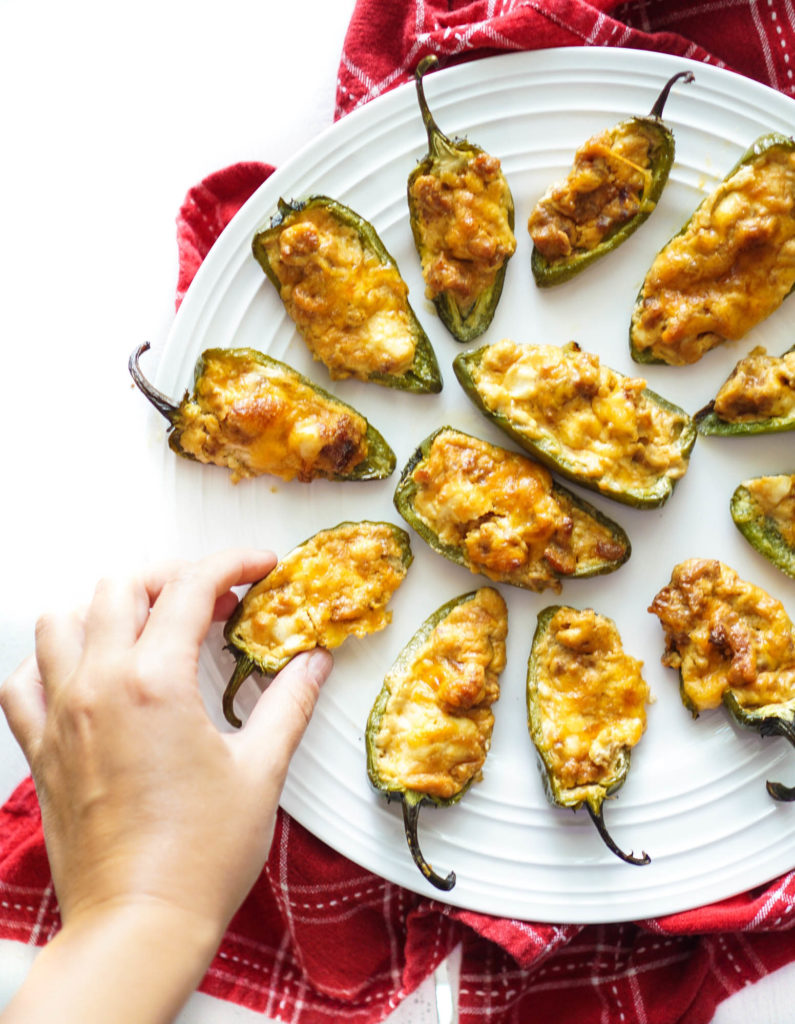 The ingredients in these are perfect for a small or large batch, so whether you want to test them out for dinner one night or invite friends over (think football season!), be sure to enjoy!
Chorizo & Cheddar Stuffed Jalapenos
2017-08-01 13:07:05
Serves 7
Chorizo and cheddar stuffed jalapenos are cheesy, spicy, and perfectly salty appetizer that are incredibly addictive.
Ingredients
1 pound jalapenos (about 14-16 peppers)
3 uncooked links chorizo sausage
8 oz. cream cheese (1 block), softened
1 tablespoon low-sodium soy sauce
1/4 cup shredded cheddar cheese, plus more for garnish
1 tablespoon Worcestershire
1/2 teaspoon ground mustard
1/2 teaspoon garlic powder
olive oil as needed
Instructions
Preheat oven to 350 degrees.
First, prep the peppers (I recommend using gloves for this step). Slice them in half lengthwise, then remove the seeds and ribs using a spoon or paring knife. Rinse and pat dry, then line on a baking sheet that has been drizzled with olive oil. Toss the peppers to coat in the oil and set side until needed.
Next, make the filling. Heat a saute pan with 2-counts of olive oil over medium-high heat. Squeeze the sausage out of the casing and saute for 5 minutes until cooked through. While cooking, break the sausage up with your cooking utensil to crumble. Drain the excess oil/fat and add to a large bowl with the cream cheese, soy sauce, Worcestershire, cheddar cheese, and seasonings. Taste and adjust seasoning if necessary. I personally did not add any salt or pepper as it will be salty/peppery enough from the soy sauce/pork.
Stuff each pepper half with a spoonful of filling. Sprinkle with extra cheddar cheese if desired. Bake for 20 minutes or until the pepper is tender. If needed, broil on high for a minute or two to brown the cheese.
Notes
The peppers, filling, or stuffing the peppers can be done a day or hours in advanced before baking.
I recommend 3 stuffed peppers per person.
You can leave some seeds in the peppers if you like things extra spicy 😉
http://www.vodkaandbiscuits.com/