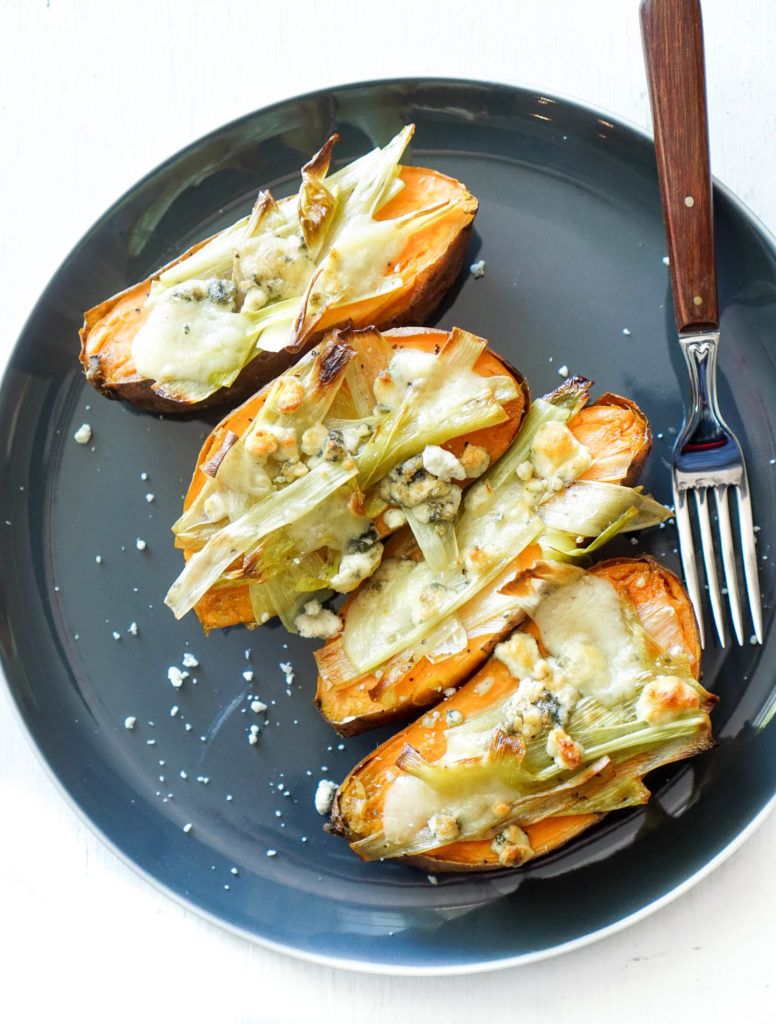 I've been going back and forth debating whether or not to turn this recipe into a blog post because truth is, it's 5-ingredients, incredibly simple, and doesn't really need a recipe.
Then I thought, there HAS to be someone else out there who also has abandoned sweet potatoes on their counter begging for attention, and needs a little inspiration. Guilty.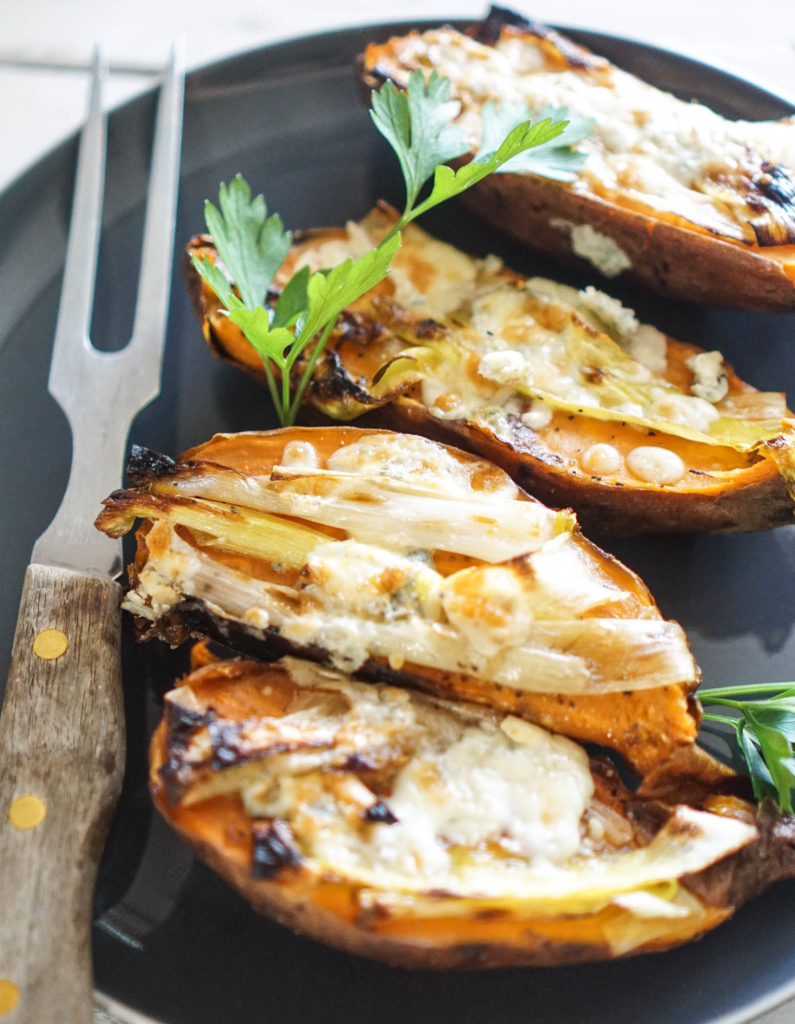 Baked sweet potatoes, sauteed buttery leeks, and Gorgonzola cheese all come together for this fool-proof lunch, side dish, or whenever you're feeling a sweet potato.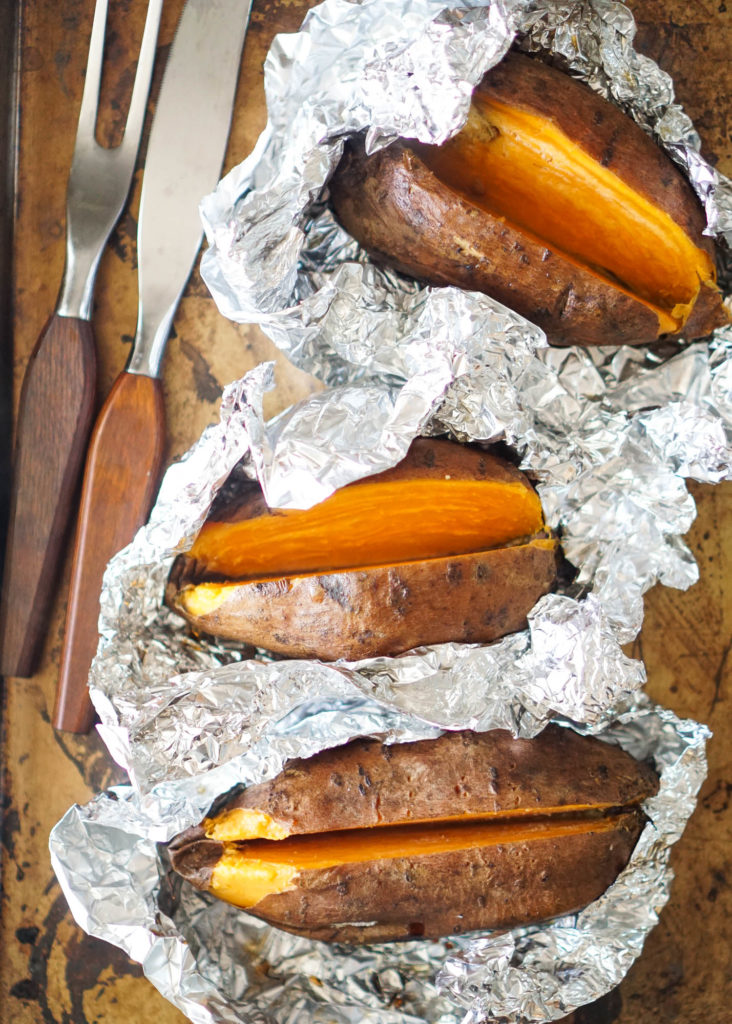 I love this because it's perfect for meal prepping, can be made a day or two in advanced, and has incredible flavors and textures for a dish made with such few ingredients.
The first step is to bake off sweet potatoes, which is nothing more than your typical poke-a-few-holes-wrap-in-foil recipe. I rub my potatoes in olive oil and give a good sprinkle of salt before wrapping it up and throwing it in the oven for an hour.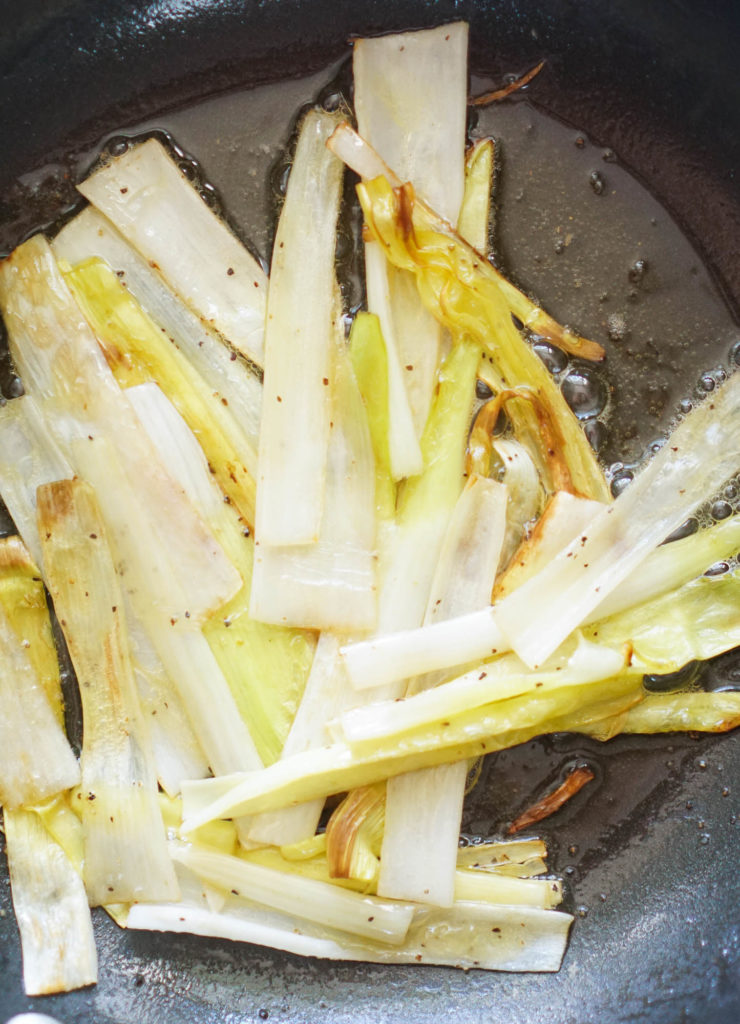 Then there's the leeks. Almost always when I buy leeks, I immediately cut off the big leafy greens, remove the stem, and cut the leeks into quarters to give long strips of leek. It gets stored into a mason jar filled with water, and from there I either leave the leeks as is or cut them into rings. For texture purposes, we want the long ones for this recipe.
They get cooked on the stove top until tender and browned in butter, olive oil, salt, and pepper.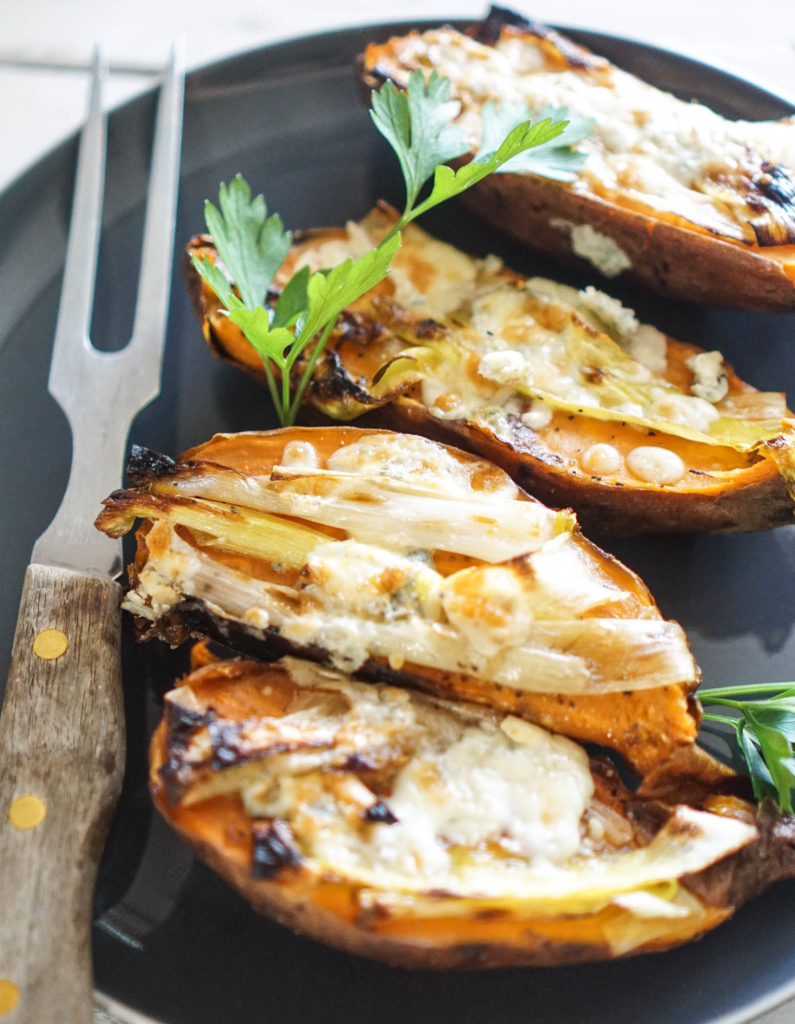 The baked potatoes get cut in half, seasoned once more, topped with the buttery leeks and a sprinkle of Gorgonzola cheese, then hits the broiler for three minutes.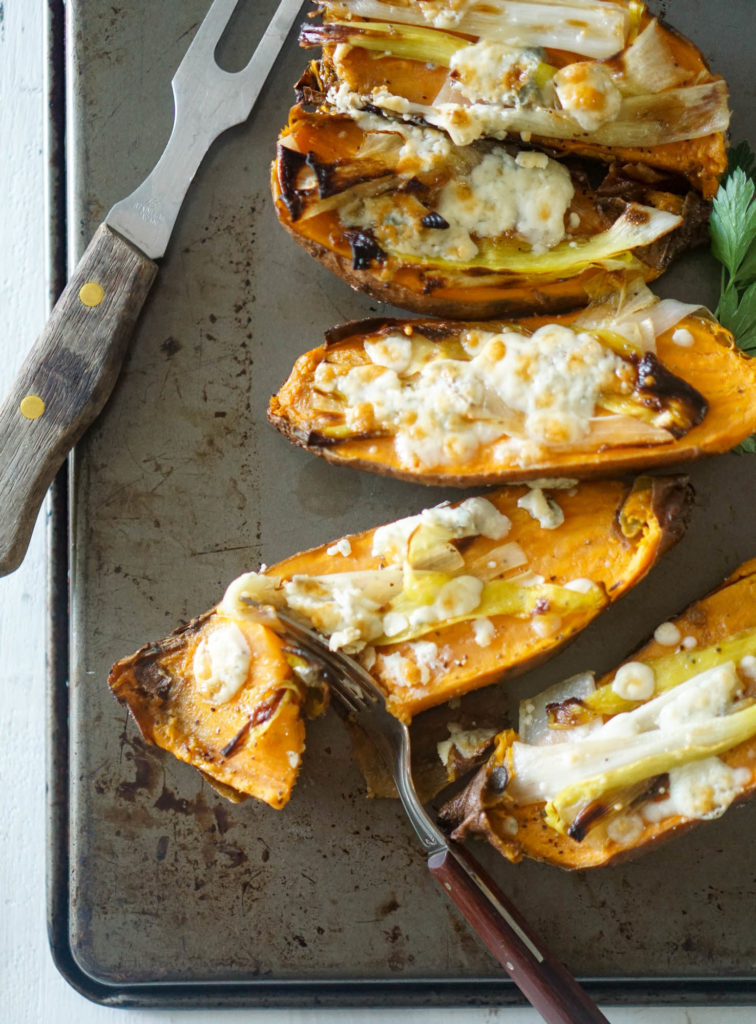 These are PERFECT served along side a steak for dinner or served alone for lunch. I even wouldn't be against serving these on a beautiful platter surrounded by fresh herbs for Thanksgiving. Am I already thinking about Thanksgiving when the leaves haven't even turned yet? Maybe 😉
Enjoy!
Sweet Potatoes with Buttery Leeks & Gorgonzola
2017-09-18 06:31:09
Serves 4
Baked sweet potatoes topped with buttery sauteed leeks and Gorgonzola cheese. These are perfect for an afternoon lunch, or side dish along side steak!
Ingredients
2 large sweet potatoes
1 leek
2 tablespoons butter or ghee
Gorgonzola cheese crumbles as needed
Salt and pepper as needed
Olive oil as needed
Instructions
Preheat oven to 350 degrees.
First, bake the sweet potatoes. Poke a few holes in the potatoes using a fork. Rub with olive oil and sprinkle with salt (especially if you plan on eating the skins). Wrap with foil and bake for 50 minutes to 1 hour or until fork tender.
When the potatoes are finished baking, prep the leeks. Cut and discard the green leafy stems (or freeze them for stock). Cut and discard the stem, then cut the leeks lengthwise into half, then cut in half once more to create long 3" pieces.
Heat the butter and a splash of olive oil in a small saute pan over medium-high heat. Add the leeks, sprinkle with salt and pepper to taste, and saute for 4-5 minutes until soft and the ends are starting to turn brown. Remove from the heat.
Cut the sweet potatoes in half and lightly season the insides with salt and pepper to taste. Top with the leeks and Gorgonzola cheese crumbles (or whatever cheese you desire. Swiss cheese is delicious and so is feta).
Increase the oven to broil. Broil the potatoes for 2-3 minutes until the cheese has melted.
Delicious!
http://www.vodkaandbiscuits.com/