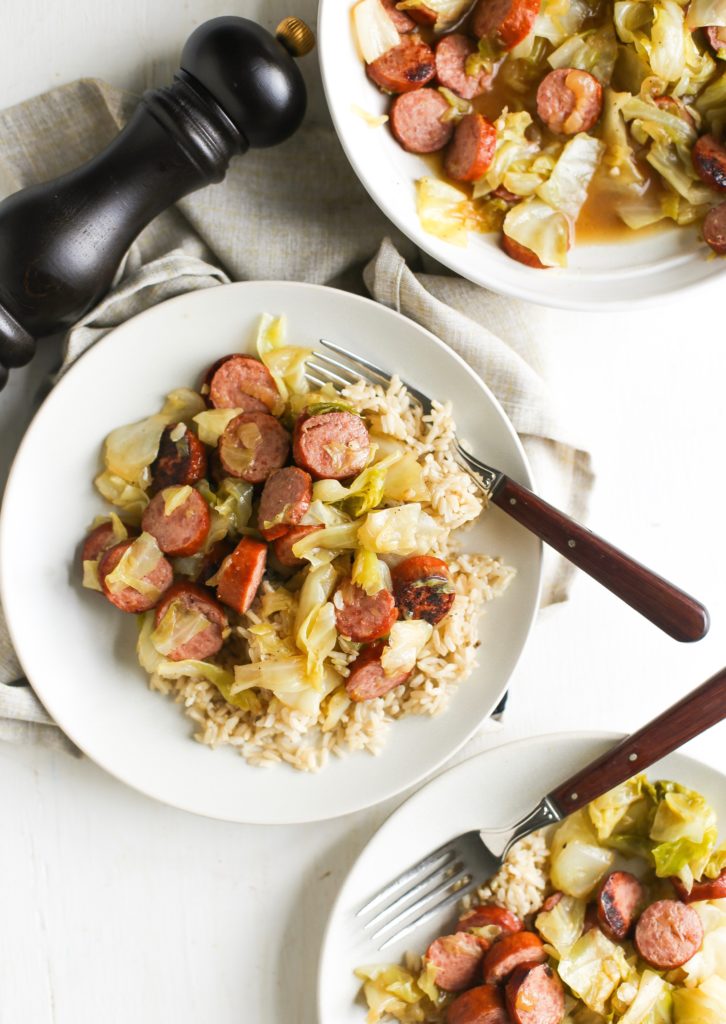 Who else thinks cabbage is the most underrated vegetable out there? One head of cabbage can yield multiple recipes, it's inexpensive, lasts forever in the fridge and is delicious eaten however you prepare it.
My favorites?
steamed with veggies & shrimp
stir fried with noodles
finely shredded for nacho garnish (oh the crunch!)
wilted into soups
corned beef and cabbage wraps
roasted (yes! it's a thing!)
pan fried with turkey kielbasa over with rice and a lil' mustard. MMM.
I would LOVE to hear some of your favorites.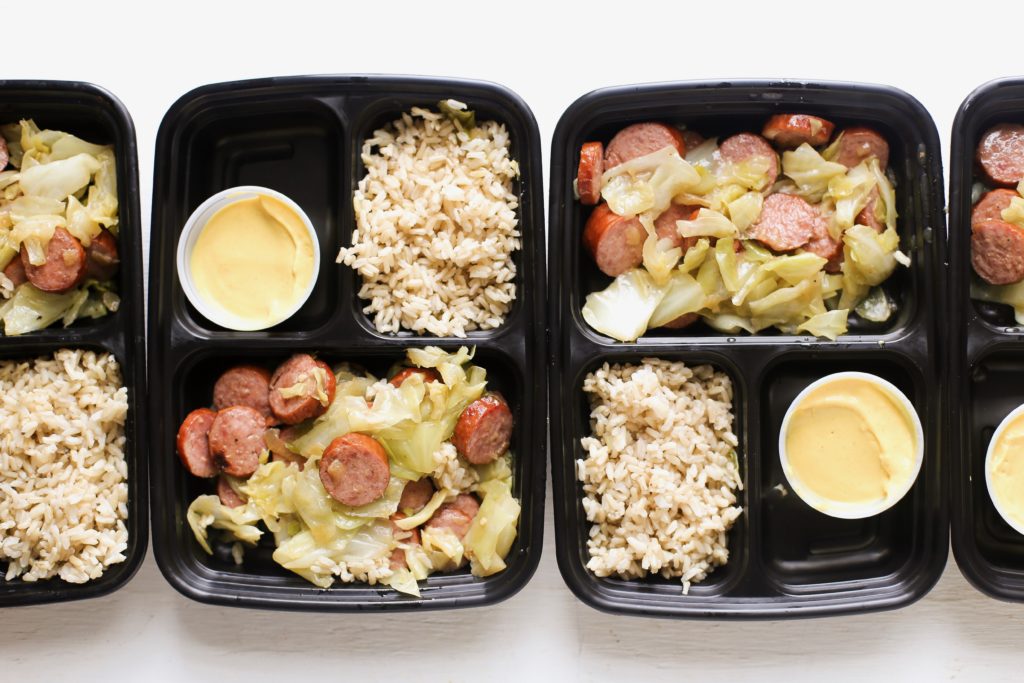 I made this for dinner a few months ago and shared the process on Instagram stories. I didn't think twice about sharing the recipe because I thought people would think it's too simple, too boring and only something I go crazy for. THOUGHT WRONG. After many requests, not only am I excited to share this, but I'm hoping I can inspire someone to keep a head of cabbage in their produce drawer and get creative with it.
This recipe is so simple and goes a little something like this: saute onions with garlic in olive oil and butter, crisp up the kielbasa, fry up the cabbage, season season season, add a splash of apple cider vinegar and serve it away with rice and spicy mustard.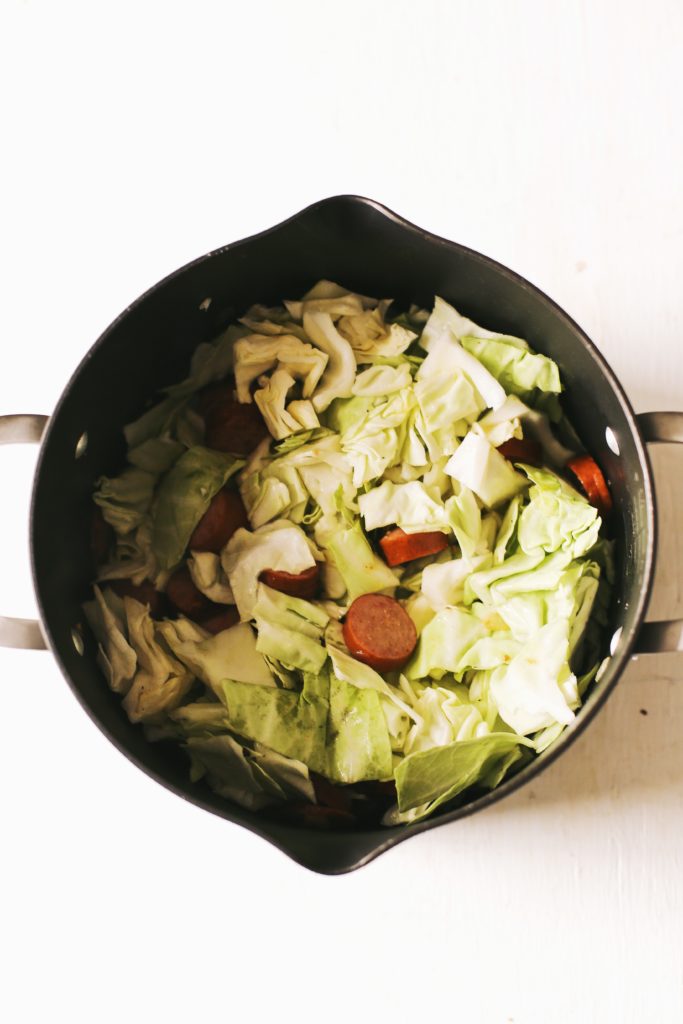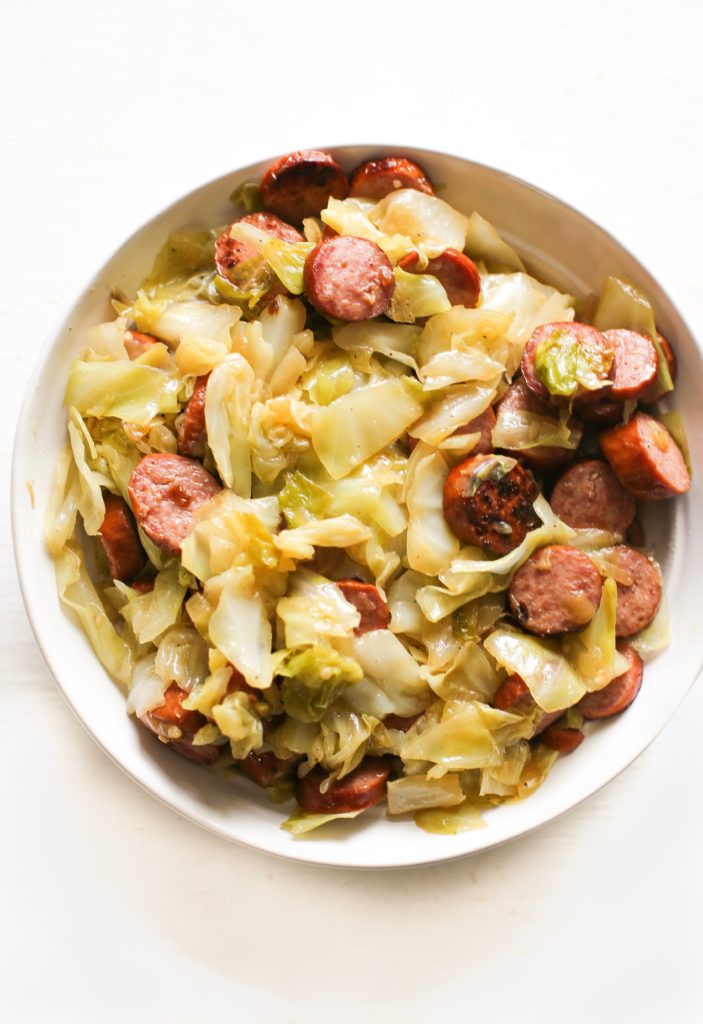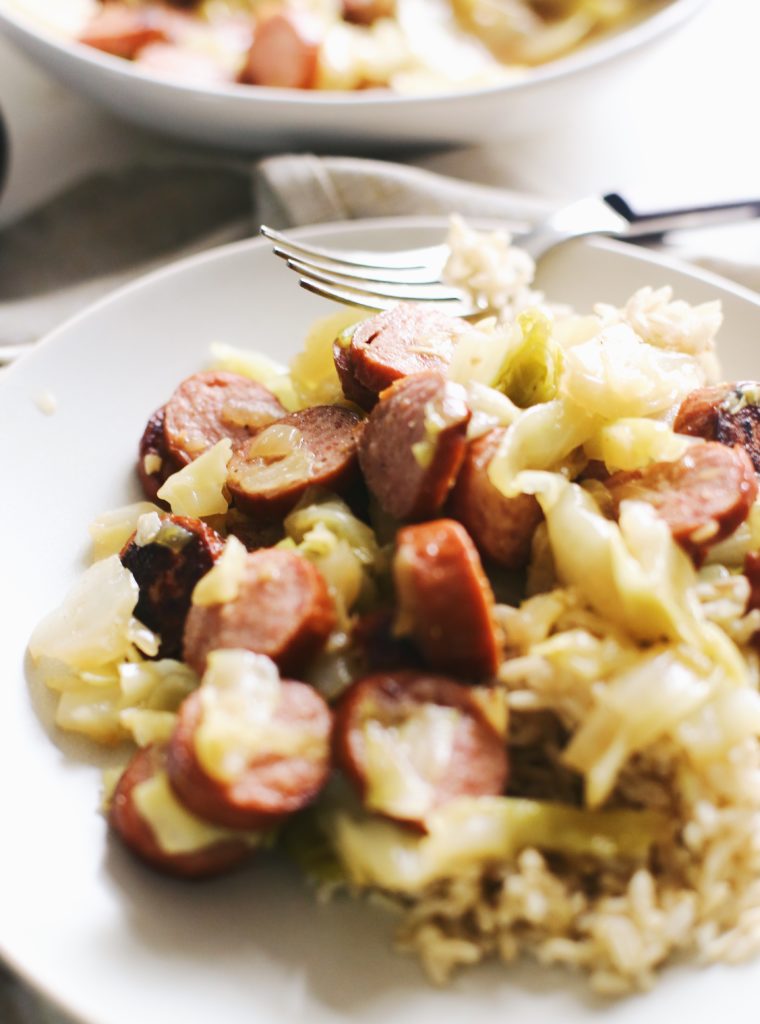 Effortless. Minimal prep. Inexpensive. So comforting. Please make this and if you haven't already, hop on the cabbage wagon with me.
Kielbasa & Cabbage
2019-01-17 08:38:55
Serves 6
An easy, affordable stir fry with kielbasa sausage and cabbage served over rice. Perfect for a weeknight dinner or made in advance for a week's worth of lunches.
Ingredients
1 medium onion, diced (about 1/2 cup)
2 garlic cloves, minced (1 teaspoon)
1/2 head cabbage, cut into 1" pieces (about 5-6 heaping cups)
2 12 oz. links of Kielbasa*, cut into slices
1 Tablespoon apple cider vinegar
1/4 cup chicken stock
salt and pepper as needed
olive oil as needed
butter as needed
2 cups cooked rice
Instructions
In a large dutch oven or heavy bottom pot, heat 1 tablespoon of butter and 1-count of olive oil over medium heat. Add the onion and cook for 3 minutes until translucent in color. Add the garlic and cook for an additional 45 minutes, stirring until fragrant.
Add the Kielbasa slices and distribute evenly in the pan. Cook on each side for 4-5 minutes, monitoring the heat so the sausage crisps, but does not burn. Take a few pieces while no one's looking, then yell at your significant other when he/she comes and steals some bites. Ha! Just kidding!
Stir in the cabbage and toss so it coats in the sausage/onions/oil. Add 2 additional tablespoons of butter, reduce heat to medium low and cover the pot half way. Allow to cook for 15-20 minutes, stirring every 5 minutes until the cabbage is wilted and tender. Season with a few pinches of each salt and pepper.
While the cabbage cooks, prepare your rice according to package directions (I throw mine in the rice cooker before the cabbage is added).
Once the cabbage is tender, stir in the vinegar and allow to cook for 2 more minutes. Taste and adjust salt and pepper to liking.
Pour the cabbage mix into a serving bowl and return the pot back to the stove over medium heat. Stir in the chicken stock while scraping the size of the pot to deglaze the pan. Bring to a boil and reduce for one minute. A little butter here wouldn't hurt either! Pour the juices over the cabbage and serve over rice.
Serve with a side of spicy mustard and enjoy!
Notes
You really only need 1 link of Kielbasa, but I'm assuming you are guilty like me who decides to eat half of the sausage before cooking.
I prefer turkey Kielbasa, but you can use pork, smoked, chicken or whatever you desire. Your grocery store will half plenty of Kielbasa options found in the cooked sausage or bacon section!
This will serve 6 lunch size portions or 4 dinner portions.
http://www.vodkaandbiscuits.com/