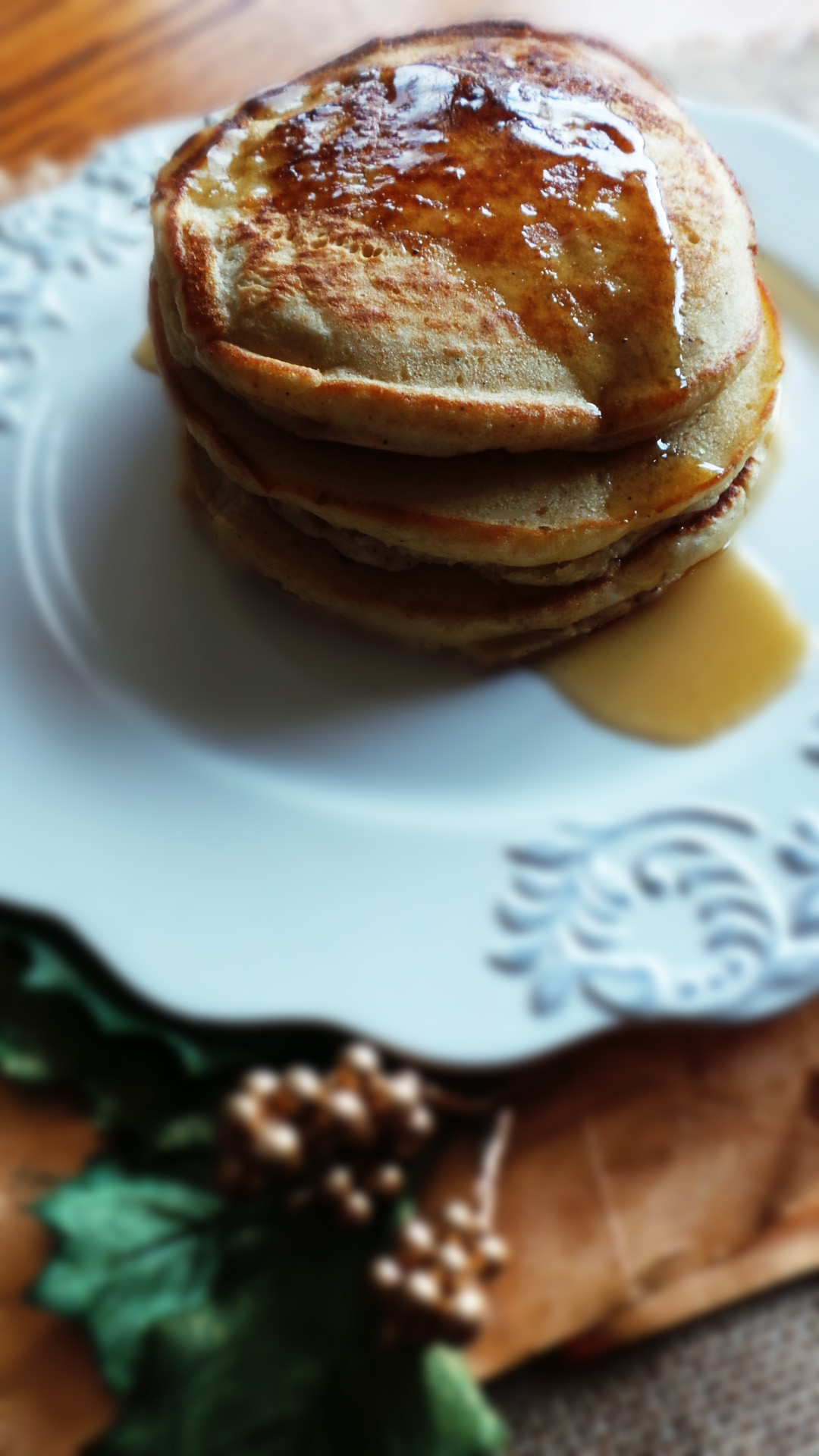 Eggnog, like many other things in life, I find is a hit or miss. People either love it or hate it and there's no in between. I find its creamy texture and spiced aroma to be a holiday traditional delight. Unfortunately, this delight is not so light. The average serving of original eggnog is nearly 200 calories, 11 g. of fat, and that's ONLY FOR A QUARTER OF A C UP. Whew. I decided to bend the rules a bit and make a lighter eggnog. I was worried at first. Without the fat will my drink be just as creamy and delicious as the grocery store's? One failed attempt later and I found out that yes. It's possible. And it's delicious.
The process of making eggnog is pretty simple. Combining the milk with the flavorings in a saucepan and mixing the sugars and thickener in a separate bowl. Tempering the two, then bringing in back to the stove to thicken. Tempering (in this case) is the process of slowly adding a hot liquid to an egg mixture. When I say slow, I mean slow. Eggs can cook and we don't want scrambled yuck stuff. Tempering is the best way to prevent that. After your milk comes to a simmer, start with a ladle and slowly add the hot milk into the egg yolk-sugar-cornstarch mix, while whisking at the same time. This will make more sense once you read the recipe. There's a helpful trick I picked up in school, and that is using a rolled up kitchen towel to hold your bowl as you're mixing. This way you'll have your bowl in tact while you whisk with your dominate hand and slowly add in your milk with your other hand. I start with three ladles before just pouring in the rest straight from the sauce pan. If you're constantly whisking, your eggs won't curdle. It's magic.
Once your milk and eggs are combined, you want to bring them back to the sauce pan and warm it up (I kept my heat at medium). Stir with a wooden spoon until the nog thickens. This is the hard part. If it gets too hot for too long, it'll curdle. I've read that curdled eggnog can be fixed with a few seconds in a blender (which happened to me initially), but I decided to start over. My second attempt I stirred for 2 minutes over medium heat. It probably could have used another minute, but better safe than sorry. I strained mine, chilled it, sprinkled it with some nutmeg, and may or may not have added a necessary amount of rum. Time flies when you're drinking rum. You know what else you could do with your eggnog?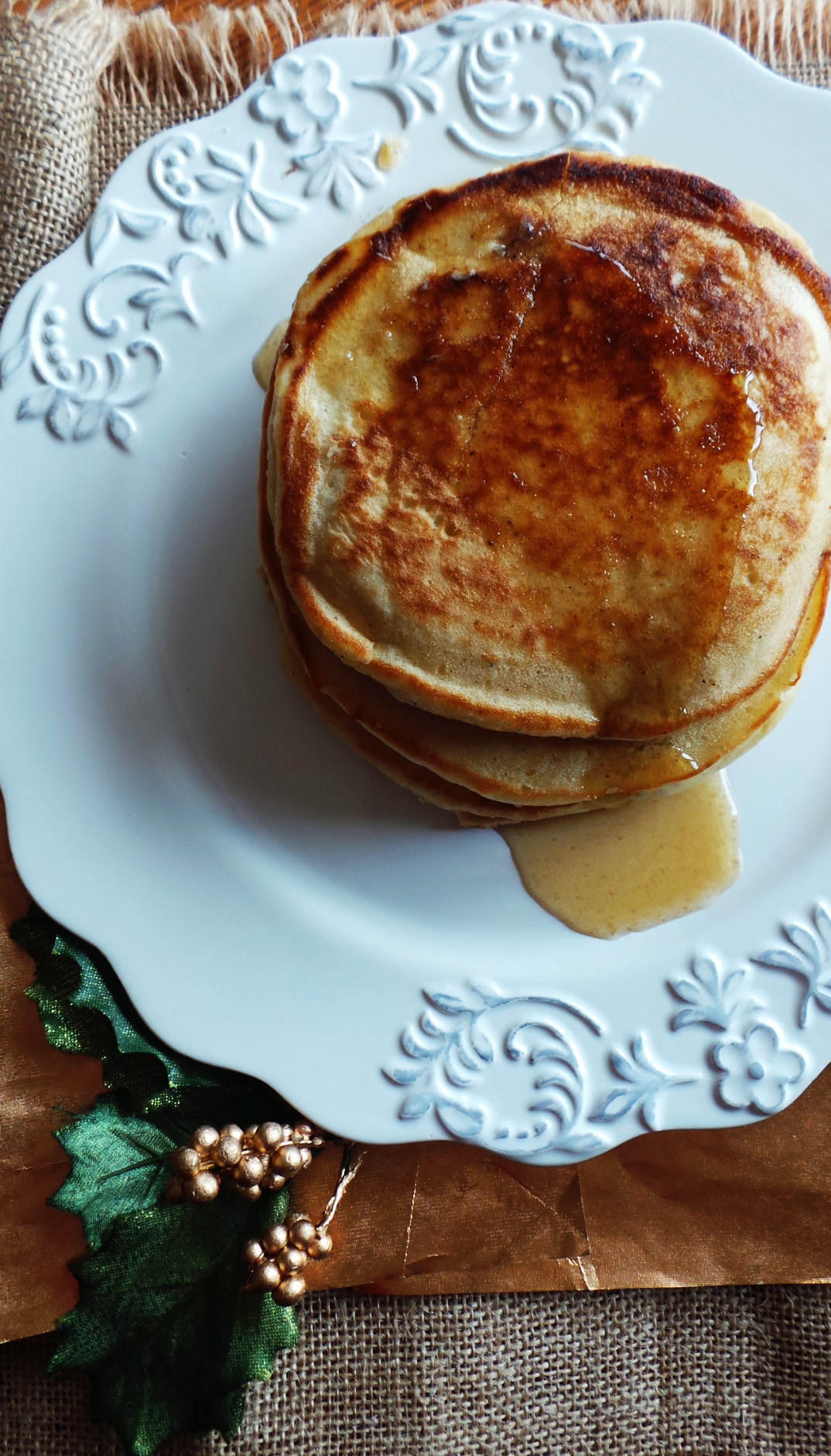 Pancakes….and since our eggnog is low-fat, these are low-fat eggnog pancakes. Bada boom, bada bam.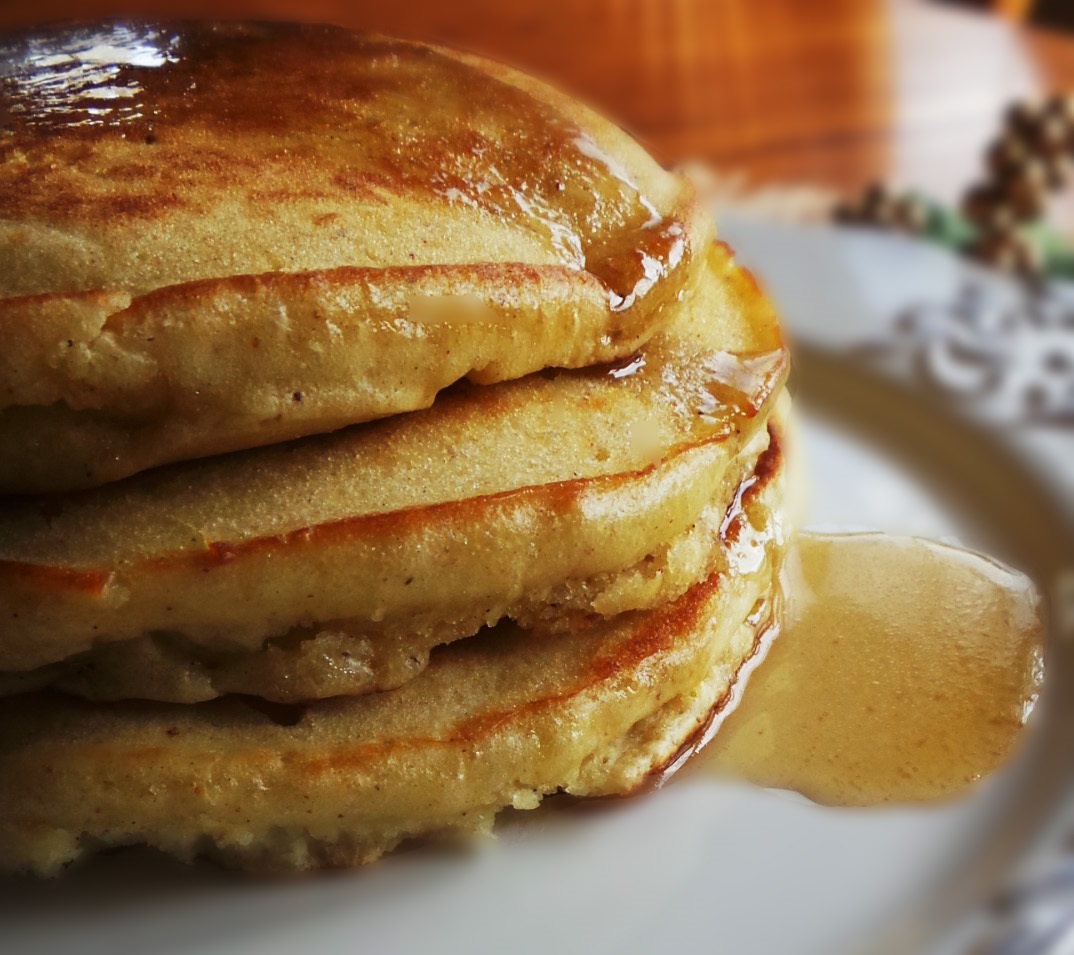 I intended on making this two separate posts: one for low-fat eggnog, and one for pancakes, however thanks to my unfortunate inabilities with technologies, alllllll of the beautiful eggnog pictures deleted. I guess that means I have to make more, right? Therefore, I'm adding two separate recipes into this post. I'll refer to 1 cup. low-fat eggnog in the pancake recipe, and that recipe will be located just above it. Scroll down, you'll see. I'm not including the recipe for the syrup more or less because I didn't measure anything out. Ugh. Also because I added some rum, and not everybody has rum on hand. I simply took about 1/4 stick of butter and threw it in a sauce pan with some pure maple syrup and a shot of dark rum (or two). I brought it to a simmer, gave it a good stir, forced my nose out of the pan, and gave it a little love. That was my buttery rum syrup. My gawd it was delicious. If you don't have any rum, use what you have on hand! Although I must say, rum works wonders in eggnog.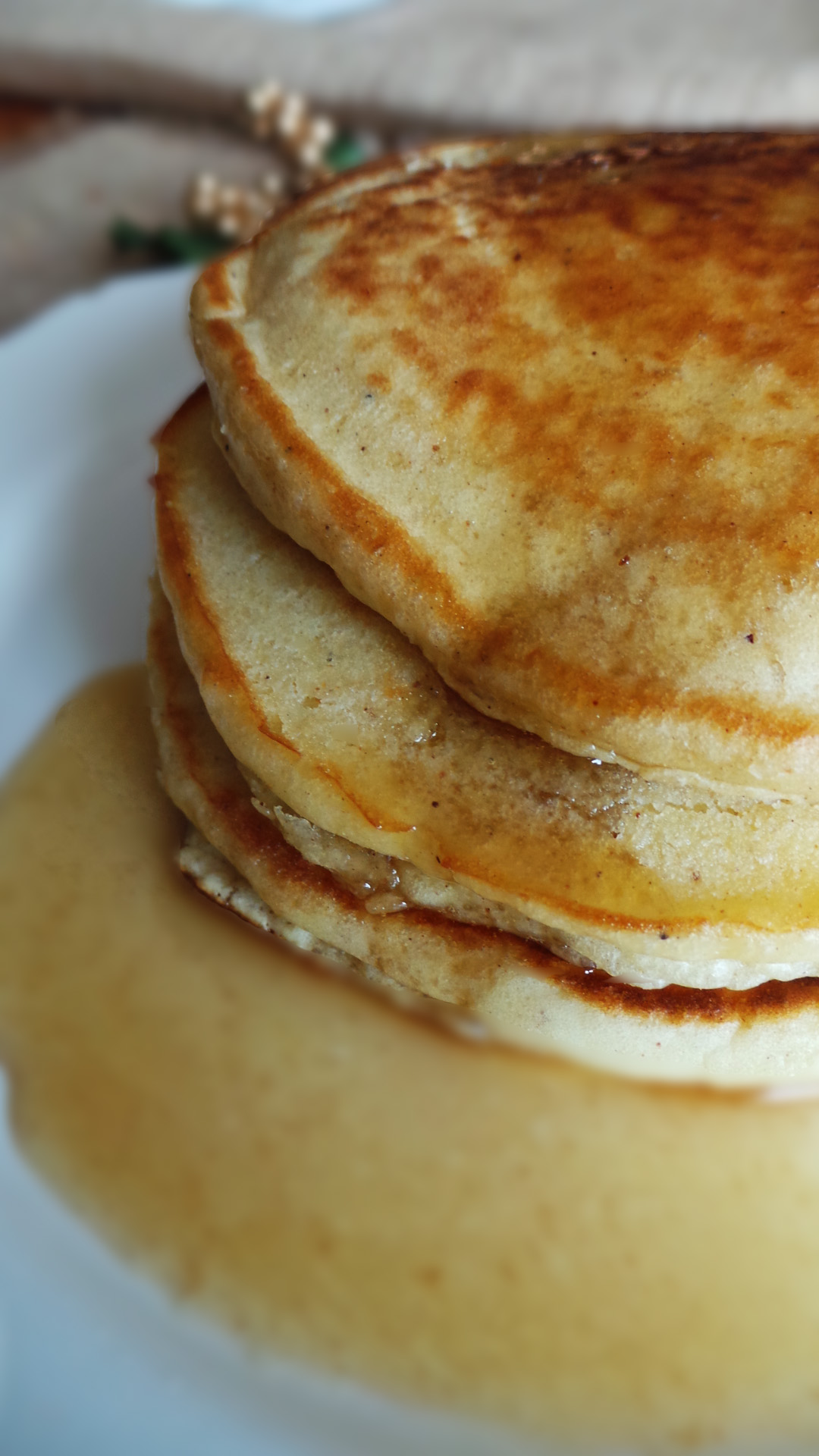 Low-fat Eggnog
2013-12-18 16:17:00
Serves 2
A traditional holiday treat spiced up with some nutmeg, cinnamon, and orange peel! This drink is made lighter with fat-free milk, but still tastes rich as ever.
Ingredients
1 1/2 c. non-fat milk + 1/2 c.
1 large strips of orange peel
1 vanilla pod (or 2 t. extract)
pinch of nutmeg
pinch of cinnamon
3 egg yolks
1/3 c. sugar
1 t. cornstarch
Instructions
Combine the milk, orange, beans and pod from the vanilla bean OR extract, nutmeg, and cinnamon in a saucepan. Bring to a simmer over medium heat.
Meanwhile, whisk together the yolks, sugar, and cornstarch.
Once the milk has simmered, remove from the heat. Roll up a kitchen towel and twist into a circle shape. Place the bowl with the yolks onto the towel (this keeps it secure).
In your dominate hand, start to whisk the yolks while SLOWLY adding the milk mixture with a ladle. I like to start with drops, then increase the amount of milk, and after 3 ladles I'll just pour the rest in. Make sure you whisk constantly to prevent curdling!
Once all combined, return to the saucepan and place over medium heat.
With a wooden spoon, stir constantly for no more than 3 minutes (it should thicken). Any longer it may curdle. Remove from the heat and stir in the remaining 4 oz. of milk.
Strain, chill, and garnish with nutmeg before serving!
Notes
Eggnog is served in smaller portions so this recipe only serves 2 people, double if serving for more!
http://www.vodkaandbiscuits.com/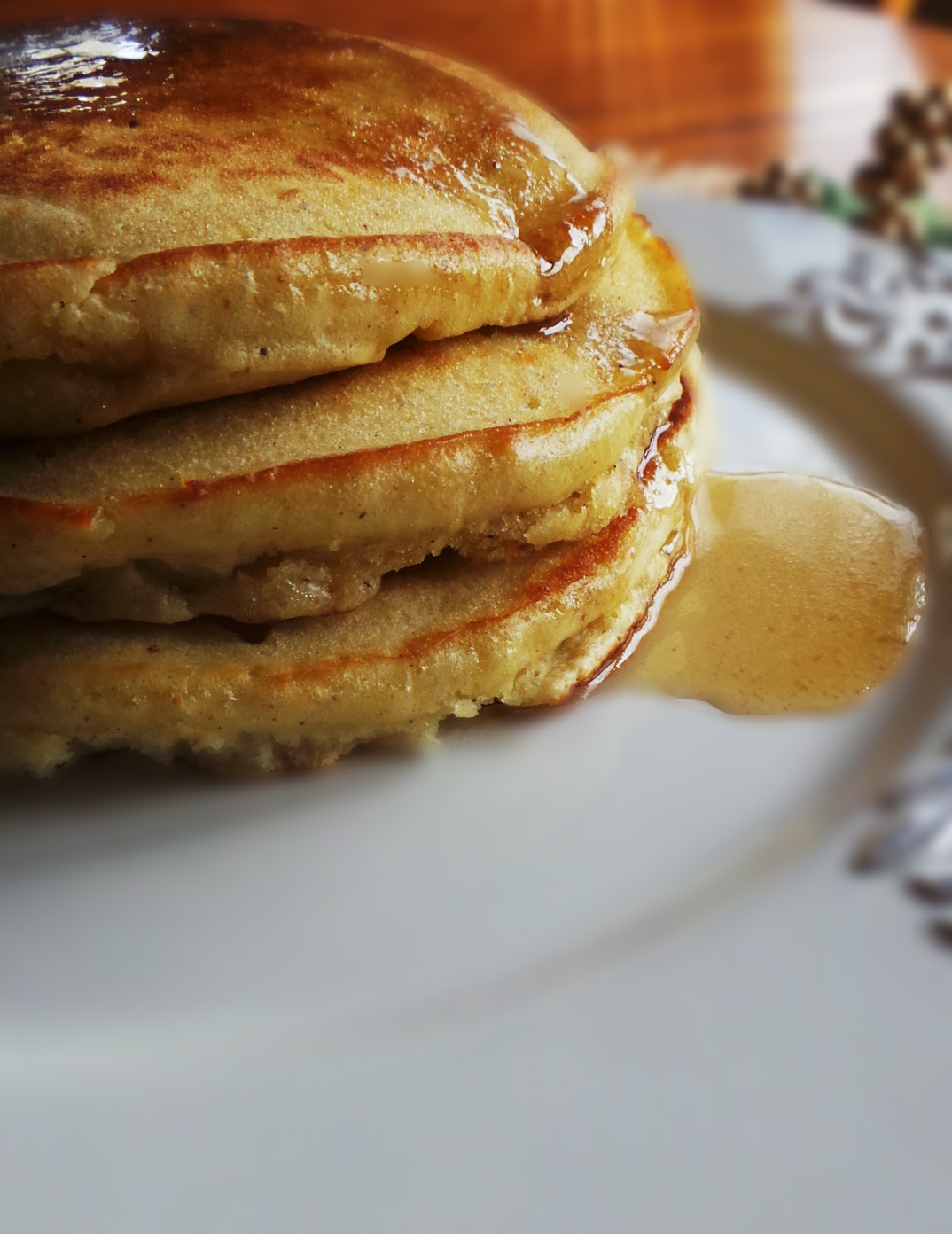 Low-fat Eggnog Pancakes
2013-12-18 16:26:53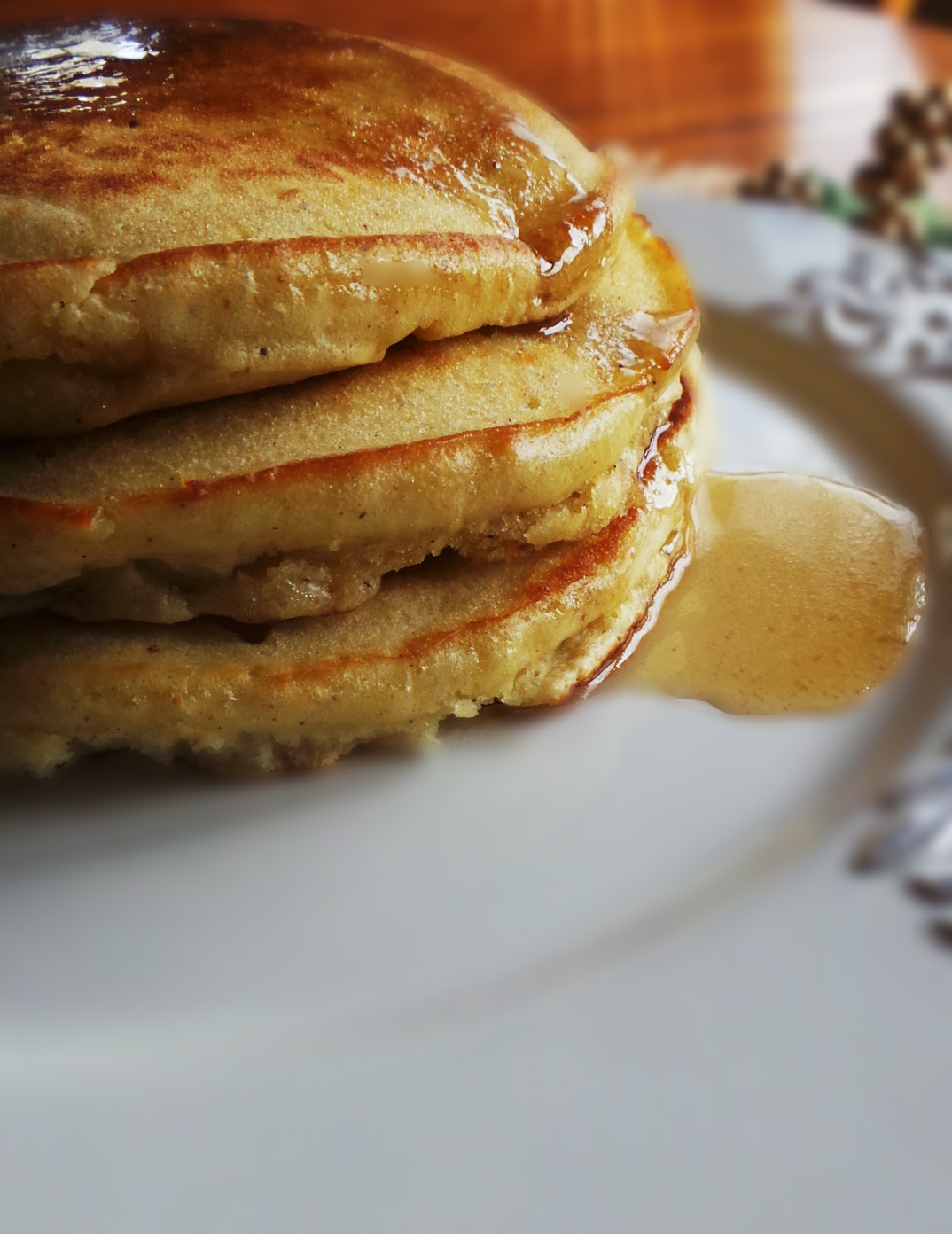 My low-fat eggnog is added to this pancake batter for the perfect seasonal breakfast.
Ingredients
2 c. flour
1 T. baking powder
1/2 t. salt
1 c. low-fat eggnog (recipe above)
2 T. canola oil
1 egg
Instructions
Combine the dry ingredients in one bowl and the wet in another. Add the wet into the dry and mix until batter forms.
Adjust thickness with eggnog.
Sprinkle in cinnamon if desired.
Heat a small amount of oil in a pan. Once hot, use a portion scoop to portion pancakes. Flip after 2 minutes on each side.
Notes
Serve with maple syrup OR a buttery rum syrup (melt butter in a saucepan, then add maple syrup and a shot of dark rum).
http://www.vodkaandbiscuits.com/
[shopeat_button]