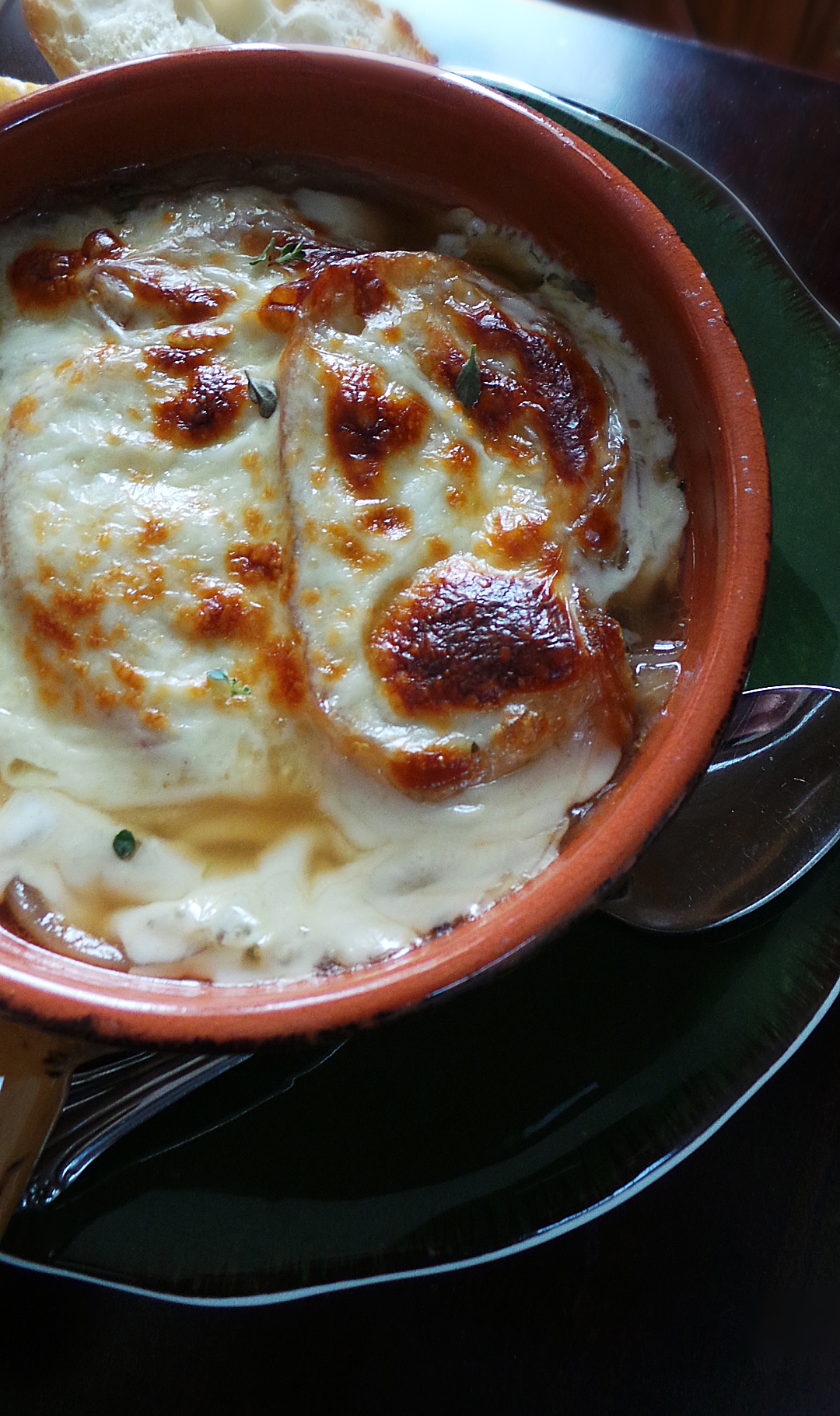 Beware! This soup will make you cry…in more ways than one.
This was one of those recipes we made in school that I had to "keep running to the classroom to check on my notes but somehow this bowl of French onion soup came with me and…ugh alright I'll go back to the kitchen." Believe it or not I don't eat as much as you'd think in culinary school. Some days we're swamped with recipes and in order to finish, there's barely time to eat whatever it is we just made.
At the end of class, if there's time, we can return to the classroom and enjoy all of the day's products. Every once in a while we'll make something that just can't wait til' class is over. This French Onion Soup was one of them. I definitely got caught more than once sneaking off with this soup.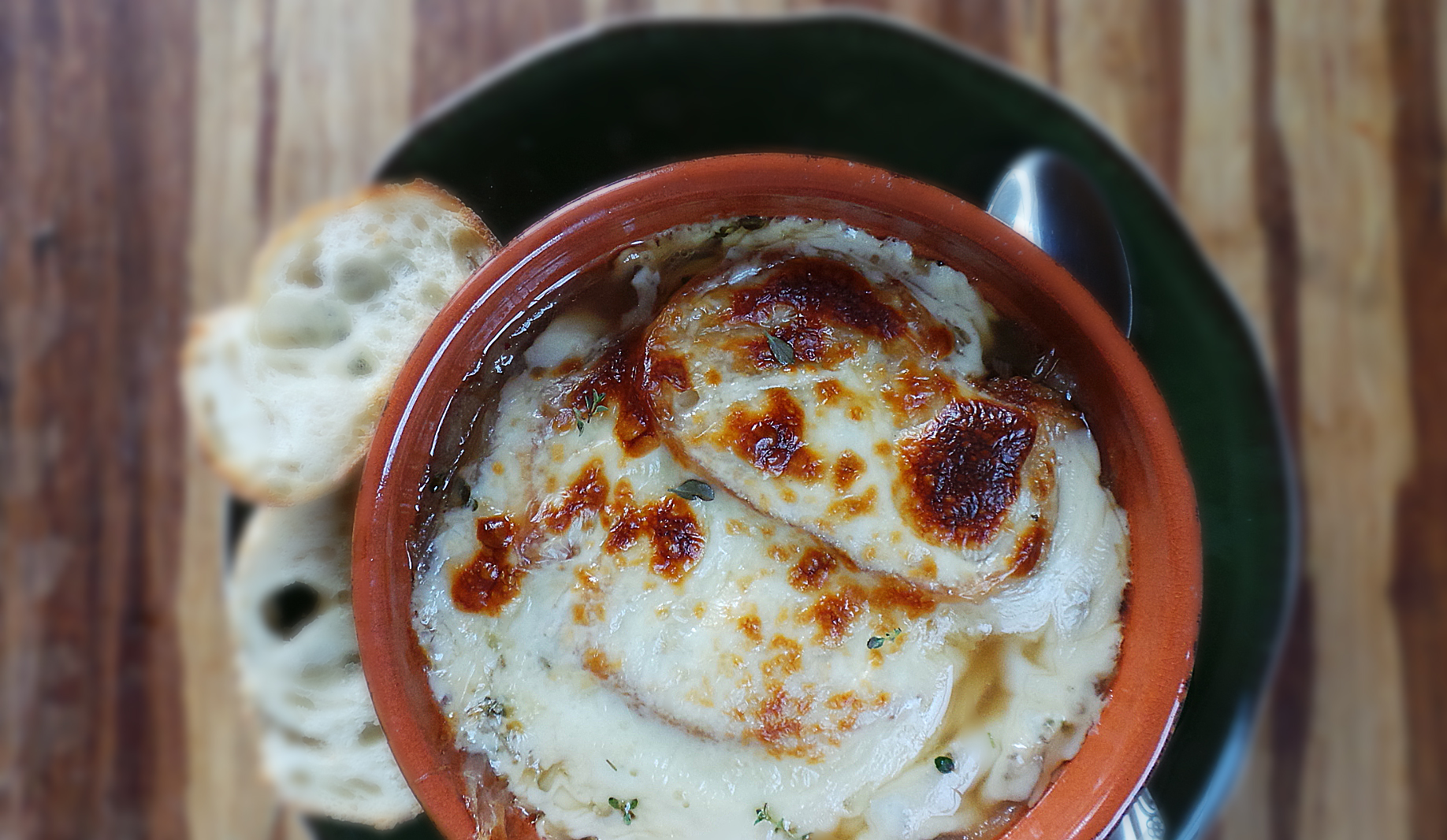 There is so much to enjoy here. Caramelized onions slow cooked in beef and chicken stock, sherry and thyme, then topped with toasted baguette and melted cheesy deliciousness.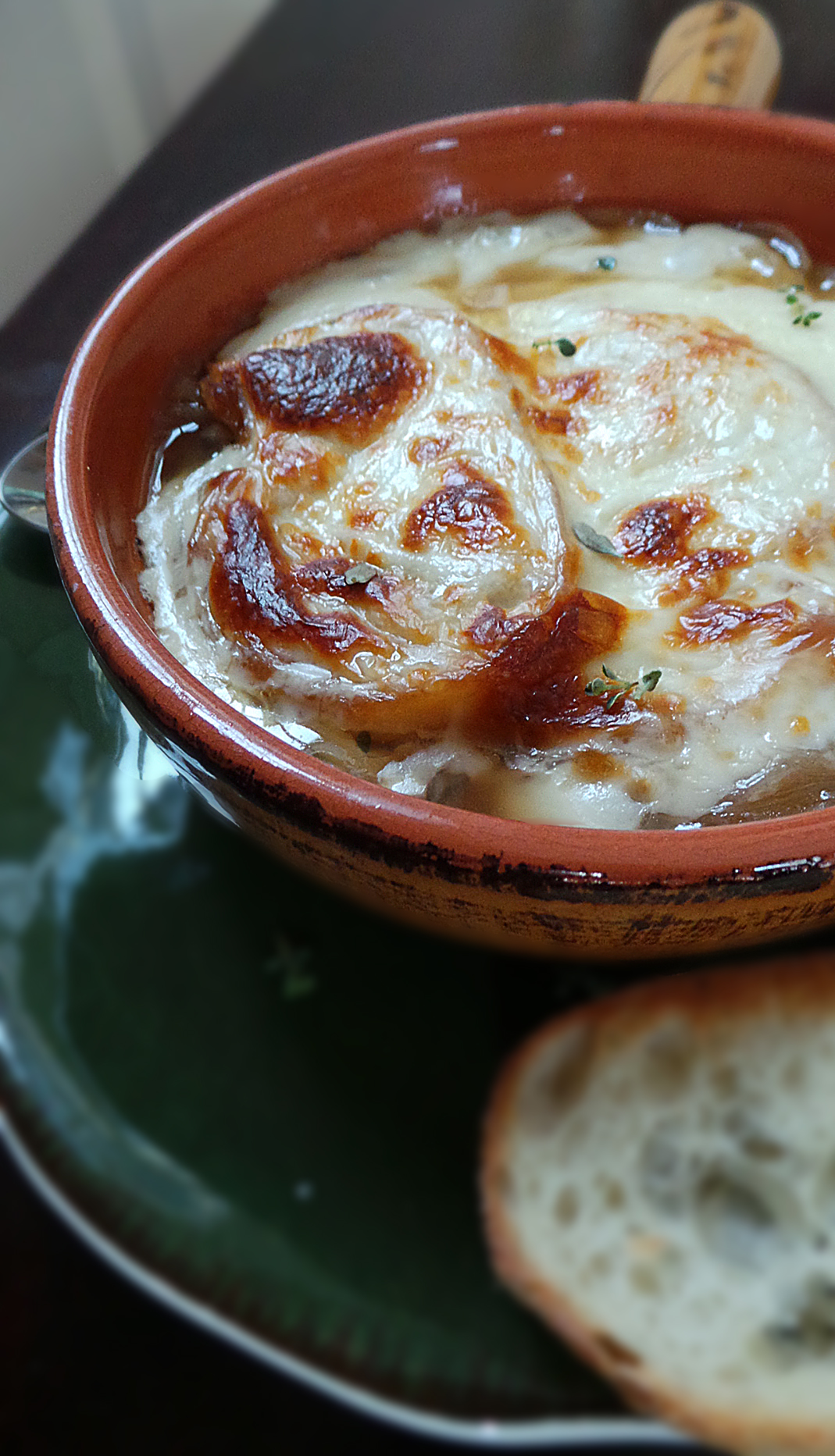 Cheesy deliciousness. That's all it takes for me.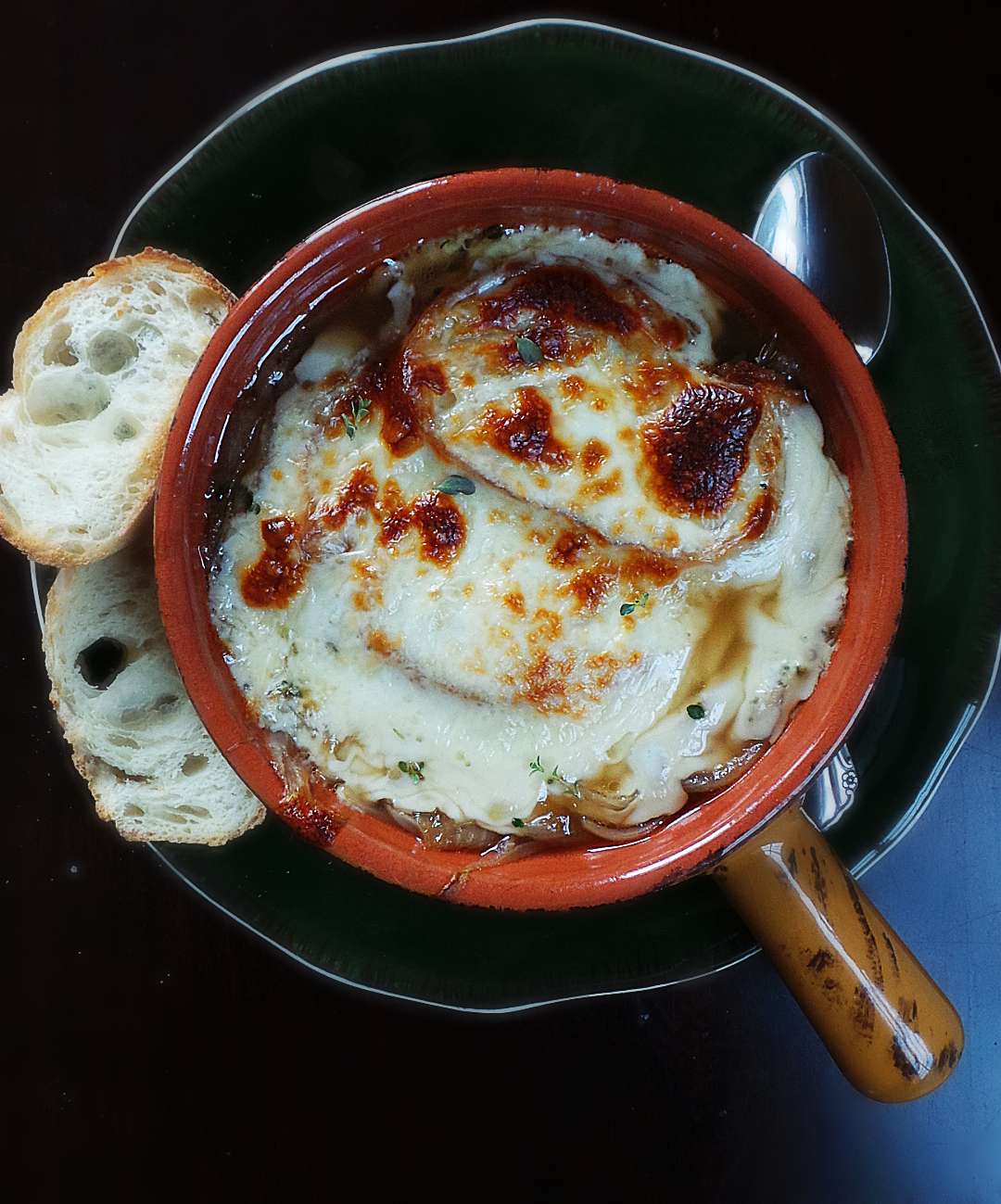 Not only does this recipe create an amazing soup, it requires a little knife skill. Class starts back up this week, what better way to prepare then choppin' up a pound of onions? I cry just thinking about cutting one onion, let alone five. I'll never forget one day I had to cut 20 at the restaurant I used to work at. Twenty onions.
Enough of my pity party.
These onions need to be julienned – a fancy schmancy knife cut that pretty much means "thinly sliced." After your first onion you'll be pro.
Here's how I do mine:
1. Remove both ends of the onion, stand up flat, cut in half, then remove the skin.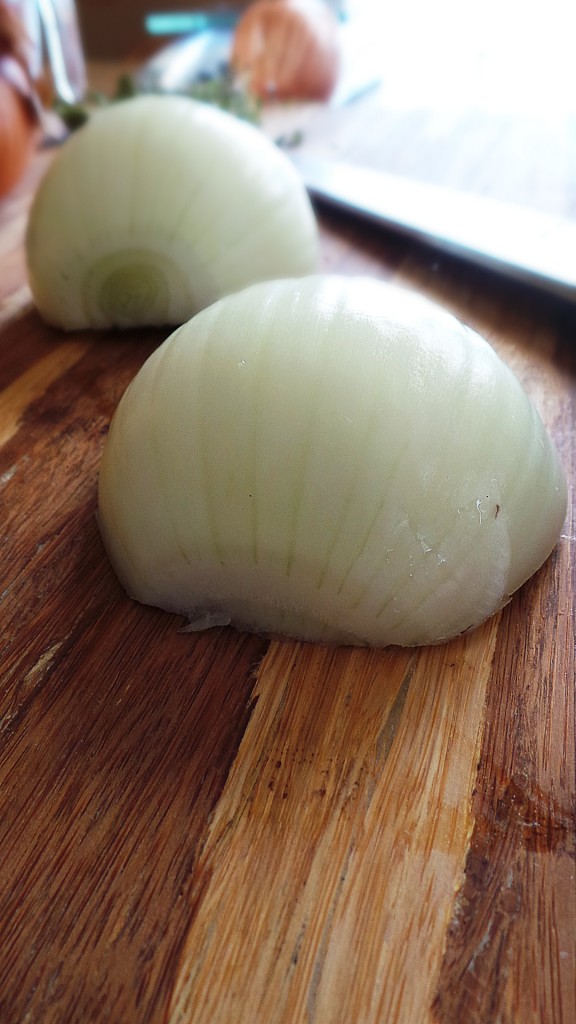 2. Using a sharp knife make thin slices parallel to the natural lines on the onion's surface. Be sure to curl your fingers so you don't end up in the emergency room (I learned the hard way).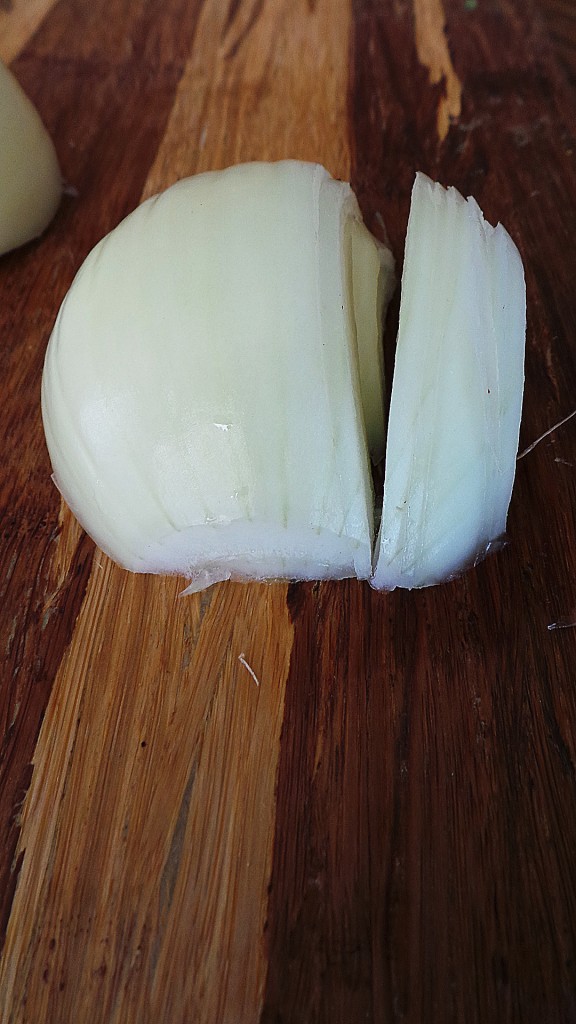 3. Spread apart the slices and ba-bam, you have a julienned onion! Now it's just a matter of finishing the rest of the onions without crying. I'll give some pointers when I figure that one out.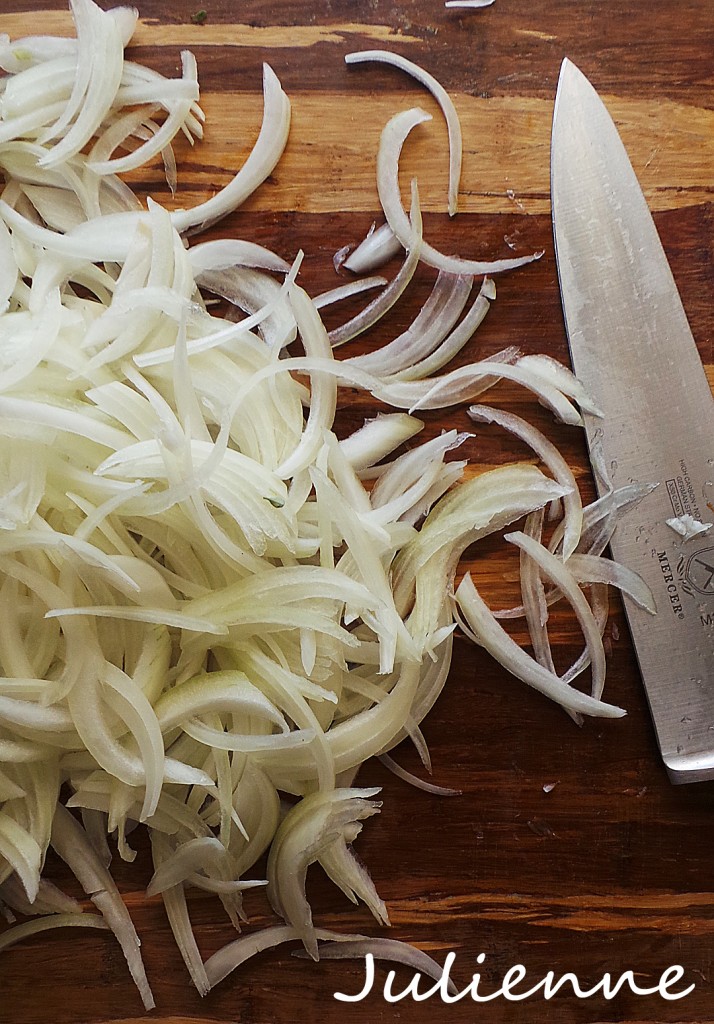 The rest of the recipe is a little time consuming, but simple! Cook the onions in melted butter over medium heat for about 20 minutes until they're wilted and caramelized. This is when you can open your windows and make your neighbors jealous.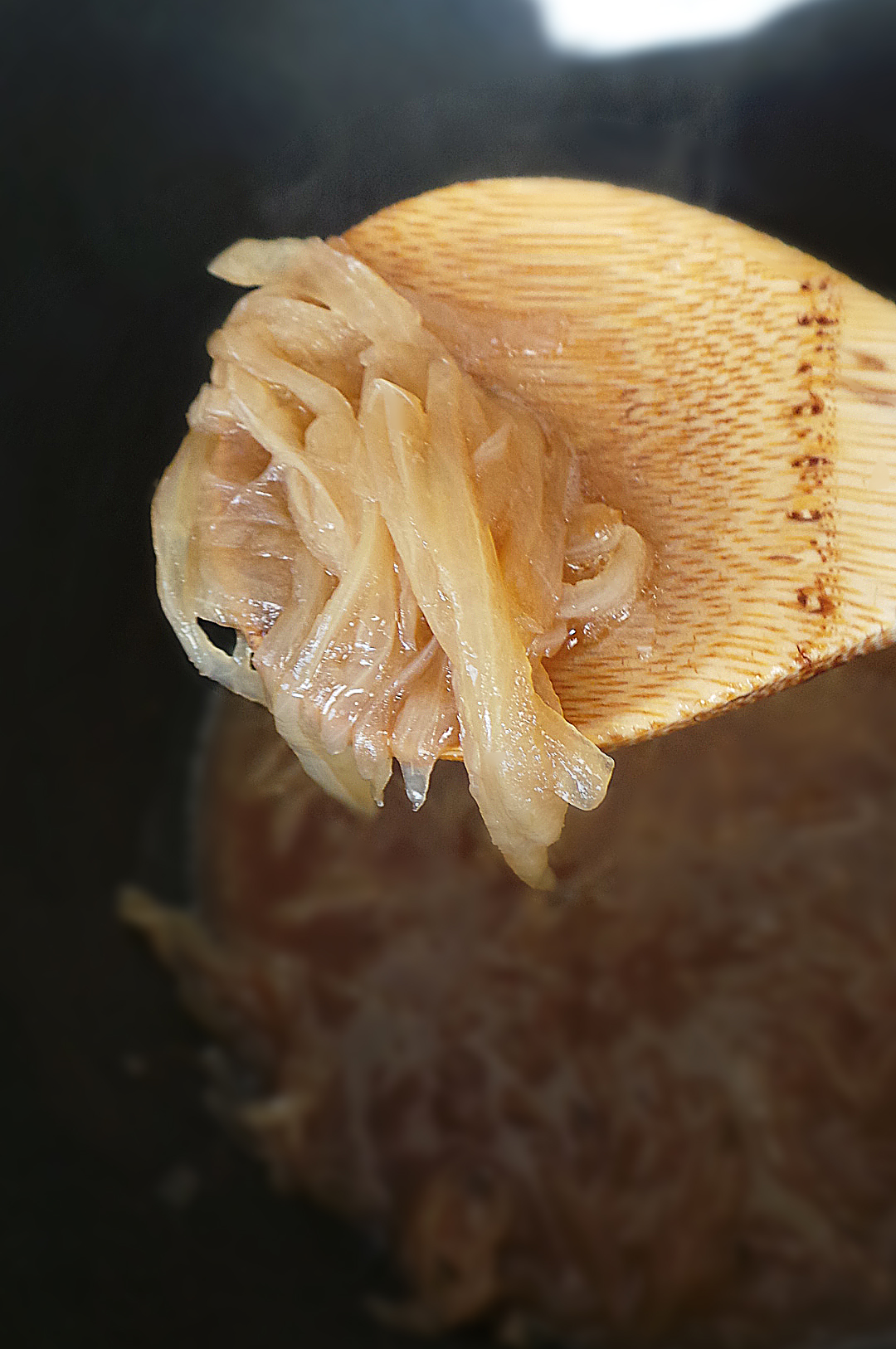 From here it's a matter of cooking the onions in beef stock until nearly dry, or "au sec" if we want to keep the French vibe going. This is where it may get lengthy. To create optimum flavor, you want to add 1 c. of beef stock at a time, then reduce the heat until the onions absorb all the liquid. You'll want to do this a total of 3 times. I promise you it is worth the wait.
Once that is done, all you need to do is add the remaining ingredients, bring to a simmer for 20 minutes, then finish in the oven to melt the cheese. OH THE CHEESE. Even though traditionally French onion is served with Gruyere or Swiss, I used provolone. A block of Gruyere is $8 whereas a pack of provolone slices are less than $3. It's a deal. For the bread I picked up a baguette at the bakery and cut slices on a bias. Right before portioning your soup/bread/cheese, let the slices toast a little in the oven. Toasted bread is heavenly. Carbs, why you gotta be so good?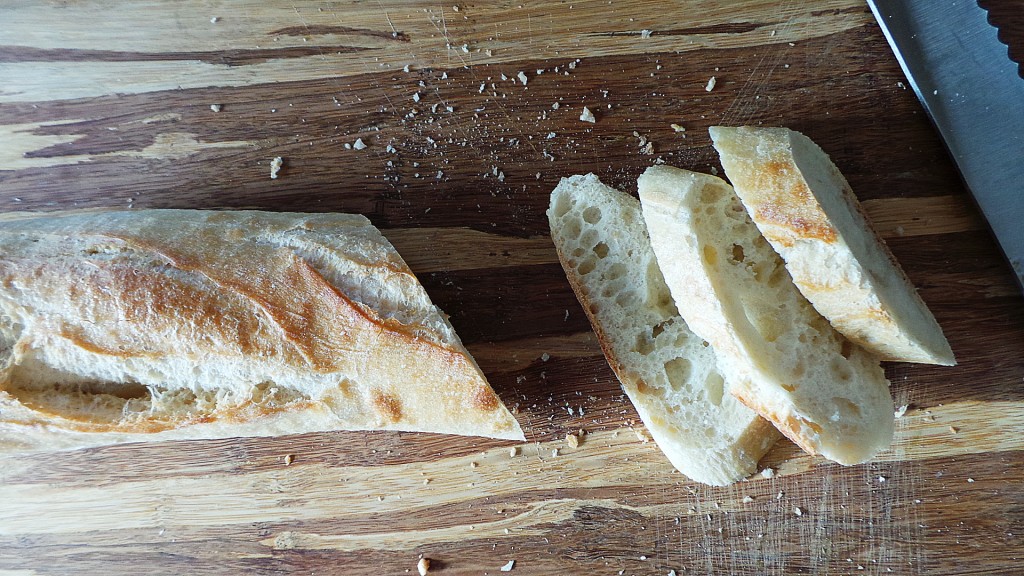 Actually, scratch that. French onion soup, why YOU gotta be so good?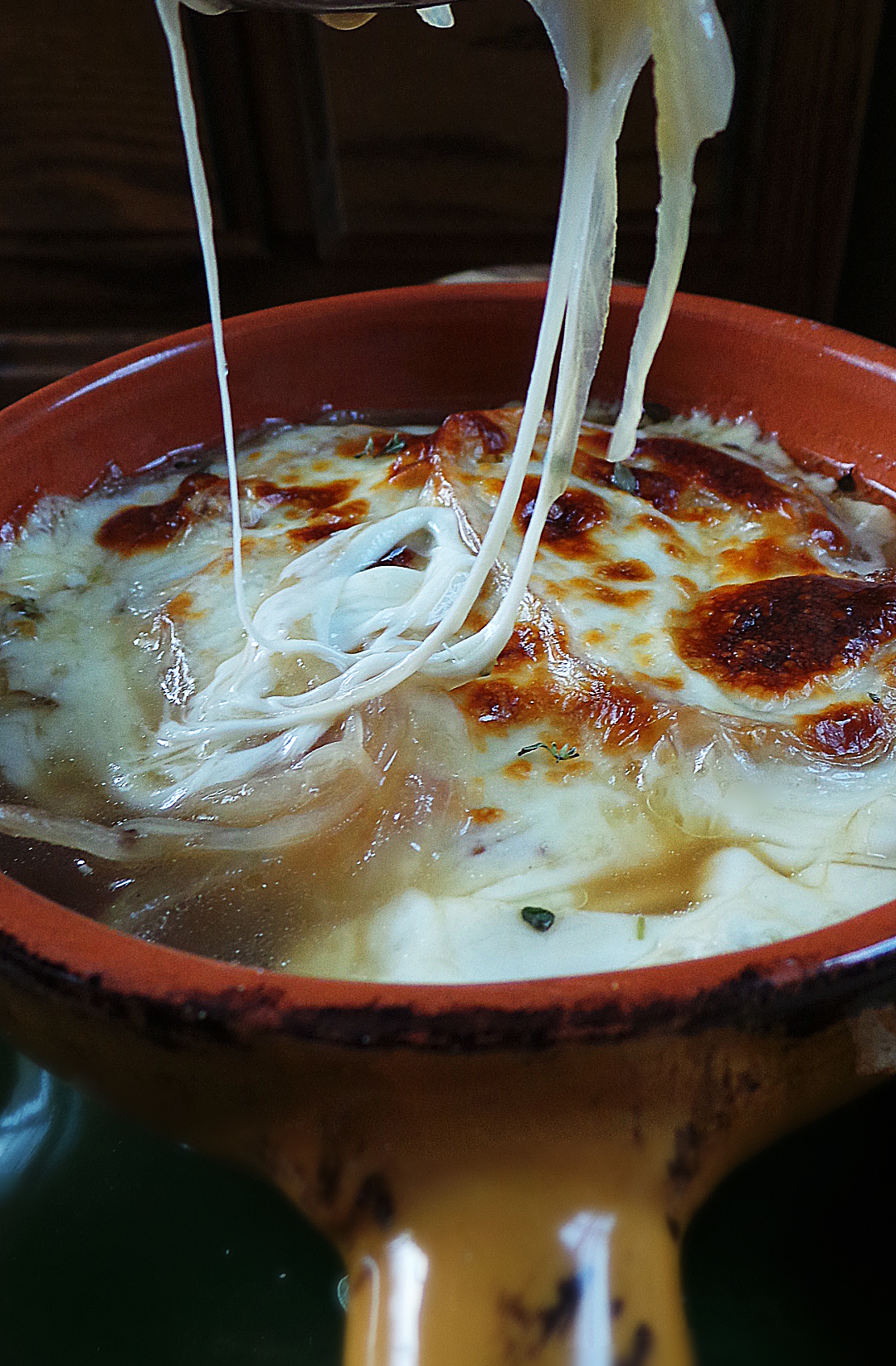 **Happened to talk to Grandma today and she mentioned how she purees French onion soup once it's finished simmering. She also waits until the cheese has finished melting in the oven, cuts it open, then pours in a splash of sherry. Thought I'd give ya a new approach. Thanks, Grandma!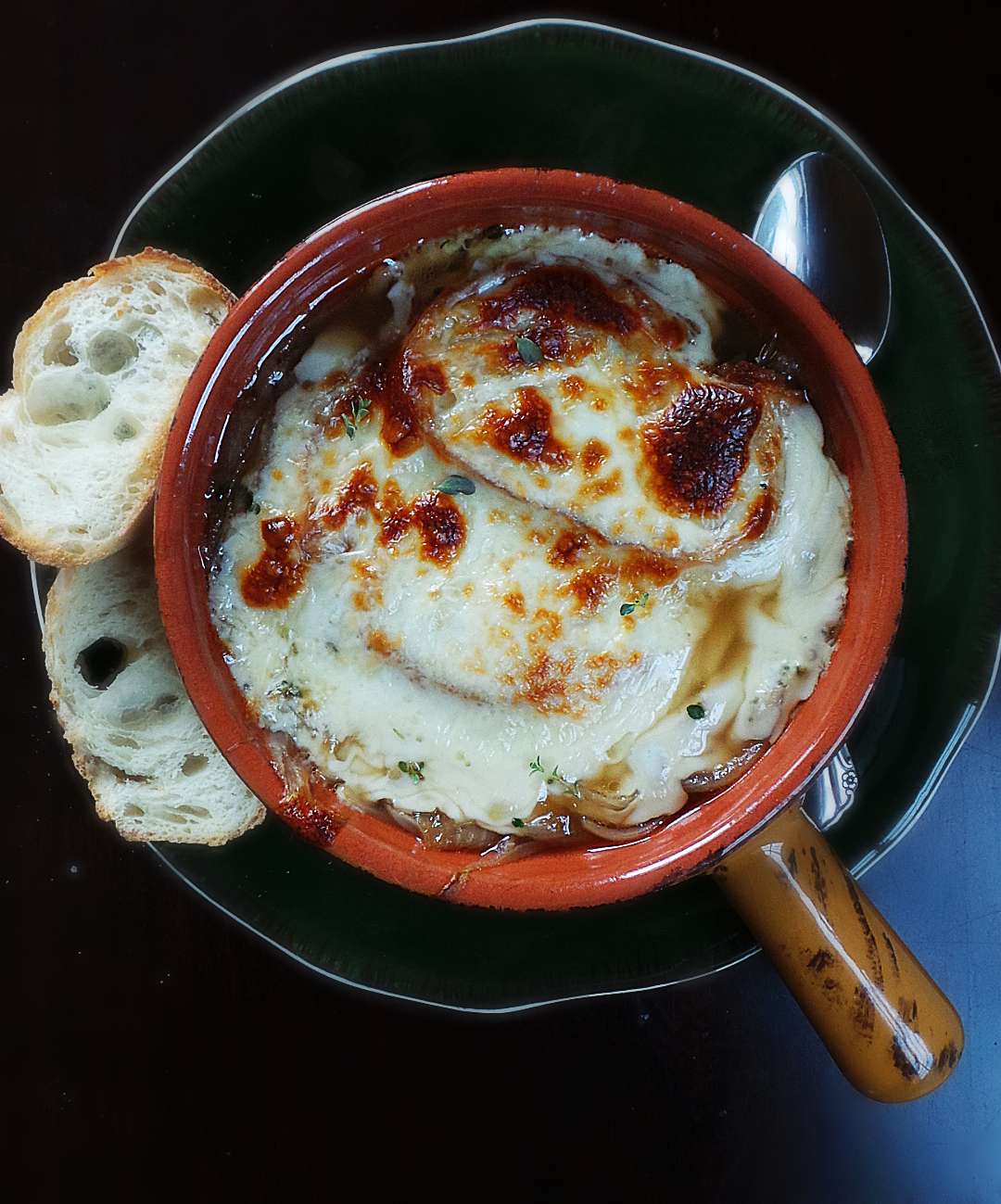 French Onion Soup
2014-01-27 13:06:27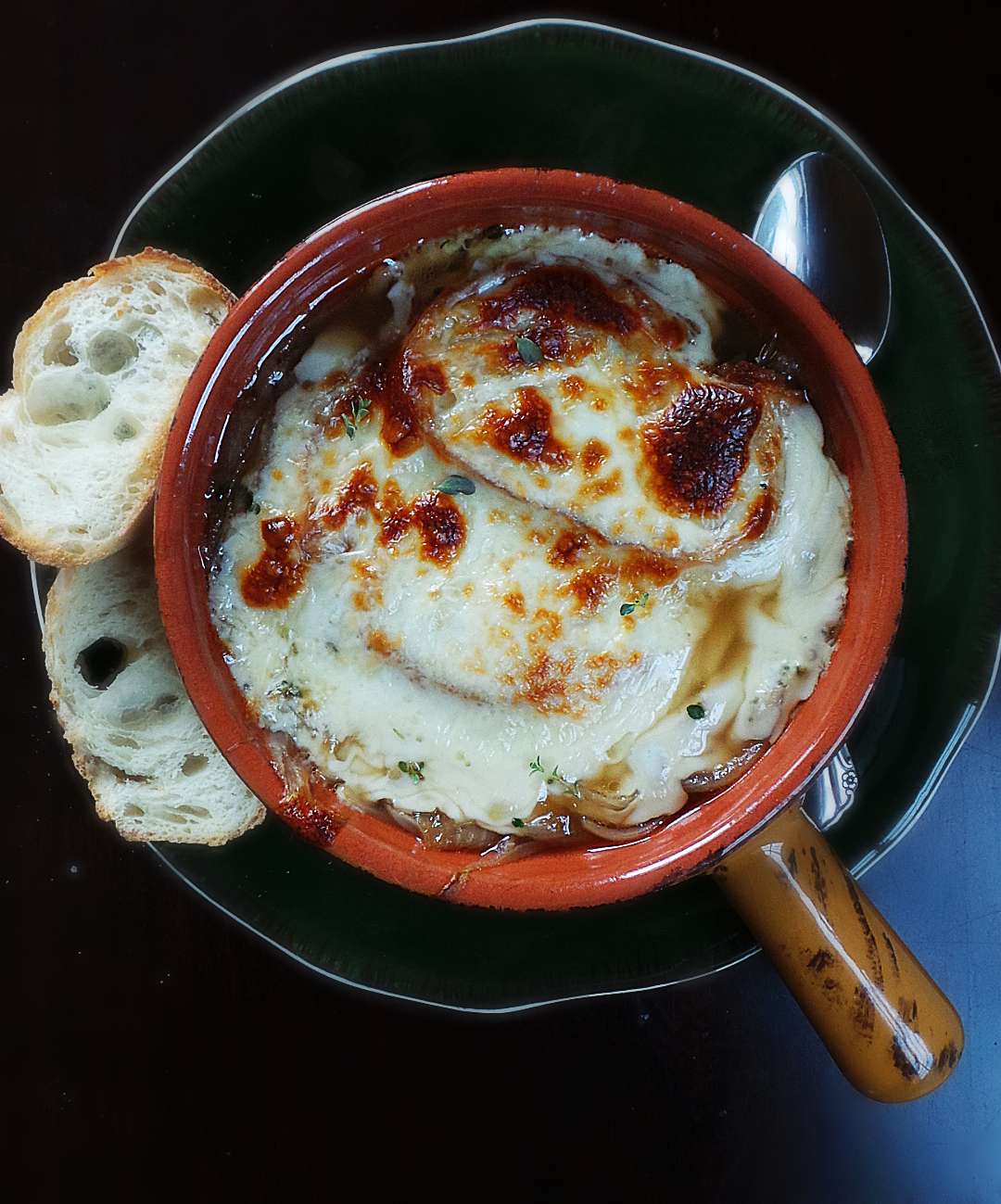 Serves 4
A slow cooked onion soup served under melted cheese and a toasted baquette. This recipe is straight from culinary school and none-the-less perfect!
Ingredients
5 onions - julienned
3 T. unsalted butter
1 qt. beef stock (4 cups)
1 qt. chicken stock (4 cups)
1 T. fresh thyme - rough chop
1/4 c. sherry
salt & pepper to taste
gruyere, provolone, or swiss cheese slices
baguette slices - toasted
Instructions
Remove both ends of the onion, cut in half, remove the outer layer, and follow the vertical lines on the onion to cut suppper thin slices. Repeat for all the onions. Look above for helpful pictures!
Melt the butter in a large deep pot (preferably Dutch oven) over medium heat. Add the onions and cook until caramelized, about 20 minutes. Stir with a wooden spoon to ensure no onions stick to the pot.
Deglaze the pot with 1 cup of beef stock, then cook until dry (au sec). I like to increase the heat to a simmer, then reduce it to speed up the process. Repeat two more times until the onions are a dark brown and have absorbed most of the stock.
Add the thyme, remaining beef stock, and chicken stock and simmer for 20 minutes. Add salt and pepper and adjust as needed. Add the sherry and stir to combine.
Portion into soup bowls, add 2 slices of bread, top with cheese, then place in the broiler until cheese is golden brown.
http://www.vodkaandbiscuits.com/