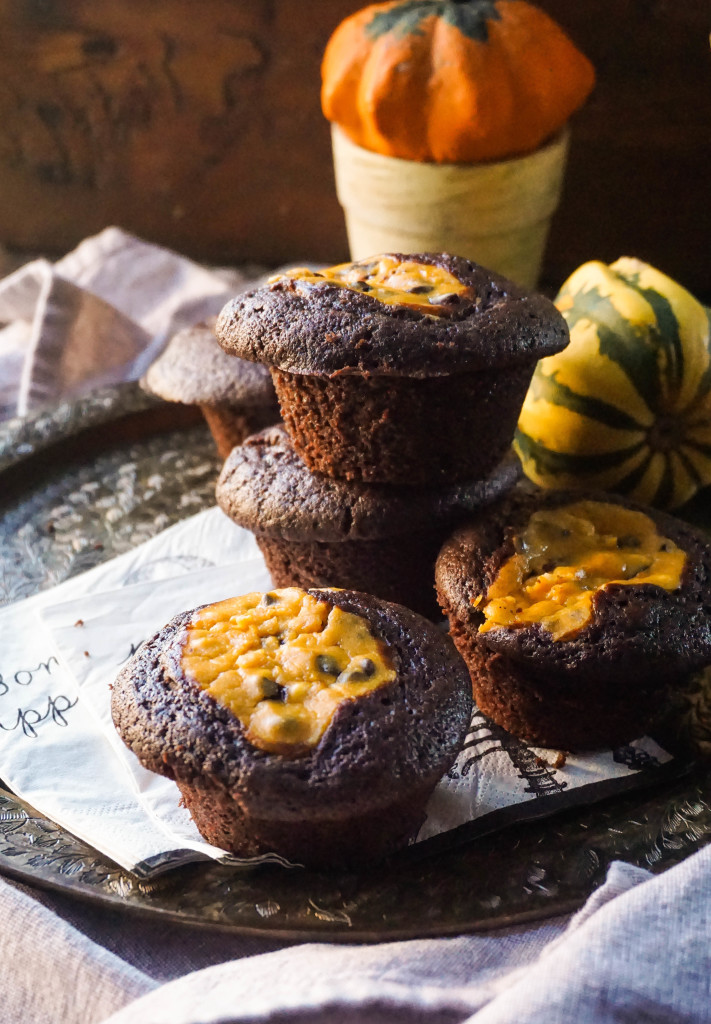 …Fall Harvest as in there's pumpkin in the cream cheese.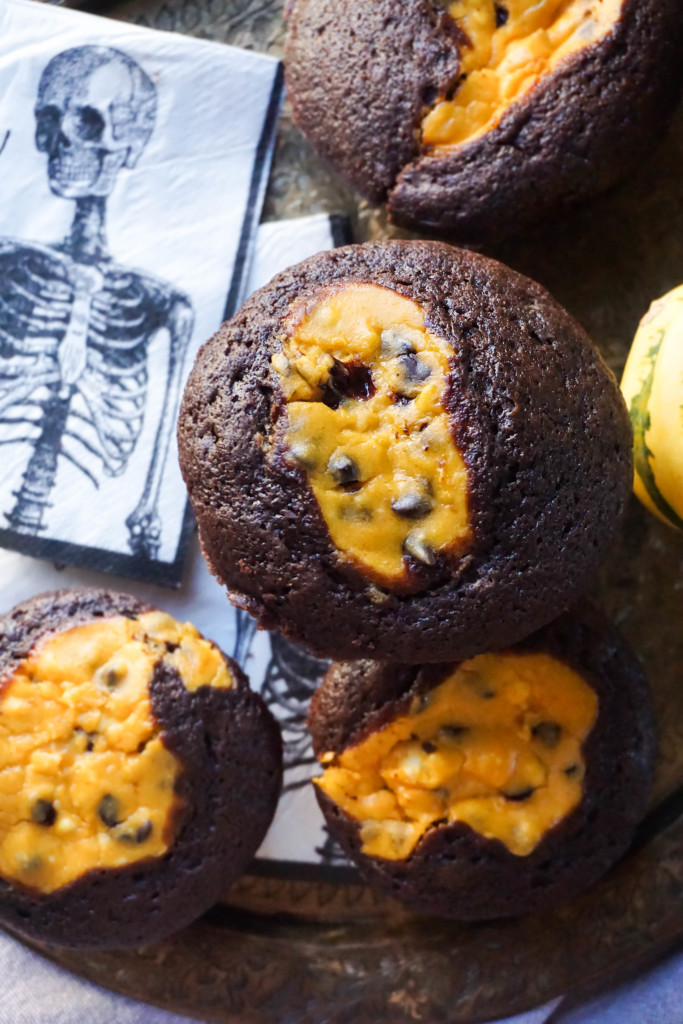 As many of you know I have a green thumb when it comes to baking, so when I saw these come out of the oven – I was squeeling.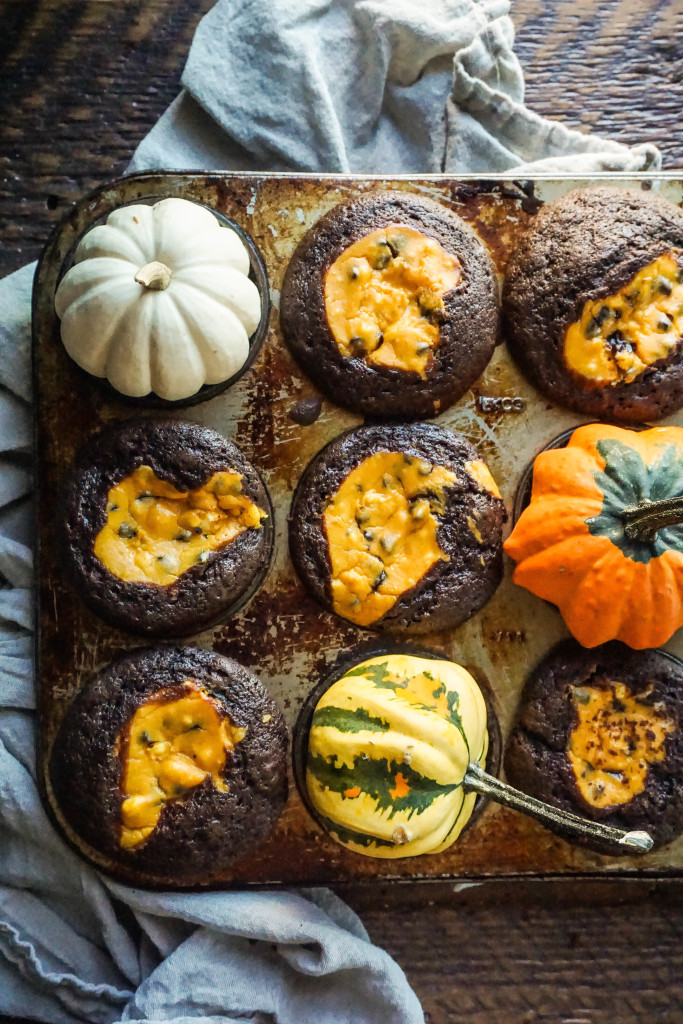 I'm more of the cake than the icing type of girl, and although I love cheesecake I never make it through a whole piece (it's a texture thing). Black bottoms give me a little this and a little that and therefore they are everything I ever wanted in life.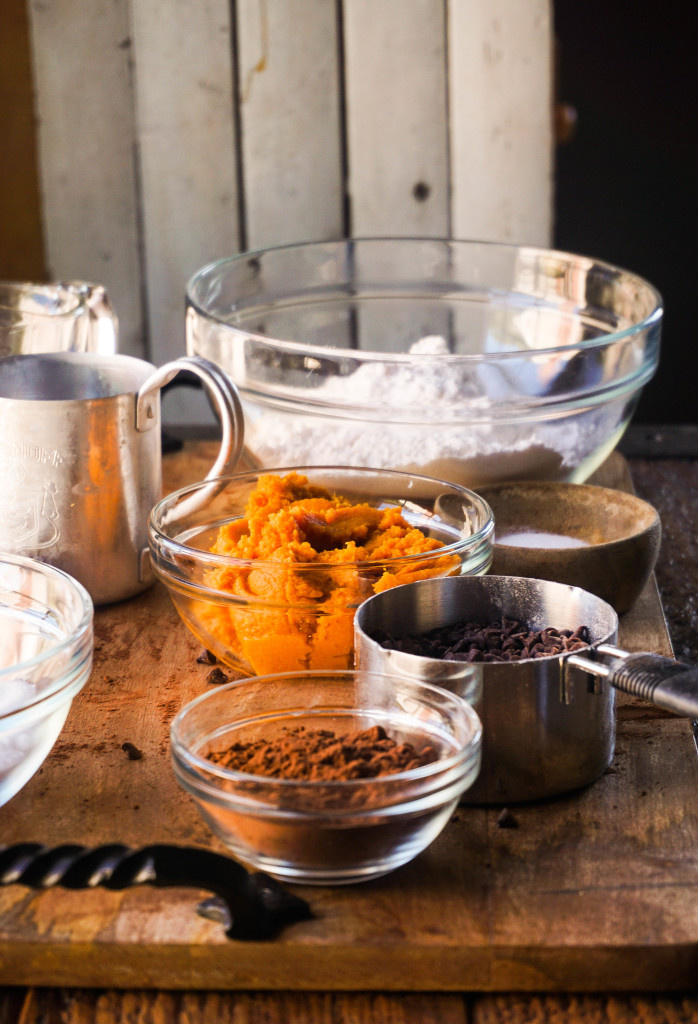 I've had a FOMO with Halloween recipes this year and thought a black and orange bottom cupcake would be PERFECT. Plus, I haven't seen this all over the Internet (yet). So, with Joy of Baking's recipe and my little addition of pumpkin, I bring to you these Fall Harvest Black Bottom Cupcakes.
(that means fear of missing out, mom).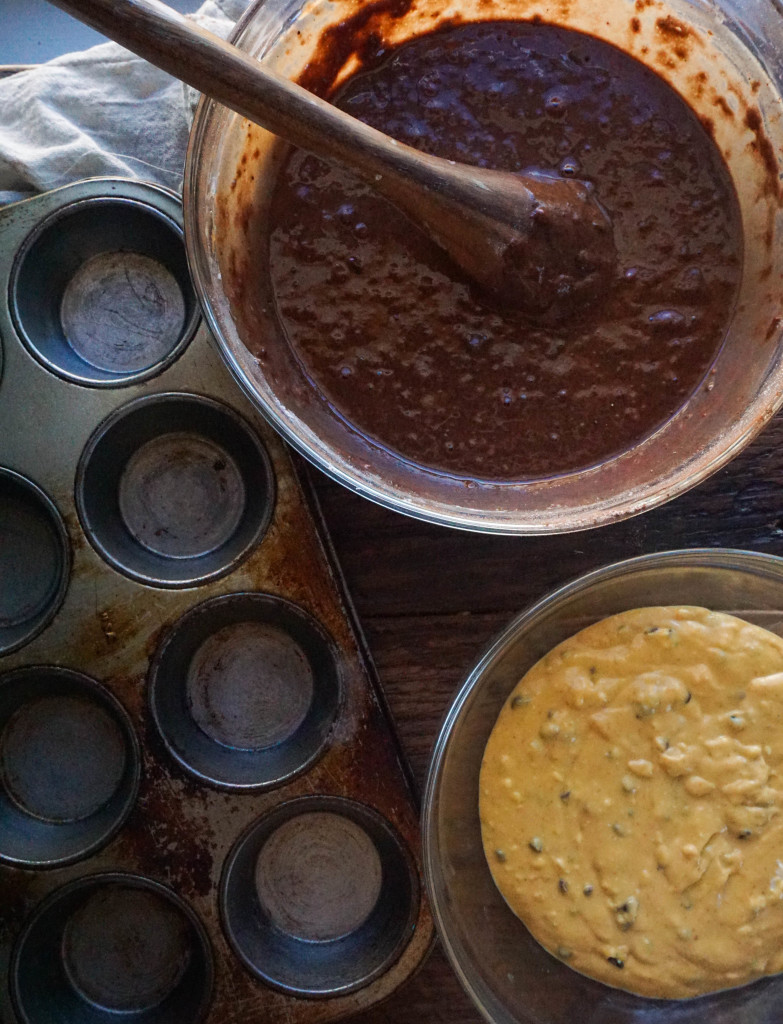 This recipe requires all of your typical baking ingredients, cocoa powder, cream cheese, and pumpkin. I used the mini chocolate chips for the cream cheese opposed to the big ones.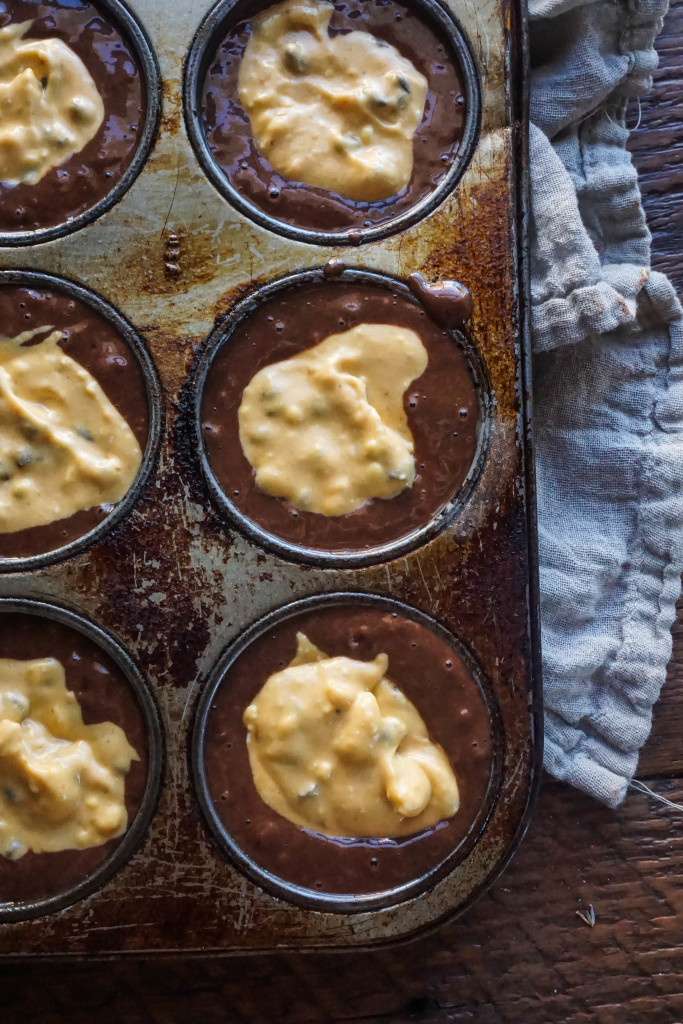 This recipe was supposed to yield 12 cupcakes, however since I can't fill a cupcake tin accurately to save my life, I ended up with 10. I think next time I'm going to use my mini cupcake pan. Eating mini cupcakes make you feel better, even if you eat five of them.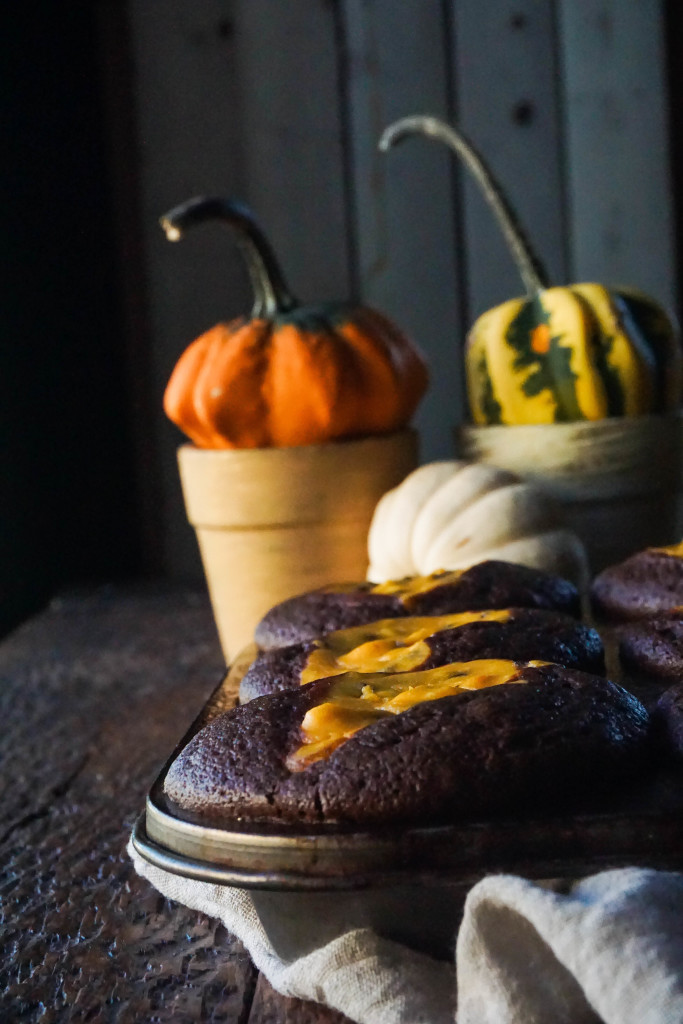 The best part is these only take 25 minutes to bake. That means if you stop what you're doing now and start baking, you can have a pumpkin black bottom cupcake in your mouth in less than in hour. JUST SAYIN'.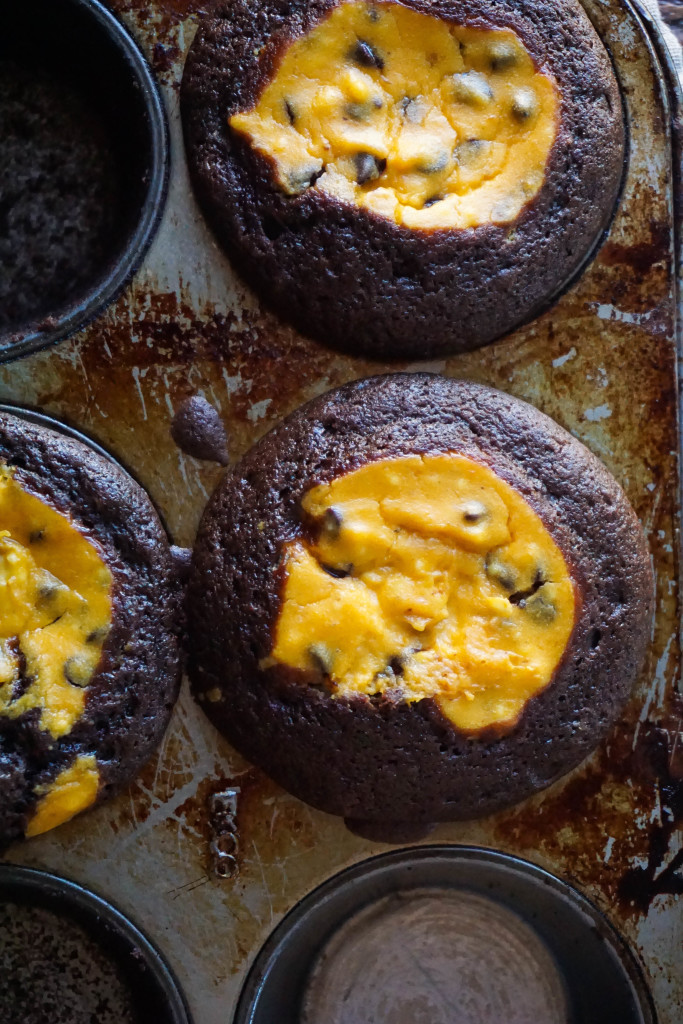 If this recipe worked for me it will work for anyone. The cake is spongy and chocolaty and the cream cheese is not overwhelming with pumpkin. I probably could have gotten away with adding half a teaspoon of pumpkin pie spice (not everyone in my house is crazy for pumpkin).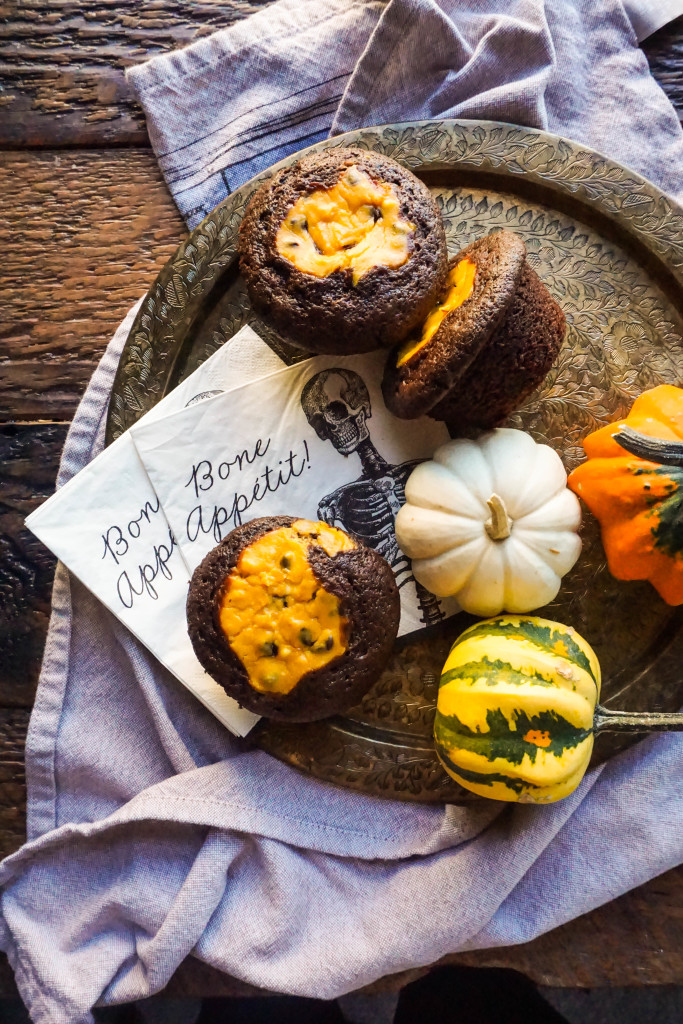 Every bite promises a creamy bite of sweet cream cheese with a touch of chocolate chip. These are perfect and you best believe will be on my Halloween menu. Enjoy 😉
Fall Harvest Black Bottom Cupcakes
2015-10-23 07:54:24
Serves 12
Cream Cheese Filling
8 oz. pack of full fat cream cheese - softened
1/3 cup sugar
1 egg
1/2 teaspoon vanilla extract
1/2 cup canned pumpkin
1/4 cup miniature chocolate chips
For the Cupcake
1 1/2 cups all purpose flour
1 cup granulated white sugar
1/3 cup natural unsweetened cocoa powder
1 teaspoon baking soda
1/4 teaspoon salt
1 cup water
1/3 cup vegetable or canola oil
1 tablespoon white vinegar
1 teaspoon vanilla extract
Instructions
Preheat oven to 350
For the Cream Cheese
Add the cream cheese to the bowl of an electric mixer fitted with the paddle attachment. Cream until smooth. Add the sugar, egg, and vanilla, and pumpkin, and cream until smooth. Fold in the chocolate chips.
For the Cupcake
Sift together the flour, sugar, cocoa powder, baking soda, and salt. In a separate bowl, combine the water, oil, vinegar, and vanilla. Make a well into the center of the dry ingredients and stir in the liquid. Mix until smooth.
Line a 12-tin muffin pan with liners or spray with non-stick baking spray. Evenly divide the batter among the muffin tins, filling about 3/4 way full, then spoon a heaping tablespoon of cream cheese in the center of each.
Bake for 25-30 minutes until the cream cheese has set and a tooth pick comes out clean from the chocolate part.
Adapted from Joy of Baking
http://www.vodkaandbiscuits.com/