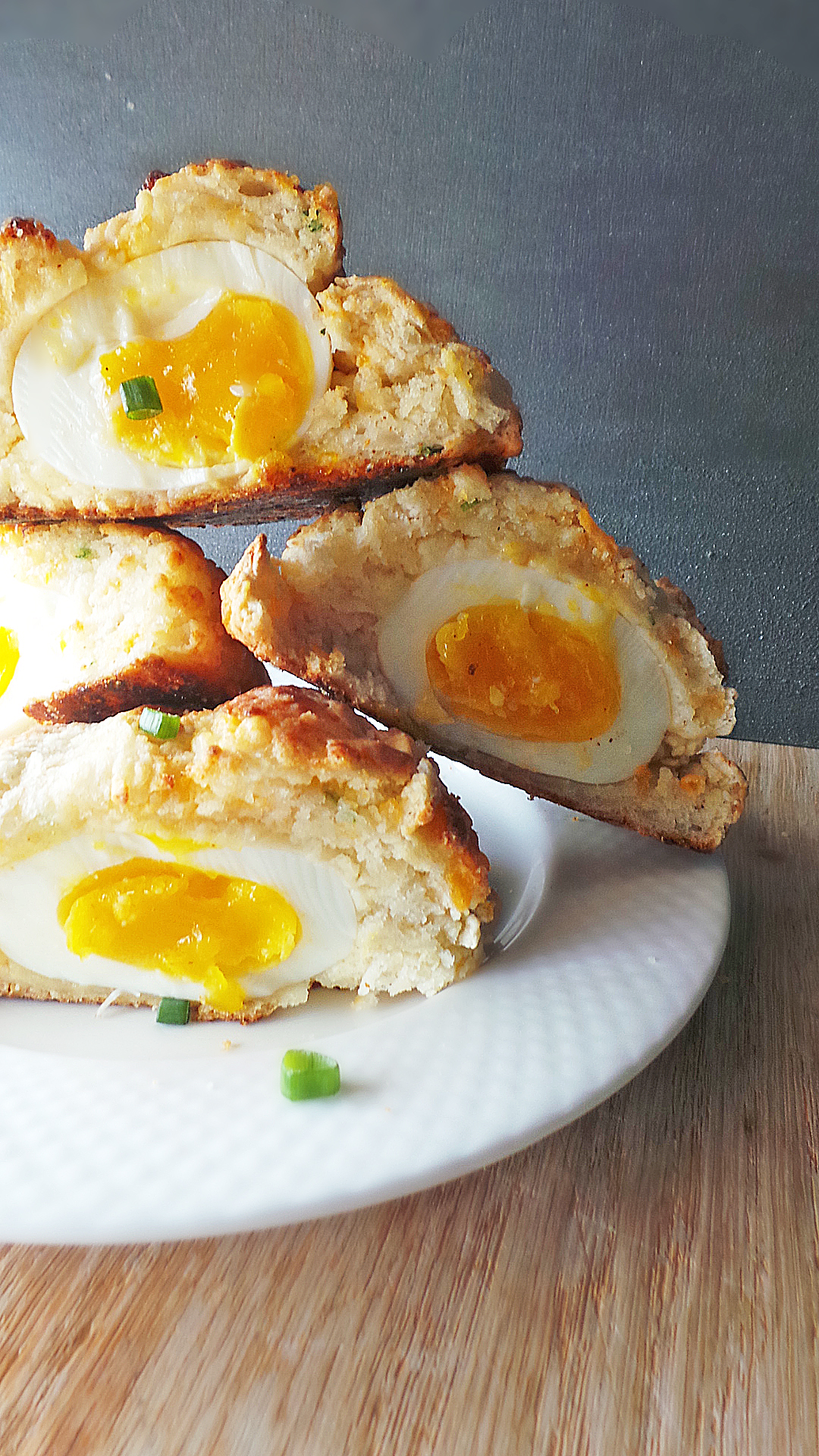 Every once in a while there I am wide awake at 3 in the morning, tossing and turning to every position possible, stacking multiple pillows on top my head – trying everything to fall asleep. Almost always I have to whip out the computer and let the bright light heavy my eyes – not always is this a bad thing though. My sudden insomnia has inspired many recipes and led me to these incredibly awesome biscuits.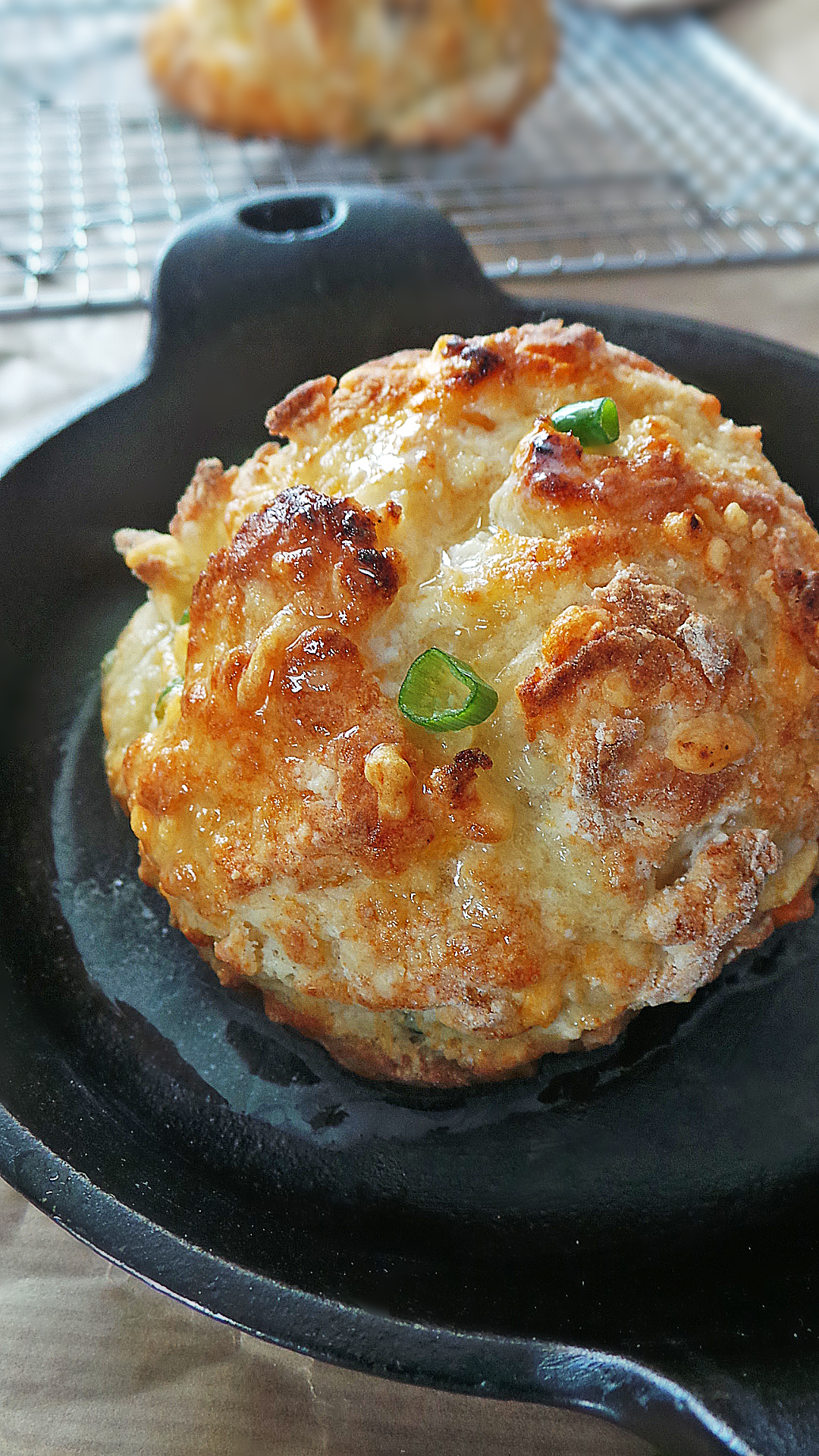 I came across the food blog No Recipes in hopes to find some ways I can use up the rest of my sesame oil. Marc, the man behind the blog, has a surplus of recipes ranging in cuisine from Japanese, Southeast Asian, to French. Amazed by his inspiring variety, I got lost in his recipes and came across Soft Boiled Eggs in Biscuits. Oh my goodness. He had me at biscuit – let alone a biscuit stuffed with an egg. Are stuffed biscuits a thing? Did I not know about this? Do you know how many ideas I have right now?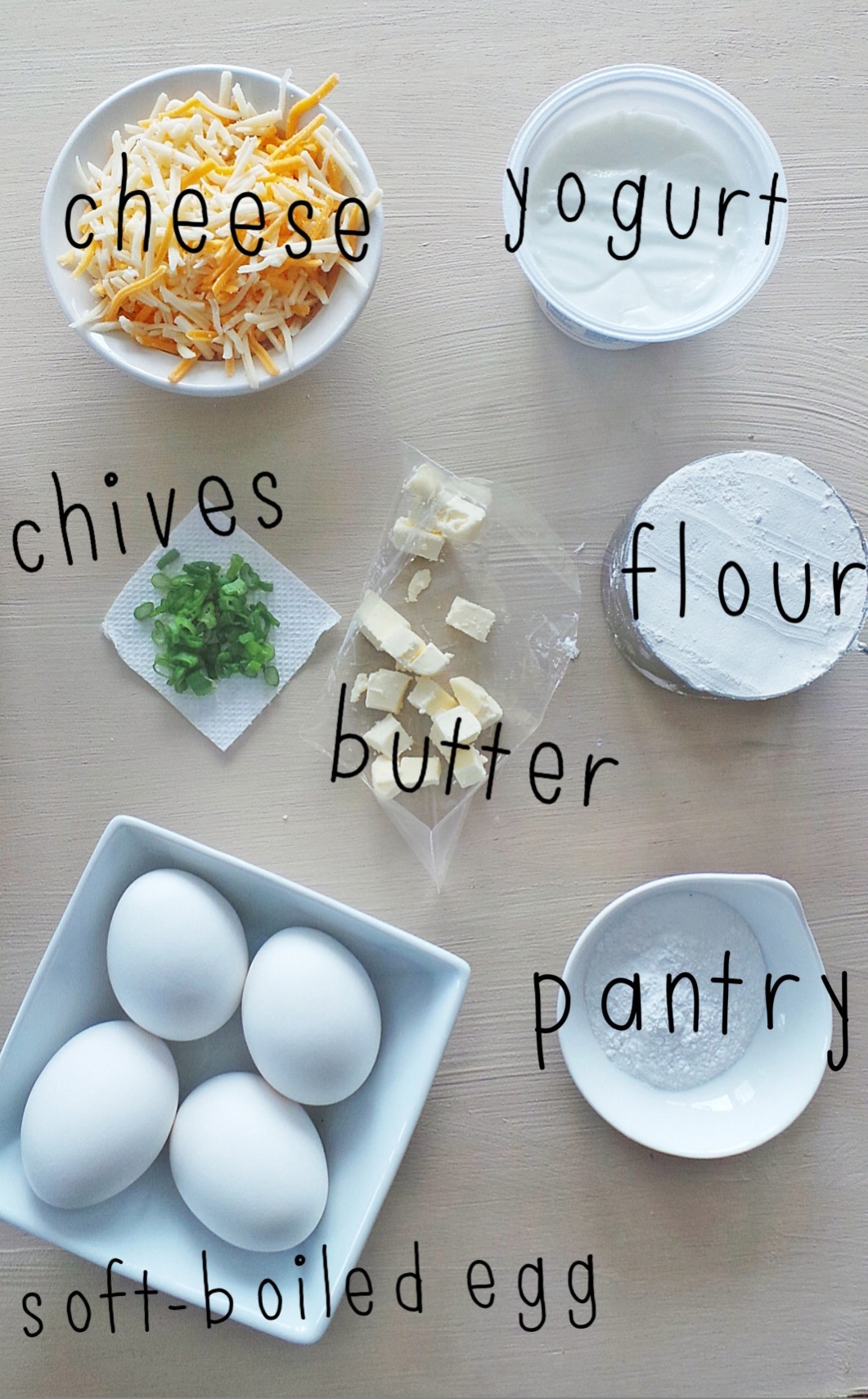 As complex as it might sound, these are pretty simple. The prep is nothing more than typical biscuits, but instead of rolling or pressing out the dough the biscuits are shaped free hand. The dough is made with pantry ingredients: flour, baking powder, baking soda, sugar, salt, and butter. Cheese and chives are folded in and instead of using milk to bind everything together, Marc uses plain yogurt. Uhm, brilliant. The dough is shaped and topped with a soft-boiled egg, then topped once more with dough and sealed to make a biscuit. We'll get to that.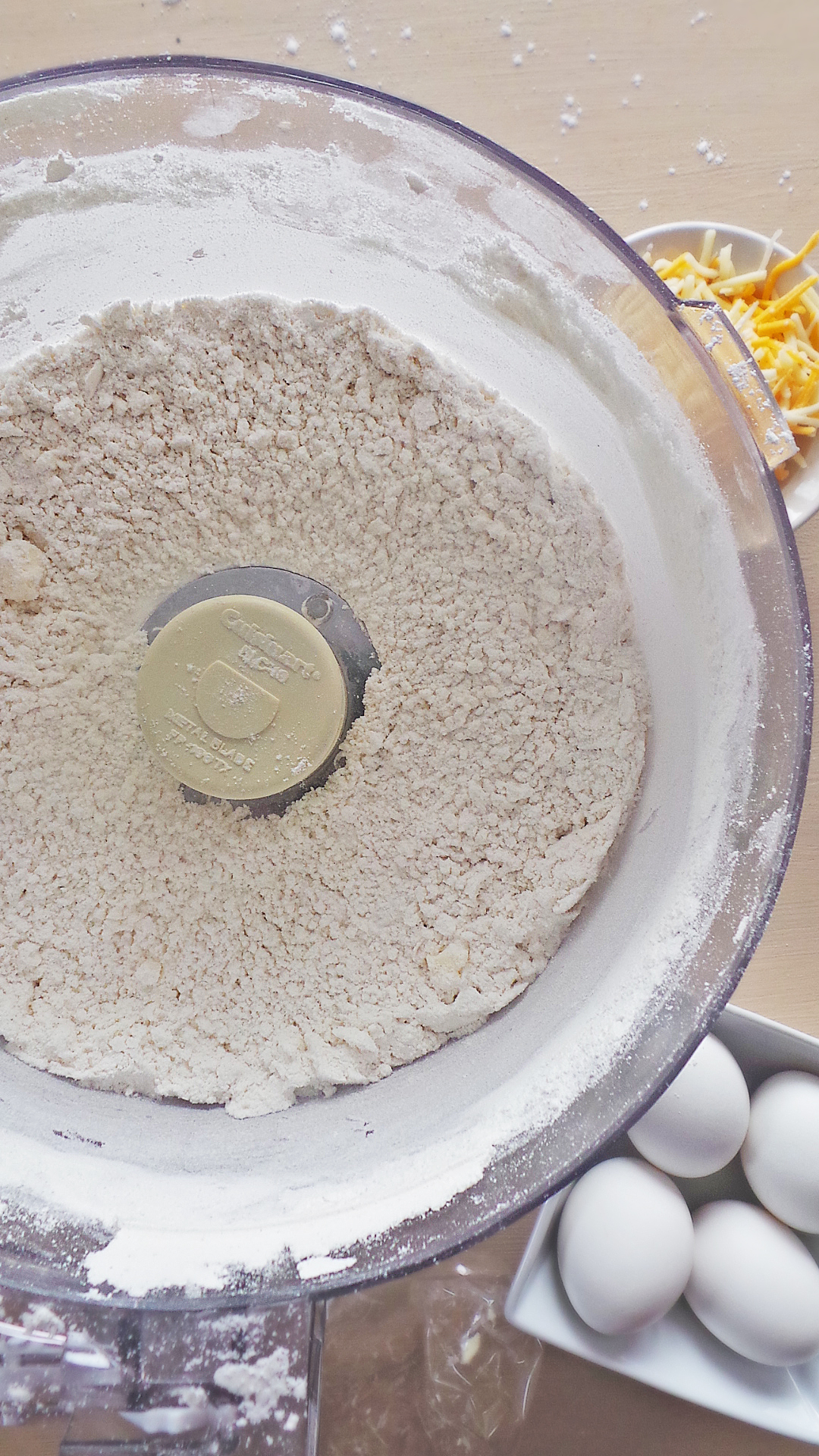 The first thing I did was soft boil my eggs (5-6 minutes) and cube/freeze my butter. It's always best to work with cold butter when making biscuits to ensure the butter doesn't melt when mixing. While the butter is freezing and the eggs are boiling, gather up the rest of the ingredients, preheat the oven, and whip out the food processor. These can easily be made by hand, but take advantage of a food processor if you can. First pulse all of the dry ingredients 1-2 times until well combined. Add the butter and pulse 2-3 times until combined and crumbly, as shown above. I love using the processor because it's much powerful than my little hands and I don't want to risk over mixing. In this case, you can't risk it for the biscuit.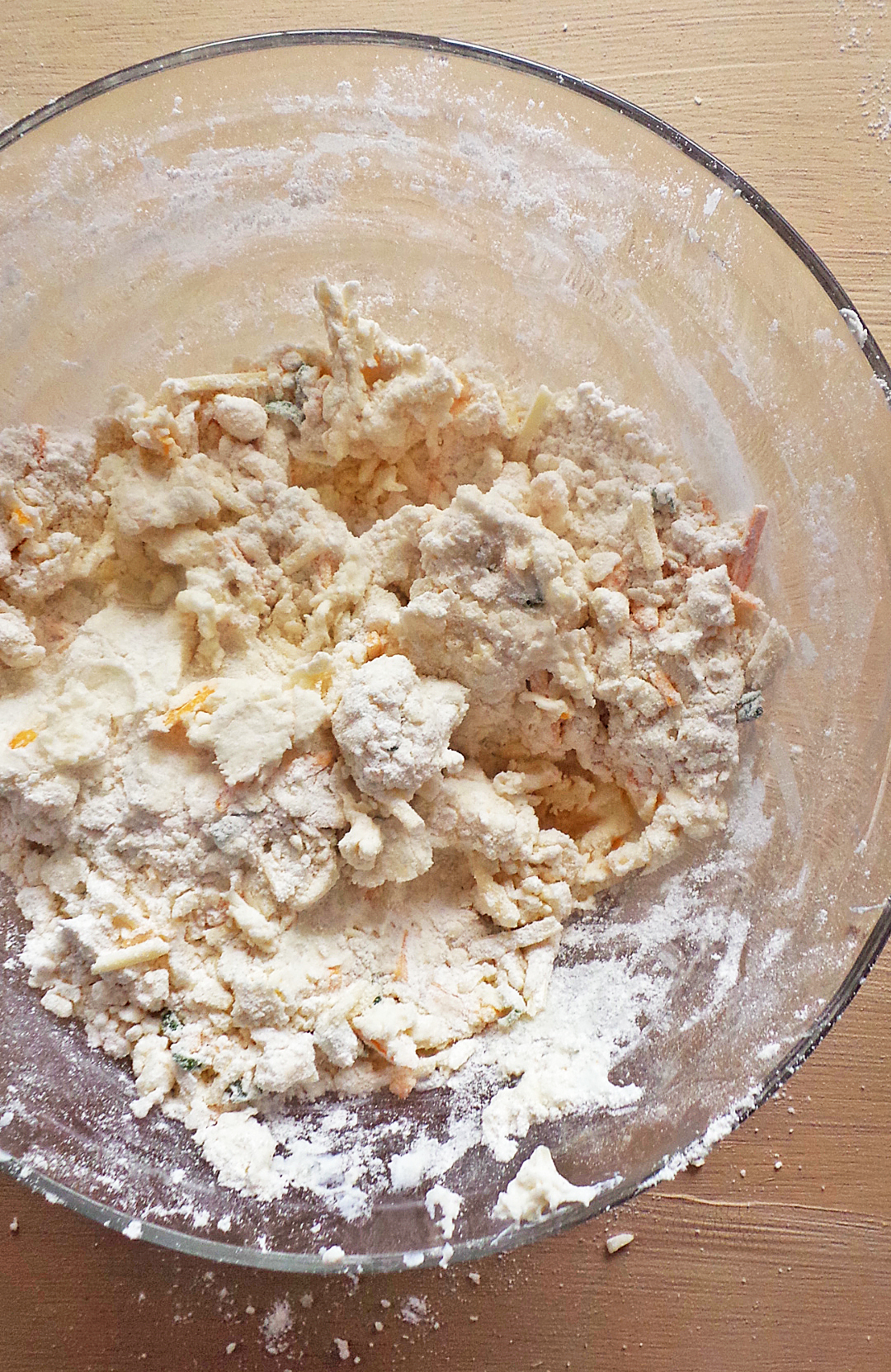 I added the shredded cheese and pulsed a few more times then transferred the mix to a bowl. I folded in my scallions (pretend they're chives) and added the yogurt. Speaking of, conveniently individual yogurts are 6 oz. each, which is exactly the amount we need. If you don't have any plain Greek yogurt on hand, just pick up one of the individual ones at the store!
It's supppper important not to over mix here or else your biscuits will be tough. I gave mine a few good tosses with a spatula until the yogurt and flour were just combined.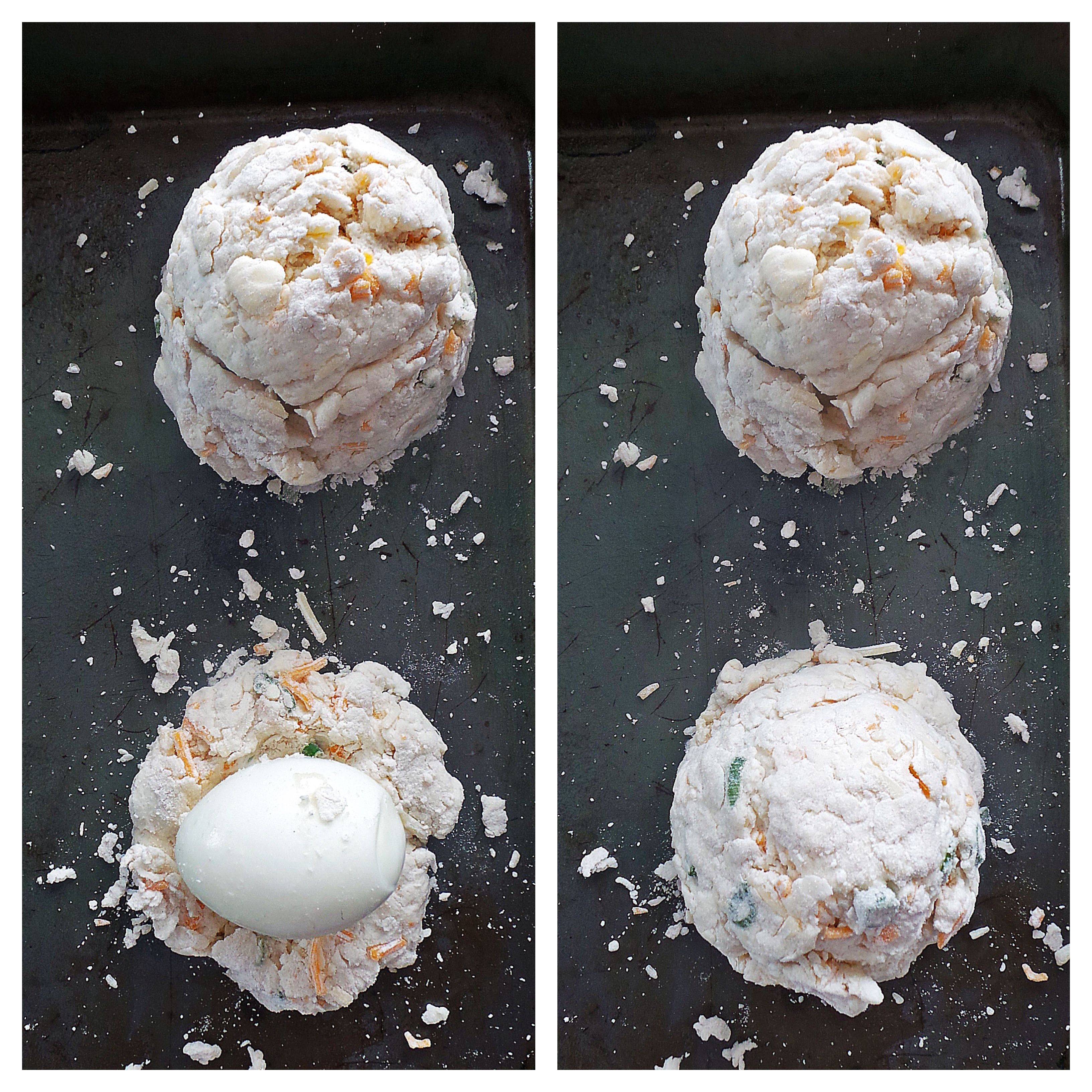 My dough was more dry than wet, but once I formed the biscuits it held its shape rather well. The easiest way to do this is to form a round biscuit and press it down on a greased baking sheet. Using your fingers, create a well in the biscuit and place the egg in the well. Lay the egg on the side, you'll notice it's much easier to work with. Shape another biscuit and place on top of the egg and work with it to shape the biscuit around the egg. I used some extra dough to fill in the holes, trust me this is much easier done than said. Does that even make sense?
After a quick bake in the oven my kitchen was smelling like cheddary biscuits, my stomach was growling, and I was soon to be a very happy lady.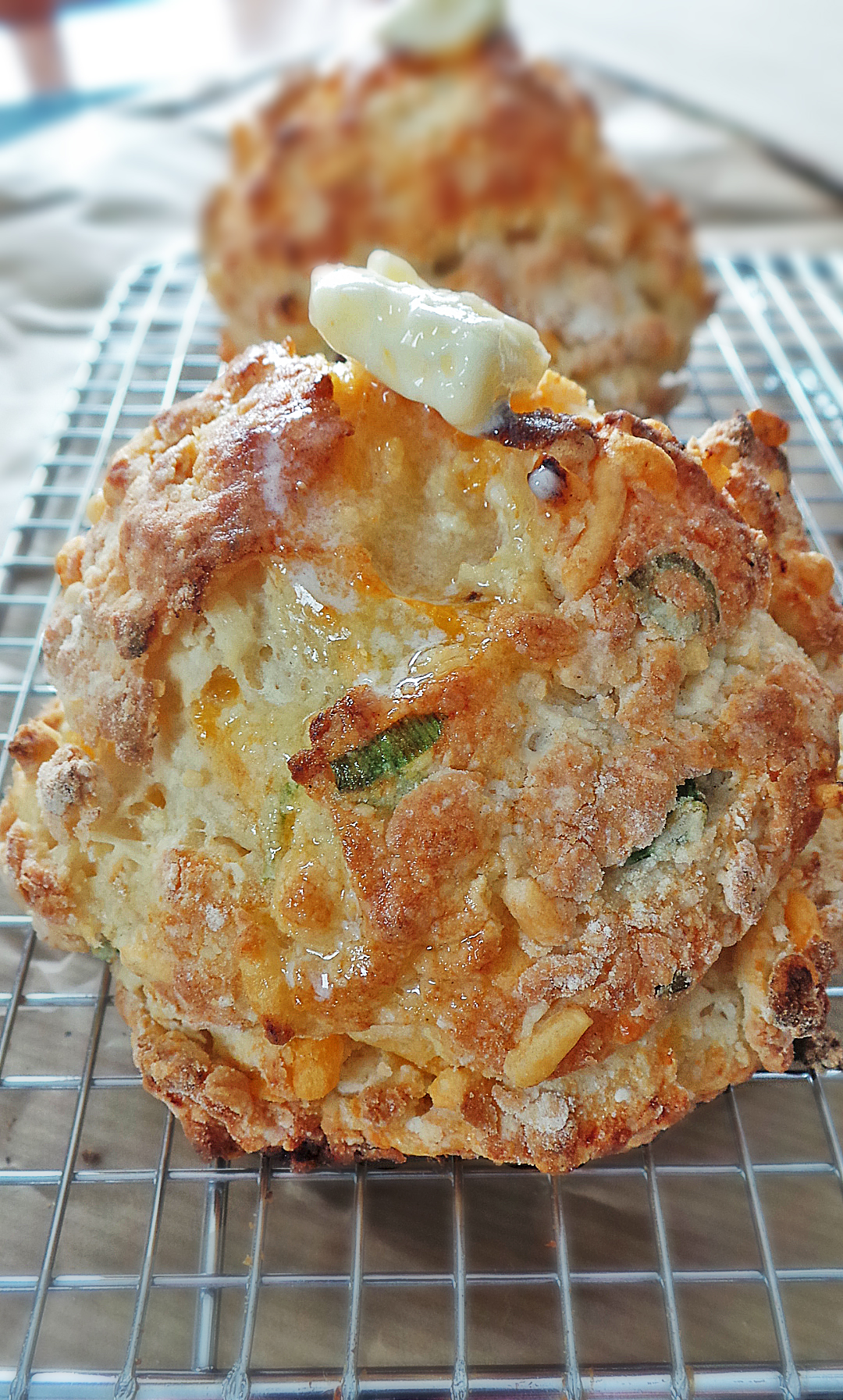 I was only able to make two large biscuits out of the dough, but really these babies are so big it could easily serve 4 people. If you're serving breakfast for a house full of people, double the recipe!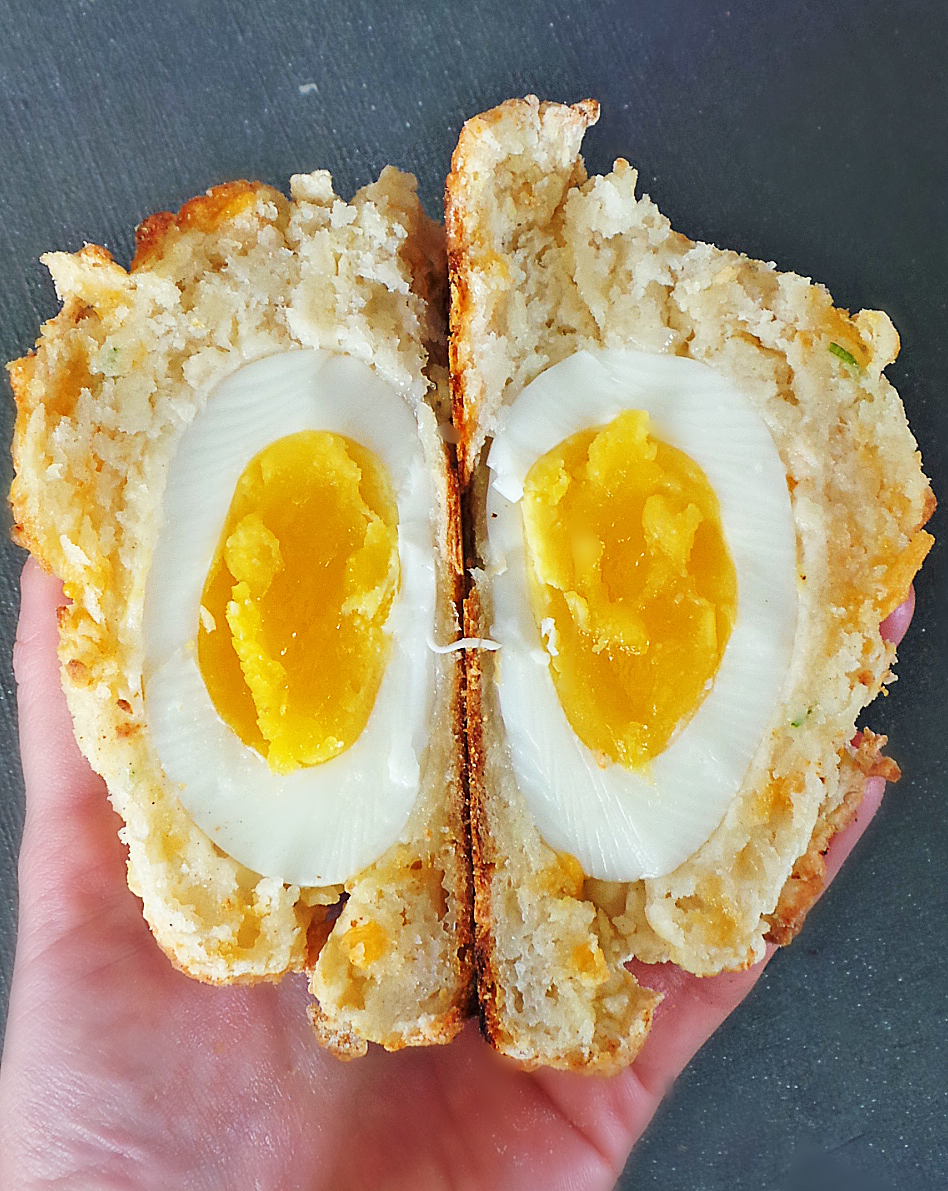 The biscuit has a crispy crust with a soft interior crumb, a hint of sweetness from the sugar and a touch of salt from the cheese. The chives give the flavor a contrast and when you open the inside and see the beautifully cooked egg, you get all cute and happy inside. I only soft boiled my egg for 5 minutes, which might have been a little excessive. I think baking cooks up the egg so you could definitely get away with boiling for less time. The only thing that would have made this better was a little more yolk, but I guess that means I have to make these again…bummer 😉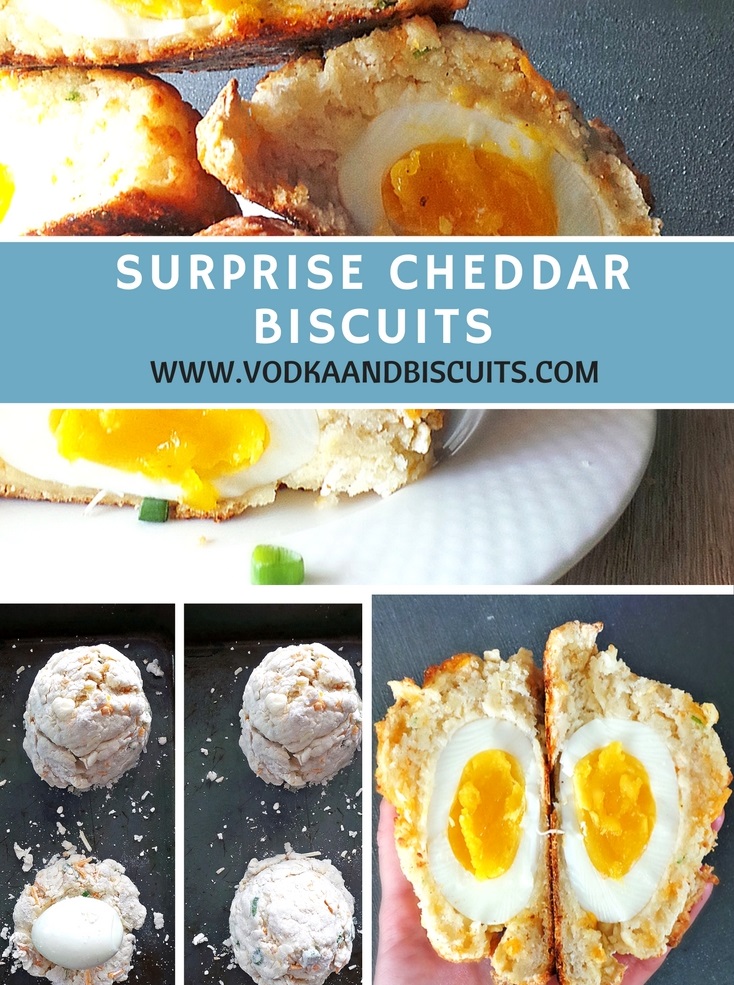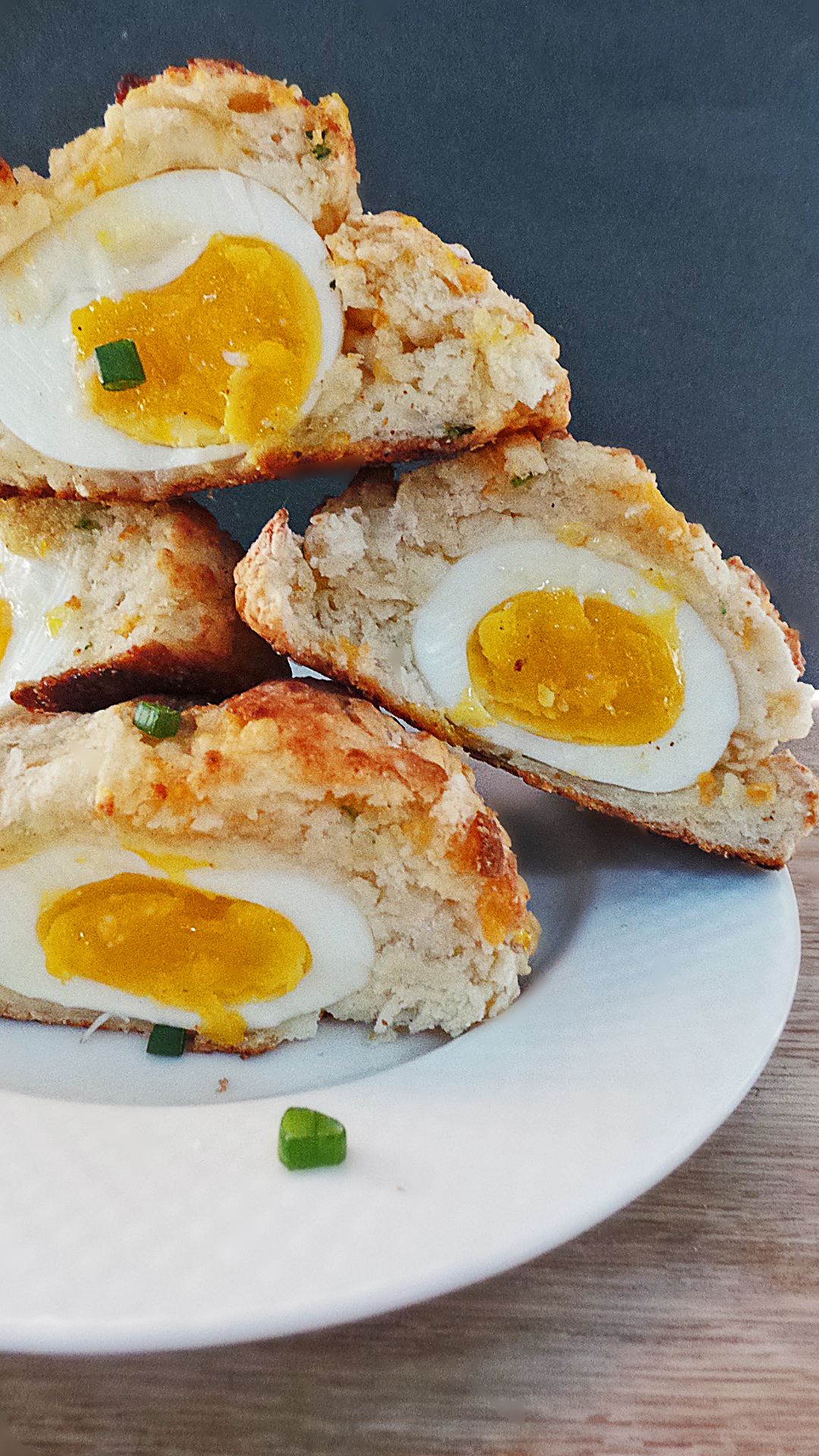 Surprise Biscuits
2014-03-18 11:46:04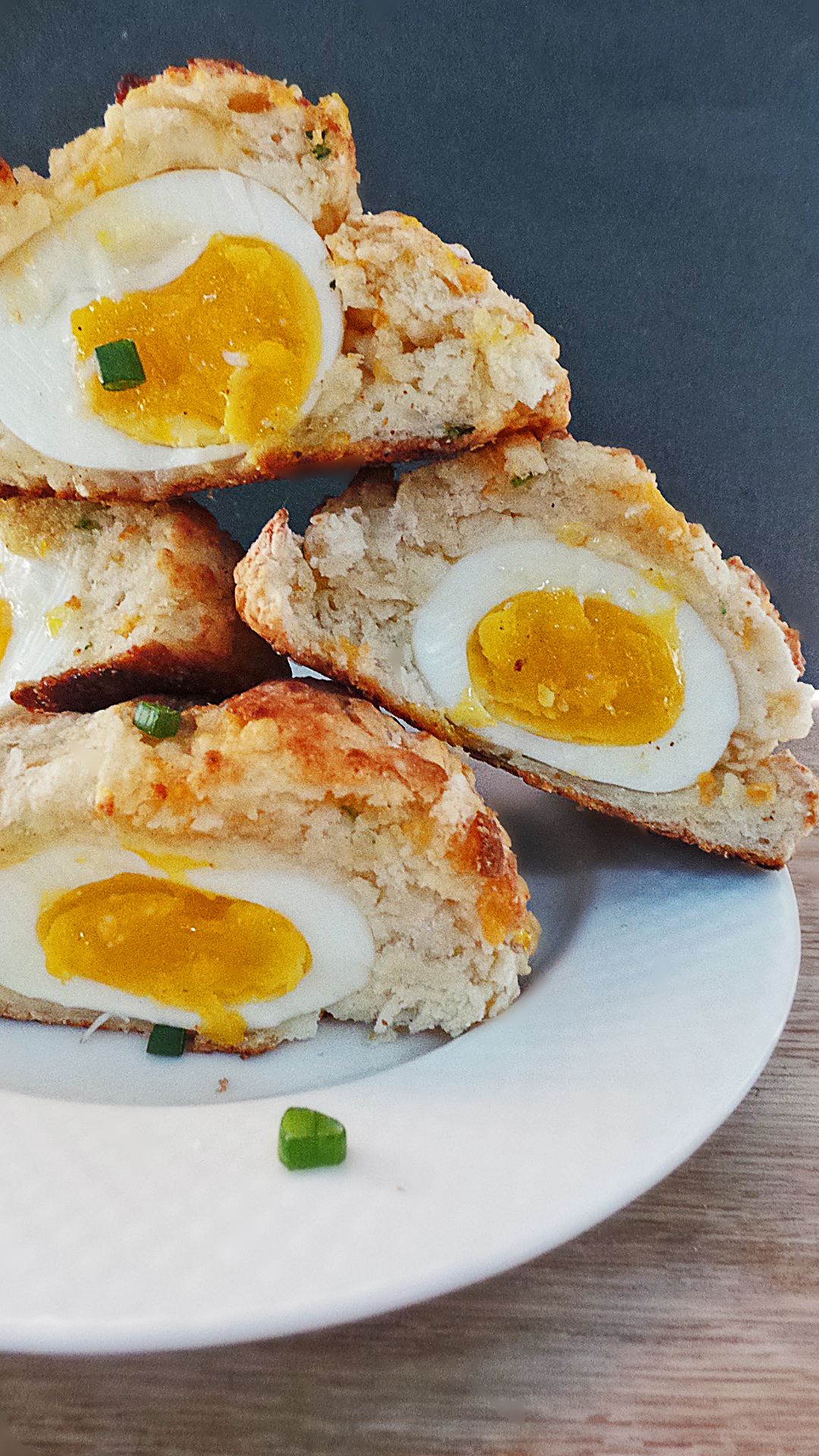 Serves 4
Cheesy biscuits baked with a fun surprise inside!
Ingredients
1 c. all purpose flour
1 T. sugar
1 1/2 t. baking powder
1/2 t. salt
1/2 t. baking soda
2 T. unsalted butter - diced, cold
1/2 c. cheddar cheese (shredded or block)
2 T. chives - chopped
6 oz. plain Greek yogurt
2 eggs
Instructions
Preheat oven to 475
Bring a pot of water to a boil. Add eggs and boil 4-5 minutes. Remove from heat and set aside.
Cube butter and toss in the freezer until needed. Cold better works best for biscuits!
Combine the flour, sugar, salt, baking powder, and baking soda in the bowl of a food processor. Pulse 1-2 times until combined.
Drop in the COLD butter and pulse a few times until mixture is crumbly. Stop at this point - don't want to overmix!
Add the cheese and pulse until just combined. Transfer into a bowl and gently fold in the chives.
Stir the yogurt up and add to the mix. Combine with a rubber spatula until just combined.
Spray a baking sheet with baking spray. Remove eggs from shells.
Using roughly 1/4 c. of dough, shape into a biscuit and place onto baking sheet. Press a well into the center. Place the egg in the well sideways.
Form another biscuit and place on top of the egg, forming the biscuit around the egg. Easily use extra dough to cover up the sides of the eggs.
Bake for 5 minutes, then reduce the heat to 400 and bake another 6-7 minutes until golden brown.
Top with melted butter and extra chives.
Notes
This dough does not have a bench tolerance, so once you whip up the dough make sure you bake right away!
Adapted from No Recipes
http://www.vodkaandbiscuits.com/
[shopeat_button]