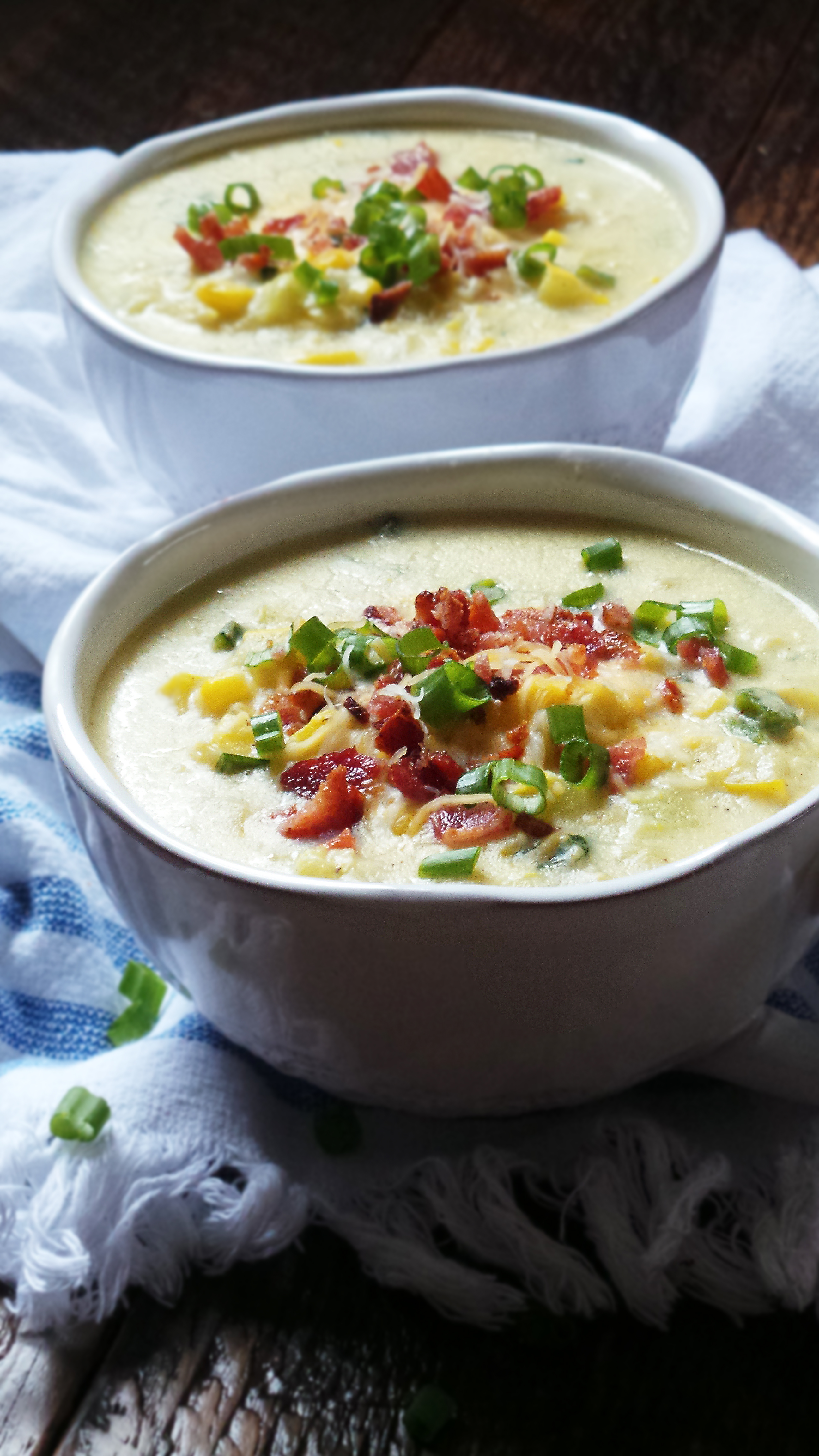 So good it hurts. No, really. How many bowls of Spicy Poblano, Corn, & Summer Squash Chowder until your stomach hurts you wonder? Two and a half. I'm disgusting.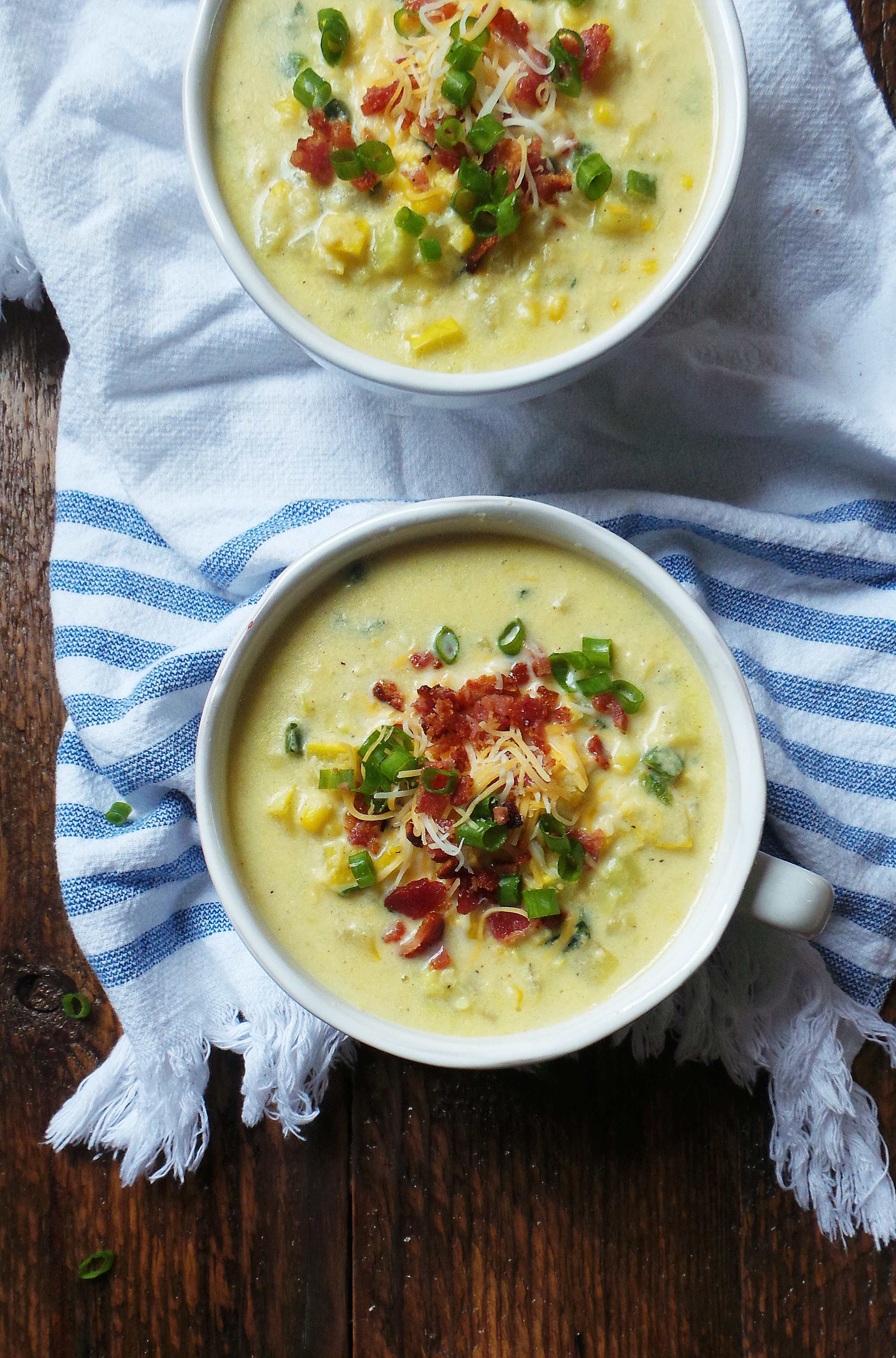 I've been thinking about this one for a while. I've had corn & poblano chowder on my recipe list, but I wasn't sold on it. I was flipping through a magazine the other day and saw a corn & summer squash chowder and holy LIGHT BULBS. Summer squash was exactly what I needed. I was still a little hesitant though. I love me a chowder, but I hate the calories. I started searching some light chowder recipes and after I saw a puree of corn and milk, I WAS SOLD.
So a trip to the store and 2.5 bowls later, here it is. Corn chowder with sweet summer squash and spicy poblano peppers based with a creamy light corn puree, all with subtle smoky flavor thanks to my best friend bacon.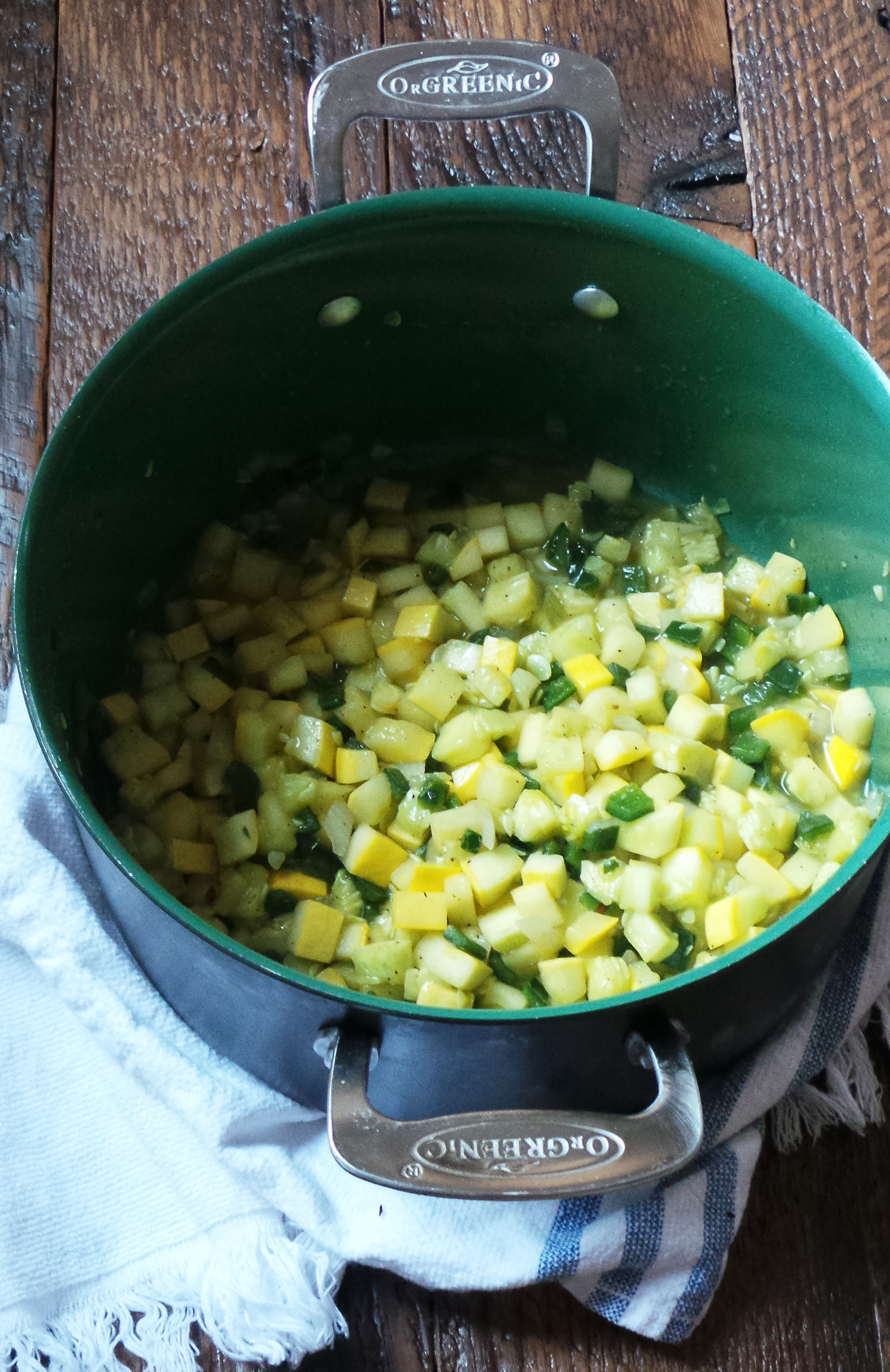 The bacon is what makes it. Not only does it give a meaty & salty crunch in the end, but we use the fat to cook the vegetables and enhance the flavor. The peppers and onion are cooked in the bacon fat, then the squash is added and sweated out. I didn't want much color added to the squash, so I popped the lid on and maintained the heat at medium. Basically it creates steam and cooks the squash tender without scorching it. Not that a crispy sauteed piece of squash isn't delicious though. While that was doing it's thing, I added half of my corn to a blender with milk and pureed that until smooth to create my soup base.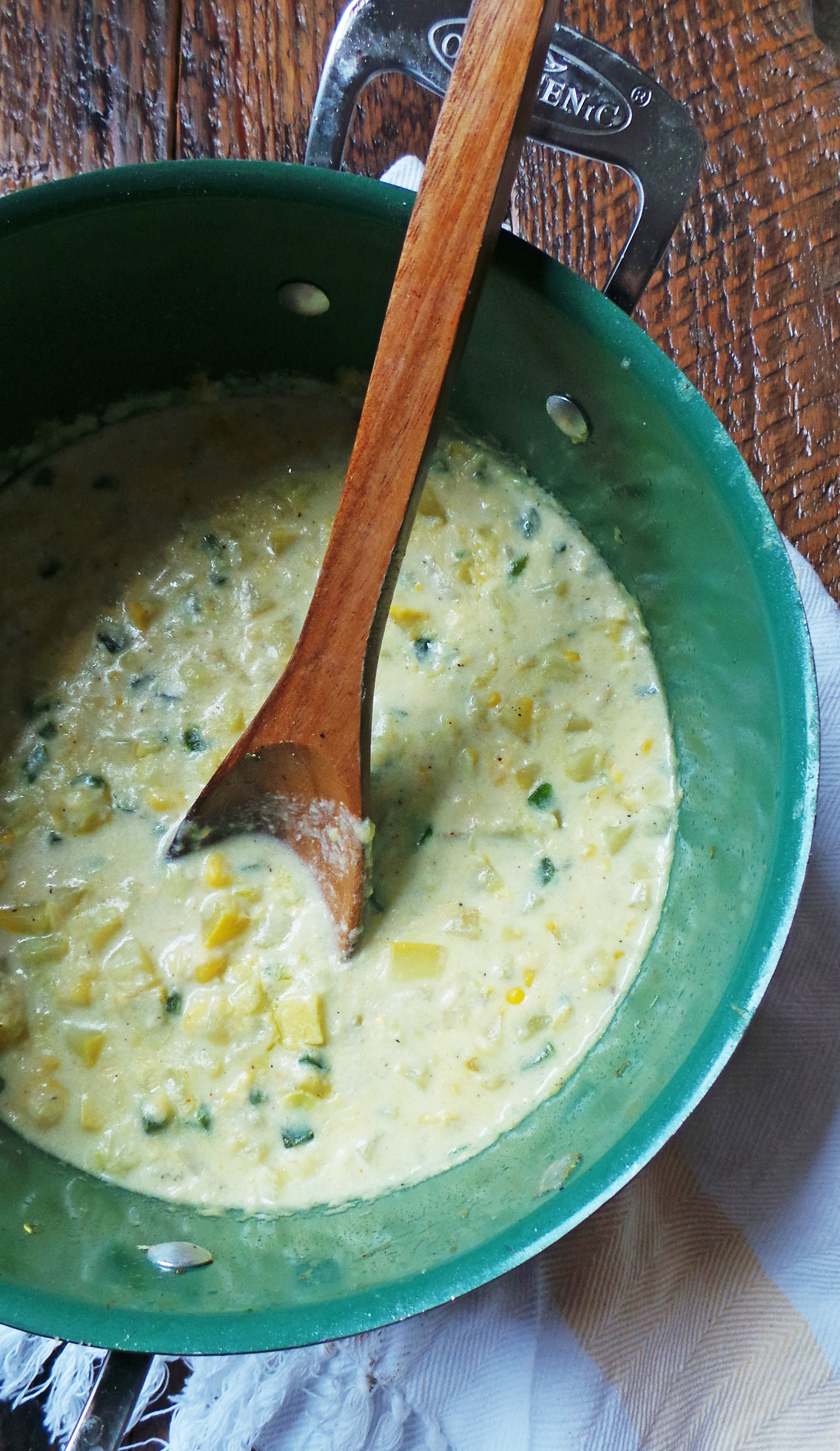 Who said you need cream to make a creamy soup? The corn and milk puree make a thick base with a million calories less than cream would. I love it. I added in the rest of the corn and allowed the soup to reduce for a few minutes. The longer it reduces, the thicker it becomes so you can totally control how filling you want this to be. Since I love the flavors of the vegetables, I didn't want to over season it. From start to finish I built flavor with salt and pepper, but just before taking it off the stove I stirred in a pinch of cayenne pepper.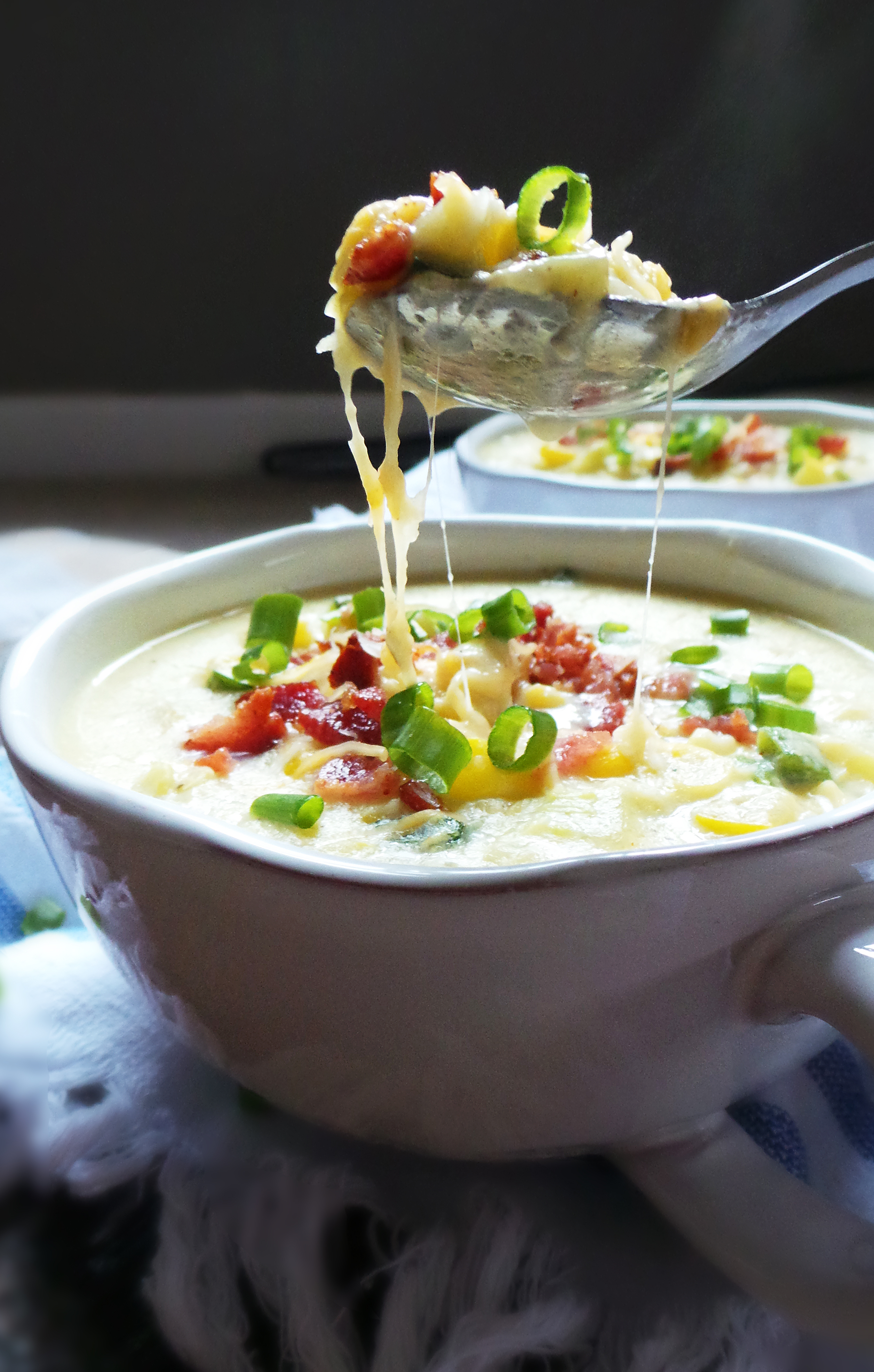 If you're feeling dangerous, stir in some cheese before garnishing with more cheese. I'm totally reckless today.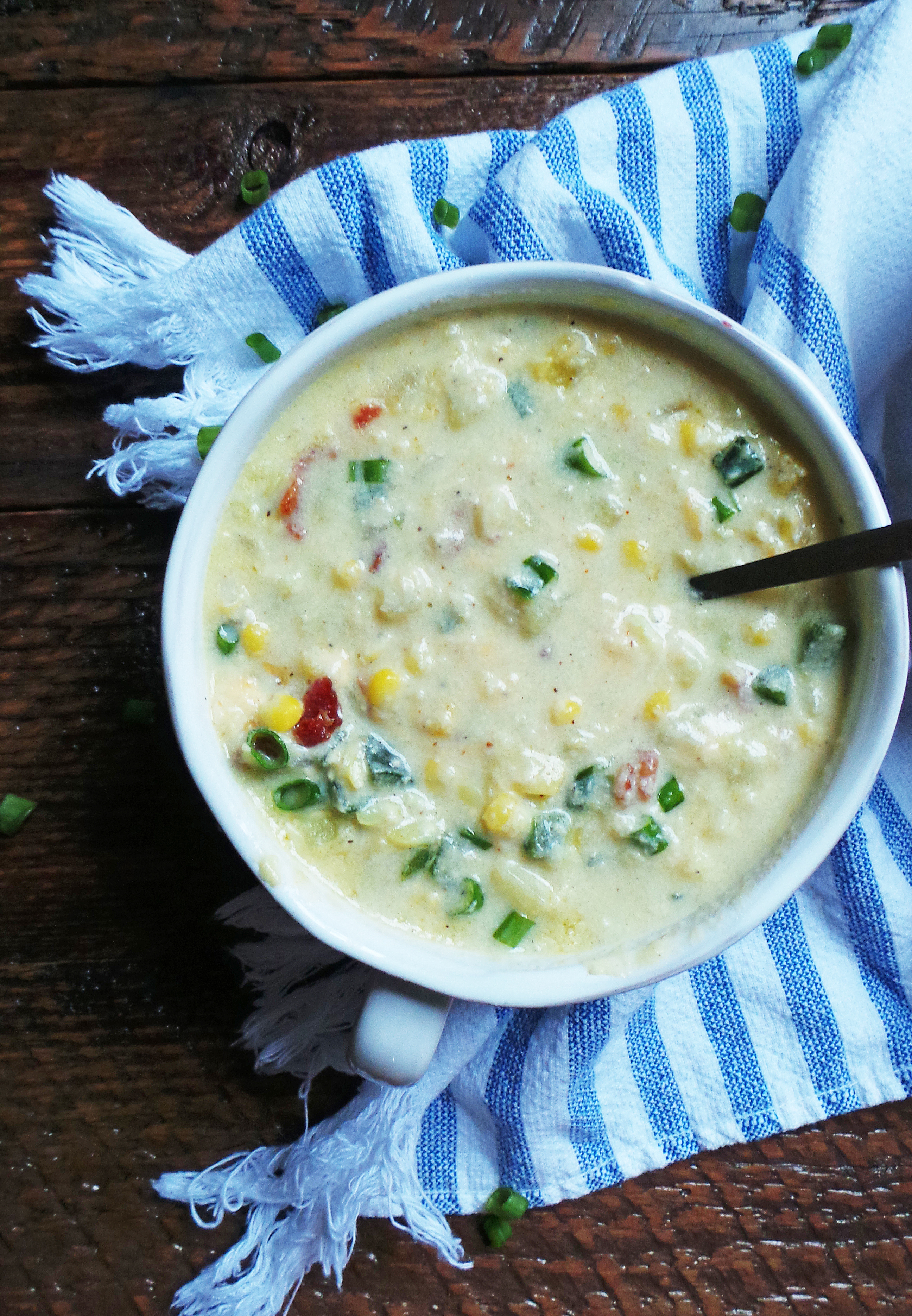 Garnish with some of that reserved bacon, cheese, and scallions and indulge because it's guilt-free and YOU CAN.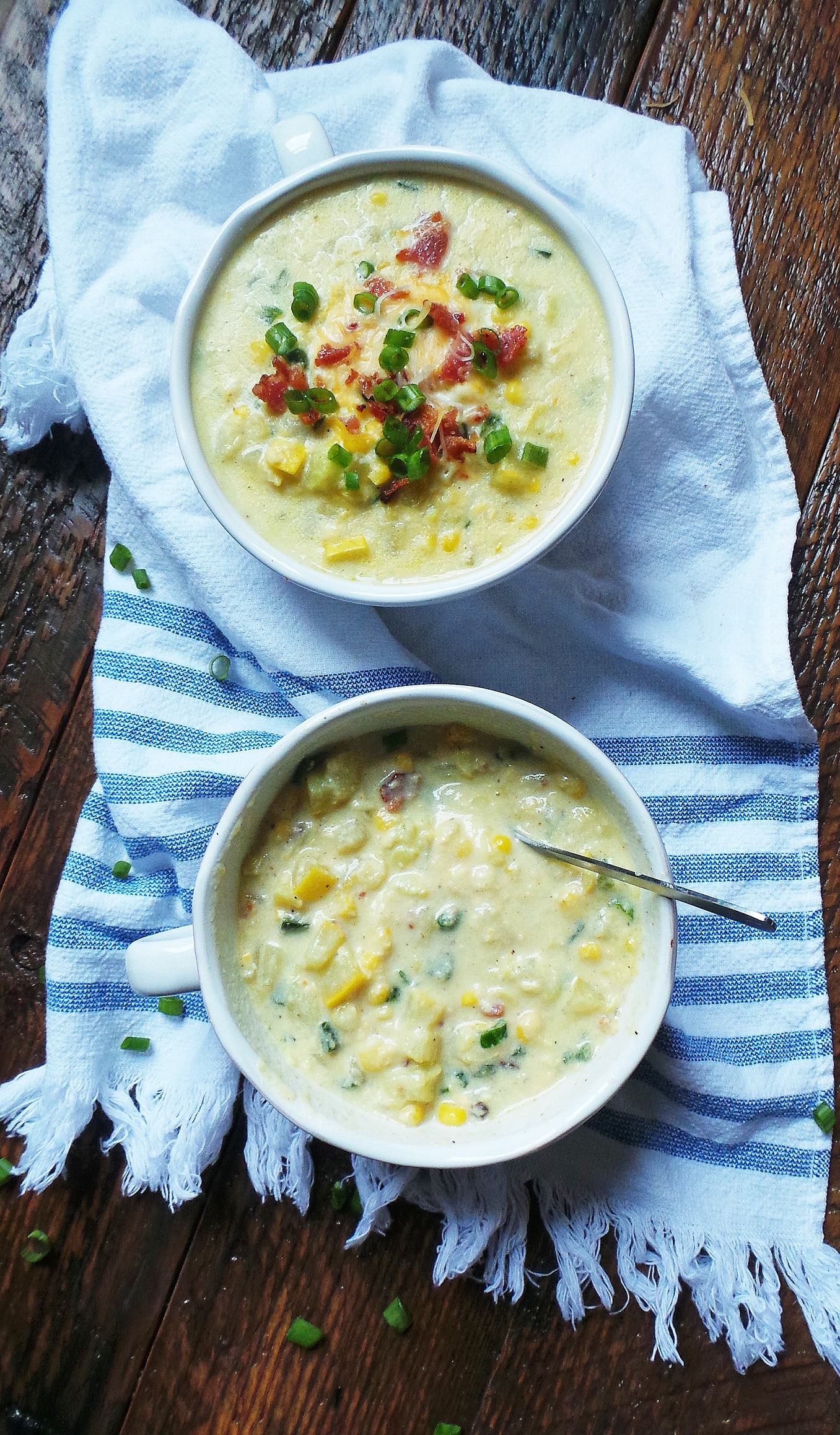 Spicy Poblano, Corn, & Summer Squash Chowder
2014-08-11 18:22:07
Serves 2
Ingredients
2 large yellow squash - medium dice
1 lb. frozen sweet corn kernels - thawed
1 onion - small dice
1 poblano pepper - ribs and seeds removed, small dice
2 c. reduced fat milk
2 pieces of bacon - cut in half
1 bundle scallions - chopped
1/4 c. Shredded Cheddar Cheese, plus more for garnish
salt and pepper as needed
pinch cayenne pepper
Instructions
Heat a heavy-bottom pot over medium high heat. Add the bacon and allow to cook until the fat is rendered and the bacon is nice and crispy. Remove the bacon and reserve.
Add the onion and pepper to the bacon fat and cook until the onion is translucent, about 3 minutes. Season with salt and pepper. Add a little sweet smoky paprika for extra deliciousness.
Add the squash and toss to coat in the fat. If it's looking a little dry, add about a tablespoon of oil!
Reduce the heat to medium and cover with a lid. This will trap steam and sweat the veggies, making them nice and tender without much color! Cook about 5-7 minutes or until tender, seasoning once more with salt and pepper.
In the meantime, combine the milk with HALF of the corn in a blender. Blend on high until smooth.
Transfer the "puree" into the pot with the remaining corn. Stir and bring to a simmer and allow to reduce for a few minutes. If it's still not as thick as you like, you can remove as much as the soup (even all of it!) and puree in your blender, usually I end up pureeing half of the soup.
Taste and season with a little more salt, pepper, and a pinch of cayenne. Stir in scallions and cheddar cheese.
Once you're nice and tasty, spoon into bowls and garnish with chopped bacon, extra cheese, and more scallions.
Dig in!
http://www.vodkaandbiscuits.com/