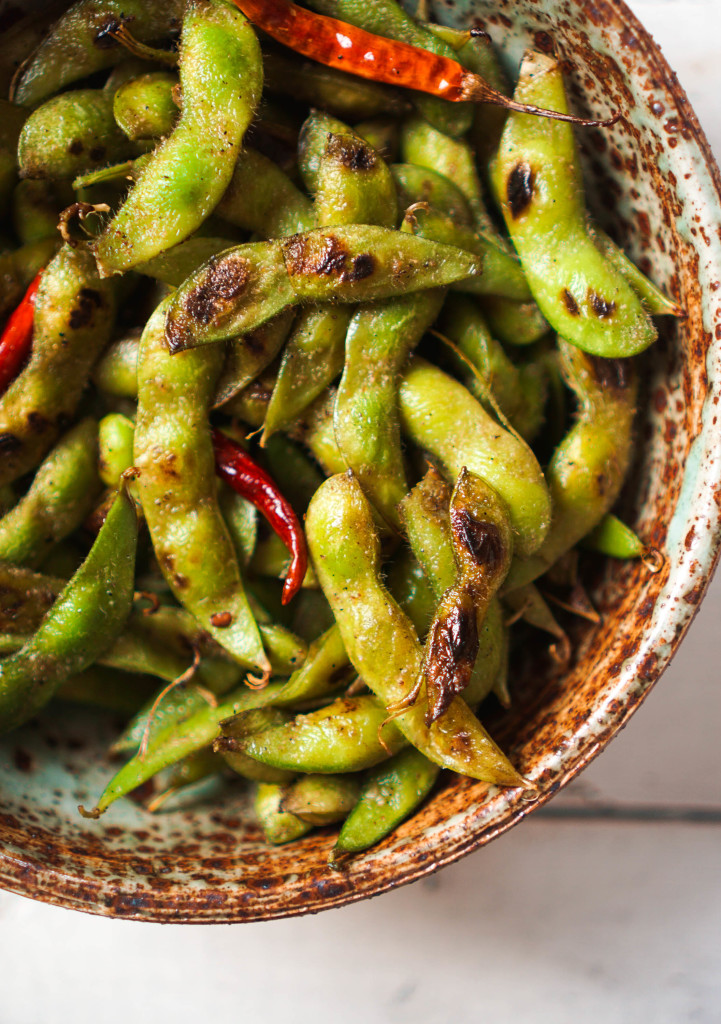 There is such thing as a healthy super bowl snack and this.is.it.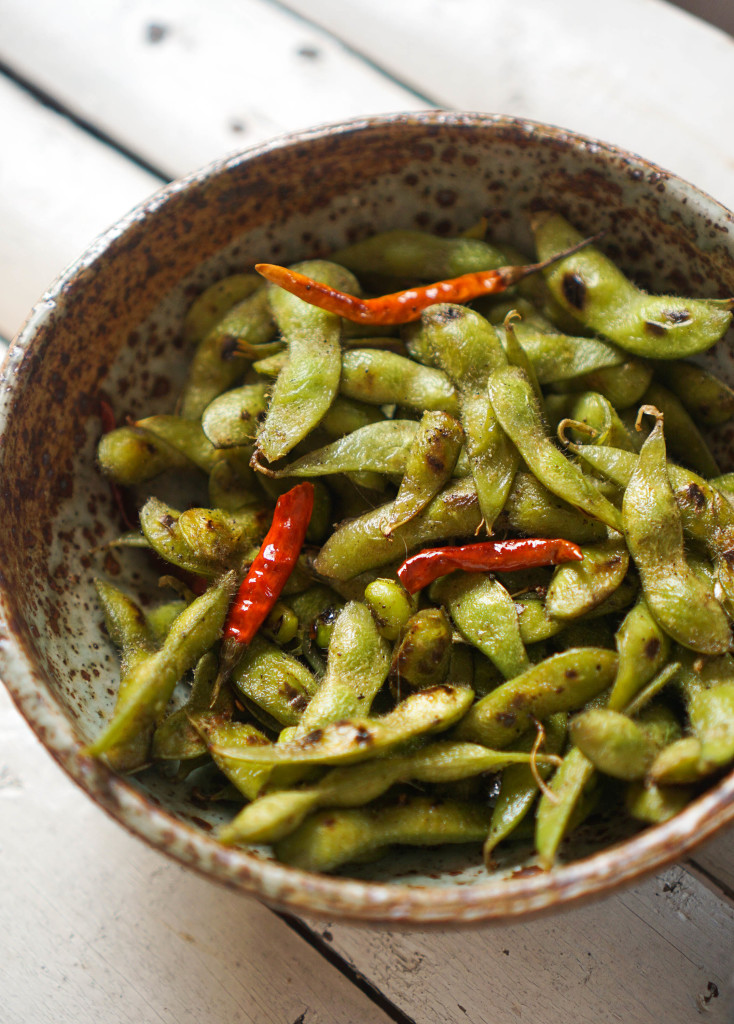 Spicy, garlicky, and a perfect balance of salty with a tang. These blistered edamames are ~everything~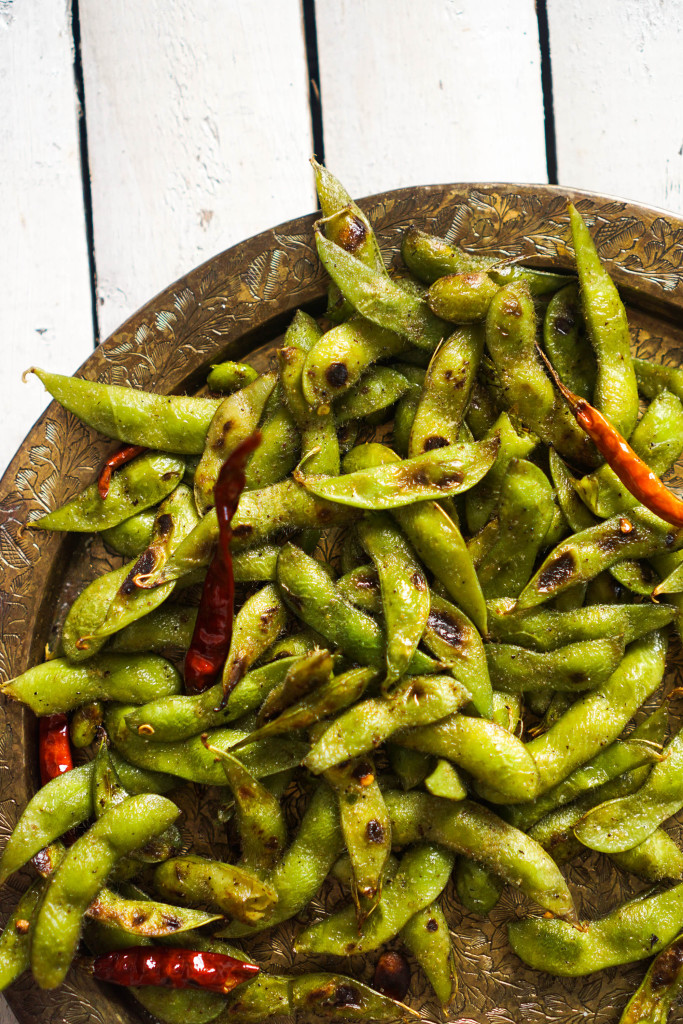 First off, my edamame game has been forever changed. We all know that roasted/charred ANYTHING is delicious, but charred edamame? Life changing.
I'm a sucker (non pun intended) for edamame. There's something so enjoyable about the eating process. Sliding the beans out of the pods with your teeth, catching any of the flavor left behind on the pod. I literally suck the entire pod dry. I should probably eat edamame alone now that I think about it.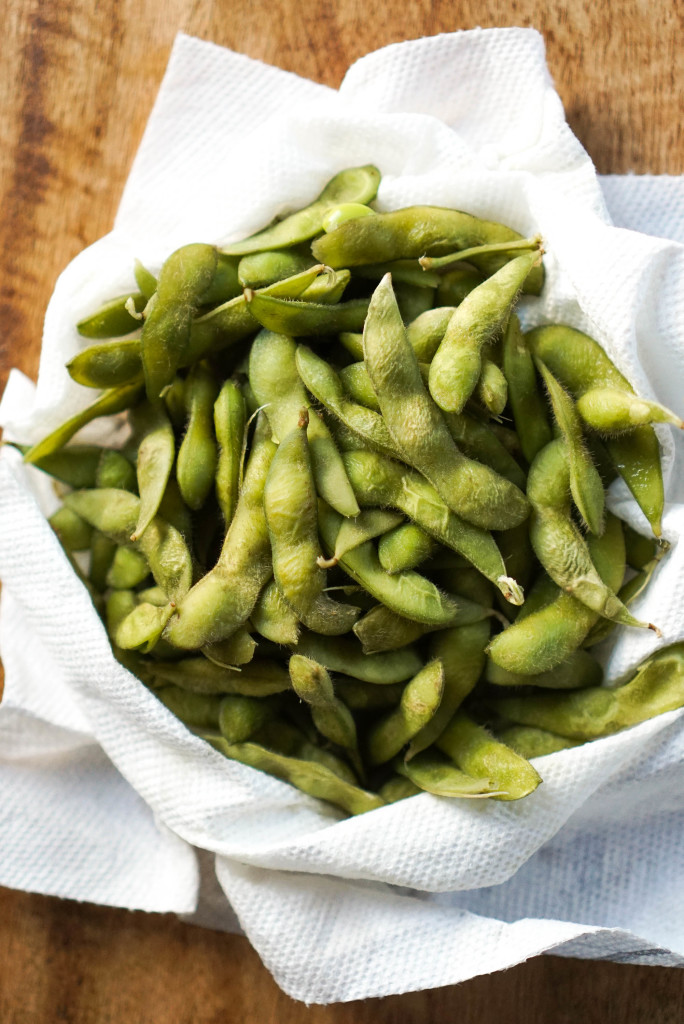 Let's start with the edamame itself. I often have a hard time finding fresh edamame so I opt for the frozen bags which you'll see in the recipe. If you do have fresh edamame on hand, just steam it in salted boiling water. See here!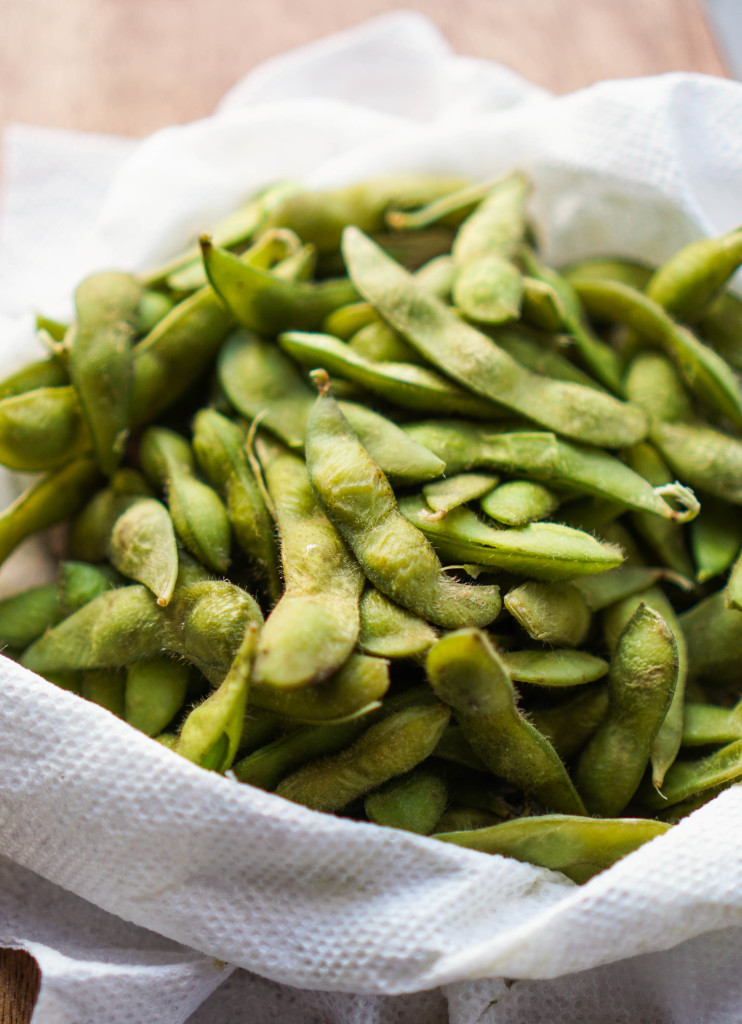 Frozen edamame is almost always pre-cooked so all you have to do is defrost it. I, the person who plans events in real life, did not plan this recipe very well and totally forgot to take my bags out of the freezer. So, if you're like me, just zap it in the microwave for a couple minutes until it is no longer frozen.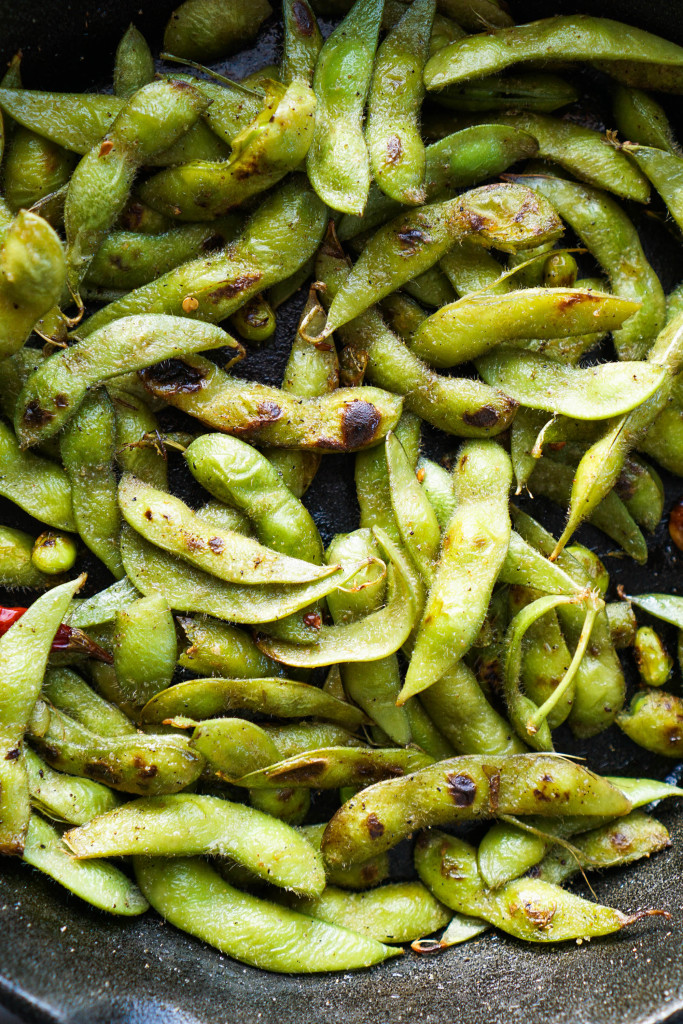 Cooking is super fast making this ideal for the super bowl. The flavor is there, the ingredients are easy and inexpensive, and the cooking time is minimal. Winning. I used my cast iron but you can use any large skillet. I used coconut oil and the flavors worked perfectly! I recommend coconut oil, but you can also use a mild oil with a high smoke point (like grapeseed!).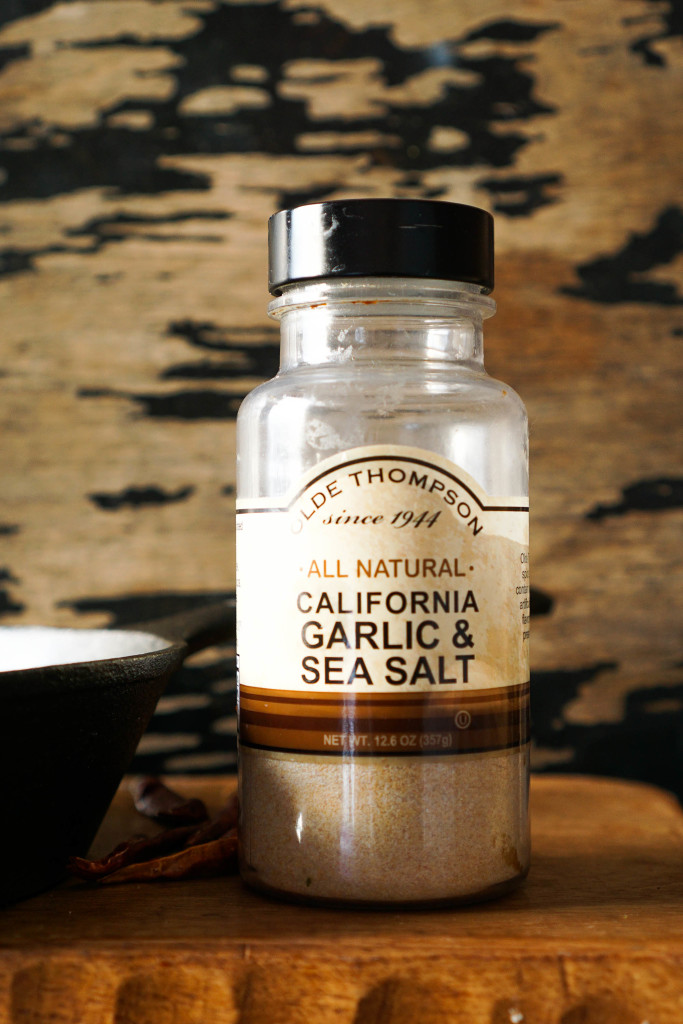 The first step is sauteing the dried chilies. I like things just spicy so I used one dried chili while cooking. If you like things spicy spicy go for 2. If you're feeling dangerous, add three! Just crack them in half with your fingers to release the seeds and cook until they sizzle. Should take like 45 seconds. Once that's ready, add in your pods and cook those for a few minutes until blistered and charred. Simple!
For seasoning I recommend either a combination of flaky sea salt and garlic powder OR my favorite kitchen weapon in the whole wild world: garlic sea salt. I use this on everythinnngggg.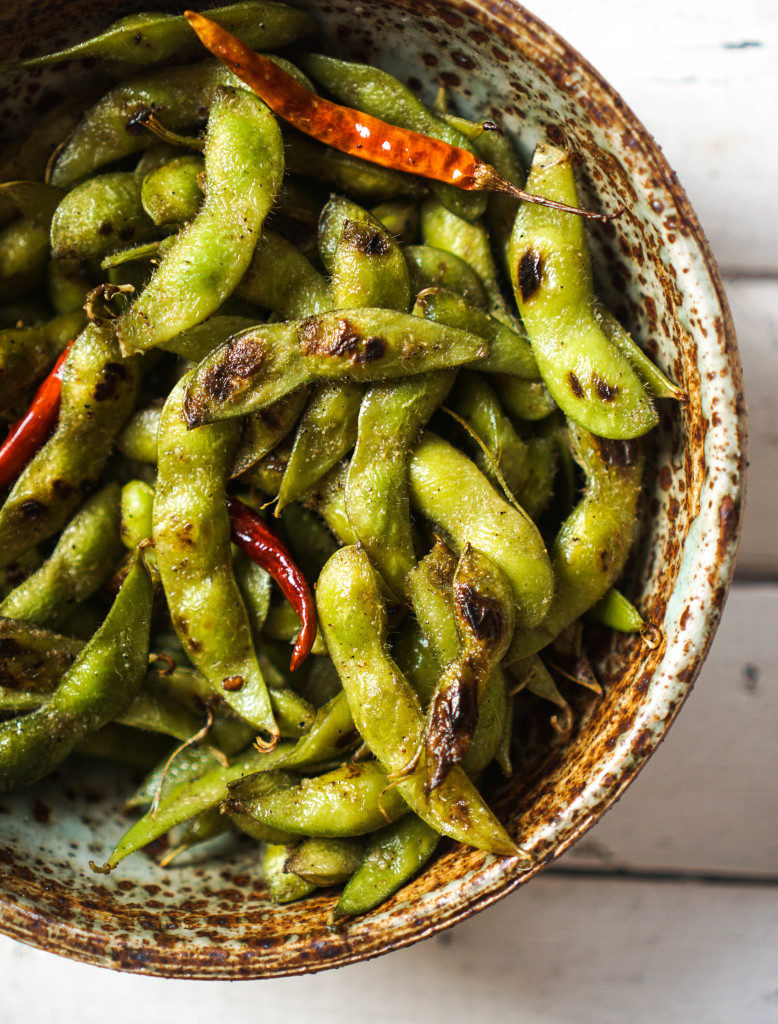 Now, for a few notes:
You can substitute the dried chilies for red pepper flakes! Add as much or as little as you'd like.
I wouldn't use fresh minced garlic because as delicious as it sounds, it can be overwhelming.
If you have hot chili oil, a drizzle of that would be killer.
Serve this with a side of soy sauce for dipping (yum!)
I'd say one bag can serve 2-3 people as an appetizer, so plan accordingly!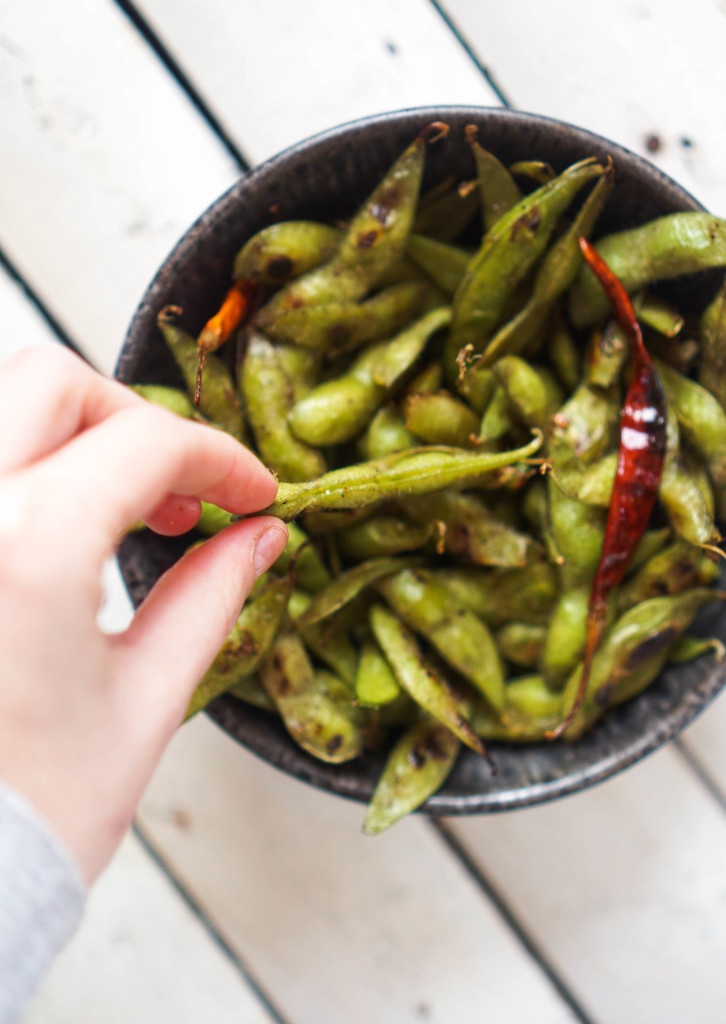 Whether you make this for a party appetizer, the super bowl, or just serve it along side dinner you're going to enjoy TF out of this.
Blistered Edamame with Chili & Garlic
2016-01-29 05:53:33
Serves 4
Ingredients
2 bags frozen edamame
2-3 tablespoons coconut oil
1-2 dried red chilies (depending on heat preference)
Garlic sea salt as needed
Squeeze of fresh lime
Instructions
Add the frozen edamame pods to a large bowl and add a splash of water. Cover with a damp paper towel and microwave for 2-3 minutes, just to speed up the defrosting process. You can also leave the frozen bags out for 1-2 hours prior to cooking to defrost. Either way works!
Heat the coconut oil in a cast iron or non-stick skillet to medium high heat.
Use your hands to snap one (or two) of the chili peppers in half (depending on heat level, I used one). Add to the oil and cook until some chili flakes release and begin to sizzle. You can skip this step and add in a pinch of red pepper flakes with the edamame instead!
Add the edamame, toss to coat in oil, and saute for 3-5 minutes, stirring frequently, until blistered. As the edamame cooks, season generously with garlic sea salt. Taste frequently and adjust as needed. I use two big ol' sprinkles because I like mine salty!
Finish with a squeeze of fresh lime then transfer to a bowl. Serve as is or with soy sauce for dipping.
You can also omit the chili pepper and drizzle with chili oil. Enjoy!
Adapted from Bon Appetit
Adapted from Bon Appetit
http://www.vodkaandbiscuits.com/