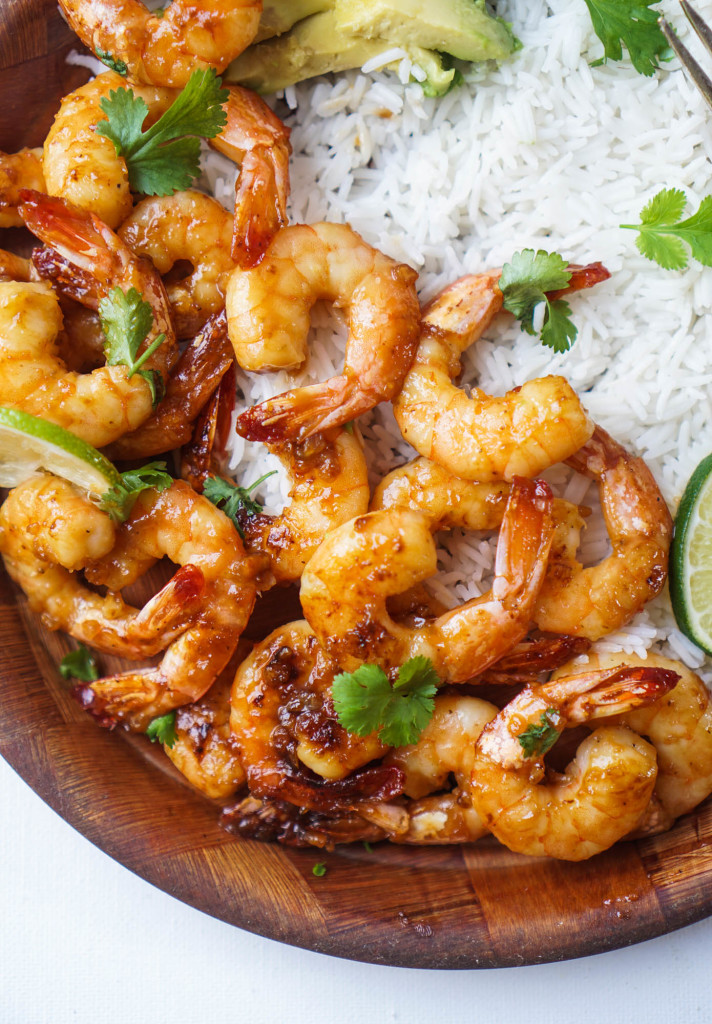 Shrimp caramelized with honey, garlic, spicy red pepper flakes, and lime. If this doesn't make you drool then I don't know what does.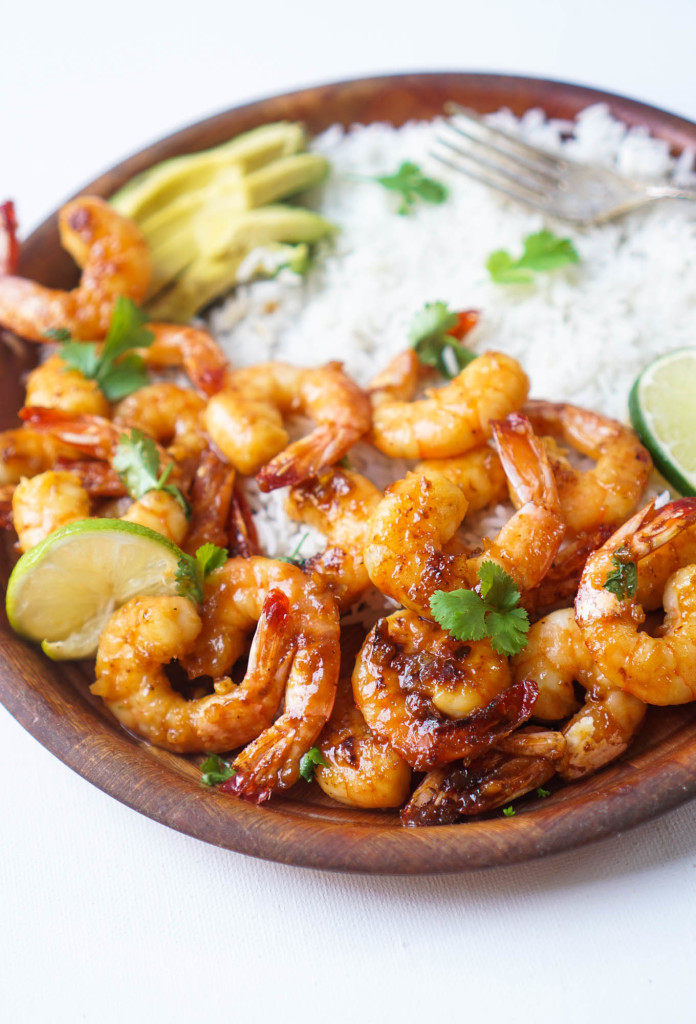 This recipe requires nothing more than a few common ingredients and a saute pan, so make this one weeknight for dinner or serve it as an appetizer with a side of mango (or pineapple) salsa at your next party.Throw it in a taco with spicy sauce or over rice with avocado.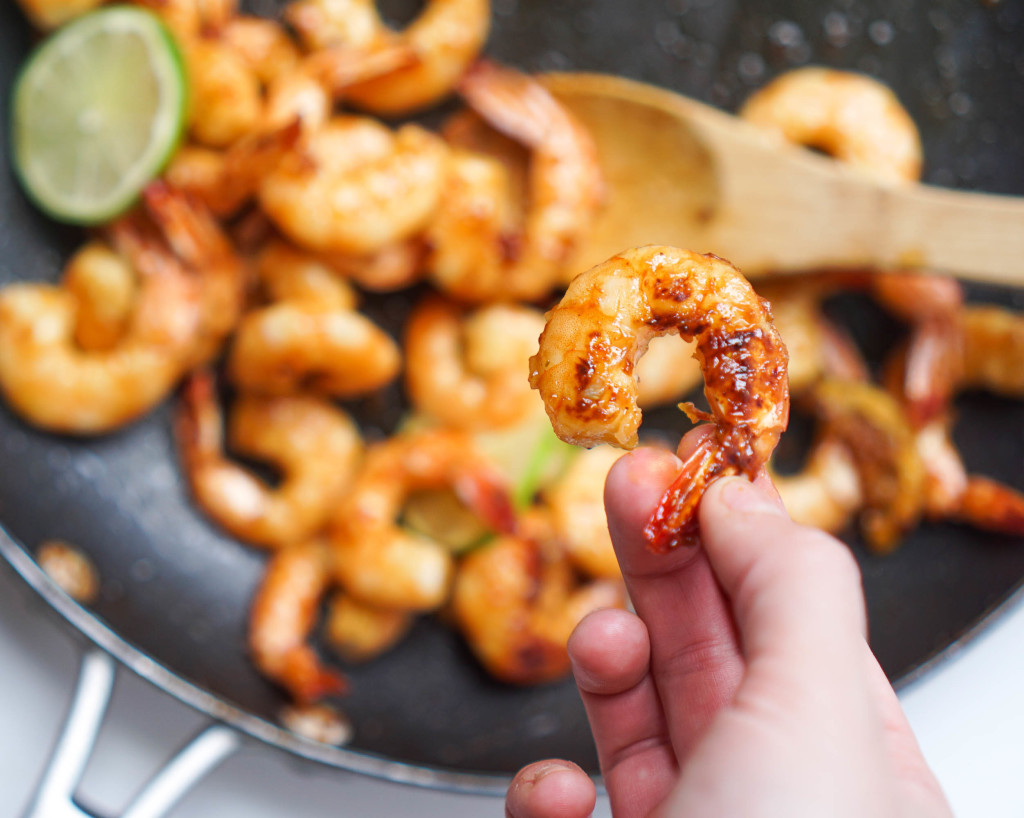 The only way you can disappoint with this is if you eat it all to yourself which there might be a chance of happening. Let's get cooking.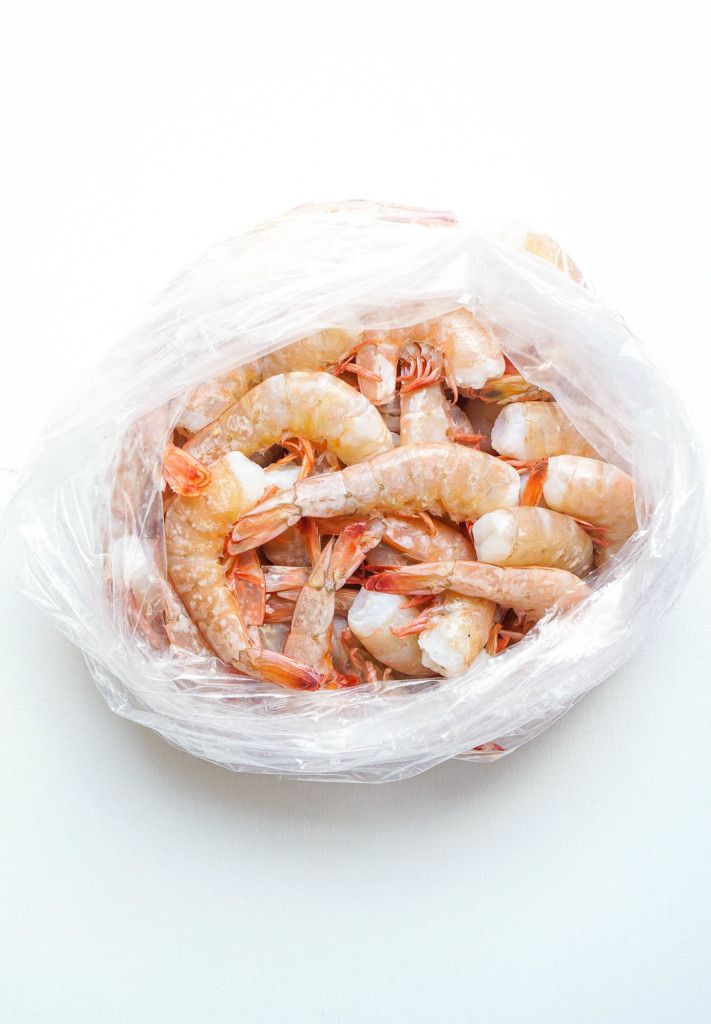 If you're familiar with my recipes you probably know how much I like to save them shells. Now that it's summer, seafood is a regular in my house and I make sure to always have some shrimp shells in the freezer. They make a to-die-for stock and I may or may not have something good coming your way that requires them (wink wink).
For this recipe I bought a pound of unpeeled shrimp, peeled & saved the shells, however I did leave the tails on. This is something I do for my photographs, but if I'm making this for dinner chances are I'm peeling them completely. It's easier to eat and you won't have a hangry dad yell because he just ate a shell.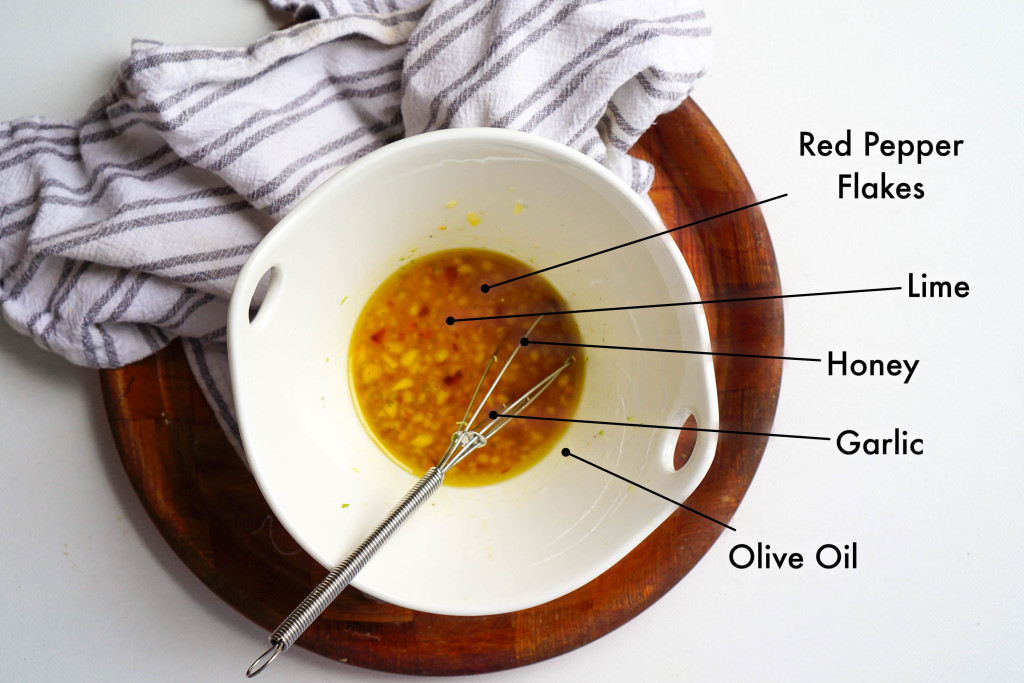 After the shrimps are prepped, whip up a SUPER simple and flavorful marinade. There's nothing crazy special with this marinade, what makes this recipe one of a kind is the cooking method. DRUM ROLL PLS.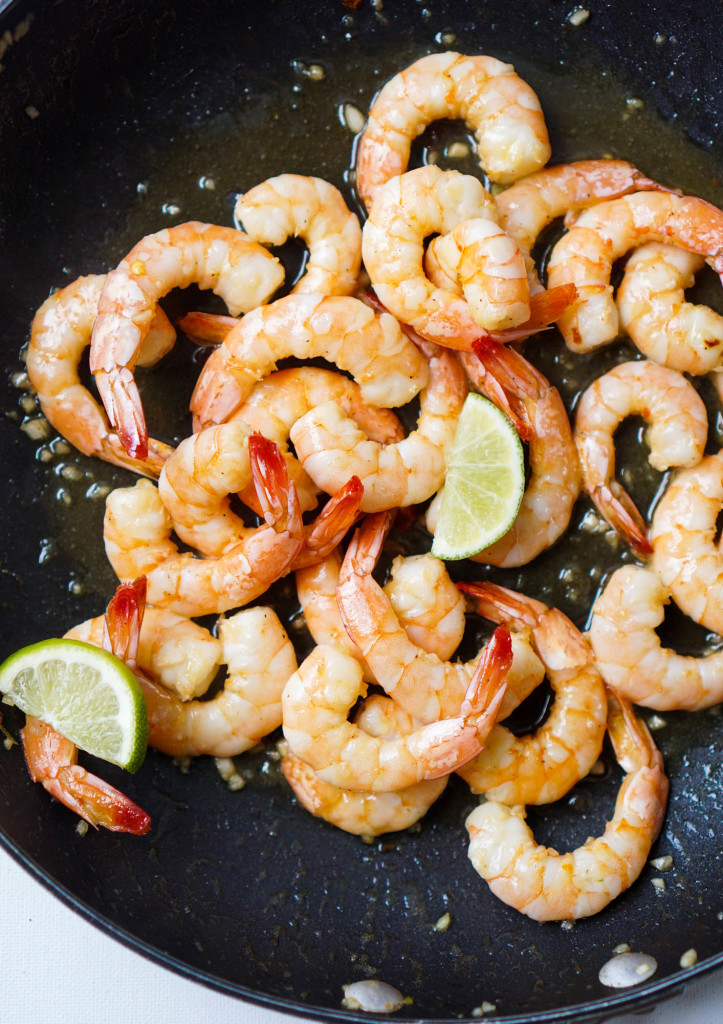 Shrimp can be very easily over cooked which is why I almost never grill them. I recently fell in love with roasting them (hi roasted shrimp scampi recipe), but if I'm in a pinch and hangry like dad, I'll quickly saute them.
The trick is sauteing them in their marinade liquid over medium heat for about 2-3 minutes on each side until pink. I then crank the heat to medium-high (too high and it will burn), add a few slices of lime, a drizzle of honey, then allow the shrimp to caramelize.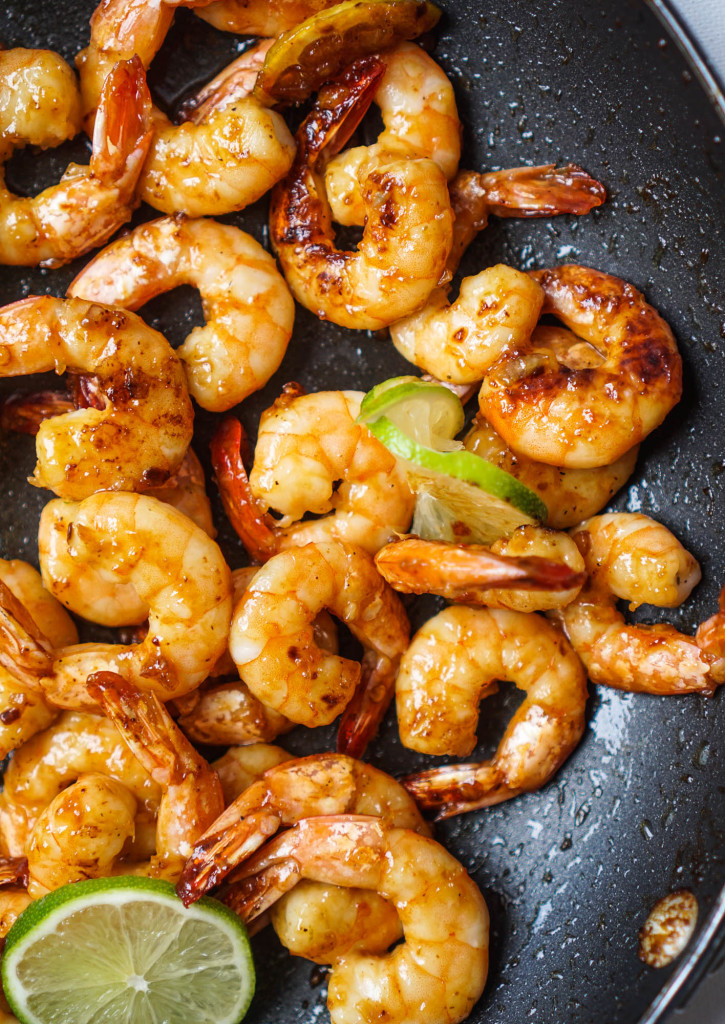 The honey will bubble and eventually stick onto the shrimp causing a deep amber color (above), but if you let it sit too long it will totally burn. Just be sure to moderate your heat and keep the shrimps constantly moving. This will only take a few minutes so don't go anywhere!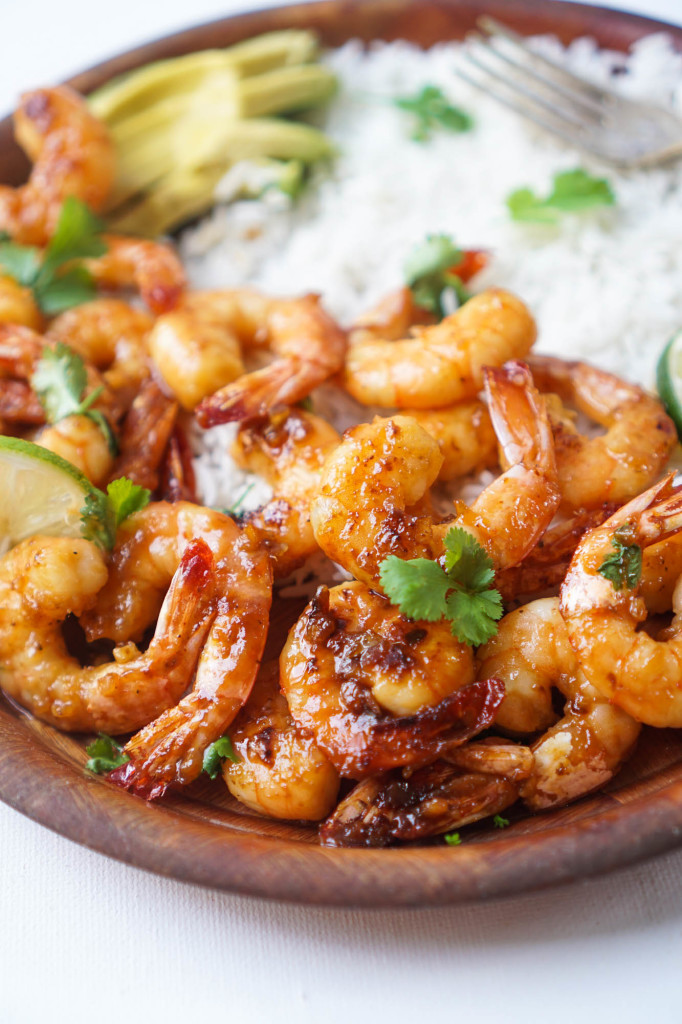 The shrimp will be sticky and perfectly sweet with a touch of heat and garlic that just melts in your mouth. Oh and the tang of the lime? Psh. Go makes this and see why I've been obsessed for years. Enjoy!
Caramelized Honey Lime & Garlic Shrimp
2016-05-31 06:09:19
Serves 6
Shrimp marinated in garlic, honey, lime, and pepper then quickly sauteed and caramelized. Perfect for tacos, rice bowls, or as is! This is great for a quick weeknight dinner.
Ingredients
1 lb. large shrimp, peeled*
1/4 cup olive oil
2 1/2 limes
2 garlic cloves, minced (about 1 tablespoon)
2 tablespoons plus 1/2 tablespoon honey
pinch of red pepper flakes
salt and pepper as needed
Instructions
Add the shrimp to a large bowl to marinade. Sprinkle the shrimp with salt and pepper for flavor.
In a small bowl, whisk together the olive oil, juice of 2 limes (about 2 tablespoons lime juice), garlic, two tablespoons of honey, and red pepper flakes until combined. Pour over the shrimp and marinade for 30-45 minutes in the refrigerator.
Slice the remaining 1/2 lime and set aside until needed.
When ready to cook, heat a large saute pan over medium heat. Add the shrimp. Use a wooden spoon to separate the shrimp so they are evenly scattered in the pan. Cook 3 minutes on each side until shrimp are pink and no longer translucent.
Increase the heat to medium-high, add 2 lime slices, and drizzle over the remaining honey. The honey will start to bubble and caramelize the shrimp, just be sure to keep tossing and turning the shrimp to prevent burning. Once the shrimp have a glaze of deep brown, they are ready. The process should take 3-4 minutes.
Taste and adjust pepper flakes, salt, garlic, and lime as needed. Serve as is, in a taco, or over rice with avocado and mango.
Notes
*I always recommend buying shrimp with the shells on as you can save & freeze the shells for stock. I left the tails on my shrimp for appearance, but I recommend removing them before cooking.
*Cooking the shrimp over medium heat allows the shrimp to slowly cook without overcooking. Increasing the heat and adding honey will caramelize the shrimp, just be careful not to have the heat too high, and also be sure the shrimp are constantly being stirred around to prevent burning.
http://www.vodkaandbiscuits.com/