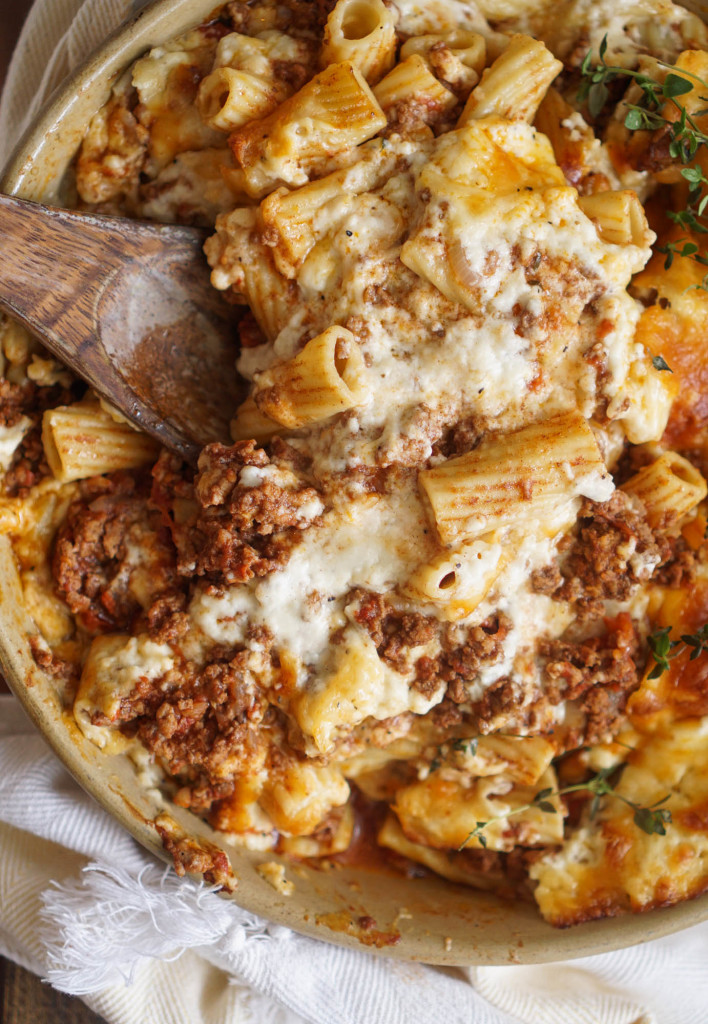 Pastitsio, it's what I like to call stick to your ribs-kinda-food. Or as Scott calls it, "take a bite then do ten push-ups…then repeat 20 times."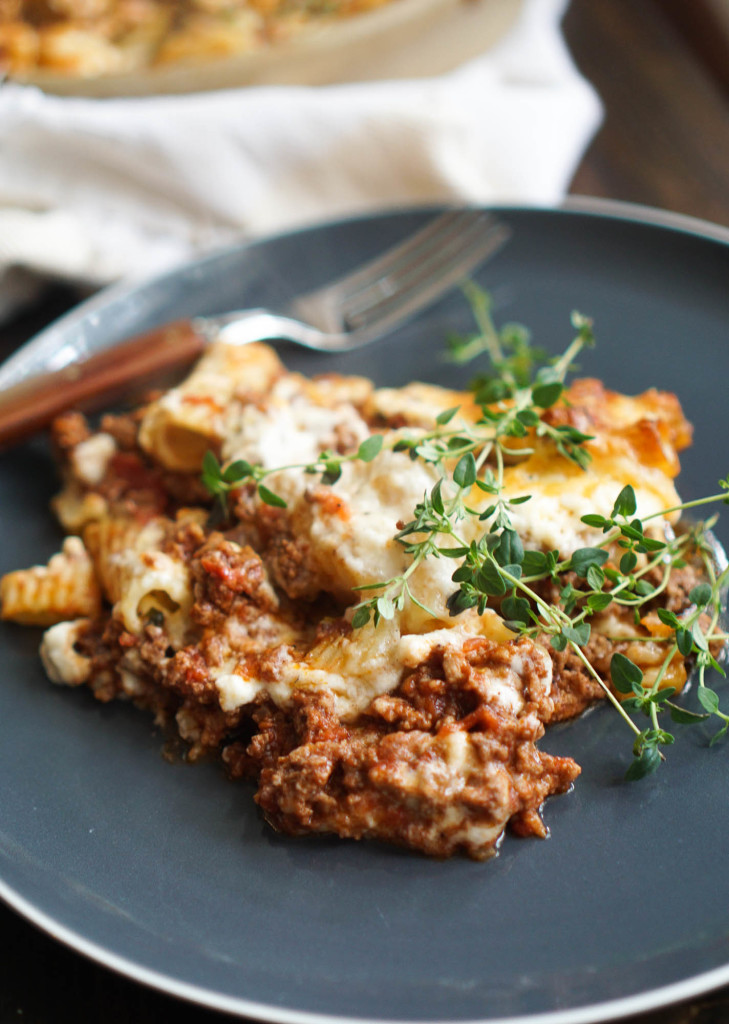 If you're unfamiliar with this Greek dish, you're in for a treat. Traditionally Pastitsio is a pasta dish layered with meat, tomato sauce, pasta, and a creamy bechamel. It's baked together to form a lasagna and has a distinct flavor with the help of a little cinnamon. I was introduced to authentic Pastitsio a few months back and have had it bookmarked on Ina Garten's Make it Ahead cookbook since. In this recipe we bend the traditional ways a bit by combining together the sauce, meat, and pasta, then layering with bechamel & cheese for a pasta bake kinda like you would baked ziti.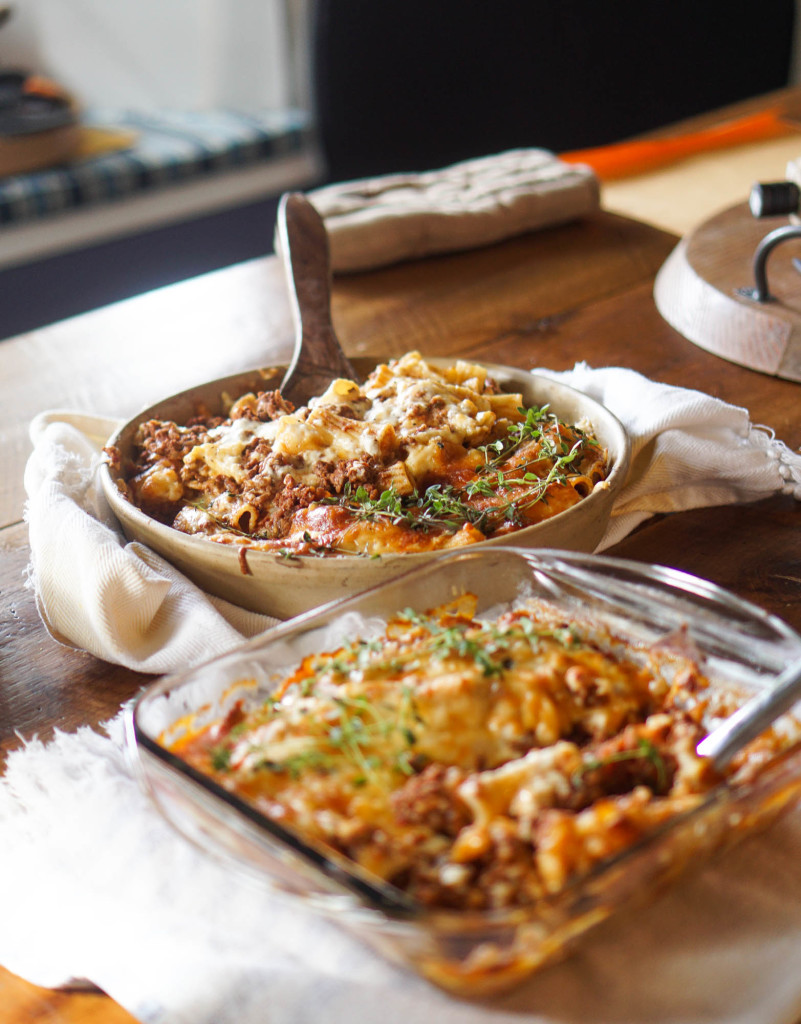 I have been on a comfort food rampage lately. Crab mac & cheese, chicken Marsala with paparadelle, collard greens, overnight ham, and now Pastitsio. I don't know if it's because I'm in the middle of our busiest wedding season yet and all I want to do is come home to a bottle glass of wine with a satisfying meal, or because the weather is changing. Probably a little mix of both. Hopefully you're feeling it too because this Pastitsio is what I call comfort. Let's cook.
The Meat Sauce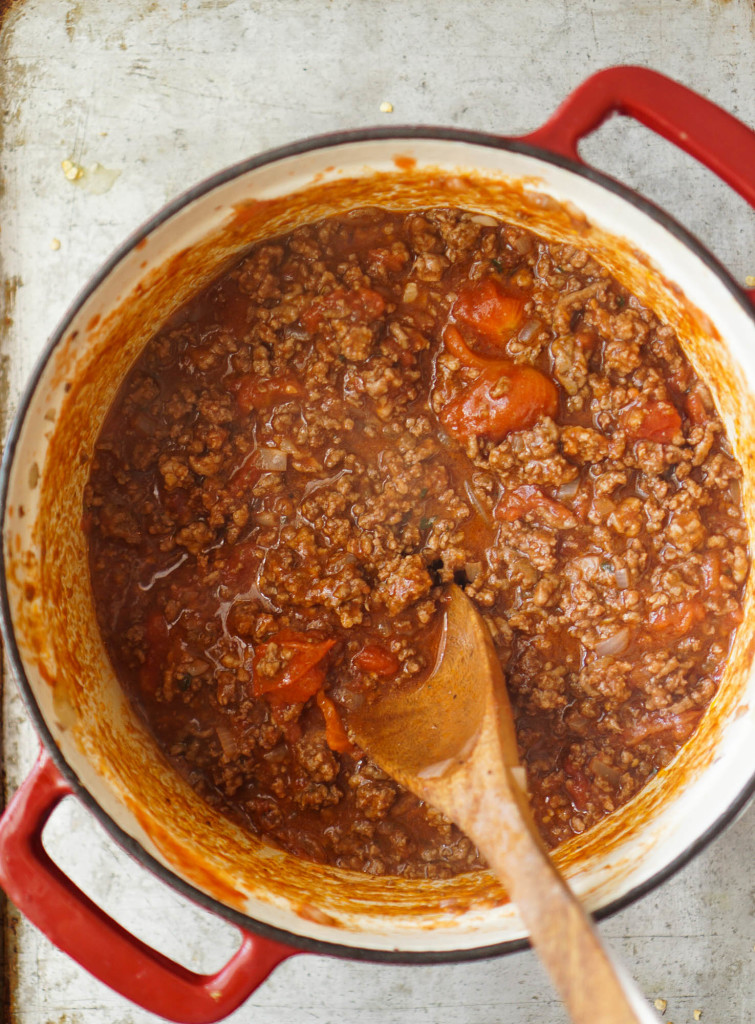 The first step is the meat sauce which is the base to our dish. It's made with ground beef and ground lamb (you can use pork instead), that's been cooked with onion, red wine, thyme, oregano, and the most important: cinnamon.
Cinnamon will set your dish off and truly give it the nostalgic Pastitsio flavor. It may sound weird, and it may taste confusing at first, but trust me on this one. A can of San Marzano tomatoes gets added in, then that goes on the back burner for a good 45-minutes.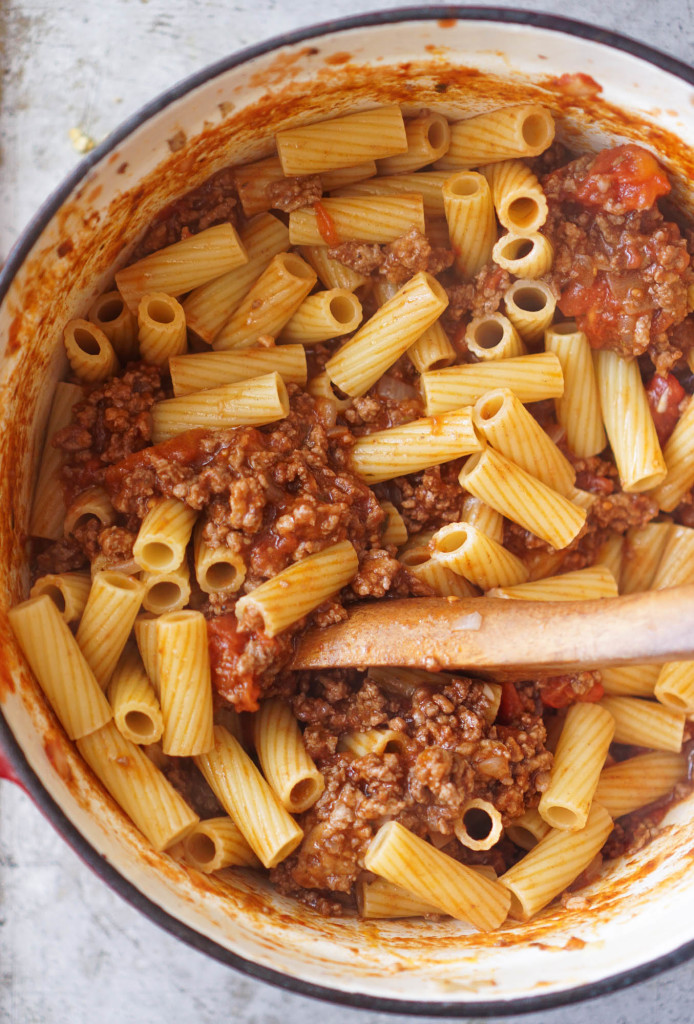 Once the sauce is ready, toss in the pasta and prepare for the good stuff.
The Bechamel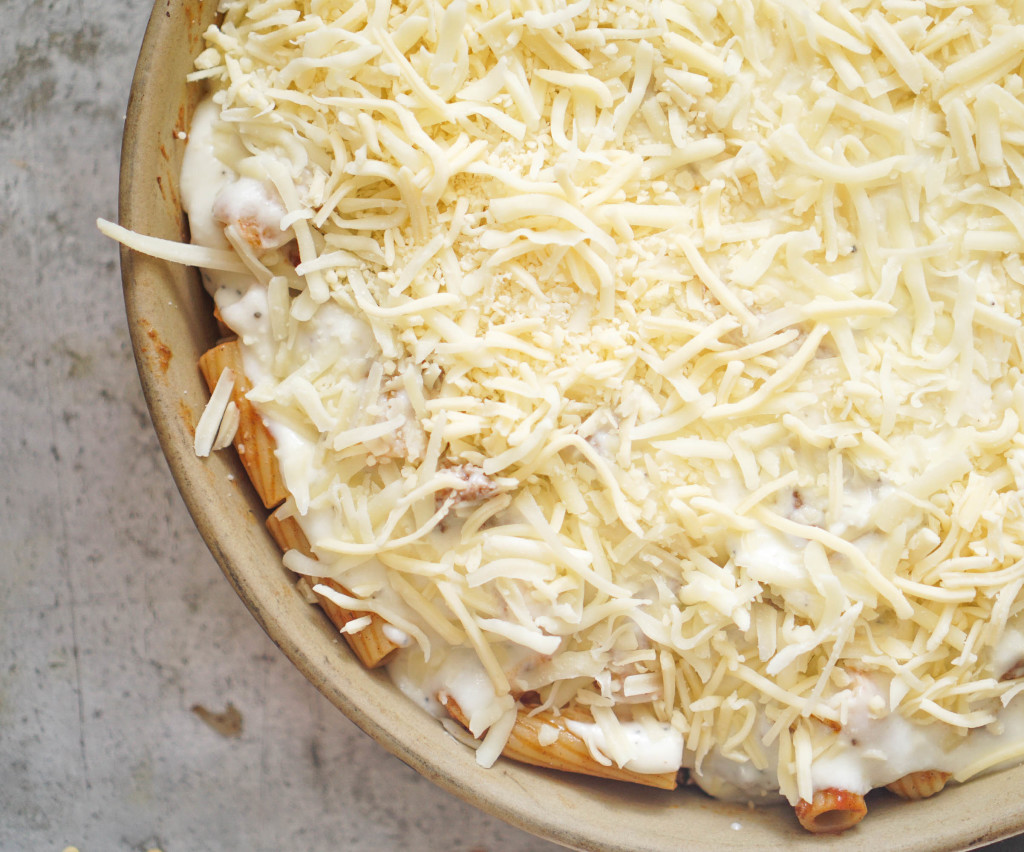 Bechamel is SO easy to make. It takes butter, flour, milk, and a little patience. If you've never made this sauce before, I've broken it down HERE. I call this bechamel level 2 because we not only add a handful of cheese, we get crazy and stir in Greek yogurt.
Greek yogurt is healthy, right?
The sauce gets gets poured over the pasta, sprinkled with more cheese, then baked in the oven until melty swoon worthy' perfection.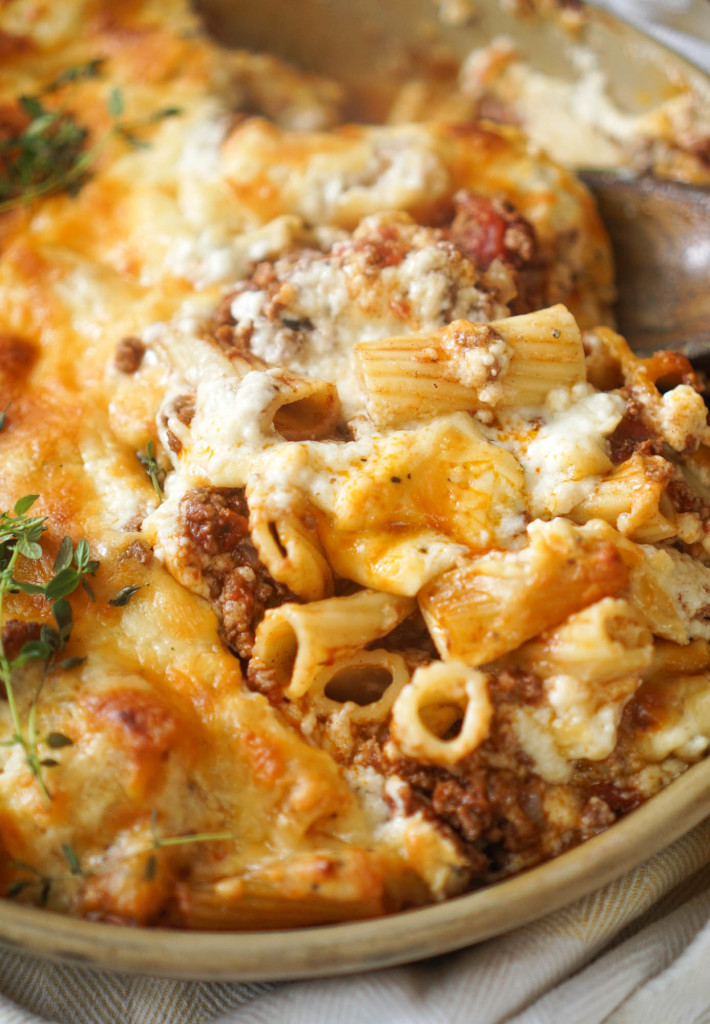 This is the true definition of comfort food that feels like home. At the end of the day, that's all we want right?
So, the question is WHEN to make this, because this really isn't something you want to make after a long day of work. You may have saw on my instagram-story a few weeks back that I made this while Scott had the guys over for the game. I also have this on a menu for Sunday night dinner when we're hosting at least 4-6 people. I'd serve this with a side of bacon wrapped asparagus bundles or a hearty salad. You can't forget the warm crusty bread and bottle of red wine.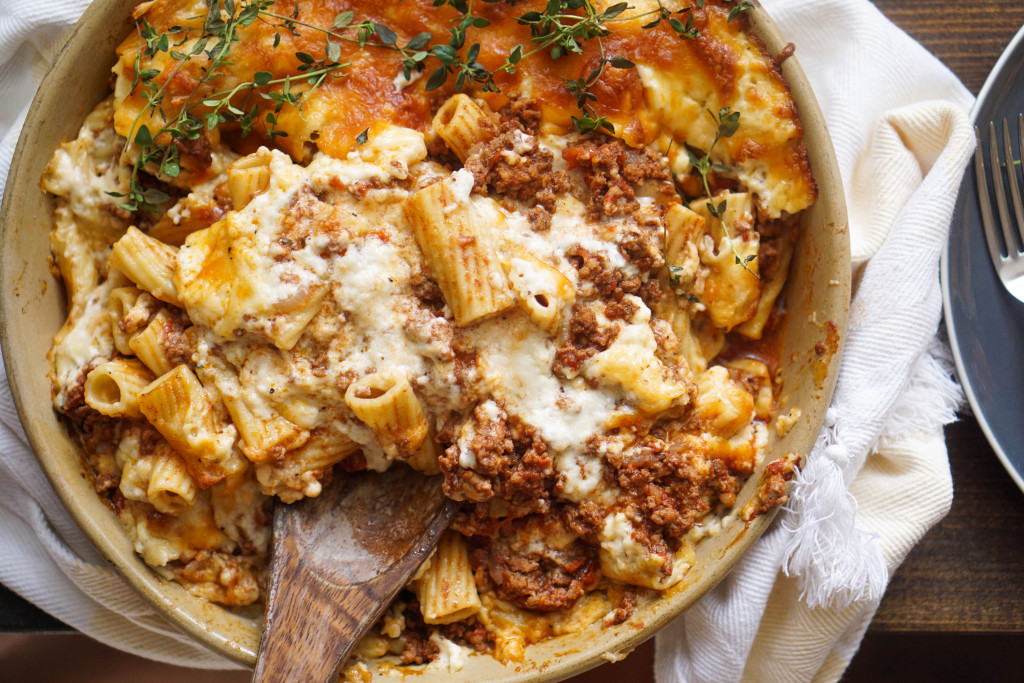 Plan this out, read the recipe in full detail, and start picking out the date for your next dinner party. It is after all the season of entertaining and you all know that's what I love to do. Enjoy!
Ina Garten's Pastitsio
2016-10-07 11:01:28
Serves 8
Pasta baked with a rich tomato meat sauce, cheesy bechamel, and Parmesan cheese for a comforting meal perfecting for entertaining.
For the Meat Sauce
3 tablespoons olive oil
1 large yellow onion, diced
1 pound lean ground beef
1 pound lean ground lamb (can substitute for pork)
1/2 cup dry red wine
1 tablespoon minced garlic (3 large cloves)
1 tablespoon ground cinnamon
1 teaspoon dried oregano
1 teaspoon fresh thyme leaves
Pinch of cayenne pepper
1 can (28 ounces) San Marzano tomatoes
Kosher salt and freshly ground black pepper
For the Bechamel
2 1/2 cups low-fat milk
4 tablespoons (1/2 stick) unsalted butter
1/4 cup all-purpose flour
1/4 teaspoon freshly grated nutmeg
Salt and freshly ground black pepper
1 1/2 cups freshly grated Parmesan, divided
2/3 cup Greek yogurt
3/4 pound small shells, preferably ziti noodles
For the Meat Sauce
In a large pot, preferably a Dutch Oven, add the olive oil over medium high heat. Add the onion and saute for 5 minutes or until soft. Add the ground beef and lamb and continue to cook for 10 minutes, crumbling with a spoon, until no longer pink.
Drain any excess liquid and add the wine. Cook for 2-3 minutes until almost all of the wine has absorbed.
Add the garlic, cinnamon, oregano, thyme, and cayenne, and allow to cook 5 minutes to incorporate the flavors.
Add the tomatoes, 2 teaspoons salt, and 1 teaspoon pepper. Crush the tomatoes with a spoon if needed. Simmer, stirring occasionally, for 40-45 minutes. Set aside until needed.
For the Bechamel
Preheat the oven to 350 degrees F.
Melt the butter over medium heat in a small sauce pan. Stir in the flour using a wooden spoon and allow to cook for 2 minutes until you no longer smell raw flour (or until you only smell butter).
Add the milk while whisking constantly. Increase the heat to a simmer, and continue to stir frequently until the milk has thickened enough to coat the back of a wooden spoon, about 7-8 minutes. Once smooth and thick, add the nutmeg, 1 teaspoon salt, and 1 teaspoon pepper. Season to taste and adjust if needed. Stir in 3/4 cup of Parmesan cheese. Remove from the heat and allow to cool for ten minutes. Stir in the Greek yogurt and set aside.
Meanwhile, cook the pasta in a large pot of salted water just until al dente. It is okay if it is still hard, as it still has to bake in the oven. Drain and stir into the tomato-meat sauce. Pour the mixture into a 9x13 lasagna baking dish. Evenly spread over the bechamel, then sprinkle with the remaining cheese.
Optional: add shredded mozzarella in addition to the Parmesan on the final layer before baking.
Bake for 45-60 minutes or until golden brown and bubbly. If any ingredients are made ahead of time, this may need a full hour to completely heat through.
Enjoy!
Notes
I made my bechamel a little differently from the original recipe (ie. using low-fat milk instead of whole milk and heavy cream). I also did not add eggs to my bechamel.
To make this ahead, prepare the meat/tomato sauce and the bechamel the night before. The day of serving, make the pasta, ensemble, and bake.
Adapted from Make it Ahead
Adapted from Make it Ahead
http://www.vodkaandbiscuits.com/