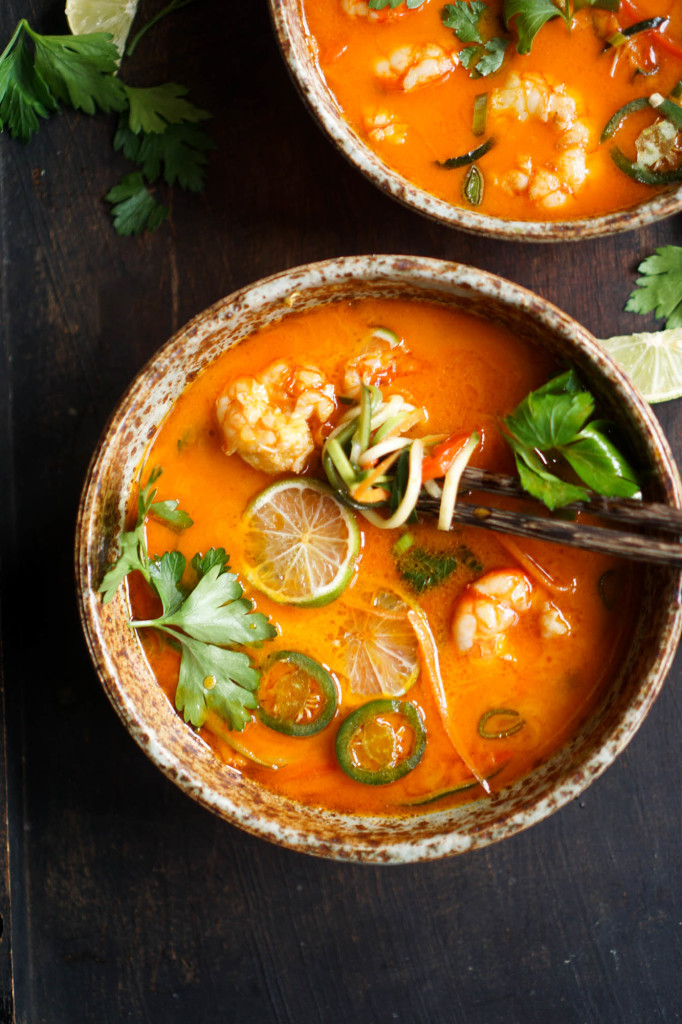 A comforting bowl of spicy red curry soup filled with aromatics, vegetable noodles, coconut milk, and plump shrimp AKA the highlight of my third week of W30.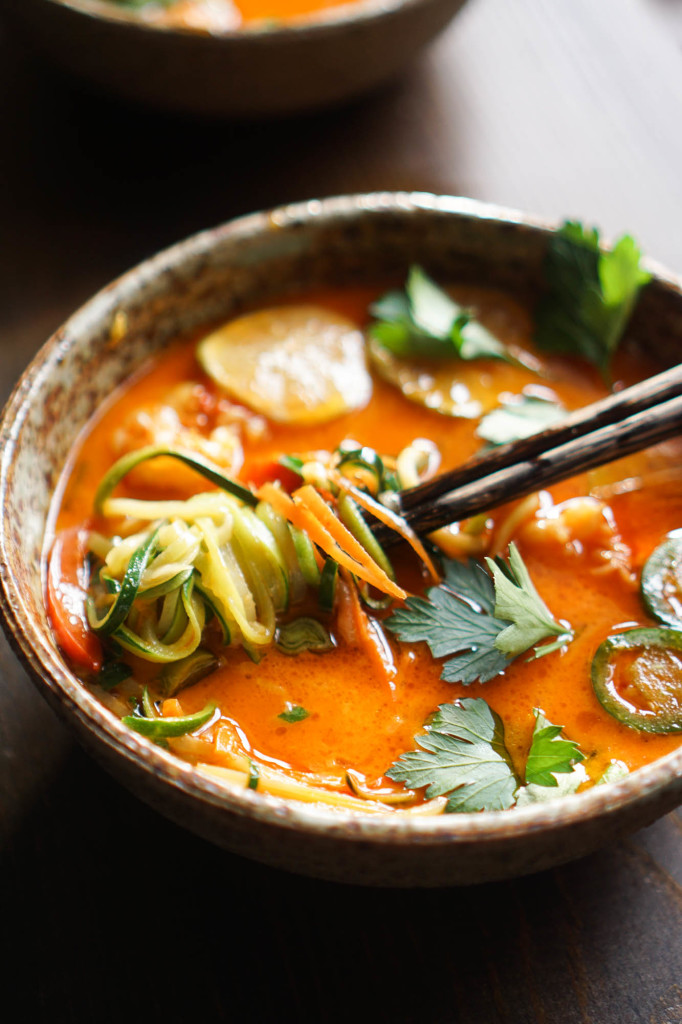 This dish is no stranger in my kitchen, in fact this recipe has been hiding in my archives since Vodka & Biscuits first started. There's a reason I love this so much and it all starts with the base of the soup.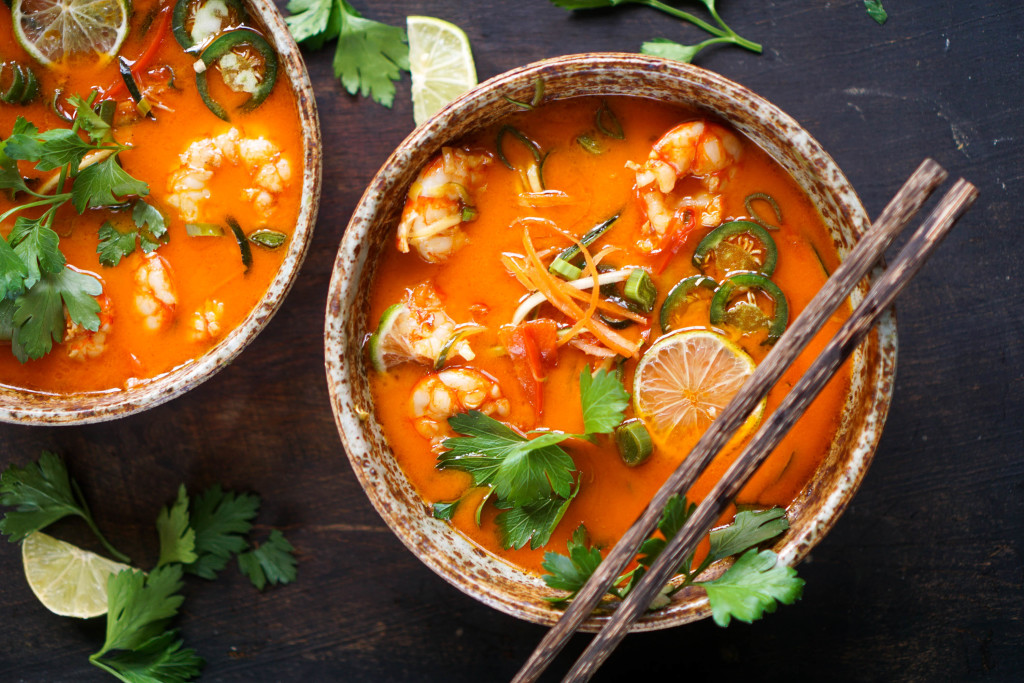 Every soup and stew needs to start with a little magic, and in this case it's ginger, garlic, lemongrass, scallion, and spicy red curry paste.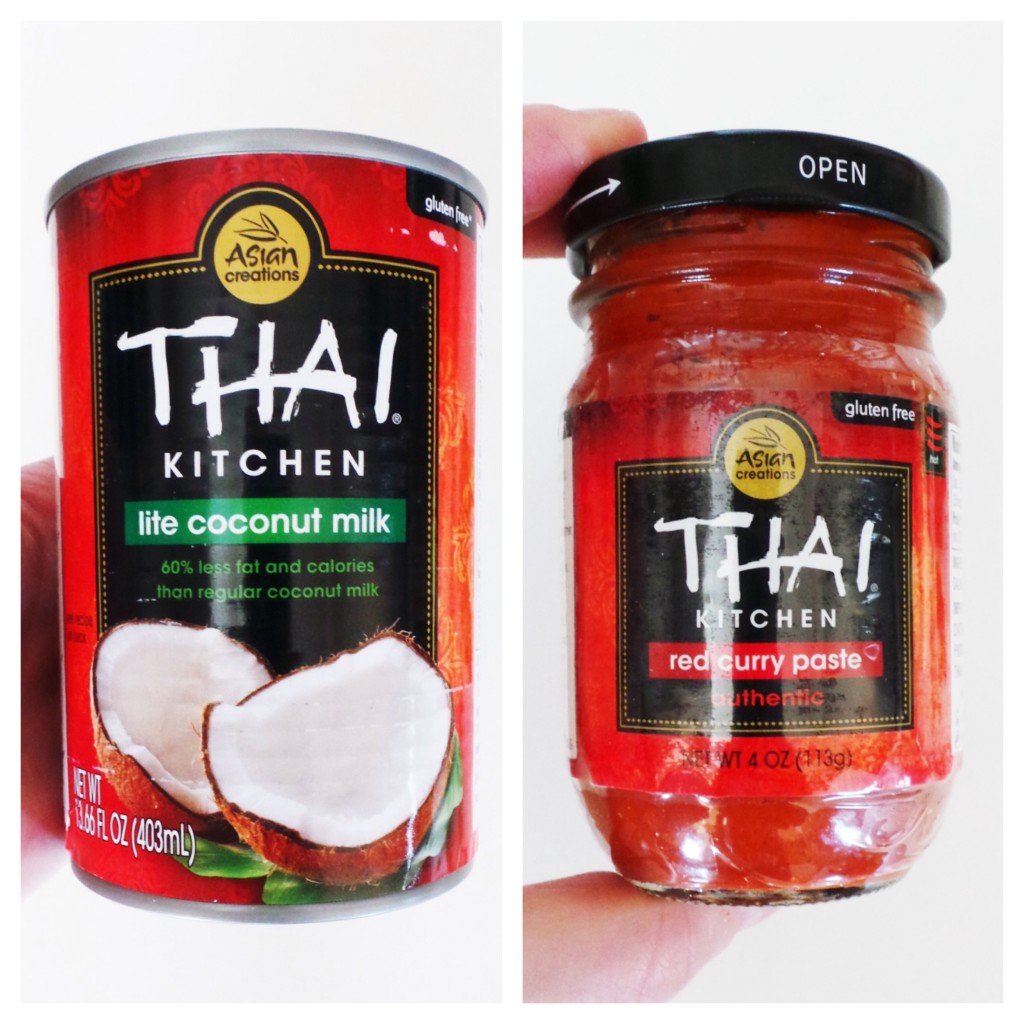 You can find this paste in almost every grocery store in the international isle. It's absolutely PERFECT in soups, especially when the base is coconut milk. Think creamy spicy perfection.
The paste gets cooked along side the aromatics, thinly sliced red pepper, carrot, and zucchini noodles. If you're not doing Whole30, sub the zucchini noodles for Japanese egg noodles, rice noodles, ramen, or rice!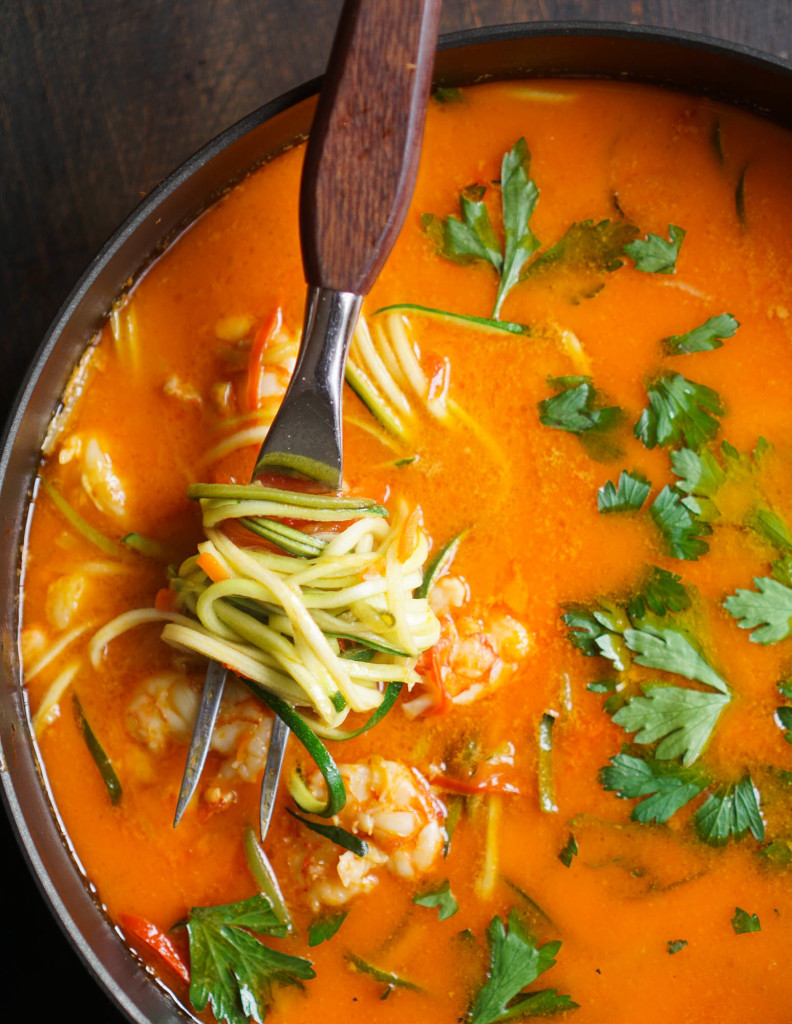 The coconut milk adds incredible flavor, silky creamy texture, and a beautiful orange color. I let the shrimp cook directly in the soup and next time I'll probably add a seafood medley of shrimp, white fish, and mussels. If only I thought about these things earlier.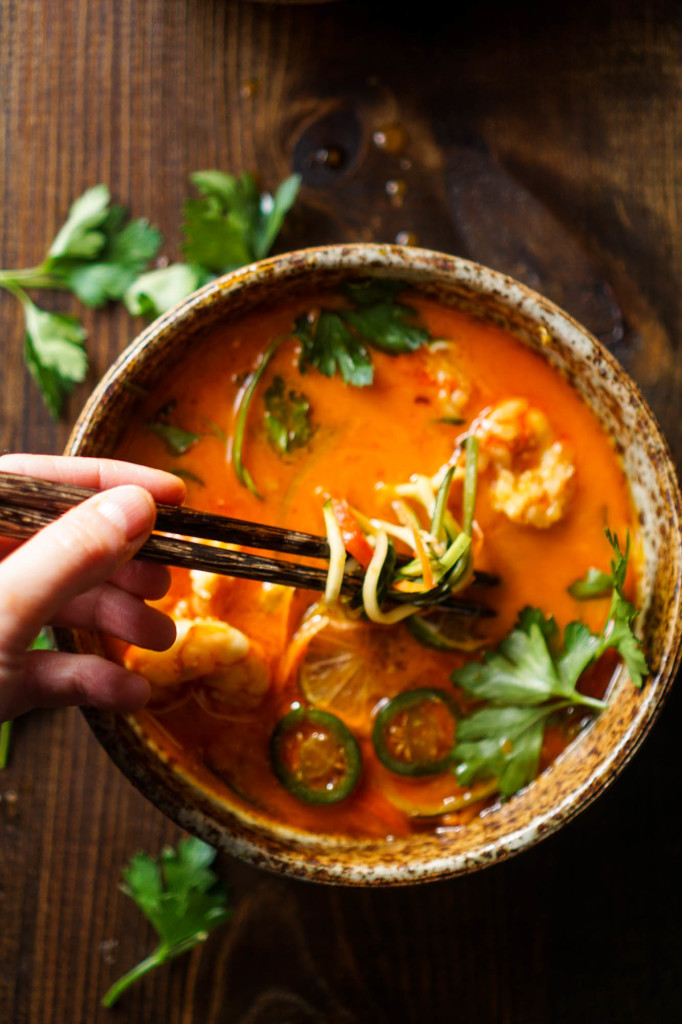 A squeeze of lime and bundle of cilantro is all this soup really needs, but feel free to add jalapeno for heat or bamboo shoots for crunch. This is a healthy bowl filled of flavor that everyone needs to experience, Whole30 or not!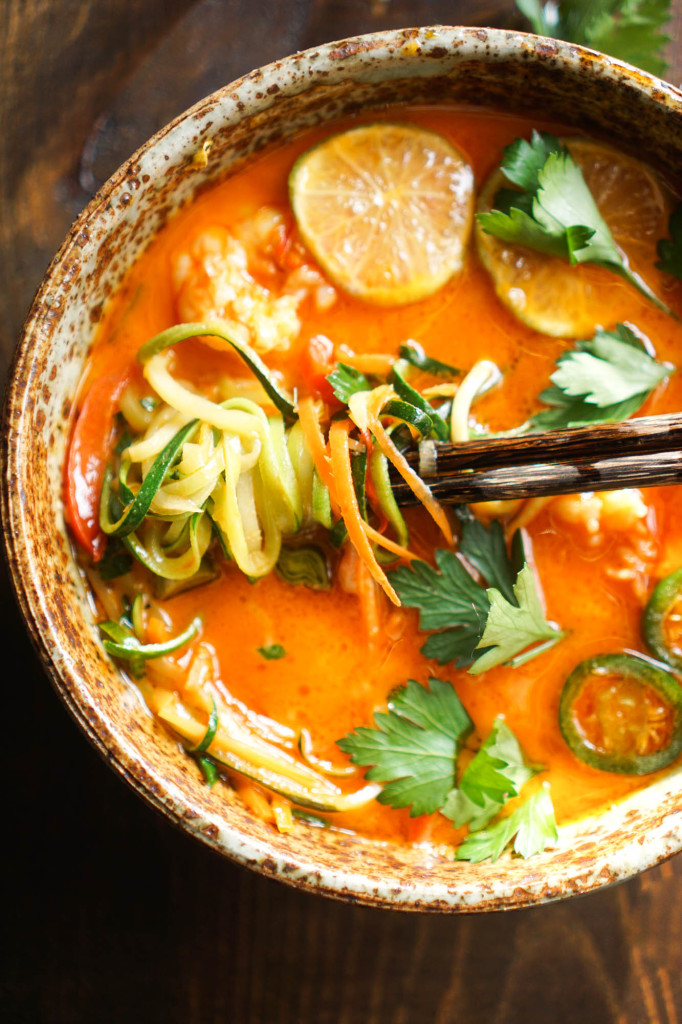 Enjoy 😉
Shrimp + Zoodle Red Curry Bowl (Whole30)
2017-01-20 08:39:47
Serves 4
A flavorful red curry soup filled with aromatic vegetables, spicy curry, and succulent shrimp.
Ingredients
1" ginger, peeled and grated
2 garlic cloves, minced
1 scallion, chopped (reserve green part for garnish)
2" lemongrass stalk, crushed
olive oil as needed
1 red pepper, julienne (thinly sliced)
2 large carrots, julienne (thinly sliced)
2 cups zucchini noodles (about 4-6 zucchinis)
2 tablespoons red curry paste
2 14 oz. cans coconut milk, low fat (see notes)
1 lb. shrimp, peeled
1 lime
salt and pepper to taste.
optional garnish: cilantro, jalapeno
Instructions
Heat the oil in a large skillet over medium heat. Once hot, add the garlic, ginger, white part of the scallion, and crushed lemongrass stalk. Cook 1-2 minutes until fragrant.
Add the carrot, red pepper, and zucchini and cook 2 more minutes until tender. Add the red curry paste, stir to combine, and let it cook out for one minute. Stir frequently to prevent the paste from burning.
Add the coconut milk and stir to combine. If it's too thick, add 1/4 cup of water or stock until desired consistency achieved. Bring to a simmer.
Season the shrimp with salt and pepper, then transfer to the soup. Cook 5-7 minutes until fully cooked through.
Remove lemongrass stalk and squeeze in the juice of half a lime. Taste and adjust seasonings as needed. Garnish with green scallion, cilantro, and jalapeno slices if desired.
Notes
If you are not doing Whole30, sub the zucchini noodles with rice noodles or rice.
I've made this several times throughout the years using 1 can of coconut milk and 1 1/2 cups of stock instead of 2 cans of coconut milk. Either way turns out delicious!
http://www.vodkaandbiscuits.com/