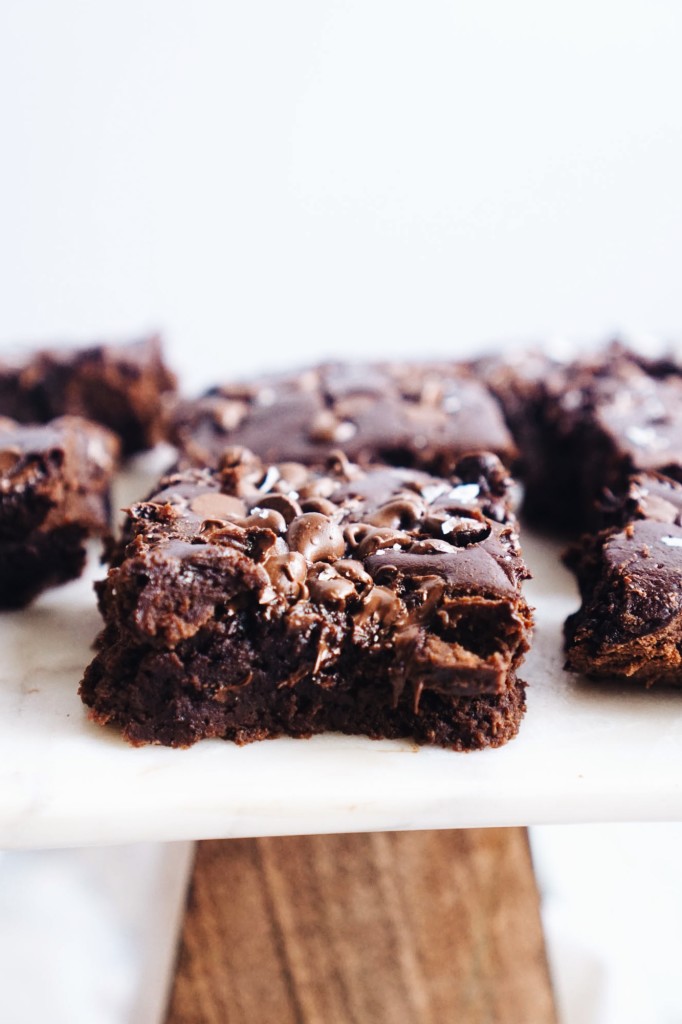 Confused. Amazed. Inspired. Hungry.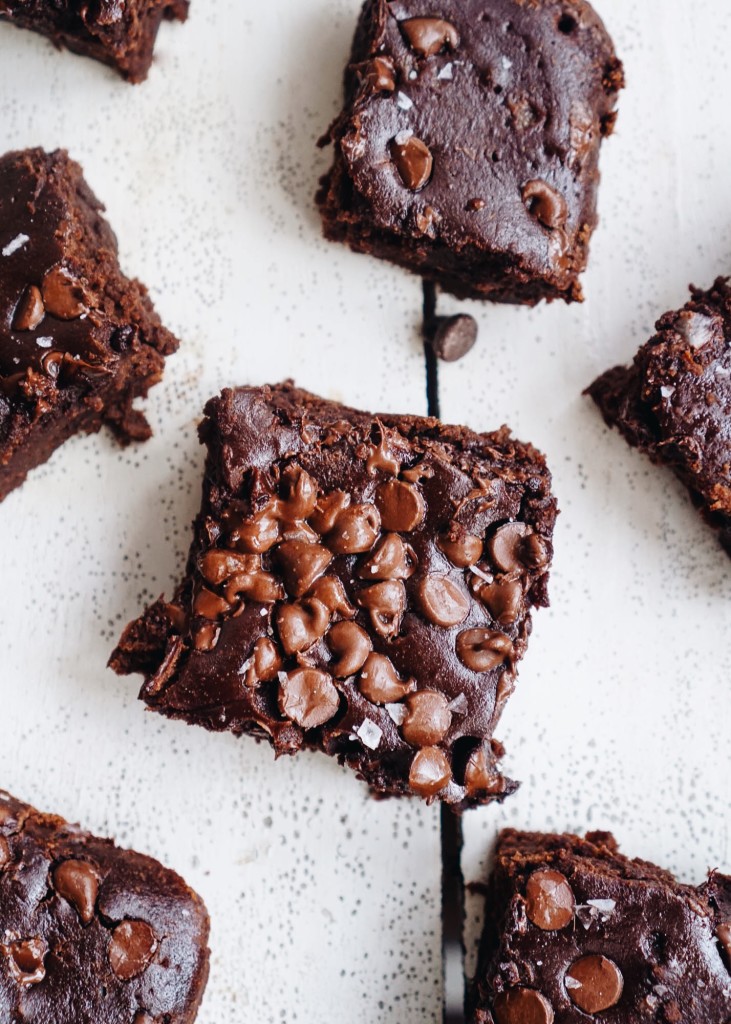 I wish I could remember my first reaction to seeing black bean brownies, but I'm sure it was something along those lines.
About 5 or so years ago before Pinterest took over the world I worked at a gym. This lady would come in once a week to teach fitness classes and would bring in a disguised treat. Every Wednesday night our faces would light up seeing her walk in with trays stacked high of brownies, then shrug as soon as she'd introduce her "brownies made with beets," then suddenly light up after we were convinced into taking a bite.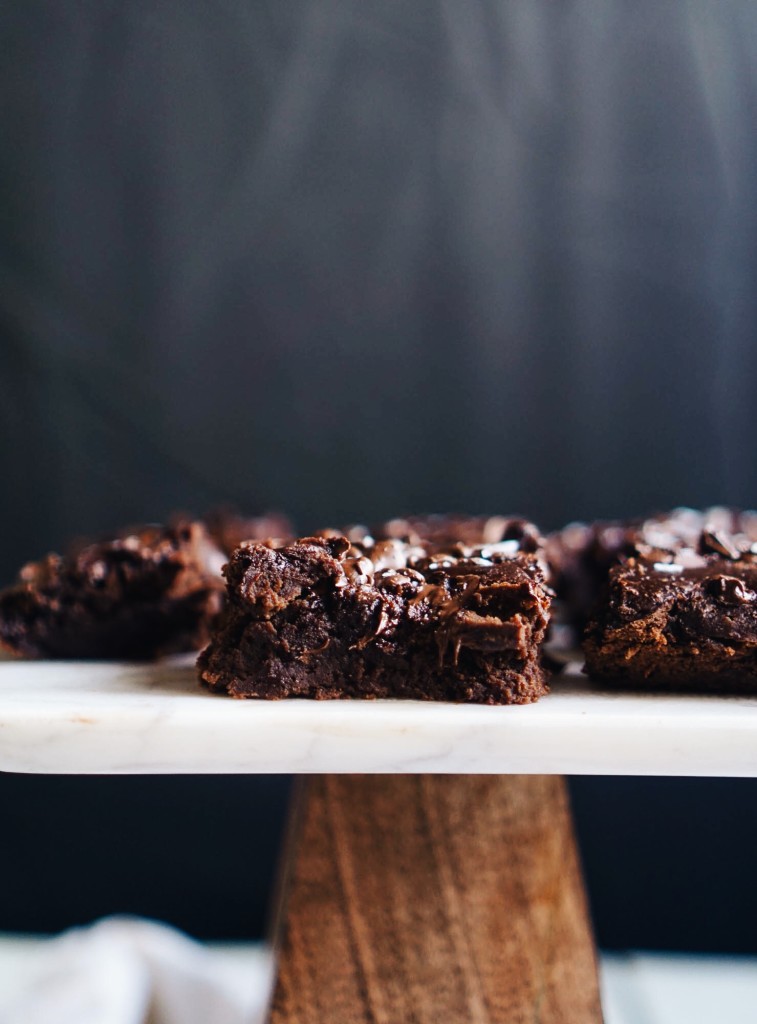 She found a way to put every vegetable into a baked product and somehow it just worked.
I adapted this black bean brownie recipe from her beet brownies and I've been making, convincing, and enjoying them for years since. It comes together in minutes and better yet it's made all in a blender. Hold the front door, let's get baking.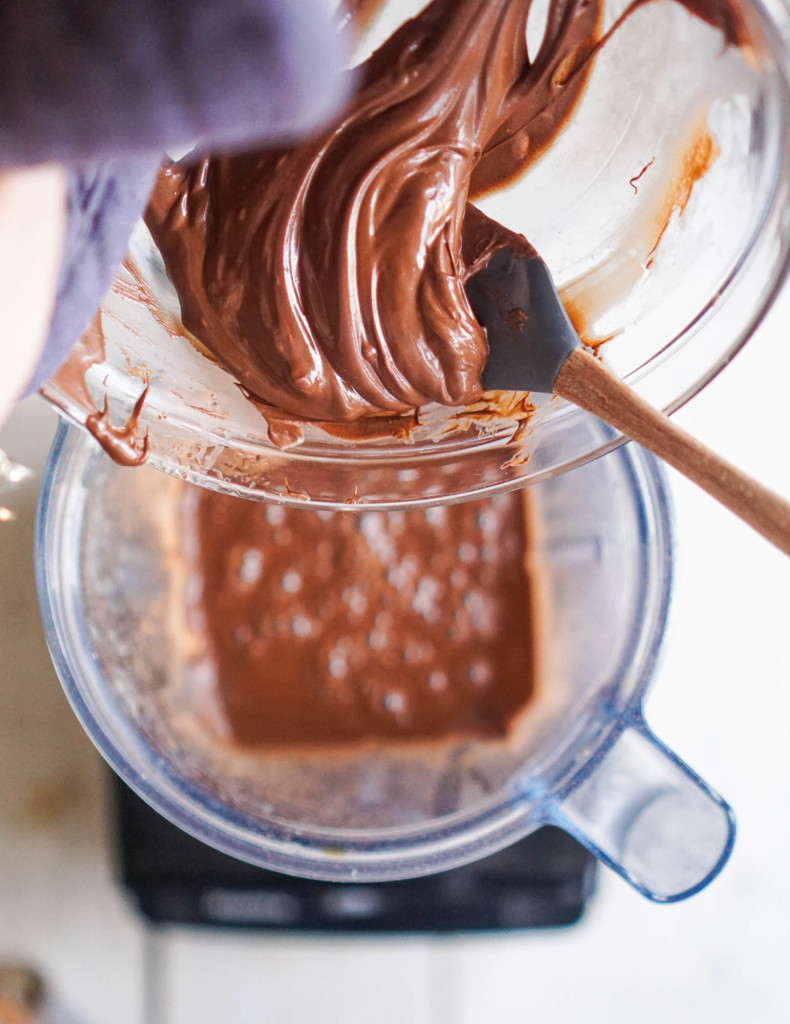 It starts with making a three ingredient homemade applesauce. Sure, you can use an unsweetened store bought one, but you'll see how effortless homemade is. Apples, water, and lemon juice – that's it! Once it gets all saucy, it gets put in the blender with black beans. The rest of the ingredients are your staple baking ingredients like sugar, eggs, flour, cocoa powder, etc.
Sub the sugar for coconut sugar if you have it on hand!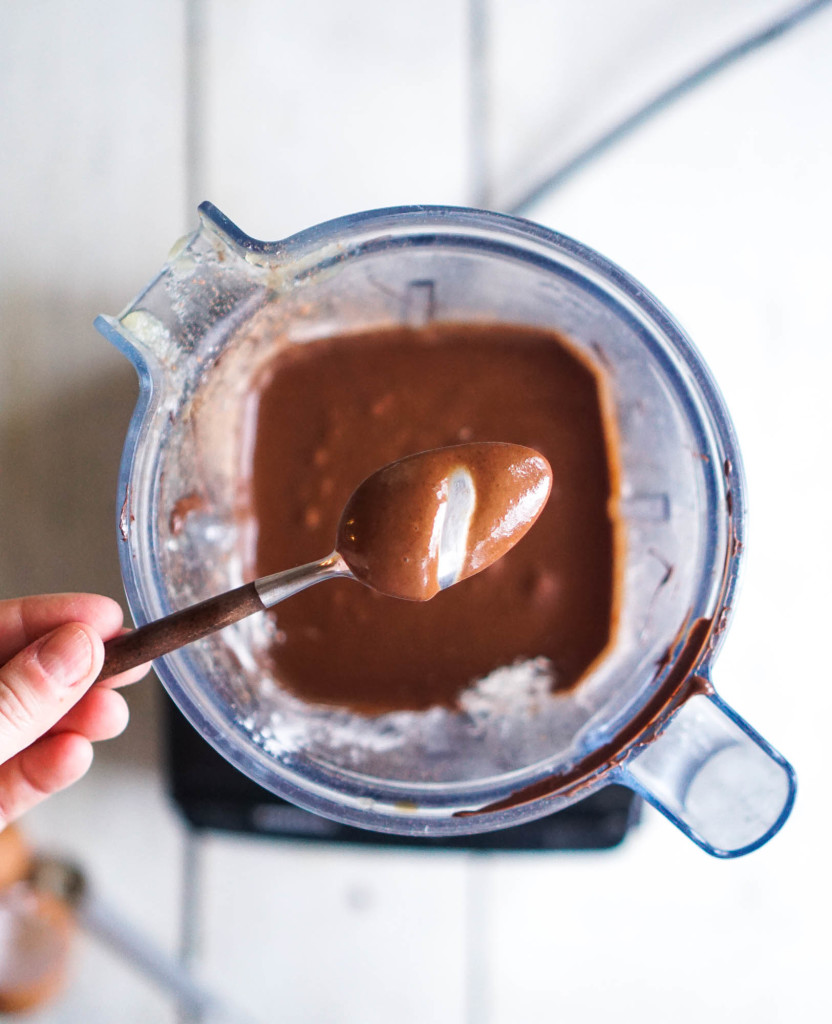 The batter becomes thick enough to coat the back of a spoon, which is no different than your typical brownie batter. If you're one of those who likes to lick the spoon (me me me), you'll be surprised how chocolaty this tastes.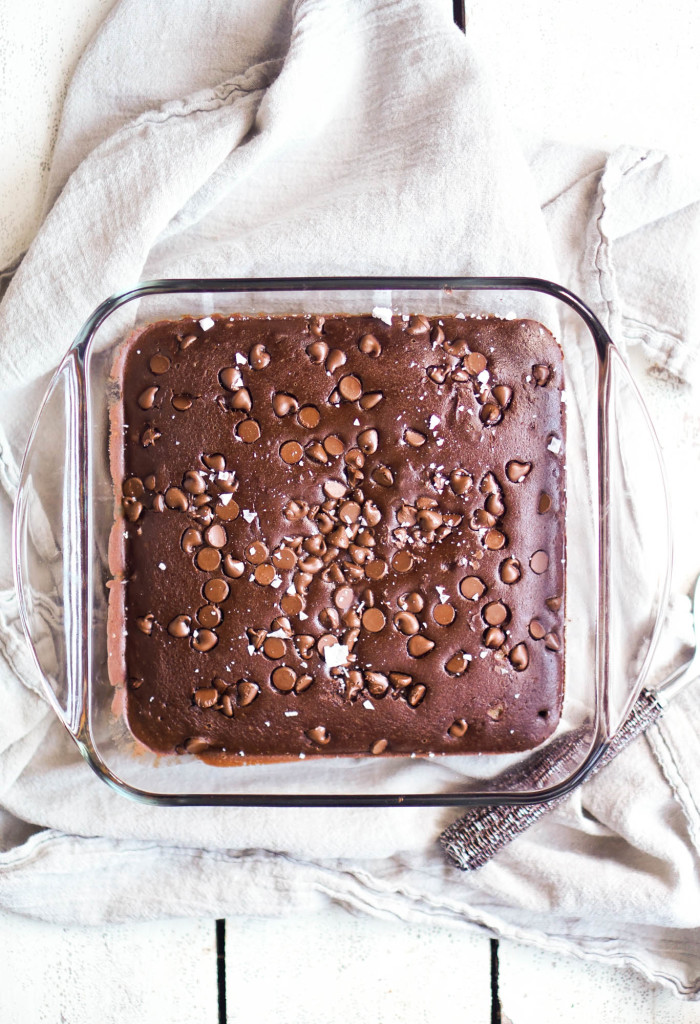 The batter bakes in a 9×9 baking dish, but before going in the oven I recommend giving it a sprinkle of chocolate chips. They come out of the oven all melty and gooey, which is everything we want in a brownie.
The recipe yields 16 brownies, or 9 large brownies.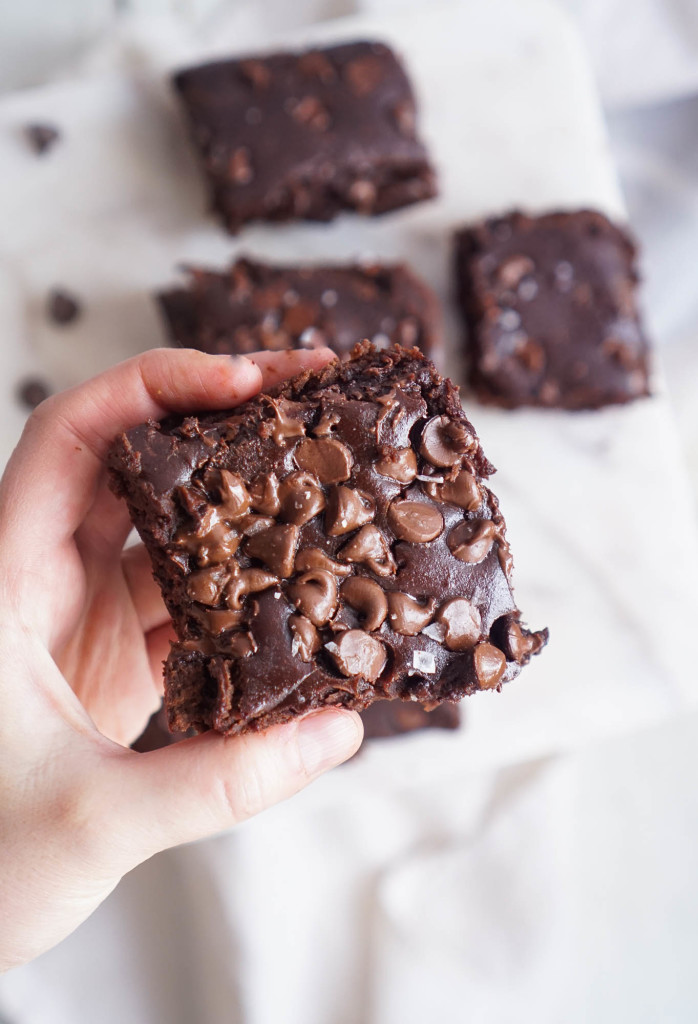 I've never had someone disappointed with these brownies, or second guess the fact they're made with black beans. They are fudgy, chocolaty, and the best health(er) brownie I've ever had. Please go make this.
This post and recipe has been on Vodka & Biscuits for over a year, I just refreshed the pictures. Enjoy!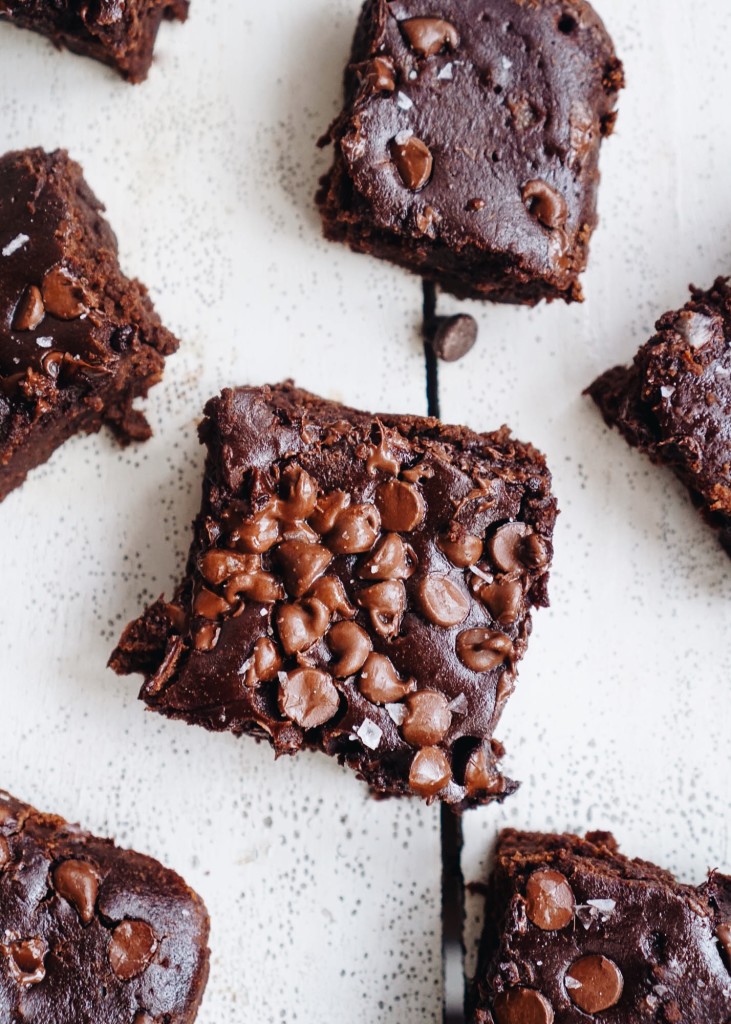 Fudgy Black Bean Brownies
2014-02-25 10:12:55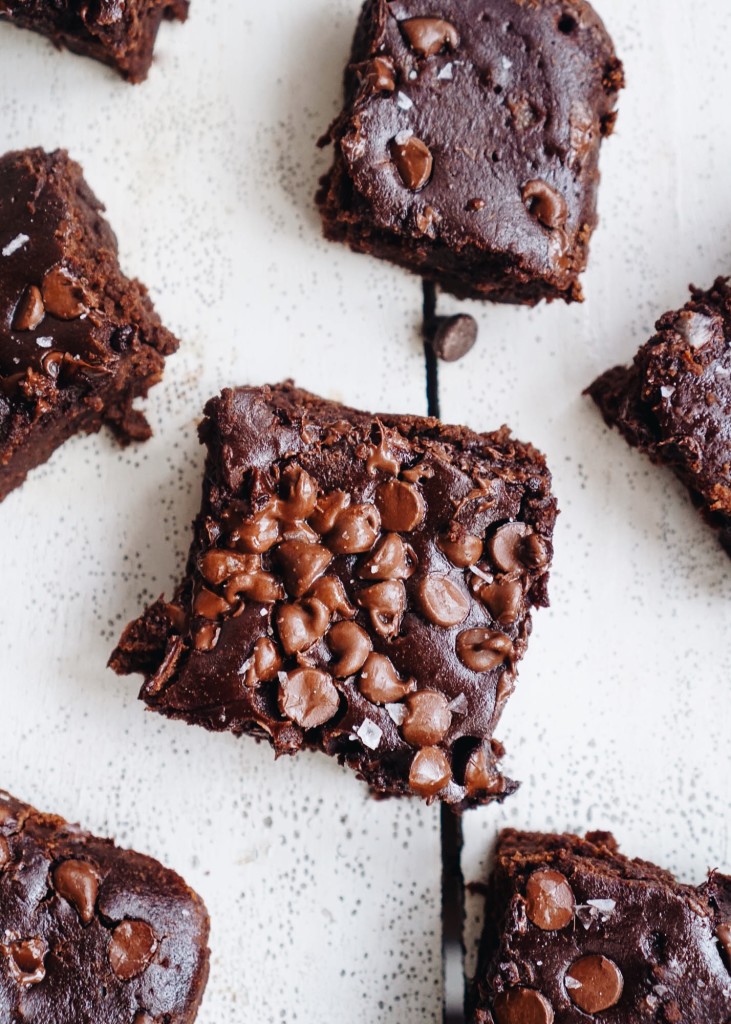 Serves 16
Delicious, moist, chocolatey brownies made with black beans and applesauce. You would never even know it!
For the Applesauce
1 large apple (about 12 oz.) - peeled, cored, chopped
1/2 cup water
Splash fresh lemon juice
For the brownies
1 cup black beans, rinsed and drained
1/2 cup homemade applesauce
2 eggs
1 teaspoon vanilla
1/4 cup unsweetened cocoa powder
2/3 cup sugar
1/3 cup chocolate chips (plus more if desired)
1/3 cup all-purpose flour
1/2 teaspoon baking powder
1/2 teaspoon salt
For the Applesauce
Add the water to a sauce pan and bring to a boil. Add the apples and lemon juice. Cover and simmer for 10 minutes until the apples are soft. Puree and refrigerate until needed.
For the Brownies
Preheat the oven to 350
Add the beans and applesauce to a blender. Puree until smooth. If needed, add a splash of water to get things blendin'!
Add the eggs, vanilla, sugar, and cocoa powder. Blend until combined.
Melt the chocolate in a microwave safe bowl. Add to the blender and blend 2 seconds until combined.
Add the flour, baking powder, and salt. Blend until combined. The batter will be thick enough to coat the back of a spoon.
Pour into a greased 9x9 baking dish and sprinkle over more chocolate chips, if desired. Bake for 25-30 minutes or until a toothpick comes out clean. Some ovens may take a few minutes longer.
Top with powdered sugar or flaky sea salt and enjoy!
http://www.vodkaandbiscuits.com/