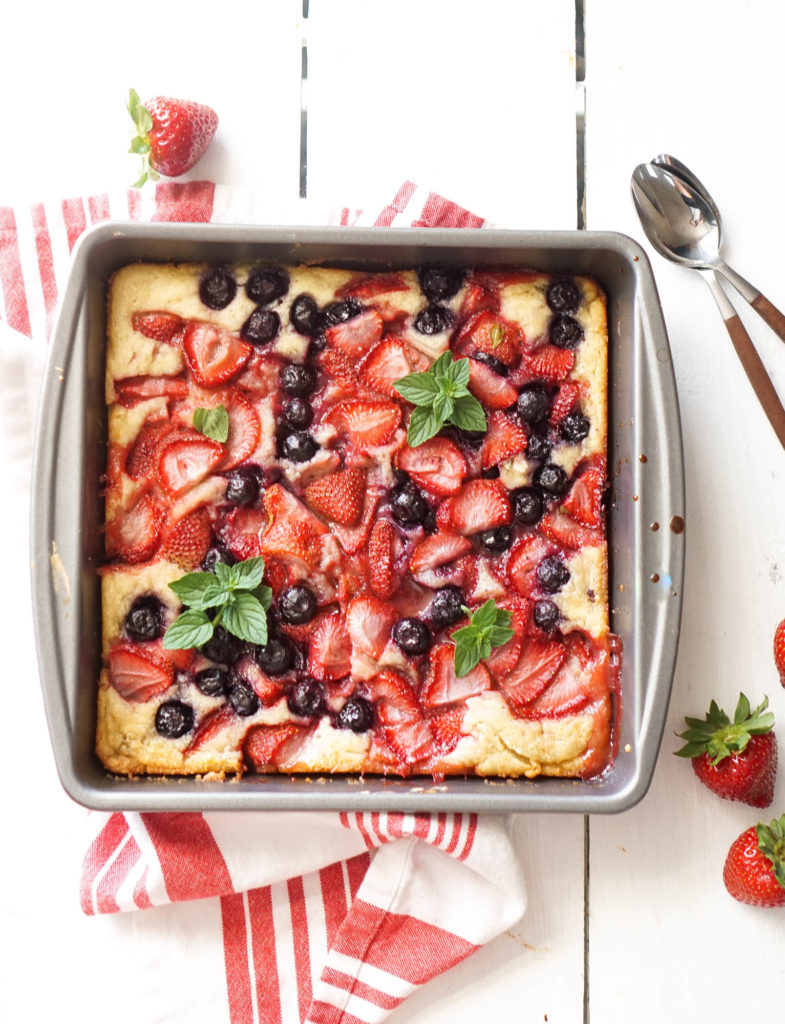 If you have fresh fruit on hand you are THIS CLOSE to having this incredibly simple summer berry cobbler cake.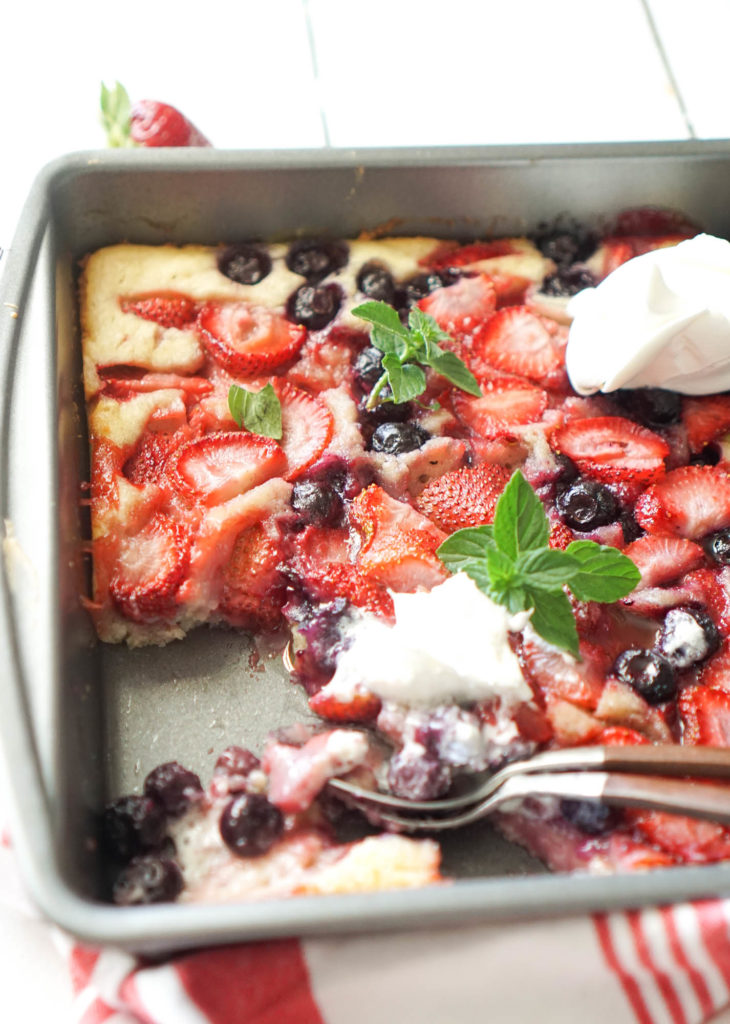 This cake is a result a failed cobbler that I tried making a few years ago. Yes this has been on the blog for a while now, I am just it some new attention. I'm assuming I forgot an egg since this recipe doesn't have eggs, or maybe I didn't follow the recipe right, or maybe I just really suck at baking.
Whatever happened, I am not complaining. My attempted cobbler turned into this sweet, fruity, cobbler-like-cake that I haven't stopped making since.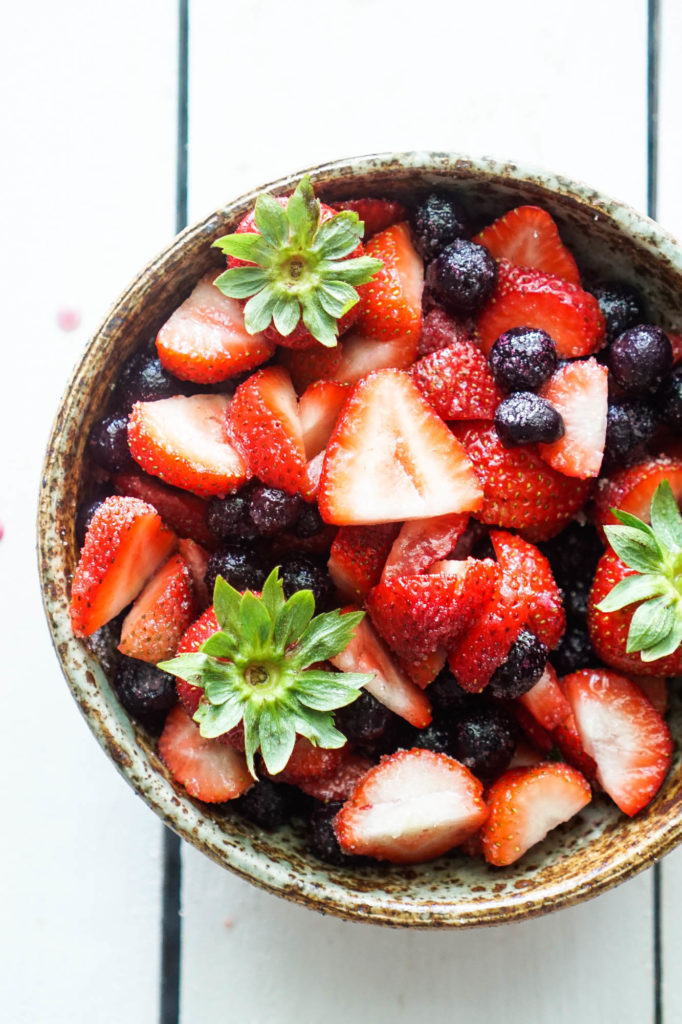 ALL it takes is a some fruit, sugar, flour, salt, baking powder, almond milk, vanilla, and butter. My favorite combination is strawberries and blueberries, but any type of berry will work here. I bet blueberries and corn would be magical.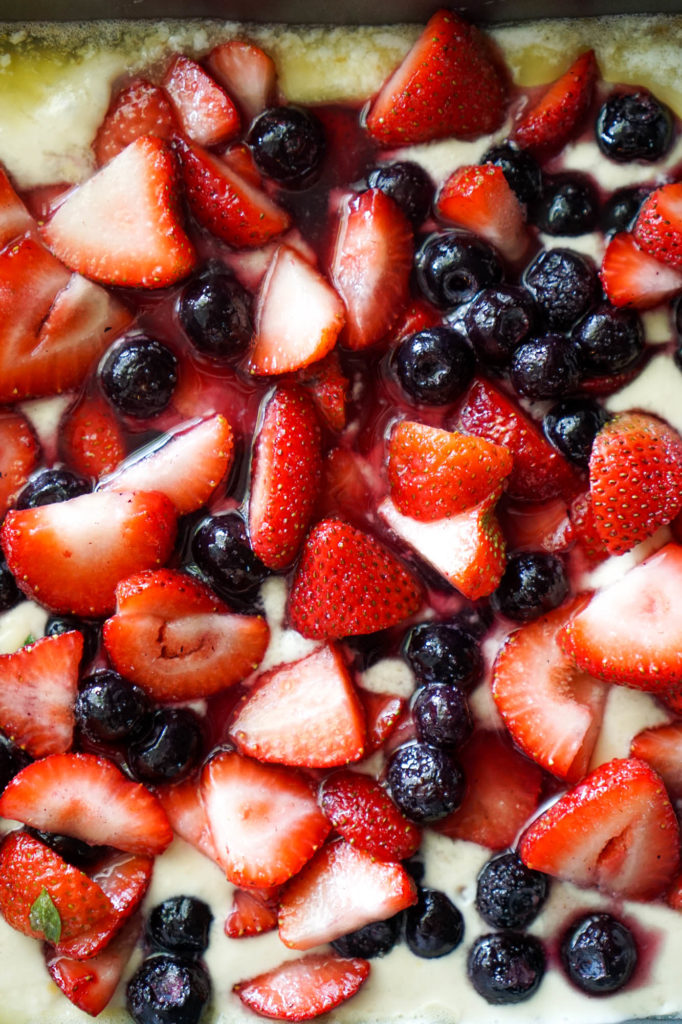 The fruit marinates in a little sugar, then gets poured over the batter which is poured into a pan greased with some butter.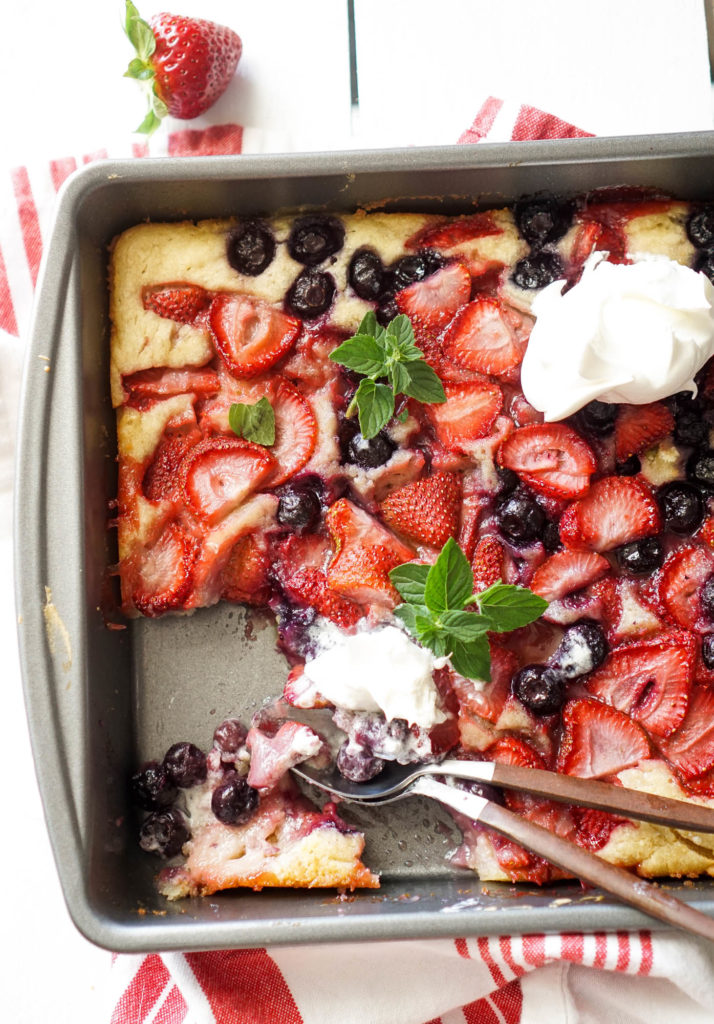 It bakes up beautifully as it's the perfect ratio of fruit to cake. It's like sometimes I want to eat cake without all the cake, you know?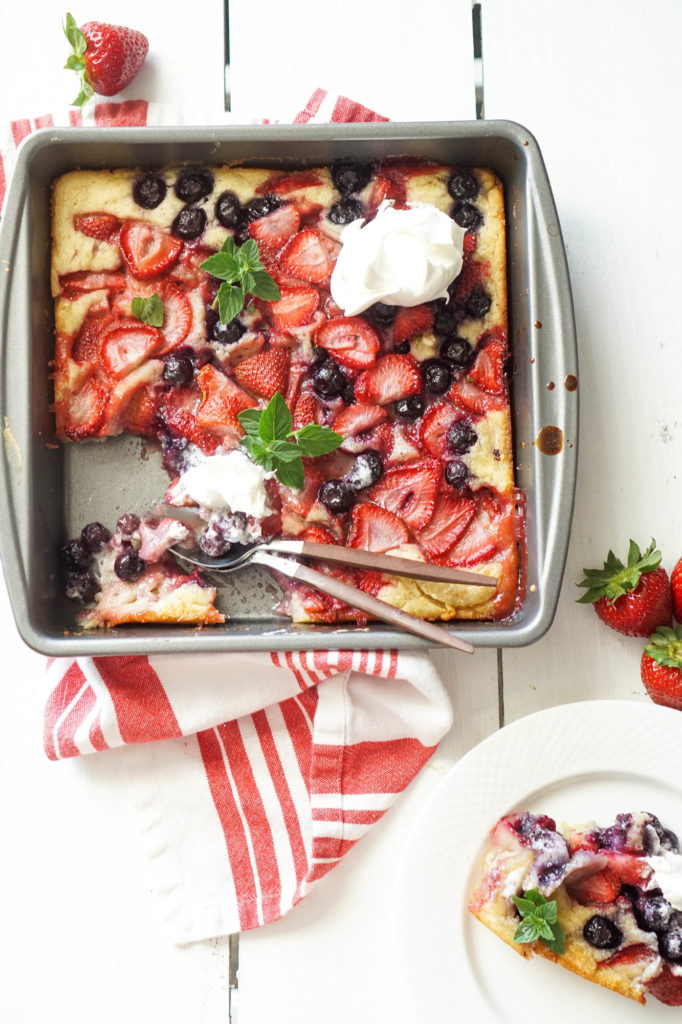 I HIGHLY encourage serving this with some whipped cream or vanilla ice-cream. I also highly encourage inviting over friends because you do not want to be stuck in the house with this to yourself. And if you are stuck inside with this to yourself, please don't hate me.
ENJOY!
Summer Berry Cobbler Cake
2017-06-29 10:17:00
Serves 6
A SUPER simple berry cobbler cake that is perfect with whipped cream or vanilla bean ice cream.
Ingredients
1 pound strawberries, hulled and sliced
1 cup blueberries
1/2 cup sugar, divided in half
1 cup all purpose flour
1 1/2 teaspoons baking powder
1/4 teaspoon kosher salt
1 cup unsweetened almond milk (or low-fat milk)
1 tablespoon vanilla extract
5 tablespoons unsalted butter, divided
Instructions
Combine the strawberries, blueberries, and a 1/4 cup of the sugar. Mix and set aside for 25 minutes until the strawberries are juicy. While those are marinating, preheat the oven to 375 degrees.
In a mixing bowl combine the flour, the remaining 1/4 cup of sugar, baking powder, and salt.
Melt two tablespoons of the butter, then add to a bowl with the almond milk and vanilla extract. Mix. Add to the flour mixture and combine until smooth and no longer lumpy.
When the batter is ready, add the remaining three tablespoons of butter into a 12" round or 8x8" square baking dish. Melt the remaining butter and pour into the pan (this can easily be done right in the oven!).
Spoon the batter into the pan and spread evenly. Pour the fruit evenly over the batter along with any juices from the berries. DO NOT MIX!
Bake for 35-40 minutes. Serve warm with ice-cream or whipped cream.
Notes
This can be done with any type of berry or fruit. Blueberries and corn would be delicious.
If doubling the recipe I would bake it in a 9x13" pan.
http://www.vodkaandbiscuits.com/