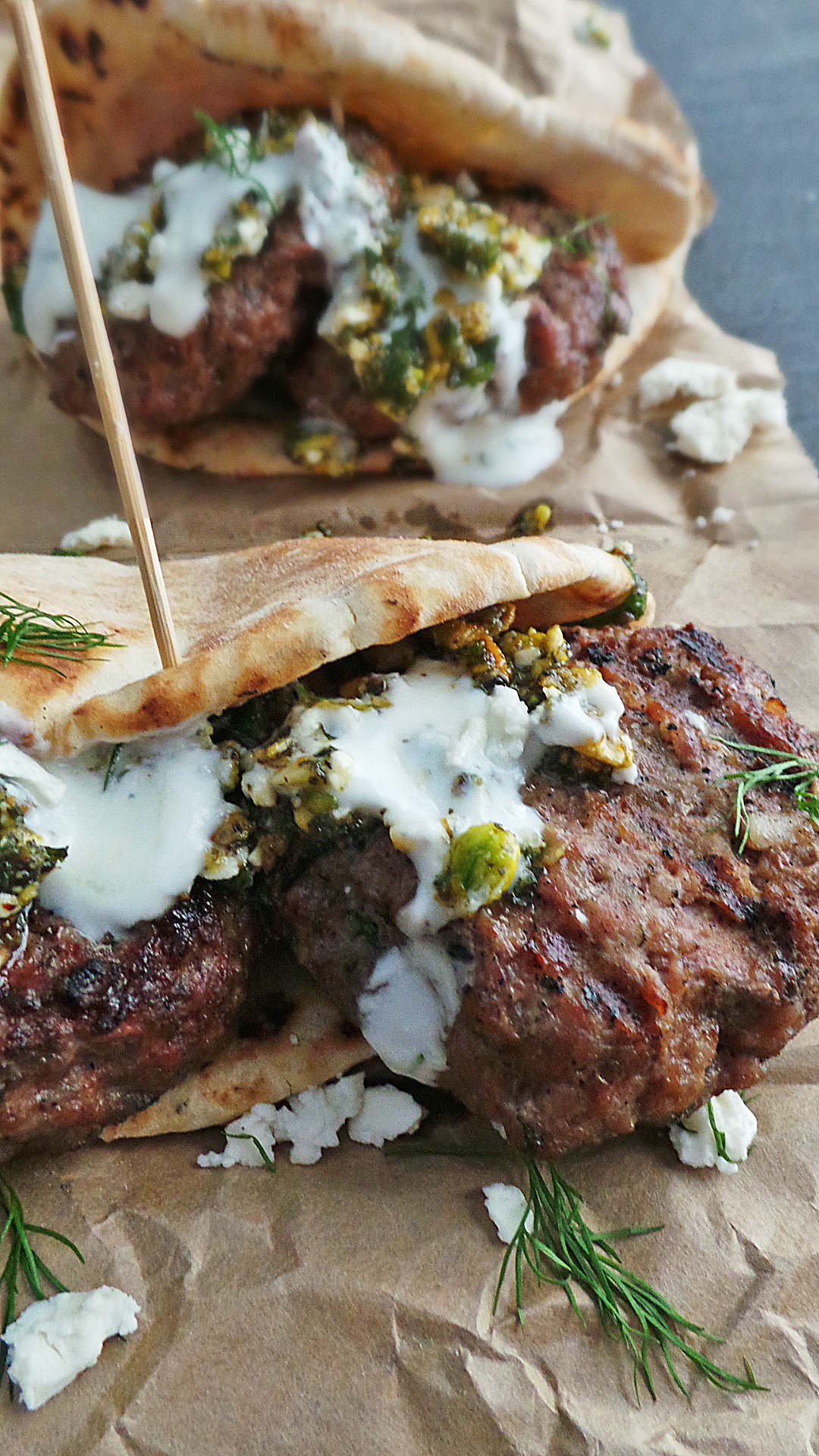 I couldn't have thought of a better way to end this (somewhat) beautiful week. I tell ya, one sunny day and everybody forgets about those floods and landslides. Although Maryland practically drowned in rain the last few days, right now it is grill weather and that is all that matters. Since I found out my grill is working I haven't gotten off of it, and lucky for you there's at least three recipes soon to come. It's funny, I told my boyfriend he can't share the grill with me and I think he's finally realizing I'm a woman of my word, hehe. I teach him food, he teaches me wine, and between the both of us our appetites are nonetheless satisfied.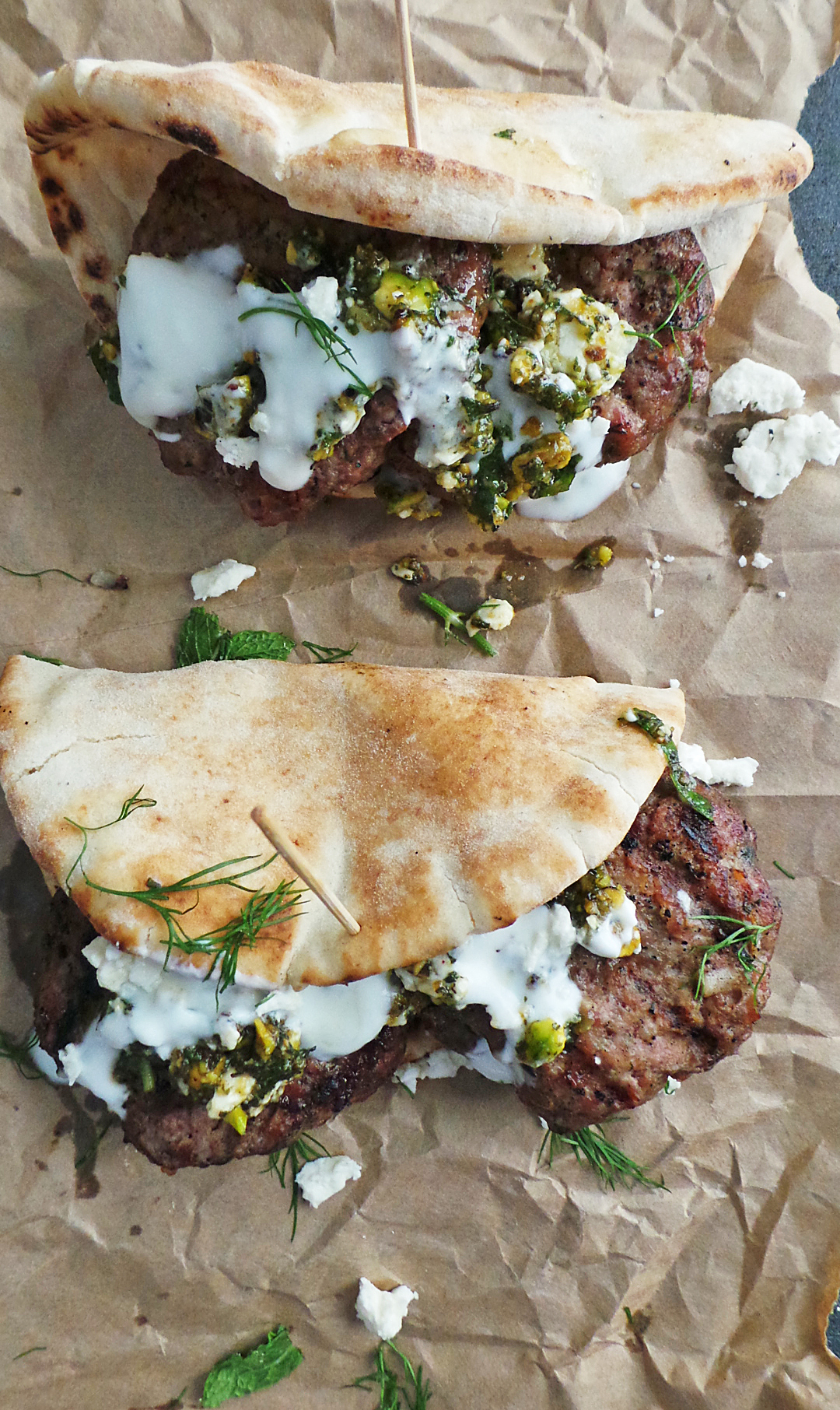 Although he wasn't here to try out these stuffed pitas, my mom was and when mom is impressed, you know it's something good. Here I am on a beautiful Friday evening so eager and ecstatic to get this recipe out to you because this needs to be your next meal.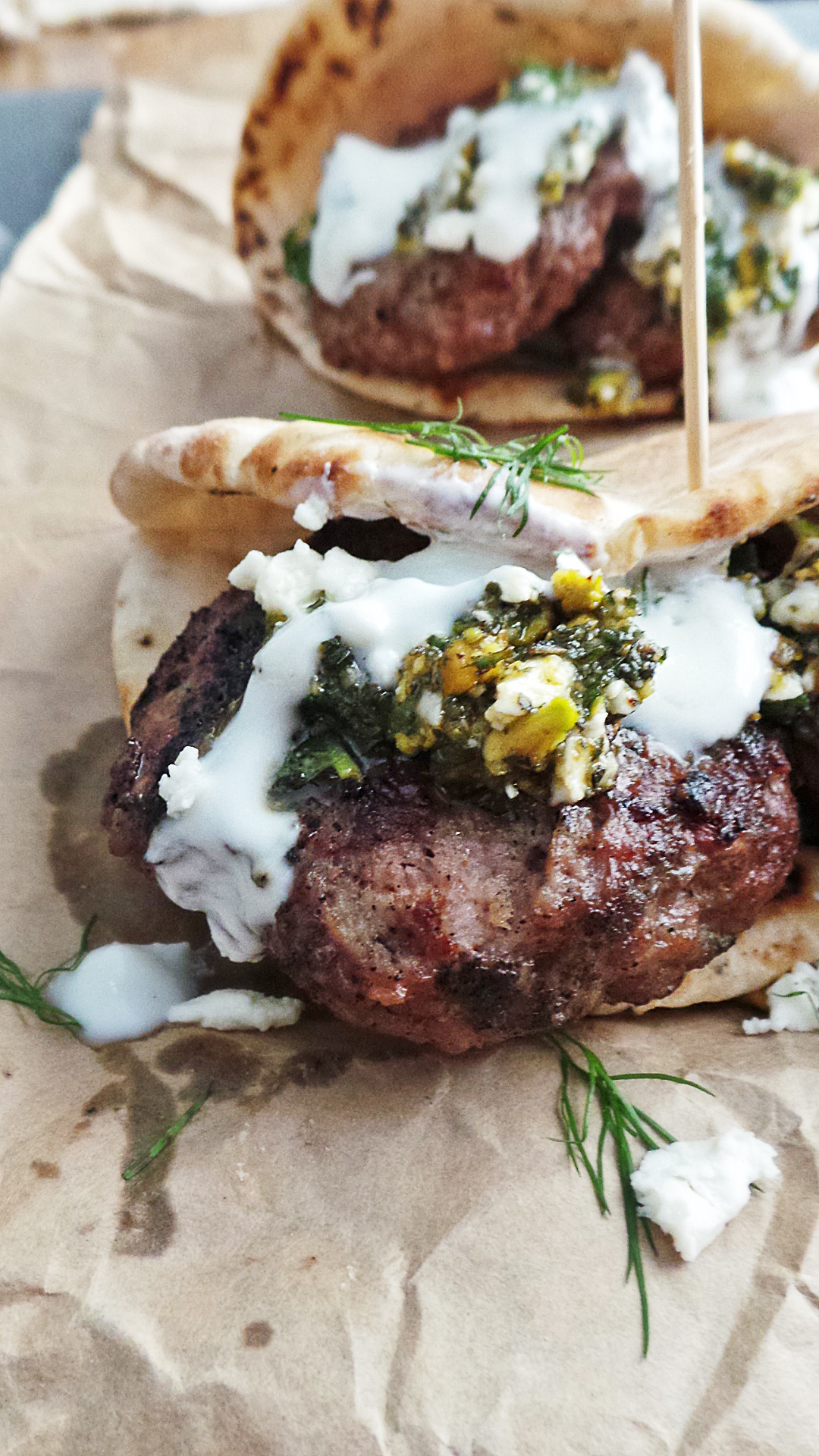 Every bite was something different. Whether it was the spiced juicy lamb burger, the crunchy pistachio, the fresh mint and dill, or the tart yogurt sauce. This was one hell of a pita and oh my goodness I am so excited for you.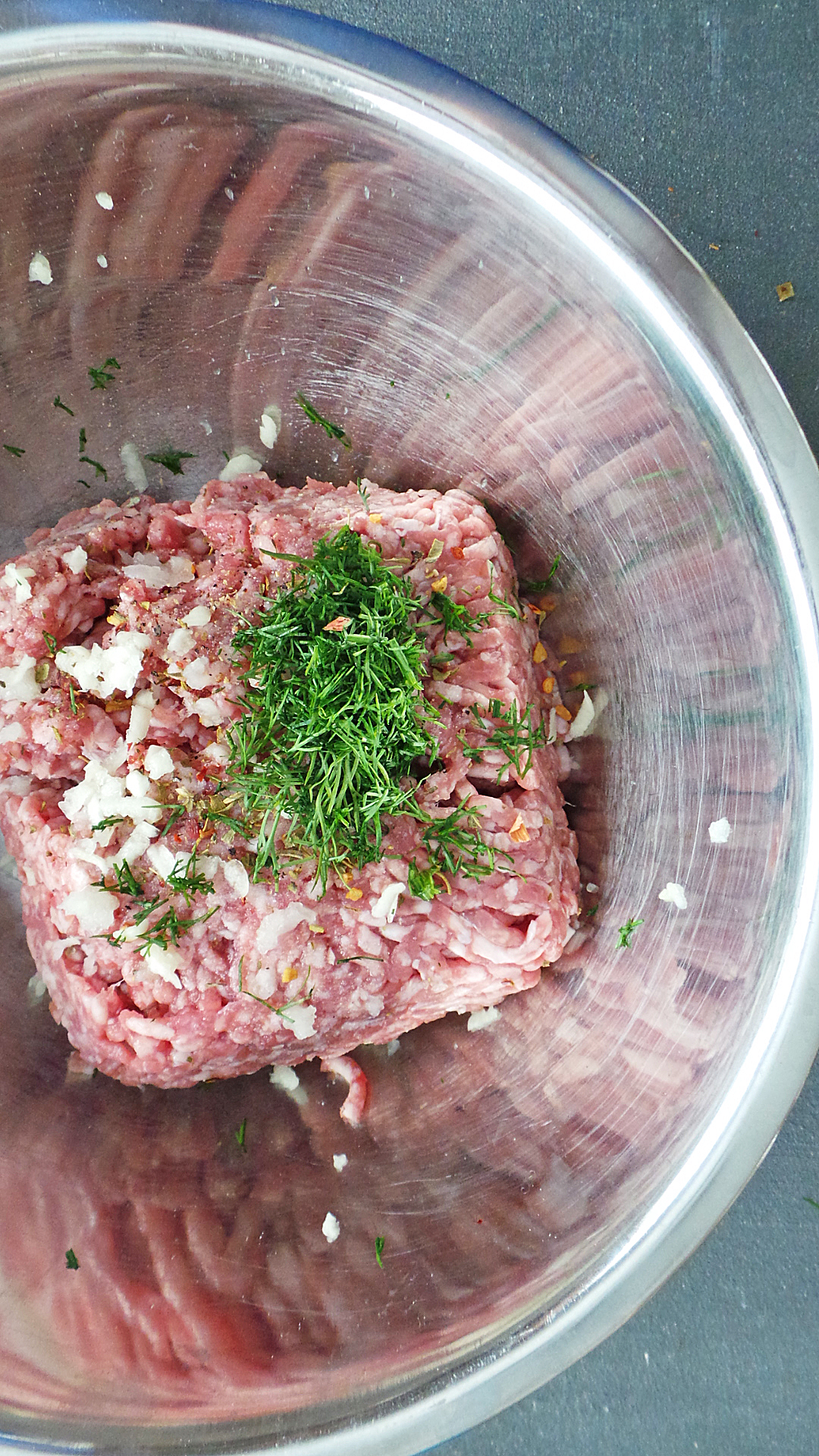 I designed this recipe for two people, but easily it could have fed four. These burgers are so rich and flavorful that with the pita and added yums, I could only scarf down one. I didn't use a mix of meat, I figured since ground lamb is about $8-9 a pound, I'll just stick with that. The meat was super simple. I added fresh dill, shallot, garlic, red pepper flakes, salt, pepper, and a blend of Mediterranean spices. I've found that Home Goods has the hook up with crazy spice blends, but you have to be careful because believe it or not, ground spices have a six month shelf life. Crazy right? I felt betrayed when I was first told that.
If you don't have a Mediterranean spice blend, no worries! Add a pinch of each of the following: cumin, crushed coriander seeds, dried oregano, dried rosemary, cinnamon and whatever else you feel like adding in. Really, you do you!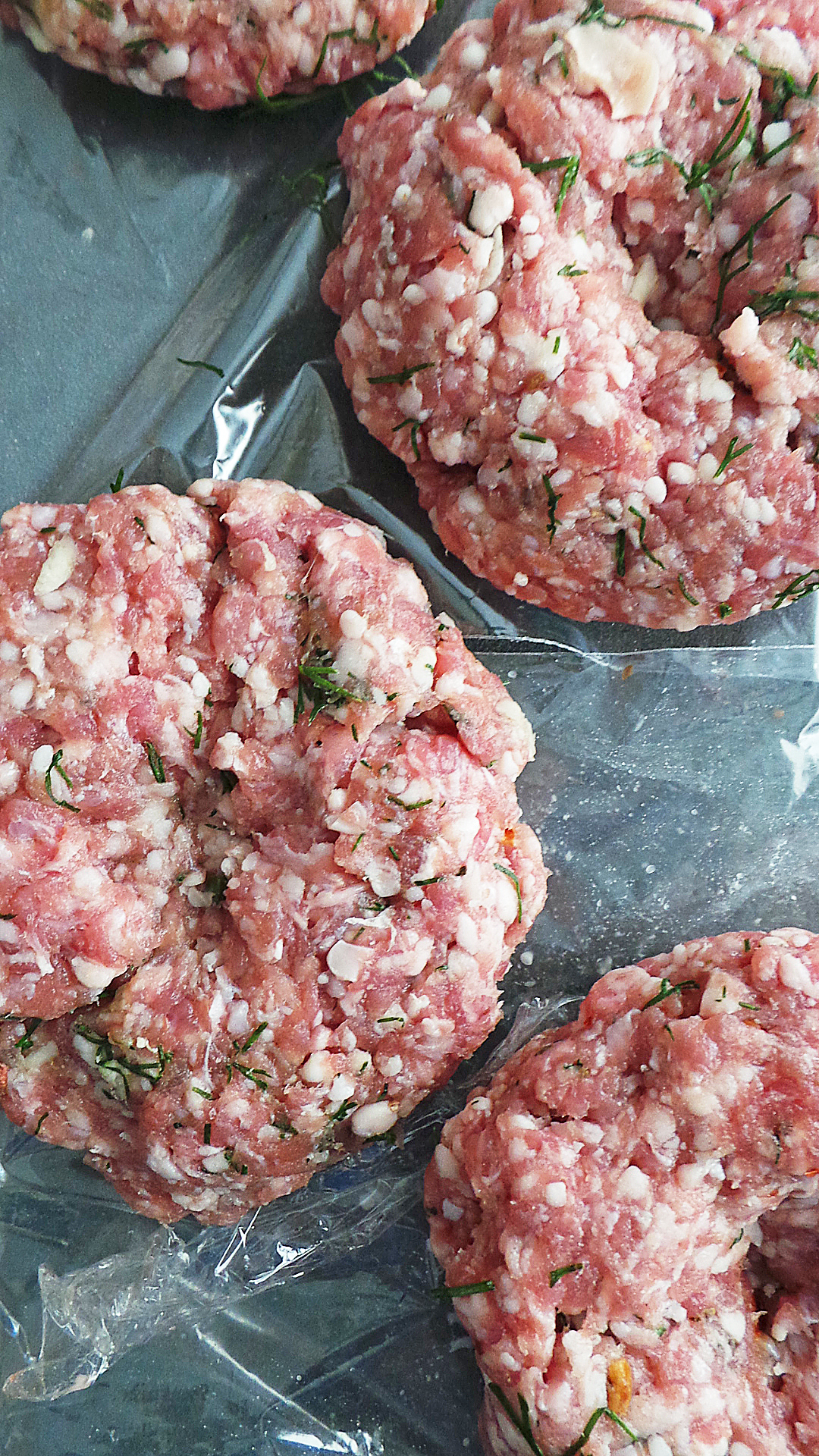 I used a Tervis cup lid to help me shape my patties. I really should invest in a burger mold. I find that it helps the meat stay intact, as well as a little thumbprint dimple on the top of each burger. I like to refrigerate my shaped patties for 30 minutes to one hour, it's just another little trick to avoid them from shriveling up. Once it's grill time, fire it up to a medium flame and grill away!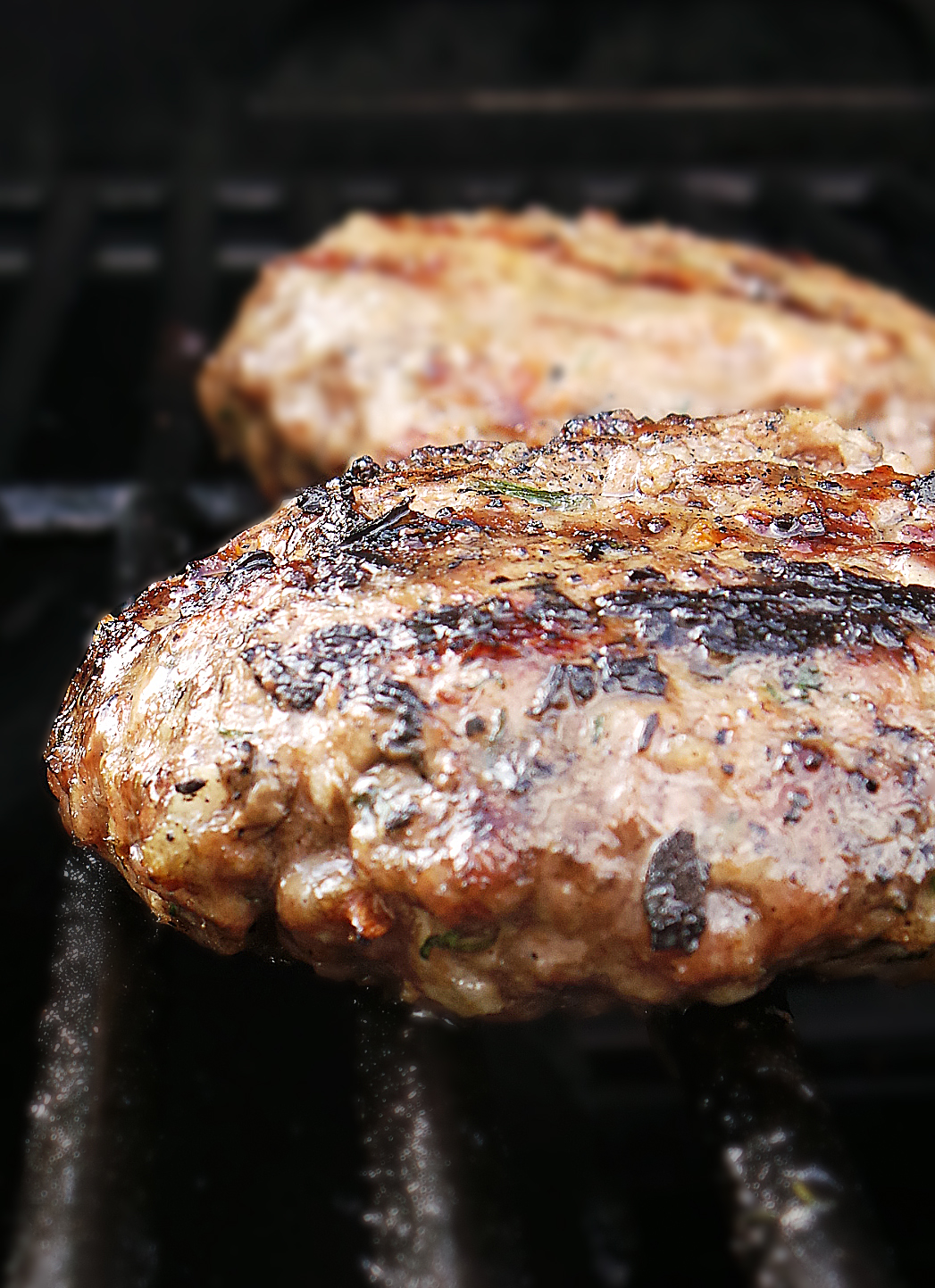 I let them grill about 6-7 minutes on each side until they were charred and felt about medium (bounces back with some resistance). It's important to only flip burgers once and to never smash them down with a spatula. You don't want to lose those juices!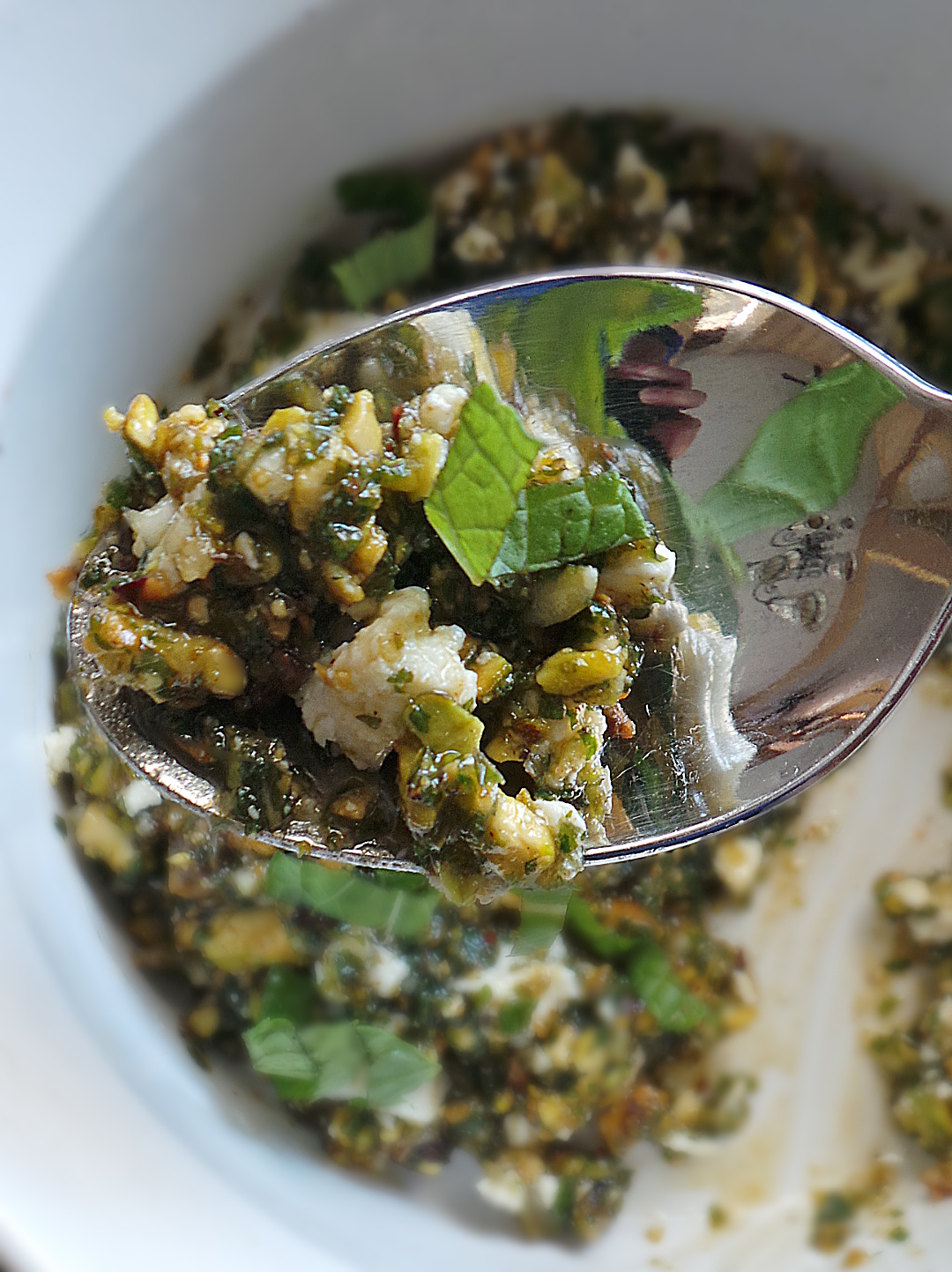 While those were grilling I quickly whipped up my yogurt sauce and pesto. For the yogurt sauce I took about 1/2 cup of plain Greek yogurt, the juice of half a lemon, fresh dill, salt, and pepper. Literally one cucumber away from being Tzatiki. For the pesto I quickly pulsed fresh mint leaves, a handful of pistachios, garlic, and olive oil. A little sprinkle of salt and feta crumble and my gawd my mouth was watering.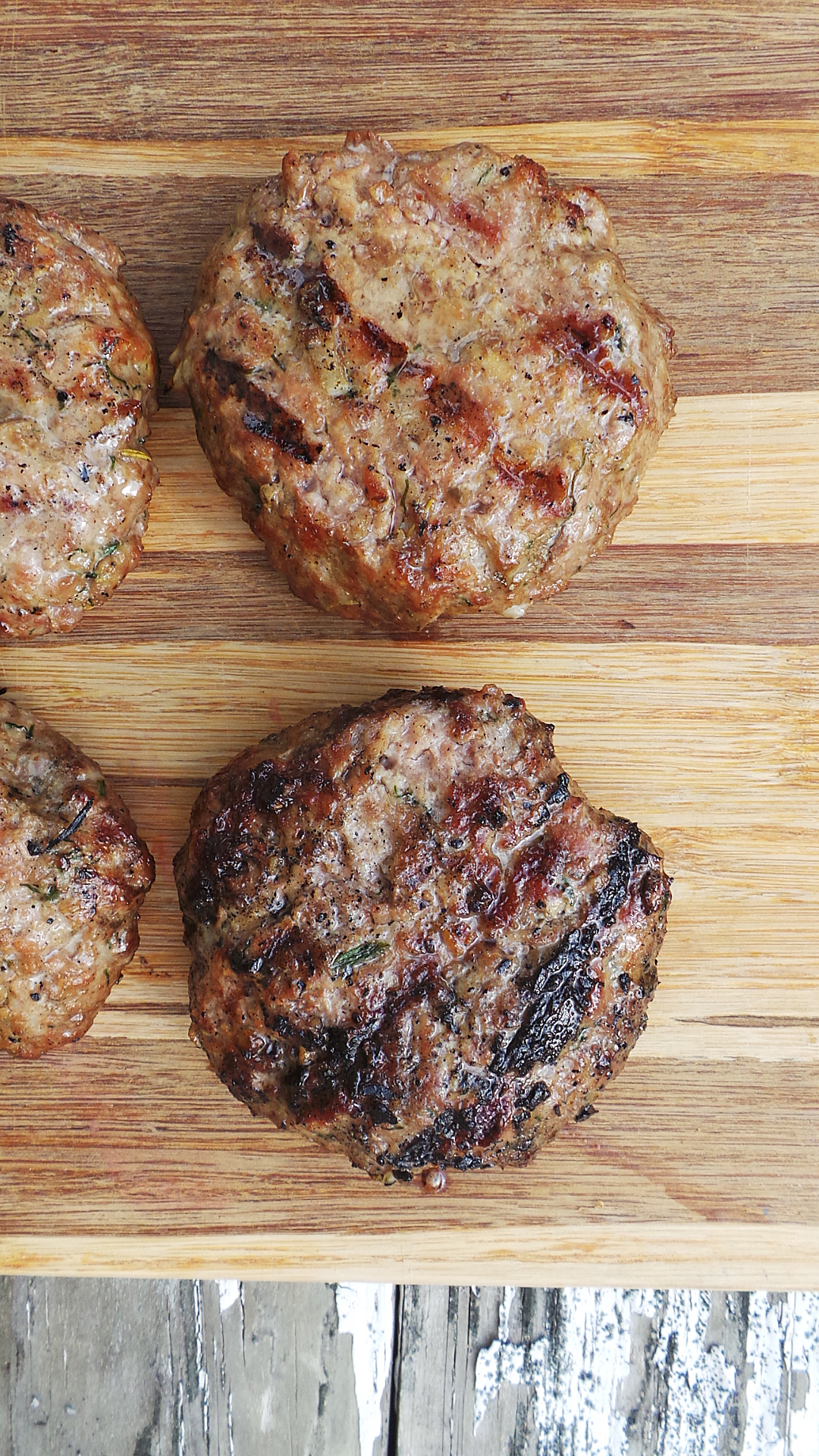 I removed the burgers from the grill and let them rest a few minutes as I charred the pitas. For a fun garnish, chiffonade some mint! Basically that's a fancy word for herb confetti, which I honestly like better.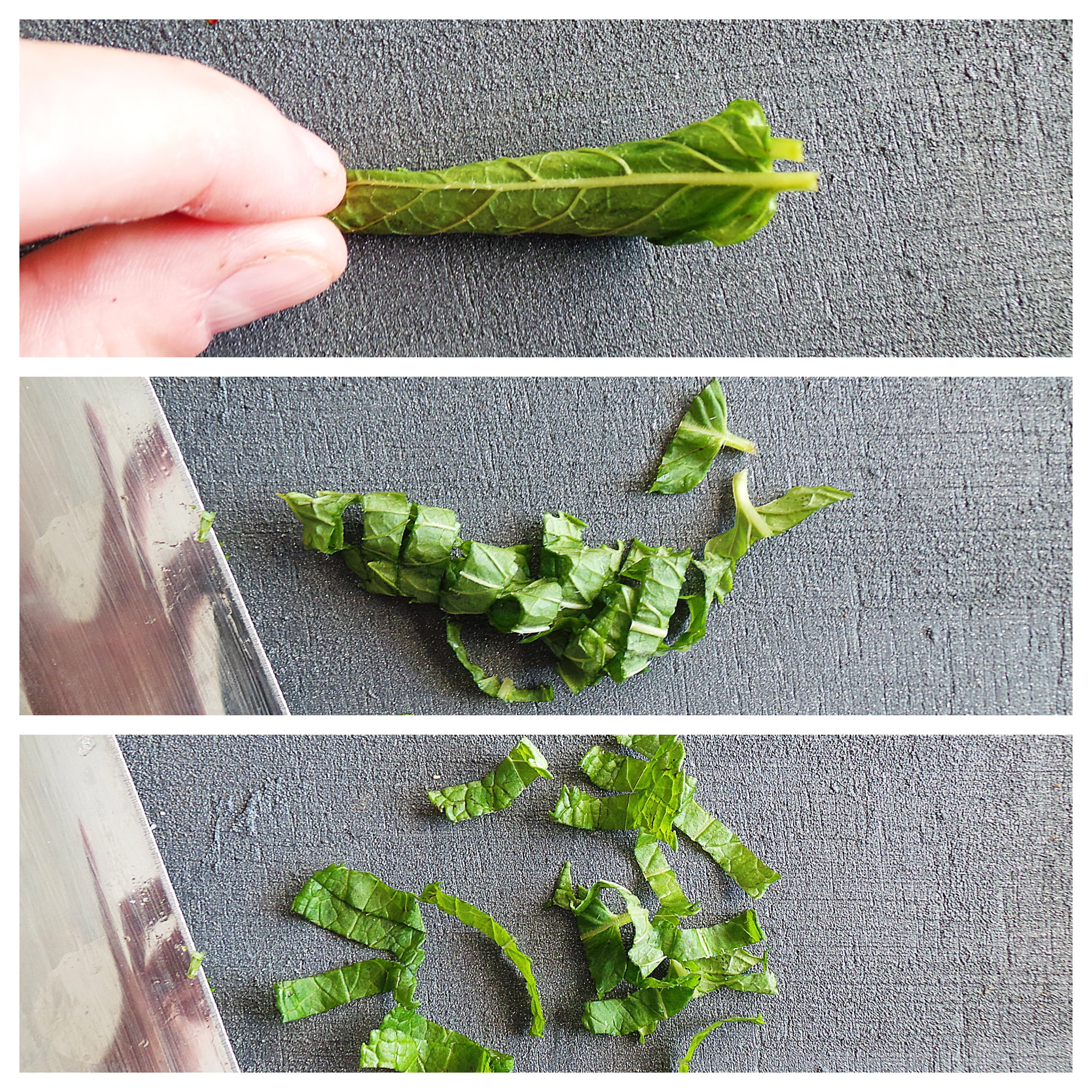 To chiffonade, roll the mint leaves up into a long and thin cylinder and cut away. The best tasting confetti I've ever had.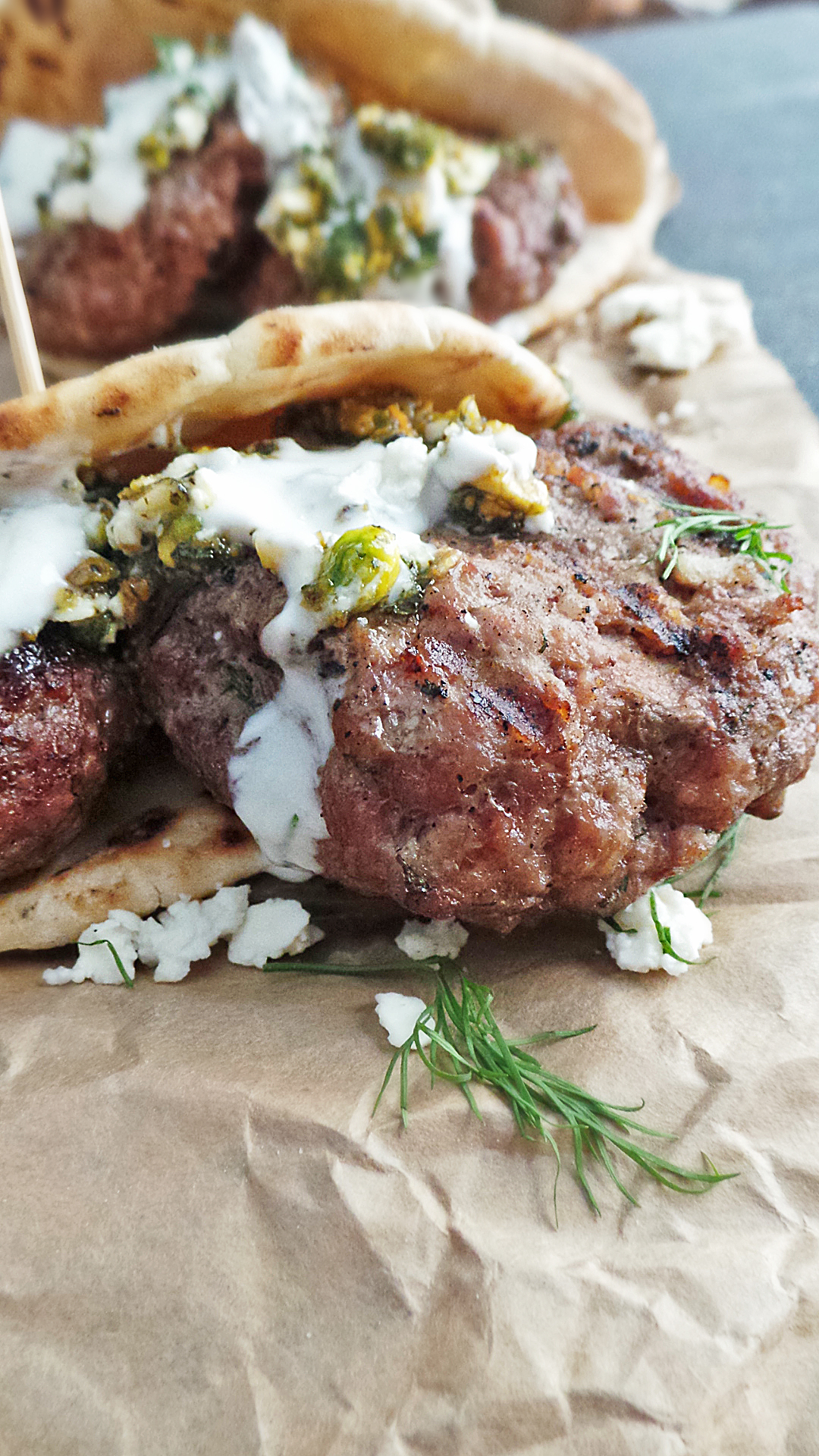 Stuff all of this into your pita and pour yourself a nice glass of white wine because after creating this outstanding dish – you deserve it.
Grilled Lamb Pitas w. Pistachio & Mint Pesto
2014-05-02 17:24:31
Serves 4
For the burgers
1 lb. ground lamb
1 shallot
1 large garlic clove
1 T. fresh dill - roughly chopped
2 t. Mediterranean spices (see post for suggestions)
pinch red pepper flakes
pinch salt and pepper
4 pitas
For the pesto
1 c. fresh mint leaves
1/4 c. pistachio nuts
1/4 c. olive oil
Feta cheese crumbles as needed
salt as needed
For the yogurt
1/2 c. nonfat Greek yogurt
1 T. fresh lemon juice
Dill as needed
salt and pepper as needed
For the burgers
Add the meat, herbs, and seasonings to a large bowl. Using a fine grater or zester, grate the shallot and garlic over the meat, wiping off any excess stuck to the grater. Mix with your hands - don't be afraid to get your hands dirty!
Scoop a fourth of the meat and place into a burger mold (I may or may not have used a Tervis lid). With your thumb, make an indent on the top of the patty. Transfer to a plate and repeat for the next three patties. Place in fridge for 30 minutes to one hour.
Fire up the grill to a medium flame. Make sure your grill is nice and clean!
Once hot, place the burgers down and cook 6-7 minutes on each side - only flipping once! Once grilled to desired doneness, transfer to resting plate. Add pitas to grill and heat until charred.
For the pesto
Combine mint, nuts, and olive oil in processor and pulse. Adjust oil if needed. Season with salt. Fold in Feta crumbles.
For the yogurt sauce
Combine all ingredients and stir. Adjust as needed.
For the pita
Stuff the burgers into the pita and top with pesto and yogurt sauce! Mix the pesto and yogurt sauce together if desired 🙂
Notes
The majority of the fat in this recipe is coming from the olive oil, which is good fat so don't let it scare you off!
http://www.vodkaandbiscuits.com/
[shopeat_button]