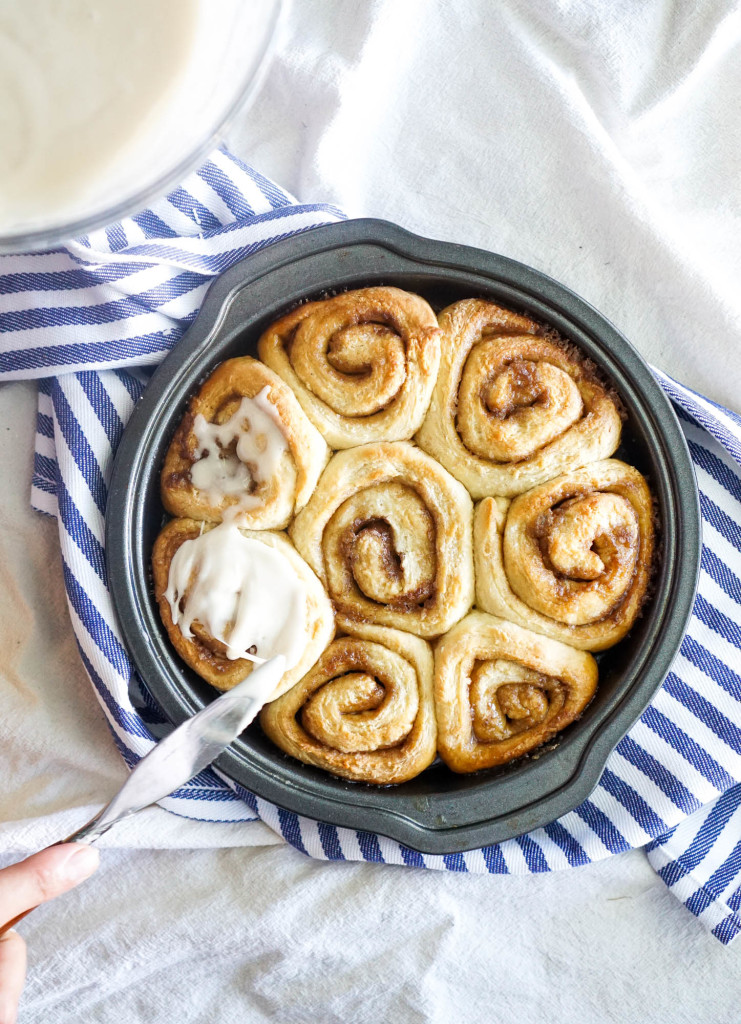 More like sinnamon rolls, amirite?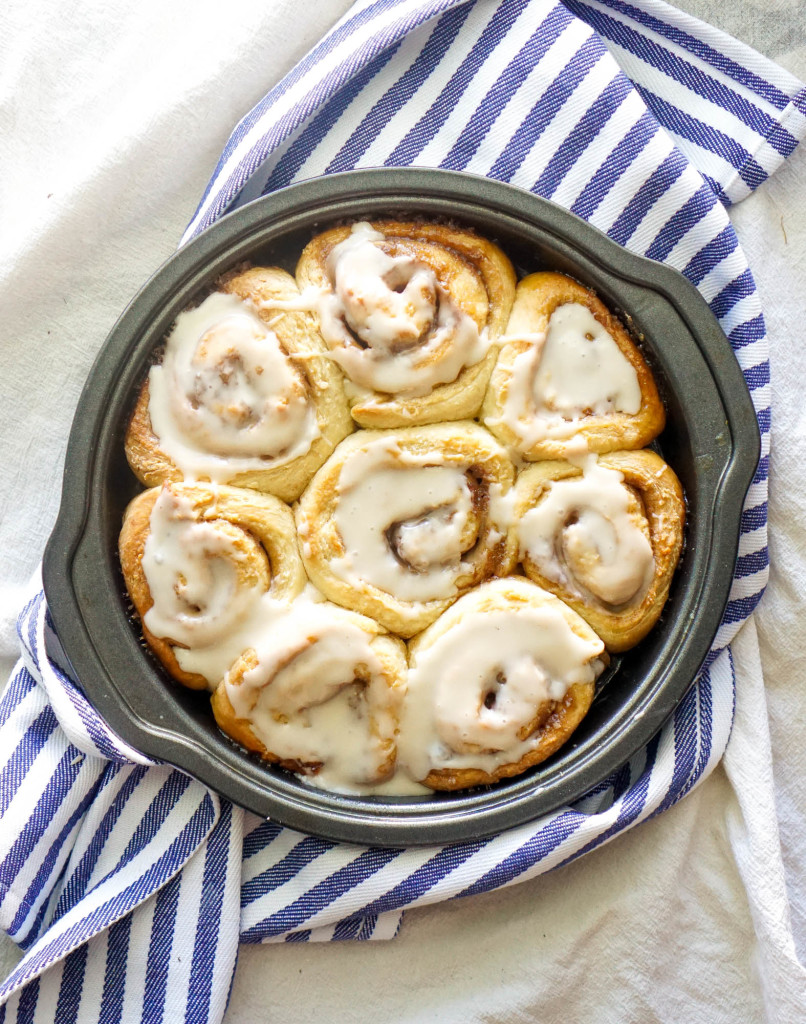 I never thought I saw the day come where I would be sharing with you a recipe for cinnamon rolls. You know by now I have a green thumb for baking, and when it comes to cinnamon rolls PSH forget it. I've never had luck with homemade buns so for these to turn out, and actually be delicious, is a miracle.
I'm holding on to this recipe AND NEVER LETTING GO.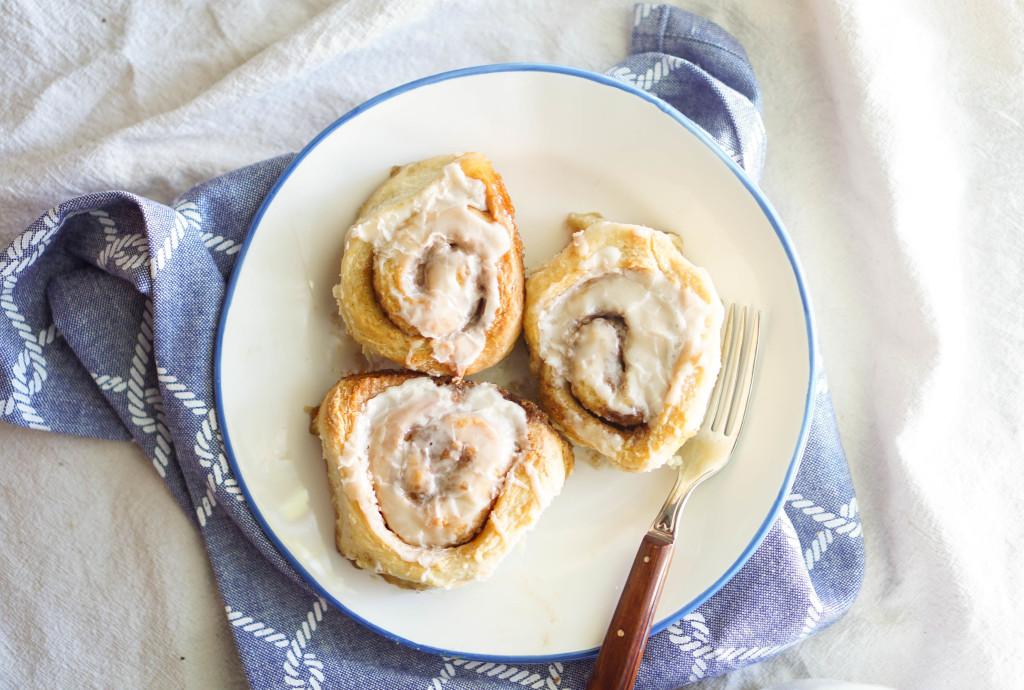 Last week Sascha and I were sitting in my office reading through Plate's latest magazine which focused on vegan cuisine. We were using the read as inspiration for a vegan wedding coming up this fall. I also had Chloe's Kitchen in front of me (which is a frequent on the blog and also steady stays on my desk). I'm flipping through Plate and Sascha stops me, look at those cinnamon rolls.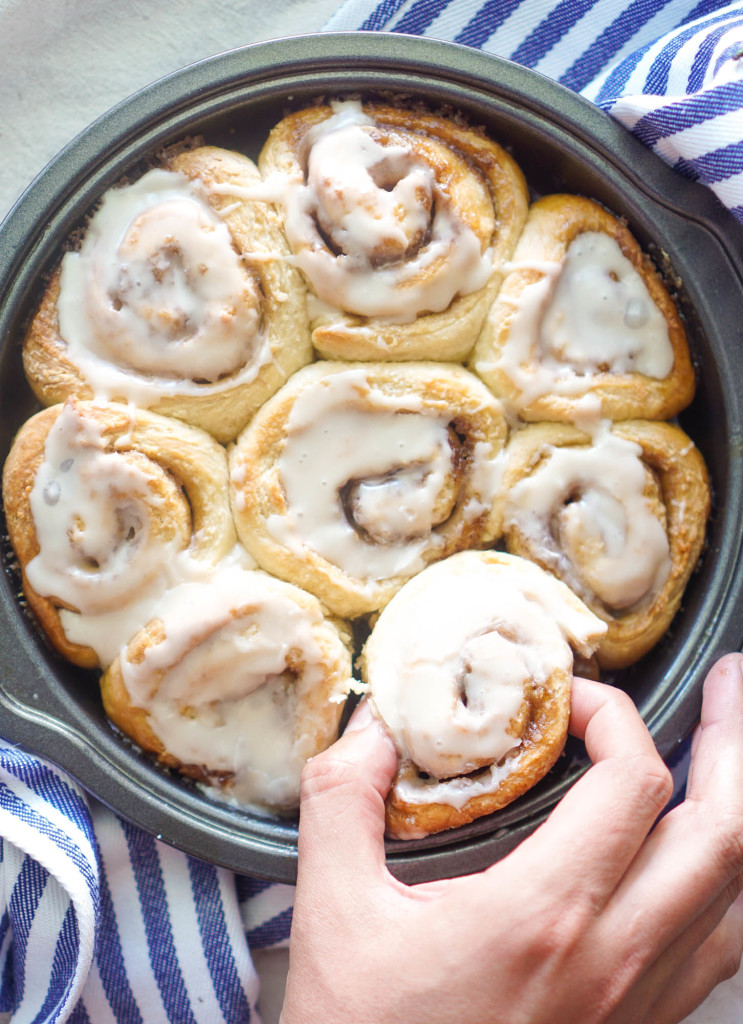 I'm all like HEY, those are in Chloe's Kitchen. I open her cookbook and for the next ten minutes I'm lost reading and re-reading her recipe, thinking I can do this.
So guys, here we are. Yep I can do this and certainly you can too. I never saw this coming, but I'm actually excited to say: let's bake.
The Dough
Just like every cinnamon roll recipe this is a little time consuming, however it's the easiest recipe I've yet to find. There's two parts of prep before making the dough and that's (1) letting the yeast activate and (2) heating together almond milk, sugar, salt, and vegan butter. Let's give this ten minutes tops.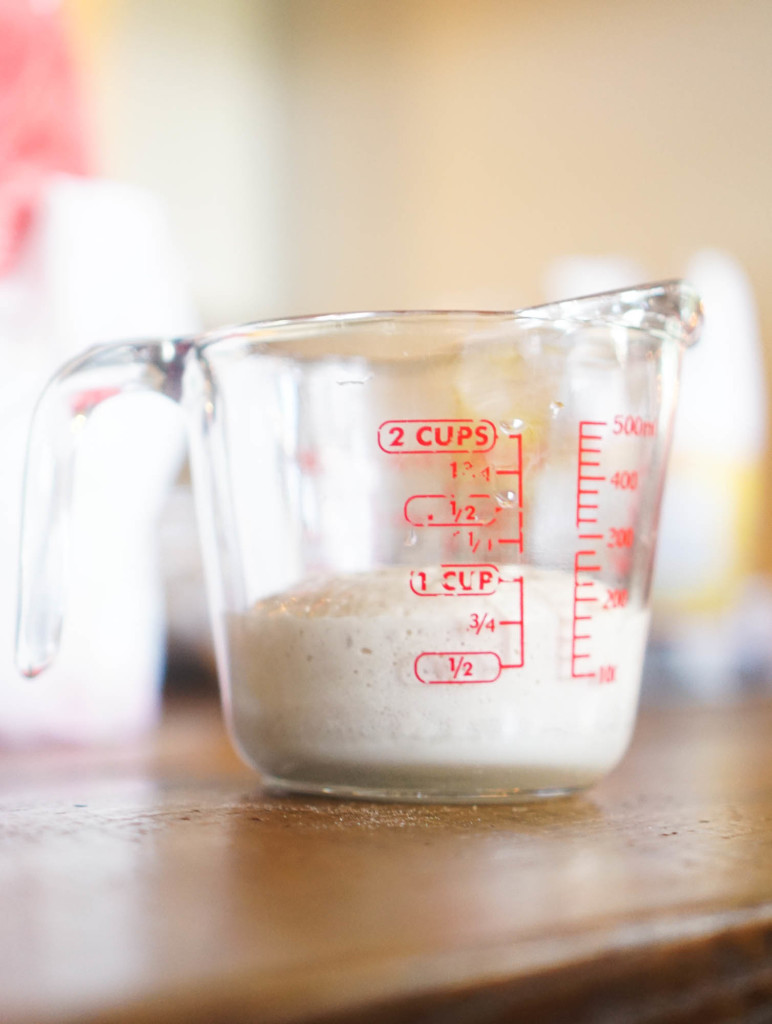 The two combine in a standing electric mixer then flour gets gradually added in. Next step is an applause because now you have yourself some dough *insert handclap emoji*
I am positive I will make this again and probably use regular non-vegan butter. I can't imagine it wouldn't turn out the same, but I also don't want to promise you that. I will post updates!
The dough gets kneaded for about two minutes then sits for an hour and a half to rise. This is the part that always makes me nervous, but sure enough it rose! Punch it down, let it sit for a few more minutes, then it's time to get to the fun stuff.
The Filling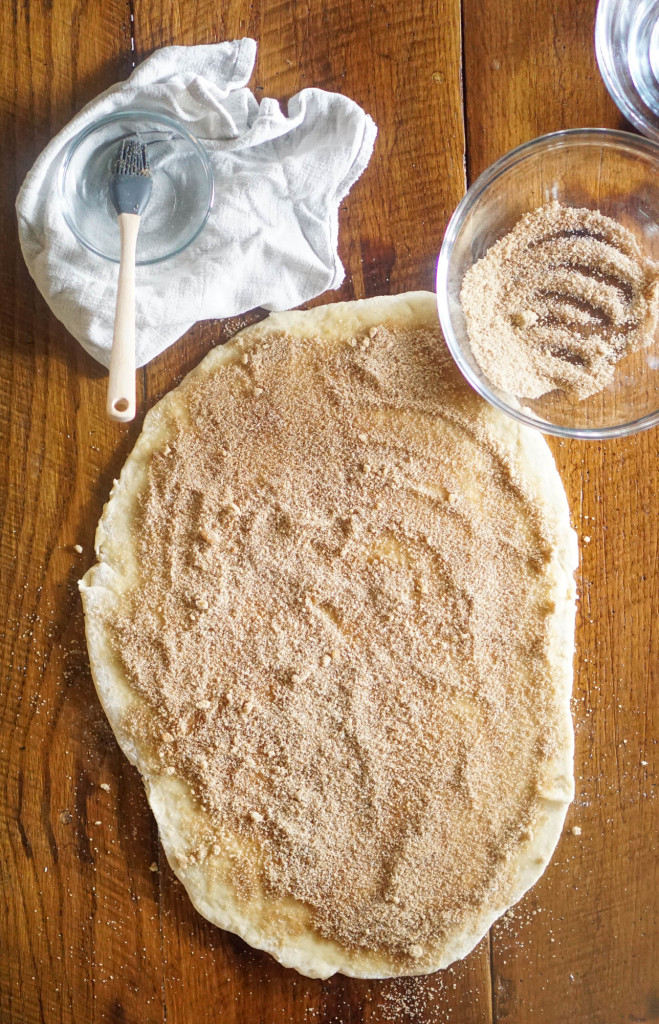 The fun stuff AKA the filling. I kept it simple with the traditional melted (vegan) butter, cinnamon, and brown sugar. Chef Chloe added raisins, but you can also add currants, orange zest, pumpkin pie spice, chopped nuts, caramel, and whatever your mind can think of. Once you decide your filling, roll the dough out into a rustic-shaped oval, brush it with butter and sprinkle over your filling.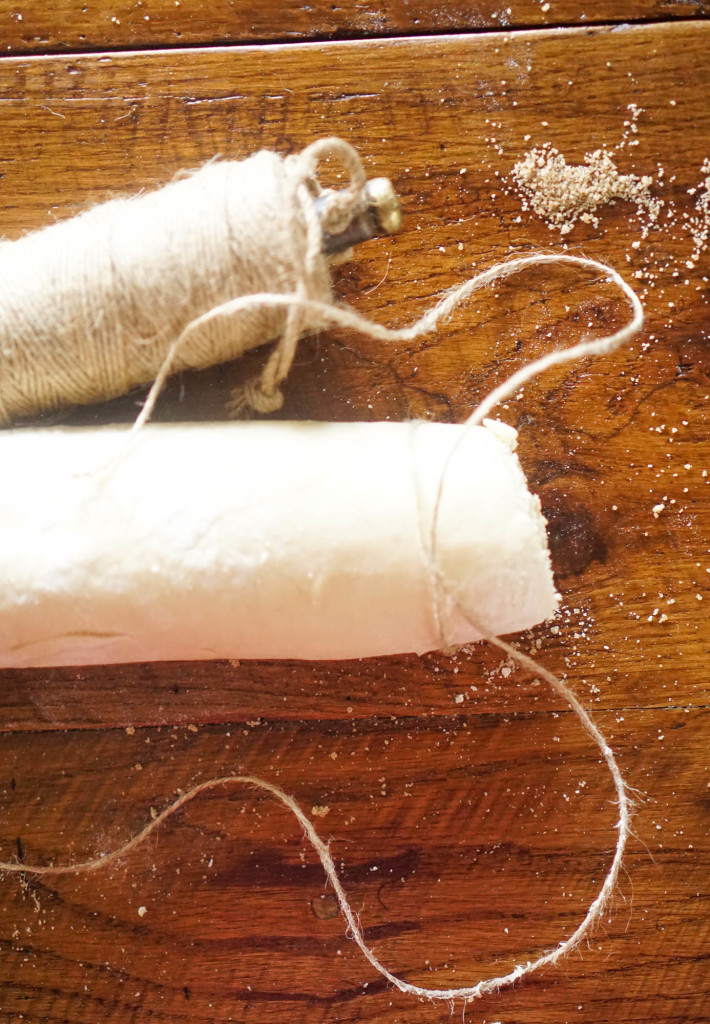 The dough gets rolled up (starting at the long end), then sliced into rolls.
Use a thread to tie around the "log" to slice the dough instead of a knife. Learned this trick in a baking class.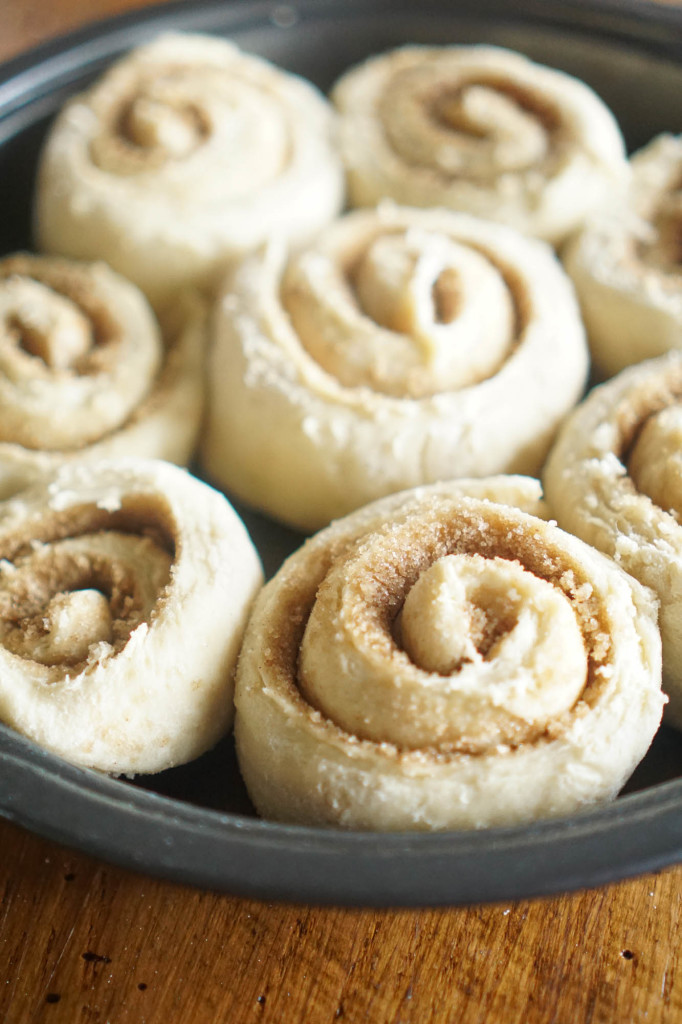 The cut rolls get snugged into a baking dish and sits for one more hour until doubled in size. A good guideline is when all the gaps between the rolls are filled, indicating your dough has risen and it's ready for the oven!
The Bake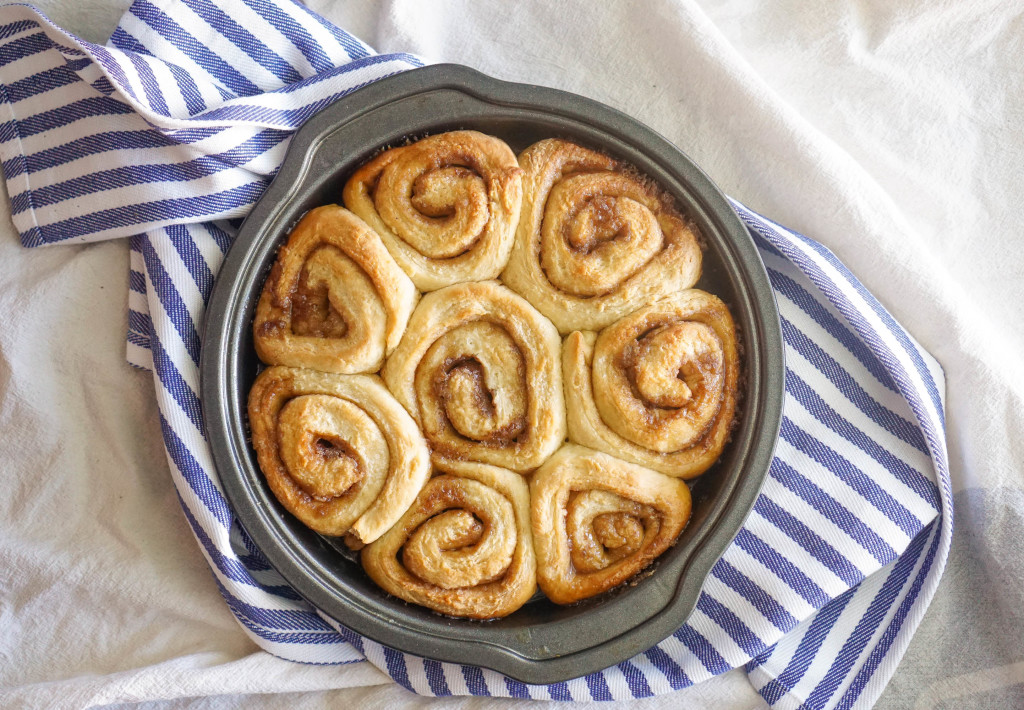 These babies only take twenty minutes in the oven, and after all, what's twenty minutes when you've already waited 2 1/2 hours??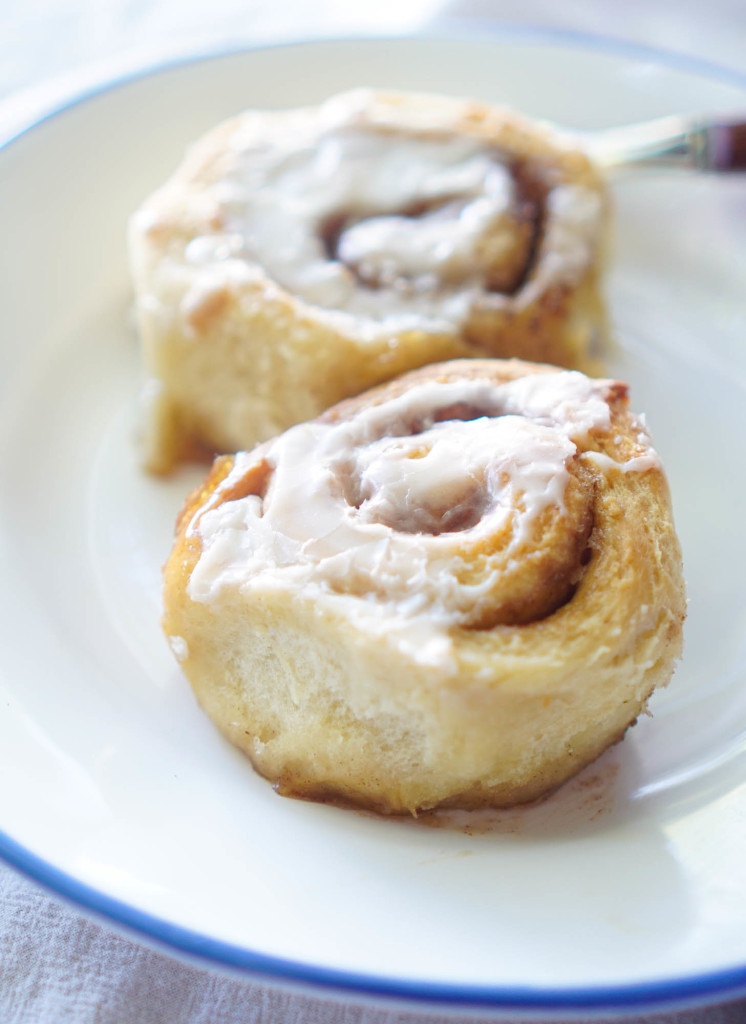 While those are baking, whip up the glaze. I kept true to the recipe (and the vegans) and used a powdered sugar glaze made of almond milk and vanilla.
Add a teaspoon of orange or lemon zest for flavor, or a sprinkle of cinnamon.
Top your off your warm buns and get ready for a treat.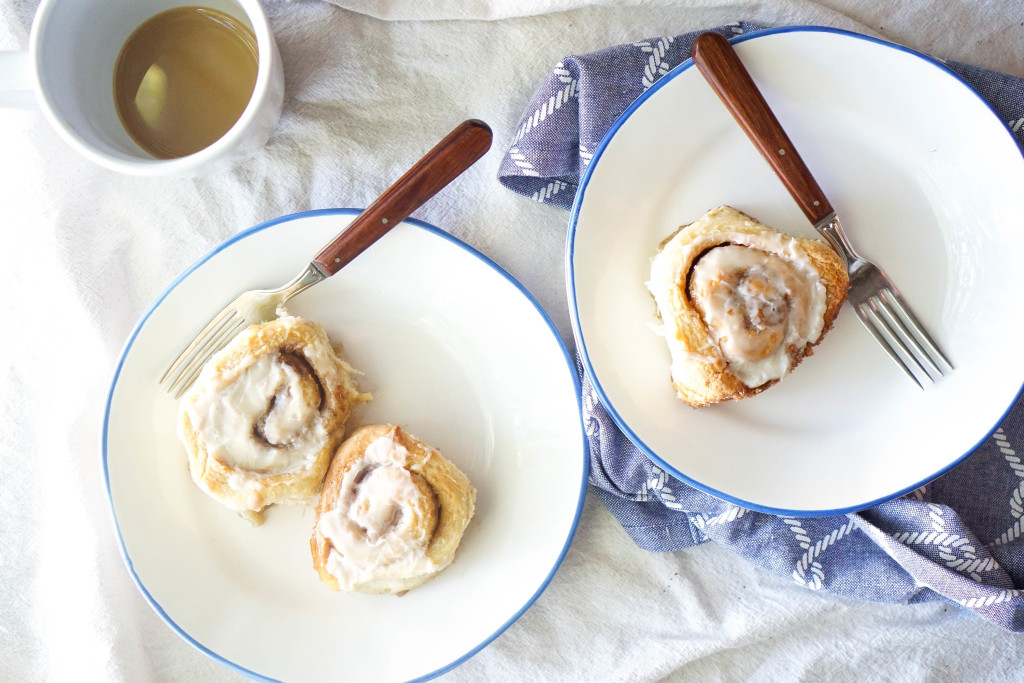 These are chewy, the perfect balance of cinnamon and sweet, and so comforting you'll want to give it a hug.
Can I just vent that for once ever I can eat an entire cinnamon roll without having a stomach ache or my teeth feeling like they're about to fall out because of the amount of sweetness I just bit into. I'm totally re-making, and maybe switching it up with a cream cheese frosting or adding pumpkin to the dough. Whatever I do, I am doing it soon because now I KNEAD THESE. See what I did there?
Enjoy 🙂
Chef Chloe's Cinnamon Rolls (Vegan)
2016-08-11 12:28:09
Serves 12
Fluffy and comforting VEGAN cinnamon rolls with a powder sugar glaze. The perfect breakfast treat, vegan or not.
For the Dough
1 cup almond milk
1/2 cup plus 1 tablespoon sugar, divided
1/2 teaspoon salt
8 tablespoons vegan butter
1 teaspoon vanilla extract
1/4 cup warm water, about 110 degrees*
1 envelope active dry yeast
4 1/2 cups all purpose flour, plus more for rolling
For the Filling
3/4 cup packed brown sugar
2 tablespoons sugar
1 1/2 teaspoons ground cinnamon
4 tablespoons vegan butter
For the Glaze
1 1/2 cup powdered sugar
3 tablespoons almond milk
1/2 teaspoon vanilla extract
For the Dough
In a small sauce pan, combine the milk, butter, salt, and 1/2 cup sugar and heat over medium-low heat until the butter has just melted. Remove from the heat and stir in the vanilla. Allow to cool until warm to the touch.
In the meantime, place the warm water, remaining 1 tablespoon sugar, and yeast in a 1 cup measuring cup. Stir for two seconds, then set aside for ten minutes. The yeast will foam, double in size, and should reach the 3/4-cup line.
In a stand mixer with the paddle attachment, combine the butter mixture and yeast mixture. Beat at medium speed for one minute. Reduce to low, and add 2 1/2 cups of flour. Mix for two minutes, then add 2 more cups of flour. Beat for 1 more minute.
Remove the dough from the mixing bowl. It will be somewhat wet and sticky. Place on a lightly floured surface and knead for 2 minutes with your hands. You can add more flour to keep your hands from sticking.
Place the dough in a well oiled bowl (I used coconut oil spray) and rotate so the dough is covered with the oil. Cover with a dry kitchen towel and place in a warm part of the kitchen. Allow to rise for 1 1/2 hours, until doubled in size.
Remove the towel and punch in the center of the dough to deflate. Remove the dough and transfer to lightly floured surface. Cover with a dry kitchen towel, and rest for 10 minutes.
For the Filling
Lightly grease a 9x13-inch pan.
On the same floured surface, roll the dough into a 20-inch x 13-inch wide rectangle (no need to measure, just use your best judgement).
Combine the brown sugar, sugar, and cinnamon and mix. Evenly brush the melted butter over the entire surface of the dough. Evenly sprinkle over the sugar mix.
With the long end of the dough towards you, roll the dough. With the seam side down, use a piece of twine or string to wrap around the dough and cut the log in half. Then cut each half into six equal pieces.
Place the rolls, cut side up, into the prepared pan in 4 rows with 3 cinnamon rolls in each row. (I used the circle pan for photography, which only fit 8 of my 4 rolls. I ended up baking those separate).
Cover with a kitchen towel and place in a warm area until they have risen and expanded, about 1 hour.
Preheat the oven to 375 degrees.
Bake, uncovered, for 20-25 minutes. Allow the rolls to cool for 10 minutes before glazing.
For the Glaze
Combine the powdered sugar, almond milk, and vanilla and whisk until smooth. Adjust sugar or milk to achieve desired consistency. Drizzle the glaze over the warm cinnamon rolls.
Notes
If the yeast does not rise in the glass, the yeast is dead or the water was either too cool or too hot, so try again before proceeding (I always get 2-3 envelopes just in case!).
Adapted from Chloe's Kitchen
Adapted from Chloe's Kitchen
http://www.vodkaandbiscuits.com/