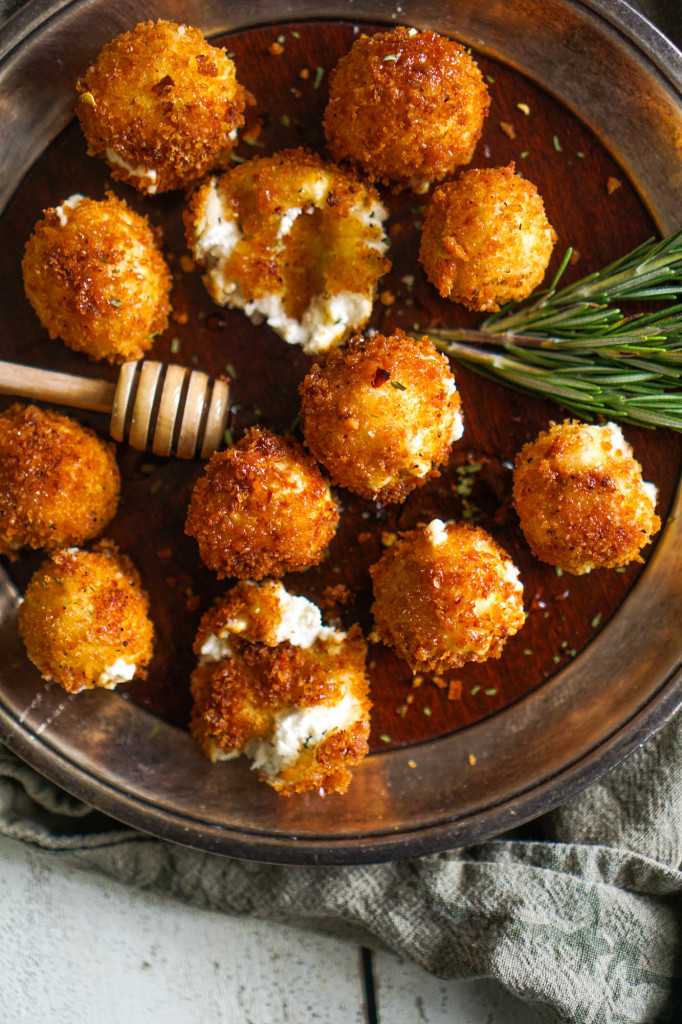 Goat cheese flavored with honey and tarragon, rolled into a ball, fried to crispy perfection, then drizzled with more honey and a pinch of red pepper – as if goat cheese couldn't get any better.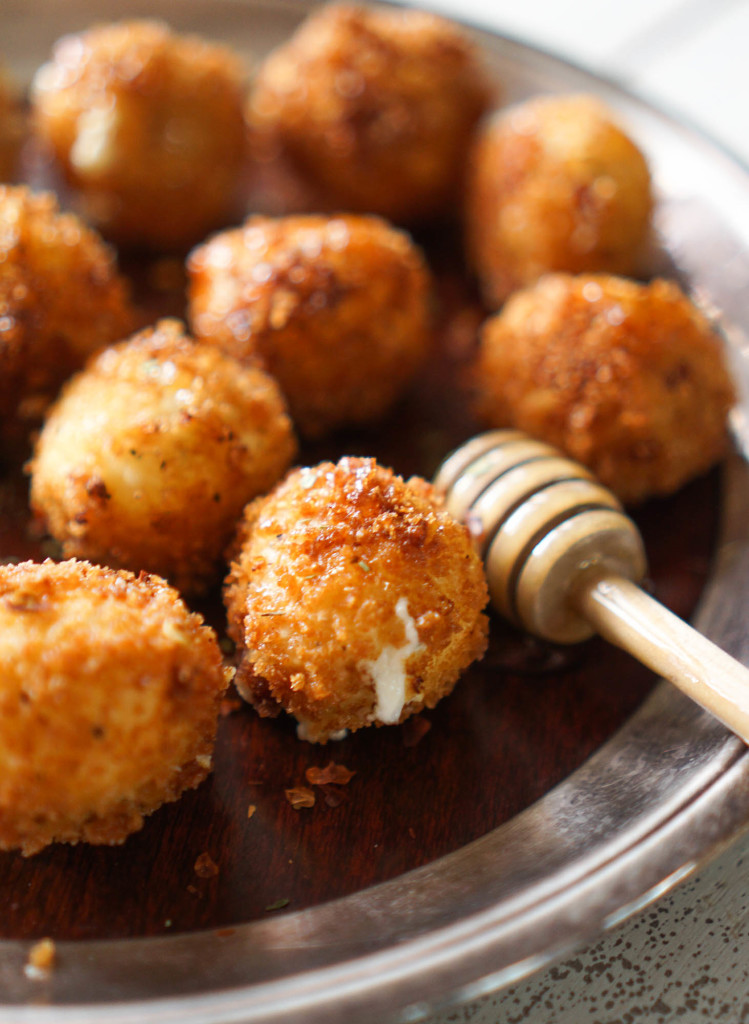 December is one of our busiest months of catering. Unlike wedding season where there are weddings every weekend, holiday catering is multiple corporate events that happen every.single.day.
Needless to say, our last event of the season (the day before Christmas Eve) I celebrated with copious amounts of wine, and will continue to do so this weekend for New Year's.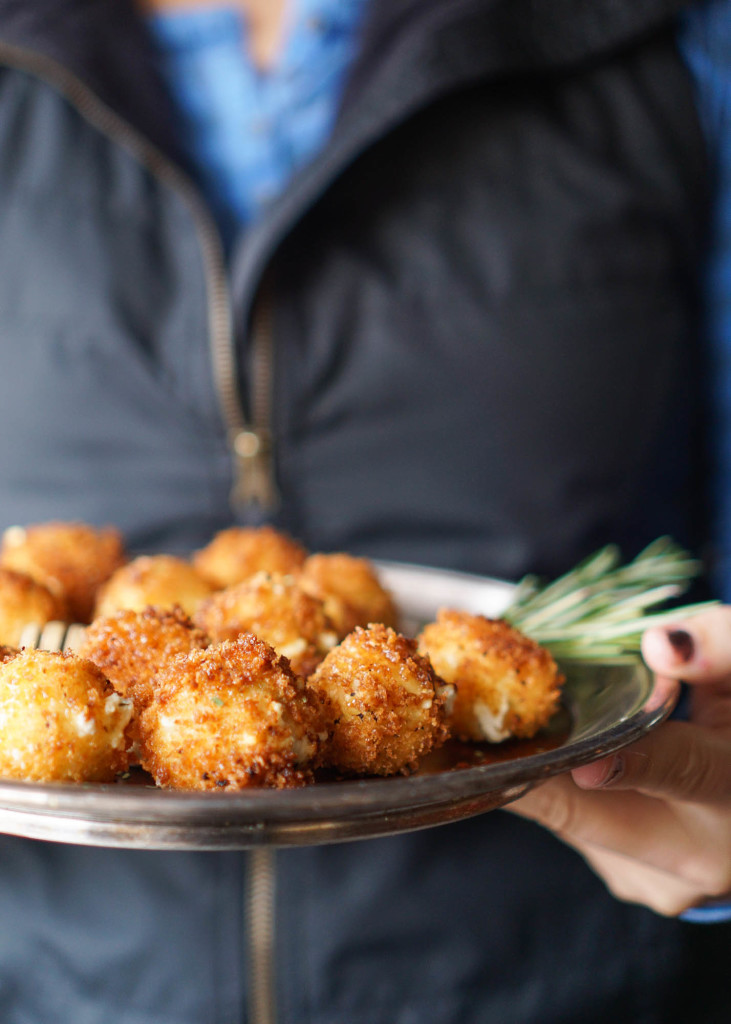 At one of those many events, we catered for a group of 250 with four food stations and a massive bar. Sounds like my kinda party. One of the stations was a charcuterie display and one of the cheeses was goat cheese. We all know how unattractive a plain ol' white log of goat cheese can look, so our chef rolls it in a blend of herbs mainly being tarragon. One of her many combinations that I love.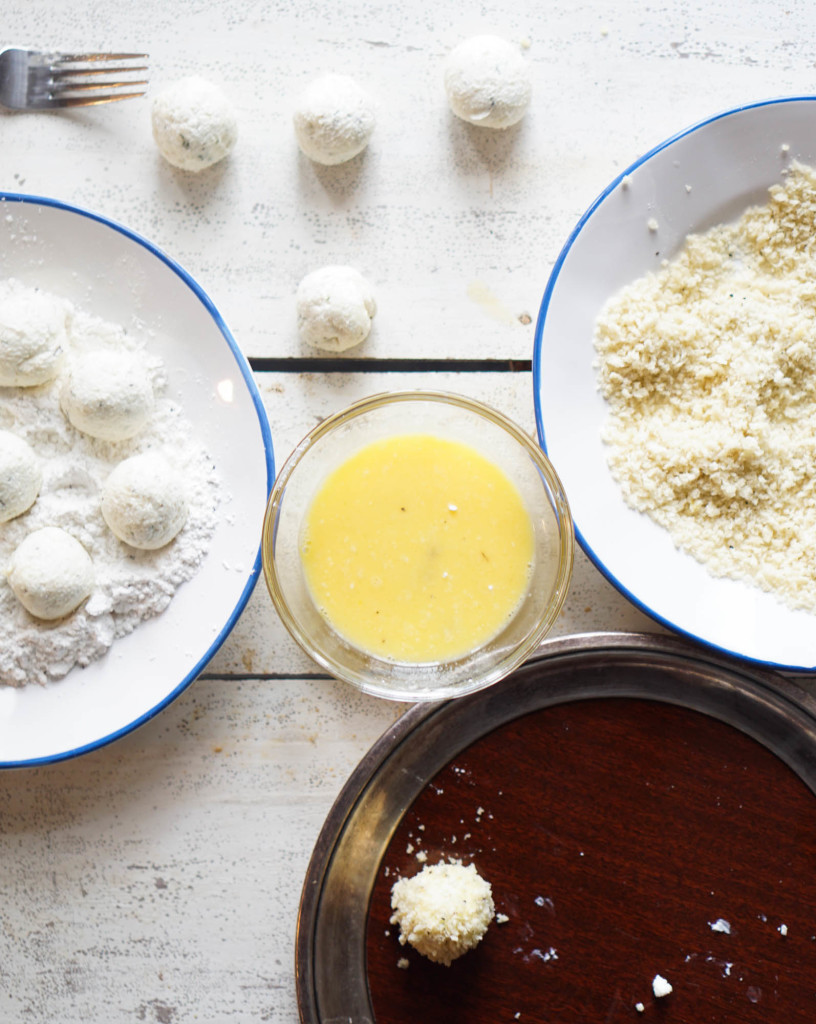 Rewind to a week before that party where we met our client to discuss the menu. Her one request was fried cheese of any sort on one of the stations. We all decided on a southern station with a KILLER fried Mac & cheese, but as that was being discussed I couldn't stop thinking about chef's tarragon goat cheese fried:
Goodness that would be the perfect hors d'ouvures.

Ugh, drizzled with honey.

Omg, New Year's.

I'm making it.
And that my friends is how we are here today.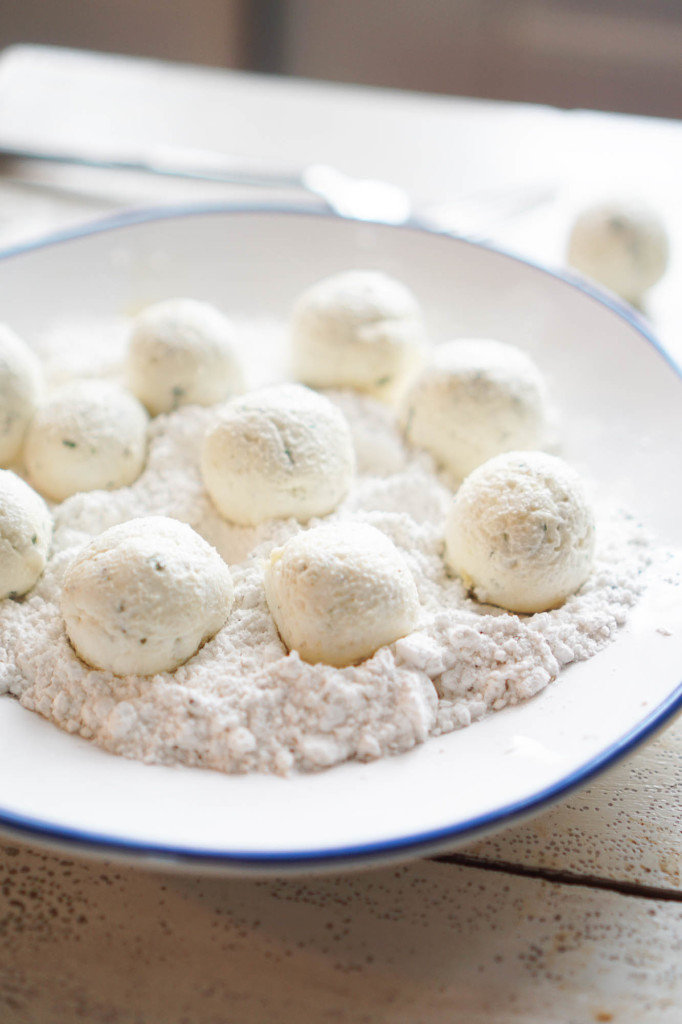 This appetizer is simple, but does require a little prep. The good thing is you can bang it all out a day before or the morning of. It starts with jazzing up the goat cheese, then rolling it in flour – egg- panko breadcrumb, then frying. We've all done this drill once or twice.
If you have a deep fryer, this is a time you should break it out. It's super important to have your oil at 350 degrees or else your cheese ball will explode. And by explode I mean the cheese will ooze out and you'll just be man down (but you can still eat it like no one's watching…I did).
I do not have a deep fryer, so I just added canola oil to my Dutch oven and kept testing out the temperature with mini balls made from the leftover goat cheese. I'll explain more in the recipe!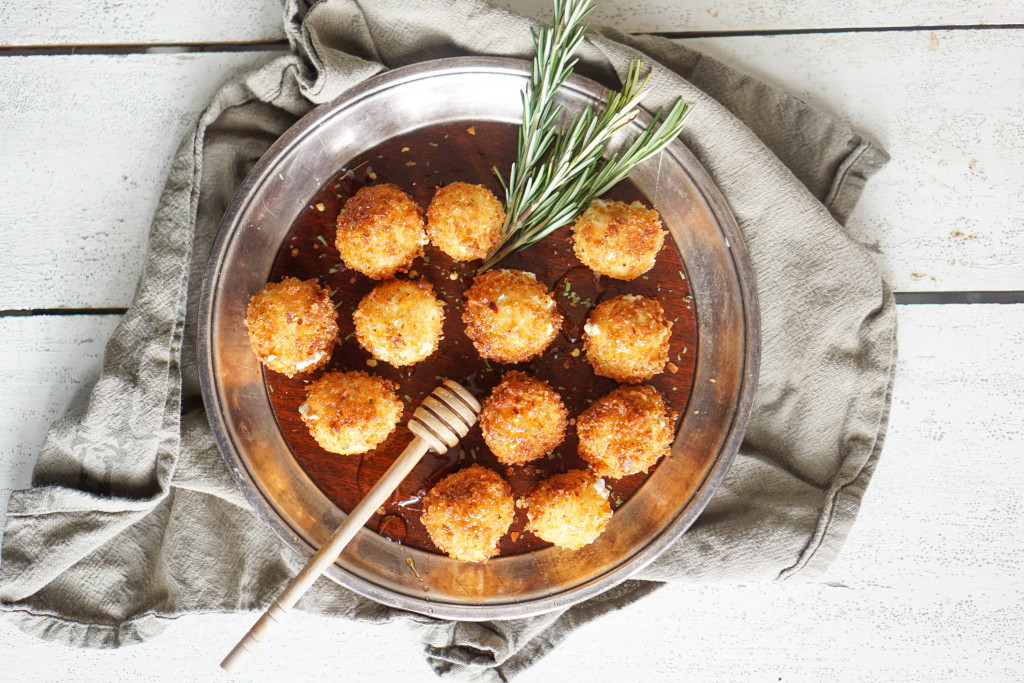 Once fried the balls get a drizzle of honey and pinch of red pepper flakes for heat. I recommend serving warm as the honey seems to melt on top and into the ball, making it DIVINE. You can serve immediately from the fryer or warm back up in the oven. Whatever is easier for you!
So…When You Should Make This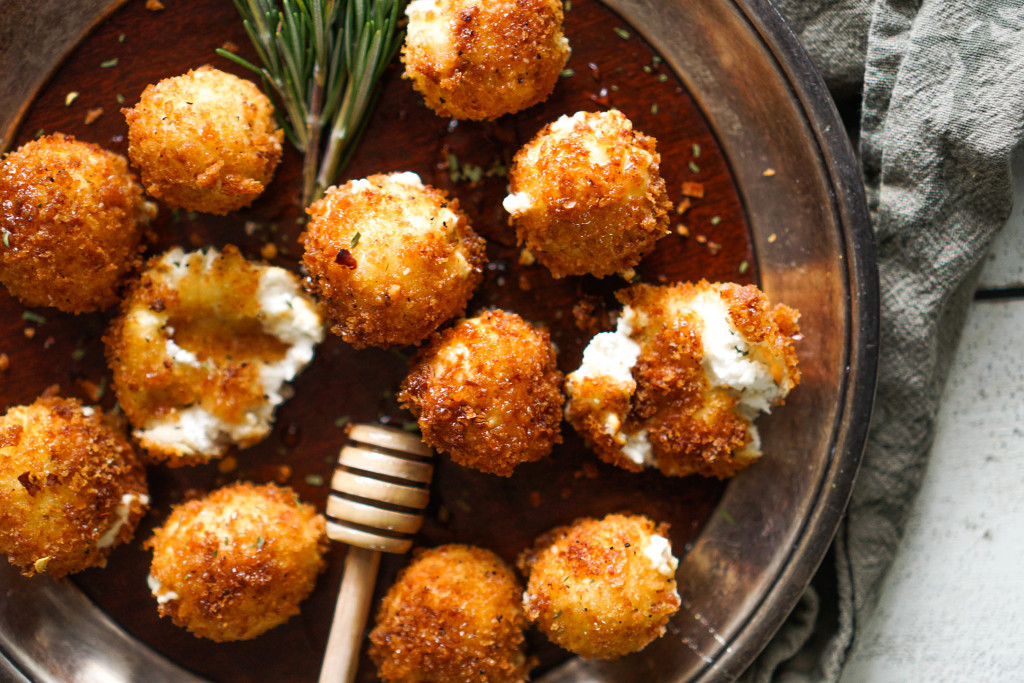 This would be the perfect appetizer for either a small dinner party or for a large crowd but served on a charcuterie display. Can you imagine one of these crispy little thangs wrapped with a piece of ham or prosciutto topped with a dollop of pepper jelly or raspberry jam?? Also imagine these on top of an already gorgeous salad, show stopper to say the least.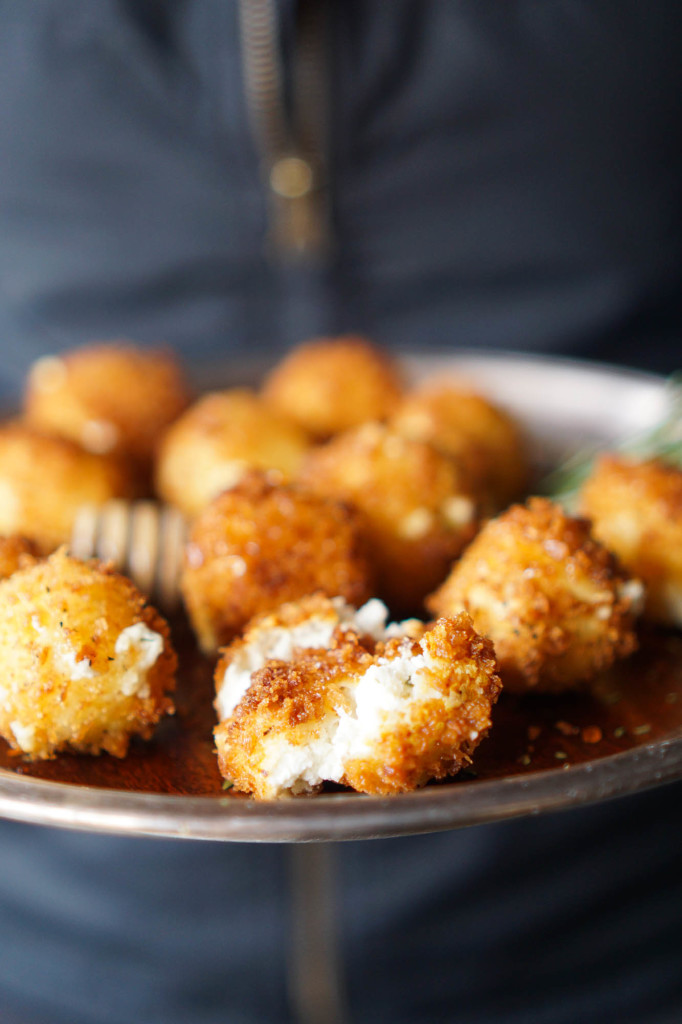 They're deliciously cheesy, crunchy, with a perfect balance of sweet & heat. Your New Year's celebration needs this and I hope you can wiggle it on your menu.
Enjoy and have a happy New year everyone!
PS: You can buy goat cheese logs inexpensive at places like Aldi's or Trader Joe's. You can also buy already flavored goat cheese and jazz it up how you'd like!
Fried Goat Cheese with Tarragon + Honey
2016-12-29 06:35:09
Serves 6
Crispy fried goat cheese balls flavored with tarragon and honey, perfect for an appetizer, and addition to charcuterie display, or on top of a salad.
Ingredients
12 oz. log goat cheese, room temperature (I used 3 4oz. logs)
1 teaspoon dried tarragon
1 tablespoon honey, plus more for garnish
1/4 teaspoon sea salt
pinch black pepper
1 egg, plus splash of water
1/2 cup panko bread crumbs
1/2 cup ap flour
salt and pepper as needed
canola oil for frying
Optional garnishes: red pepper flakes, chives, crushed pistachios
Instructions
Mix together the goat cheese, tarragon, honey, 1/4 teaspoon salt, and pepper. Taste and adjust seasoning as needed. Roll into 12-14 balls (about an ounce each). You can make them as big or small as you want, especially if you want to yield more. Set aside until needed.
Beat the egg and water in a small bowl.
Add the breadcrumbs to a plate and season with 1/2 teaspoon salt and 1/4 teaspoon pepper. Add the flour to a separate plate and season once more with salt and pepper. Create a dipping station with the flour first, egg second, then breadcrumbs.
Roll the goat cheese balls in flour, dip in the egg, then roll in breadcrumbs. Shake off any excess breadcrumbs. Set on plate and continue until finished.
If frying immediately, set in the freezer for 20-minutes. If frying the next day or later in the day, set in the fridge for a minimum of 1-hour.
When ready to fry, add enough canola oil to cover the surface of a Dutch oven by 3". Heat to 350 degrees. Fry the goat cheese balls 4-5 at a time until golden and crispy.
To garnish, drizzle with honey and a pinch of red pepper flakes (optional).
Notes
If you do not have a deep fryer or a thermometer, roll a few smaller balls with any excess goat cheese to test if the oil is hot enough. If the oil is not hot enough, the goat cheese will spill out of the balls.
https://www.vodkaandbiscuits.com/