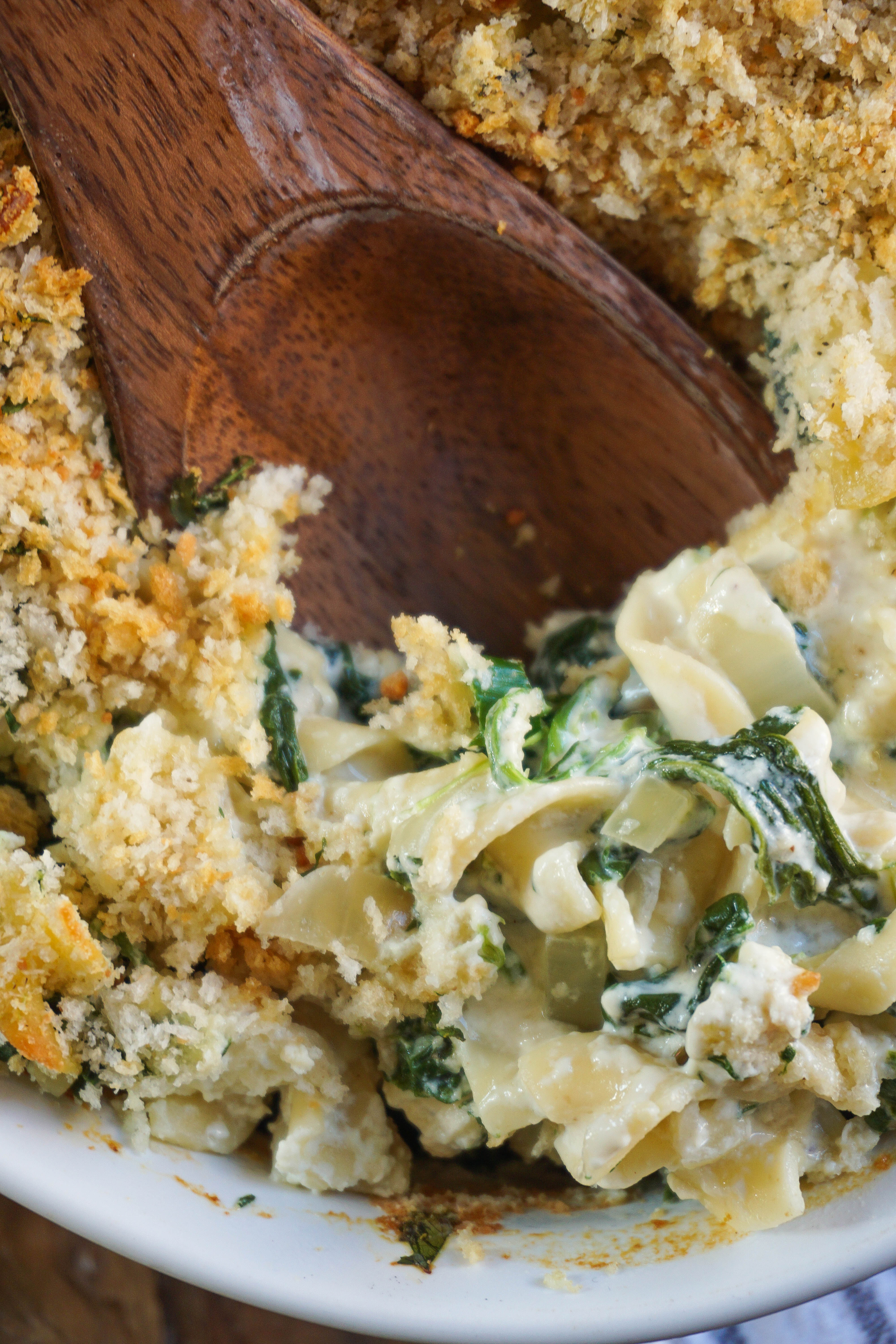 Noodle kugel – fun to say, better to eat.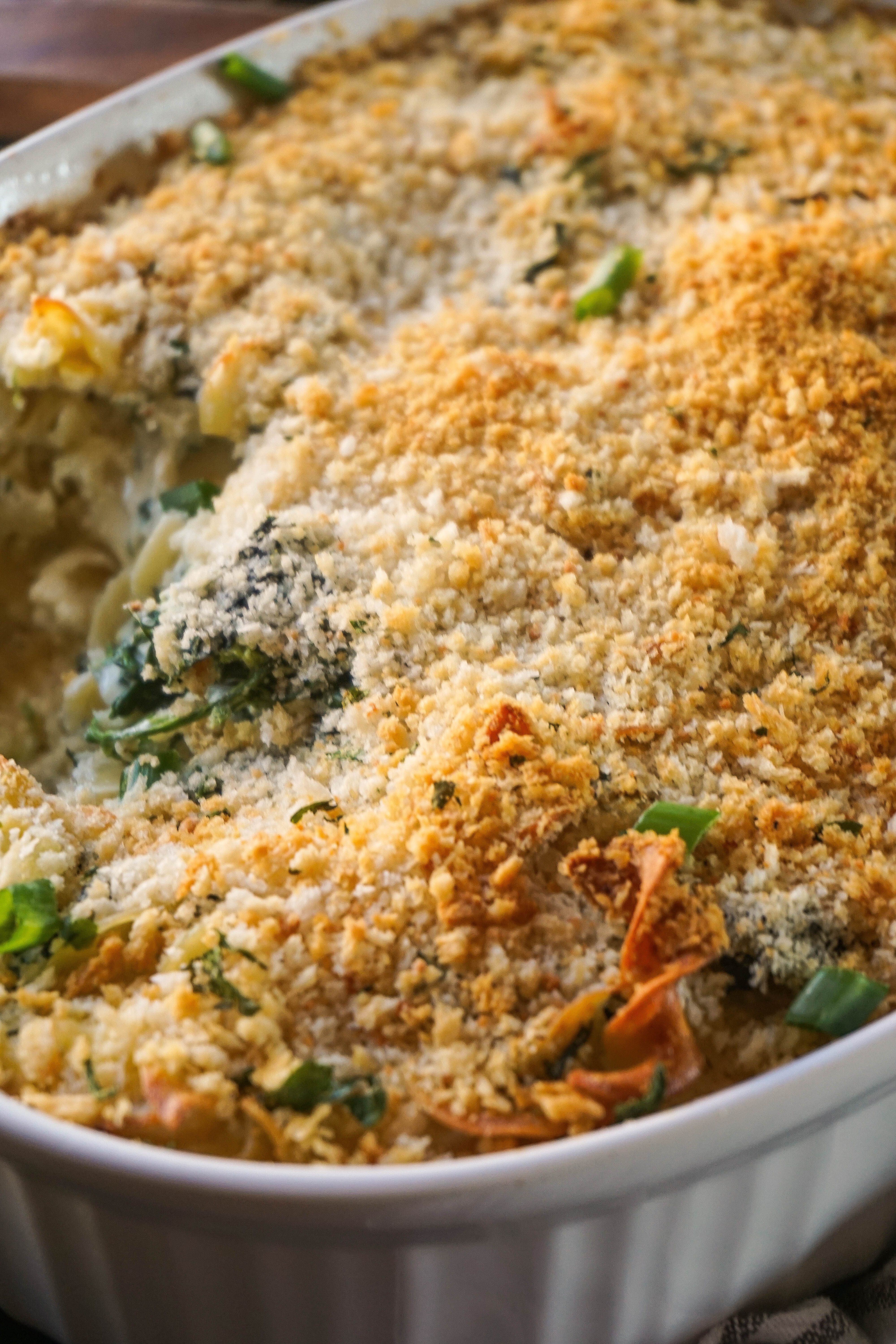 Fun little fact: although I'm not Jewish, my family and I celebrated Hanukkah and Passover with a family friend for about five years straight. It was way back when where I not only found my love for potato latkes, but this heavenly noodle custard known as kugel.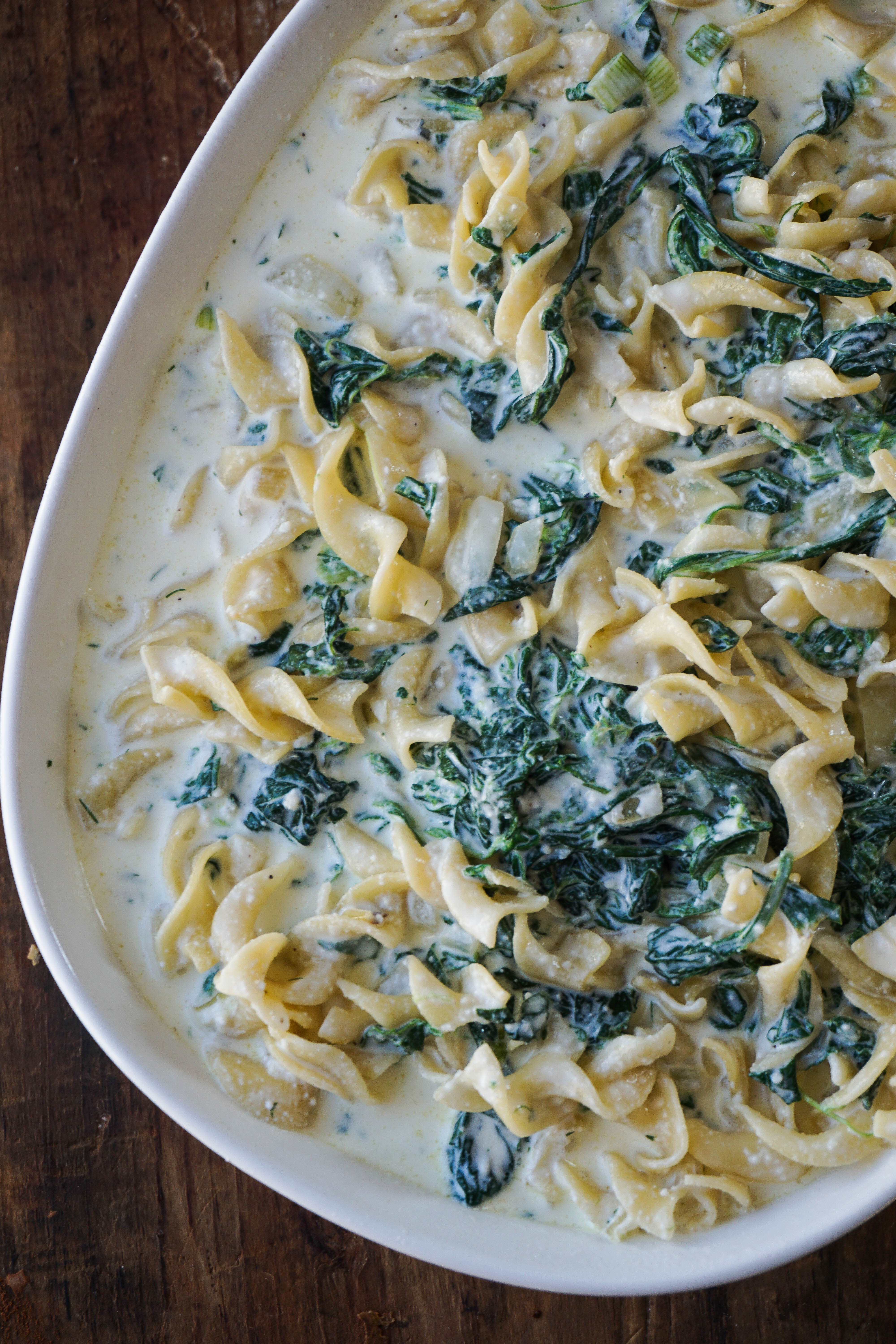 If you've never had noodle kugel or have never even heard of this strange dish, let me fill you in. The words "noodle" and "custard" really do not sound right but I promise you it is. PLEASE TRUST ME.
Traditionally this dish is sweeter, which is probably why I not only ate this as a side dish for Hanukkah but also helped myself to two more servings for dessert. And probably another after that. It's filled with raisins, cinnamon, nutmeg, and usually a sweet breadcrumb topping (like crushed graham crackers). And one more ingredient that I won't say because then I'll really scare you away. Think of rice pudding except with noodles and ten times better.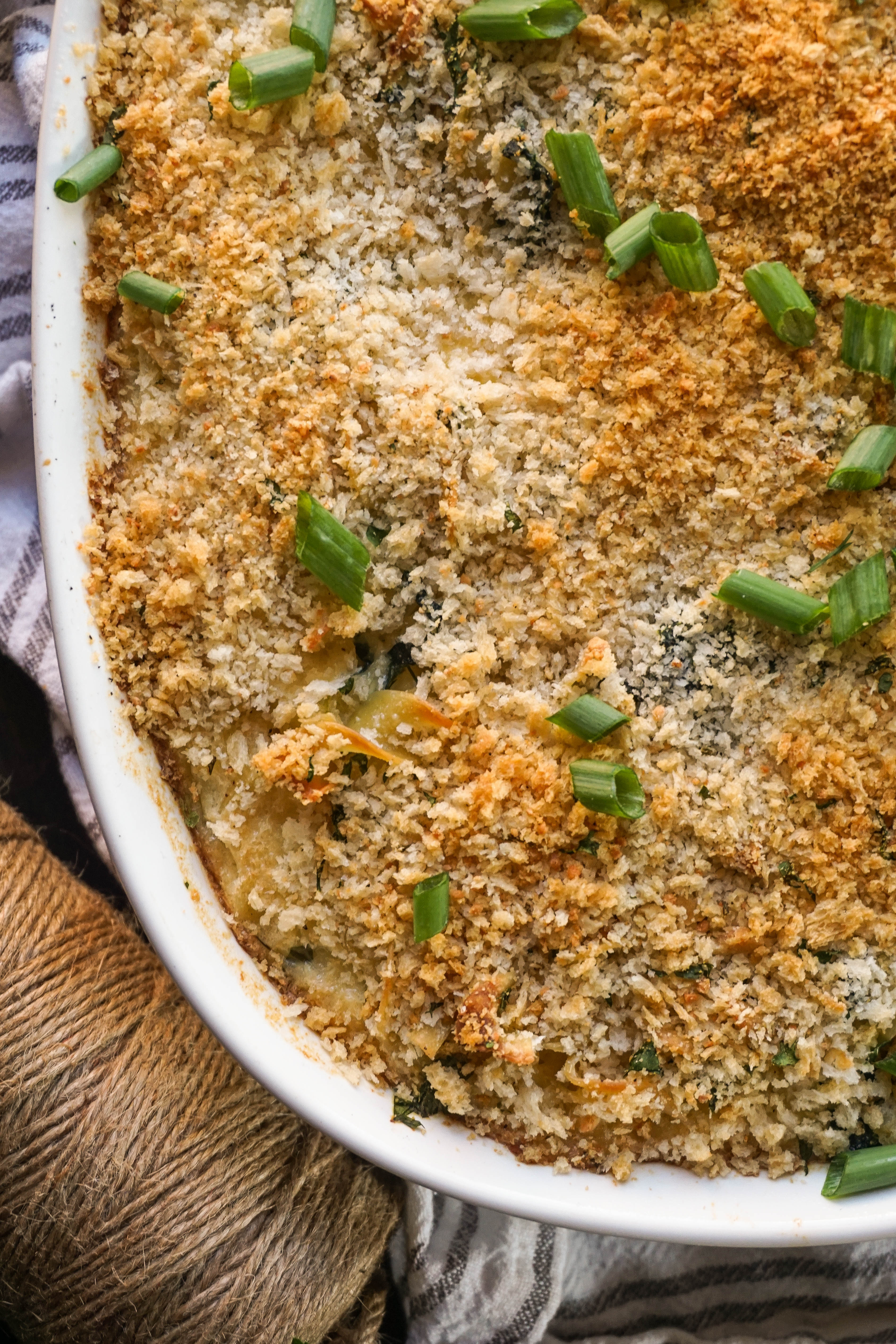 As you know from my last recipe I recently purchased Ina's Make it Ahead cookbook and when I saw her savory noodle kugel I jumped for joy. Noodle pudding made with spinach, ricotta, and flavored with fresh dill. It couldn't have sounded any better. So, with this holiday season in mind, I went ahead and tested it out.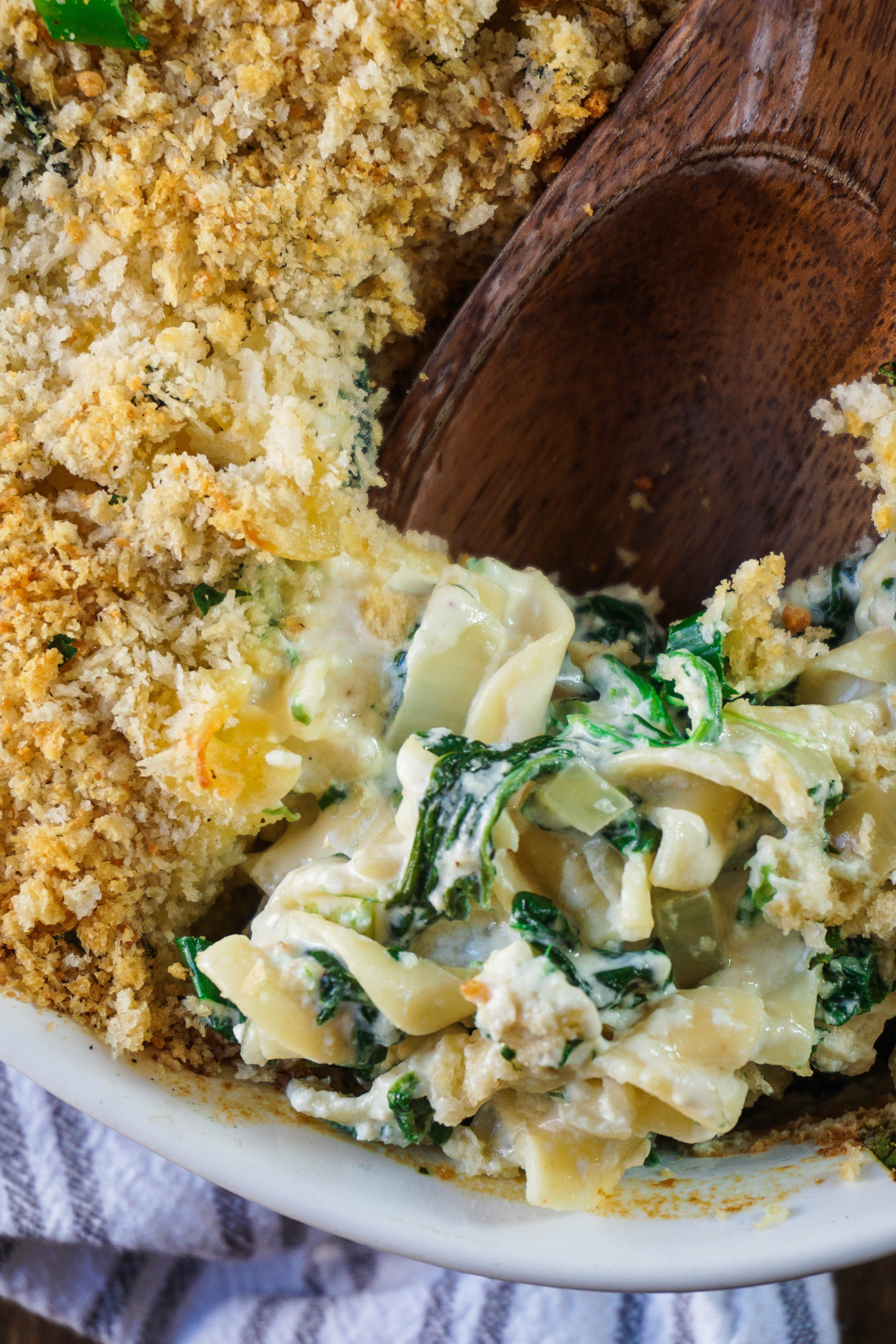 I switched up the recipe just a tad with roasted garlic and caramelized onions. I can't wait to remake this as a weekday casserole with some shredded chicken and peas. This is like a creamy pasta casserole with a crunchy topping that'll make you sad because you didn't discover it sooner. Think noodle kugel meets spanakopita. Since I had an ENTIRE dish of casserole of leftovers I shared some with family and friends. Since I've shared this with friends and family, they've been begging me to post the recipe. So, trust my word, stop what you're doing, and go make yourself some kugel.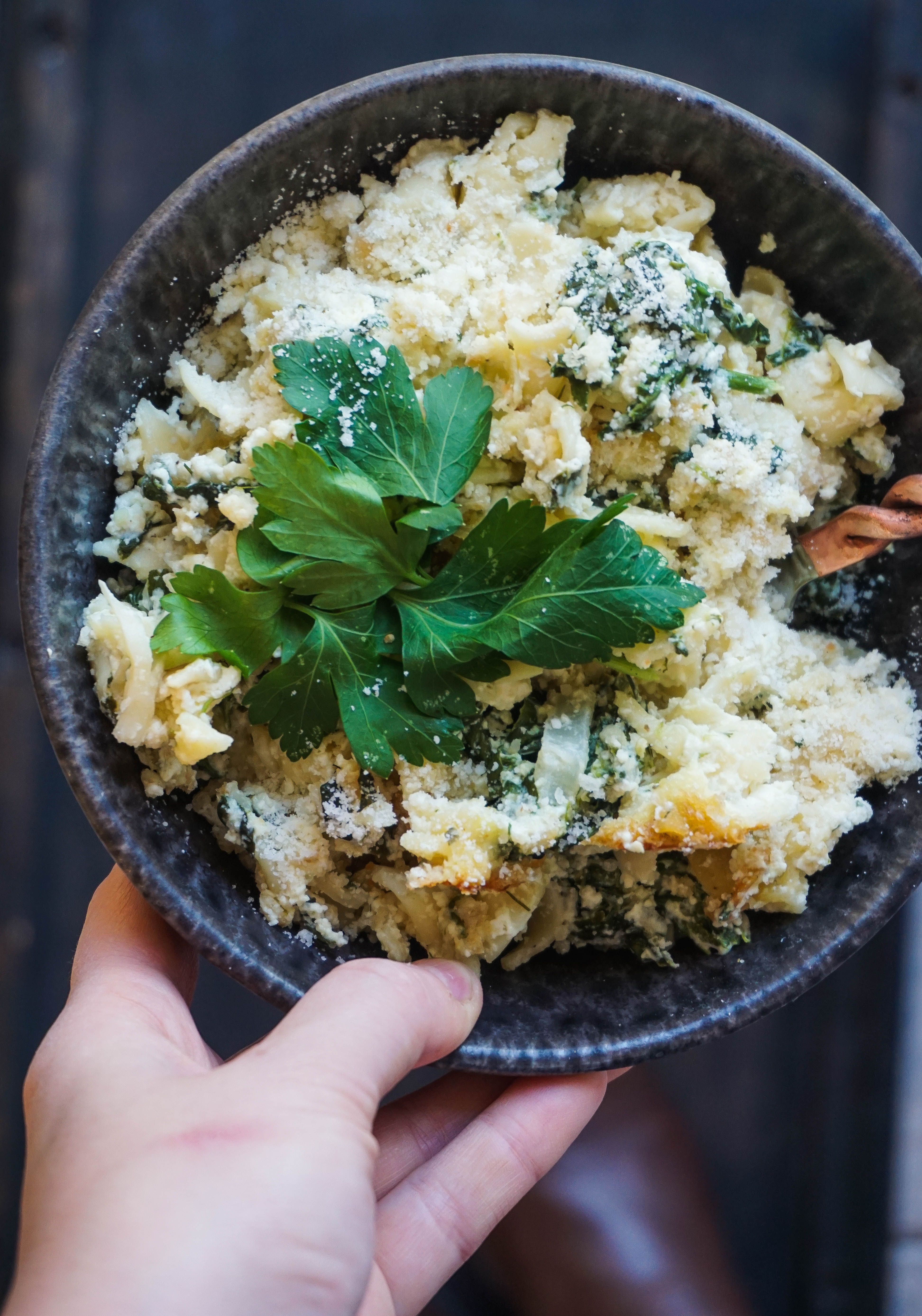 NOTE: Before making this read through the entire recipe! There are some steps (like the onions) that you can do the day before. Also, you have to defrost some spinach so allow yourself allotted time. ALSO, this is a custard so it has to bake in a water bath. Before cooking not only figure out your baking dish, but a larger dish (like a roasting pan) for the water bath. Enjoy, but I know you will!
Happy Hanukkah!
Spinach and Ricotta Noodle Kugel
2015-12-09 15:17:25
Serves 12
Ingredients
2 onions, sliced thin
2 tablespoons butter
2 tablespoons olive oil
1/2 tablespoon brown sugar
4 green onions, chopped (white and green parts)
1 pack wide egg noodles
4 cups half-and-half
1 cup whole milk ricotta cheese
5 large eggs
1 cup plus 2 tablespoons freshly grated Parmesan cheese, divided
1/4 cup minced fresh dill
salt and pepper to taste
1 tablespoon roasted garlic (see notes below)
1 (8-ounce) package frozen spinach, defrosted
1 cup panko breadcrumbs (seasoned with parsley, salt and pepper)
Instructions
Preheat the oven to 350
First, caramelize the onions. In a large skillet melt the oil and butter over medium low heat. Add the onions, and cook stirring occasionally for 15-20 minutes until brown and caramelized. The low heat will prevent the onions from burning. About 5 minutes before finished, sprinkle in the brown sugar. Season with salt and pepper and a pinch of red pepper flakes if you like it hot! Transfer to a plate and wipe skillet clean. This can be done the day before!
In the same skillet, add another drizzle of olive oil. Once hot, sauté the green onions until tender, about 5 minutes. Add to the caramelized onions.
Meanwhile, boil the noodles according to package directions in salted water. Drain, drizzle with olive oil (or butter) to prevent from sticking, and set aside.
Squeeze the excess water out of the defrosted spinach. Add to a large bowl with both of the onions and noodles. Toss with hands to distribute.
In a large bowl, mix the half and half, ricotta, cup of Parmesan, few pinches of kosher salt, pepper, dill, and a tablespoon of the roasted garlic (I went a little heavy on the black pepper). Taste for seasonings, then add the eggs and mix. Add the noodle mixture and transfer to a baking dish.
Mix the breadcrumbs with the two tablespoons of Parmesan cheese and sprinkle evenly over the dish.
Place the dish in a roasting pan large enough to hold the baking dish. Pour hot tap water halfway up the side of the dish. Bake for 45 minutes, carefully remove the dish from the waterbath, and bake for another 15 to 20 minutes, until the top is golden brown and a knife inserted in the center comes out clean.
Serve hot and enjoy!
Notes
To roast garlic, preheat an oven to 375. Add the entire bulb in the oven and roast until extremely tender, about 30 minutes. You can also cut off the head, drizzle with oil, and wrap in foil. Either way works!
If you do not want to use roasted garlic, sauté two cloves (minced) with the green onions.
This serves 12 as a side dish, or 6 as an entree. Add shredded roasted chicken and peas for a weekday casserole!
http://www.vodkaandbiscuits.com/