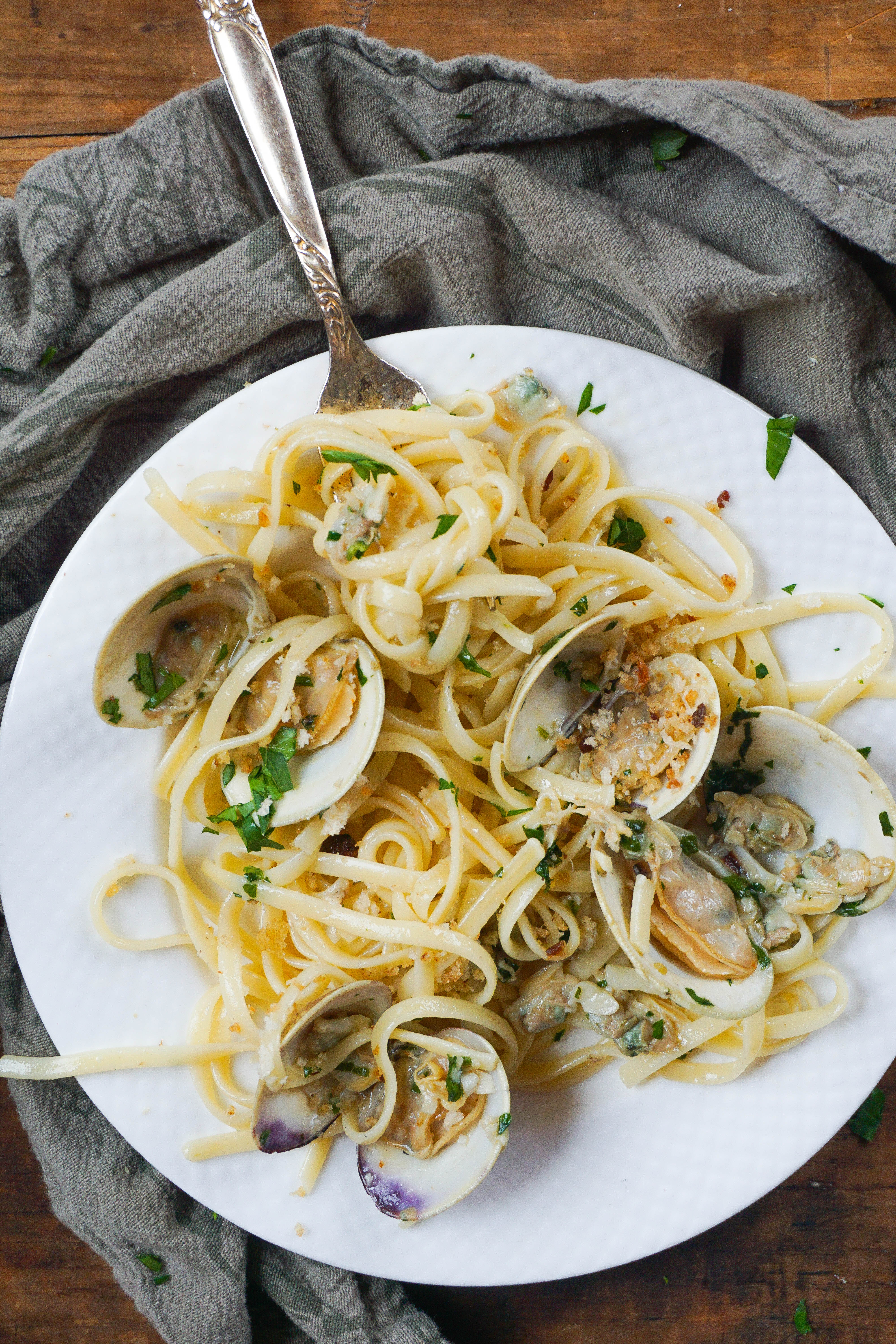 Hi, remember me?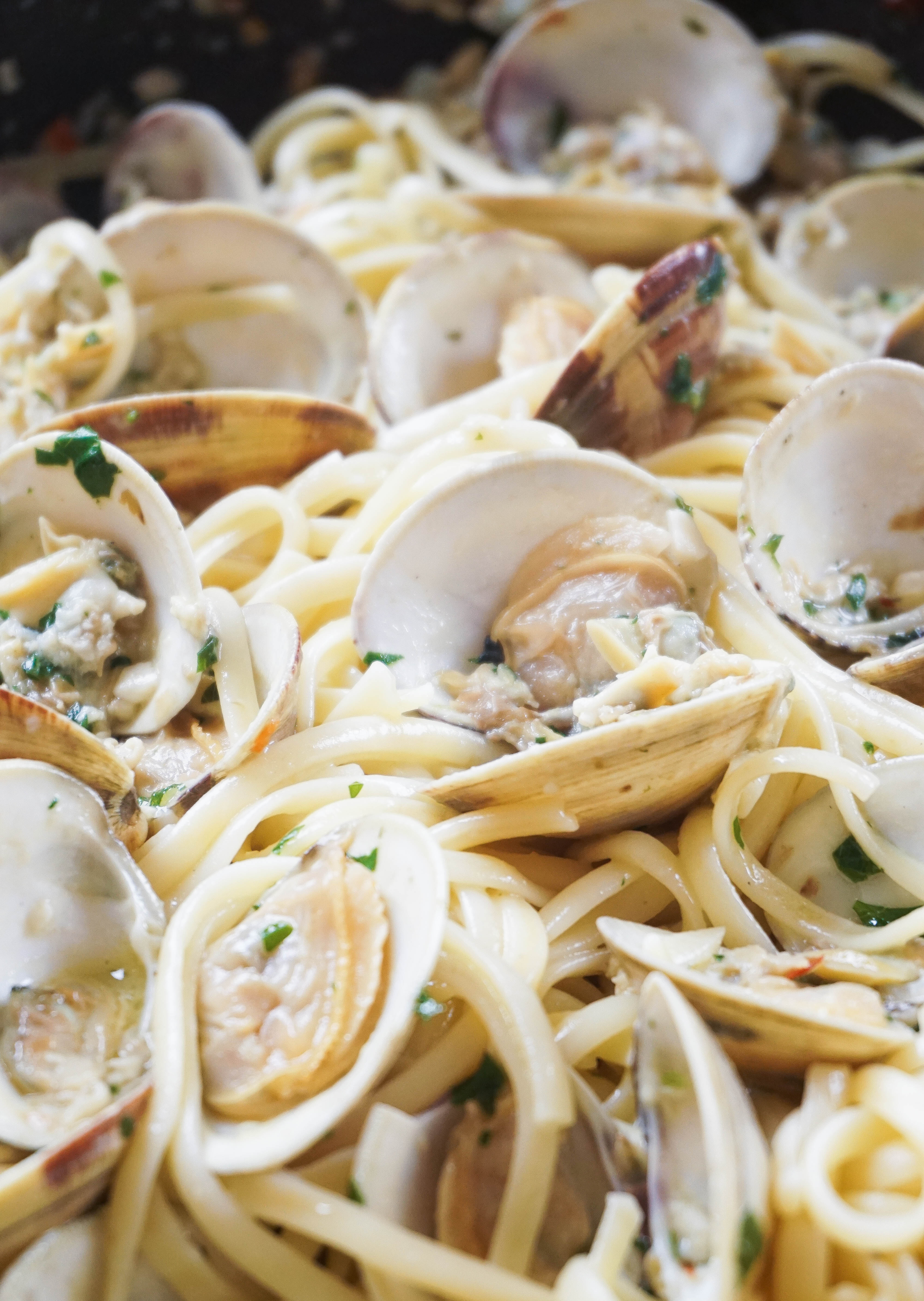 I took a MUCH needed three-week blog break, one because I didn't have a computer, but two mainly because my darling of a boyfriend was in town and who wants to be cooking when you can drink wine and beer and eat carry-out and fancy restaurants for 10 days? Although I can't wait for you to meet him and I could tell you about him for *days* I do want to talk about this show stoppin' linguine with clam.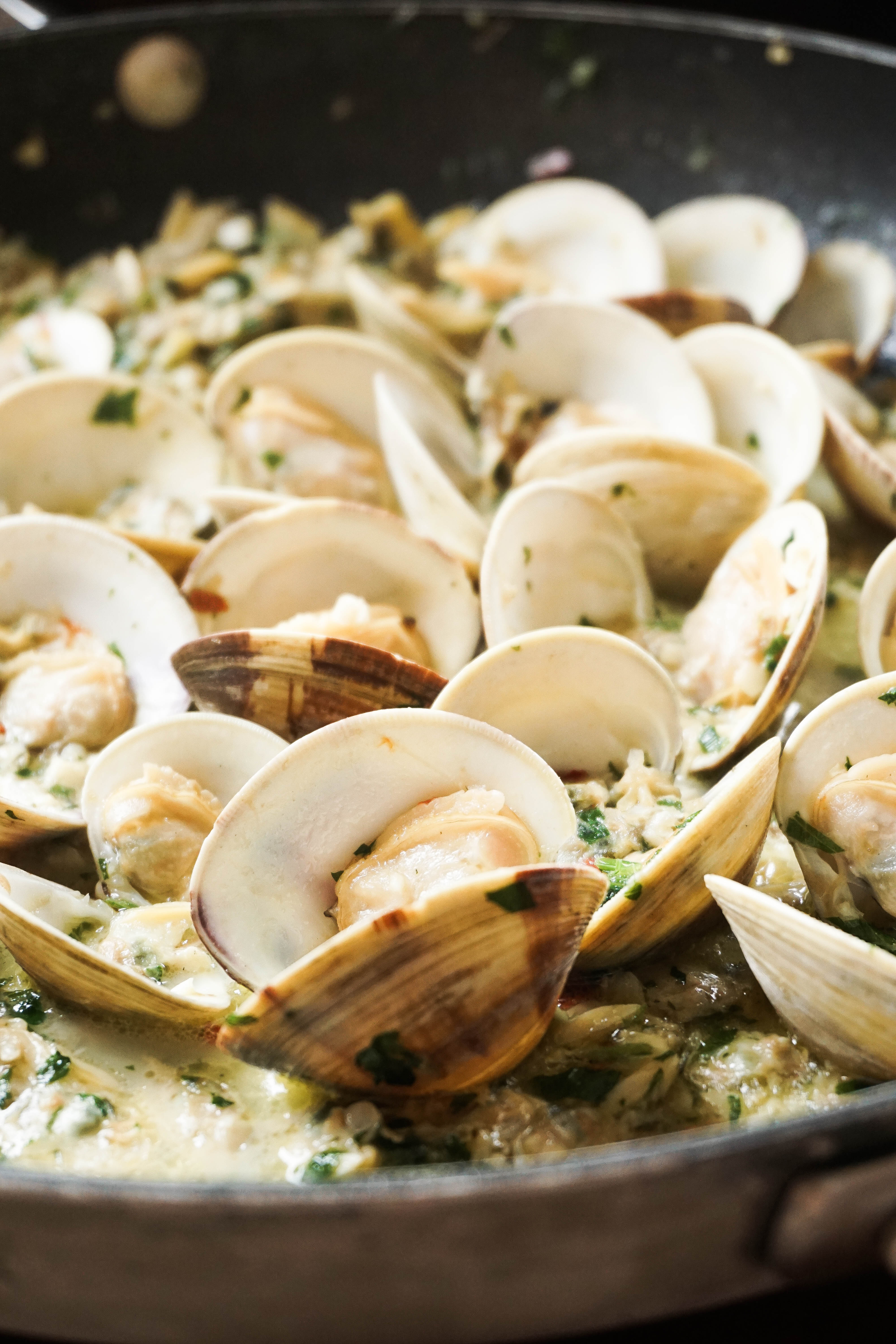 I've had this in mind for a few weeks now and when my office buddy Jane came in post-Christmas bragging about her linguine with clam I took it as a sign that I had to make it as soon as possible. Here I am now with a plateful of pasta with a DECADENT clam sauce. The best part? It took me TWENTY MINUTES. Yup, I'm a happy clamper.
*slaps knee*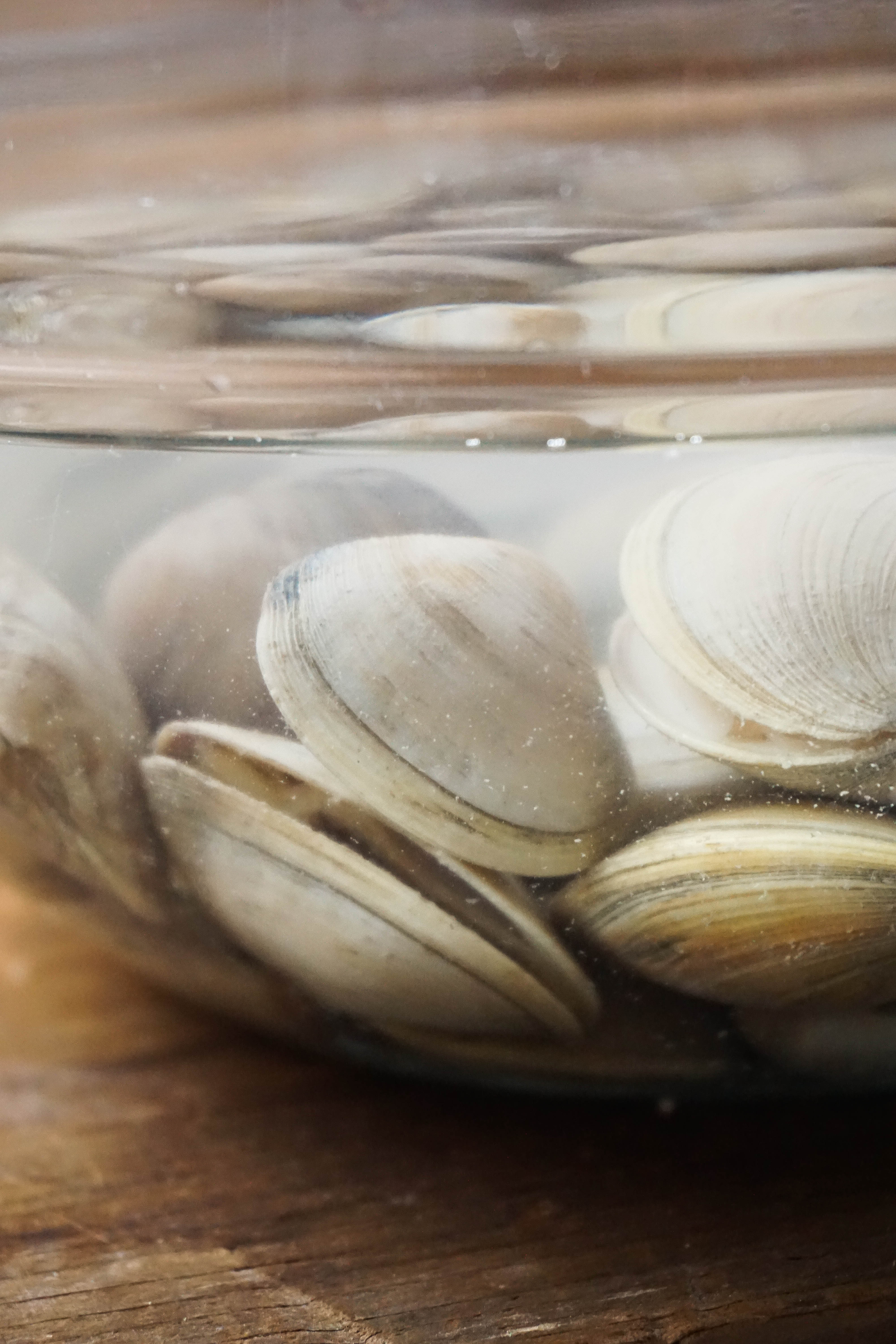 I've never made linguine with clam because it honestly always bored me. To defend myself there is such few ingredients, how it could be THAT good? Well let's just say I've already made up for my years of linguine-lacking with two platefuls.
This really is simple and I'll walk you through every step. But first and most important, the clams.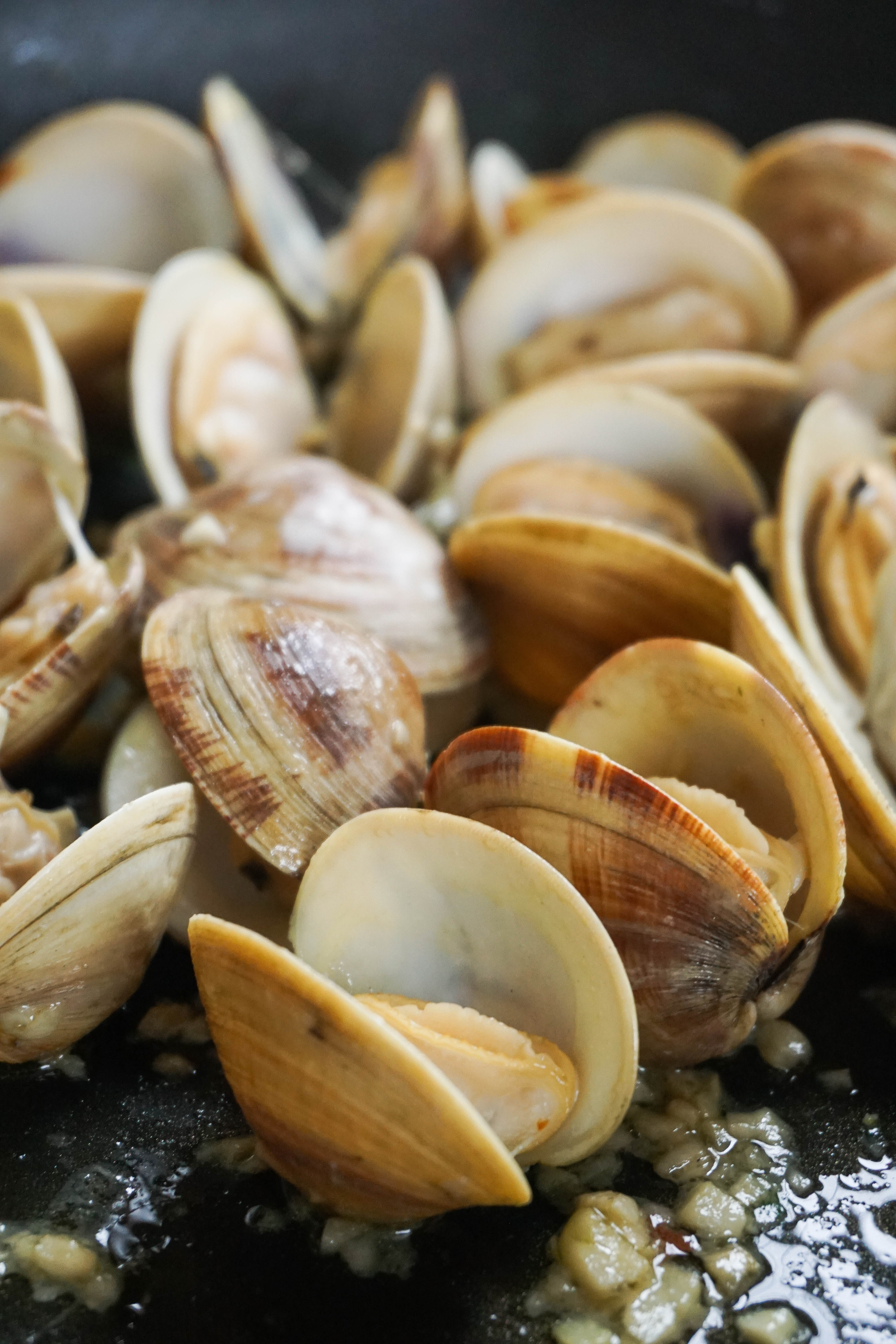 Littleneck clams (they're little and gray) are most preferred for this dish and can be found in most grocery stores. As pictured above whenever you're cooking with fresh clams you want to give them a twenty minute bath in cold water. This is just filtering the clams, getting rid of any sand or grit hiding in their shells. Soak, drain, give them a gentle scrub, and they're ready!
My one tip that I think is important when making this is use both fresh and canned clams. Heck, next time I make this I'll probably just stick with canned. You get more bang for your buck, promise! In this recipe I used 1 1/2 lbs. of fresh clams (about 25) and one 10 ounce can of clams. It was plenty!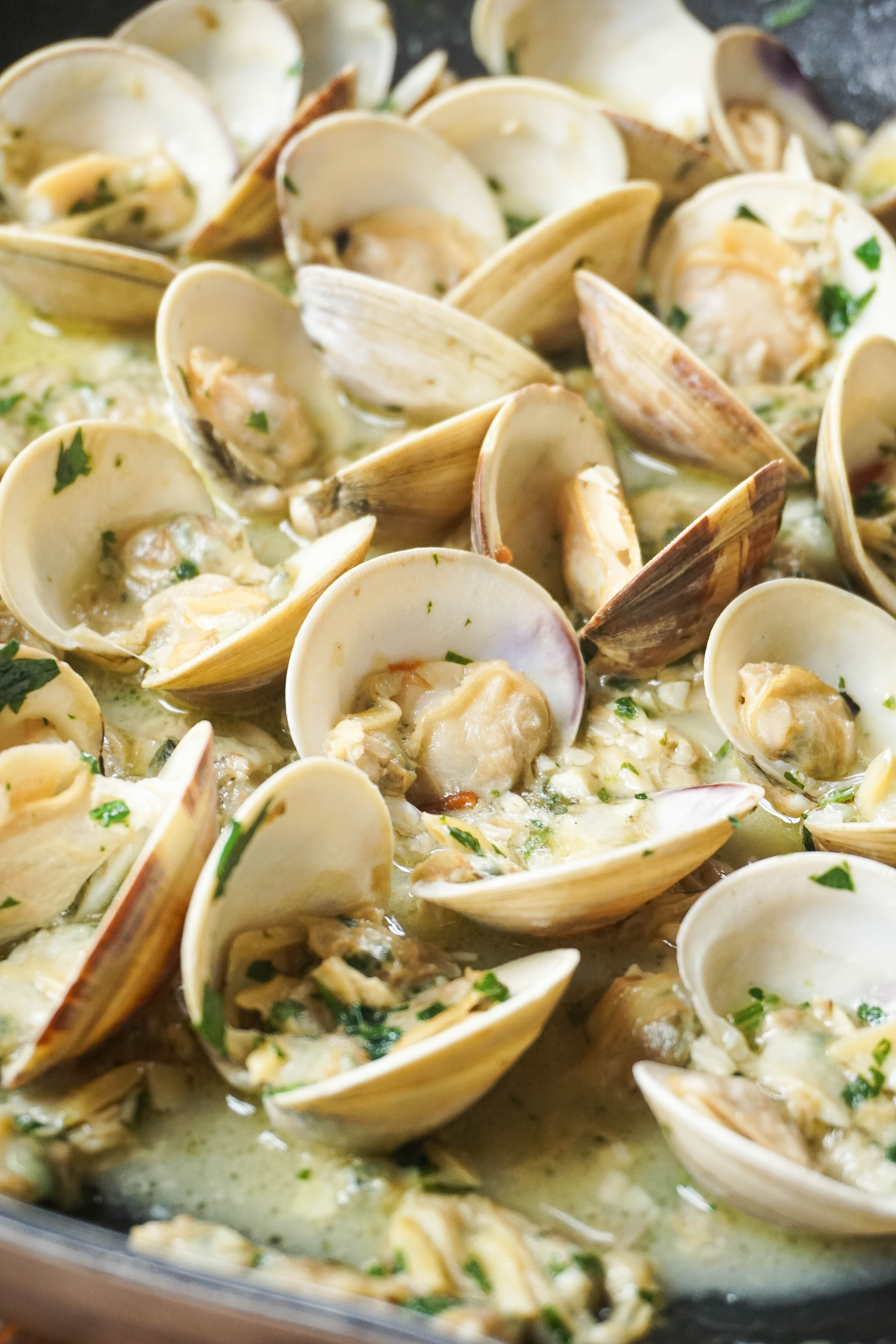 After the clams have soaked this comes together super fast. The first thing I do is get my pasta water ready and once that's on the stove, I crank up my saute pan.
Lots of garlic and a pinch of red pepper flakes are cooked together for a quick 30-45 seconds then the fresh clams are added in, tossed, and covered. I keep a bowl next to me and set a timer for ten minutes. After about 2 minutes I transfer any opened clams to the bowl, toss it all up, and repeat. Any clams that are not opened after ten minutes are TRASH. They don't want me, I don't want them. But really, discard them because they're probably bad.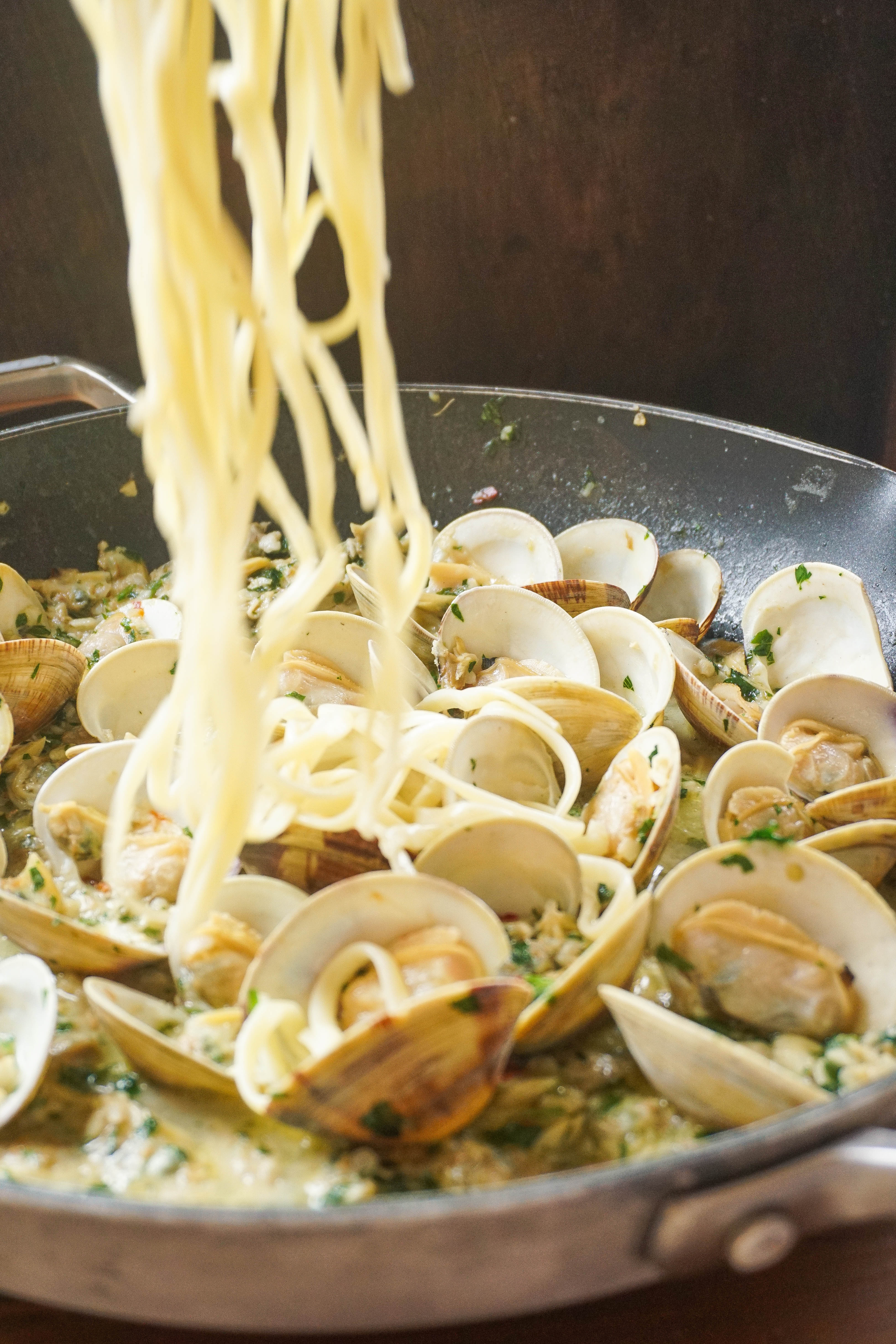 The clams go back in the pan, the chopped clams get added with the juice, wine, and parsley, that does some stove magic for a few minutes until a reduced sauce forms, then your pasta gets added in.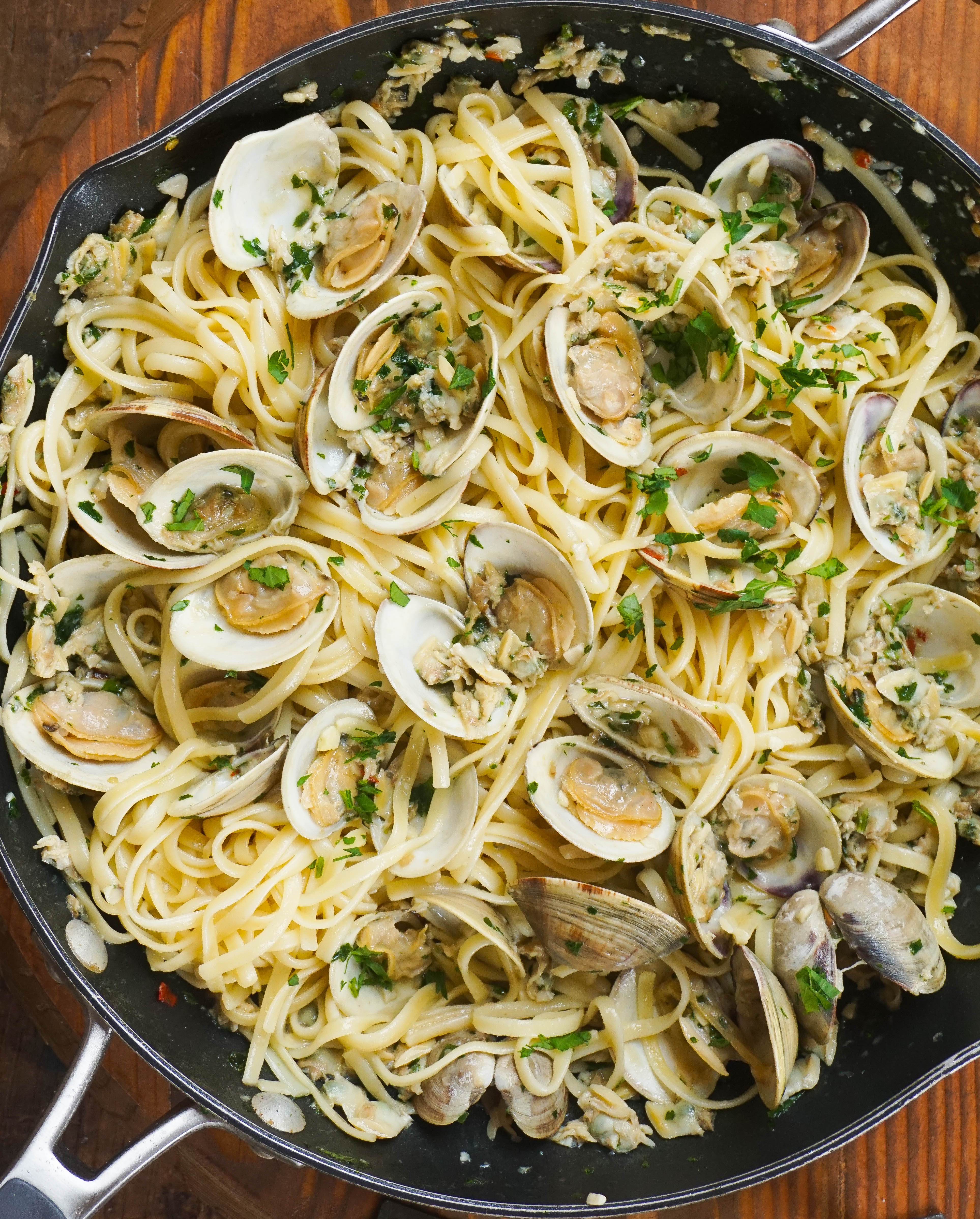 Literally comes together in minutes. You could totally stop here and call it a day OR whip up some incredibly tasty anchovy breadcrumbs. Squeeling!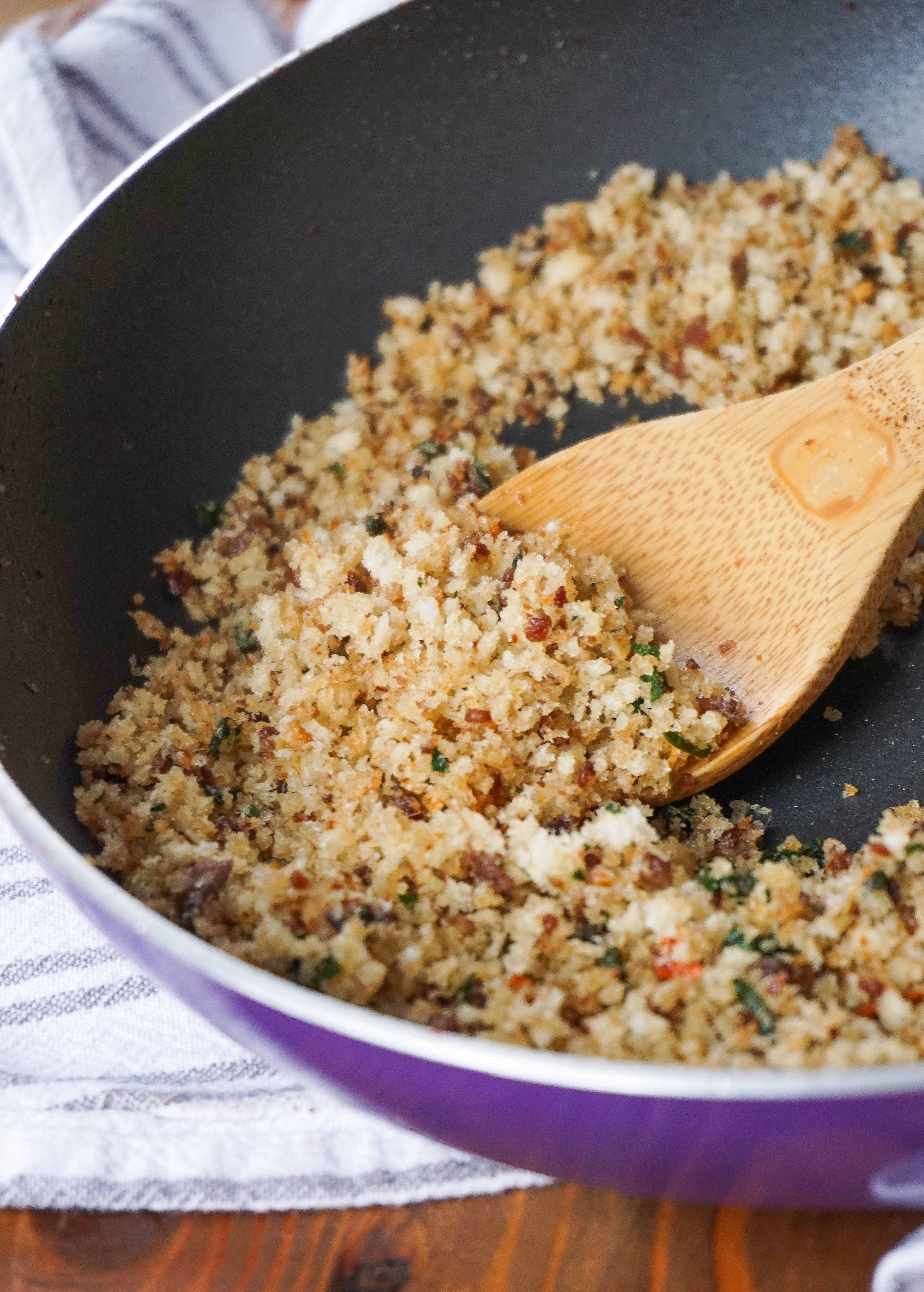 This is nothing more than chopped anchovy filets sauteed with garlic, red pepper flakes, parsley, and breadcrumbs. This takes 5 minutes top and is TOTALLY worth the salty crunch.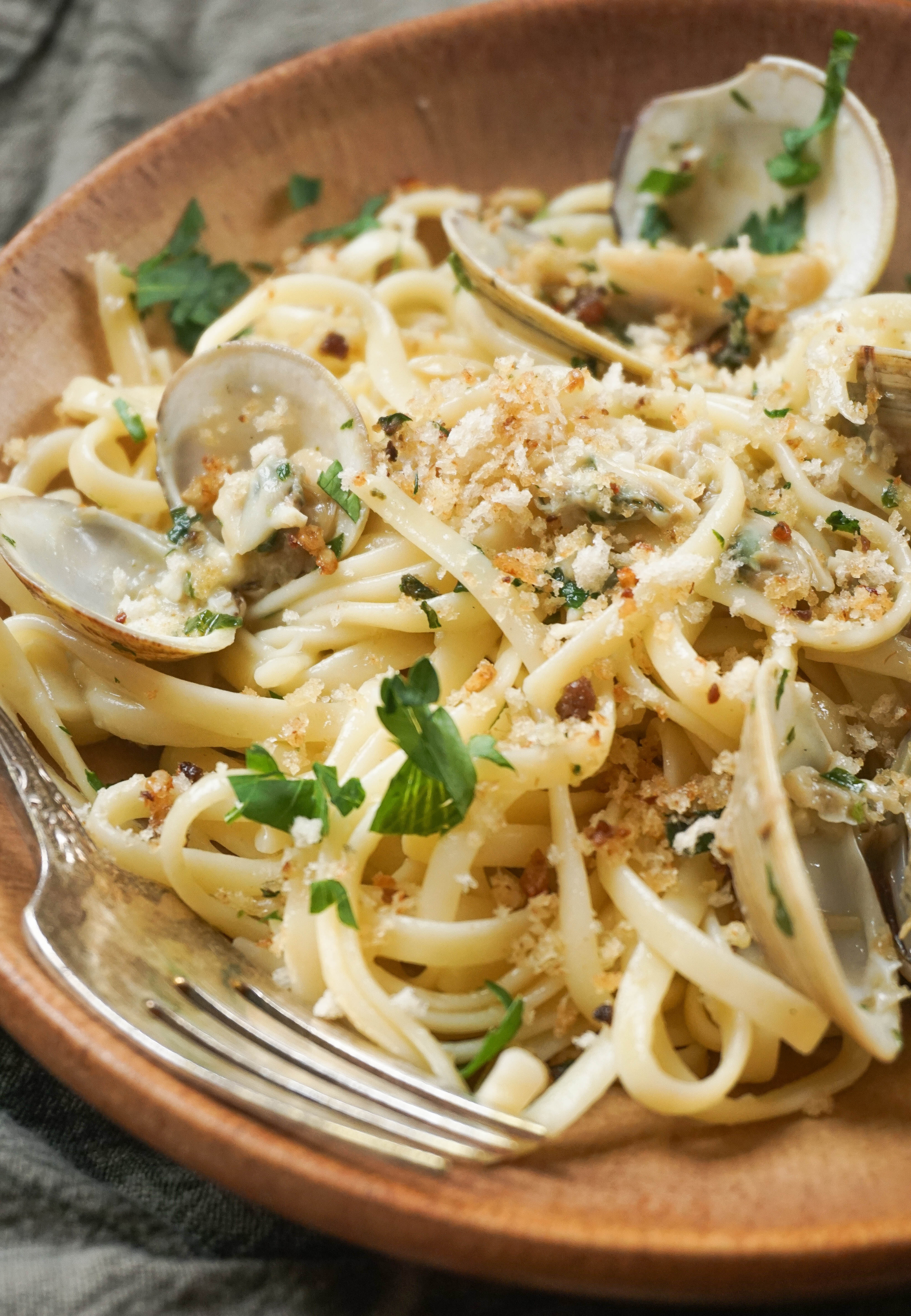 Few ingredients and minimal time is all it takes before you can indulge in a big ol' plate of quick & easy linguine with clam. This one is sure to impress so whether you're hosting a dinner party or just want a quick weekday meal, if you like clams, this one's for you. Enjoy!
Quick & Easy Linguine with Clam
2016-01-09 13:42:11
Serves 6
For the Linguine
1 lb. linguine noodles
1 1/2 lbs. littleneck clams (about 25)
6 cloves garlic, minced
pinch red pepper flakes
10 oz. canned clams with juice
2 tablespoons chopped parsley, plus more for garnish
1/2 cup dry white wine
2 tablespoons butter
olive oil as needed
1 half lemon
For the Anchovy Breadcrumbs
3 anchovy filets, finely chopped
2 garlic cloves, minced
pinch red pepper flakes
2 teaspoons chopped parsley
1 cup panko breadcrumbs, plus more if needed
olive oil as needed
For the Linguine
Add the clams to a large bowl and cover with cold water. Allow to sit for 20 minutes to filter any sand or grit hiding in the clams. Drain, giving each clam a gentle scrub to wipe off any excess sand, and set aside until needed.
Cook the linguine in salted boiling water according to package directions. Reserve 1/4 cup of pasta water, drain noodles, and transfer to a bowl with the reserved pasta water, drizzle of olive oil, and a splash of lemon juice. Begin cooking clams (I start my noodles and clams at the same time).
In a large saute pan, heat 2 tablespoons of olive oil over medium heat. Add the garlic and red pepper flakes and saute 45 seconds. Add the clams, toss to coat, and cover. Every 2 minutes, uncover, toss, and transfer any opened clams to a bowl. Repeat for ten minutes until the last of the clams have opened. If there are a few clams unopened after ten minutes, discard. We don't like them.
Transfer the opened clams back to the pan, crank the heat to medium-high, and add the canned clams with their juice. Bring to a simmer and add the wine. Simmer until reduced, about 5 minutes. Add the parsley and two tablespoons of butter. Cook for 2-3 more minutes.
Once the sauce has reduced (should still run if pan is tilted), add the pasta noodles. I end up using 3/4's of my noodles and save the rest for whatever. Give them a twirl to coat in the clams/sauce.
Serve with more fresh chopped parsley and anchovy breadcrumbs (below).
For the Anchovy Breadcrumbs
In a small saute pan heat a tablespoon of oil over medium high heat. Add the chopped anchovies and cook 2 minutes until starting to crisp. Add the garlic, red pepper flakes, and parsley, and cook 45 seconds.
Add the breadcrumbs and a tablespoon of olive oil, cook while tossing in the pan to toast the crumbs. Once golden, transfer to a plate. Give it a taste and if it's too salty, add more breadcrumbs to mellow it out.
Sprinkle over pasta and enjoy 🙂
http://www.vodkaandbiscuits.com/