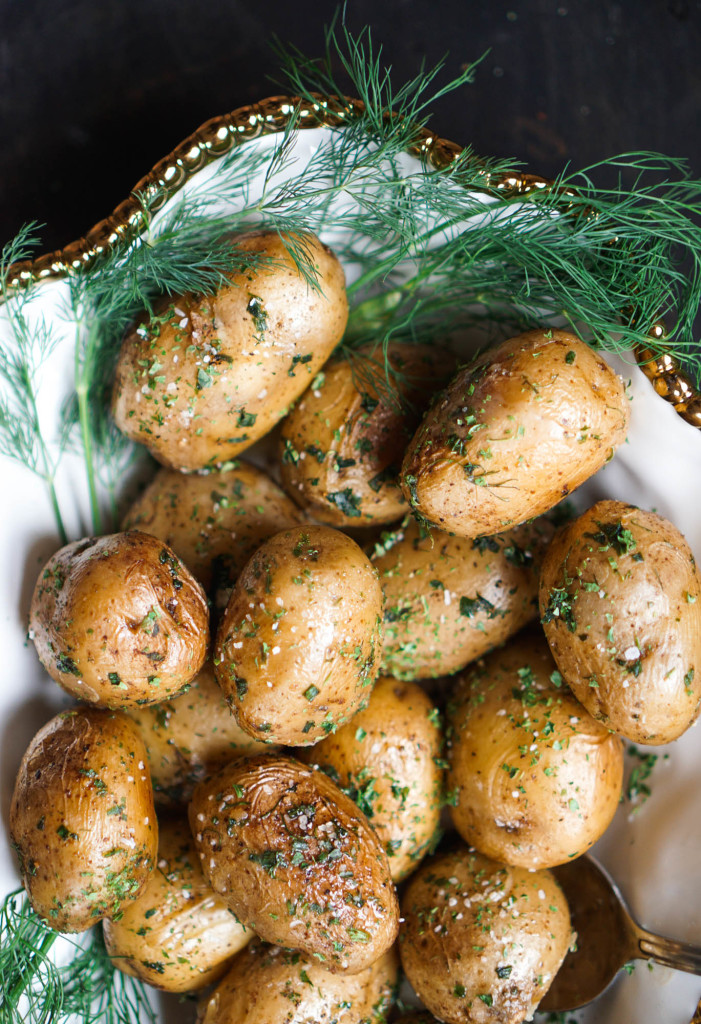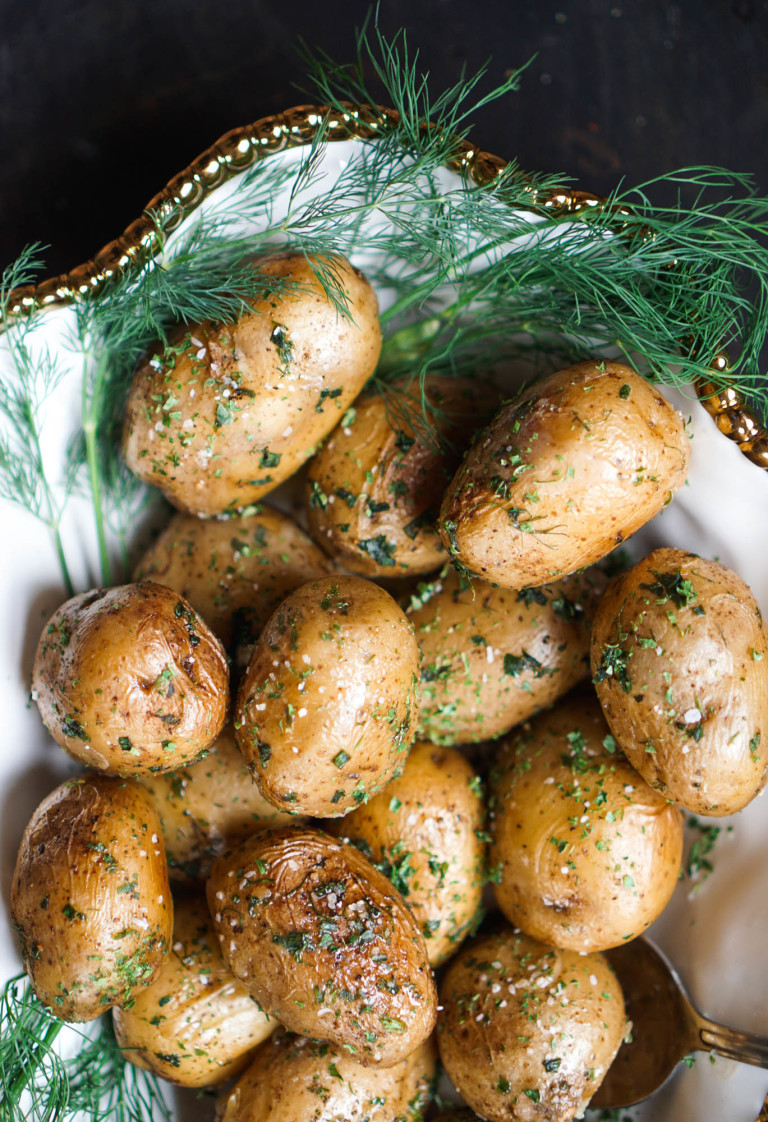 It's almost Easter and do you know what the means? Mom and I are entertaining! Do you know what that means? We're running around the house – mom trying on a million different shirts sprinting to the kitchen to check on the stove in between outfits, me setting the table with one hand and trying to put mascara on with the other, my brother goes to ice the beer down only to realize we forgot to get ice then wondering if we will ever in our days of entertaining ever remember to buy ice, then surprise! Granma is here, 45 minutes early of course, insisting to help.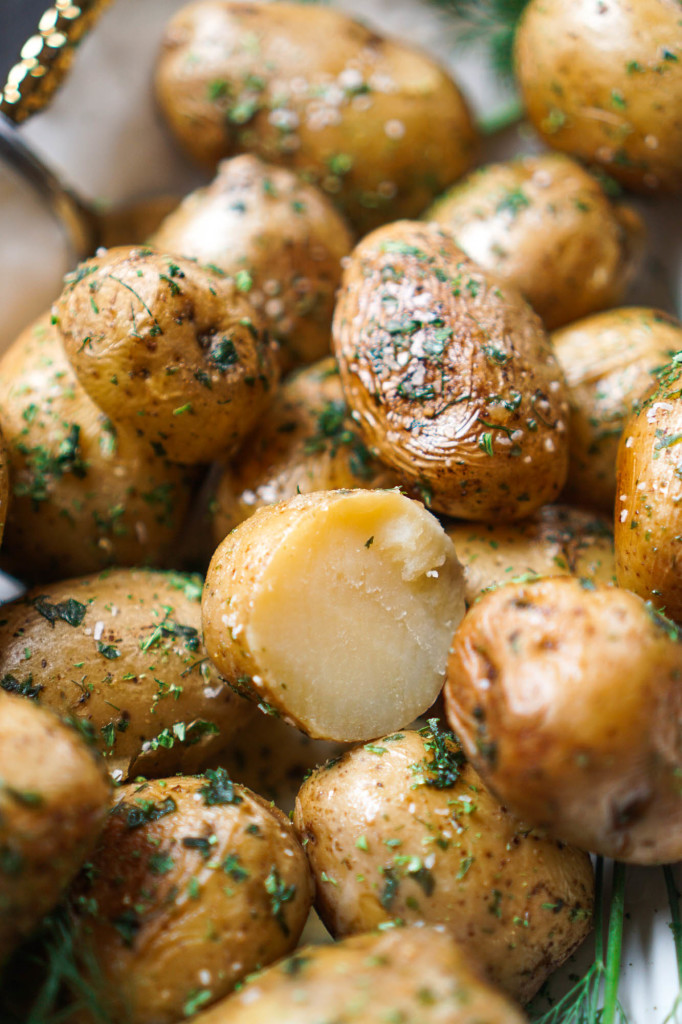 Granma wiggles her way in the kitchen, Travis returns with a bag of ice two sizes too small, and then Uncle Gary walks in with a bottle of wine, Wegman's chocolate cake that he swears he made himself, and a jar of oysters. Suddenly both mom and I take a deep breath and begin to laugh because no matter how many times we entertain, this is the way it goes…and we love it.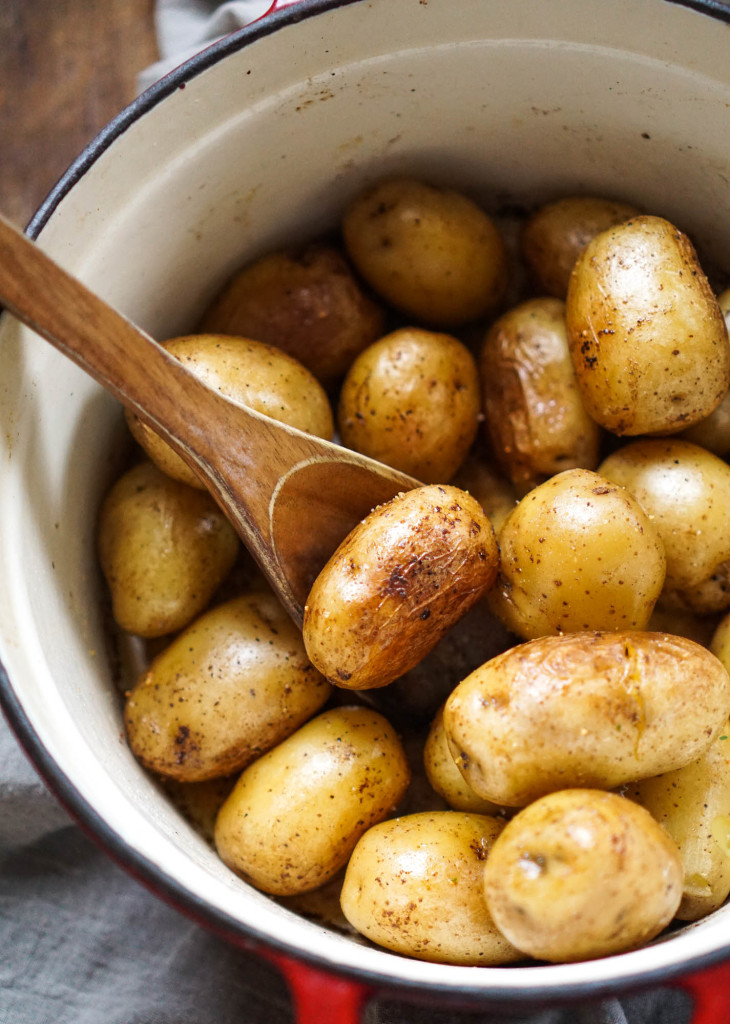 That is why I try to keep the menu as simple, but delicious as possible. You know Ina Garten is my spirit animal and these potatoes of hers just goes to prove that she gets me.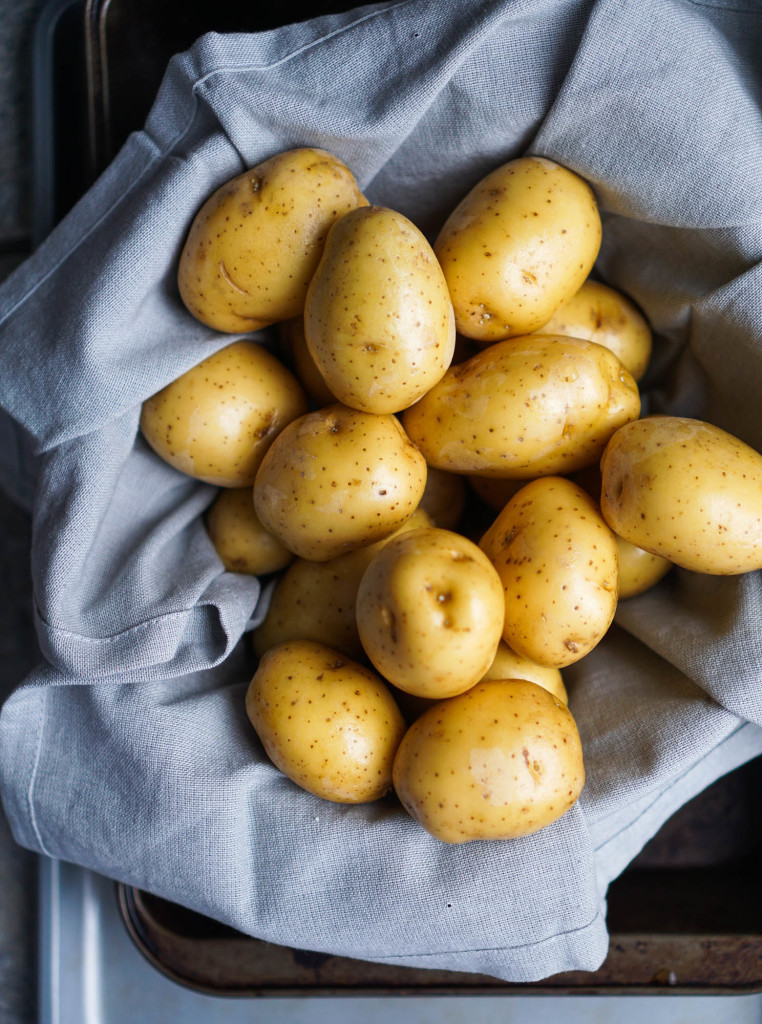 Potatoes that require NO prep other than a scrub. Like, lemme rephrase that. No peeling, no chopping, no par-boiling, you don't even need to pre-heat the oven, so yes mom you can use the oven for allll your other thangs.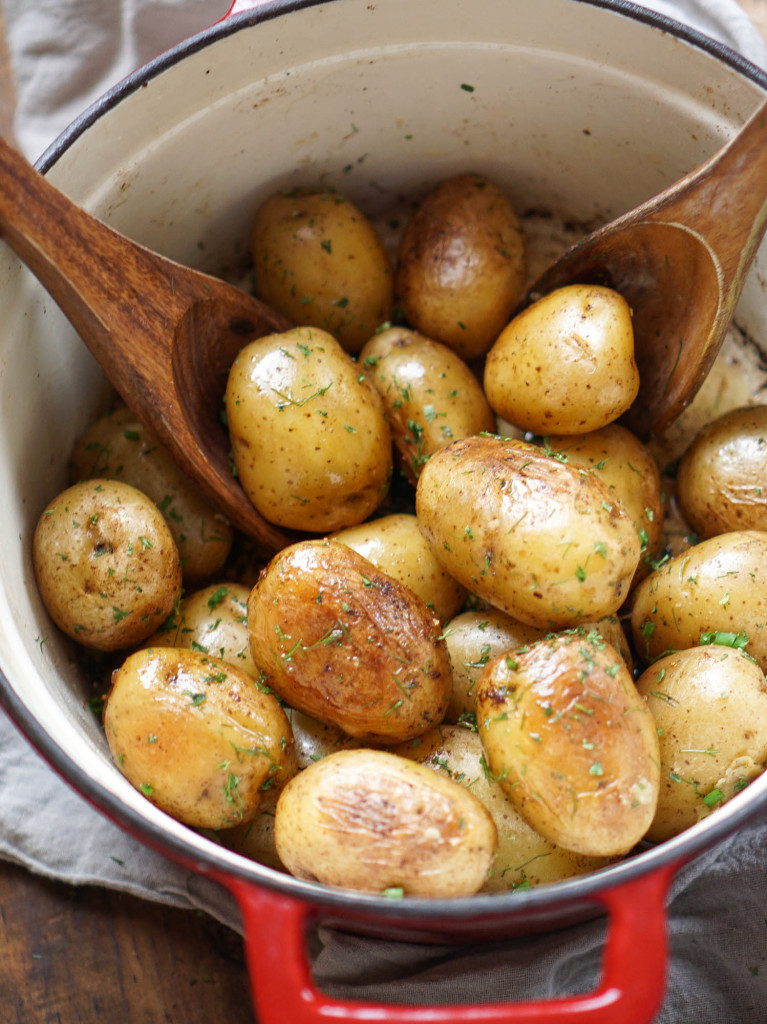 So OF COURSE I had to bring these over to let mom try these out. She agreed they need to make their way on our menu and for the next few days we enjoyed these leftover potatoes in all ways possible. Literally for breakfast, dinner one night with corned beef and cabbage, and dinner the next night with her scallop chowder. These potatoes are keepers.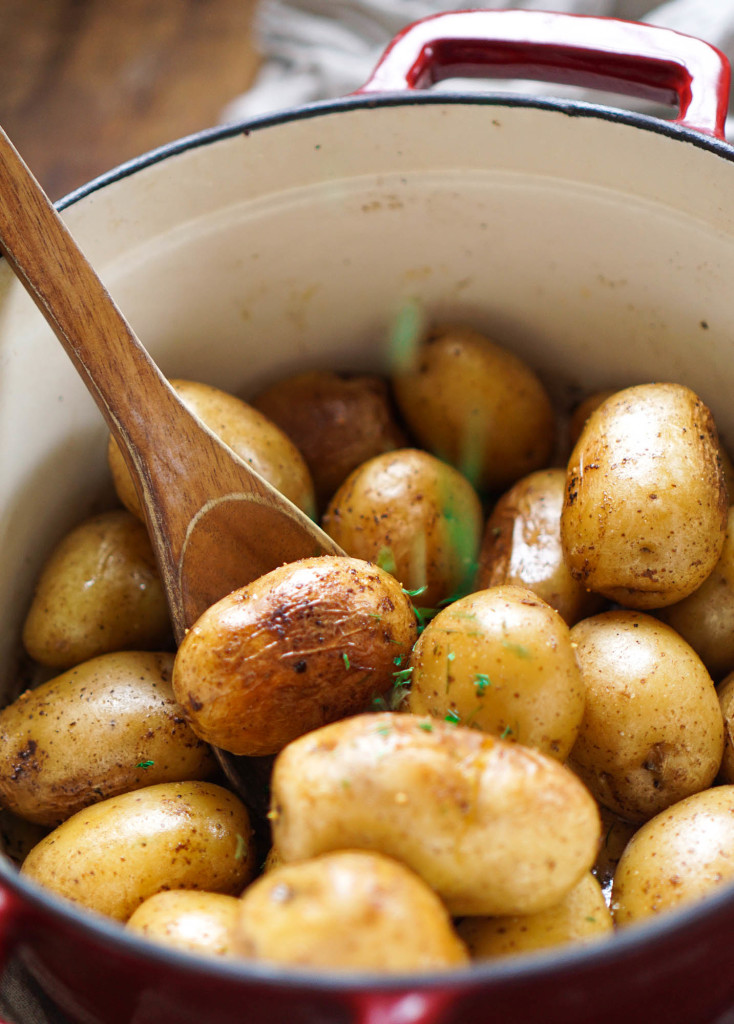 So, how does it work?
Basically you add half a stick of butter to a dutch oven, add your potatoes, tightly secure with the lid, and cook on low heat for a good 25 minutes, tossing every few minutes.
So, how does THAT work?
Basically the dutch oven has great surface area and the cast iron enamel helps to maintain the heat. The lid helps to trap the steam, cooking the potatoes, and the pan helps to blister the skin, which is what we love in potatoes.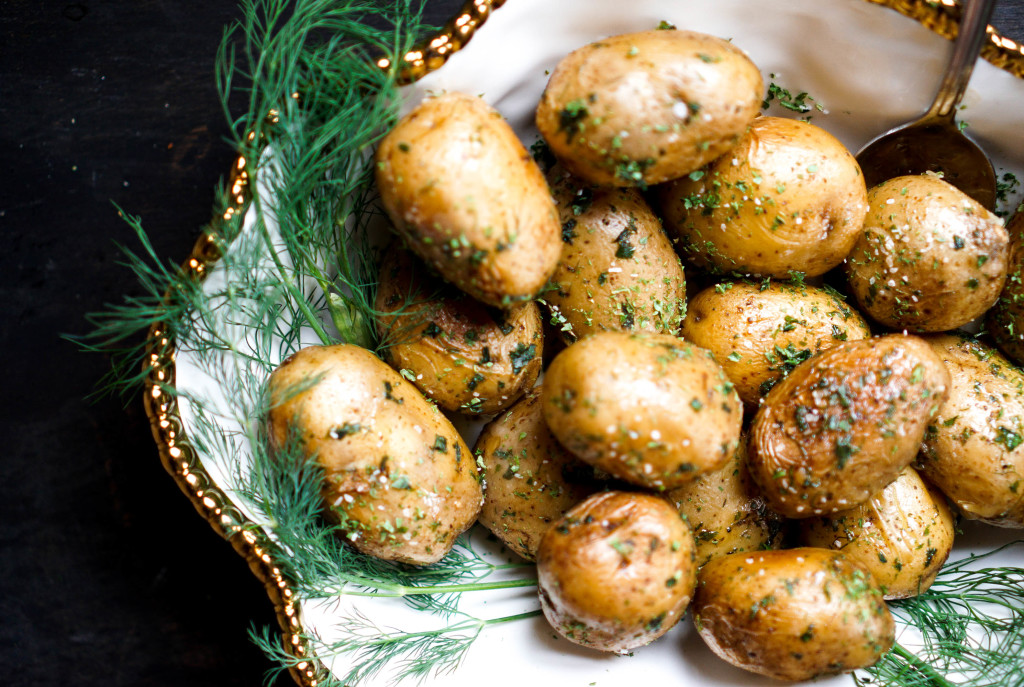 If you don't have a Dutch oven, make this recipe your excuse to buy one. I have one from Kohl's (Food Network brand) and it's changed my ways in the kitchen.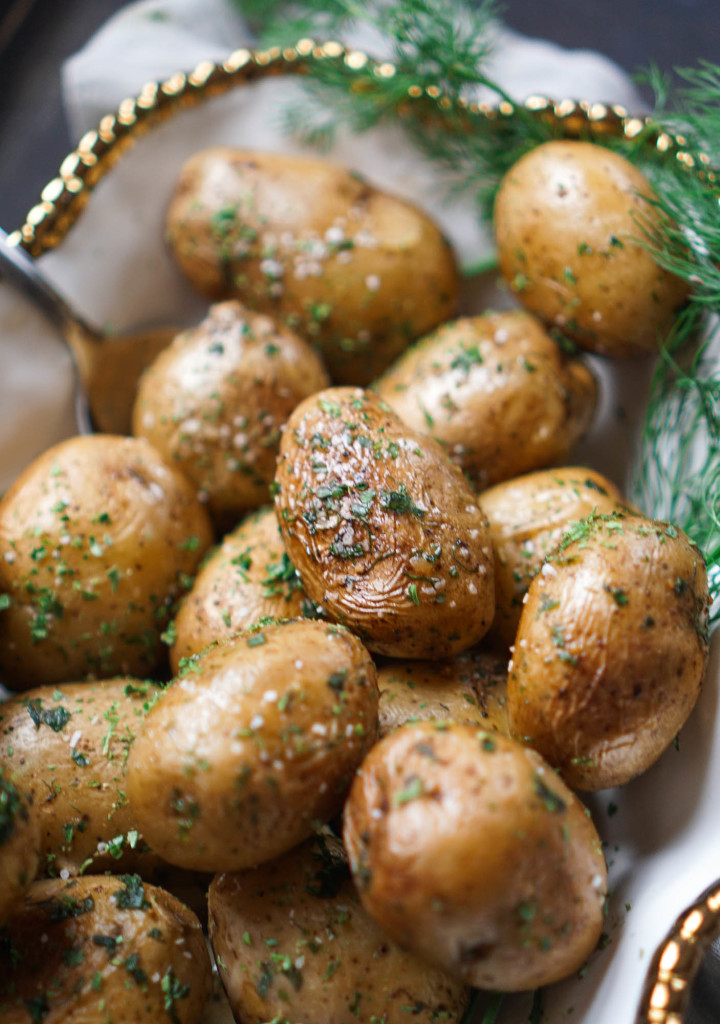 As soon as your potatoes are finished cooking you toss them with a bunch of chopped herbs to give them some flavor. You can do WHATEVER you want here. Since we are having salmon on our menu I'm going to toss mine with chives, dill, and parsley. If you're having beef you can add rosemary and thyme or even herbs de provance. Whatever you do, don't forget the sea salt and pepper!
Enjoy everyone!
Dutch Oven Herbed Potatoes (No Peel, No Boil, No Bake!)
2016-03-20 07:05:05
Serves 6
Ingredients
1/2 stick unsalted butter
2 1/2 pounds small white or Yukon gold potatoes, scrubbed*
2 teaspoons kosher salt, preferably with garlic
1/2 teaspoon fresh black pepper
3 tablespoons chopped assorted herbs*
Instructions
Melt the butter over medium heat in a Dutch oven.
Add the whole potatoes, salt, and pepper, and toss.
Cover the pot tightly and cook over low heat, 20-30 minutes, until the potatoes are tender when poked with a fork or knife. Shake the pot every 5-or-so minutes to prevent the potatoes from sticking and burning.
Turn the heat off and allow the potatoes to steam for another 5 minutes. Transfer to a bowl, toss with the herbs, and taste for more salt or pepper. Serve hot.
Notes
*You want the potatoes to be uniform in size, so be sure you select them accordingly at the grocery store!
*I used chives, parsley, and dill. You can do herbs de provance, rosemary, etc.'
If you do not have a Dutch oven, you want a heavy-bottomed pot with a lid.
You can also make a garlic aioli or an herb creme fraiche to serve on the side!
Adapted from Barefoot in Paris
Adapted from Barefoot in Paris
http://www.vodkaandbiscuits.com/