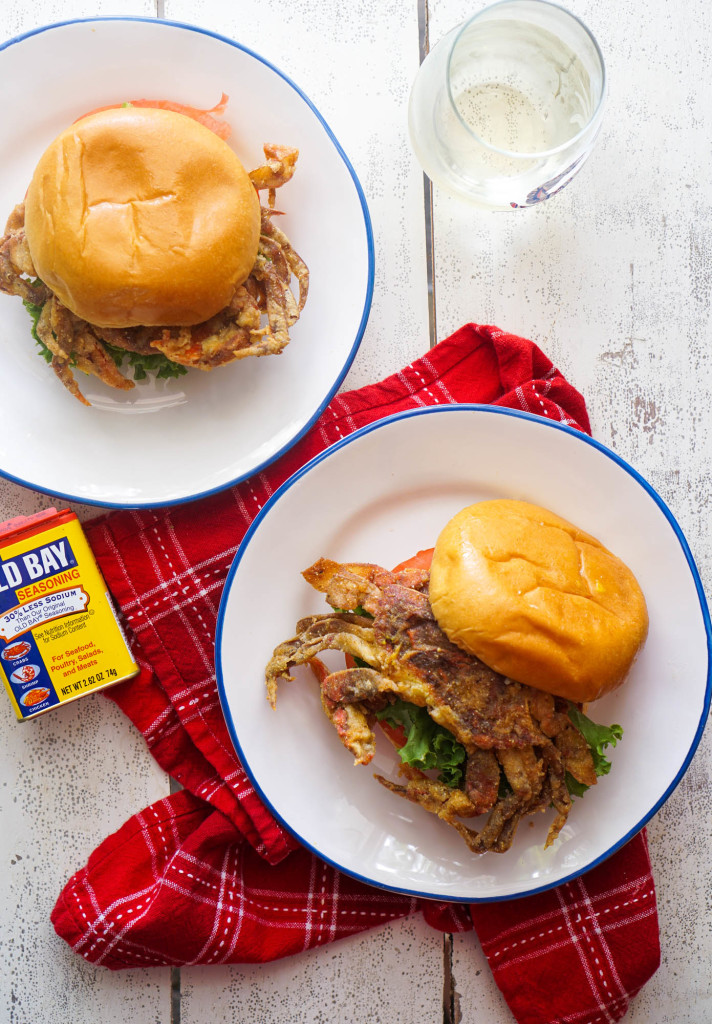 There are two types of people in this world: those who love soft shell crabs and those who hate them.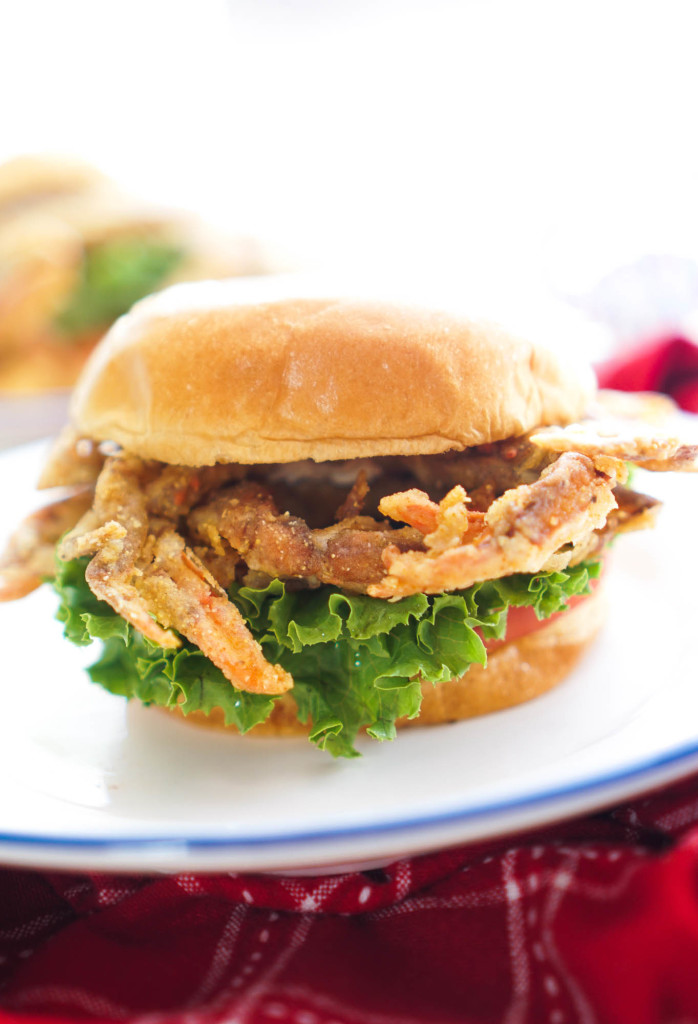 I'm assuming you're here reading this because you're a lover, unless you're incredibly intrigued or so grossed out that it's like a train wreck and you can't look away. Or because you love me. Either or. But really, you're probably not going to contemplate making this sandwich unless you do like soft shell crabs and if that's the case, you're most likely able to access them.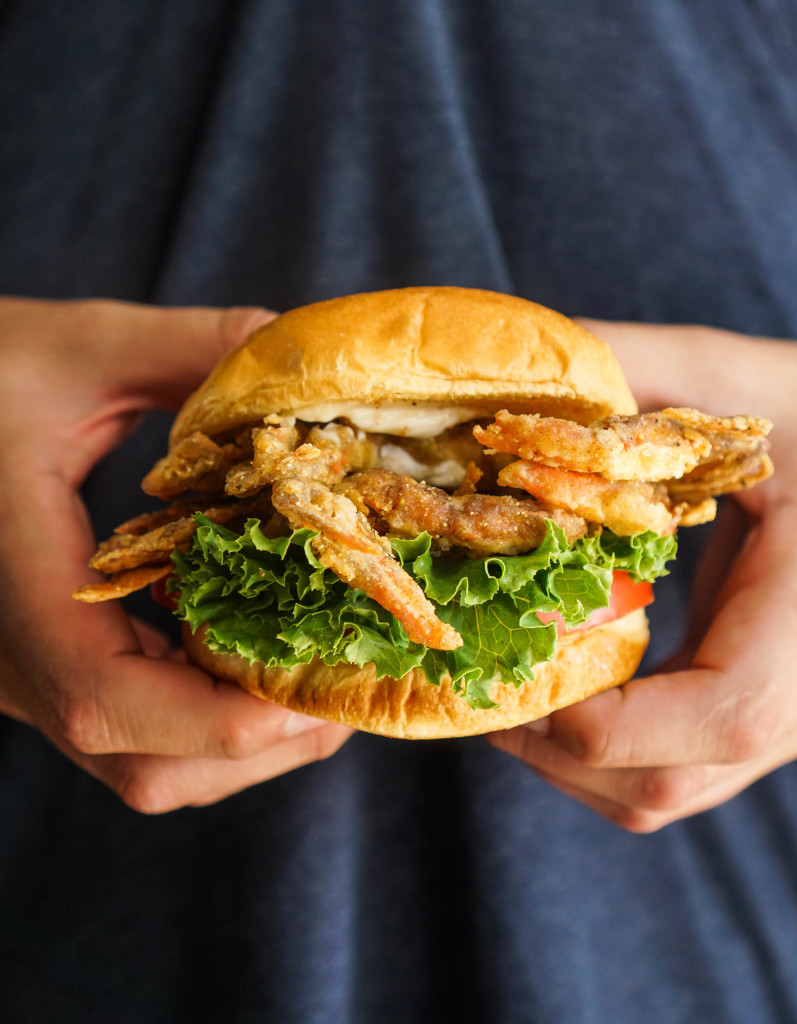 I'm going to spare you the details of what a soft shell crab really is. It's almost like a silent rule that we all know what it is, but try not to talk about it. It took me a while growing up to actually try and enjoy a soft shell without thinking of the idea of biting into a shell. But that's the thing. They're called soft shell for a reason. I've been enjoying these for years, whether it's in sushi, sauteed with a caper butter sauce, or my favorite: a classic lettuce, tomato, and mayonnaise sandwich.
If you're anything like me, you are so ready for this treat. Let's start with the crabs:
Buying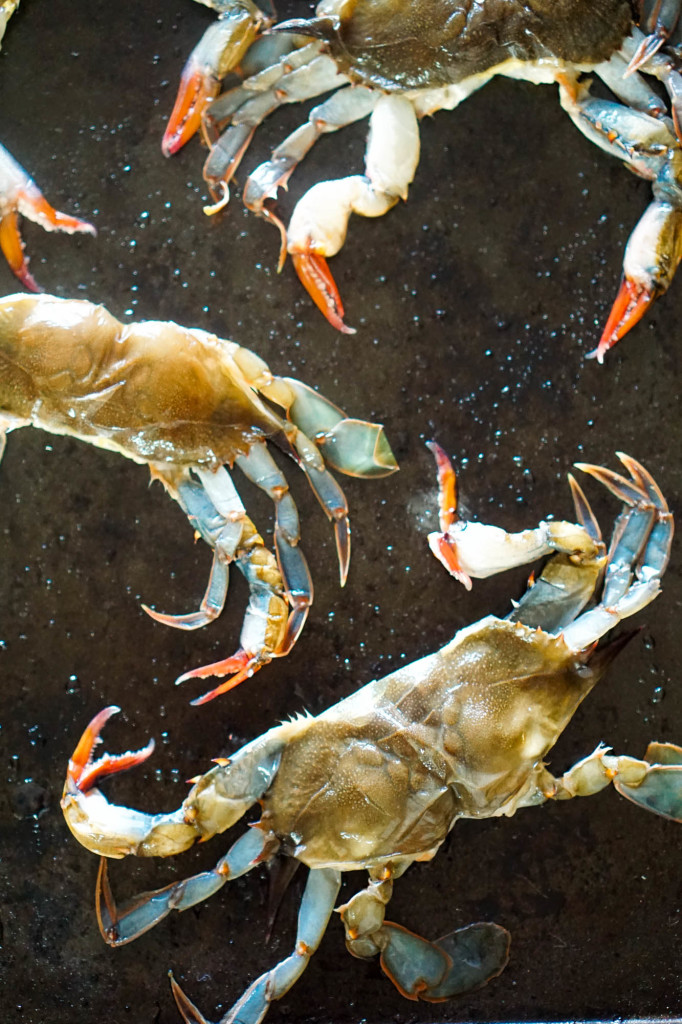 As I said above, I am assuming you're here because you're familiar with soft shells and want to make them at home. If that's the case you most likely know where to find them, unless you went crabbing and got yourself some. The most important thing with soft shell crabs is that they're cleaned. The face, gills, and apron all must be removed before consuming.
Find out how to clean a soft shell here!
You can purchase yours already cleaned at your local seafood market or where ever you go to buy crabs. I always buy the cleaned crabs frozen, in fact I have a freezer full of them now! They're easy to defrost, quick to cook, and a delicacy of a dinner. One thing I do recommend is either buying small or medium size soft shell. Sometimes it gets a little overwhelming when you have too big of a bite.
If you do not have access to soft shells, there are several companies that will ship them!
Cooking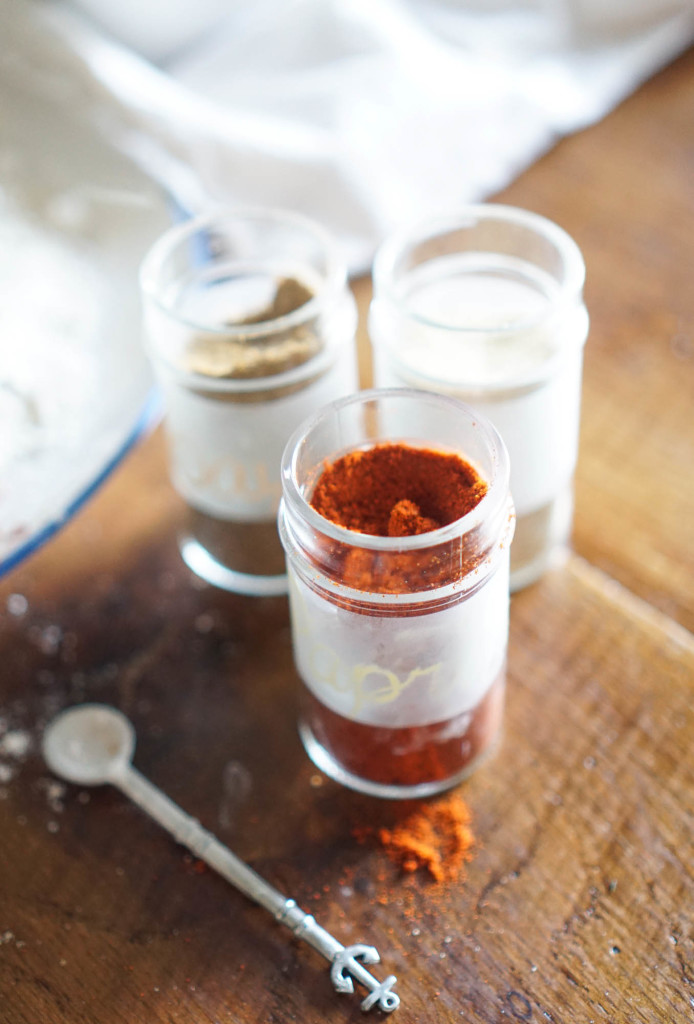 The secret to the perfect soft shell is a gentle pan-fry with a batter of flour, cornmeal, and milk. I picked up this trick from Jane and I don't think I'll ever make a soft shell any other way! You want to combine flour, cornmeal, and seasonings like Old Bay, paprika, and garlic powder, and give your crabs a dredge of flour, dip in milk, and one more coating of flour. Let that sit in the fridge for a good twenty minutes, then you're ready to cook!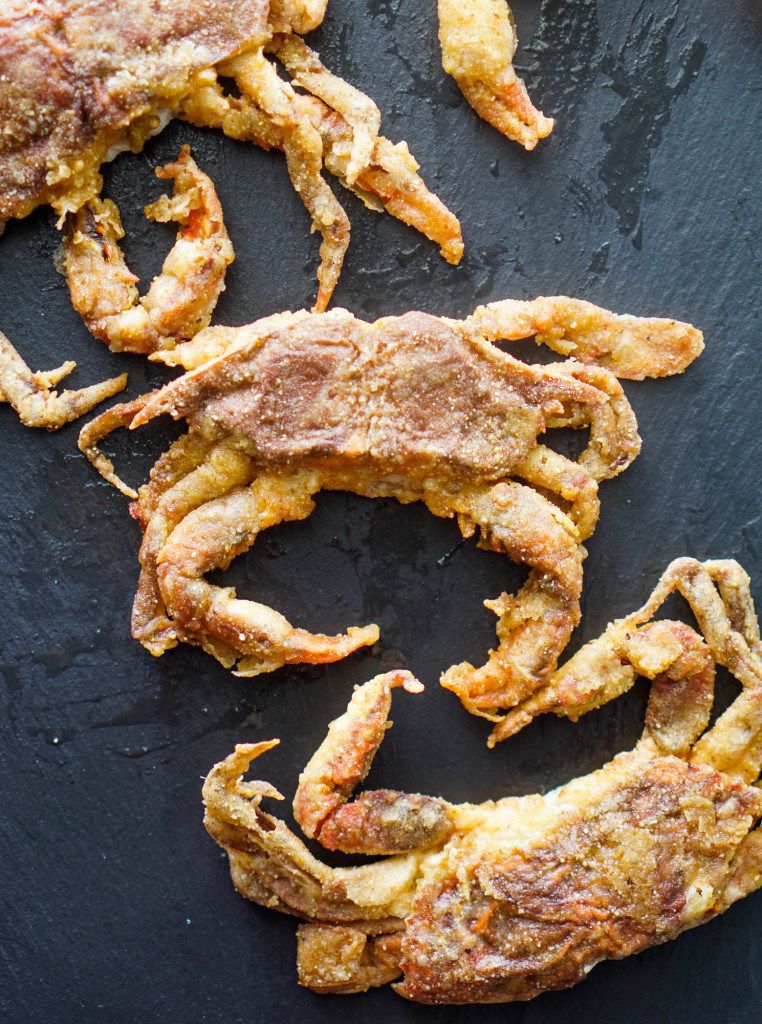 Frying only takes a few minutes and you don't need much oil. I coated the bottom of a skillet with just enough canola oil to coat the pan. Three minutes tops on each side and soon enough you'll have crispy, beautifully golden brown soft shell crabs. YUM.
Eating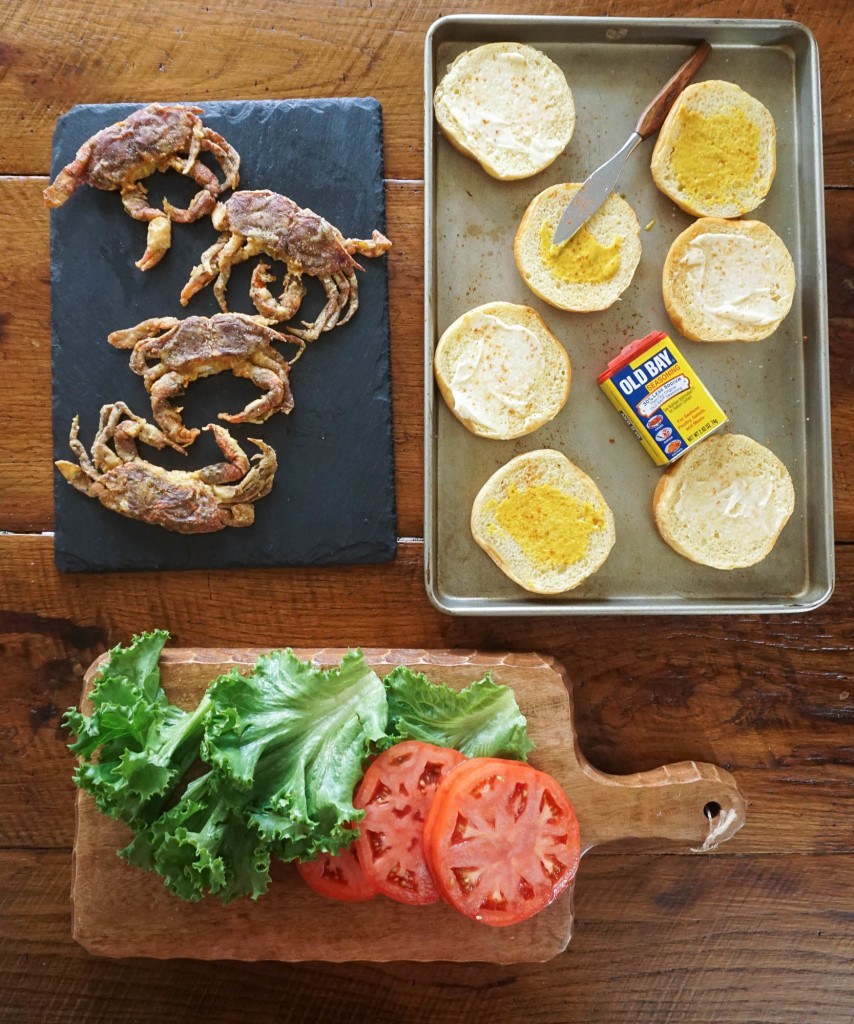 You can take your fried crabs, squeeze over some lemon and a dash of Old Bay and call it a day. You can also make a lemon-caper-butter-white wine sauce directly in the pan you cooked the crabs in. I like to keep it classic with a hamburger roll, lettuce, tomato, and good ol' yellow mustard & mayo.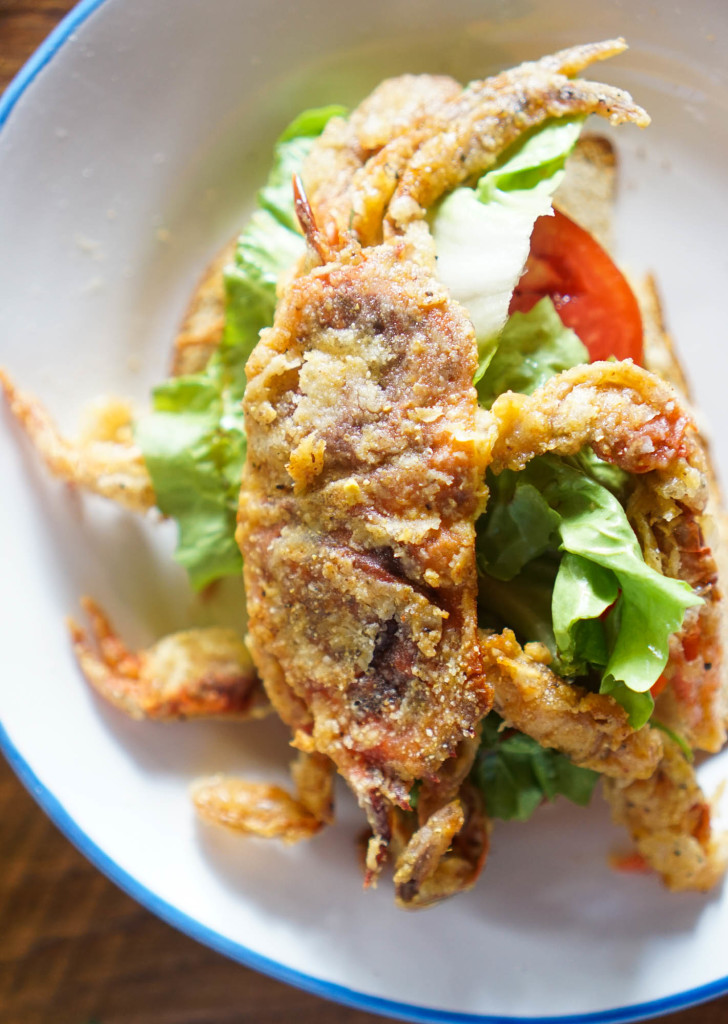 The batter is light and fluffy with just the perfect amount of crisp to compliment the crunch of the crab. I could eat the legs like popcorn, but once you get the bite of the body – whew. It's the sweet juicy crab that is so nostalgic to me that makes this recipe truly special.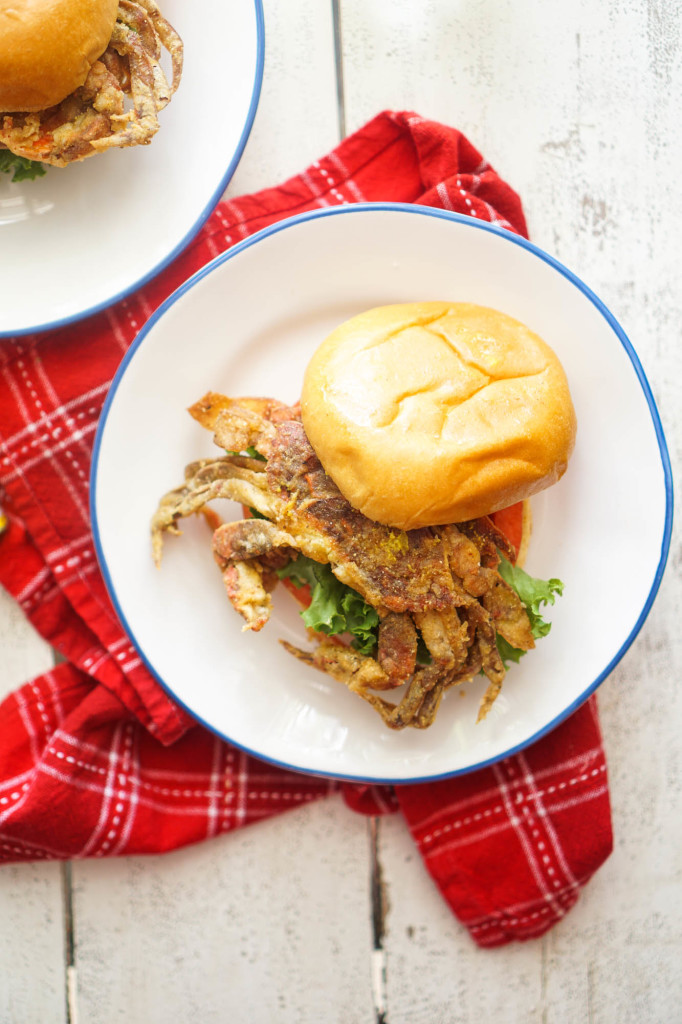 I am so excited to share this with you. Grab your soft-shell lovin' friend and go make yourself a sandwich. Enjoy!
Crispy Soft Shell Crab Sandwich
2016-08-15 06:38:05
Serves 4
Maryland soft shell crab battered in flour, cornmeal, and milk then pan-fried to crispy perfection. Throw it on a sandwich with lettuce and tomato and you have yourself a treat!
Ingredients
4 medium soft shell crabs, cleaned (thawed if previously frozen)
1/2 cup flour
1/4 cup cornmeal
1 tablespoon Old Bay seasoning
1 heaping teaspoon paprika
1/2 teaspoon garlic powder
1/2 teaspoon salt (preferably seasoned salt like Lawry's)
1/4 teaspoon pepper
1/2 cup low-fat milk
canola oil as needed
4 buns (soft burger rolls or sandwich bread)
1 tomato, sliced
4 larges leaves of lettuce
1/2 lemon
Mayonnaise as needed
Yellow mustard as needed
Instructions
Gently dry the soft shells with a paper towel and set aside until needed.
Add the flour, cornmeal, Old Bay, paprika, garlic powder, salt, and pepper in a brown bag and shake until combined. Pour on a large dinner plate.
Pour the milk in a wide and shallow container, like a square container of tupperware. Add a dash or two of Old Bay in the milk for flavor.
Coat the crab in the flour mixture, then the milk, then the flour mixture once more. Try to use one hand for dipping as the milk/flour will get thick and stick to your fingers. Shake off any excess flour, then transfer to a plate. Repeat until all crabs are finished. Set in the fridge for 20-30 minutes.
When ready to cook, add enough canola oil to cover the bottom of a skillet. Heat to medium-high heat. Once hot, pan-fry the crabs (2 at a time) for 2-3 minutes on each side. The crabs will be brown and crispy, and only take a few minutes to fry. Transfer to a plate lined with a paper towel to drain. Repeat for remaining crabs.
To ensemble the sandwich, spread the buns with your choice of mayonnaise or mustard (I do both). You can also use tartar sauce! Sprinkle the dressed buns with Old Bay, then top with lettuce, tomato, and a crab. Squeeze a lemon over the crab just to give it a touch of flavor then add the top bun.
Pour yourself a glass of white wine or beer and enjoy!
http://www.vodkaandbiscuits.com/