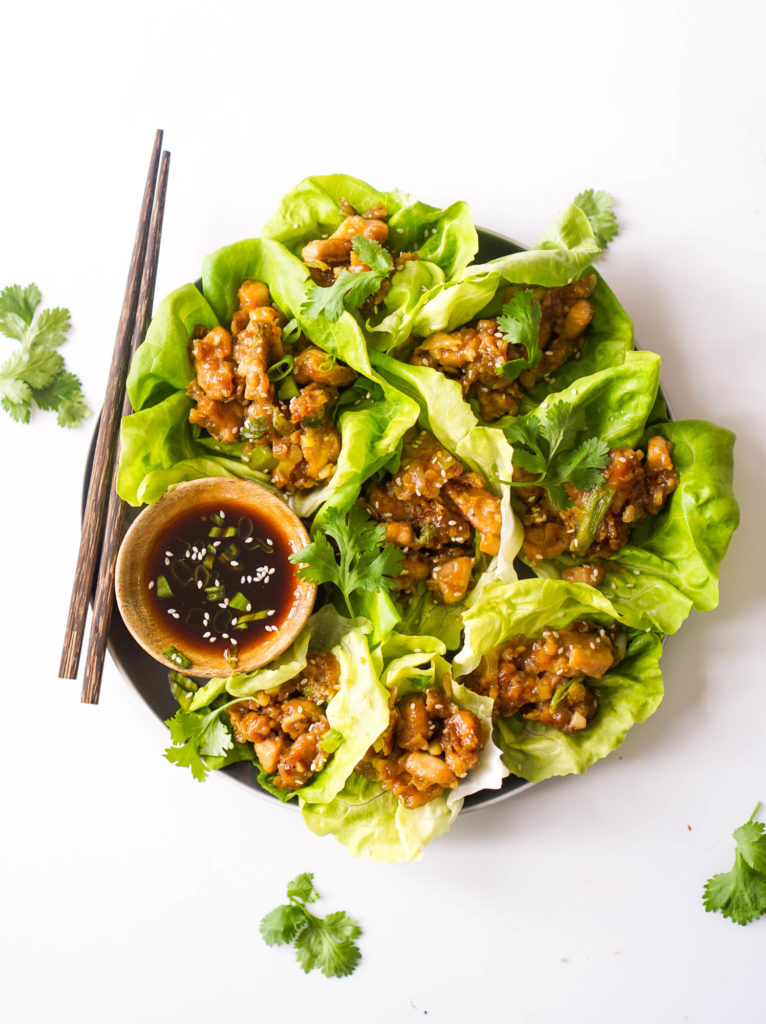 This is the second version of this recipe I am posting and don't be surprised if there's a third.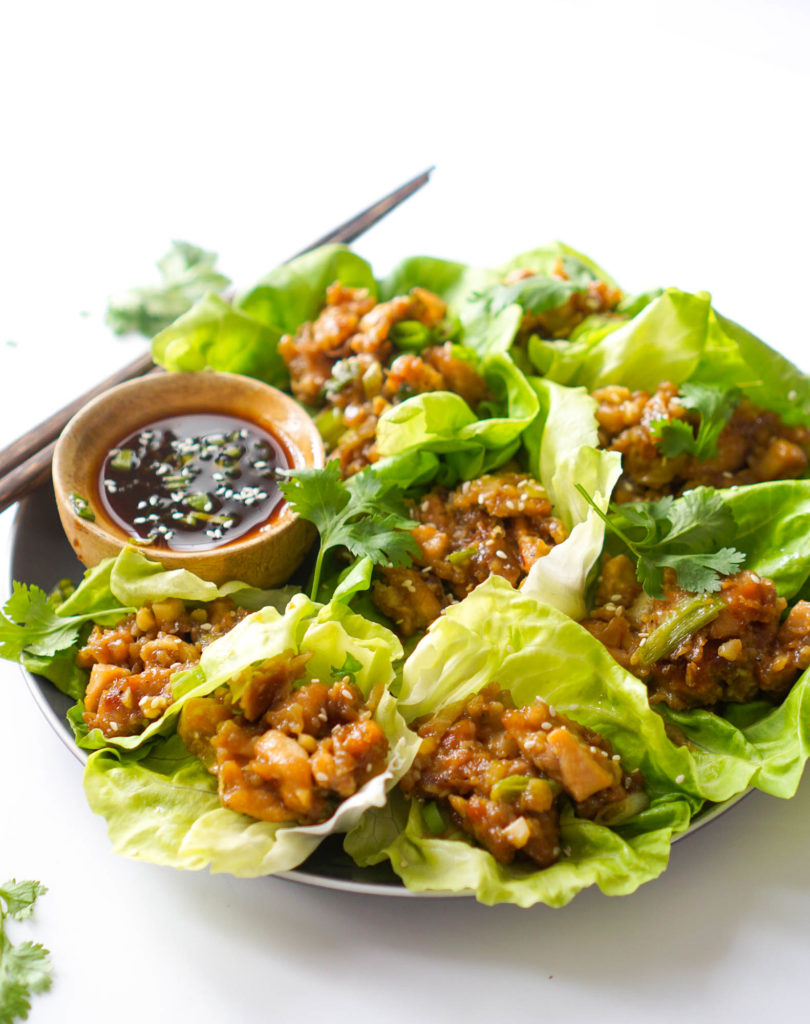 Chicken & Scallion Stir-Fry SAVES ME especially on those nights when I "kinda" feeling like cooking. Raise your hand if you're with me.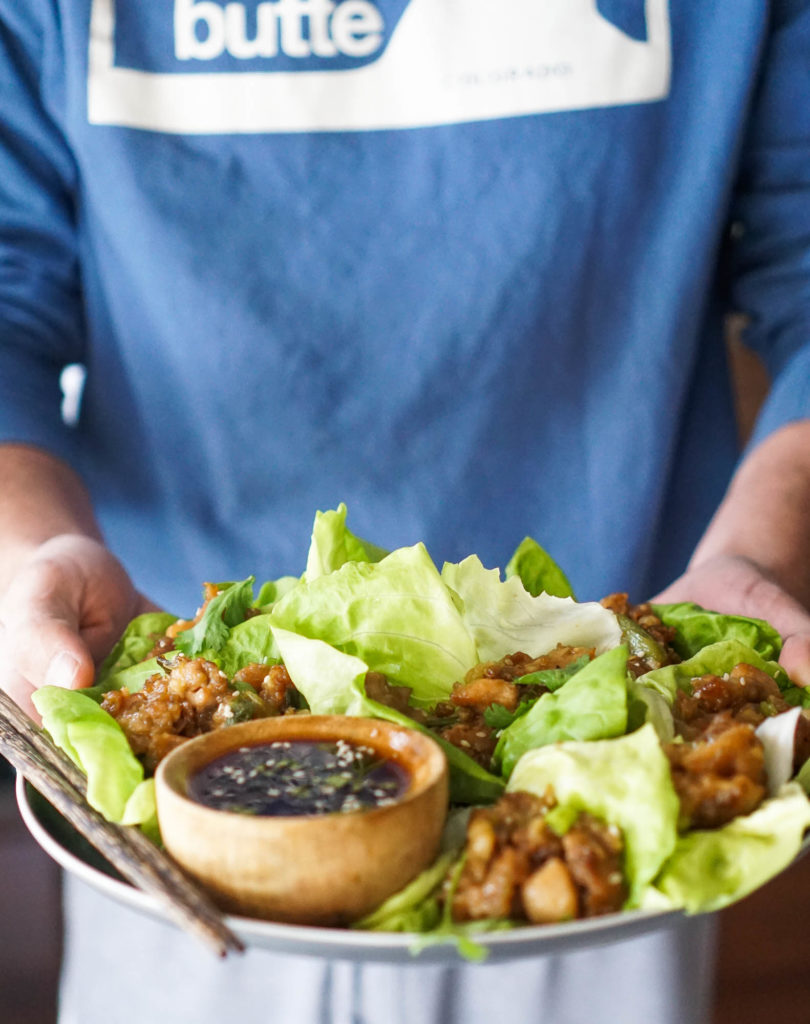 I was introduced to this recipe in culinary school when we were learning the basics of cooking with a wok. You can see the original recipe HERE! The thing is, I don't have a wok or a gas stove so I've been making this at home in my sauté pan for years since. The original recipe goes a little something like this:
1. Cut up some chicken thighs and dust them with cornstarch, then marinade in a sugar/soy sauce combo.
2. Stir fry over high heat with aromatics like ginger and garlic, then add in scallions and deglaze with stock and mirin.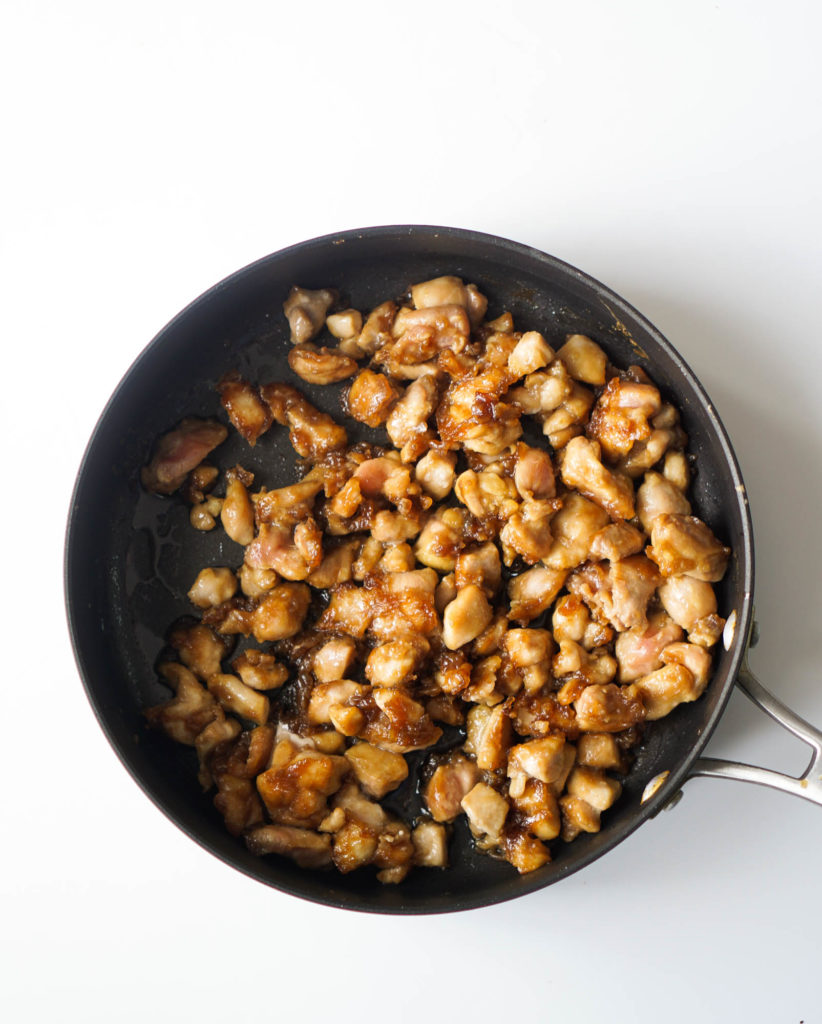 JUST LIKE THAT you have an incredible and easy stir-fry. If you make it in a wok, it's half the cooking time too. Over the years I always made this and served it over rice, but recently I had some lettuce wraps at a local restaurant and immediately thought of the stir-fry.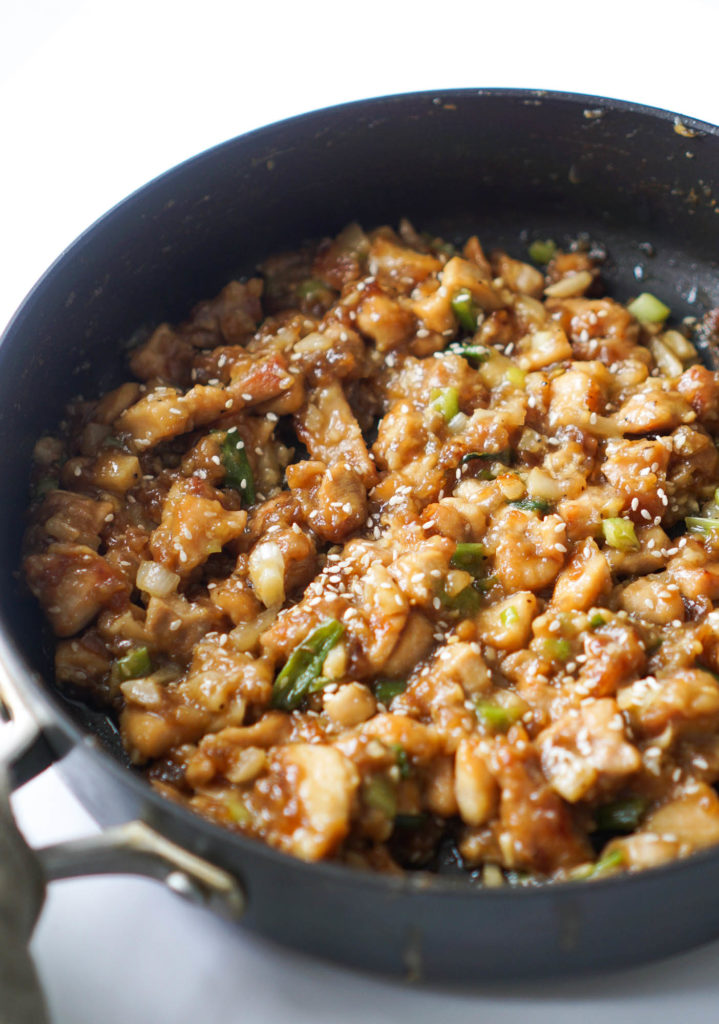 I figured I could add in some crunchy element (hellooo water chestnuts) and better yet, convert it to paleo. We have been trying to stick to a paleo inspired menu around here so I already had all of the ingredients (think coconut aminos, coconut sugar). I directed you to the original recipe because you can obviously substitute the arrowroot, avocado oil, or whatever to what you have on hand.
Even if this is half-paleo, it still counts. Right? Wink wink.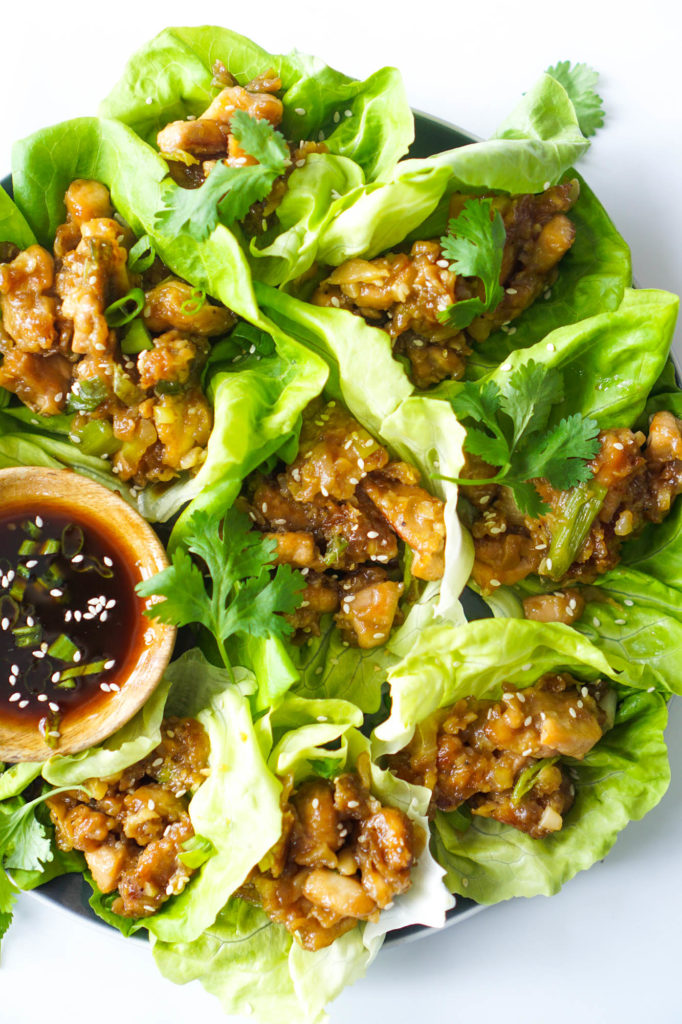 I whipped this up for a weekend lunch and served it with the lettuce and a dipping sauce on the side. You can certainly make this for dinner, but I recommend having some homemade wontons, egg rolls, or sushi for a little substance.
Whether you make this 100% paleo or not, I think you will enjoy this and add it to your dinner or lunch rotation.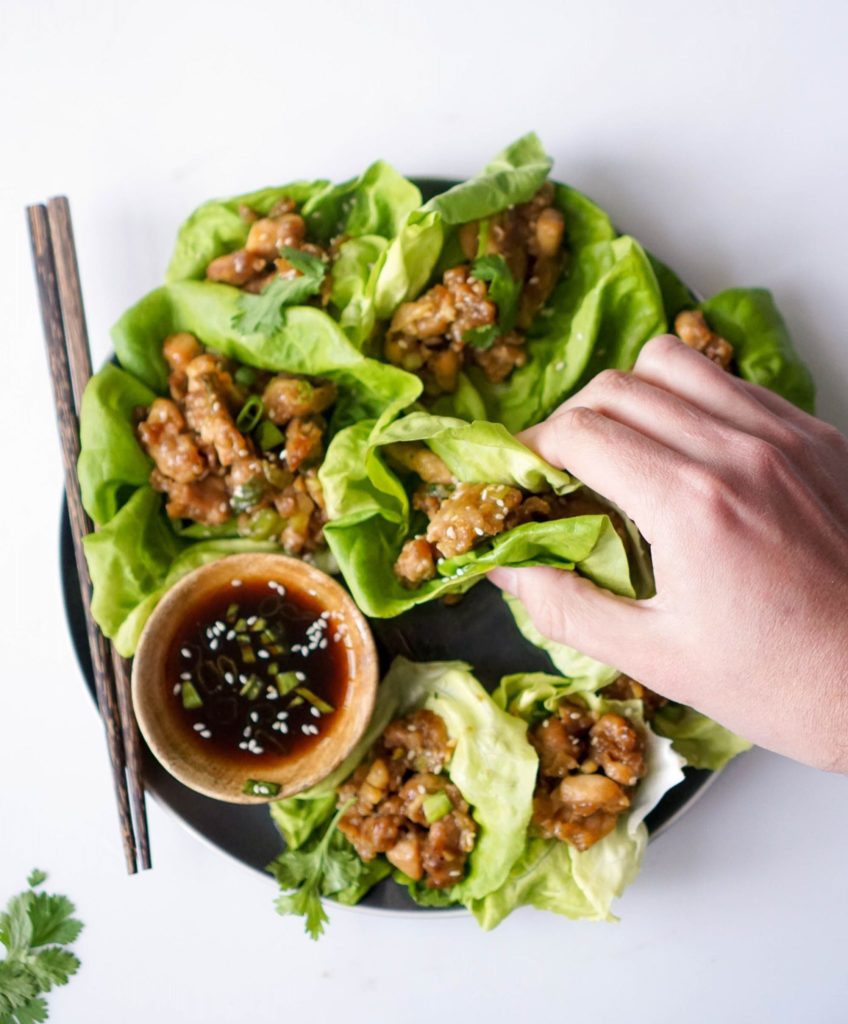 Enjoy!
Ps: click here for the original recipe!
Paleo Chicken & Scallion Lettuce Wraps
2017-03-31 07:09:36
Serves 2
An easy, quick, and flavorful meal that can be enjoyed as lunch or dinner.
For the Marinade
arrowroot starch as needed (can use cornstarch, however it is not 100% paleo)
1/4 cup coconut aminos
2 1/2 tablespoons coconut sugar
For the Stir-Fry
avocado oil as needed*
3-4 boneless skinless chicken thighs, cut into small bite size pieces
1 tablespoon minced garlic (about 6 cloves)
1 tablespoon minced ginger (1" ginger root)
1 bunch of scallions (about 5-6 scallions)
1/4 cup water chestnuts, chopped (or more if desired)
1/4 cup chicken stock
2 tablespoons rice vinegar + 1 teaspoon coconut sugar*
1 head of bibb lettuce
optional: sambal oelek or sriracha
Instructions
Using a sifter, dust the chicken pieces with arrowroot or cornstarch. Add to a bowl.
Combine the coconut sugar and coconut aminos and add to the chicken. Marinate in the fridge for one hour.
While marinating, prep the vegetables. For the scallions, slice the white part into thin slices and the green leafy parts into 1" pieces.
Heat a wok or saute pan to medium-high heat. Add a splash of oil and tilt the pan to coat all sides. If using a wok, the wok will start to smoke.
Transfer the chicken from the marinade (reserving marinade) to the pan and stir quickly. Cook until all pieces of chicken are browned. See notes below, but cooking in a wok will be much faster than in a saute pan. I use a saute pan and this takes me about 5 minutes. Once browned, add the marinade and cook for a minute until reduced.
Add the ginger and garlic and cook until fragrant, 45 seconds. Add the scallions and water chestnuts and cook until the scallions are tender and wilted, about 1-2 minutes.
Mix together the rice vinegar and teaspoon of coconut sugar. Deglaze the pan with the stock and vinegar combo. Once the liquid boils, reduce the heat to allow it to glaze the chicken.
Serve the chicken inside the leaves of the lettuce. Serve with a drizzle of Sriracha, or make a dipping sauce using 1/4 cup coconut aminos, 1 tablespoon honey, dash of sambal oelek, and sprinkle of sesame seeds.
Notes
This recipe was designed for a traditional stir-fry over high heat with a wok. If you have a gas stove, remove the cast iron burner grate and place the wok directly over the flame. Once the wok starts to smoke, cooking will very fast! I do not have a wok or a gas stove so I just use my little saute pan. Cooking just takes a few minutes longer, but it's still delicious!
If you prefer to make this but not paleo, check out my Chicken & Scallion stir fry (see post).
I did not think this needed any salt and pepper, but you can always season to your liking. You can also add sriracha or sambal oelek before the ginger/garlic.
Adapted from Culinary School
Adapted from Culinary School
http://www.vodkaandbiscuits.com/