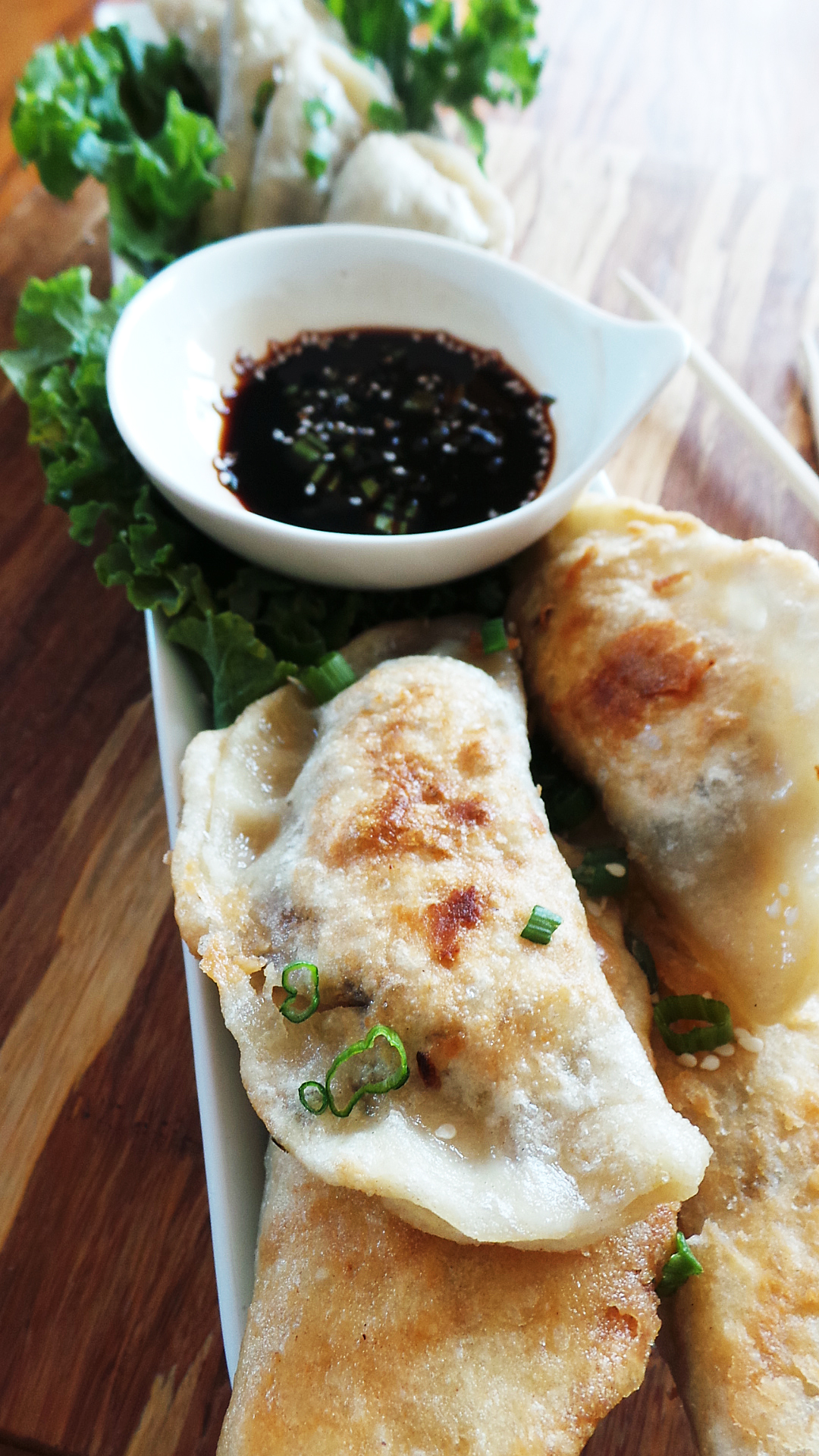 Potstickers/dumplings/wontons/whatever you want to call these things – are my weakness. If I were to give you all my food weaknesses I'd be here all day, but I'd say my top three are donuts, cookie dough, and all things dumpling related. I screamed when my friend sent me a picture from Voodoo Donuts and I'm probably going to be the mom who won't let my kids eat the raw dough only so there's more for me. When it comes to dumplings, I have to stop myself from shoving 2-3 in my mouth at once. Can you blame me though?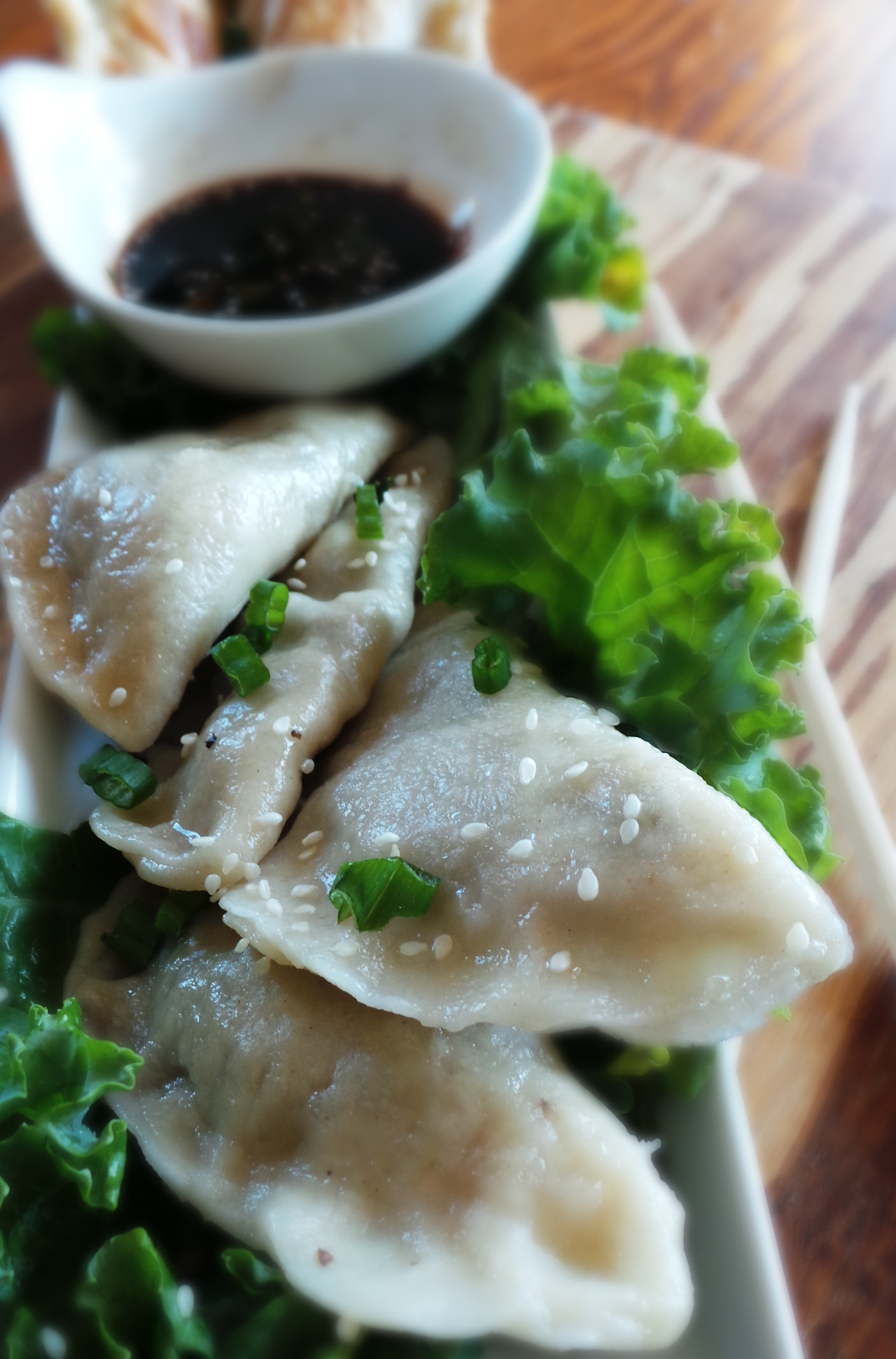 I've been using pre-made dumpling wrappers for a while now, whether it's wonton soup, shumai, or fried eggrolls. I wanted to step it up a notch and create my own. …annnd after my black leggings are covered in flour stains, dough is somehow stuck to my hair, and my belly is full of deliciousness, I'd have to say it was a success. I promise I can make more in the kitchen other than a mess.
I had some leftover coleslaw cabbage mix (which I recommend) and some mushrooms, so I made these vegetarian. If you want to add meat, just replace ground chicken for the mushrooms. I cooked that with some finely diced onions and fresh ginger, then seasoned with a little soy sauce mix and some garlic salt and red pepper flakes. While that was cooking away, I made the dumplings. Oh my goodness they were so freaking simple. Why haven't I tried this before?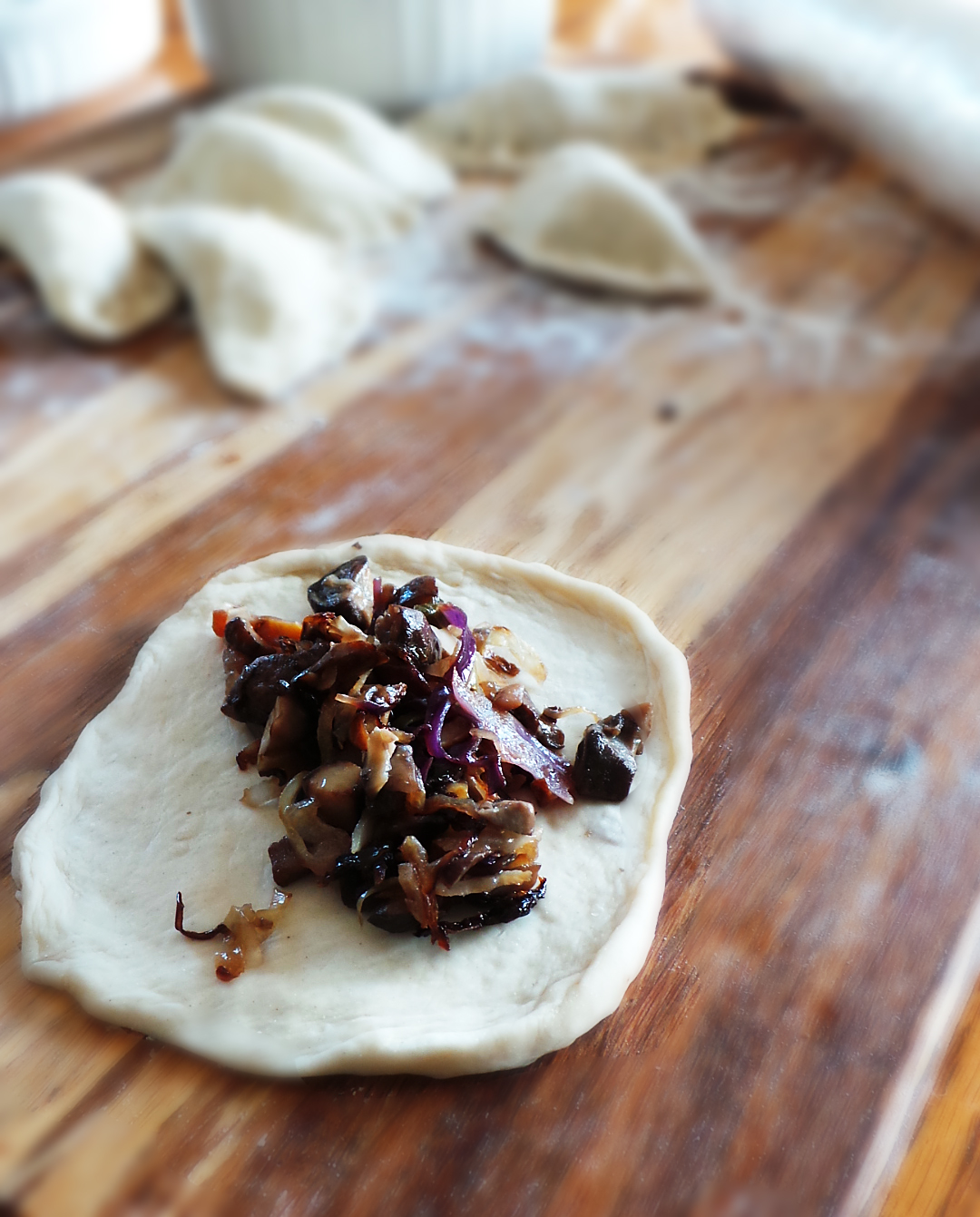 All you need is flour, kosher salt, and water. Ddkfsjl. You have that. You could make these right now. From here it's just a process of slowly adding some hot water, then slowly adding some cold water, all while mixing to create a dough. Knead a little bit, let it relax, then roll it out. Oh and guess what? When life steals your rolling pin, you gotta' compromise.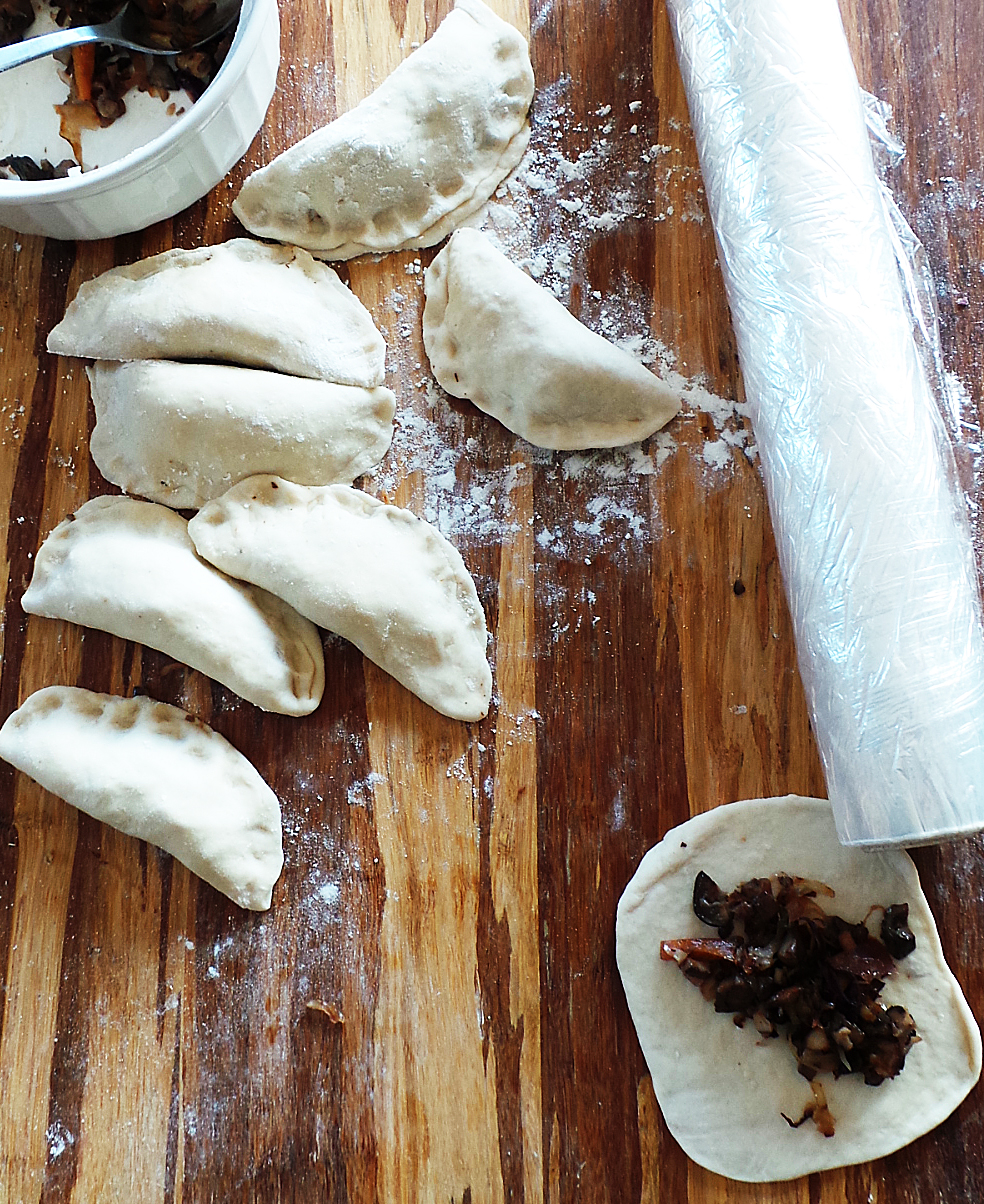 How I lost my rolling pin is beyond me.
Once you roll the dough out into little circles, fill it with your yums, form the shape, and boil em! Basic. You can have boiled or fried potstickers. After they've cooked about 2-3 minutes in the boiling water, just transfer to a hot pan with oil, and fry away! *I cooked mine like this to offer both a boiled version and a fried version, there's another way to make them in the recipe notes!
Btw, excuse my poorly pinched potstickers. I should probably add patience to the ingredients.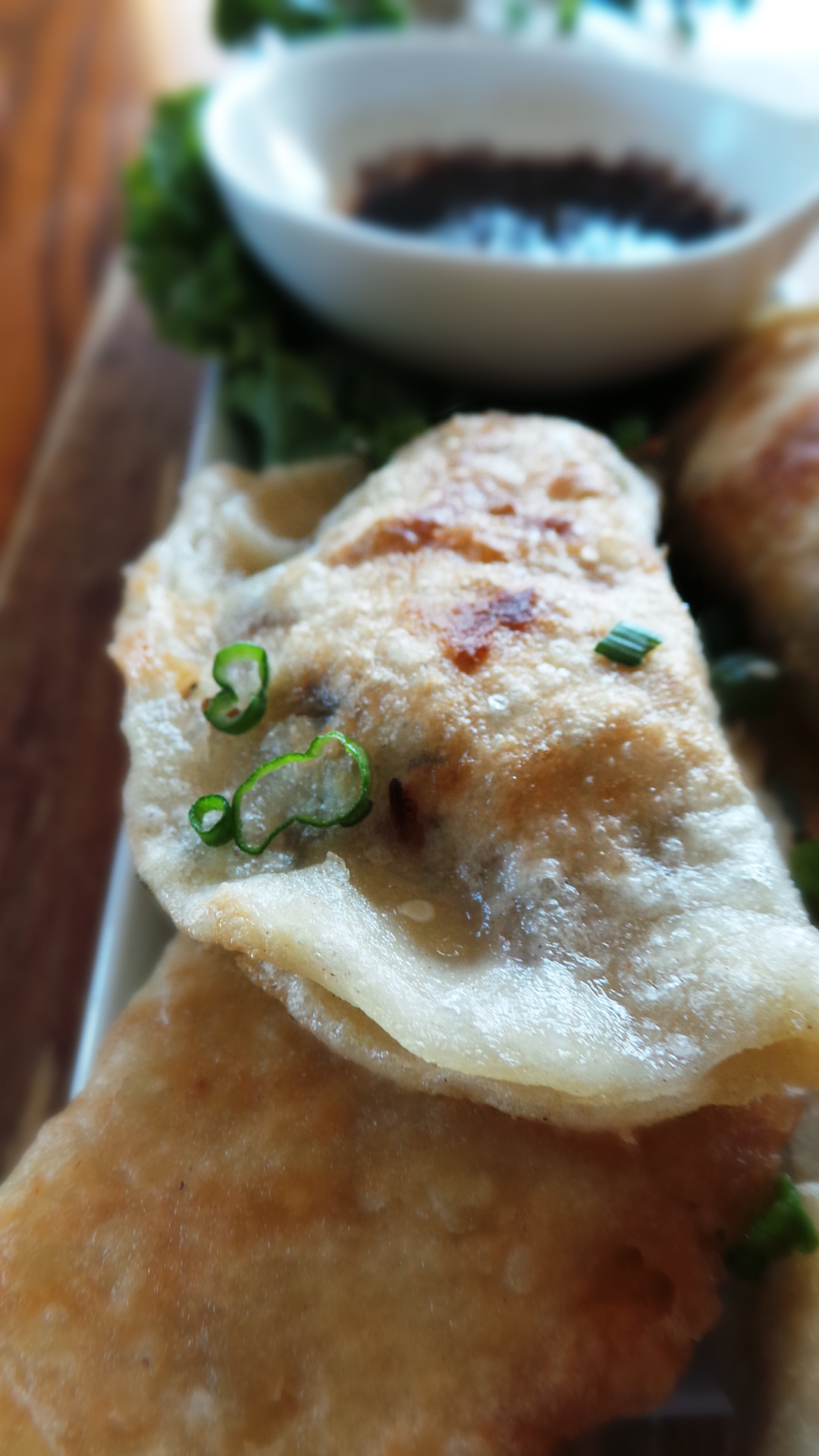 I like to dip these in a sweet-soy blend of honey/soy sauce and load em' up with fresh scallions and sesame seeds. You could also use some of your ingredients (soy sauce, rice vinegar, sesame oil, red pepper flakes, scallions) and combine with sugar and garlic to make a tangy dipping sauce.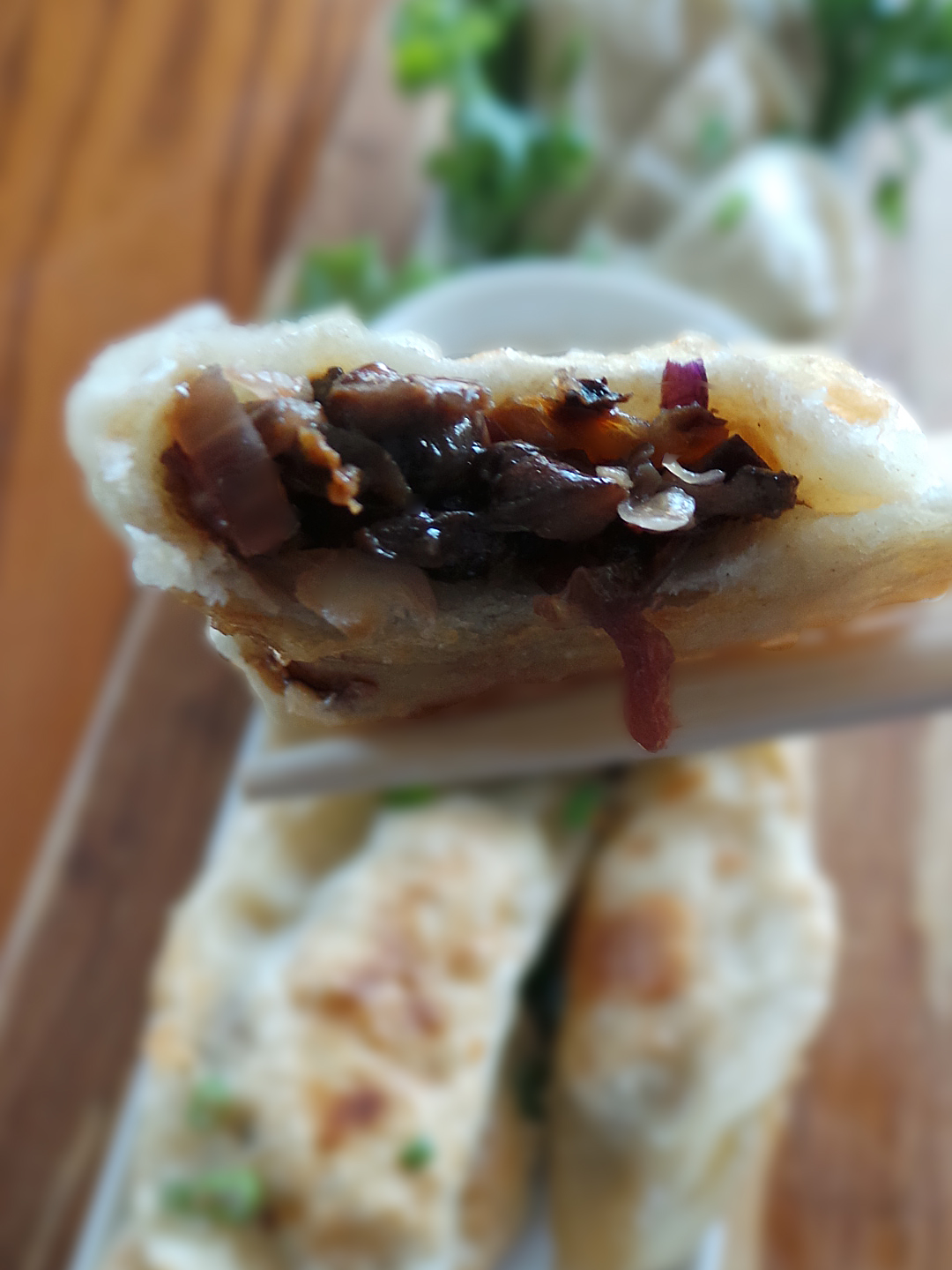 These make a fun appetizer and since they're so adjustable (veggie, chicken, shrimp), I'd say they'd make a good party dish for the Super Bowl, eh?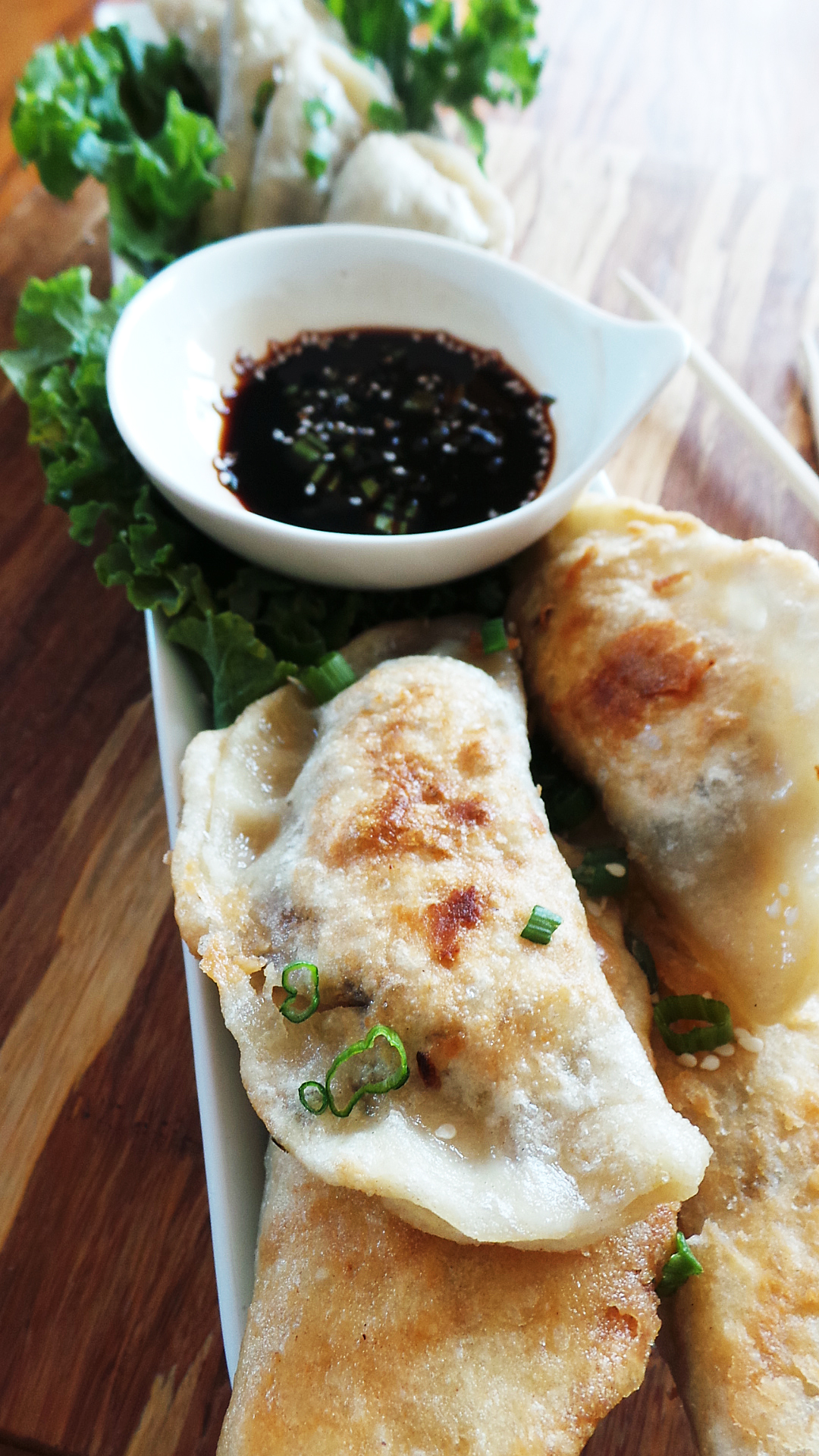 Homemade Veggie Potstickers
2014-01-10 07:27:46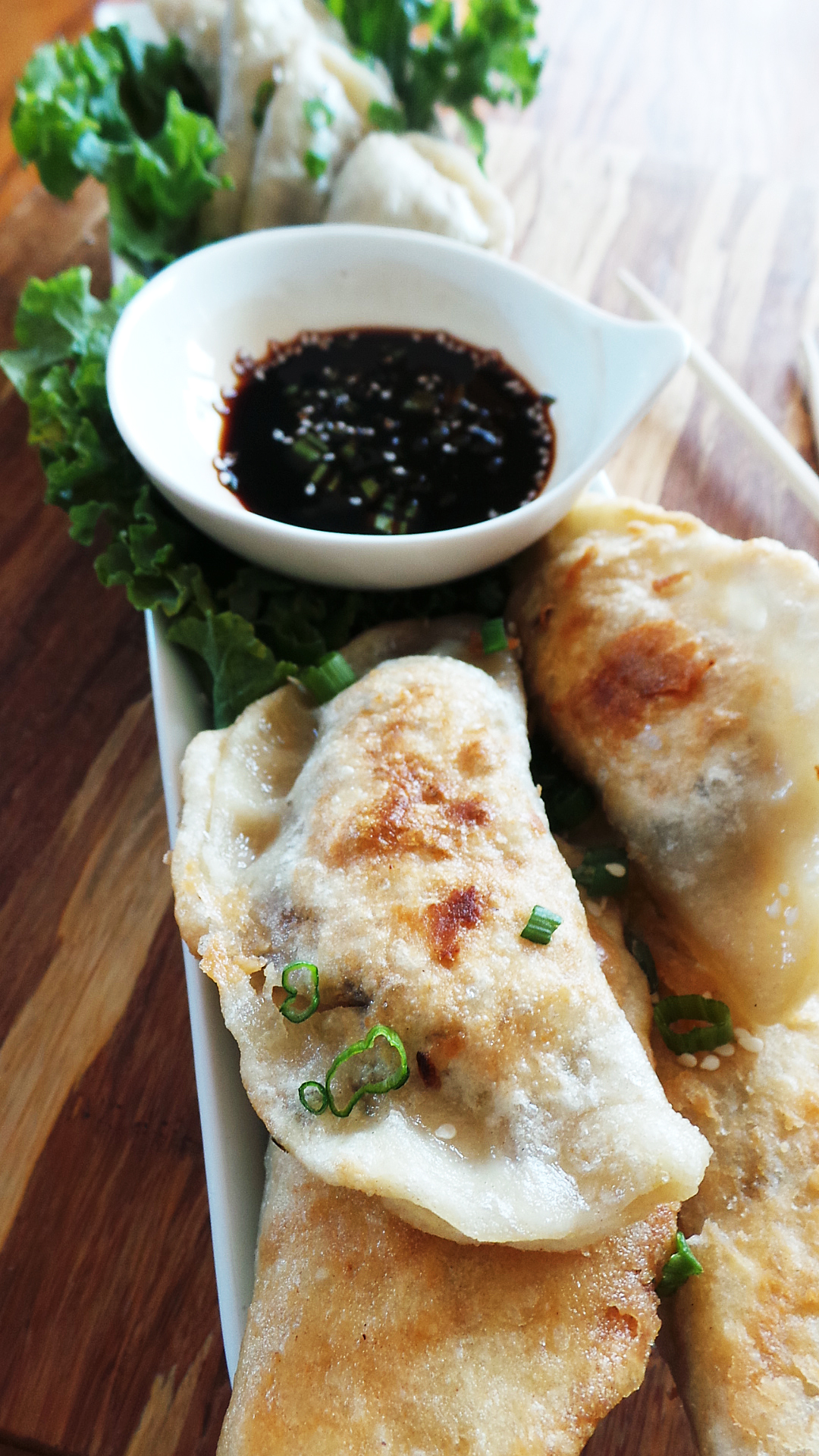 For the dough
1 c. flour
3/4 t. kosher salt
1/4 c. boiling water
1/4 c. cold water
For the filling
1/4 c. finely diced onion
1 t. grated fresh ginger
1/2 c. mushrooms - chopped (shiitake or baby bella)
handful sliced scallions
1/2 c. shredded cabbage blend
1 T. soy sauce
1 T. rice vinegar
1/8 t. sesame oil
pinch red pepper flakes
pinch garlic salt (or garlic powder + kosher salt)
For the dough
Combine the flour and salt in a medium sized bowl.
In a mixer with the paddle attachment or by hand, stir in the warm water until the flour becomes mealy (crumbly).
Slowly add in the cold water until a dough forms.
Place dough on lightly floured surface and knead 5-6 times. Place in a bowl and cover with paper towel until time for use.
For the filling
Heat about a tablespoon of oil in a pan over medium-low heat. Add the onions and fresh ginger and cook about 2 minutes. Add the mushrooms and scallions and cook 2-3 minutes until mushrooms are soft. Add the cabbage and cook another 2 minutes until the cabbage just starts to wilt. Add the remaining ingredients, stir, then reduce heat to low.
To make potsticker
Pinch off a tablespoon of dough and roll into a ball.
Using a rolling pin, roll out the dough into a 3" diameter circle on a lightly floured surface.
Spread a spoonfull of filling onto the center of the circle, then fold over one edge to the other and pinch together. Complete for remaining potstickers.
Boil a large pot of salted water. Add potstickers and cook 3-4 minutes each. You can leave as is, or transfer to a hot frying pan with oil. Cook on both sides until crispy (4 minutes).
Serve with soy sauce and garnish with scallions. Enjoy!
Notes
If you have a bamboo steamer, easily steam these on a layer of cabbage or lettuce.
Serve the steamed potstickers over lettuce or they might stick!
Easily replace mushrooms for cooked ground pork or chicken.
http://www.vodkaandbiscuits.com/