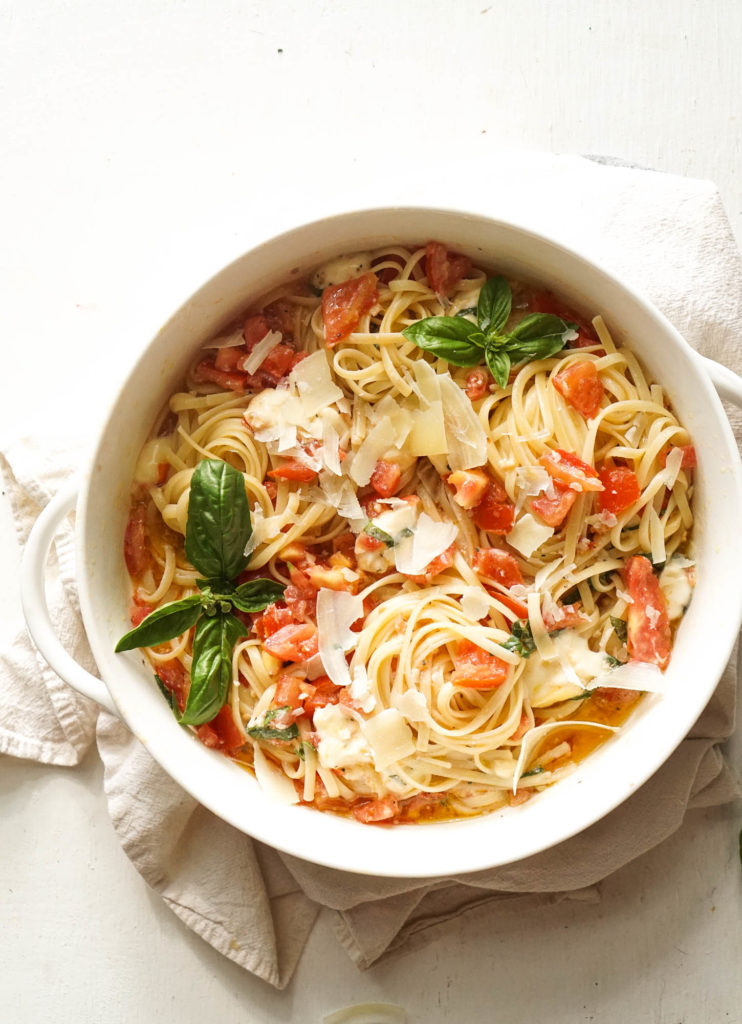 You guys, mark my words, this summer pasta is going to be the best thing this summer.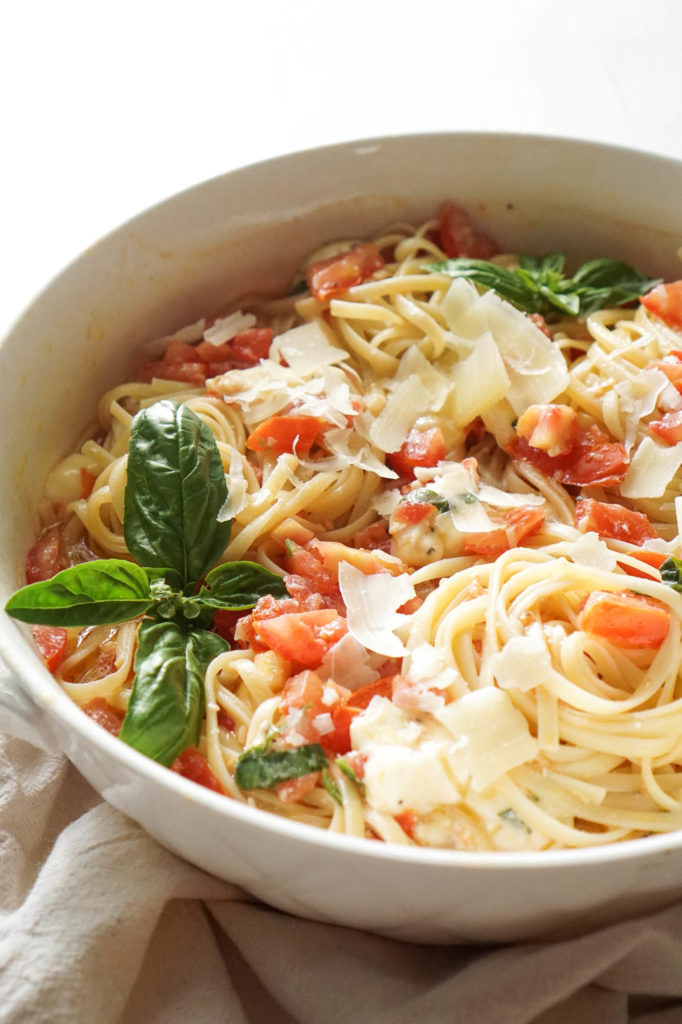 I have a feeling we will be dealing with a hot one this year (considering half the country is dealing with a brutal heat wave right now) so I've been working on a raw sauce. My mom used to always make my brother and I spaghetti with raw sauce, except she used to call it chopped caprese. It's nothing more than chopped tomatoes, aromatics, and herbs tossed with pasta hot out of the pasta water.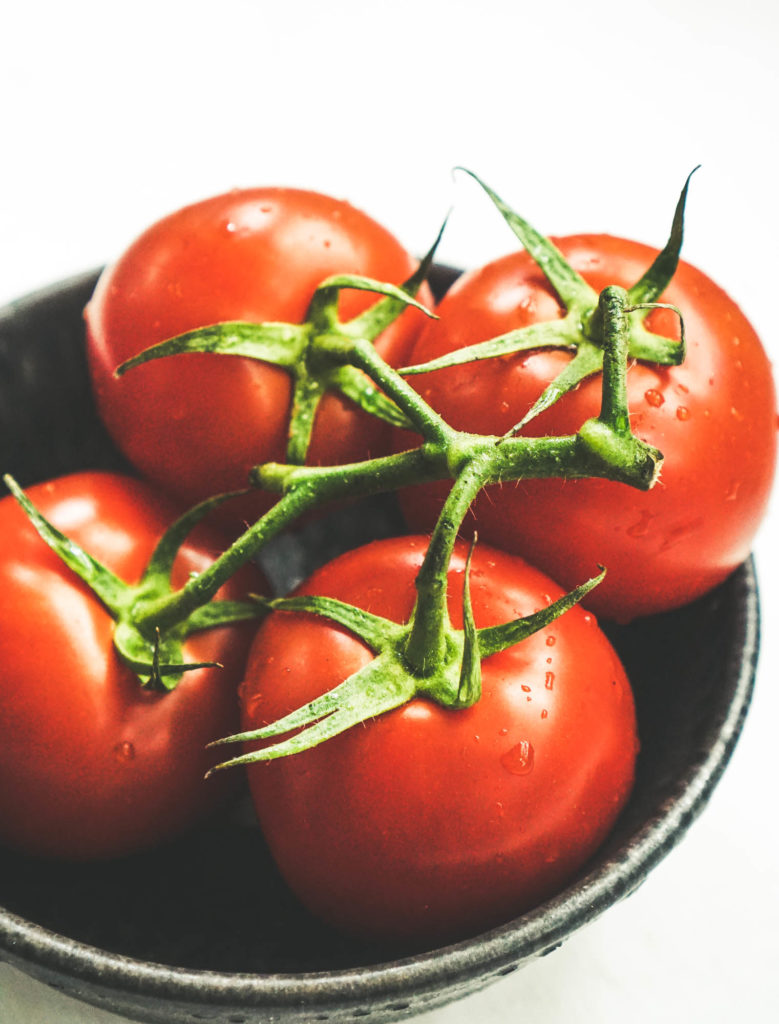 The version I have been working on consisted of gnocchi, spinach pesto, ricotta, and tomatoes. Sounds delicious, right? Well, an hour or so before I started to cook, I was flipping through Silver Palate's cookbook. OF COURSE there was a summer pasta and OF COURSE it sounded a million times better than mine. And guess what? It was. That's why I am here today.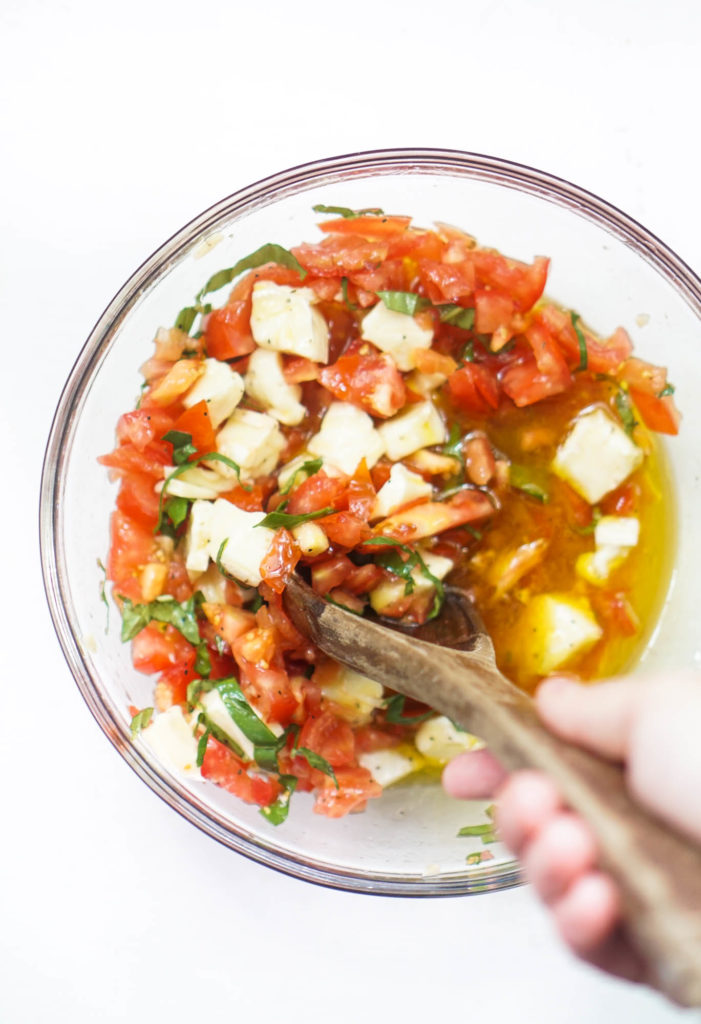 It goes a little something like this: tomatoes, garlic, basil, and brie are all chopped up and added to a bowl with olive oil, salt, and pepper. It marinates in the fridge for at least two hours and you'll probably contemplate calling the recipe quits. Sure you can dig in as is, but I promise it gets so much better.
Linguine cooks up in salted water, then just as it is al dente, it's transferred right from the water into the bowl of raw sauce.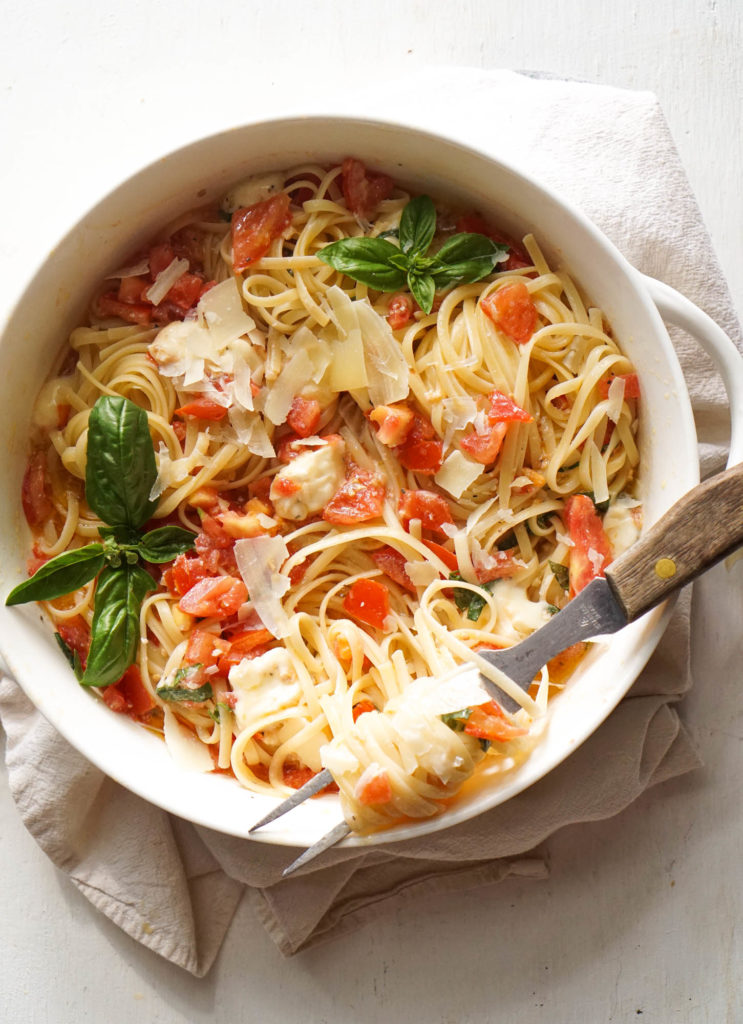 What happens here is magical. As the pasta twirls into the sauce, the brie slightly melts and coats the pasta, but still leaves behind soft-creamy-melty bites. When you dig in, you get the creamy brie, juicy tomato, spicy garlic and pepper, and aroma of basil. The only way this gets better is a grating of fresh Parmesan.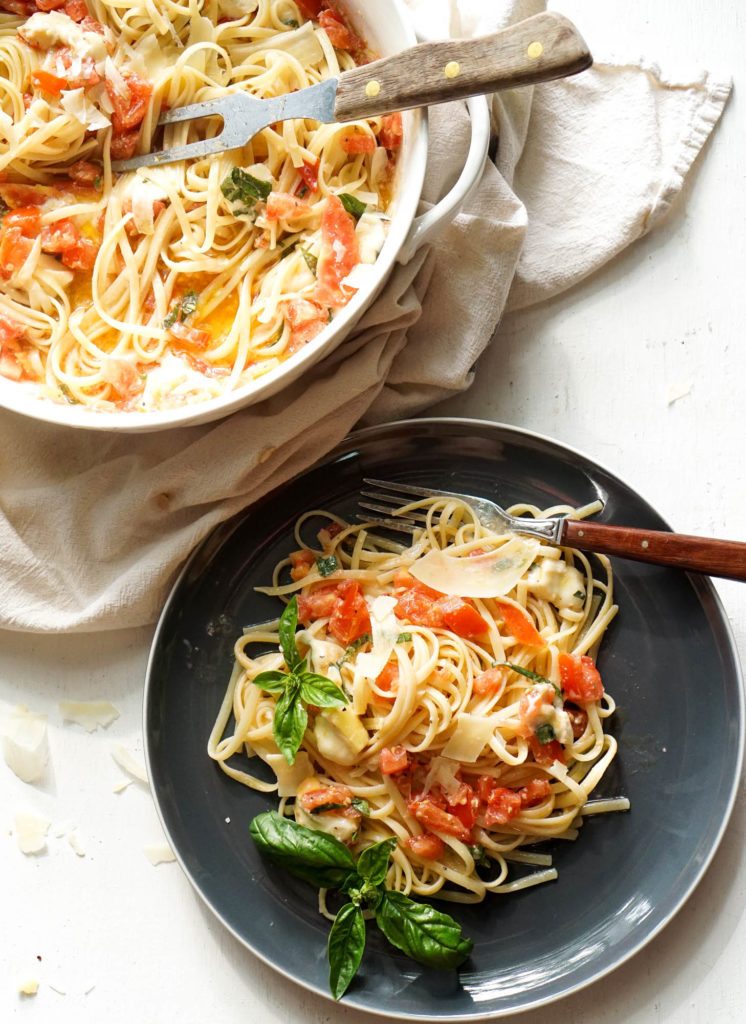 I made this for dinner one night and Scott and I enjoyed the heck out of it. It's delicious warm or room temperature, making it ideal for a quick weeknight dinner or to bring for a summer cookout. If that's the case, I'd use smaller noodles like farfalle! I think this would make a perfect dinner party with maybe some mussels casino for an appetizer, white wine sangria for a cocktail, and a quick and easy dessert like store bought mini tiramisu.
If I haven't already convinced you, PUHLEASE wiggle this onto your menu this summer. Enjoy and stay cool.
Summer Pasta with Tomato & Brie
2017-06-21 13:27:28
Serves 4
Marinated tomatoes, brie, basil, and aromatics, tossed with linguine hot out of the pasta water. This is a delicious "raw sauce" perfect for a hot summer day.
Ingredients
4 tomatoes, chopped into bite size pieces
8 oz. brie, rind removed and chopped
5-6 leaves basil, chopped
2 cloves garlic, minced
1/2 teaspoon salt, plus more to taste
1/4 teaspoon pepper
3/4 cup olive oil
8 oz. linguine
Parmesan cheese for garnish, optional
Instructions
Add the tomatoes, brie, basil, garlic, salt and pepper, and olive oil to a medium bowl and toss to combine. Marinate in the fridge for a minimum of two hours.
When ready to eat, bring a medium pot of salted water to a boil. Cook pasta to al dente, according to package directions.
Transfer the pasta from the pasta water into the bowl of the tomatoes. Toss to mix with the sauce, allowing the brie to slightly melt. Taste and adjust for salt and pepper if needed.
Serve hot or room temperature with grated Parmesan cheese.
Notes
If serving room temperature for a cookout, I recommend using a smaller pasta like farfalle.
Adapted from The Silver Palate Cookbook
Adapted from The Silver Palate Cookbook
http://www.vodkaandbiscuits.com/