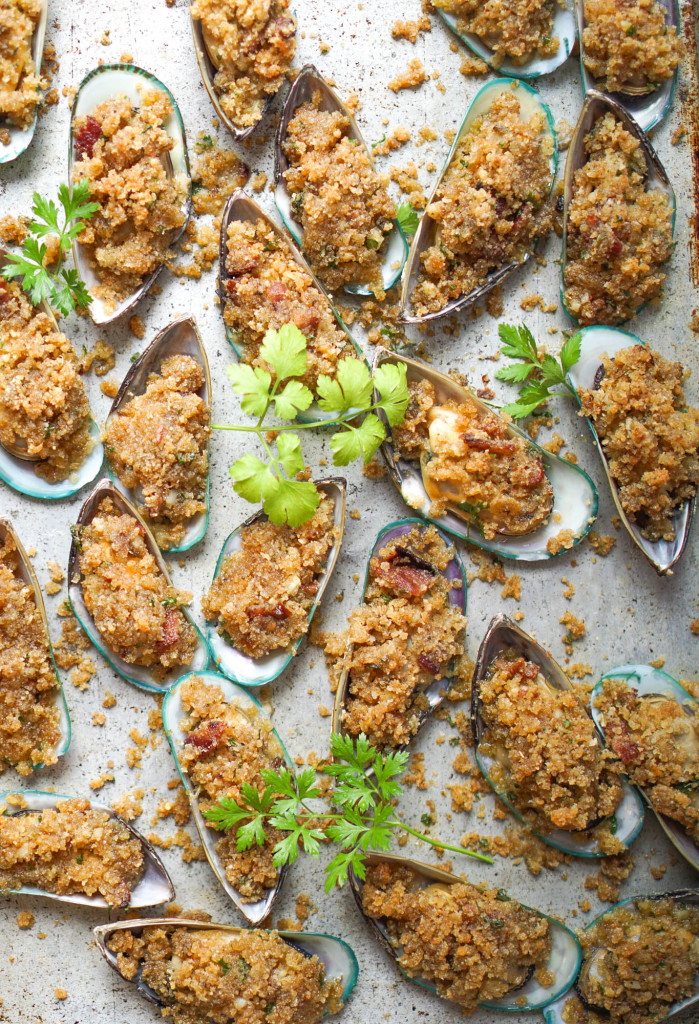 Um, mussels casino why has is taken so long for you to come in my life?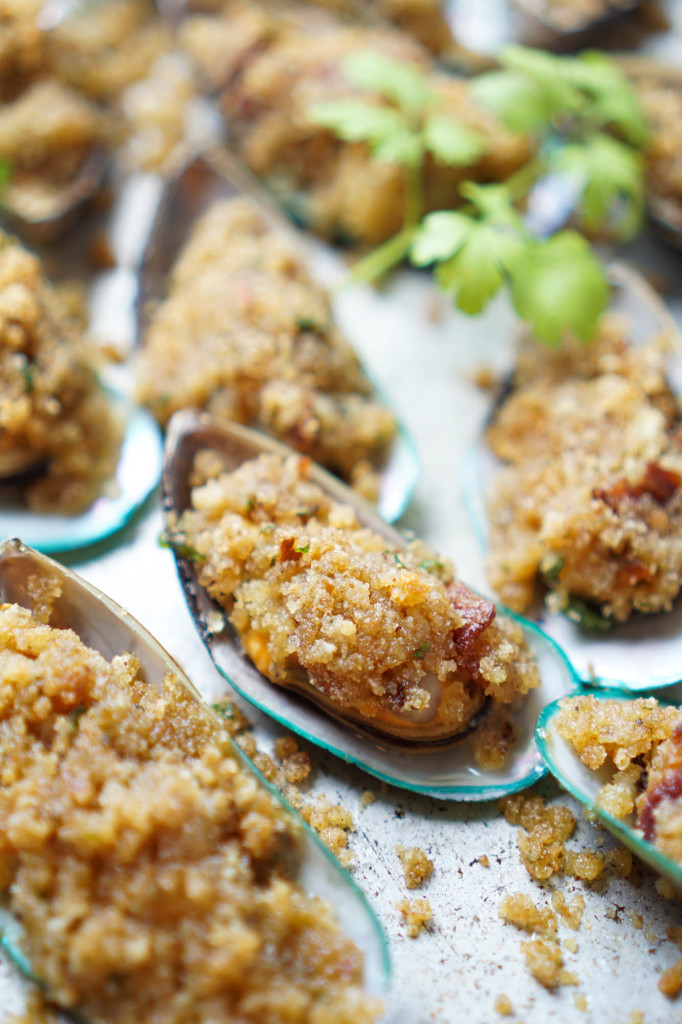 A few weeks back I had dinner at my moms and saw this beautiful tray of breadcrumby, garlicky, mussels. If it wasn't for the shell surrounding the breadcrumb goodness I honestly wouldn't have known what it was. The house smelled glorious and after she took them out of the oven I was just dumbfounded.
WHY are mussels casino not a thing and if they are, what rock have I been living under?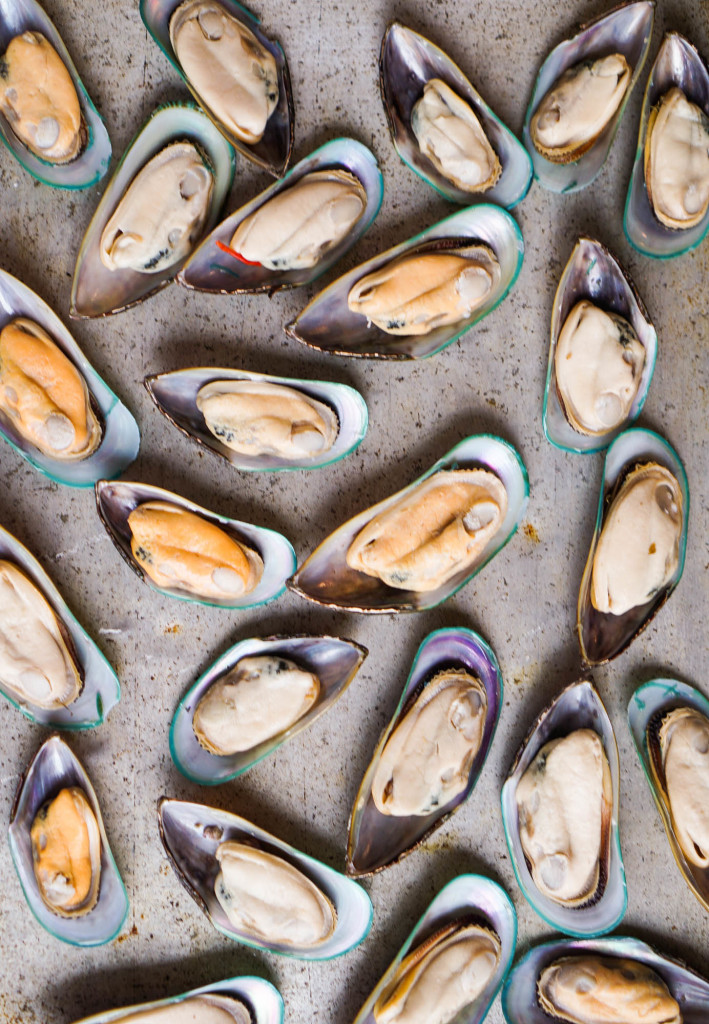 Not only are these addicting and delicious (literally ate a dozen in 4 minutes) but they are simple and make the perfect appetizer for summer entertaining. You know I love my entertaining.
The first step is cooking the mussels which is simply steaming them in your stock pot or skillet in water or wine (your choice). Once the mussels open, discard the empty shell and use the mussel-shell as the serving vessel. Once that's done all you have to do is whip up the topping and throw em' in the oven.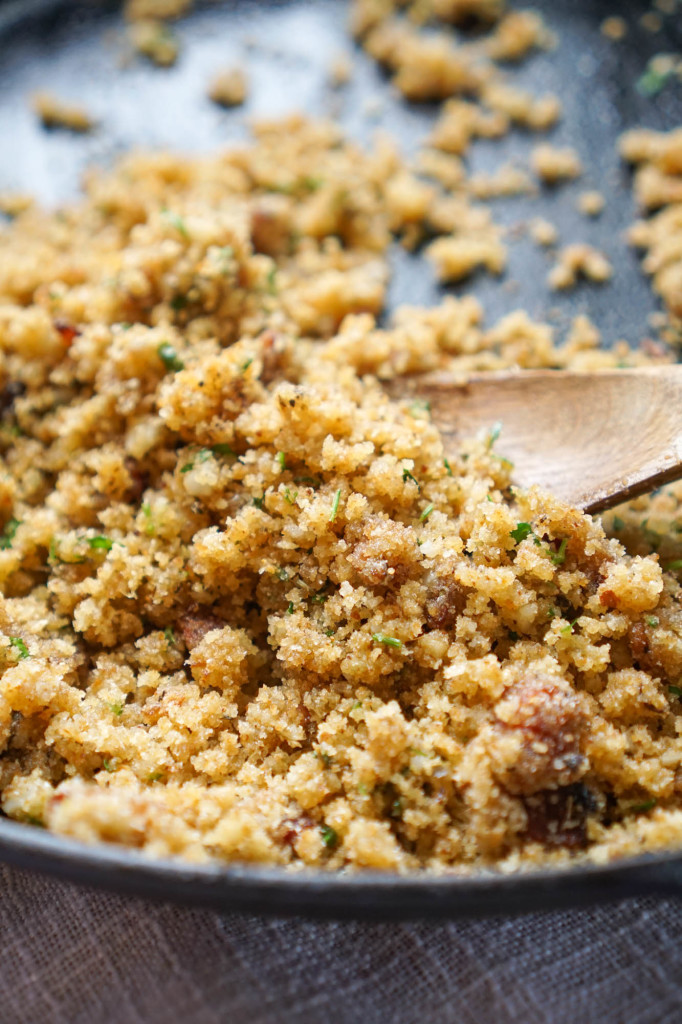 The topping is made on the stove top and consists of alllll the yums like butter, lemon, garlic, spicy red pepper, crispy bacon, fresh parsley, breadcrumbs and Parmesan. I use regular plain breadcrumbs that I seasoned myself with garlic sea salt, black pepper, and Old Bay seasoning.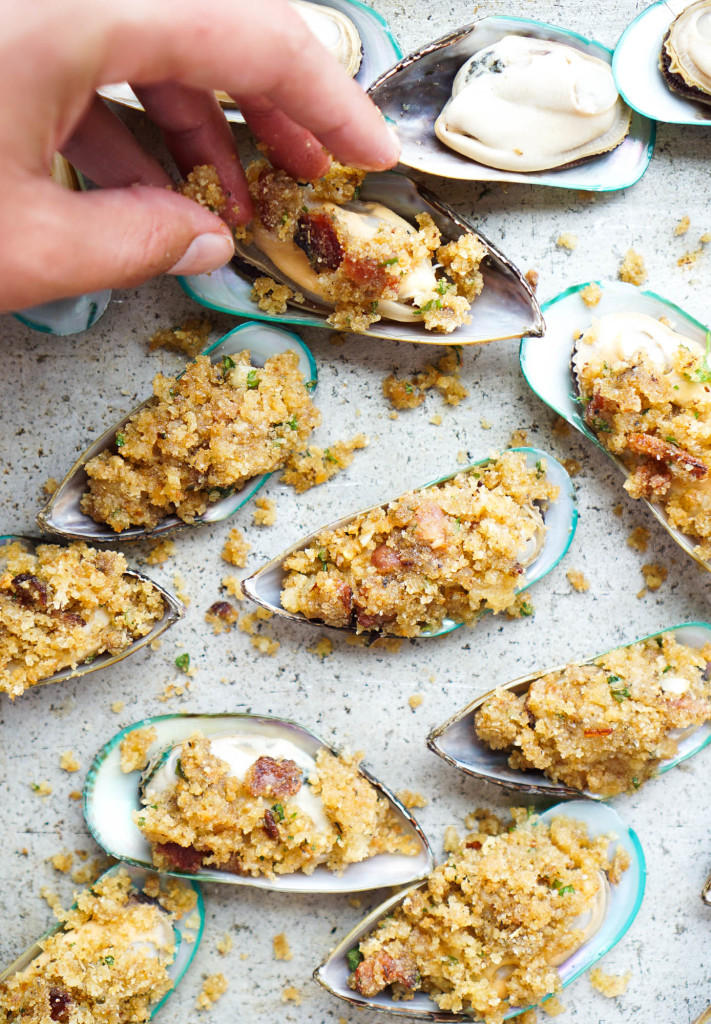 That gets topped on each mussel then thrown in the oven for a quick 6-or-so minutes.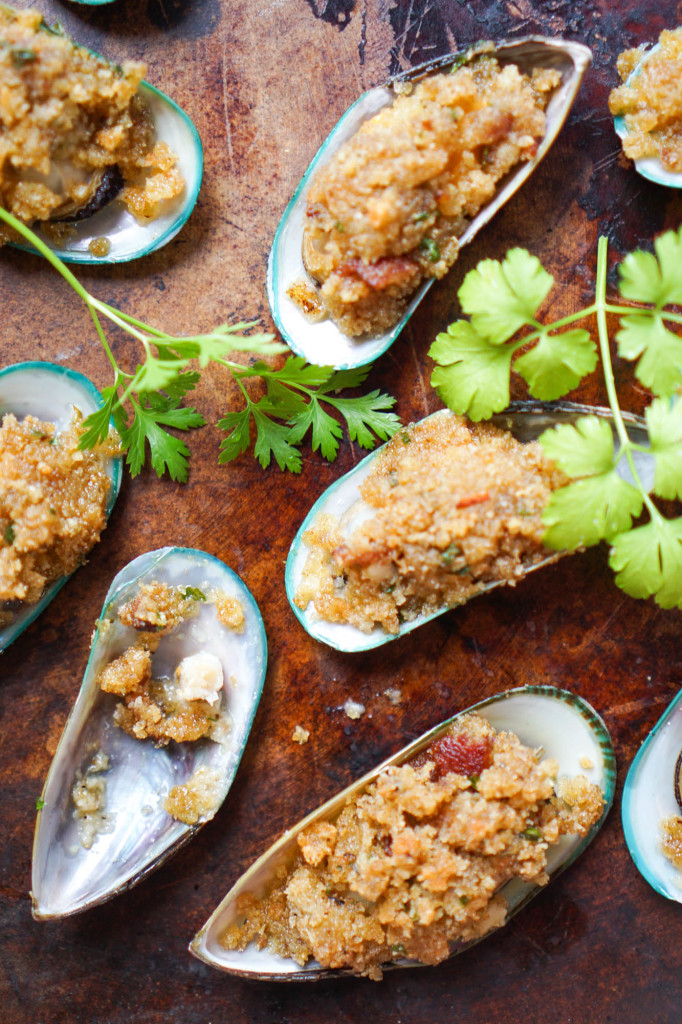 The mussels come out brown and crunchy and delicious as ever. Even though I will always love me some steamed mussels with tomatoes, garlic, and crispy French bread, this is such a pleasant twist and a fun way of enjoying them.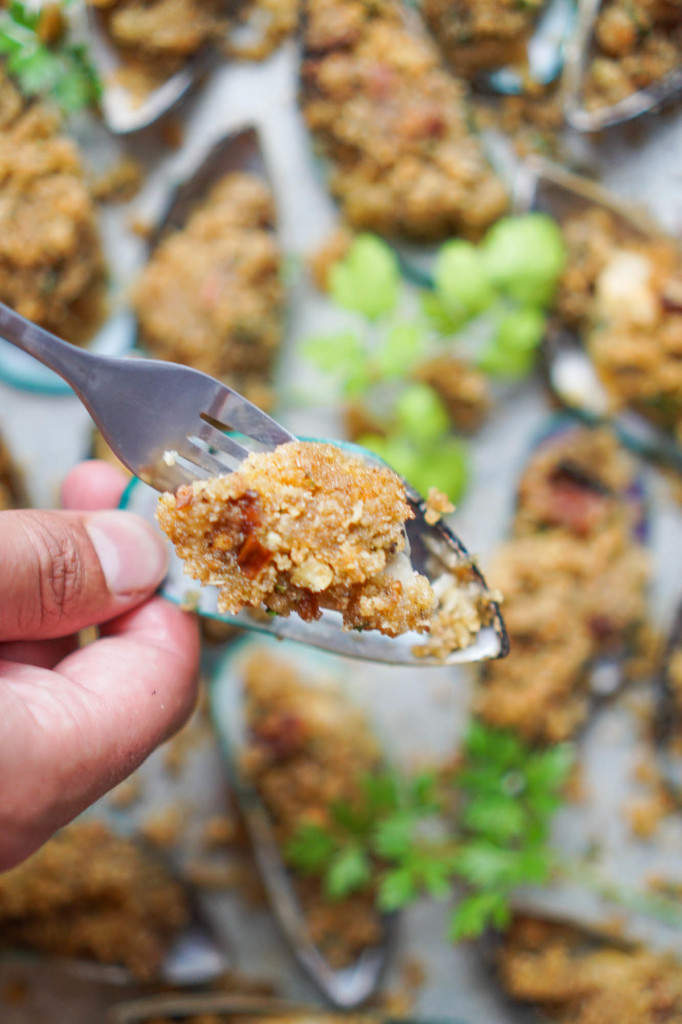 Before you make this, be sure to check out last week's Cioppino just in case you're the one who over-buys on mussels every.single.time. and left with a fridge full of mussels that you don't know what to do with. Oh then get yelled at cus' you're stinking up the house. Welcome to my world peeps.
Enjoy!
Mussels Casino with Bacon & Parmesan
2016-07-14 05:34:06
Serves 4
Ingredients
2 dozen mussels*
4 strips of bacon
6 tablespoons butter
2 cloves garlic, minced
1/4 teaspoon black pepper
pinch red pepper flakes
juice of 1 lemon
1 cup seasoned bread crumbs*
1/4 cup grated Parmesan cheese, or more if desired
2 tablespoons minced parsley
olive oil (if needed)
Instructions
Preheat oven to 400
Rinse the mussels under cold water while scrubbing (preferably with a stiff kitchen brush). Remove the beard (the bristle ends hanging out of the mussel), by pulling down and outward. Grip the mussel with a towel for ease.
To prepare the mussels heat a stock pot or large skillet over medium-high heat. Once hot, add the mussels and 3/4 cup of water (or white wine for flavor). Cover and allow to steam until mussels have began to open, process will take only a few minutes. Transfer any opened mussels out of the pot. Continue cooking remaining mussels and discard any unopened mussels after 5-6 minutes.
Remove the empty shell and discard. Using your fingers or a fork, wiggle the mussel out of the shell it is nestled in. You will have to break the mussel from the shell, so put a little umph in it. Lay the mussel back into the shell (this will make serving easy) and arrange on baking sheet.
Prepare the filling. In a skillet (I used cast iron), cook the bacon until crispy and all the fat has rendered. Drain the bacon on paper towels and chop into small bite-size pieces. Drain the fat, reserving for other recipes if preferred, and wipe the pan clean.
Return the pan to medium heat and melt the butter. Add the garlic, black pepper, and red pepper flakes and cook for 45 seconds until fragrant. Stir in the lemon juice.
Add the breadcrumbs, Parmesan cheese, crumbled bacon, and parsley and mix to combine. Cook for 1-2 minutes. The mix should be crumbly, but wet enough to stick together if pressed with your fingers. If not, drizzle over olive oil (or more melted butter) until achieved.
Taste the mix and add salt, pepper, or Old Bay as needed. Once taste is achieved, add a spoonful of mix over the mussels under covered. Repeat until all mussels have been filled.
Bake for 6-7 minutes until breadcrumbs are golden brown. Serve with a wedge of lemon and cold glass of white wine.
Notes
I used plain bread crumbs and seasoned with garlic sea salt, black pepper, and Old Bay seasoning.
At some seafood markets you can buy the mussels already steamed with the empty shell discarded. If this is the case, skip to step 5.
http://www.vodkaandbiscuits.com/