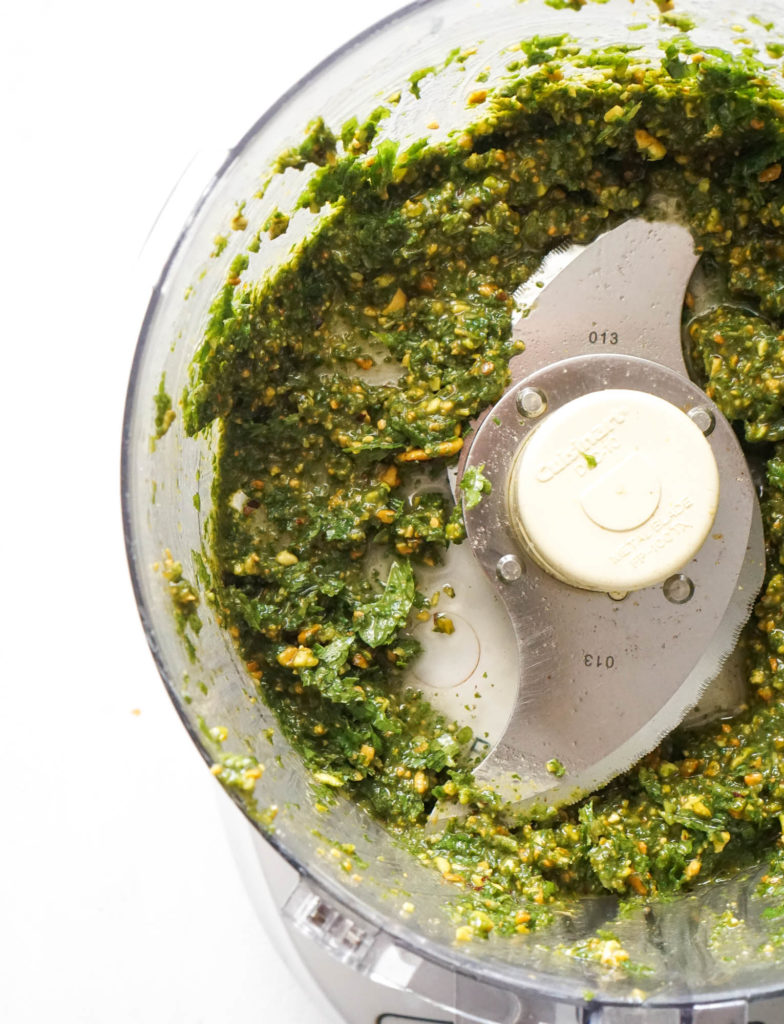 I love pesto and I'm 100% guilty for buying it store bought 90% of the time. Even in the summer time. DON'T JUDGE ME.
There's a little Italian market in Baltimore (that I would visit every day if I could) that sells amazing and convenient basil pesto. While homemade pesto is equally delicious (yes equal because it's that good), it all comes down to convenience, especially when this store bought pesto comes in a 32 oz. container and is found in my freezer all times of the year.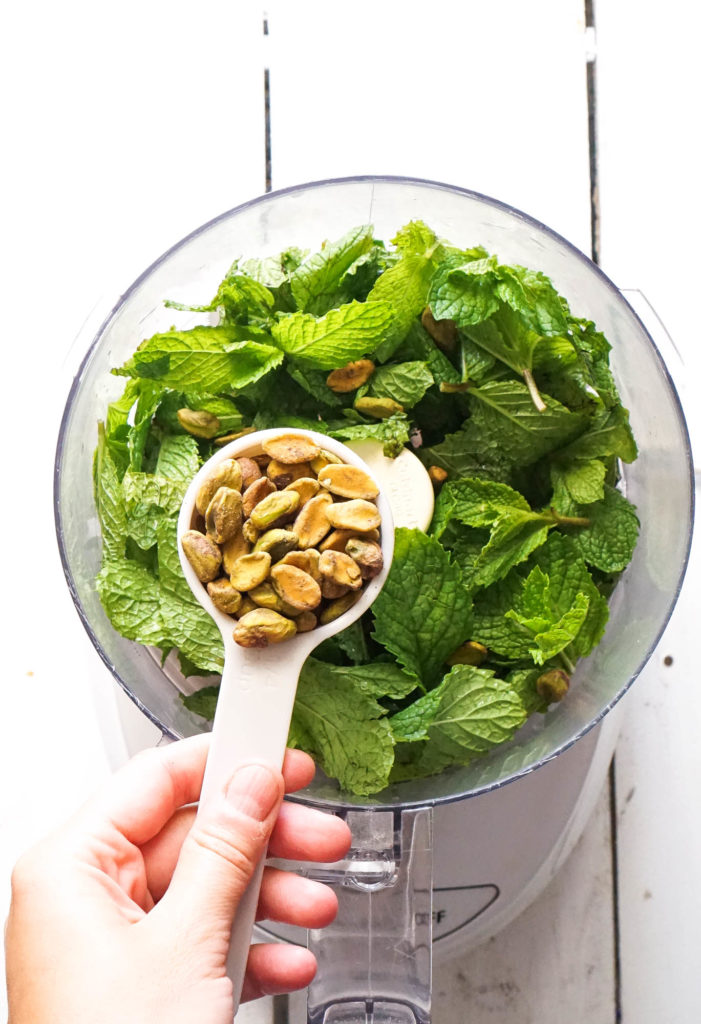 The other 10% of my pesto consumption is made when I am making lamb. That's what brings us here today. Mint and pistachio pesto folded with creamy feta, it's a Mediterranean-inspired dream that pairs perfectly with lamb. Lamb roast, lamb shanks, lamb meatballs, lamb steaks, lamb chops – you name it.
I introduced this pesto to my blog a few years back with these Lamb Pitas and you'll be seeing it again in my next recipe.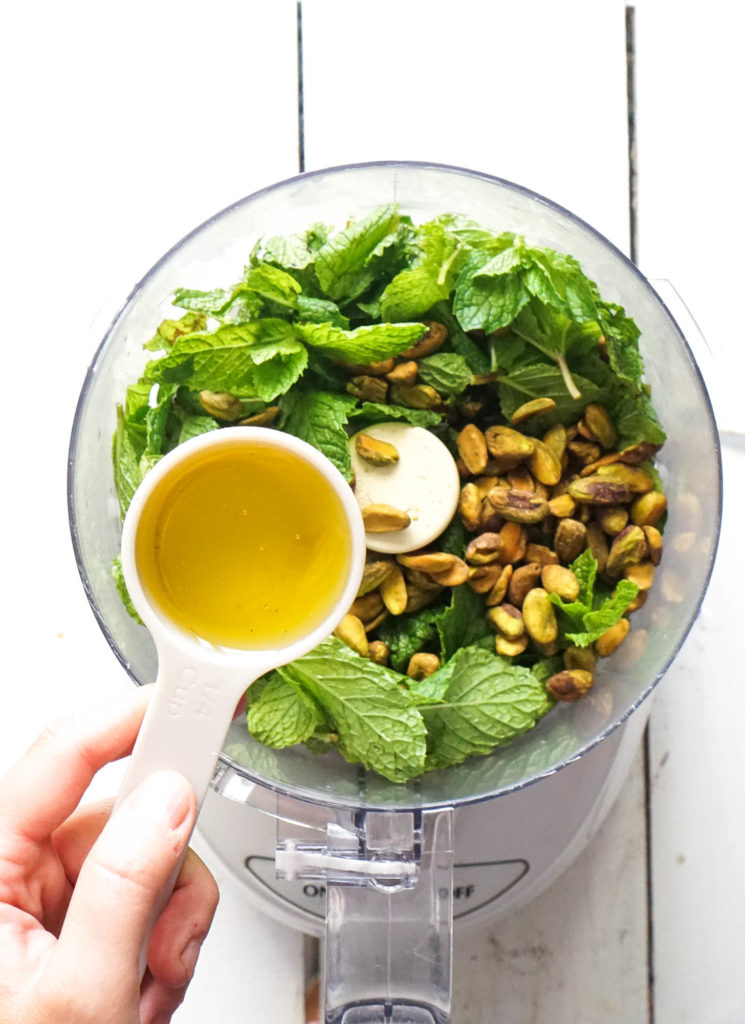 The recipe is as simple as every pesto recipe, it's simply here for inspiration especially while your garden is full of fresh mint. This is great in the summer and even better in the spring, whether it's served with lamb, dolloped on garlic crostini, or spooned over vegetable dishes (YUM peas or asparagus).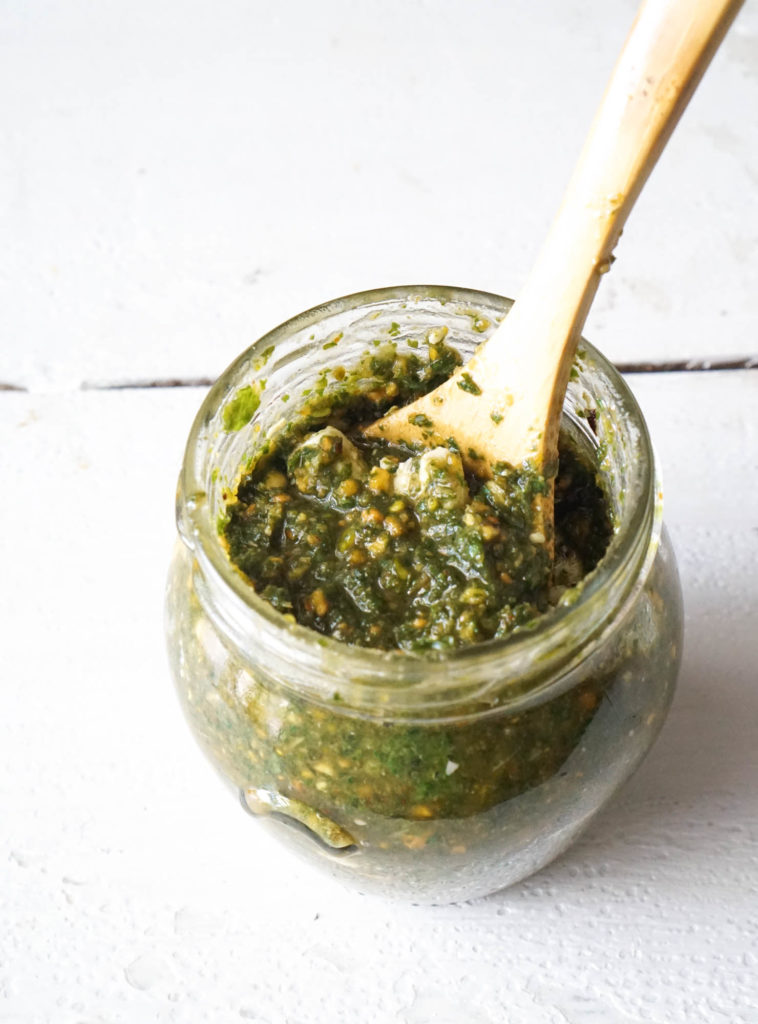 You'll have fun with this one so please make, share, and enjoy.
PS: check back in to see this pesto in action for next week's recipe and also to get some cafe updates!
Mint and Pistachio Pesto with Feta
2017-08-30 17:24:20
Serves 2
A delicious nutty and fragrant pesto with creamy feta that is perfect served with lamb.
Ingredients
1 cup mint leaves, packed
1/4 cup unsalted pistachios (preferably toasted)
1 garlic clove
1/4 cup olive oil, plus more as needed
pinch sea salt to taste
2 oz. feta cheese crumbles
optional: squeeze of lime
Instructions
Combine the mint, pistachios, and garlic in a food processor. Process until ground, then pour the oil in a steady stream until desired consistency achieved.
Scrape out pesto into a bowl and fold in feta crumbles. Add pinch of salt, tasting and adjusting as needed. If desired, a squeeze of lime is delicious.
I highly recommend serving this with lamb. Roasts, chops, meatballs - it's all delicious.
http://www.vodkaandbiscuits.com/